This homemade hummus is super easy to make, smooth, creamy and perfect for any occasion. Tastes amazing served with fresh veggies, pita bread, chips or crackers.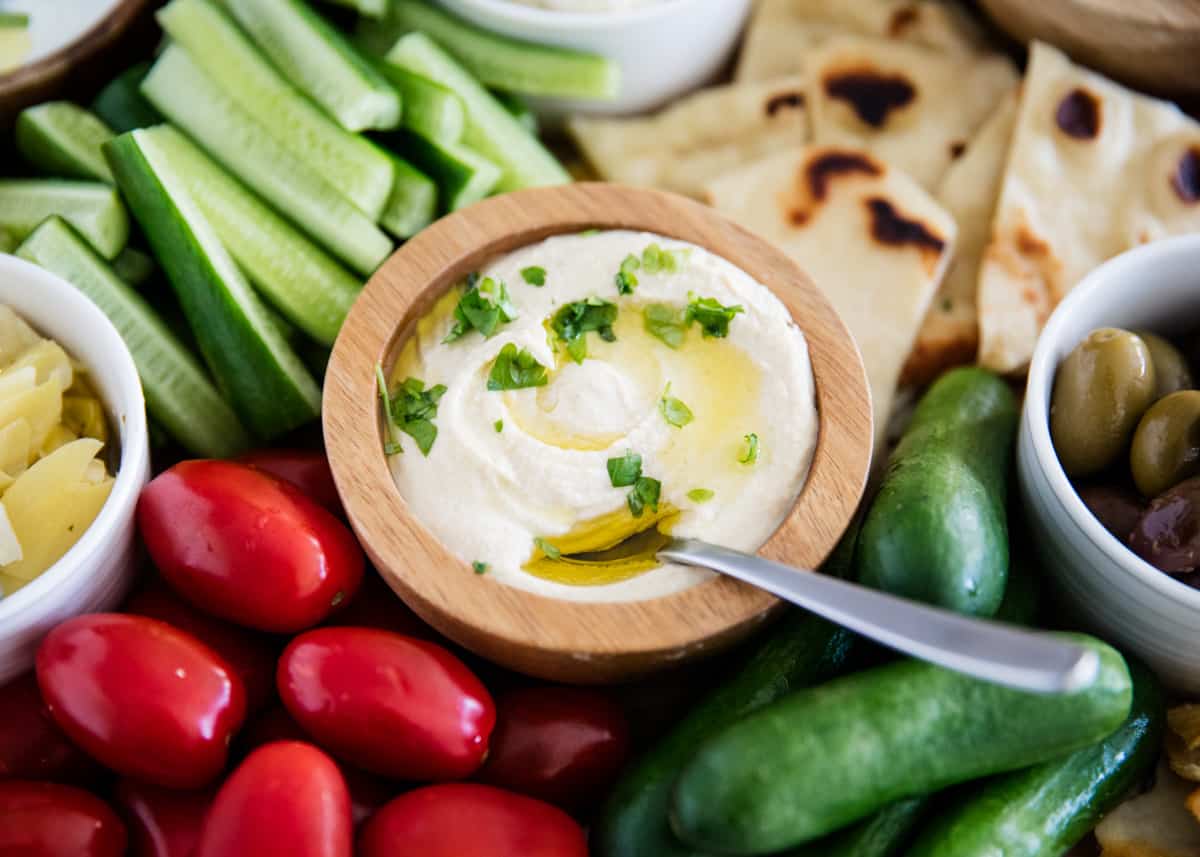 A Healthy and Delicious Dip
Homemade hummus is super simple to make and tastes so much more authentic and fresh than store bought. It's one of my favorite dips to make when entertaining and is the perfect appetizer served on a mezze platter or vegetable platter. It's always gone so fast!
Not only is it delicious, but it's healthy too. The hummus is packed with protein from the chickpeas and healthy fats from the tahini and olive oil. It tastes great served with fresh veggies or pita chips or bread. I could literally snack on it all day!
Why This Recipe Works
Texture and taste. Perfectly smooth and creamy with just the right amount of flavor from the tahini, garlic, lemon and cumin. You won't be able to get enough!
Ready in 30 minutes. Make a big batch to have on hand throughout the week in just 30 quick minutes. It's worth every minute of the little effort and time it takes!
Better than store-bought. After trying this easy from-scratch version, there's no denying that this homemade hummus recipe with tahini tastes better than any store-bought hummus you'll find!
Versatile. Eat it as a snack with veggies, on a wrap or sandwich, with pasta or on top of avocado toast. There are so many ways to enjoy this delicious hummus dip.
Hummus Recipe with Tahini Ingredients
Making this homemade hummus recipe requires only a handful of ingredients – a few of which you may already have in your fridge and pantry. Check them out below.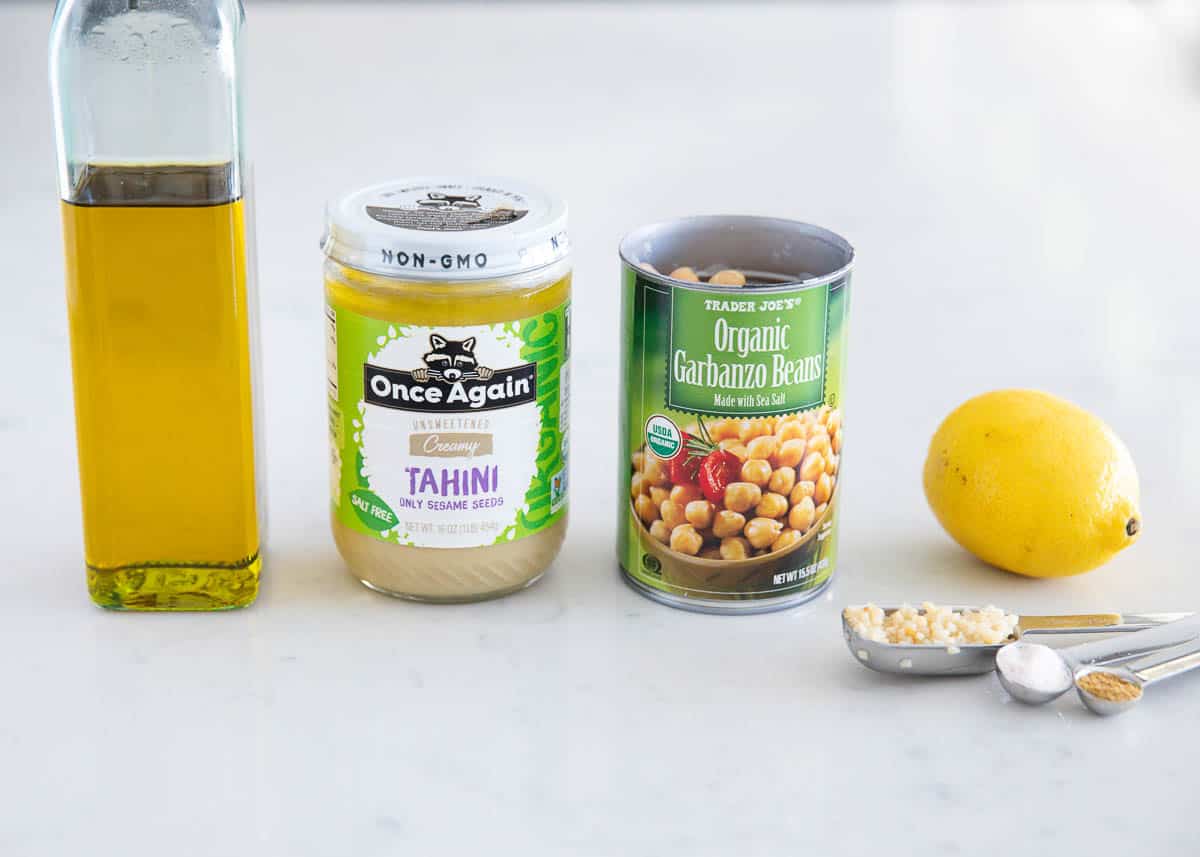 Find the full printable recipe with specific measurements below.
Chickpeas: The base of homemade hummus starts with chickpeas AKA garbanzo beans. I always buy them canned.
Tahini: Tahini is basically ground sesame seeds. Make sure to buy a high quality tahini (such as Trader Joe's, Whole Foods, Baron's brand) for your hummus.
Garlic: Use fresh garlic for this hummus and feel free to add an extra clove if you love the garlic flavor.
Lemon juice: Fresh lemon juice is really important. Don't use the canned stuff.
Olive oil: I love the creaminess the olive oil adds to this hummus. Another item to buy high quality.
Salt: A fine sea salt is perfect.
Ground cumin: This adds an extra depth of flavor and a tiny bit of kick.
Cold water: This will help create an extra smooth hummus.
Canned or Dried Chickpeas?
I used canned chickpeas for convenience, but you can also cook dried chickpeas from scratch on the stove. Just be sure to soak them beforehand and then let them cook a little longer than usual (for a super soft texture).
Variations
Feel free to tweak the flavor a bit to make this homemade hummus dip your own. Roast the garlic clove first for even more flavor or add a bit more lemon juice or lemon zest.
Make a spicy version by adding in some cayenne, chili powder or red pepper flakes. Or replace the chickpeas with cannellini beans to make a delicious white bean hummus. The sky is the limit!
How to Make a Hummus Recipe with Tahini
You won't believe how easy and quick this homemade hummus recipe with tahini really is! Follow the simple steps below to get started.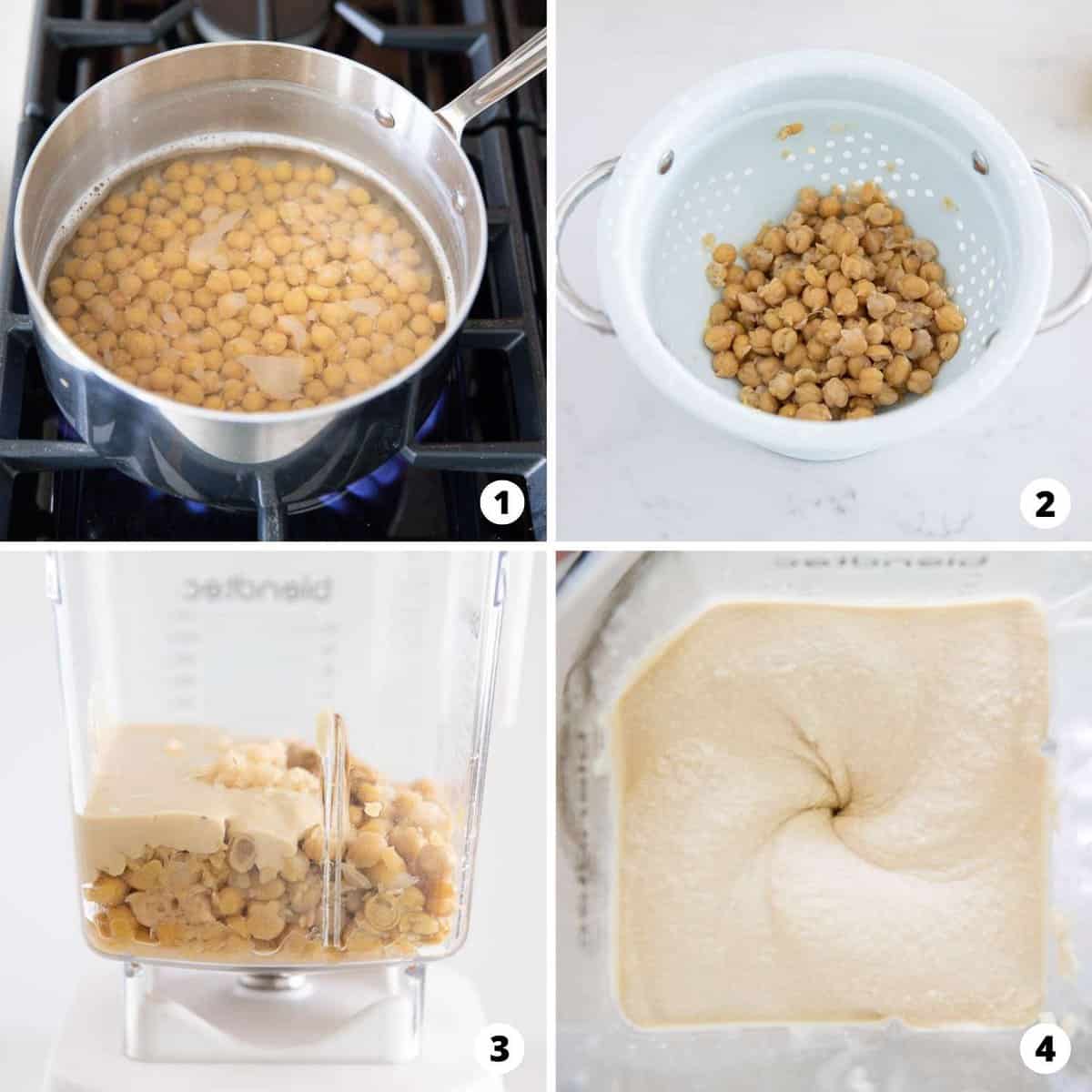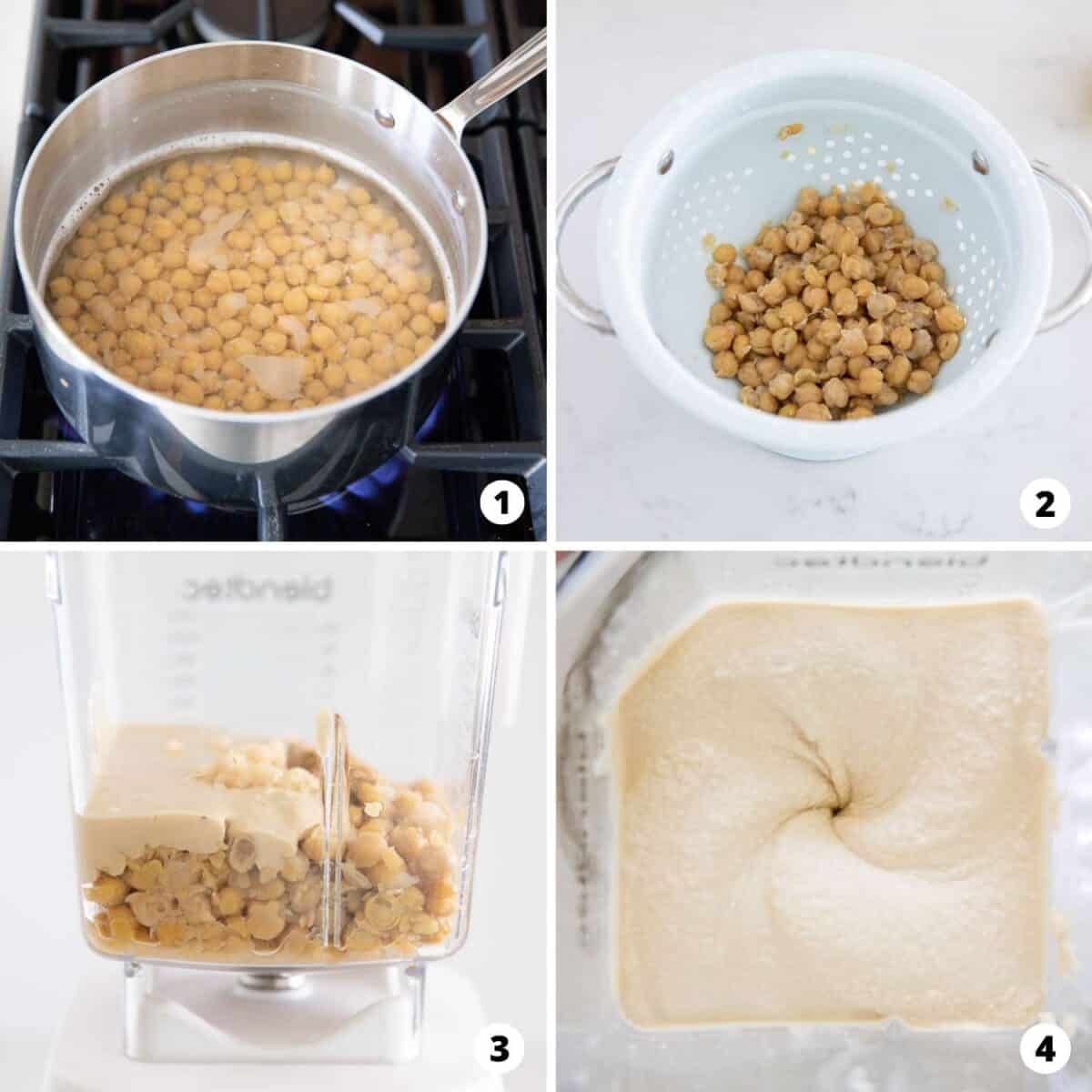 Simmer the chickpeas in a pot of water with 1 teaspoon baking soda for about 15 minutes, or until the skins are removed. Drain and run under cool water.
Blend the tahini, garlic, lemon juice, salt and cumin in a food processor or blender until smooth. Next blend in the cold water. Then add the chickpeas and drizzle in the oil while blending. Blend until the consistency is smooth and creamy.
Top with a drizzle of olive oil and some fresh chopped parsley. Then serve with your favorite veggies or crackers.
Favorite Garnishes for Homemade Hummus
Before serving the homemade hummus, try garnishing with any of the following:
Drizzle of olive oil
Fresh chopped parsley
Toasted pine nuts
Sprinkle of cumin, sumac or paprika
More whole cooked chickpeas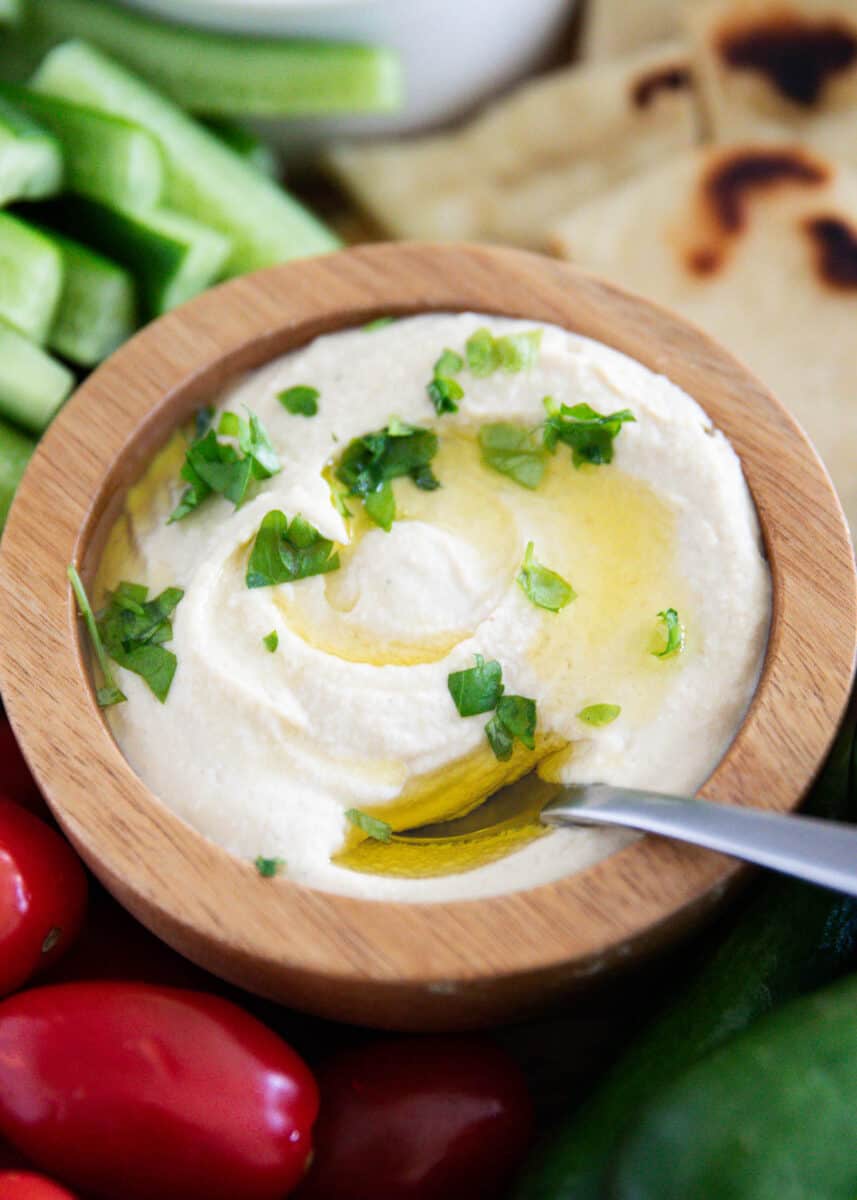 Expert Tips
Drain and rinse the canned chickpeas before getting started. This removes any extra starch and salt from the can that could change the flavor of the hummus.
Add baking soda to the pot when simmering the chickpeas. This helps soften them so that the skins come off.
Use cold water when when blending it in with the tahini and spices. This helps create an extra creamy and fluffy texture.
Use a high quality tahini that's smooth and creamy for the best flavor and texture. My favorite tahini brands are Trader Joe's, Whole Foods and Baron's.
Recipe FAQs
What is hummus?
Hummus is a classic dip/spread that comes from the Middle East and Middle Eastern cuisine. The base starts with smashed chickpeas (garbanzo beans), tahini and garlic. Then you can dress up the flavor with lemon, olive oil, cumin, salt and pepper and fresh parsley.
Is hummus vegan?
Yes! All of the ingredients in this homemade hummus recipe are vegan and dairy-free.
Is it cheaper to buy hummus or make your own?
While specialty ingredients like tahini and olive oil are a bit pricier and will likely increase the upfront cost of making it from scratch, the homemade version tends to be cheaper in the long run.

Plus you can use leftover tahini and olive oil to make other delicious recipes such as lemon tahini dressing or your favorite oven roasted vegetables.
What are the health benefits of hummus?
There are plenty! It's a good-for-you dip that's packed with fiber, protein and healthy fats. Not to mention it pairs perfectly with fresh vegetables!
Do you need to peel the chickpeas?
I've found that removing the tough skin from the chickpeas creates a creamier consistency. It's not mandatory, but is highly recommend for the absolute best hummus.
How long does homemade hummus last?
It will stay fresh in the fridge for up to 1 week in an airtight container.
What to Eat with Hummus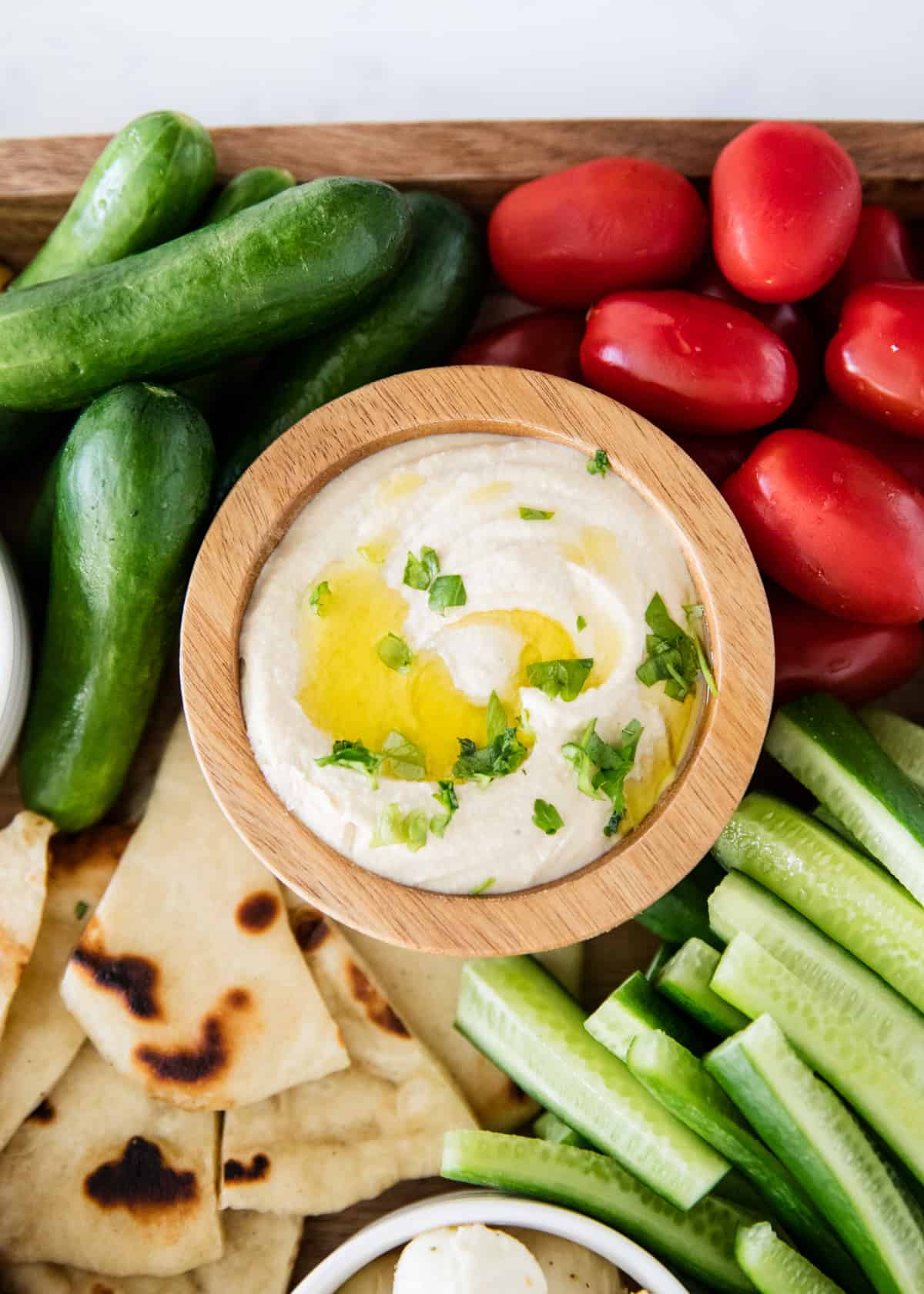 HUNGRY FOR MORE? Subscribe to my newsletter and follow on Facebook, Pinterest and Instagram for all the newest recipes!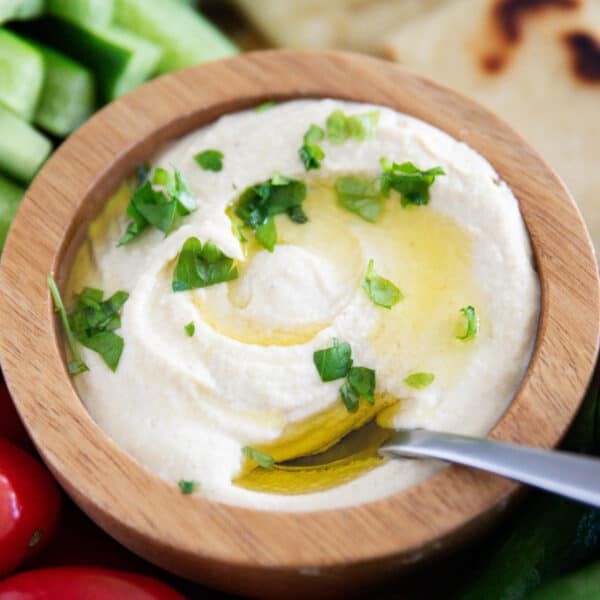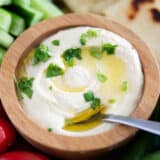 Homemade Hummus
This homemade hummus is is super easy to make, smooth, creamy and perfect for any occasion. Tastes amazing served with fresh veggies, pita bread, chips or crackers.
Ingredients
15 ounce can chickpeas , drained and rinsed
1 teaspoon baking soda
⅓ cup tahini
1-2 garlic cloves , minced (about 1 Tablespoon)
2 Tablespoons fresh lemon juice
½ teaspoon fine sea salt , more to taste
¼ teaspoon ground cumin
2 Tablespoons cold water , more as needed
1-2 Tablespoons olive oil , more if needed
Pepper , to taste
Optional toppings: olive oil, fresh parsley, toasted pine nuts, dash of cumin, sumac or paprika
Instructions
Add the chickpeas to a pot of water with the baking soda. Simmer for 15 minutes, or until the skin has come off. Drain and run under cool water and remove the skin of the chickpeas.

Combine the tahini, garlic, lemon juice, salt and cumin in a food processor or blender and blend until smooth. Then add in the cold water and blend until smooth.

Next add the cooled chickpeas and then drizzle in the olive oil while blending. Blend until smooth. Add an additional Tablespoon of cold water if needed to smooth. Salt and pepper to taste. Add a little more lemon juice if desired.

Top hummus with fresh parsley and a drizzle of olive oil if desired. Serve with your favorite vegetables or pita chips and enjoy!
---
Notes
Favorite Tahini brands: Trader Joe's, Whole Foods, Baron's. Storage: Store in a covered container for up to 1 week in the refrigerator.
Nutrition
Calories: 163kcal | Carbohydrates: 17g | Protein: 6g | Fat: 8g | Saturated Fat: 1g | Sodium: 290mg | Potassium: 201mg | Fiber: 5g | Sugar: 3g | Vitamin A: 21IU | Vitamin C: 3mg | Calcium: 40mg | Iron: 2mg
Nutrition provided is an estimate. It will vary based on specific ingredients used.
Did you make this recipe? Don't forget to give it a star rating below!