Make the most delicious buffalo chicken pizza for dinner tonight with as many shortcuts as you need making it even easier! Saucy chicken, blue cheese dressing, and mozzarella topped with blue cheese and extra sauce!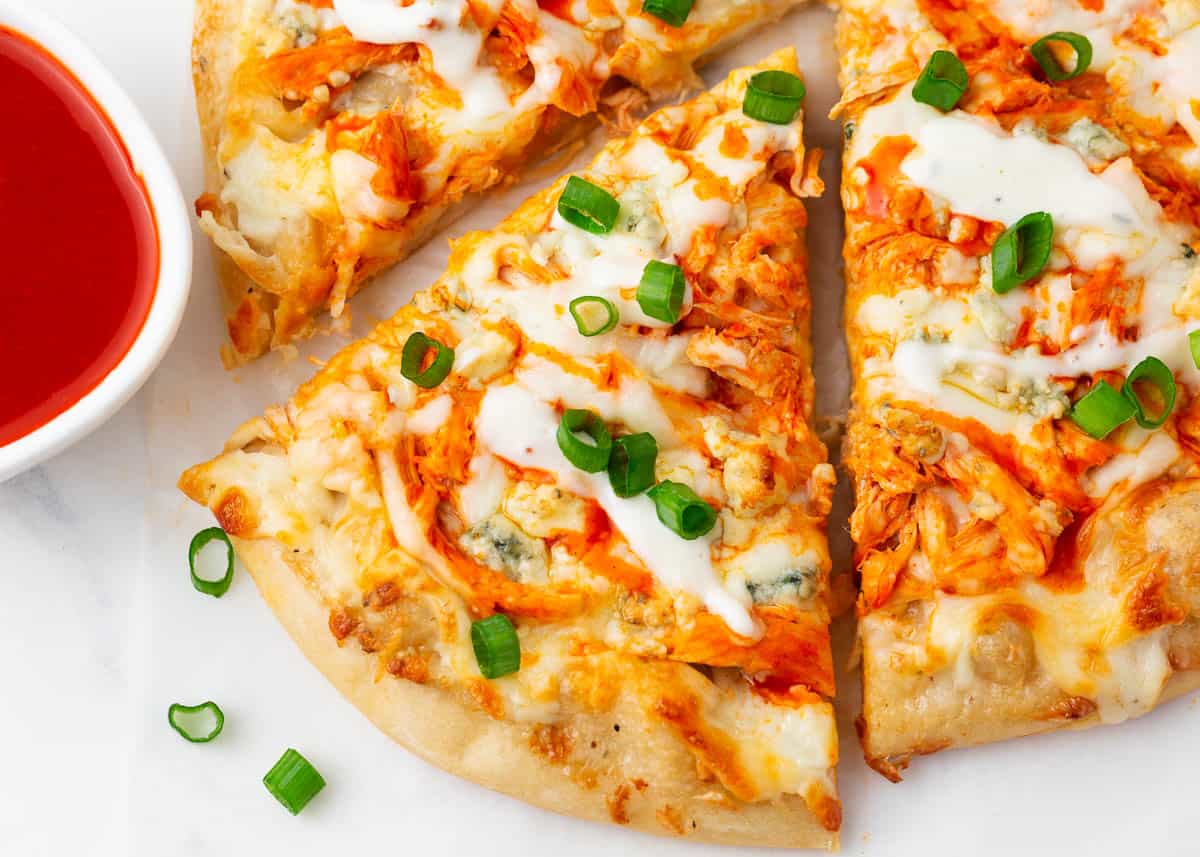 Homemade Buffalo Style Pizza
If you love Buffalo chicken wings you know that signature sauce anywhere! It's tangy, vinegary, buttery, and spicy all in one. It's the stuff you can't resist licking off your fingers no matter who's watching!
My kids love it because, as much as it does have a kick to it, it's the flavor they can't get enough of. So, I try and recreate those flavors in a ton of recipes! This buffalo chicken dip, for example. And now we get to enjoy those flavors in the form of a pizza!
Make it as from scratch as you'd like with an easy homemade pizza dough recipe, homemade buffalo sauce, and blue cheese dressing, or use store-bought ingredients instead. It's a great way to use up leftover cooked chicken and if you've got some dough already on hand, you're all set to go.
Grab a slice or two while you can, because this pie won't last long!
Why This Recipe Works
Better than takeout. There's always room for pizza delivery from your local pizzerias, but there is nothing more satisfying than homemade buffalo chicken pizza!
Great leftovers. We love our pizza in this house, so we may or may not make 2 pizzas at a time to make leftovers happen!
The taste! This buffalo chicken pizza recipe is the best pizza. It's made with not just melted cheesy mozzarella but a layer of blue cheese dressing to start. There is nothing better than the cooling effect that blue cheese has on buffalo sauce!
Recipe Ingredients
See full printable recipe below.
Pizza dough: Store-bought or homemade. You could also try whole wheat pizza dough or no yeast pizza dough as a different option.
Blue cheese dressing: This has a tangy, buttermilk, creaminess to it with the sharpness of aged cheese. It does a great job of cooling the spiciness of the Buffalo sauce.
Mozzarella cheese: Grated or torn. I prefer using fresh mozzarella as it is softer, and melts much easier than pre-shredded cheese from a bag. It also tastes better.
Shredded chicken: Use up a leftover rotisserie chicken, cooked chicken breasts, Instant Pot buffalo chicken, or shredded chicken.
Buffalo sauce: Great as a topping, but also keep some aside for dipping your crust!
Blue cheese crumbles: The combination of blue cheese and mozzarella is heavenly when melted together.
How to Make Buffalo Chicken Pizza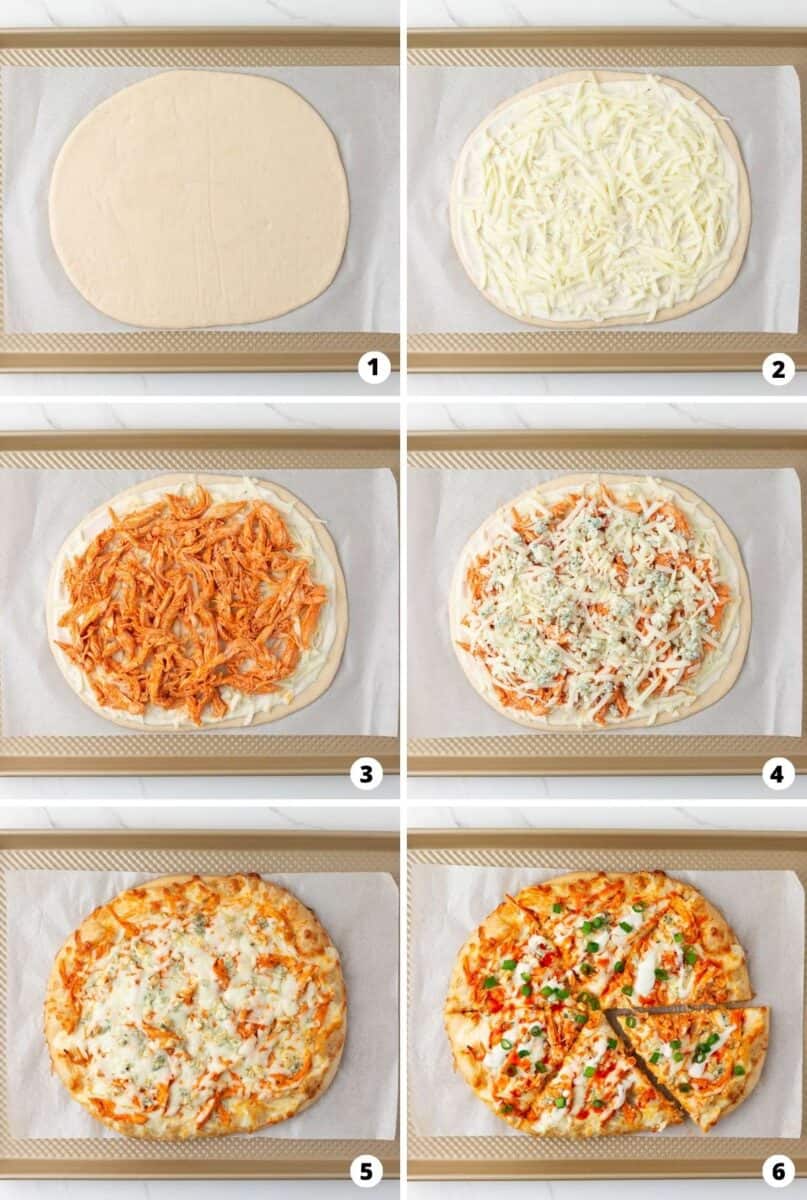 Roll out the dough. Use a rolling pin to make it about 12 inches wide and 1/4 inch thick. Place it directly on the pizza peel, otherwise place it on a baking sheet or pizza pan lined with parchment paper.
Layer with cheese. Spread an even layer of blue cheese dressing on top of the dough and then sprinkle that with half of the mozzarella cheese.
Top with saucy chicken. Spread the chicken that's been tossed in spicy Buffalo sauce evenly across the layer of cheese.
Add even more cheese. Sprinkle the remaining mozzarella over the top of the chicken, followed by crumbled blue cheese.
Bake it! Transfer the 'za onto the preheated pizza stone, if you're using one. Otherwise, keep it on the baking sheet. Bake for 12-15 minutes until the pizza crust is golden, the cheese is melty, and the center is cooked through.
Cool and slice. Allow it to cool for a few minutes and then garnish with green onions if desired. You can also add an extra drizzle of dressing or hot sauce or both. Slice into 6 to 8 slices and dig in!
Expert Tips
For an even crispy crust, a pizza stone is a way to go. I realize not everyone has one, so don't worry! A way to work around this is to preheat a second pizza pan or baking sheet and transfer the dough to the hot one just before baking.
Adjust the amount of spice. If you like yours really hot, add more sauce. If you like it a bit more mild, go easy on the Buffalo sauce. You can also add things like pepperoncini, red pepper flakes, or a dash of cayenne to really kick it up a notch.
A thinner crust. You can make your crust as thin as you'd like. Keep an eye out for the bake time as it will probably require less time. You also want to avoid using too many toppings as it may be a bit too heavy on the thinner crust.
A thicker crust. Make it thicker if you'd like! Add on a few minutes of extra time in the oven.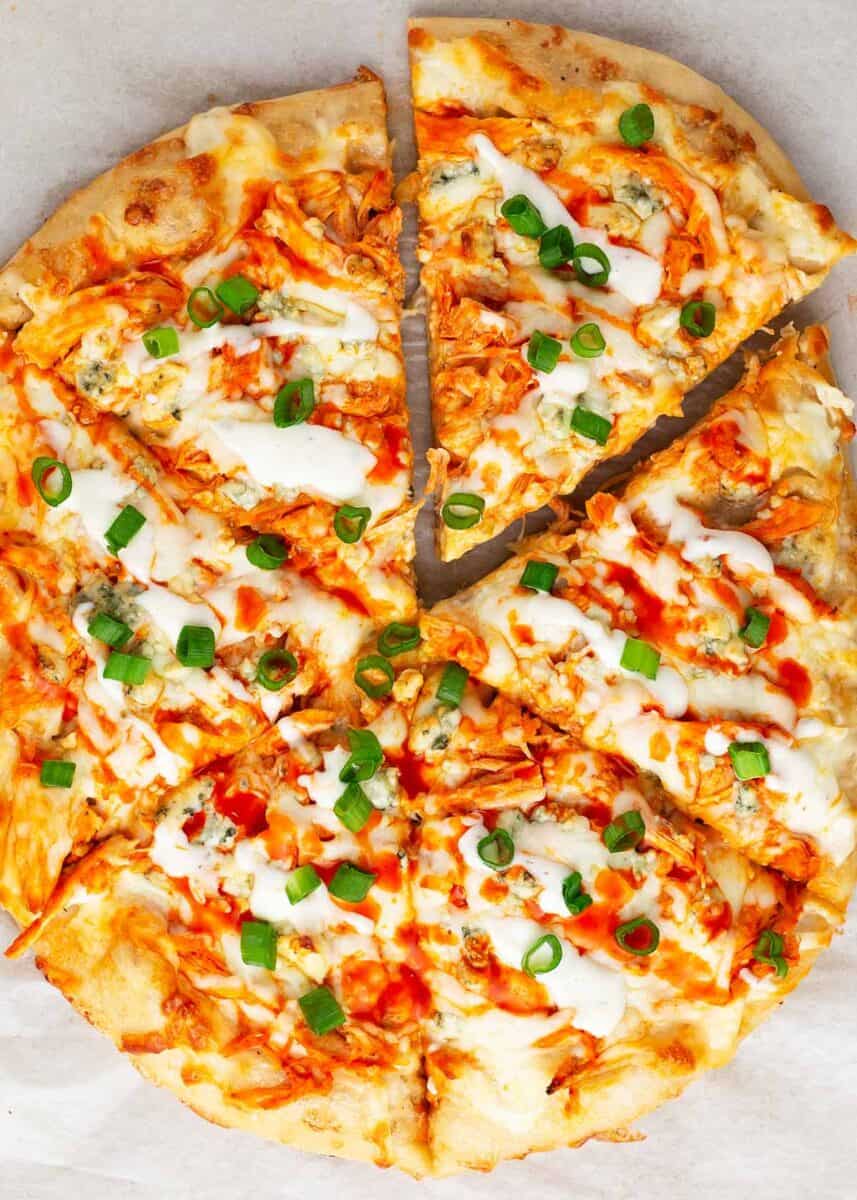 Variations
Use homemade French bread to make French bread pizza or stuffed French bread with buffalo chicken.
Buffalo chicken pizza with ranch dressing instead of blue cheese is just as tasty!
For quick party pizzas for serving a larger crowd, use this sheet pan pizza recipe using the buffalo chicken toppings.
Customize it by adding slices of red onion, black olives, green olives, green pepper, some spinach, and parsley, swapping the cheese for cheddar cheese, or using a mix of both.
What to Serve With
A couple of salads on the side are always welcome. A simple wedge salad using any leftover ranch or blue cheese dressing would be great.
When we order buffalo wings at any restaurant they always come with a side of carrot and celery sticks, so I like to serve up these adorable veggie cups or steamed veggies on the side.
Storing Suggestions
To store: Keep leftovers in an airtight container in the fridge for up to 3 days. Reheat using a toaster oven for a slice or two or the oven for a nice crisp crust. A quick reheat in the microwave will get you a soft crust in a hurry!
To freeze: Once completely cooled, wrap the remaining slices in plastic wrap then transfer them to freezer bags. Keep frozen for up to 1 month. Thaw them in the fridge overnight or reheat them in the oven from frozen.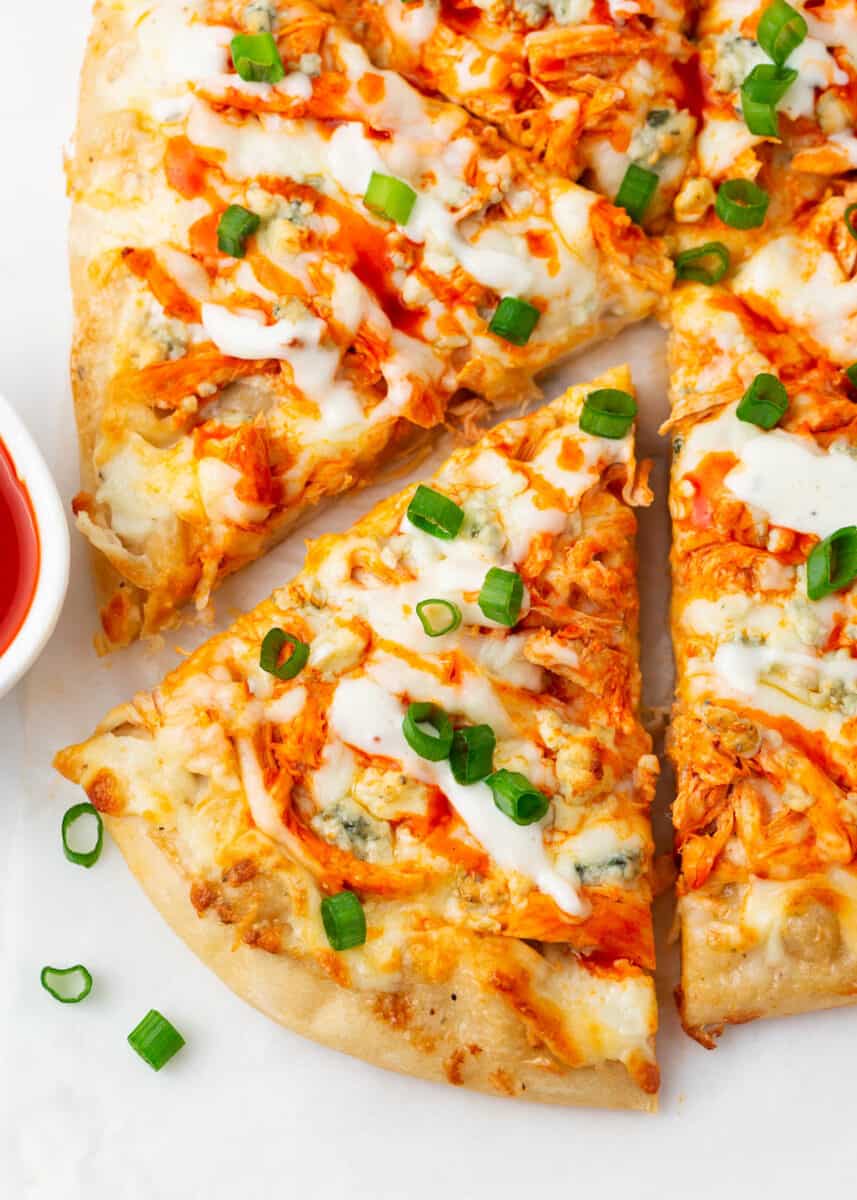 HUNGRY FOR MORE? Subscribe to my newsletter and follow on Facebook, Pinterest and Instagram for all the newest recipes!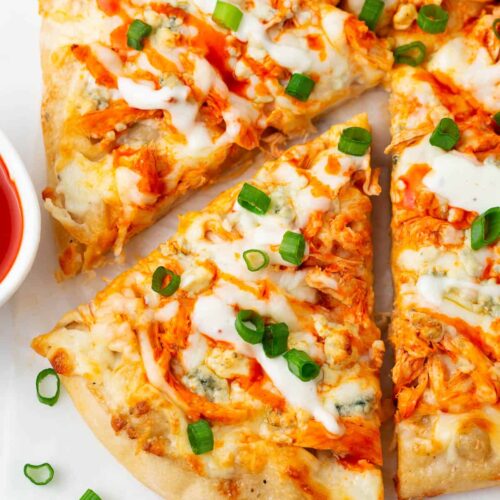 Buffalo Chicken Pizza
Make the most delicious buffalo chicken pizza for dinner tonight with as many shortcuts as you need making it even easier! Saucy chicken, blue cheese dressing, and mozzarella topped with blue cheese and extra sauce!
Ingredients
1 pound homemade or store-bought pizza dough
⅓ cup blue cheese dressing , or ranch dressing
6 ounces mozzarella cheese , torn or shredded
2 cups shredded chicken , I like to use a rotisserie chicken
¼ cup buffalo sauce , plus more to taste
¼ cup blue cheese
For serving: Blue cheese or ranch dressing, Sliced green onions, Chopped cilantro
Instructions
Preheat the oven to 450°F. If you have a pizza stone, you can place it in the oven while it preheats.

Roll out the dough to about 12 inches wide and 1/4-inch thick. If using a pizza peel to transfer, place it directly on the pizza peel. If not, place the dough on a piece of parchment paper or on a baking sheet.

Spread the blue cheese dressing over the dough. Sprinkle half of the mozzarella cheese over the top.

In a medium bowl, coat the chicken in buffalo sauce. Spread evenly over the cheese. Sprinkle the remaining mozzarella and blue cheese on top.

Transfer the pizza, using the peel or the parchment paper, onto the pizza stone. Bake 12 to 15 minutes, or until crust is golden brown and the center is cooked through. Let cool slightly.

Sprinkle green onions on the top of the pizza, if using. Drizzle with extra dressing or hot sauce, if desired. Slice into 6 to 8 slices. Serve warm.
---
Notes
Dough: I love this pizza dough recipe. To make this recipe easier, you can use a store-bought pizza dough (I prefer Trader Joe's or Whole Foods). Allow the dough to come to room temperature if using store-bought dough.
Buffalo Wing Sauce: You can buy store-bought (I prefer Sweet Baby Ray's) or make a homemade buffalo sauce.
Dressing: You can buy store-bought or make a homemade blue cheese dressing or ranch dressing.
Nutrition
Serving: 1slice | Calories: 382kcal | Carbohydrates: 37g | Protein: 26g | Fat: 14g | Saturated Fat: 7g | Polyunsaturated Fat: 2g | Monounsaturated Fat: 4g | Cholesterol: 62mg | Sodium: 1258mg | Potassium: 143mg | Fiber: 1g | Sugar: 5g | Vitamin A: 254IU | Vitamin C: 0.04mg | Calcium: 191mg | Iron: 3mg
Nutrition provided is an estimate. It will vary based on specific ingredients used.
Did you make this recipe? Don't forget to give it a star rating below!