Baked candied yams coated in a sweet syrupy sauce is an easy side dish that brings a beautiful balance to all of the savory side dishes included in your holiday menu!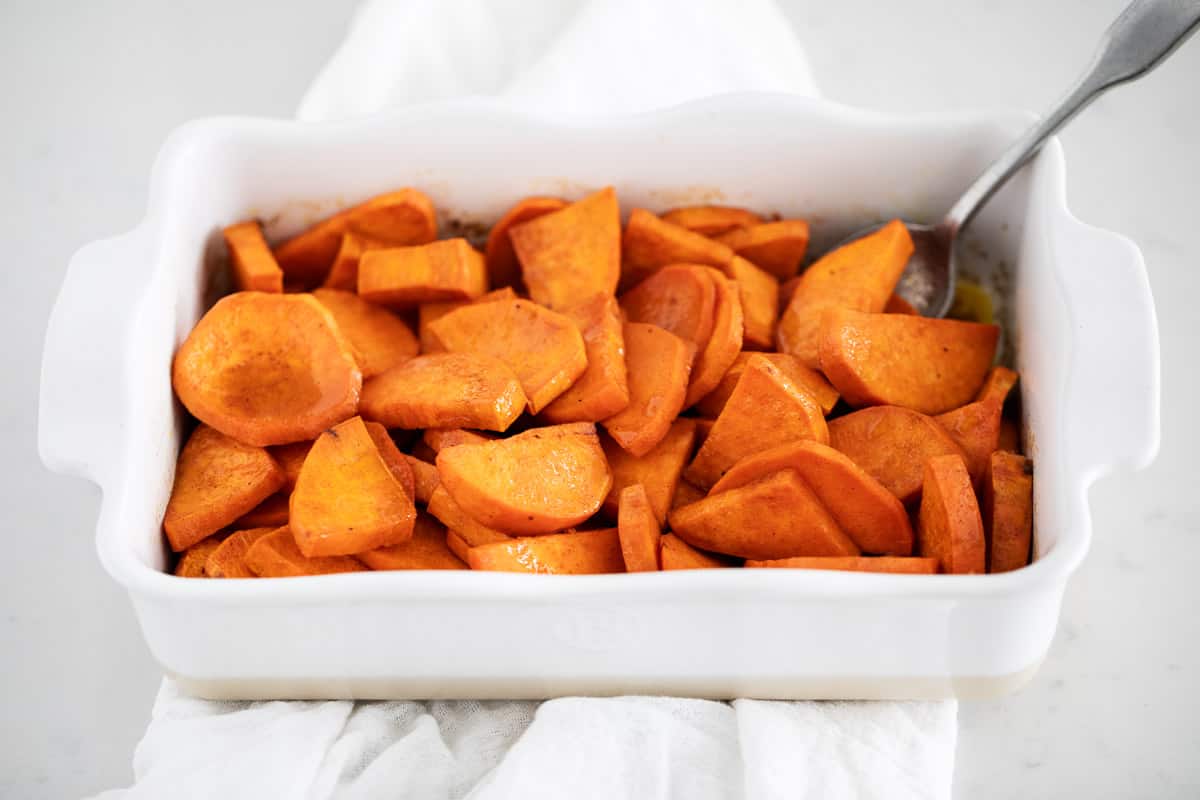 Easy Candied Yams
These candied yams are a classic dish around the holidays. They're a great Thanksgiving side dish to add to your Thanksgiving menu and you can bet they make an appearance at Christmas dinner too!
The brown sugar caramelizes the sweet potatoes and adds such an amazing depth of flavor and soft texture. This recipe is less work and calories than our traditional sweet potato casserole because there is no pre-baking or mashing of the potatoes first.
It's a simple candied yams recipe that comes together in under 1 hour which makes it an effortless side dish that never disappoints!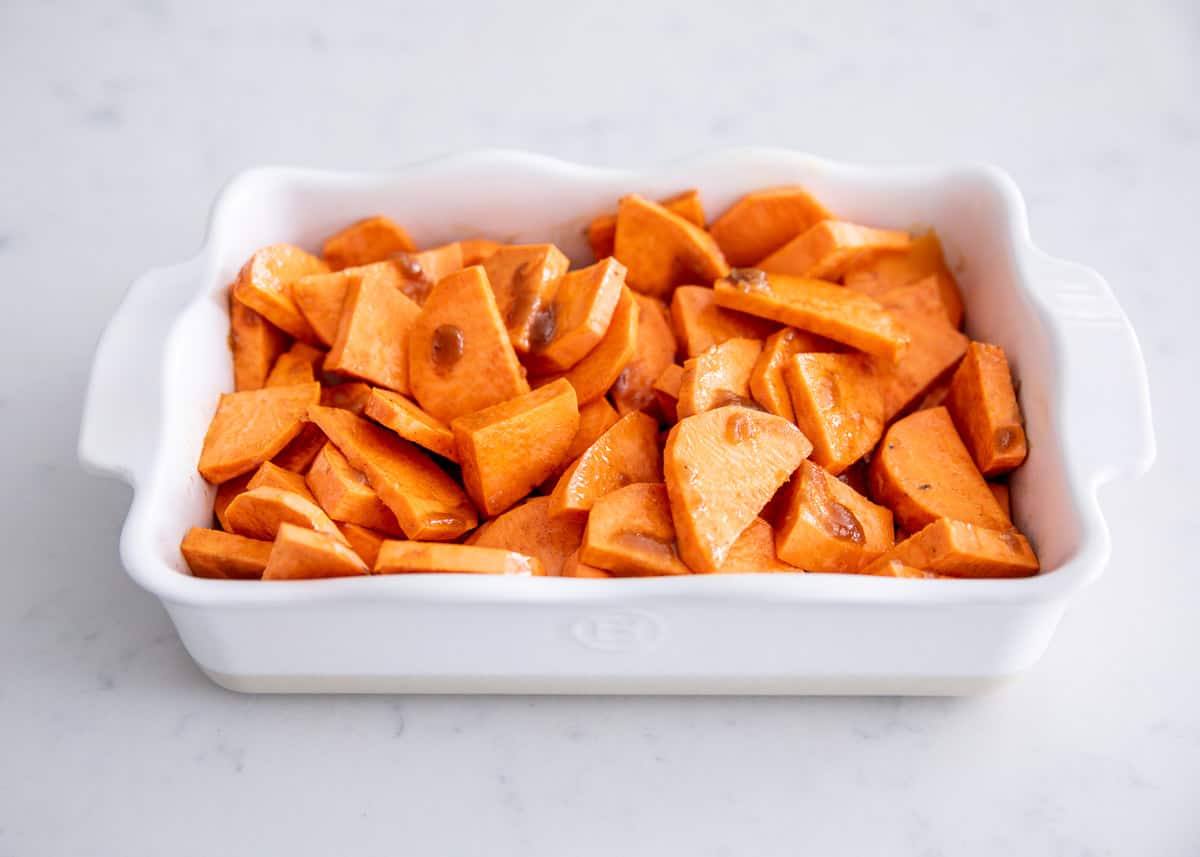 Yams vs Sweet Potatoes
Making delicious candied yams from scratch means you need to go out and get yourself some…sweet potatoes?
That's right, yams and sweet potatoes are not the same things despite their names being used interchangeably. You want to make sure to pick up sweet potatoes. Yams which are much more fibrous, starchy, and lighter in color. They wouldn't work for this recipe!
To confuse you even more…some grocery stores will still label sweet potatoes as yams.
Tips & Variations
To make your candied yams with marshmallows, add mini marshmallows on top. Kids and adults find this topping irresistible!
Cut the sweet potatoes into uniform sizes for even baking.
For a fluffier, mashed version you can boil the cut sweet potato for a bit before placing them in the baking dish.
For an additional layer of flavor, think about adding in vanilla extract or even some orange zest.
Swap the sweet marshmallows for an herb finish. Top with some coarse sea salt or your favorite dried herb like rosemary or sage.
Best served warm.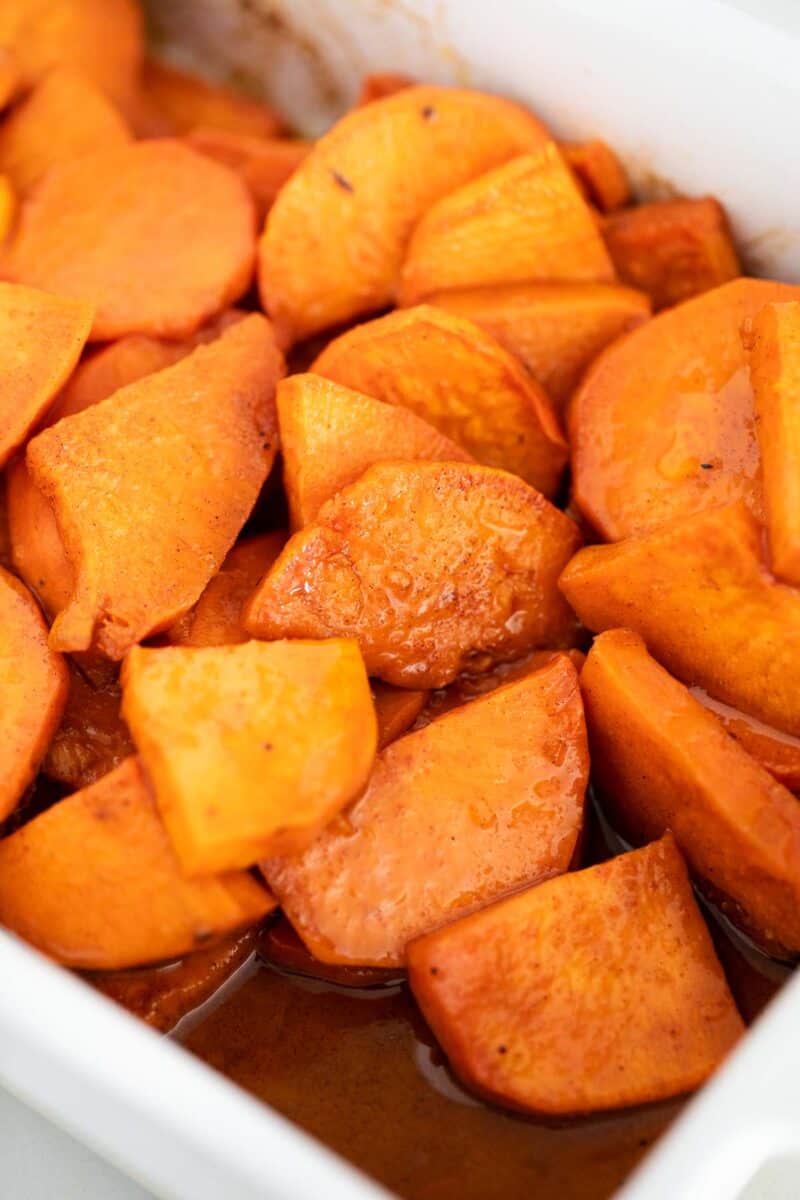 Making Candied Yams in Advance
Baked candied yams are a great side dish to make in advance. Less work on the day of just makes life easier!
Bake the entire dish without the marshmallows and allow it to cool completely. Cover and store in the fridge overnight. Add the optional marshmallows if you'd like and bake for 10-15 to warm through just before serving.
Storing & Reheating
To store: Keep covered and store in the fridge for up to 3 days.
To reheat: Pop the candied yams in the oven to warm through, if heating a large amount. Otherwise use the microwave. You can also transfer them to the slow cooker to warm up and serve straight from there.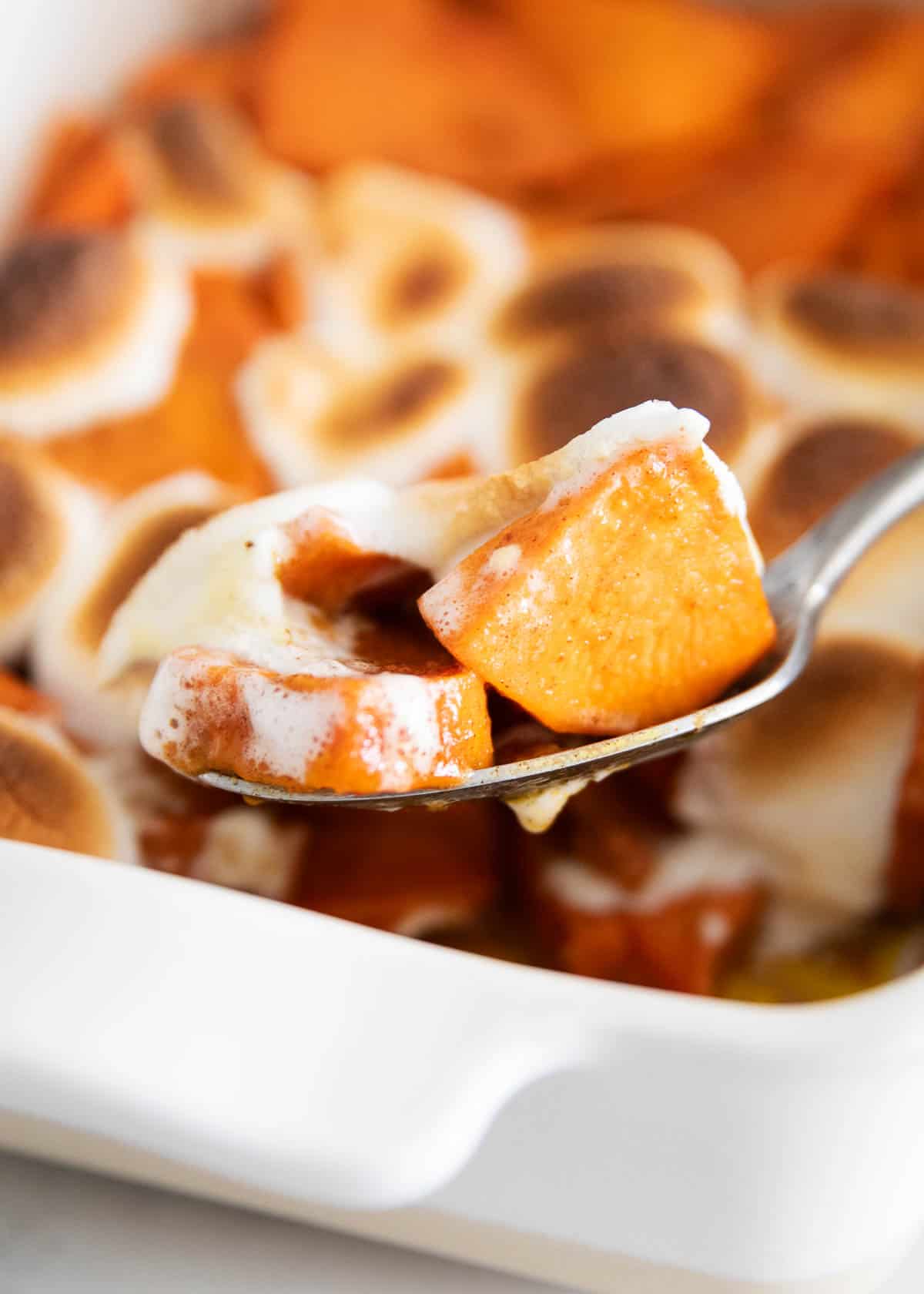 More Holiday Side Dishes:
HUNGRY FOR MORE? Subscribe to my newsletter and follow on Facebook, Pinterest and Instagram for all the newest recipes!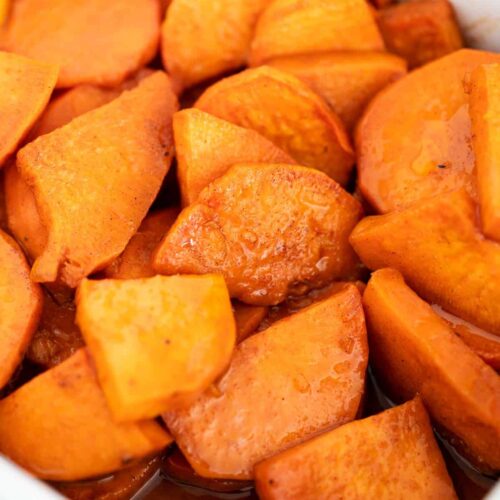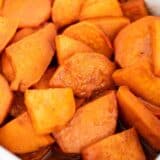 Candied Yams
Baked candied yams coated in a sweet syrupy sauce is an easy side dish that brings a beautiful balance to all of the savory side dishes included in your holiday menu!
Ingredients
2 pounds sweet potatoes , peeled, halved and cut into 1/4" slices
1/4 cup salted butter , melted
1/3 cup light brown sugar , packed
1/2 teaspoon ground cinnamon , more to taste
1/4 teaspoon fine sea salt , more to taste
1/8 teaspoon ground nutmeg
Optional: 1-2 cups mini marshmallows
Instructions
Preheat oven to 400°F. Spray a 6×9" or 8×8" pan with non-stick spray. Wash, peel and cut the sweet potatoes into 1/4" slices.

Place the cut sweet potatoes in an even layer into the pan. In a separate bowl combine the butter, brown sugar, cinnamon, salt and nutmeg. Stir and then even pour over the sweet potatoes.

Bake for 45 minutes (or until fork tender and they've started to caramelize). Toss half way through and make sure the sauce is evenly distributed. Add more seasonings to taste.

If desired sprinkle marshmallows on top and bake an additional 5 minutes, or until golden. Serve while warm.
---
Notes
Storing: Store leftover in a covered container in the refrigerator for up to 3 days. Make ahead: These candied yams can be made the day before (just leave off the marshmallows if adding). Bake for about 40 minutes and then let pan cool on stove. Cover the pan with foil and refrigerate once cooled. Then bake in the oven 10-15 minutes the next day before serving. You could also transfer to a slow cooker and reheat on the warm setting.
Nutrition
Calories: 184kcal | Carbohydrates: 32g | Protein: 2g | Fat: 6g | Saturated Fat: 4g | Cholesterol: 15mg | Sodium: 188mg | Potassium: 394mg | Fiber: 3g | Sugar: 14g | Vitamin A: 16265IU | Vitamin C: 3mg | Calcium: 43mg | Iron: 1mg
Nutrition provided is an estimate. It will vary based on specific ingredients used.
Did you make this recipe? Don't forget to give it a star rating below!