An easy homemade cranberry sauce recipe with only 3 simple ingredients! Ditch the can and make this simple, flavorful sauce that is ready in only 15 minutes.
Pair this classic holiday side dish with roasted turkey and other sides including creamy mashed potatoes and a homemade dinner rolls!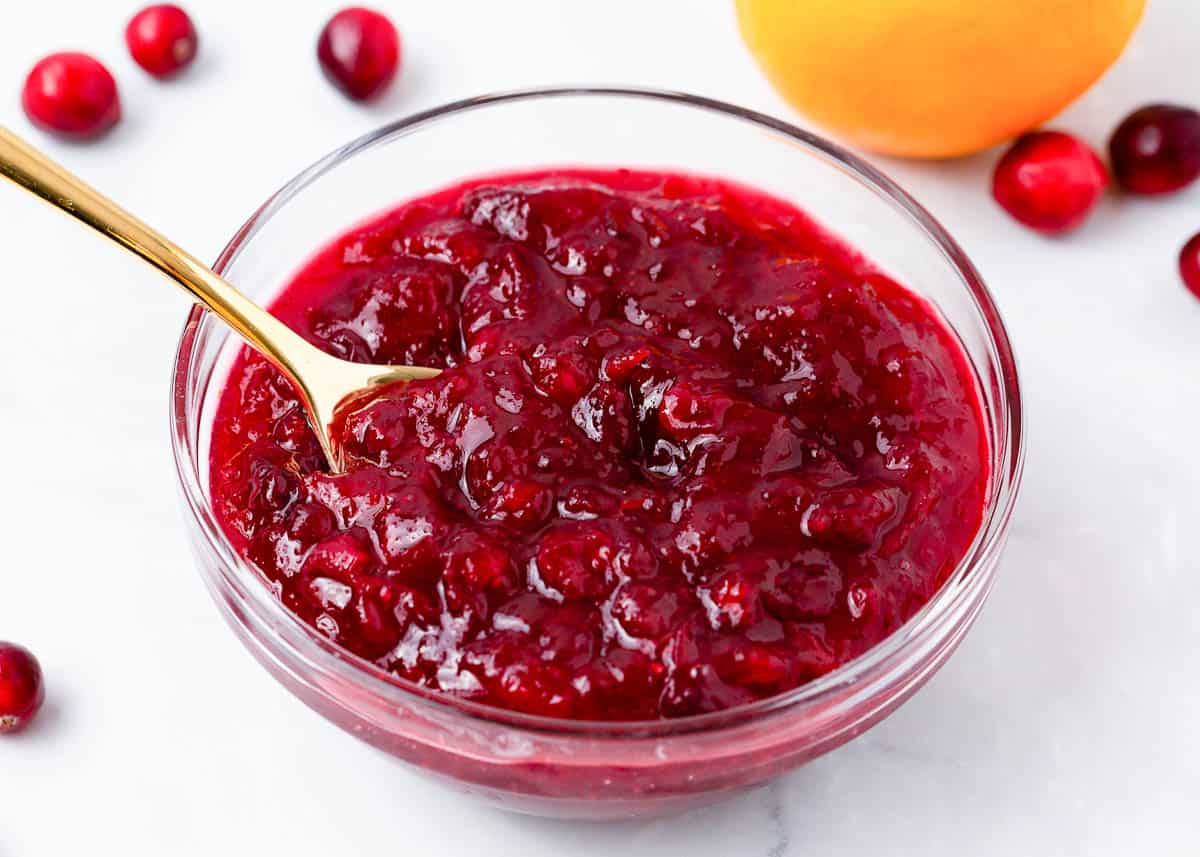 Homemade Cranberry Sauce Recipe
You can't have a holiday dinner without cranberry sauce on the menu! It's one of the classics and tastes amazing served alongside cornbread stuffing, easy cheesy potatoes and sweet potato casserole with marshmallows.
This delicious cranberry sauce only takes 3 simple ingredients to make. It's almost as easy as opening up the can and tastes SO much better! The addition of fresh orange juice and orange zest really takes the flavor up a notch.
The sauce is so easy to make and can be prepped ahead of time and stored in the freezed. It's the perfect Christmas or Thanksgiving side dish and adds just the right amount of fresh flavor to your holiday meal.
Ingredients
To make this recipe, you simply just need the 3 ingredients below. All of the ingredients mixed together make a magical sauce that is so fresh and delicious!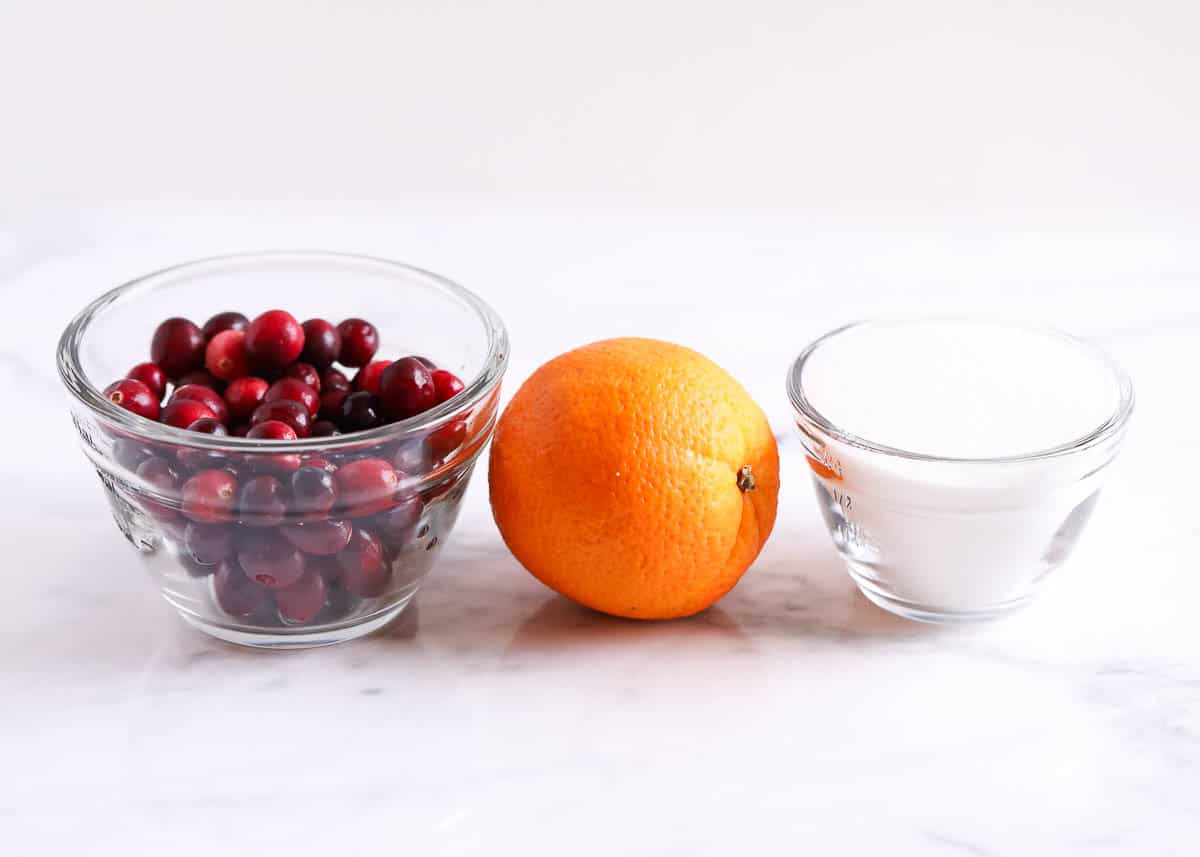 Find the full printable recipe with specific measurements below.
Cranberries: Look for fresh cranberries that are bright red in color and firm to touch.
Orange: This recipe uses the juice and zest of a fresh orange.
Sugar: Add granulated sugar to give it the perfect sweetness. For a healthier alternative, you may use pure honey or maple syrup.
How to Make Cranberry Sauce
This easy to make cranberry sauce is always an easy side dish to make but also a traditional sauce that everyone loves! It goes on the side, on top, or just by itself. You will love how simple this cranberry condiment is to make!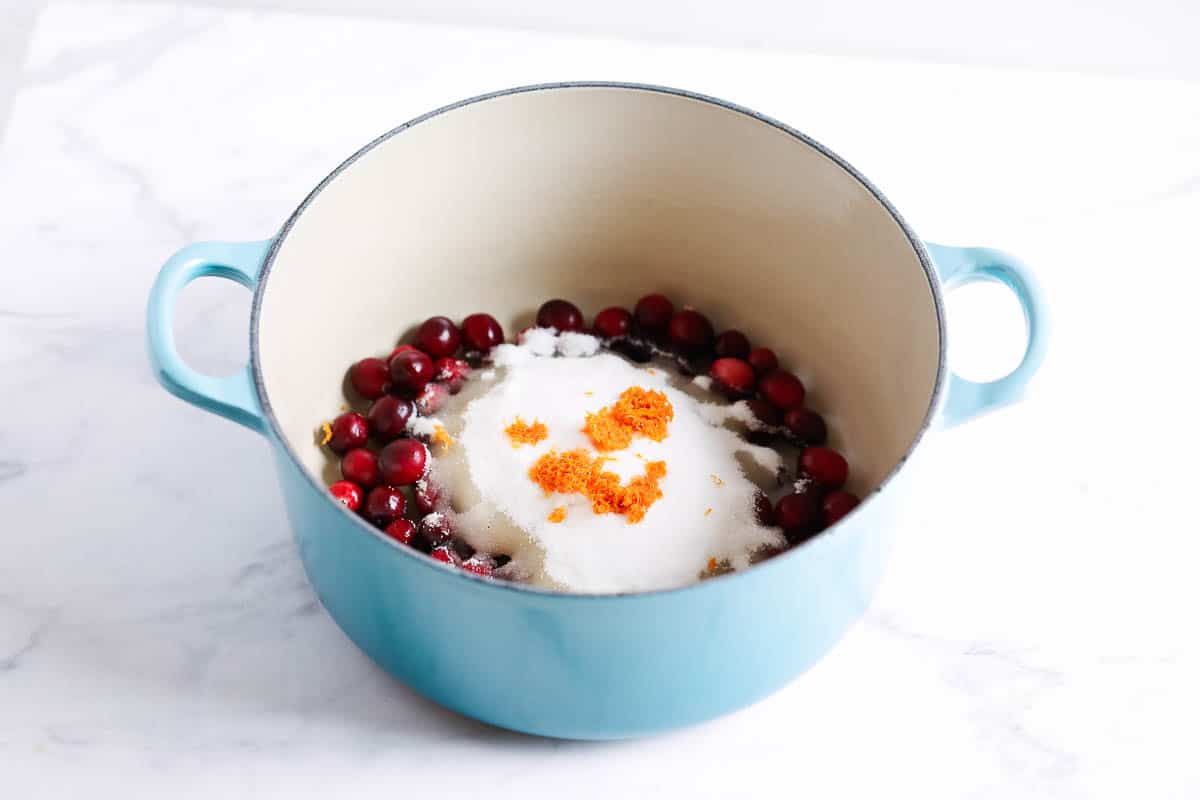 Combine the orange (juice + zest), sugar and water in a medium pan over medium heat and bring to a light boil.
Stir in the cranberries and a pinch of salt.
Cook for about 10 minutes, or until most of the cranberries have burst.
Mash the cranberries if you prefer a smooth sauce.
Serve warm or cold, whichever you prefer.
Serve Warm or Cold?
I typically serve it cold since I make it a few days in advance and store it in the fridge. If you're serving it warm, you can easily make it ahead of time and then place it in the slow cooker on the warm setting. It will make your home smell amazing!
Favorite Ways to Use Leftovers
Cranberry sauce is a traditional relish that tastes delicious on top of roasted chicken or baked ham. There are lots of other yummy ways to use up the leftovers (if you have any). Check out the ideas below.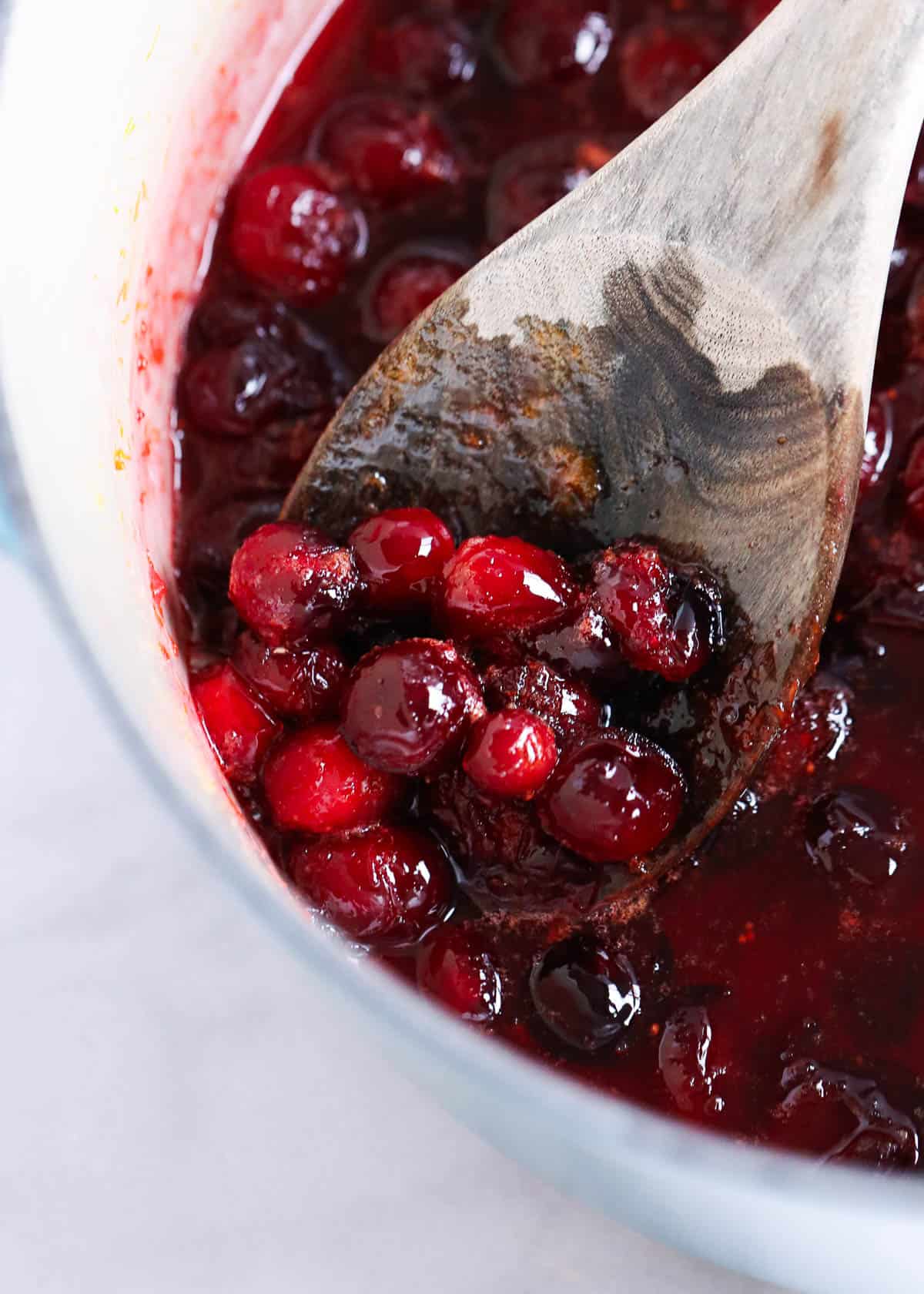 Recipe FAQs
Is eating cranberry sauce healthy?
Cranberries contain antioxidants that help boost health and a long life. It is known to protect you from developing cancer.
Why do we eat cranberry sauce at Thanksgiving?
Back in the 1500s, cranberries were an important food that was abundant during the first Thanksgiving dinner.
How to you make cranberry sauce better?
Adding in extra flavor, texture, or just changing the recipe may help for some people. For this recipe, you can add in orange juice, pineapple, cinnamon, or pecans. All these extra ingredients will enhance this cranberry sauce for the better!
How do you get the bitterness out of cranberry sauce?
Sometimes cranberry sauce can be a bit too bitter! Don't reach for the sugar though, try maple syrup or even honey. These ingredients will help alter that bitter taste.
Storing + Freezing
The great thing about this cranberry recipe is the storing! Make it ahead and freeze or make it ahead and store it in the refrigerator just to bring it out during the holidays. It is an easy dish that is loved by all!
To store: This sauce will keep in the refrigerator for about 1-2 weeks. It's the perfect holiday side dish to make ahead of time and stick in the fridge until you're ready to serve. Plus the flavors marinate together wonderfully when stored in the fridge! Just place in an airtight container and stick in the fridge until serving.
To freeze: It can easily be stored in the freezer a few weeks before serving. Store in an airtight container or freezer bag. To thaw, stick in the fridge overnight. You can serve cold or warm up in a sauce pan or slow cooker, whichever you prefer.
5 star review
"Perfect for the upcoming Holidays…so pretty! Came together perfectly with the layers each setting up well."

-AC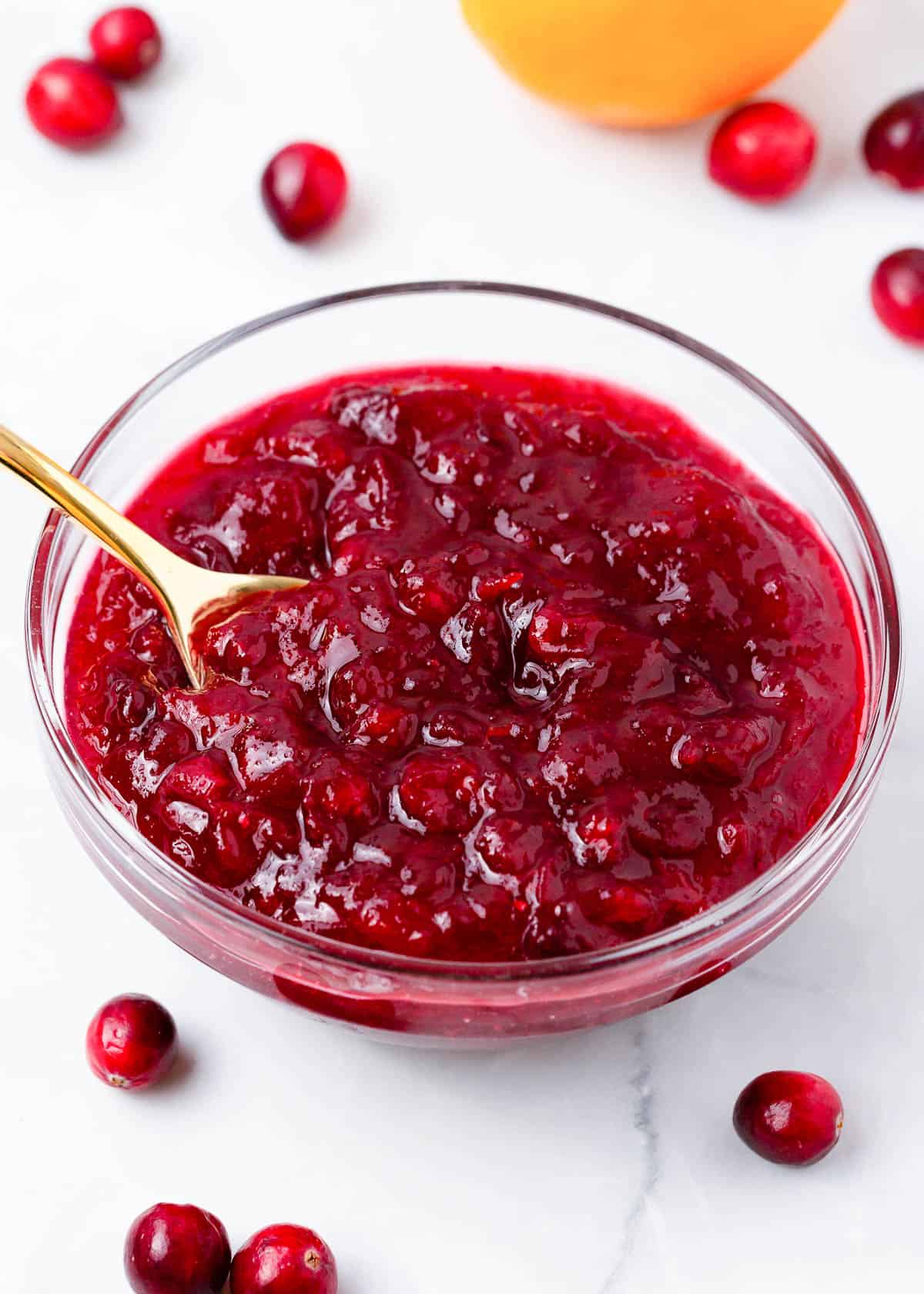 More Recipes with Fresh Cranberries
HUNGRY FOR MORE? Subscribe to my newsletter and follow on Facebook, Pinterest and Instagram for all the newest recipes!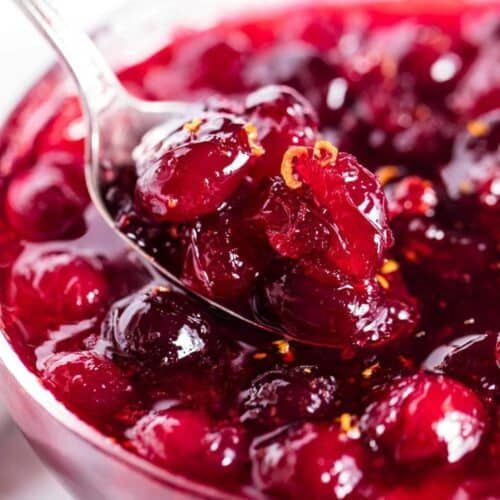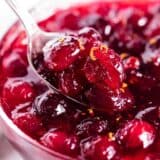 Homemade Cranberry Sauce
A fresh and delicious homemade cranberry sauce recipe made with only 3 simple ingredients! Just as easy as the canned sauce, but with so much more flavor!
Ingredients
1 ½ cups fresh cranberries (12 ounce bag)
1 cup granulated sugar
1 orange
Pinch Kosher salt
½ cup water
Instructions
Gather ingredients. Zest the orange and then cut in half. Juice the orange into a small bowl and remove any seeds.

Place cranberries, sugar, fresh orange juice, orange zest, salt and water in a medium sauce pan. Bring to a light boil over medium heat.

Continue to cook until the cranberries have burst and it has thickened (about 10 minutes). Mash the cranberries if you prefer a smoother sauce.

Remove from heat and put the sauce in a bowl. Cover and refrigerate until ready to serve.
---
Notes
This is a sweet cranberry sauce. If you'd like more of a bitter taste, cut the sugar in half. If you'd like to use a natural sweetener, you can use pure honey or 100% pure maple syrup.
Nutrition
Calories: 75kcal | Carbohydrates: 19g | Potassium: 30mg | Sugar: 18g | Vitamin A: 30IU | Vitamin C: 7.5mg | Calcium: 5mg
Nutrition provided is an estimate. It will vary based on specific ingredients used.
Did you make this recipe? Don't forget to give it a star rating below!