This entire side dish is made in 30 minutes using just one pot. Instant Pot mashed sweet potatoes are creamy, sweet, and savory, with a hint of cinnamon. They're the perfect way to switch up any potato side dish!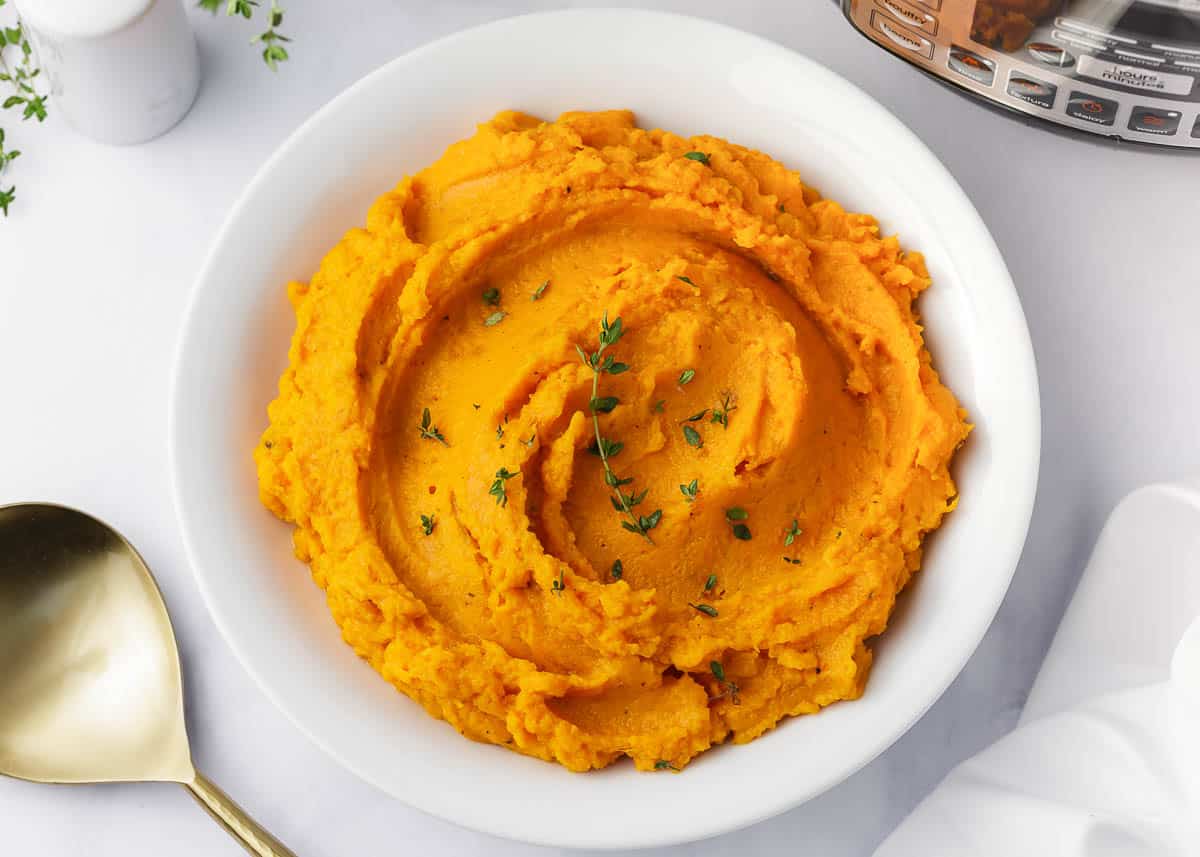 Prep, Cook, Serve When Ready!
Potato side dishes like creamy mashed potatoes made on the stovetop, or Instant Pot mashed potatoes have always been a part of my Thanksgiving menu and probably always will be. Tradition, right?!
Who's to say we can't shake things up a little, though? I've been making more and more dishes using sweet potatoes like these roasted sweet potatoes, candied yams or savory scalloped sweet potatoes and my entire family is loving them!
They've even requested Instant Pot mashed sweet potatoes make an appearance on this year's table! They've got a beautiful orange color, a fluffy, creamy texture, and are incredibly flavorful.
That's the beauty of creating a menu to serve a crowd for the holidays. You can have a variety of different dishes for people to choose from because more often than not, it's the side dishes that shine!
Why This Recipe Works
They offer something new! You can serve this sweet potato recipe instead of traditional mash or along with it as a different option. You can even turn them into a sweet potato casserole instead of baking sweet potatoes! This is a dish topped with a brown sugar crust and toasted pecans!
Effortless & convenient. Everything is done in one pot (easy cleanup!) and using an electric pressure cooker frees up space in your oven and on your stove. The Instant Pot tenderizes the potatoes until they are pillowy and fluffy without having to wait for any water to boil.
Healthy & flavorful. Much like white potatoes, sweet potatoes are high in fiber, antioxidants, vitamins, and minerals, and are naturally gluten-free. My kids don't care about any of that yet, they just love them because of how delicious they taste!
Recipe Ingredients
Find the full printable recipe with specific measurements below.
Sweet potatoes: I mention yams in the recipe card only because sometimes grocery stores will mislabel sweet potatoes. They are not the same thing! You want to pick up the sweet potatoes that look like larger russet potatoes and have orange flesh on the inside. Yams are much lighter and longer.
Cinnamon: The beauty of sweet potatoes is that they pair well with sweet, savory, and warm spices. Cinnamon and sweet potato go hand in hand, as a cooked sweet potato has a similar flavor and texture as butternut squash or pumpkin does.
Sour cream: Adds creamy richness and slight tang to the mashed potatoes. Along with the heavy cream, this is what takes them from soft and fluffy to deliciously creamy!
Variations
Swap the unsalted butter with garlic herb butter for a savory flavor to balance the sweetness.
For a sweeter version, you can mix in 1 to 2 Tablespoons maple syrup or brown sugar.
You could also place Instant Pot mashed sweet potatoes in a baking dish and add marshmallows on top. Broil for 1 to 2 minutes until browned.
How to Make Mashed Sweet Potatoes
Peel and dice potatoes. Just as you would regular potatoes, peel them first. Place each one on a cutting board and use a sharp kitchen knife to cut it in half. Then, slice into quarters, then into 1″ chunks. Even sized pieces are helpful for even cooking.
Add ingredients to the pot. Pressure cooking requires a liquid, however, because we're not boiling the potatoes, we need to use a steamer basket or trivet to hold the potato pieces above the water. Add it into the pot then place the potatoes inside the basket. Add the water, salt, pepper, and cinnamon. Place the lid and pressure cook on high for 10 minutes.
Quick release. Once the cooking timer goes off, carefully move the valve to venting. Keep your hands and face away from the splatter. Using an oven mitt or the end of a wooden spoon is helpful. I have a lot more tips and tricks on how to use the Instant Pot for you to check out if you'd like. Once the pin drops, remove the lid and allow the contents of the pot to sit and the liquid to evaporate. Drain any excess water.
Mash them up. Add the melted butter and sour cream. Use a potato masher to mash the fork-tender taters and then add 1 Tablespoon of heavy cream at a time, if needed. If you like yours fluffier and less creamy, you may not need much cream at all. Mix in any desired herbs, a little extra salt, and pepper to taste. Top with fresh herbs like sage, fresh thyme, green onions, or parsley, and enjoy!
Make Ahead
Once the potatoes are cooked and mashed as directed, transfer them to a serving dish and place a few pats of butter on top. Cover the dish and keep it in the fridge. When you're ready to serve, warm it in the oven at 175°F.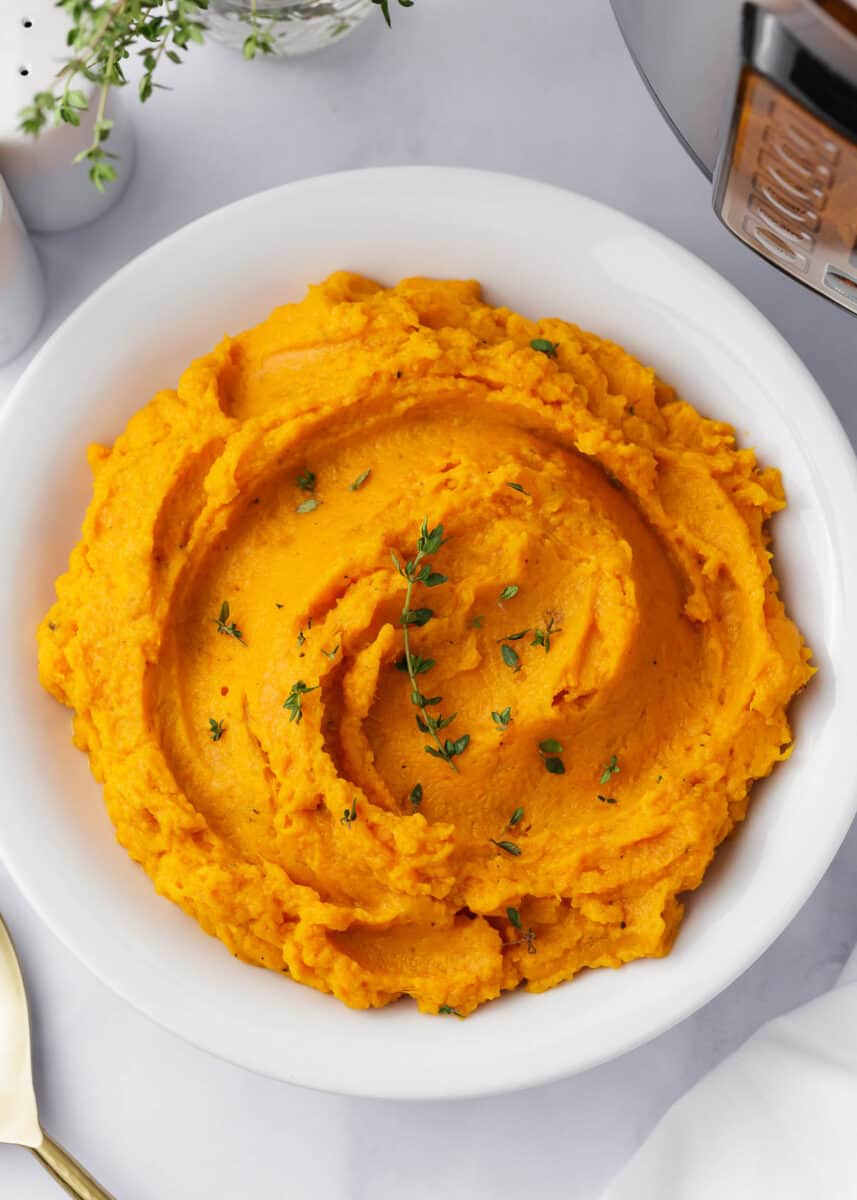 Expert Tips
It takes time for pressure to build. When planning a larger meal, timing can be everything! Take into account the time it takes the Instant Pot to come to pressure.
Do not over mash. The starch in potatoes can become gluey when overworked. This is easier done with regular white potatoes, but still, you want to make sure this doesn't happen!
Keep the lid on loosely. When you're waiting to serve, keep them on the warm function and cover them loosely with the lid. Leave room for steam to escape, otherwise, the condensation will fall right back into the pot making your mash watery.
If you don't have a potato masher, you can also use an immersion blender or electric mixer to get the job done.
Double the recipe: To feed a crowd make a double batch of this recipe that will serve 12-16 people. You will need to double all ingredients except water. There is no change to the cooking time.
Recipe FAQs
How to store leftovers?
Keep anything left in an airtight container in the fridge for up to 3 days.
Can I freeze them?
You can keep them in the freezer, however sometimes potatoes freeze funny. The texture isn't quite the same once thawed, but if you're ok with that, by all means, keep sweet potato mash stored in the freezer for up to 1 month.
How to reheat them?
If frozen, thaw in the fridge overnight. Then, reheat on the stovetop or the microwave with a splash of milk or broth to cream them back up again.
Can I make Instant Pot mashed sweet potatoes dairy-free?
By all means! Use coconut milk instead of heavy cream and sour cream and swap the butter with your favorite vegan butter. You can even add a little vegetable broth for extra flavor.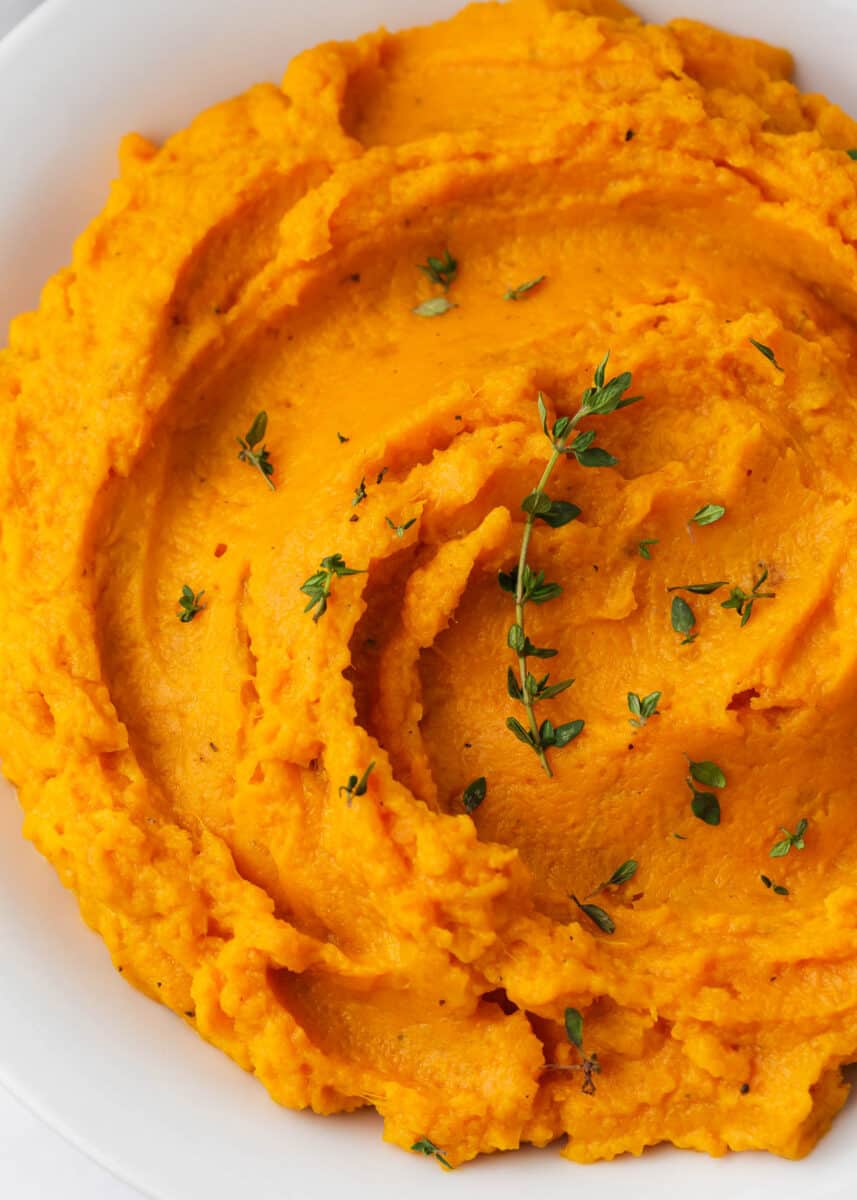 HUNGRY FOR MORE? Subscribe to my newsletter and follow on Facebook, Pinterest and Instagram for all the newest recipes!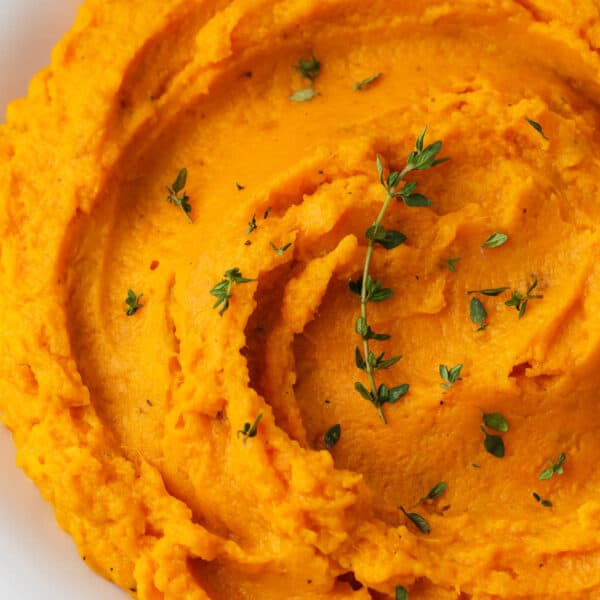 Instant Pot Mashed Sweet Potatoes
This entire side dish is made in 30 minutes using just one pot. Instant Pot mashed sweet potatoes are creamy, sweet, and savory, with a hint of cinnamon. They're the perfect way to switch up any potato side dish!
Ingredients
3 pounds yams (AKA orange sweet potatoes) , peeled and each cut into 6 pieces
1 cup water
1 teaspoon Kosher salt , plus more to taste
¼ teaspoon ground black pepper , plus more to taste
Pinch cinnamon , plus more to taste
4 Tablespoons unsalted butter , melted
¼ cup sour cream
Heavy cream or milk , if needed
Optional Add-in's
Freshly chopped herbs , such as green onions, thyme, or parsley
Instructions
Place steamer basket into the Instant Pot (I used a 6 quart). Add potatoes and water. Sprinkle with salt, pepper, and cinnamon. Stir together.

Place the lid on with the valve turned to seal. Set to manual High pressure and cook 10 minutes. It will take about 10 minutes to build pressure before the timer begins.

Once the timer goes off, do a quick release by carefully turning the valve. Remove the lid and let potatoes sit a couple minutes to let the extra steam/liquid evaporate. Drain off any extra water.

Add the melted butter and sour cream. Mash with a potato masher. Add 1 Tablespoon heavy cream at a time, if needed to reach your desired consistency. Be careful not to overmash. Mix in any herbs, if using, and season with salt and pepper.

Keep the lid on loosely and turn to the Warm setting until ready to serve.
---
Notes
Make ahead:
Once cooked and mashed, place the potatoes in a serving dish.
Put a few pats of butter on top and cover.
Refrigerate mashed potatoes until serving.
Warm in oven at 175°F.
Storage: Store in a covered container in the refrigerator up to 3 days.
Variation: For a sweeter version, you can mix in 1 to 2 Tablespoons maple syrup or brown sugar. You could also place in a baking dish and add marshmallows on top. Broil 1 to 2 minutes until browned.
Nutrition
Calories: 265kcal | Carbohydrates: 48g | Protein: 3g | Fat: 7g | Saturated Fat: 4g | Polyunsaturated Fat: 0.4g | Monounsaturated Fat: 2g | Trans Fat: 0.2g | Cholesterol: 19mg | Sodium: 310mg | Potassium: 1400mg | Fiber: 7g | Sugar: 1g | Vitamin A: 455IU | Vitamin C: 29mg | Calcium: 39mg | Iron: 1mg
Nutrition provided is an estimate. It will vary based on specific ingredients used.
Did you make this recipe? Don't forget to give it a star rating below!