These cereal bars are the best after-school snack that my kids absolutely love. Made with just 4 simple ingredients and take only 10 minutes to make!
Homemade Cereal Bars
During the school year, we love to have lots of easy and delicious snacks on hand. These cereal bars are one of our favorite after-school snack recipes, along with granola, granola bars and frozen yogurt granola berry bites.
With school starting in a couple of weeks, I thought I would share one of my favorite childhood after-school snacks. I don't know about you, but when my kids get home from school they are hungry and ready to eat the entire pantry. It is hard not to ask them about their day until their bellies are happy. Once they've had a good snack, they're ready to tell me about their day. It is always rewarding sitting around the kitchen table eating together and listening to all of their school day stories.
One of their favorite snacks is these homemade cereal bars. My 3-year-old is peanut butter obsessed and loved making these with me! If you saw my Instagram story last week, you may remember when she dipped her entire hand into the peanut butter jar and then took a big gulp of milk after. She definitely keeps me on my toes, but I always love having her by my side.
Ingredients
The best part about these cereal bars is that you can use your favorite cereal to make them. You can also add some of your favorite mix in's like peanuts or chocolate chips.
Find the full printable recipe with specific measurements below.
Peanut butter: The peanut butter is the 'glue' that holds these cereal bars together. You could use any type of nut butter (cashew, almond, etc.), however, I've found that peanut butter tastes the creamiest and holds together the best.
Honey: The honey adds the perfect touch of sweetness to these cereal bars. If you don't have honey on hand, you could use maple syrup too.
Dry cereal: There are tons of different cereal options that will work in this recipe. You can use your favorite cereal or something that's already in your pantry.
Vanilla: I like to add a dash of vanilla to help enhance the flavor, too.
How to Make Cereal Bars
Easy cereal bars are perfect for making a quick snack or delicious treat for your family or feeding a crowd! They are a simple one-pot recipe that is always delicious and kids' favorites!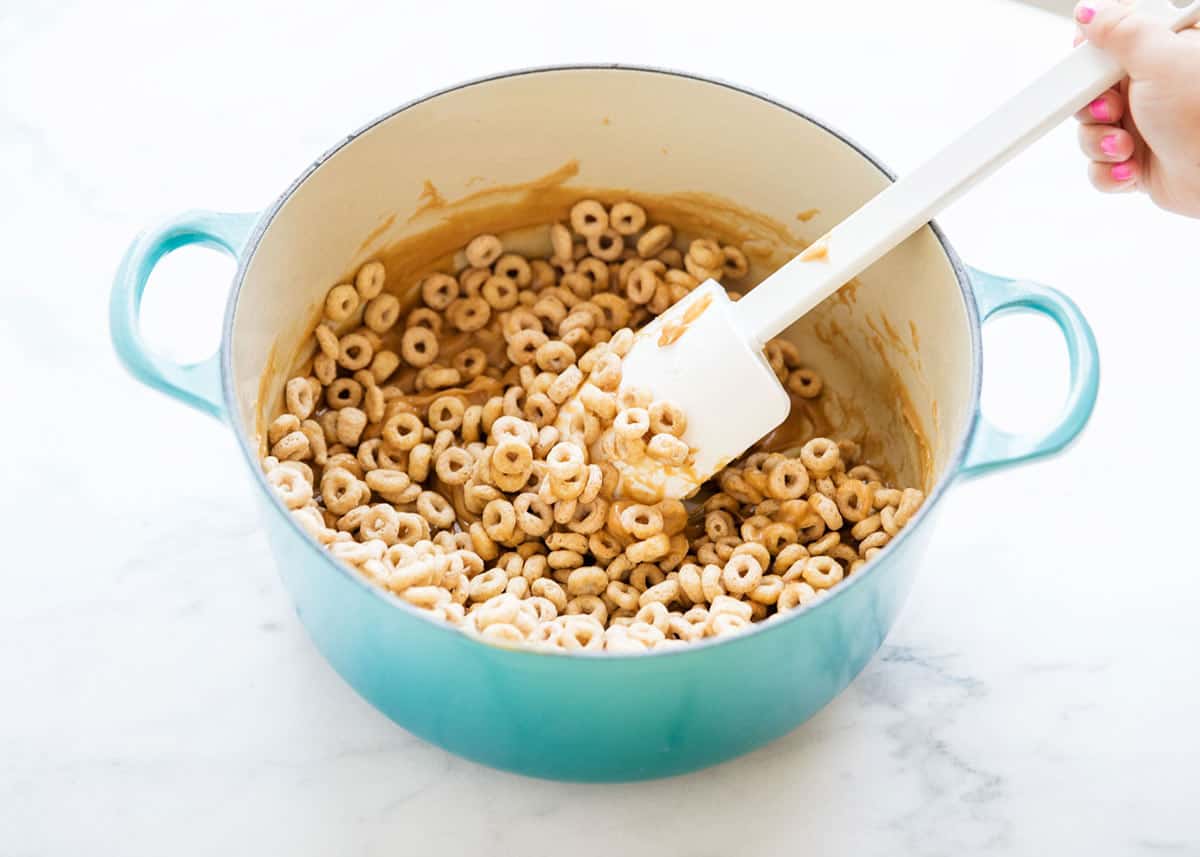 Melt. Add the peanut butter and honey to a medium pot. Cook until smooth, about 3 minutes. Make sure to stir consistently. Remove from heat and add in vanilla.
Stir. Gently mix in the dry cereal until well coated. Then press the mixture into a parchment-lined 8×8″ pan.
Chill. Let chill in the fridge for about one hour before serving. Enjoy!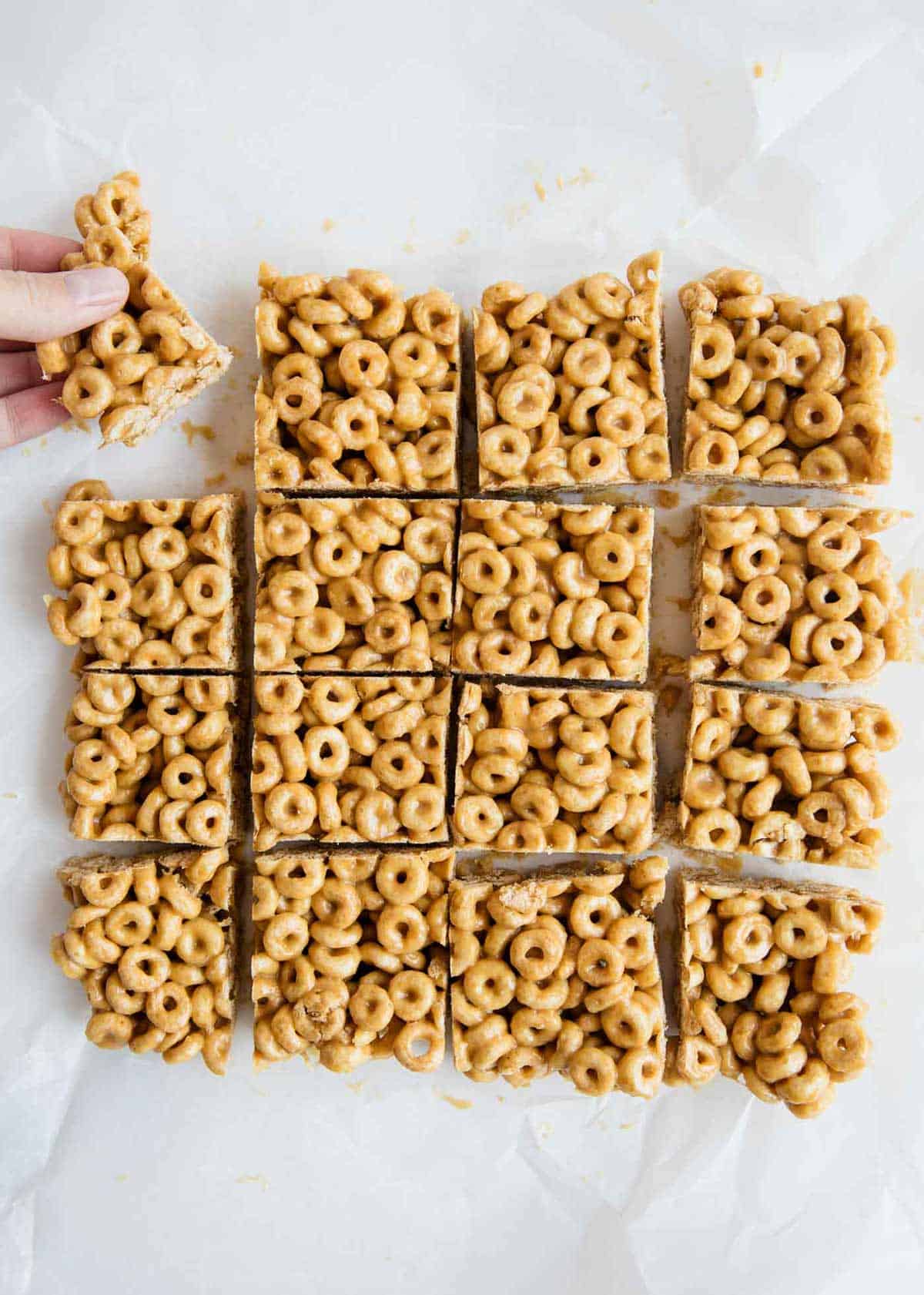 Tips for Making Cereal Bars
Follow these simple tips to make sure that your easy cereal bars are combined well, firm from the cold, and stored properly. These bars are just what you need to have on hand when you have kiddos ready for a snack!
Tip. Make sure to press down firmly in a baking dish with parchment paper so that they stick together (and not on your hands).
Firm. Refrigerate the bars for the full hour so they become firm.
Cut. Use a sharp knife to cut through the bars.
Cereals. Try other cereals like rice krispies, lucky charms, or what I used, these honey nut cheerios.
Substitute peanut butter. Try almond butter or sunflower seed butter for other alternatives.
Store. Once cut, store them in an airtight container in the refrigerator to help keep their shape.
Dessert. Drizzle melted chocolate or stir in some chocolate chips to turn these into a fun kid-friendly dessert.
5 star review
"Delicious and my 2 year old approves too. Easy to alternate ingredients with what ever cereal I had on hand and I used half sugar free maple flavoured syrup too :)"

-Jesstopia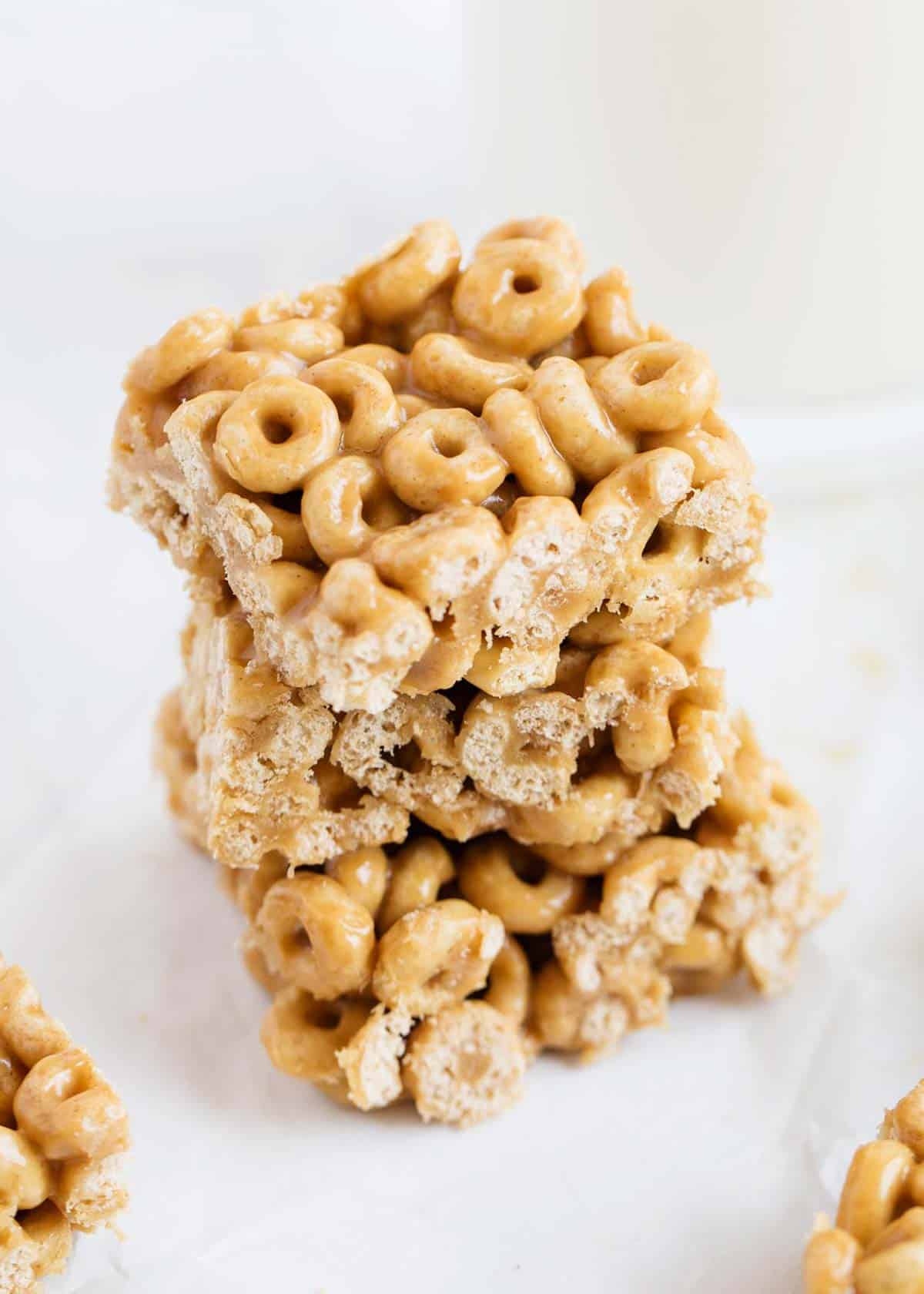 Recipe FAQs
Are cereal bars a healthy snack?
Some cereal bars are labeled healthy snacks. These bars are on the healthier side with natural sugars but they do have a sweetness to them that does make them have some sugar from the cereal itself.
What holds cereal bars together?
For this homemade cereal bar recipe, the honey really holds the cereal together combined with the peanut butter. They are both like glue that sticks together. Some cereal bars contain marshmallows to help keep them together too.
How long do homemade cereal bars last?
These cereal bars will keep in an airtight container or ziptop bag in the refrigerator for up to one week. Already have the bars sliced into square or long rectangle shapes to make grabbing one out of the fridge a breeze.
More Easy Snack Ideas
HUNGRY FOR MORE? Subscribe to my newsletter and follow on Facebook, Pinterest and Instagram for all the newest recipes!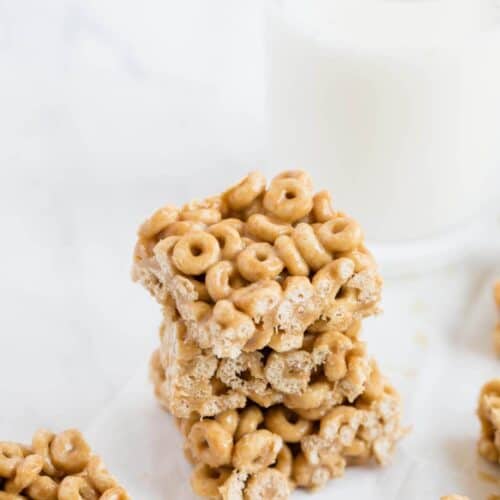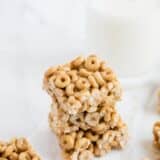 Cereal Bar Recipe
These cereal bars are the best after school snack that my kids absolutely love. Made with just 3 simple ingredients and take only 10 minutes to make!
Instructions
Line a 8×8 inch pan with parchment paper and set aside.

Combine the peanut butter and honey in a medium size sauce pan. Cook for 3 minutes, stirring occasionally. Remove from heat and stir in vanilla.

Add in the dry cereal and stir until completely coated. Then press into the lined pan. Use a piece of parchment paper to press firmly down on the bars.

Refrigerate bars for one hour, or until ready to serve.
---
Notes
These cereal bars are best kept chilled in the refrigerator to keep shape.
Nutrition
Calories: 97kcal | Carbohydrates: 13g | Protein: 2g | Fat: 4g | Sodium: 63mg | Potassium: 87mg | Sugar: 9g | Vitamin A: 150IU | Vitamin C: 1.1mg | Calcium: 23mg | Iron: 1.7mg
Nutrition provided is an estimate. It will vary based on specific ingredients used.
Did you make this recipe? Don't forget to give it a star rating below!