This trail mix recipe is super simple to make and perfect for on-the-go snacks! It's ready in 5 minutes and easily customizable with all your favorite mix-in's!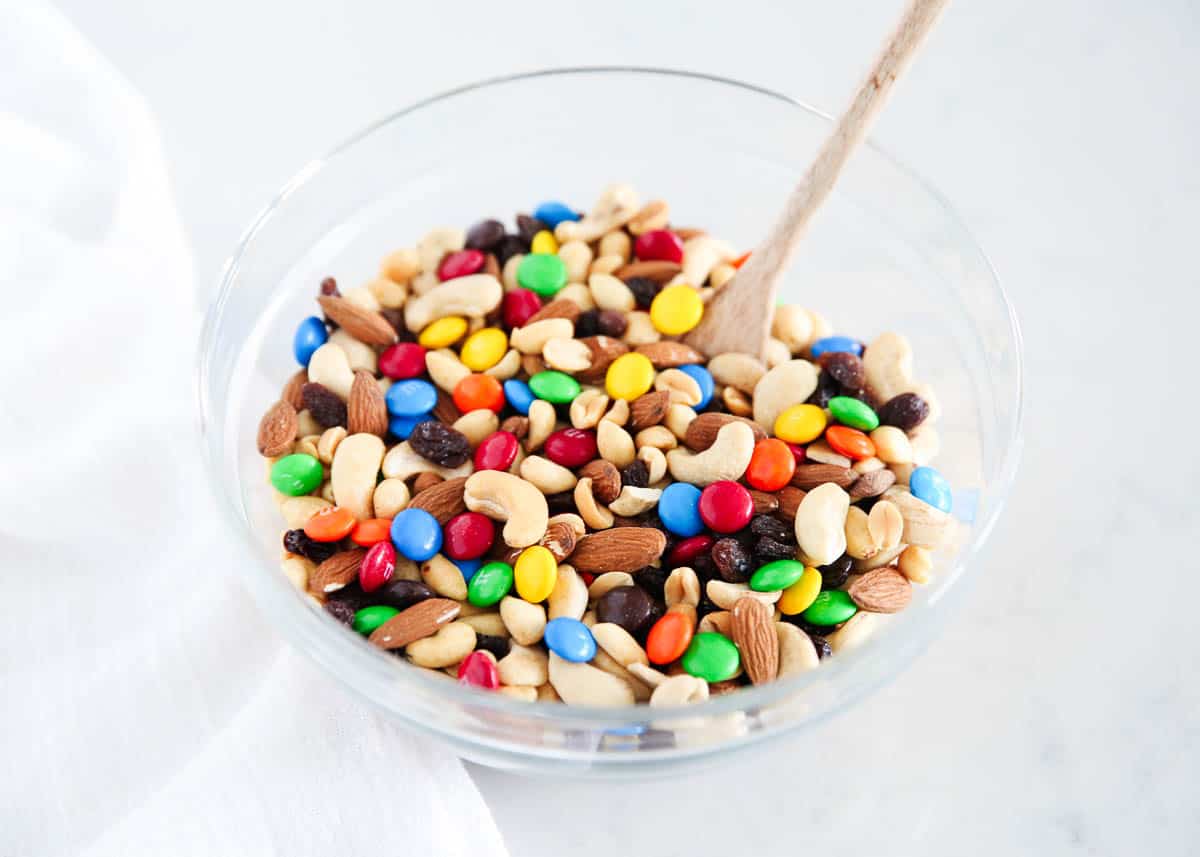 The Perfect Snack
Homemade trail mix is one of the easiest snack recipes for kids to make. My kids have so much fun choosing their favorite ingredients and mixing them together. They also love to help make ants on a log and these easy fruity pebbles treats. So fun and simple!
We made it for our last big road trip and plan to make more for after school snacks. It also makes a great snack for camping, going on a hike, movie night and everything in between! Kids and adults all love it.
The best thing about this trail mix recipe is how customizable it is to your taste! You can make it healthy, sweet, salty or savory. So many ways to make it your own!
Reasons to Love Trail Mix
Inexpensive. Makes a big batch with 8 servings! Way more cost effective than pre-made.
Quick. Only 5 quick minutes to combine all of the ingredients together. SO easy.
Perfect for kids. Such an easy recipe for kids to make with you. My kids LOVE trail mix!
Customizable. Add your favorite mix-in's and create your own personal recipe.
On-the-go. The perfect grab and go snack for lunch boxes, after school, road trips and more.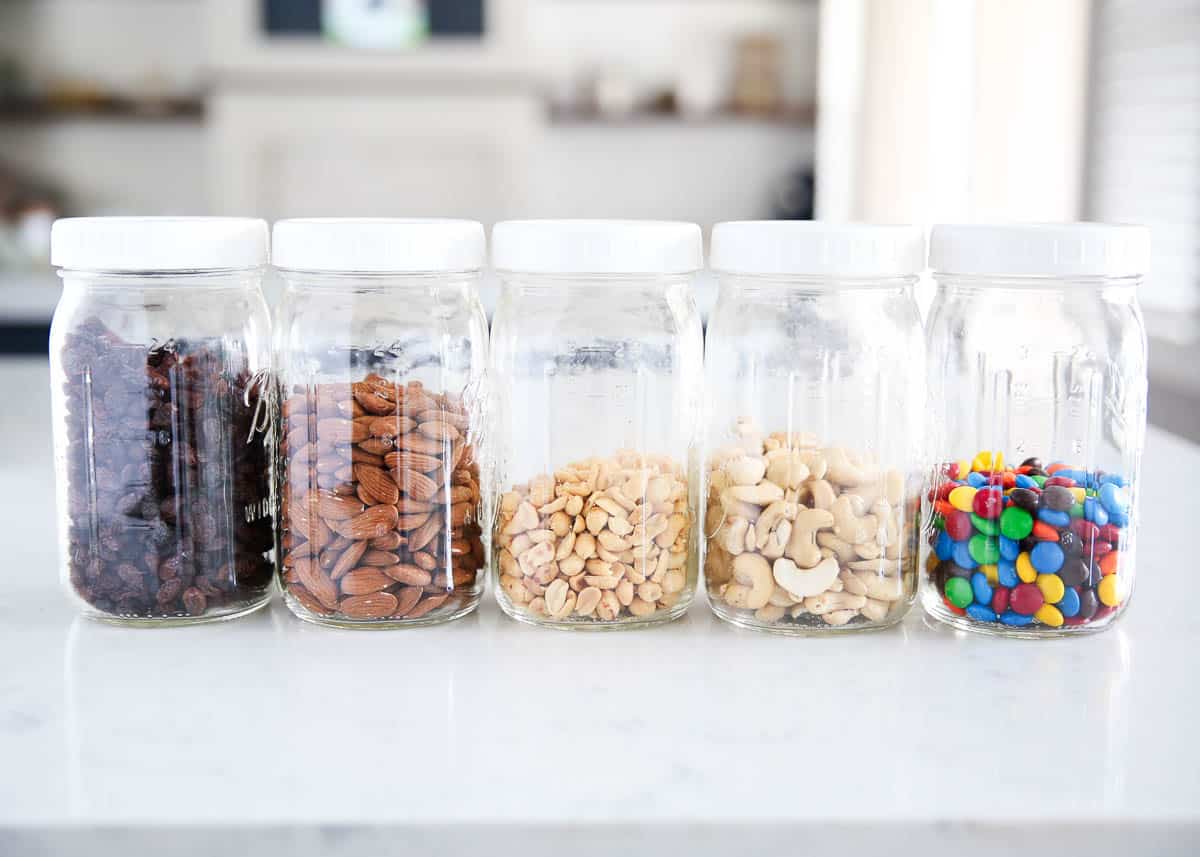 Ingredients
I like to add something crunchy, sweet and salty to mine, but we usually just add whatever is in our cupboards. These are definitely our favorite ingredients to add though.
Nuts: I like to use a mix of cashews, peanuts and almonds. Feel free to use your favorite nuts of choice like walnuts, pistachios, hazelnuts or macadamia nuts.
Raisins: Dried raisins add a sweet bite and compliment the salt from the nuts so nicely. If you don't have raisins, dried cranberries are a great substitute.
M&M's: Isn't the small bite of chocolate candy always the best part of any snack mix? I happen to believe so! You could always sub with chocolate chips, peanut butter chips or white chocolate chips if you'd like.
Other Mix-In Ideas
Trail mix is SO versatile, so feel free to add more ingredients for extra flavor and texture. Below are some other fun ingredients we've tried:
Pretzels
Mini marshmallows
Gold Fish or Teddy Grahams
Cheerios, Chex or Golden Grahams (or other types of cereals)
Sunflower seeds or pumpkin seeds
Coconut flakes
Popcorn
Dried fruit (apple chips, bananas, mango, apricots, pineapple, cherries, etc.)
Chocolate, yogurt covered raisins or any other candy chocolates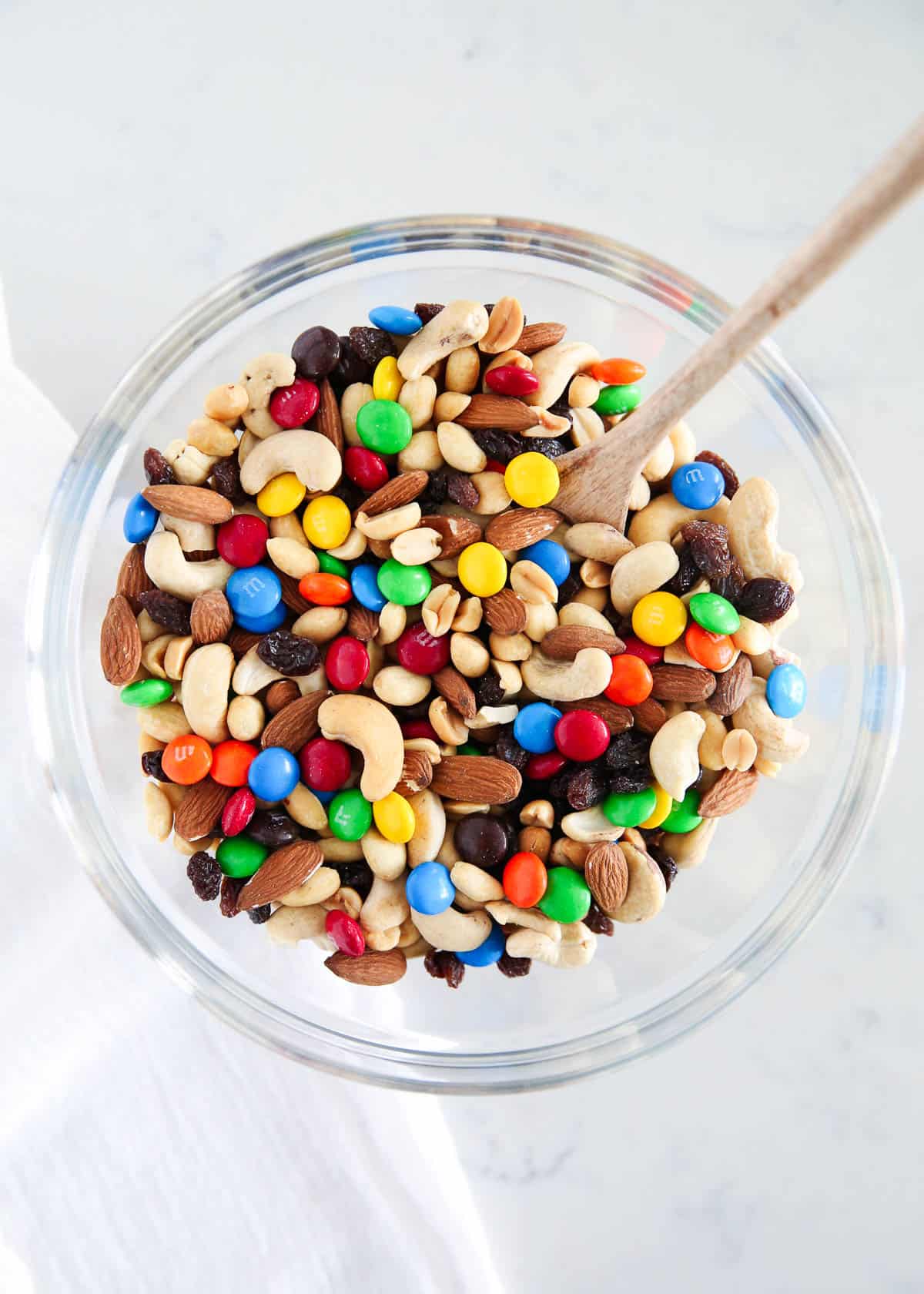 How to Make Homemade Trail Mix
Here's the best part about this homemade trail mix: you can make it as healthy as you want! If my kids are helping make it, they love to add in pretzels, cheerios and mini marshmallows. I usually don't add the chocolate every time, but it's fun to add it in on special occasions. When I do, my kids think I'm the best mom ever!
Measure out all ingredients.
Place in a large bowl.
Toss until mixed together.
Store in zip top bags for easy snacks.
Mini Snack Bags
This recipe is PERFECT for making snack bags! Simply measure out 1/2 cup portions and place in snack size zip lock bags (photo above). It should make around 12-14 servings.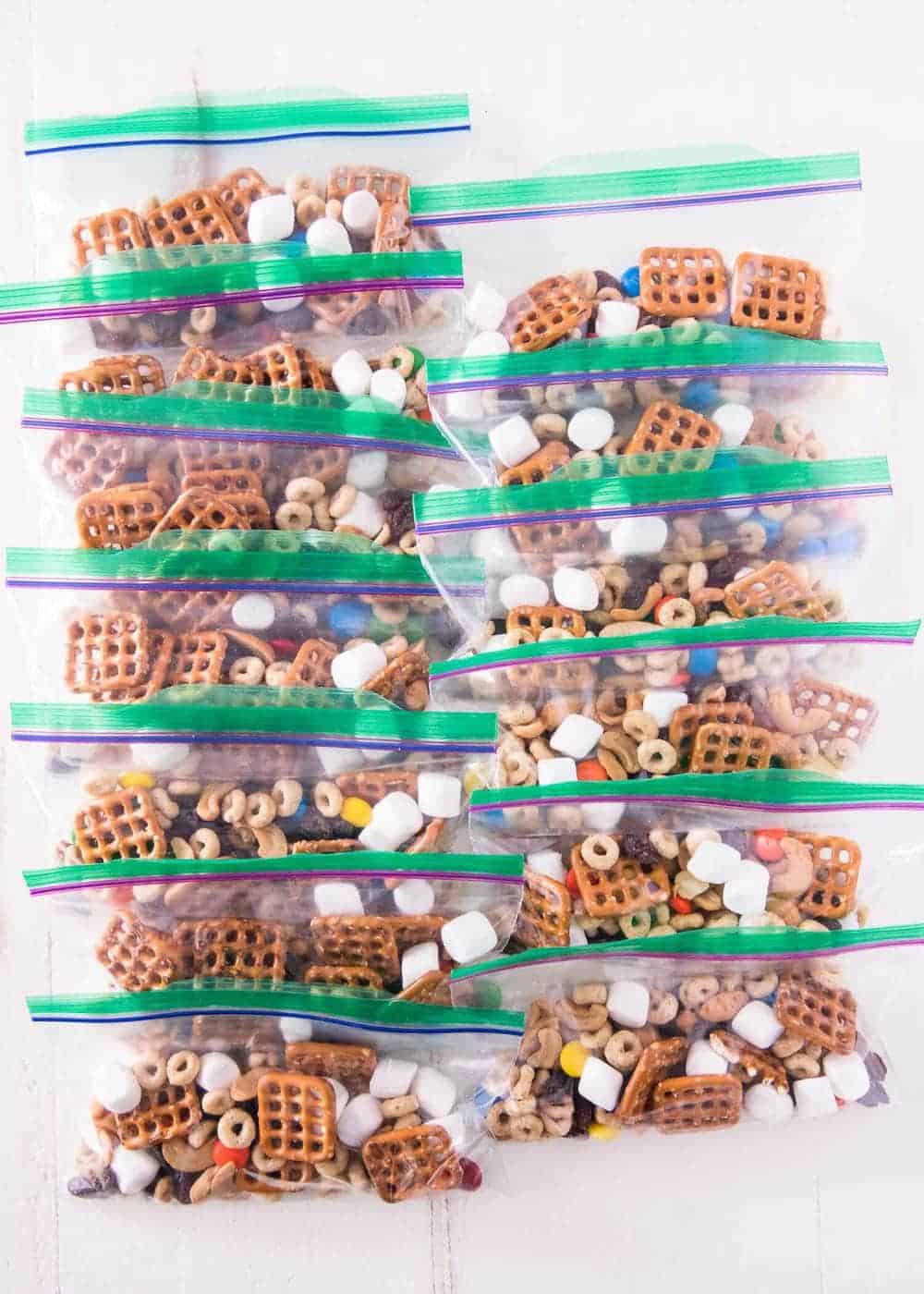 How to Store Trail Mix
The best thing about this recipe is that it stores for a long time. I like to store this trail mix in a mason jar with a lid (like you see below). It will stay freshest the longest in a glass container. We also love storing it in snack bags for grab and go snacks.
If stored properly, it will stay fresh for 1-2 months. You can also place it in the fridge or freezer for up to 3-6 months.
5 star review
"I LOVED this recipe! It was GREAT for my kids!"

– Makenzie
More Ways to Use This Snack Mix
Although it makes a great snack, it can also be used in other delicious recipes as well! Try any of the below if you have some extra snack mix to use up before it expires.
FAQs
Is trail mix a healthy snack?
It most definitely can be! Stick to better-for-you ingredients like roasted nuts, seeds and dried fruit for extra vitamins and minerals. Dark chocolate is another fun mix-in that is full of antioxidants!
Is trail mix gluten-free?
The beauty of making your own homemade trail mix is that you get to add in your favorite ingredients. So stick with gluten-free mix-in's when making this recipe, and you'll have the perfect snack mix that's great for those with gluten sensitivities or allergies.
Can trail mix go bad?
Eventually it will, but not for a while! If kept stored in an airtight container, it will stay fresh for about 1 to 2 months. That's plenty of time for your family to eat it up before it loses it's freshness. After that, it's probably best to pitch and make a new batch.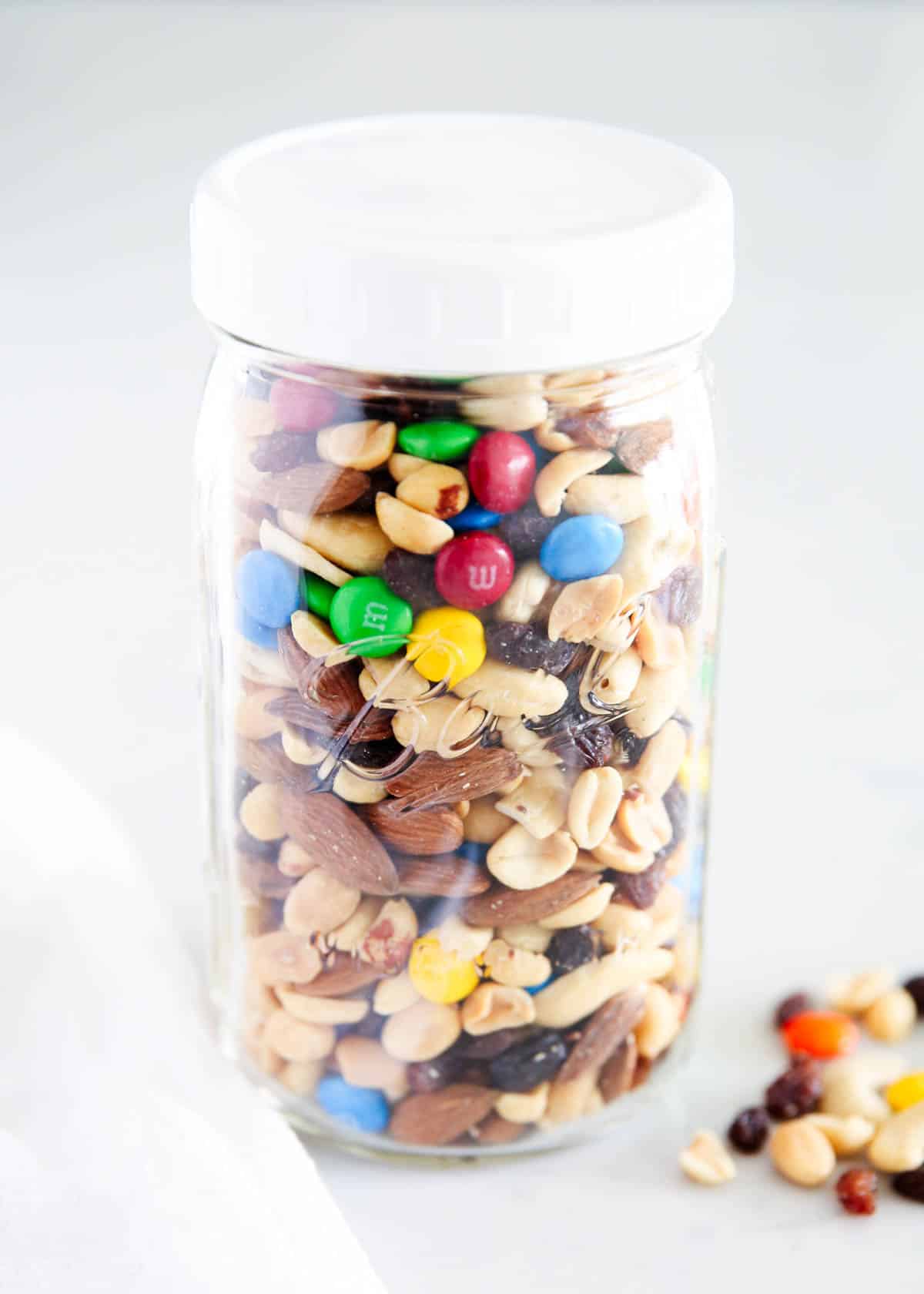 HUNGRY FOR MORE? Subscribe to my newsletter and follow on Facebook, Pinterest and Instagram for all the newest recipes!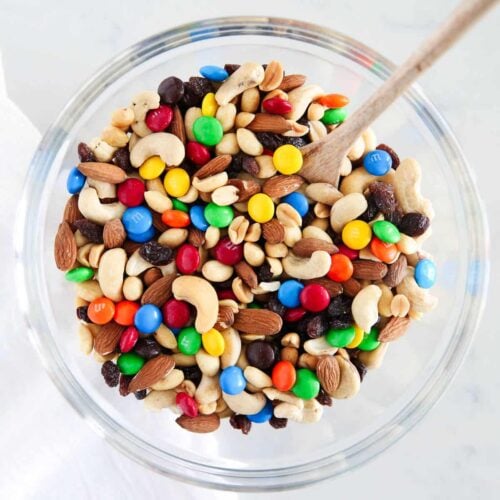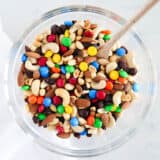 Trail Mix Recipe
This trail mix recipe is super simple to make and perfect for on-the-go snacks! Ready in 5 minutes and easily customizable with all your favorite mix-in's!
Ingredients
1 cup cashew halves , or nut of choice
1 cup peanuts , or nut of choice
½ cup almonds
1 cup raisins or dried cranberries
½ cup M&M's
Instructions
In a large bowl, stir the cashews, peanuts, almonds, raisins and M&M's until combined.

Store trail mix in a mason jar or zip-top bag.
---
Notes
Storage: Store in an airtight container for up to 1 month.
Optional mix-in's:
pretzels
mini marshmallows
Cheerios
Gold Fish or Teddy Grahams
Chex or Golden Grahams
sunflower seeds
popcorn
dried fruit
chocolate or yogurt covered raisins
Nutrition
Serving: 0.5cup | Calories: 364kcal | Carbohydrates: 33g | Protein: 11g | Fat: 24g | Saturated Fat: 5g | Polyunsaturated Fat: 6g | Monounsaturated Fat: 11g | Trans Fat: 1g | Cholesterol: 2mg | Sodium: 20mg | Potassium: 457mg | Fiber: 5g | Sugar: 9g | Vitamin A: 29IU | Vitamin C: 1mg | Calcium: 70mg | Iron: 3mg
Nutrition provided is an estimate. It will vary based on specific ingredients used.
Did you make this recipe? Don't forget to give it a star rating below!