These banana oatmeal chocolate chip cookies are super soft, chewy and absolutely delicious. The perfect way to use up those overripe bananas!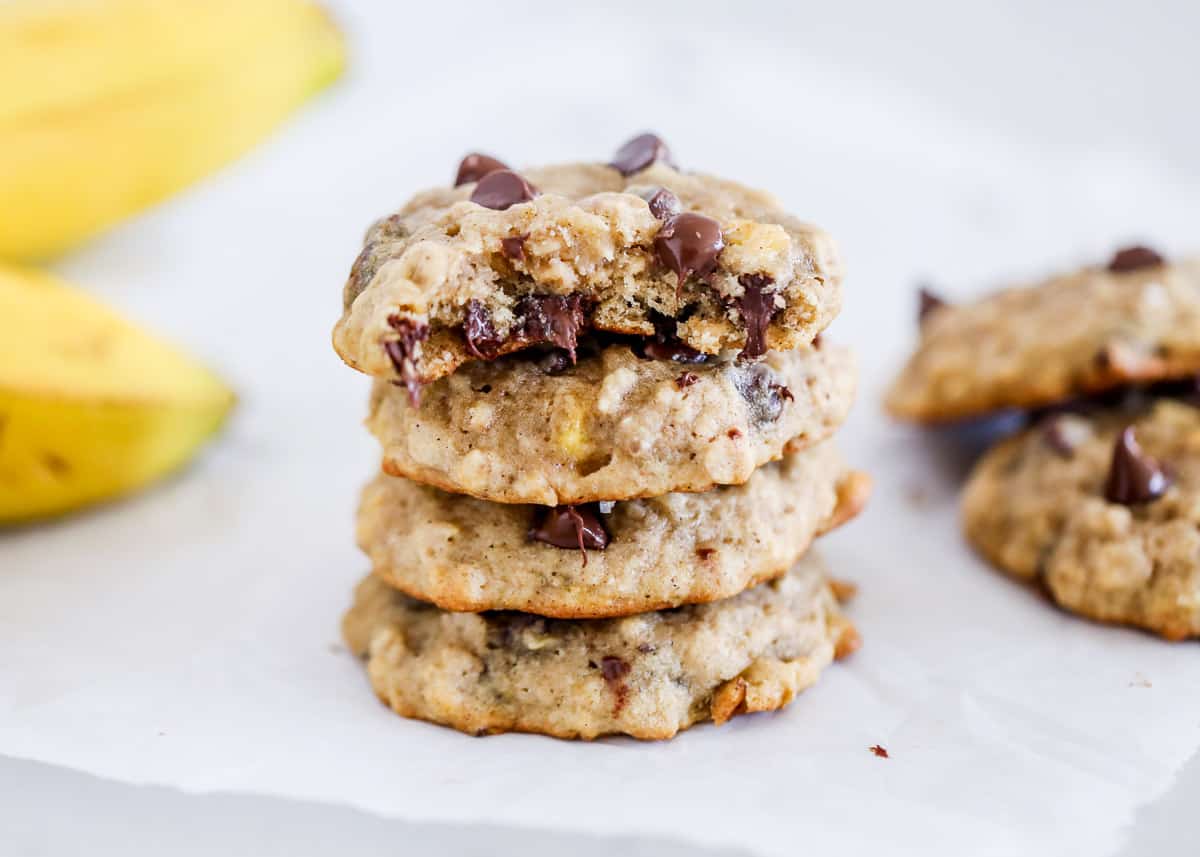 Easy Banana Oatmeal Cookies
Are you tired of making banana bread with old bananas? Overripe bananas bring such great flavor when baking. They have a delicious sweet taste and make the texture so moist. But they aren't just for making bread! You can use them in bars, muffins and my newest obsession…these banana oat chocolate chip cookies.
They have the same soft and chewy texture of a traditional oatmeal cookie, but have a subtle sweet flavor from the mashed banana. And they're filled with bites of gooey chocolate chips throughout, just like your favorite chocolate chip cookies.
The best part about these cookies is that they use less better and sugar than the classic oatmeal chocolate chip cookies. The banana not only adds a natural sweetness so you can cut back on sugar, but it also contributes to a super moist consistency which allows you to reduce the amount of butter used too. It's a healthier version that tastes just as delicious!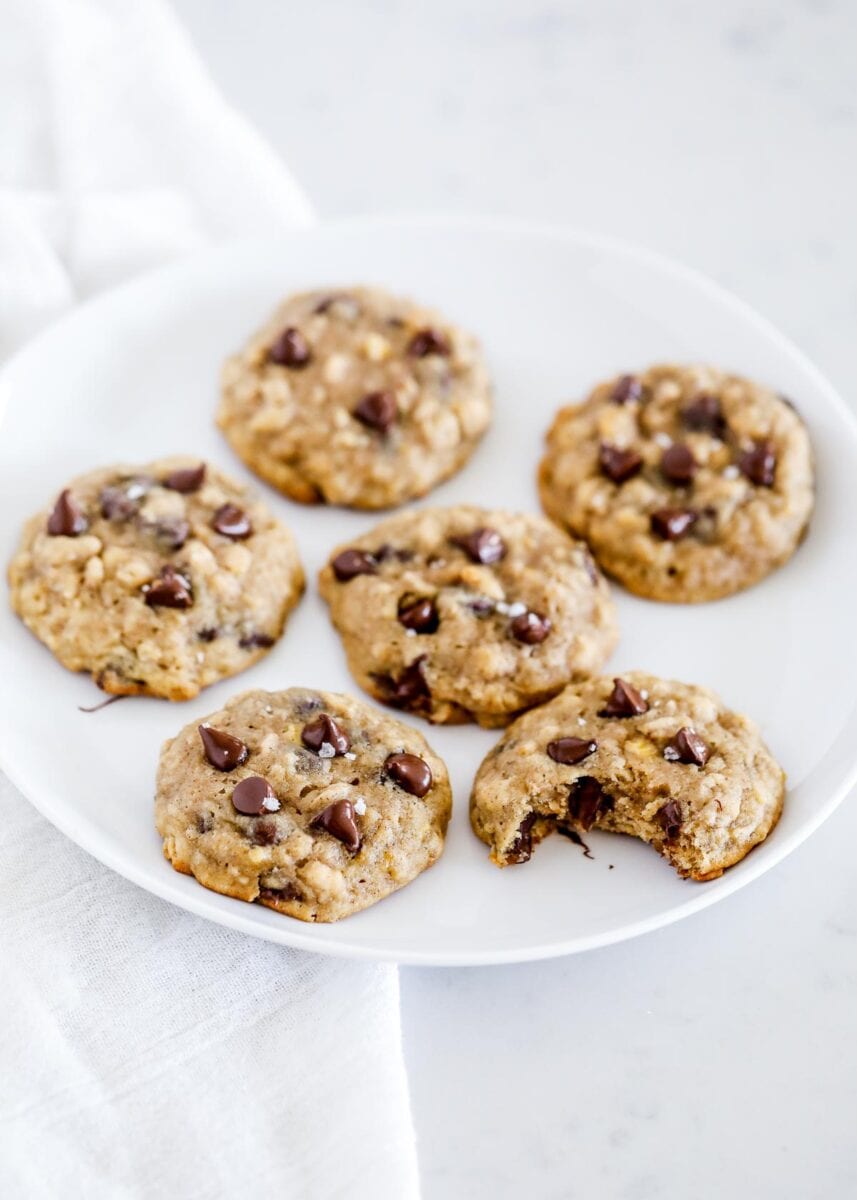 Recipe Ingredients
Find the full printable recipe below.
Bananas: Not only a key flavor for these cookies, but ripe bananas also provide a nice sweetness, as well.
Oats: Old-fashioned oats provide a chewy, nutty texture and flavor.
Chocolate chips: Semi-sweet or dark chocolate perfectly balances the sweetness of the bananas.
Butter: When creamed with the sugars, the butter gives a lighter texture to the cookies.
Sugars: Brown and granulated sugars add sweetness and depth to the flavor, and are an important ingredient when creaming the butter to create a lighter texture.
Salt: Fine sea salt or table salt help enhance the sweetness of the cookies.
Eggs: One egg is all that is needed to bind the ingredients together.
Flour: All-purpose flour helps create the gluten necessary to make the cookies hold their shape.
Baking soda: This all-important leavening agent creates a lighter textured cookie.
Cinnamon: This spice is a favorite to use with bananas as it counters the sweetness and enhances the fruit flavor.
Variations
Lighter swap. For a healthier cooking substitution, use applesauce in place of butter.
Chocolate chips. I typically use semi-sweet chocolate chips, but dark chocolate chips or a mix of both would taste delicious as well.
Nuts. Chopped walnuts or pecans add a nice crunch and flavor.
Raisins. Use raisins in place of chocolate chips if preferred.
Spices. Add a pinch of nutmeg or pumpkin pie spice for a fun seasonal twist.
How to Make Banana Oatmeal Chocolate Chip Cookies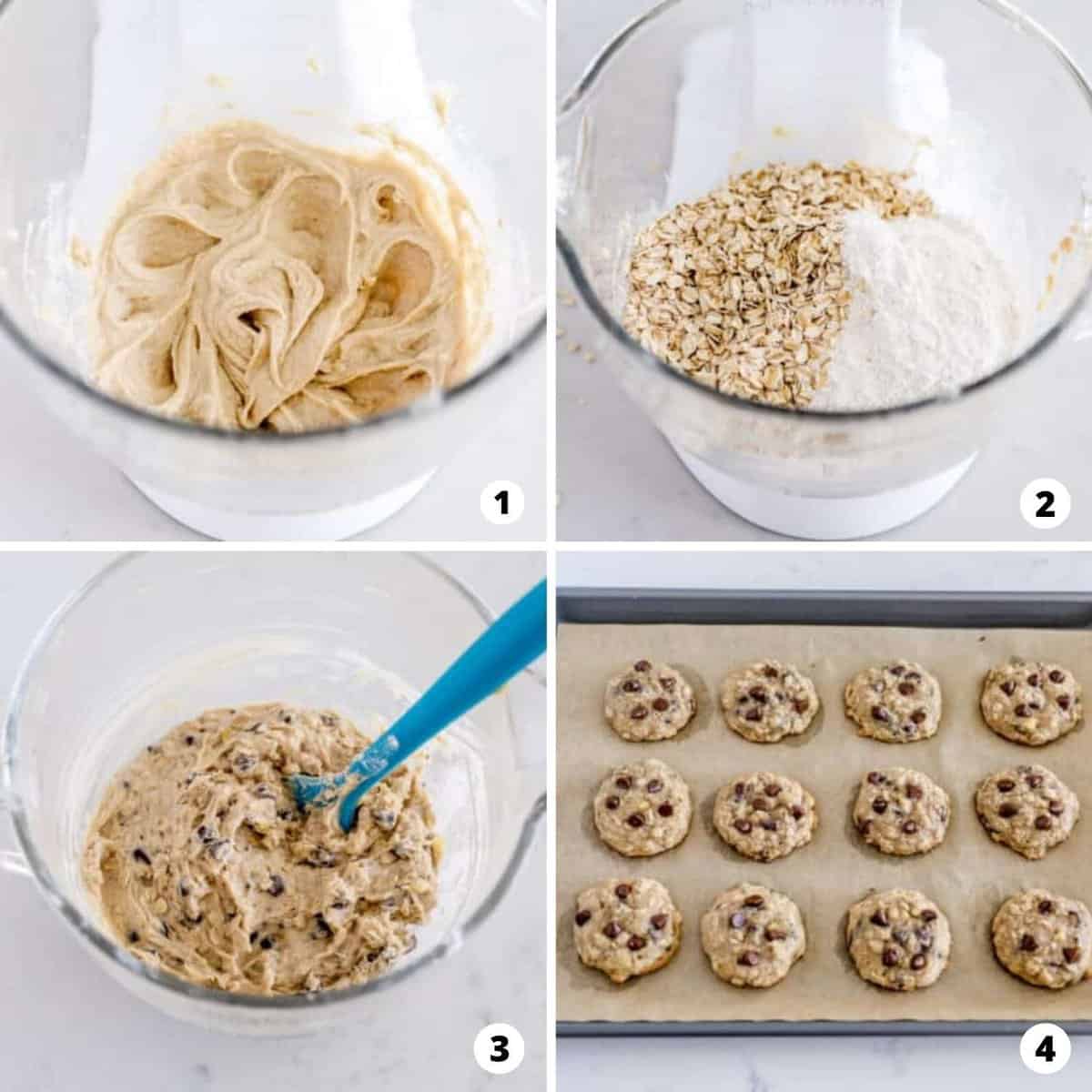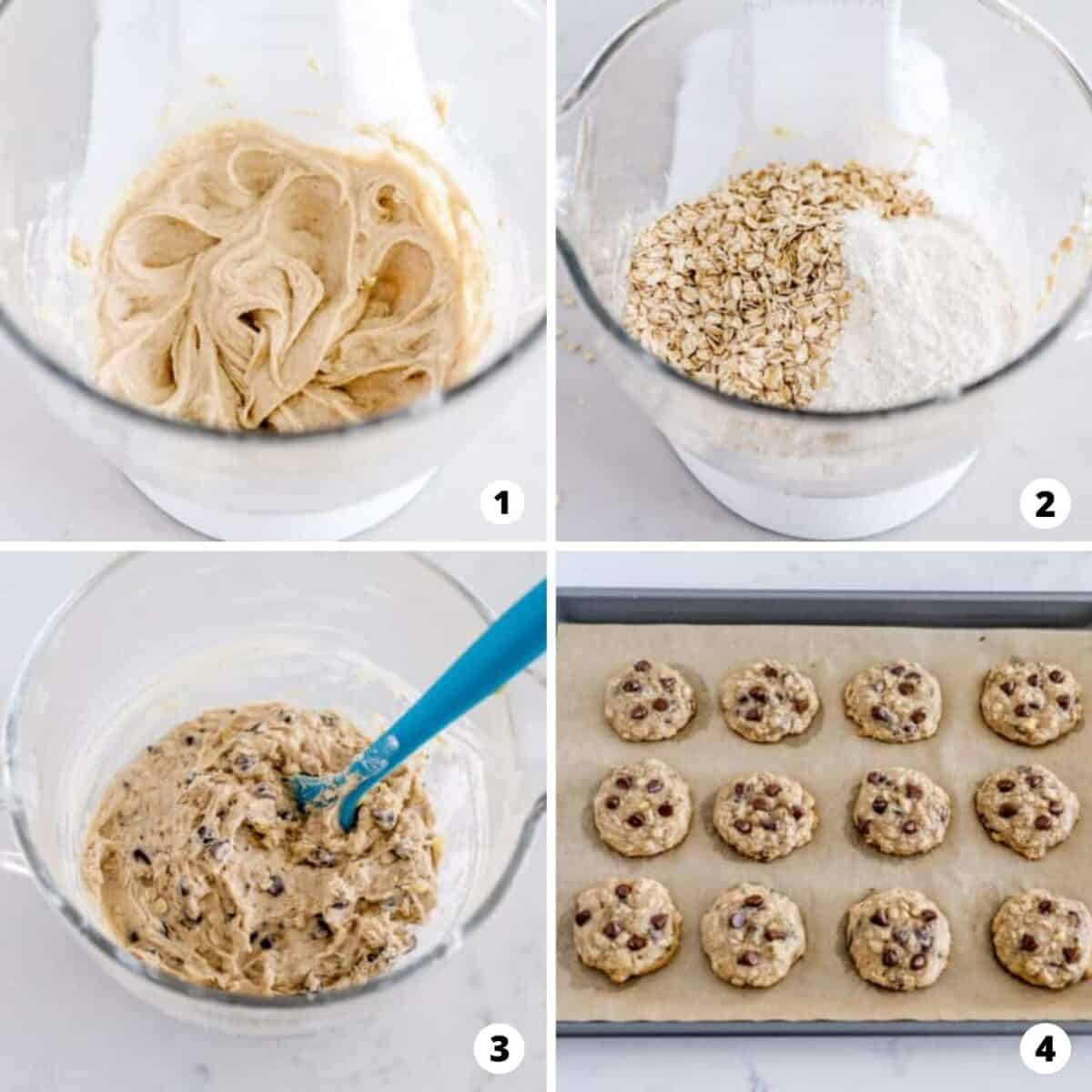 Mix ingredients. In a large bowl cream together the butter, granulated sugar, and brown sugar with an electric stand mixer. Then mix in egg and vanilla and stir until combined. Stir in bananas and mix together.
Dry ingredients. In the same bowl, add in the dry ingredients. Mix just enough that it is combined but do not over mix.
Chocolate chips. Using a spatula and fold in chocolate chips to the dough.
Bake cookies. Used a cookie scoop to scoop out cookie dough and place in round balls onto the baking sheet. Leaving cookies about 2 inches apart. Bake for 11 to 12 minutes or until the bottoms and edges become golden brown. Then allow to cool on a wire rack.
Tips for the Best Banana Oatmeal Cookies
Ripe bananas. Look for bananas that are covered in brown spots. The browner the banana, the sweeter the flavor. If the color is still yellow or green, it's not ripe enough to use.
Type of oats. Old-fashioned oats are the best type to use in this recipe. These oats are whole in size, contributing to a chewier texture. You could also use quick oats, although they will give your cookies a finer consistency that's more soft and less chewy. They might also bake a little faster, so be sure to keep an eye on them.
Chill the dough. If you have the time, refrigerate the dough for about 15 to 30 minutes prior to baking. It helps make the cookies extra thick and chewy for this cookie recipe.
Salt. Right when the cookies come out of the oven, add a sprinkle of maldon flake sea salt on the tops. The combination of sweet and salty gives them the absolute best flavor. You'll thank me later!
Recipe FAQs
Can I use quick oats in these banana oatmeal cookies?
I don't typically like using quick oats because they don't provide the same structure as old-fashioned oats and your cookies won't be quite as chewy or hearty.
How can I ripen my bananas quickly?
If your bananas aren't quite ripe and you don't want to wait to bake these banana oatmeal chocolate chip cookies, simply poke the peel with a sharp knife, wrap in a paper towel, and cook in the microwave for 30 seconds on low.
Why are my cookies flat?
If your cookies aren't holding their structure, it may be that your oven is too hot. If this is the case, the butter will melt too quickly, spreading out and creating a flatter cookie. Use a separate thermometer to make sure the internal temperature is in sync with the temperature you are setting it to.
Is gluten-free flour OK for cookies?
Yes, if you need to you can use a cup-for-cup gluten-free flour. Use the same measurements below.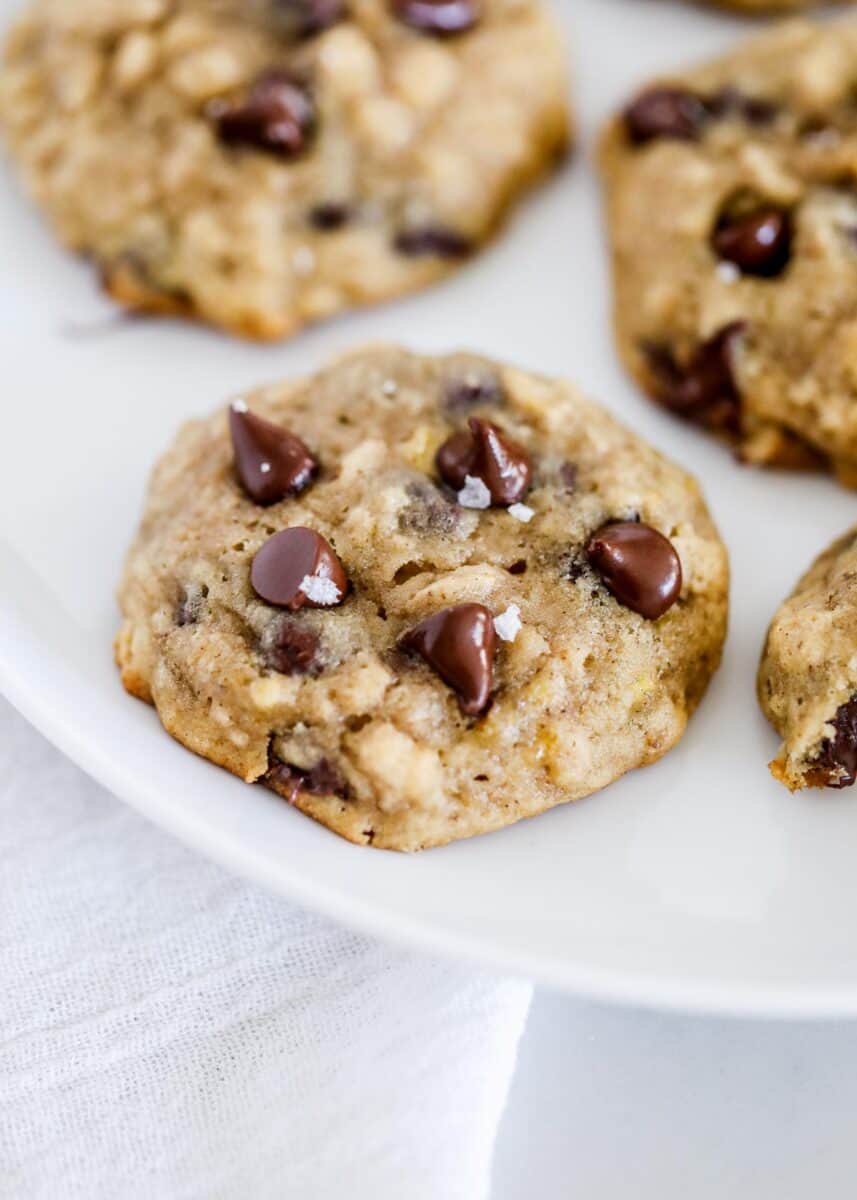 Storing + Freezing
These cookies are best if stored in an airtight container at room temperature and will stay fresh for up to 3 days. They also hold up great in the freezer for up to 3 months. When ready to enjoy, simply heat in the microwave or oven until warm or let thaw on the counter until no longer frozen.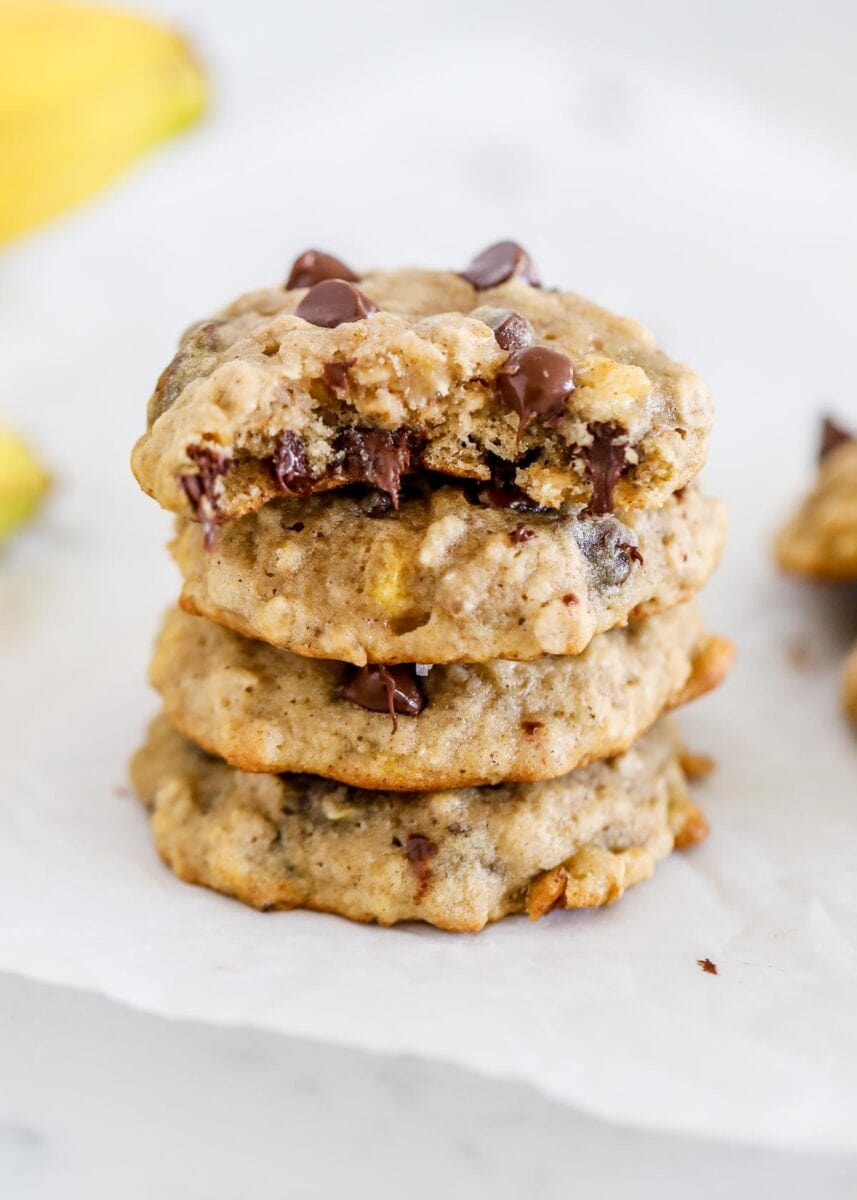 HUNGRY FOR MORE? Subscribe to my newsletter and follow on Facebook, Pinterest and Instagram for all the newest recipes!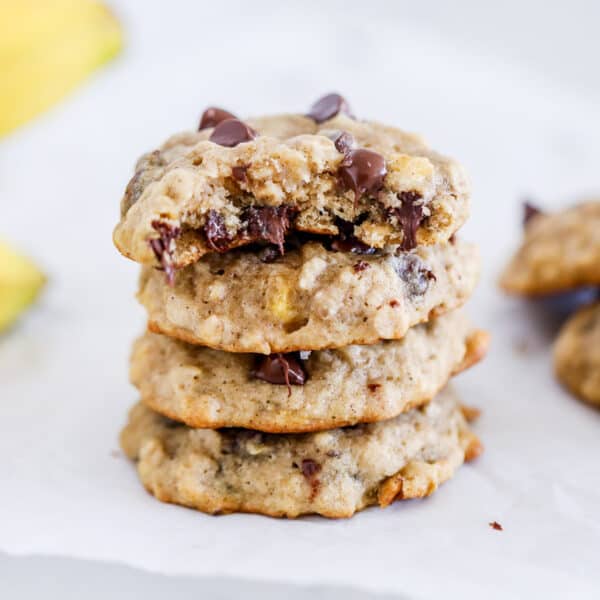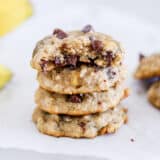 Banana Oatmeal Chocolate Chip Cookies
These banana oatmeal cookies are super soft, chewy and absolutely delicious. The perfect way to use up those overripe bananas!
Ingredients
¾ cup unsalted butter , softened
½ cup granulated sugar
½ cup light brown sugar , packed
1 large egg
1 teaspoon vanilla extract
2 ripe bananas , mashed
2 cups all-purpose flour , plus more if needed
¾ teaspoon fine sea salt (see notes)
1 teaspoon baking soda
½ teaspoon ground cinnamon
1 cup old-fashioned oats
1 to 1 ½ cups chocolate chips , I prefer semi-sweet
Optional: 1/2 cup chopped nuts, Flake sea salt for topping
Instructions
Preheat the oven to 350°F. Line a baking sheet with parchment paper or baking mat.

In a large bowl, cream together the butter, granulated sugar, and brown sugar with an electric mixer. Mix in the egg and vanilla and stir until combined. Mix in bananas.

Mix in the flour, oats, salt, baking soda, and cinnamon until combined. Be careful not to over mix. If dough appears too sticky, add 1 to 2 Tablespoons (up to 1/4 cup) flour.

Fold in chocolate chips and refrigerate until ready to bake.

Scoop cookie dough about 2 inches apart onto baking sheet. Press in a few chocolate chips to the tops of the cookies. if desired. Bake 11 to 12 minutes, or until the bottoms are golden brown.

Let cool on pan 5 minutes before transferring to a cooling rack. Sprinkle with flake sea salt, if desired. Serve warm or cool.
---
Notes
Salt: If you are using salted butter, only use 1/2 teaspoon salt. You can use table or fine sea salt. I also love to top these with Maldon flake sea salt when they come out of the oven. Storing instructions: Store in an airtight container up to 3 days or freeze for up to 3 months.
Nutrition
Calories: 160kcal | Carbohydrates: 22g | Protein: 1g | Fat: 7g | Saturated Fat: 4g | Cholesterol: 16mg | Sodium: 107mg | Potassium: 45mg | Sugar: 14g | Vitamin A: 155IU | Vitamin C: 0.7mg | Calcium: 21mg | Iron: 0.6mg
Nutrition provided is an estimate. It will vary based on specific ingredients used.
Did you make this recipe? Don't forget to give it a star rating below!