The ultimate rich and decadent fudge frosted brownies that are topped with a smooth, luscious chocolate ganache. These are any chocolate lover's dream!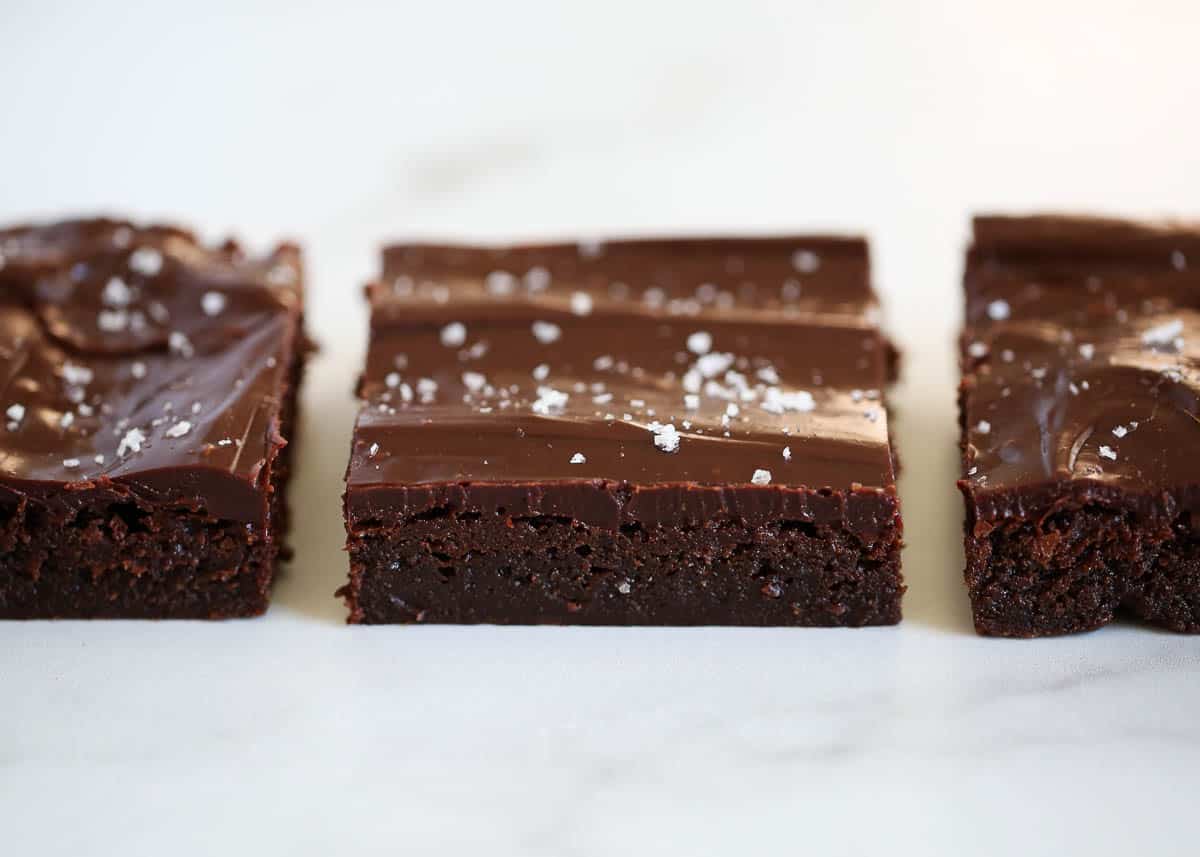 Easy Iced Fudge Brownies
If you love all things chocolate, you are going to love this frosted fudge brownie recipe. They are rich, decadent and full of delicious chocolaty flavor. You'll also love my triple chocolate chip cookies, chocolate lasagna and chocolate cupcakes.
Other than tasting like chocolate fudge, one of my favorite things about these frosted fudge brownies is that they are easy to make. The batter is mixed up in a saucepan, so you don't even need a mixer to make them. The base is good quality chocolate chips melted in butter… you really can't go wrong with that combination!
The chocolate ganache really takes them over the top…it's the perfect chocolate frosting for brownies. It sets them apart from traditional homemade brownies or even my cake mix brownies and gives them an extra boost of deliciousness. Plus, the little sprinkle of sea salt adds so much depth of flavor. They are outrageously delicious in every way!
Why This Recipe Works
Double the chocolate. We're taking these fudge brownies to the next level by adding a layer of rich and ultra chocolaty ganache on top.
No mixer needed. You don't need an electric mixer or hand mixer for this recipe. The batter is simply mixed together in a pot on the stove.
Fudgy texture. The texture is definitely more dense and fudgy than your classic brownies. Almost like eating a piece of homemade fudge in brownie form!
Recipe Ingredients
I love that these frosted brownies don't require a ton of ingredients, mostly just simple pantry staples and chocolate. Another reason why they're super easy! Check out what you'll need to make this recipe below.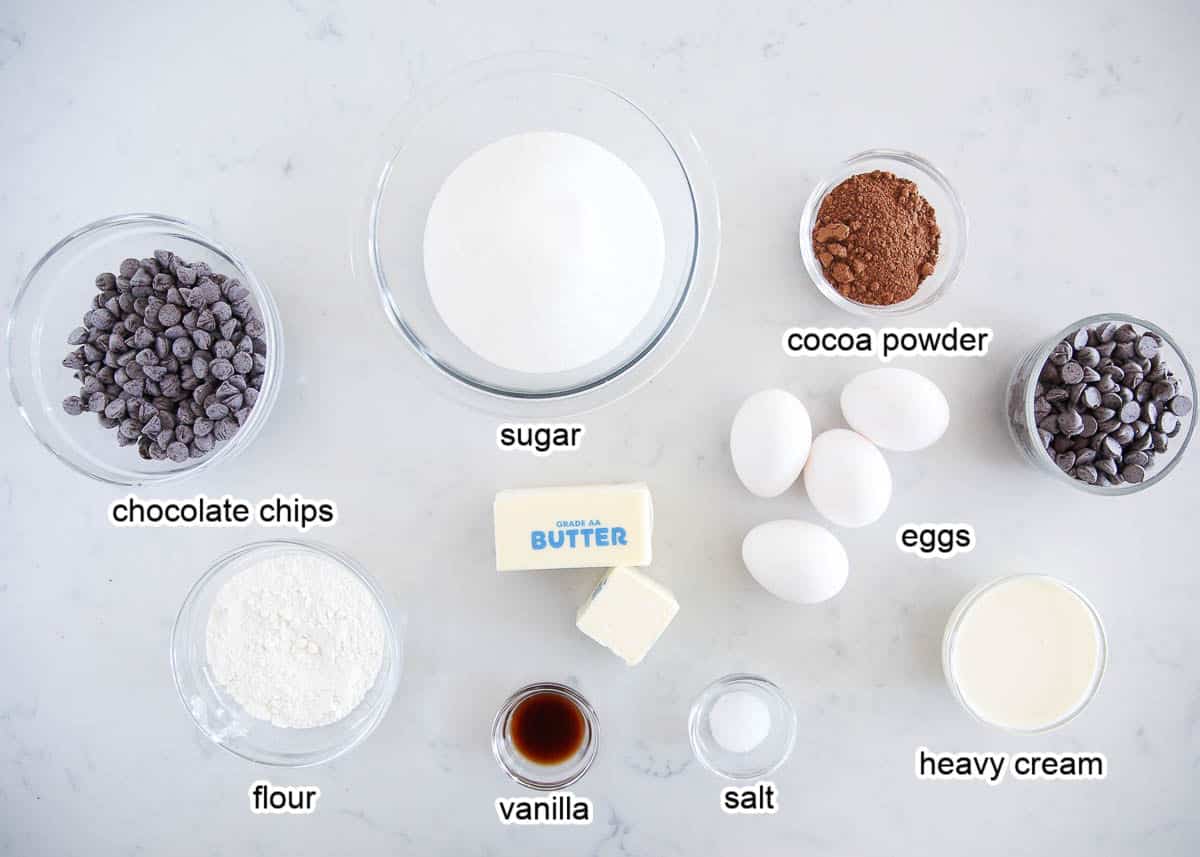 Find the full printable recipe with specific measurements below.
Baking staples: All-purpose flour, granulated sugar, eggs, salt and vanilla extract.
Butter: I recommend using unsalted butter so that you're able to control just how salty these frosted brownies taste. Slice it into evenly sizes pieces so that it melts evenly in the pan.
Chocolate chips: These are used in the brownie batter, as well as for the fudge frosting on top. I think semi-sweet chocolate chips give these brownies the best flavor.
Cocoa powder: For a bold and rich chocolate flavor. You'll want to use unsweetened cocoa powder since we're mixing granulated sugar into the batter for sweetness.
Heavy cream: This gets mixed with the melted chocolate chips to create a sweet, rich and creamy fudge frosting for brownies.
Variations
For an ultra chocolaty flavor, fold 1/2 cup chocolate chips into the batter before baking. You could also mix chopped nuts into the batter for an added crunch.
After frosting the brownies, feel free to top with flake sea salt, chopped nuts, sprinkles or even rainbow chips similar to when making cosmic brownies. They would also taste delicious with a cooked chocolate icing on top!
How to Make Frosted Brownies
Unlike most brownie recipes, the batter for these frosted brownies is actually made on the stove instead of in a mixing bowl. They only take 20 minutes to prep and the rest is just baking and cooling time. So easy!
Follow the simple steps below to prepare the batter and learn how to frost brownies once they've cooled.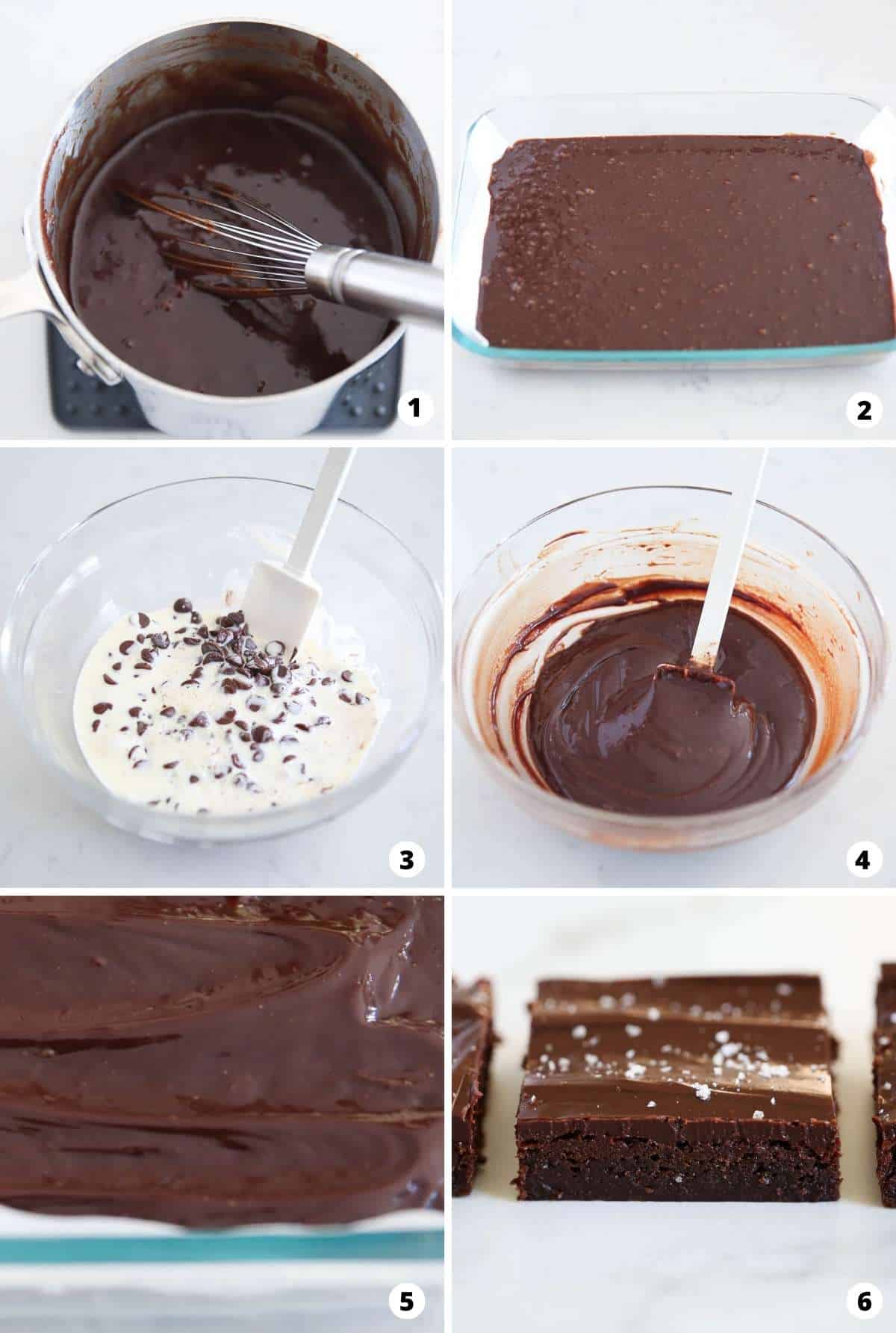 Make batter. To get started, melt the butter in a medium sauce pan over medium low heat. Stir in the chocolate chips until melted. Remove from heat and add in sugar and vanilla. One at a time, stir in the eggs. Then add the cocoa powder, salt and flour and mix until combined.
Pour. Spread the brownie batter into a 9×13″ baking dish. I like to line the pan with parchment paper (leaving a few inches of overhang on the sides) for easy removal.
Bake. Place pan in oven and bake at 350°F for about 35 to 40 minutes. The time may vary depending on your oven, so I'd keep an eye on them at about the 35 minute mark. To test if done, insert a toothpick into the middle of the pan (or at least 1-2 inches from the edge of pan). If the toothpick comes out clean or with a few moist crumbs, the brownies are ready.
Cool. Remove the pan from the oven and let them cool completely. You don't want the brownies to be warm when you pour the frosting over the tops.
Fudge Frosting for Brownies
The chocolate ganache frosting for brownies is what really sets this dessert apart. You can definitely enjoy them without it, but trust me – it adds the best flavor. If you love chocolate, then definitely add it!
It's made from a simple mixture of chocolate chips and heavy cream. All you do is heat the heavy cream, then pour it over the chocolate chips in order to melt them. I prefer to heat my heavy cream on the stove, but you can also heat it in the microwave as well. Check out this post that shows how to melt chocolate using both methods.
Once the frosting has a smooth and creamy consistency, immediately spread evenly on top of the cooled brownies. Let the brownies set for about an hour so that the frosting hardens. Then use a knife to slice them into evenly sized squares.
Expert Tips
Flake sea salt. I love to finish these fudge frosted brownies off with a sprinkle of flake sea salt. It adds the perfect depth of flavor! Sprinkle with salt immediately after you pour the frosting on top so that it sticks to the frosting while it's still wet.
Thickness. These brownies were thick enough for my liking, especially since they're so rich and chocolatey. If you prefer an even thicker brownie, you can bake them in a smaller 9×9″ pan.
Allow to cool. These brownies will need to cool twice. Let them cool as soon as they get out of the oven and then a second time after the frosting is spread on top. It may be tempting to sneak a bite, but they will need to set completely before digging in.
Recipe FAQs
Do you cut brownies before frosting?
Nope. The frosting is warm with a smooth consistency, so it needs to set on top of the brownies first before slicing so that it has time to harden. After it has set, that's when you can slice them.
Why are my brownies dry?
Dry brownies are usually the result of overbaking. When checking for doneness, a toothpick inserted into the center should come out with a few moist crumbs. A pro tip is to start checking your brownies once their heavenly aroma starts to fill your kitchen!
What makes a fudgy brownie?
The ratio of fat to flour determines whether your brownies will be fudgy or cakey. This recipe has 12 Tablespoons of butter compared to 1/2 cup flour. Because there is more butter the brownies are fudgier!
What cocoa powder should be used in brownies?
Unsweetened cocoa powder should be used! Anything from Nestle to Hershey's to Ghiradelli or even Rodelle can be used.
Storing Brownies with Frosting
Brownies will stay fresh in an airtight container at room temperature or in the refrigerator for up to 3 days. I like to keep mine in the fridge because it makes them a bit more fudgy.
Frosted brownies can also be frozen! Cut into squares then flash freeze on a parchment lined baking tray so that the frosting hardens. Once frozen, store in a freezer safe container up to 3 months. Defrost in the fridge overnight.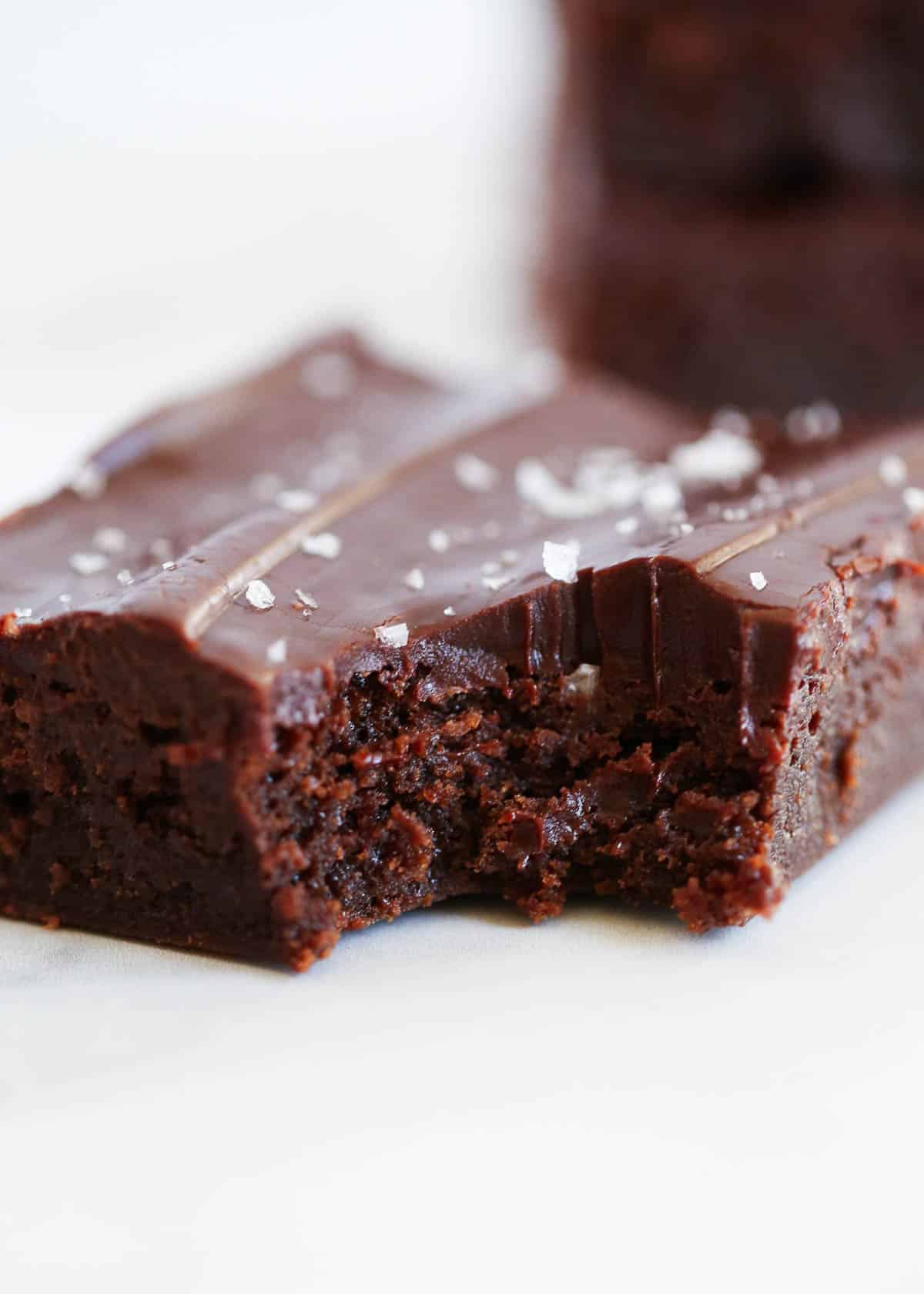 HUNGRY FOR MORE? Subscribe to my newsletter and follow on Facebook, Pinterest and Instagram for all the newest recipes!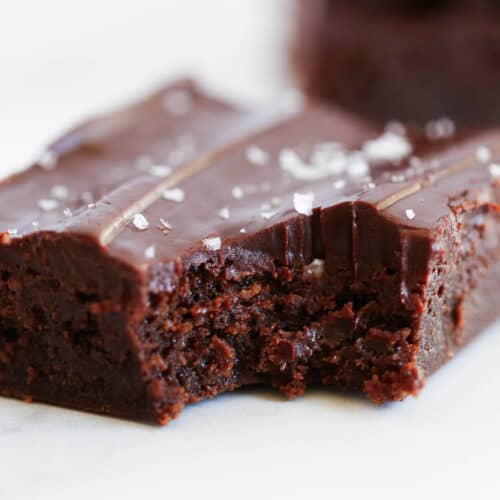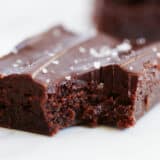 Frosted Brownies
The ultimate rich and decadent fudge frosted brownies that are topped with a smooth, luscious chocolate ganache. These are any chocolate lover's dream!
Ingredients
Brownies
12 Tablespoons (170 grams) unsalted butter , cut into pieces
1 cup (180 grams) semi-sweet chocolate chips
1 ½ cups (300 grams) granulated sugar
2 teaspoons vanilla extract
4 large eggs
¼ cup (17 grams) cocoa powder
½ teaspoon salt
½ cup (65 grams) all-purpose flour
Frosting
1 cup (180 grams) chocolate chips , or chopped chocolate
4 ounces heavy cream
Flake sea salt , for sprinkling on top
Instructions
Preheat the oven to 350°F. Line a 9×13-inch baking dish with parchment paper or spray with cooking spray.
Brownies
In a medium saucepan, melt the butter over medium-low heat. Whisk in chocolate chips and continue whisking gently until melted. Remove from heat and whisk in the sugar and vanilla. Add the eggs 1 at a time, whisking well after each addition. Whisk in the cocoa powder, salt, and flour until combined.

Spread the brownie mixture in the baking dish. Bake 35 to 40 minutes, or until a toothpick inserted in the center comes out clean. Remove from the oven and let cool.
Frosting
When the brownies are nearly cool, place chocolate chips in a heat-proof bowl. In a small saucepan, bring the heavy cream to a boil. Pour the hot cream over the chocolate chips. Let sit a couple minutes. Stir until the chocolate chips have melted completely. If it's too thick, microwave 15 seconds and stir until smooth.

Pour the hot ganache mixture over the cooled brownies and spread evenly with a rubber spatula. Sprinkle salt over the top. Let set 1 hour or refrigerate until the top has hardened.

Slice into 24 bars. Serve chilled or at room temperature.
---
Notes
Storage: Store in a covered container at room temperature or in the refrigerator for up to 3 days. Freeze for up to 3 months. Recipe updated 7/3/22: I updated this recipe to be baked in a 9×13-inch pan. I also removed the extra 1/2 cup chocolate chips mixed into the batter. Feel free to add them back in, if desired, and bake in a 9×9-inch pan if you'd like a thicker brownie.
Nutrition
Serving: 1g | Calories: 269kcal | Carbohydrates: 32g | Protein: 3g | Fat: 15g | Saturated Fat: 9g | Polyunsaturated Fat: 1g | Monounsaturated Fat: 4g | Trans Fat: 0.3g | Cholesterol: 54mg | Sodium: 71mg | Potassium: 117mg | Fiber: 2g | Sugar: 25g | Vitamin A: 326IU | Vitamin C: 0.1mg | Calcium: 31mg | Iron: 1mg
Nutrition provided is an estimate. It will vary based on specific ingredients used.
Did you make this recipe? Don't forget to give it a star rating below!