Jump to Recipe⌄
The Ultimate Fudge Brownie Recipe
The Ultimate Fudge Brownie Recipe – fudge-y brownies, studded with chocolate chips and topped with a smooth, luscious ganache.
Chocolate lovers, rejoice! I have the most delicious and decadent ultimate fudge brownie recipe to share with you today!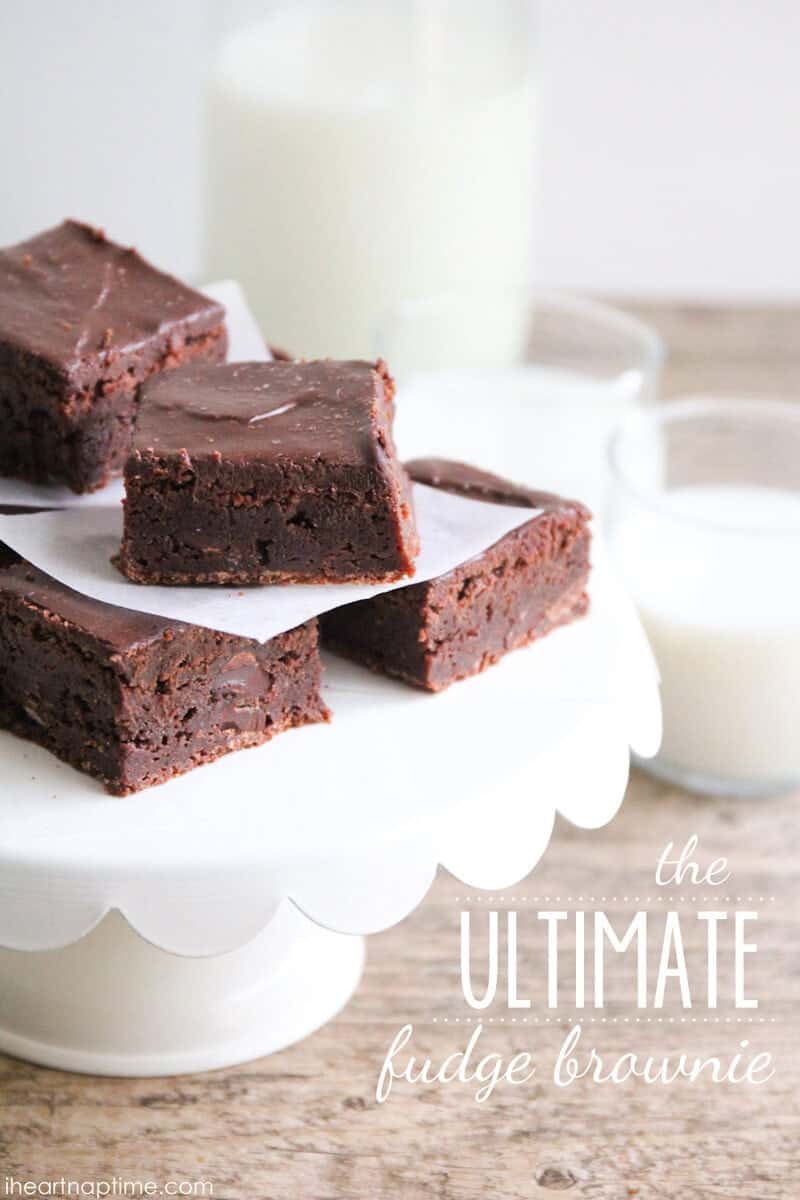 These brownies are so rich and chocolatey, they are any chocolate lover's dream.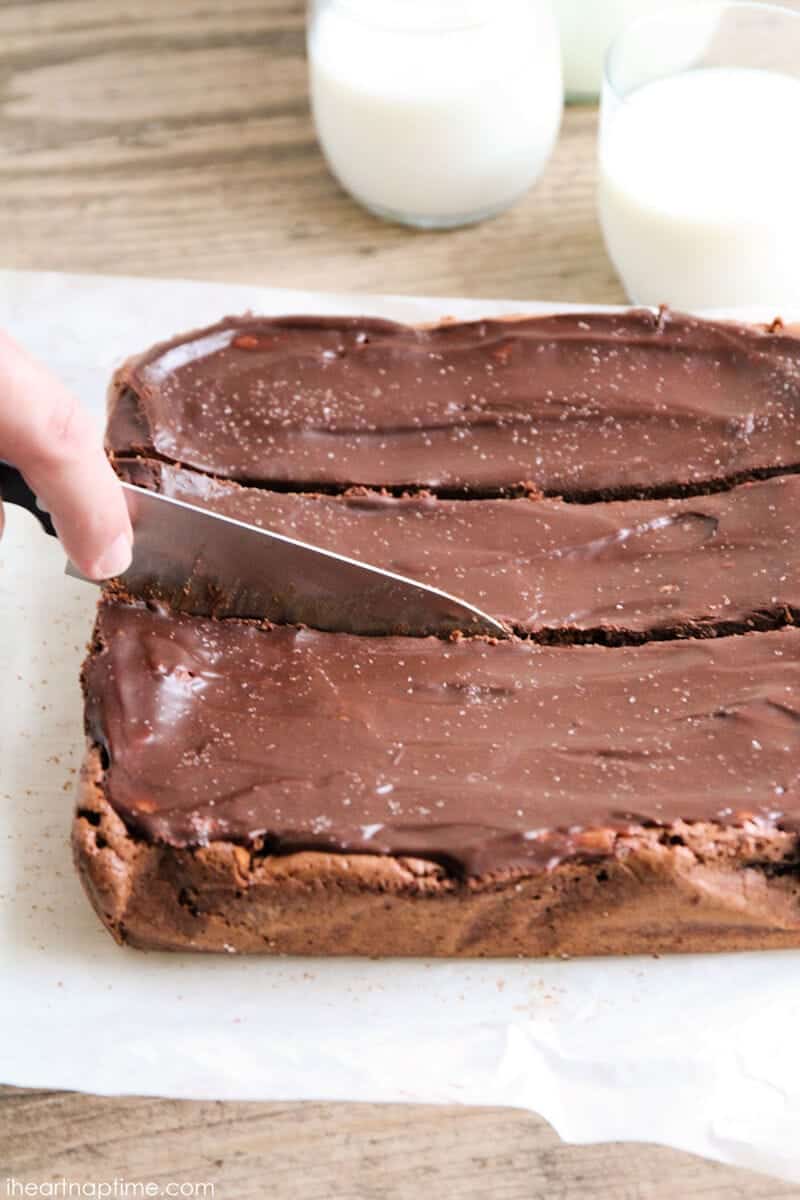 One of my favorite things about these brownies is that they are so easy to make. The batter is mixed up in a saucepan, so you don't even need a mixer to make them. I also love that the base for these brownies is good quality chocolate chips melted in butter… you really can't go wrong with that combination!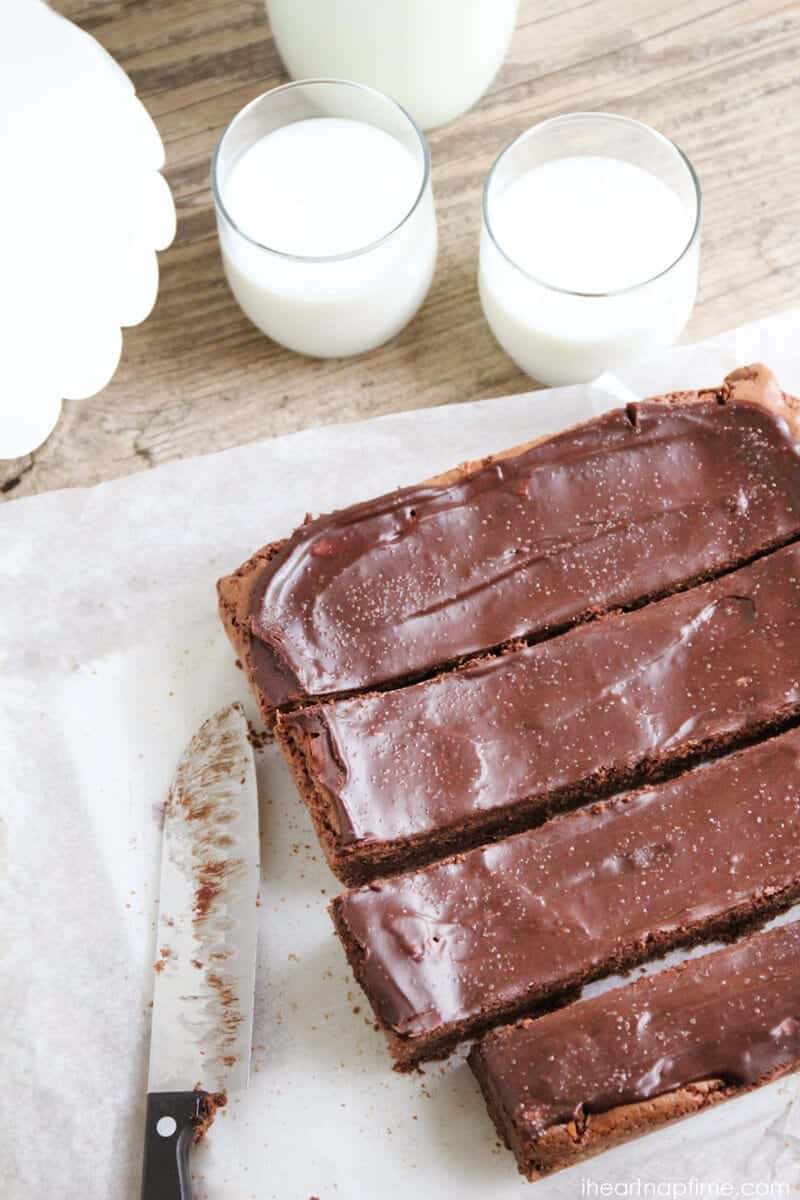 The ganache topping on these brownies takes them over the top, and the little sprinkle of sea salt adds so much depth of flavor.  These really are the ultimate fudge brownie – outrageously delicious in every way!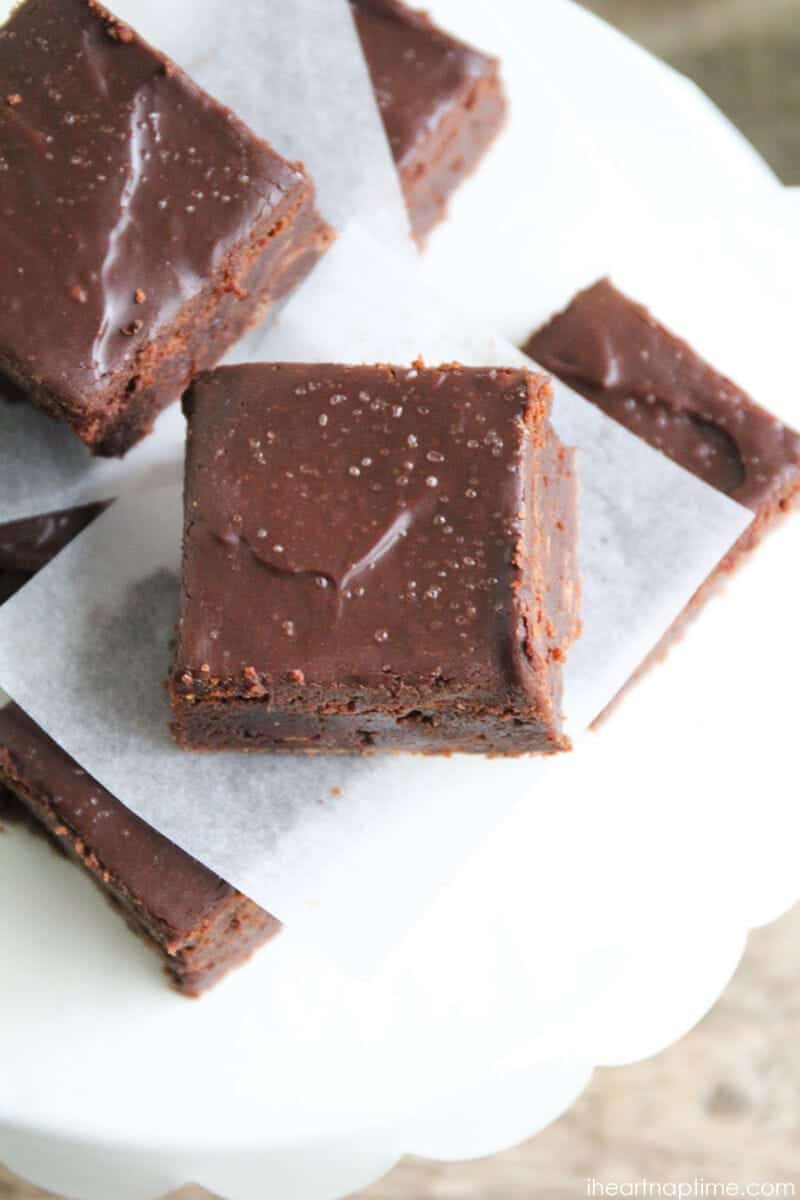 These brownies are so rich and dense that you will definitely need a tall glass of cold milk (or two!) to drink with them. They're really nothing better than a warm brownie with a cold glass of milk!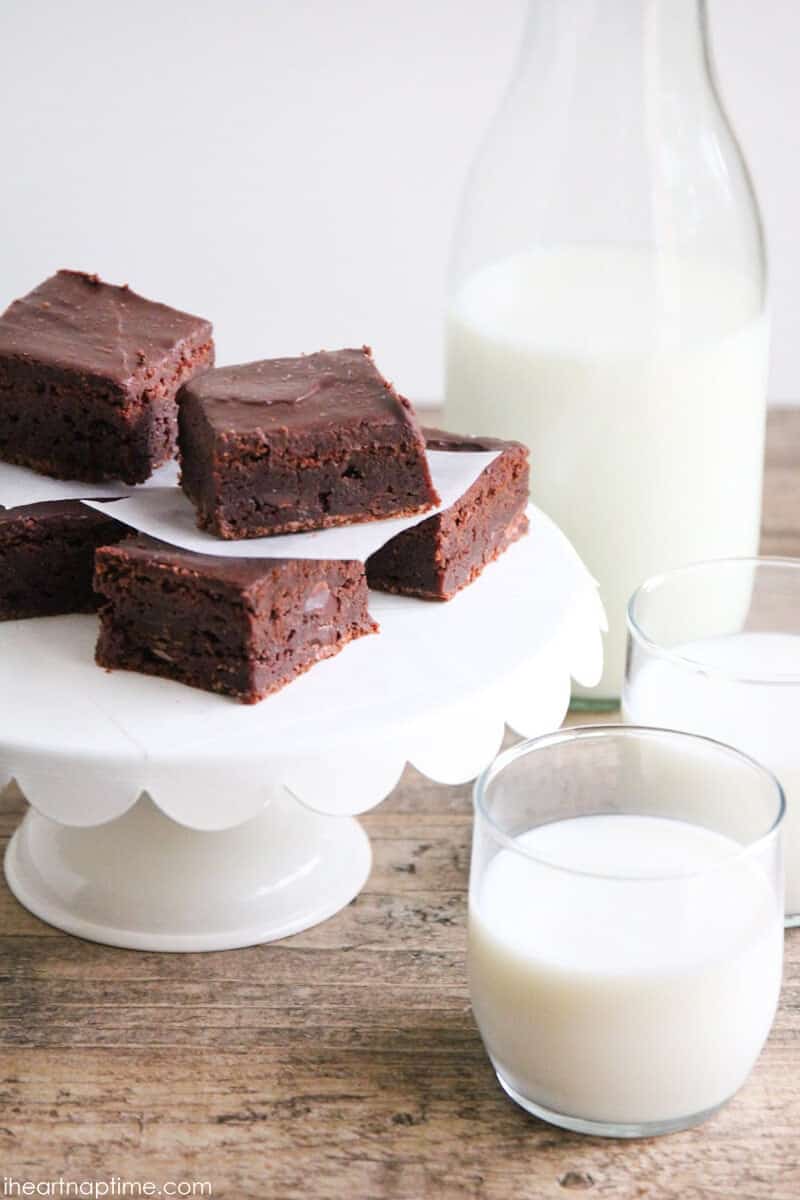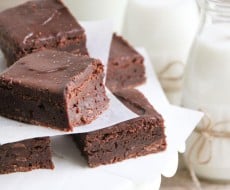 The Ultimate Fudge Brownie
Ingredients:
for the brownies:
12 tablespoons butter, cut into pieces
1 1/2 cups good quality semi-sweet chocolate chips, divided
1 1/2 cups sugar
2 teaspoons vanilla
4 large eggs
1/4 cup cocoa powder
1/2 teaspoon salt
1/2 cup flour
for the ganache:
1 cup chocolate chips
1/2 cup heavy cream
sea salt, for sprinkling on top
Directions:
1. Preheat the oven to 350. Line a 9 x 9 baking dish with parchment paper or spray with cooking spray, and set aside.
2. In a medium sauce pan, melt the butter over medium low heat. Stir in one cup of the chocolate chips and continue stirring gently until melted. Remove from heat and stir in the sugar and vanilla. Add the eggs one at a time, stirring well after each addition. Add the cocoa powder, salt, and flour, and mix until combined. Fold in the remaining 1/2 cup chocolate chips.
3. Spread the brownie mixture in the prepared pan. Bake 50-55 minutes, or until a toothpick inserted 1-2 inches from the edge of the pan comes out clean or with a few moist crumbs. Remove from the oven and let cool.
4. When the brownies are nearly cool, place one cup of chocolate chips in a heat-proof bowl. Heat the heavy cream in a small saucepan to boiling. Pour the hot cream over the chocolate chips. Stir until the chocolate chips have melted completely.
5. Pour the hot ganache mixture over the cooled brownies and spread to cover. Sprinkle with sea salt and enjoy!
All images and text ©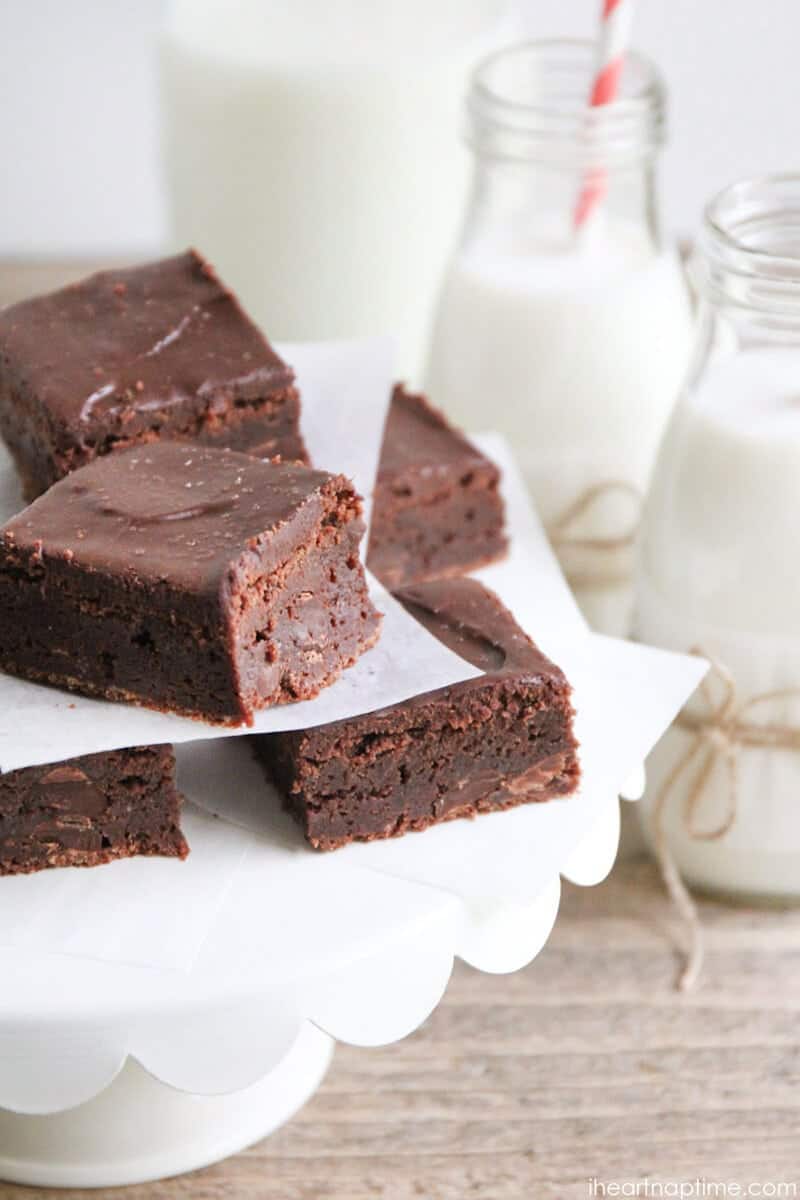 Looking for more brownie recipes? You'll love these too: