These M&M brownies are super soft and bursting with chocolate flavor. They're made in just one bowl and take only 10 minutes to prep!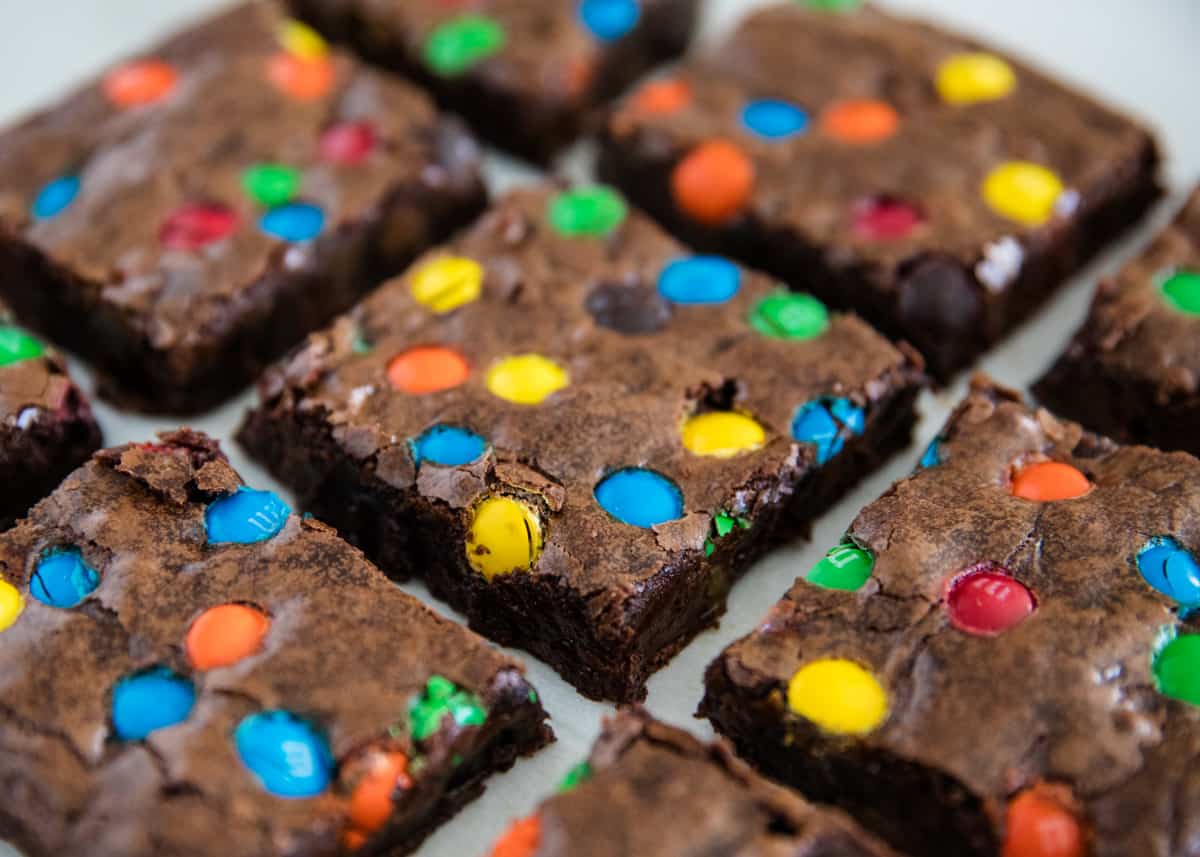 Table of Contents
Fudgy M&M Brownies
If you love my classic brownie recipe, you are going to love these. The addition of M&M's not only adds a great flavor, but also makes them super colorful. For more treats with M&M's, check out my famous M&M cookies, peanut butter M&M cookies or my fudgy chocolate M&M cookies.
One of our favorite Sunday traditions is to let the kids pick the dessert. They each get a turn helping me with the recipe and my 9 year old daughter made these M&M fudge brownies all by herself. She is becoming quite the baker.
The best thing about this recipe is that it only takes one bowl to make and less than 10 minutes to prep. They will be done in 30 minutes from start to finish! The end result is a super soft fudge brownie bursting with chocolate flavor. Serve with a scoop of vanilla ice cream and some hot fudge sauce for the ultimate dessert!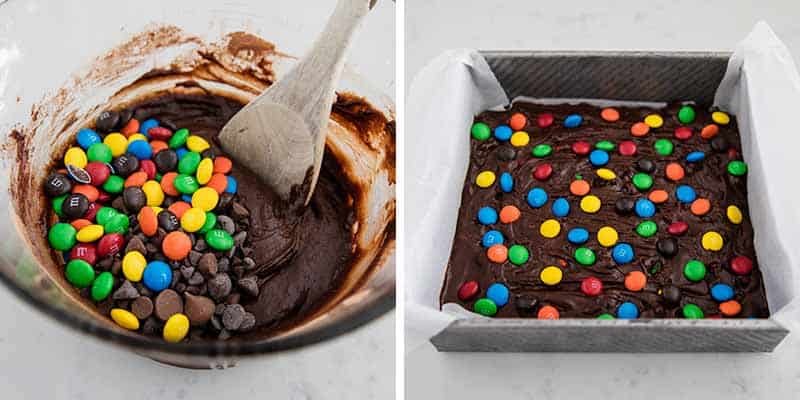 How to Make M&M Brownies
Make batter: Whisk together the butter, oil and sugars in a large bowl. Add the eggs and vanilla and whisk for another minute. Next stir in the flour, cocoa and salt until just barely combined. Fold in the chocolate chips and 1/2 cup M&M's until smooth.
Bake in oven: Pour the batter in an 8×8″ baking pan lined with parchment paper. I let the parchment hang over the sides so I can easily lift them out once they're done. Then add remaining 1/4 cup M&M's on top. Bake at 350°F for about 20 to 25 minutes, or until a toothpick comes out clean.
Cool and cut: Remove from oven and let cool slightly in pan. Then use the parchment to lift the brownies out of the pan and transfer to a cooling rack. Once cooled, use a plastic knife to cut into 16 squares.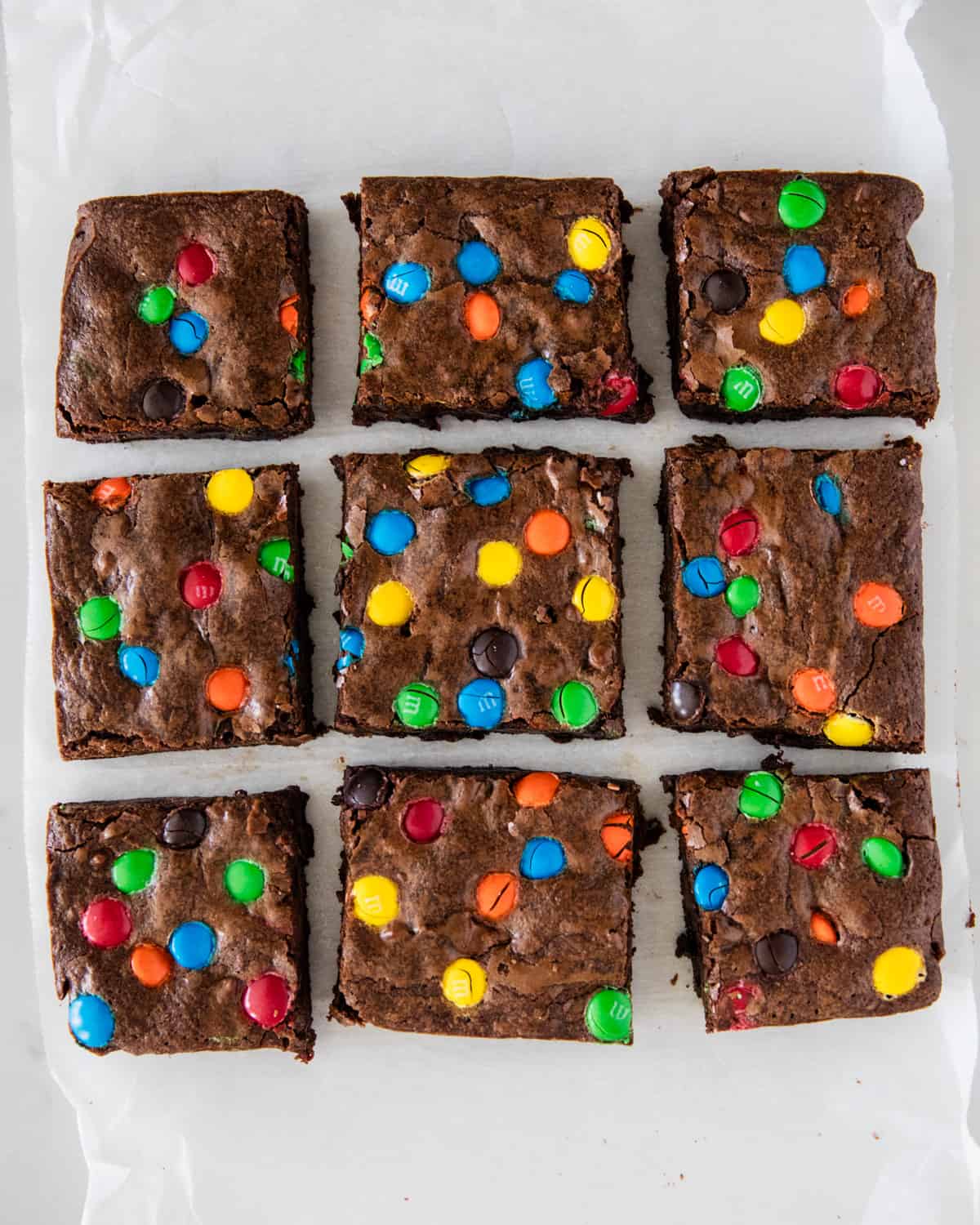 Variations
One of the best parts about this recipe is you can pretty much use any flavor that you'd like. There are so many different flavors and new varieties of M&M's that come out throughout the year. I always love making these brownies with the holiday M&M's. Here are some of my favorites below.
The mini M&M's work really well in the recipe and add lots of color throughout.
You can use peanut M&M's (although I do recommend chopping them in half, has they are larger).
Peanut butter M&M's and peanut butter chips are great for peanut butter lovers
Caramel M&M's are another option. You could even add in extra caramel chips.
Add pretzel M&M's with crushed pretzels if you love the sweet and salty combo.
For extra crunch, add in 1/2 chopped nuts.
Freezer Tips
If you have leftovers, you can absolutely freeze the brownies to enjoy for later. Once they've cooled and are sliced into squares, simply wrap each individual brownie in plastic wrap. Then place the wrapped brownies in a freezer bag or container. They will keep in the freezer for up to 3 months. Let thaw on the counter for a few hours when ready to enjoy.
More Brownies Recipes
HUNGRY FOR MORE? Subscribe to my newsletter and follow on Facebook, Pinterest and Instagram for all the newest recipes!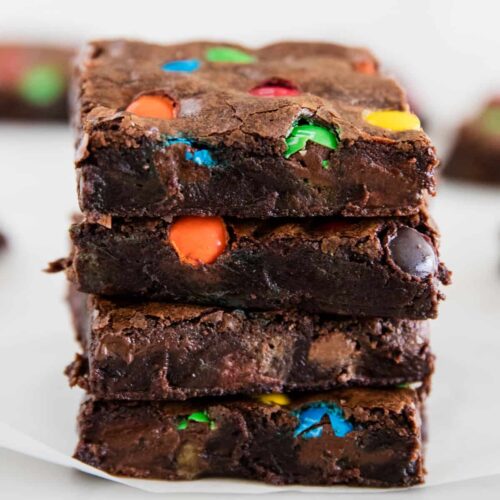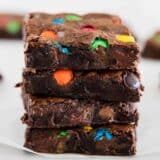 M&M Brownie Recipe
These M&M brownies are super soft and bursting with chocolate flavor. They're made in just one bowl and take only 10 minutes to prep!
Ingredients
½ cup unsalted butter , melted
1 Tablespoon vegetable oil
1 cup (198 g) white granulated sugar
¼ cup (45 g) light brown sugar
2 large eggs
2 teaspoons vanilla extract
½ cup (65 g) all-purpose flour
½ cup (45 g) unsweetened cocoa powder
½ teaspoon kosher sea salt , can sub for regular salt
¾ cup M&M's , more if desired
⅓ cup semi-sweet chocolate chips , optional but recommended
Instructions
Preheat the oven to 350°F. Line a 8×8" pan with parchment paper and lightly spray with non-stick spray. I like to leave enough parchment paper to easily lift them out.

In a large bowl, whisk the butter, vegetable oil, sugar and brown sugar. Add the eggs and vanilla and whisk about a minute.

Next add the flour, cocoa powder and salt. Stir just until barely combined. Add chocolate chips and 1/2 cup M&M's and stir until smooth. Be careful to not over mix. Pour batter into pan, then top with remaining 1/4 cup M&M's.

Bake for 20-25 minutes, or until a toothpick comes clean. Be careful not to over bake.

Allow to cool slightly in pan and then you can remove the brownies with the parchment paper to finish cooling. Once cooled, cut into 16 squares with a plastic knife.
---
Notes
This recipe easily doubles. Cook the doubled recipe in a 9×13″ pan. You may need to cook a few minutes longer. Freezer instructions: Allow to cool completely and then wrap individual brownies in plastic wrap. Store in a freezer container or zip top bag for up to 3 months.
Nutrition
Calories: 232kcal | Carbohydrates: 35g | Protein: 3g | Fat: 11g | Saturated Fat: 7g | Cholesterol: 37mg | Sodium: 18mg | Potassium: 133mg | Fiber: 3g | Sugar: 25g | Vitamin A: 229IU | Vitamin C: 1mg | Calcium: 30mg | Iron: 2mg
Nutrition provided is an estimate. It will vary based on specific ingredients used.
Did you make this recipe? Don't forget to give it a star rating below!