Chocolate fudge cookies filled with a peppermint frosting and then dipped in crushed candy canes. The perfect holiday dessert!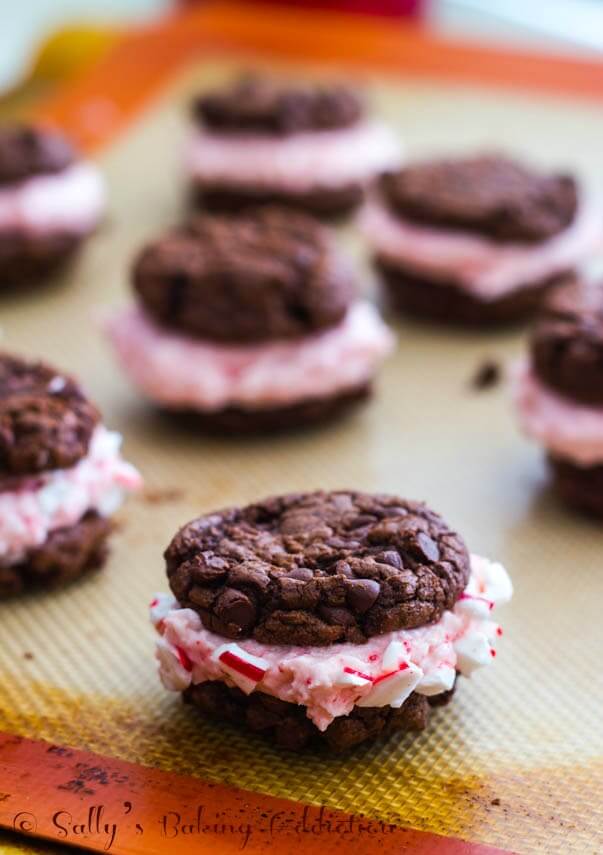 Hi I Heart Naptime readers! My name is Sally and I am the sprinkle-obsessed, peanut butter loving baker, author, and photographer over at Sally's Baking Addiction. My baking blog has a collection full of classic recipes reborn into something unique and creative. Much like Jamielyn, I favor no fuss, no hassle and easy recipes – preferably ones that taste like I've slaved in the kitchen all day. :)
I'm SO excited to be apart of the Crazy Christmas Event today. I'm sharing one of my favorite holiday cookie recipes – it's actually a recipe I've never shared on my own blog before. What we have here today is a fudgy chocolate cookie sandwich stuffed with candy cane buttercream in the center. I love love love peppermint and chocolate together, especially during the holiday season.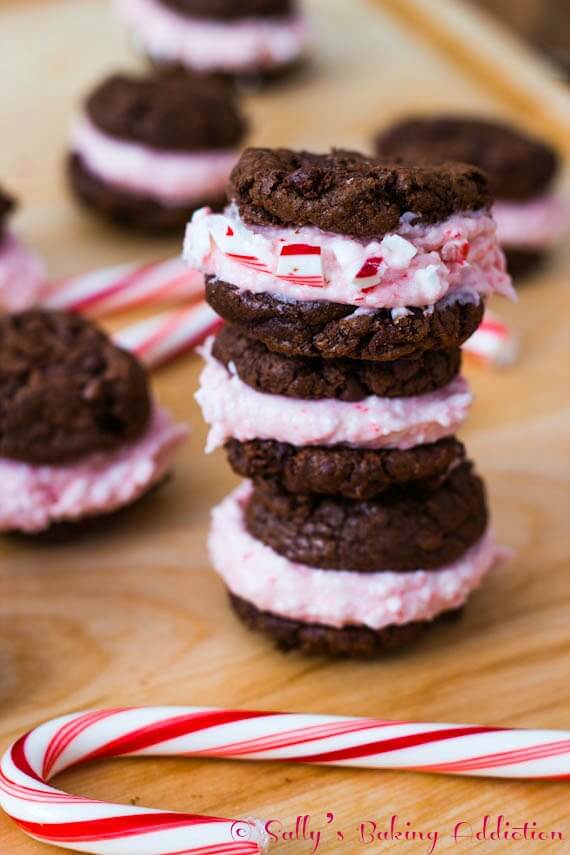 The cookies themselves, even without the buttercream filling, are worth writing home about. They have cocoa powder, rich melted chocolate, and mini chocolate chips in the dough – a triple chocolate threat. The cookies are rich and dense, just like brownies are. A chocoholics pure dream and the perfect "bread" for the candy cane buttercream. The best part is that the cookies remain soft – even the next day!
The delightfully festive buttercream starts just as any basic vanilla buttercream does – butter, vanilla extract, powdered sugar, and milk. Simply grind up some candy canes and sift the candy cane "dust" into the buttercream. The candy canes turn the buttercream into a charming light pink color- the perfect contrast to the dark chocolate cookies.
My intense fudgy cookies aren't for the faint of heart and do require a few steps. For a short cut, try using my Devil's Food Chocolate Cake Mix Cookies instead!
You and your family are going to just love these cookie sandwiches this holiday season! I'm a tad obsessed with them.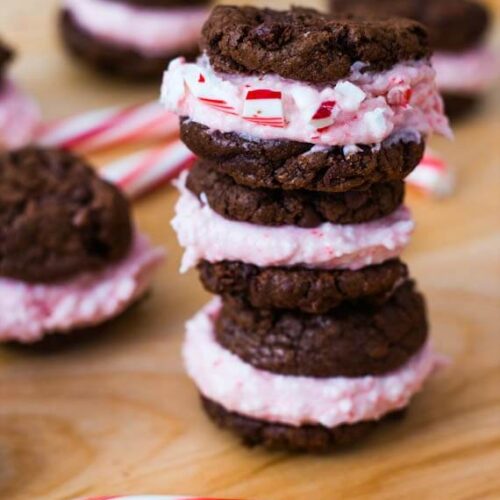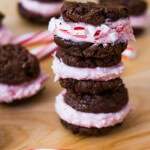 Cookies with Candy Cane Buttercream
Cookies with Candy Cane Buttercream - Fudgy chocolate cookie sandwich stuffed with candy cane buttercream in the center!
Ingredients
For the Candy Cane Buttercream:
3/4 cup unsalted butter (softened to room temperature)
2 1/2 - 3 cups confectioners (powdered) sugar (sifted)
3 tsp vanilla extract
1-2 tbsp heavy cream (or milk)
1/2 cup candy cane dust, sifted (about 8-10 candy canes pulverized in a food processor) crushed candy canes for rolling, optional
Instructions
Begin with the cookies. Sift together flour, cocoa powder, baking powder and salt in a medium bowl. Set aside.

Melt the chocolate in the microwave for about 1 minute. Stir. Continue to melt in 30 second increments until fully melted and smooth. Set aside. In a small bowl, whisk the eggs and vanilla. Set aside. With an electric or stand mixer with paddle attachment, beat the butter until smooth and creamy – about 1 minute. Beat in the sugars, scraping down the sides every 10 seconds or so. The mixture will be granular.

Mix in the beaten egg/vanilla until incorporated. Add the chocolate in a steady stream and beat until combined. Add the dry ingredients on slow speed. Fold in the mini chocolate chips. Do not overmix at any point in this process.

Chill dough for at least 30 minutes. Preheat oven to 350 degrees F. Scoop about 1 Tbsp of dough and roll into a slightly flattened ball. Bake for about 10 minutes, or until the cookies have just begun to set with the centers still appearing very soft. They will firm up as they cool.

As the cookies cool, make the buttercream. Beat the butter for 1 minute with the paddle attachment on medium speed. Add 2.5 cups of sifted powdered sugar and slowly mix on low speed. Increase mixer speed to medium and add vanilla extract, salt, and 1 Tablespoon of cream/milk. Beat for about 1 minute. Manually stir in candy cane dust. If your buttercream needs to be thicker, add more powdered sugar. If your frosting needs to be thinned out, add remaining milk/cream. If frosting is too sweet, add a pinch of salt.

Frost the bottom end of a cooled cookie and top with another to make a sandwich. Enjoy!
---
Calories: 198kcal | Carbohydrates: 22g | Protein: 1g | Fat: 11g | Saturated Fat: 6g | Cholesterol: 30mg | Sodium: 31mg | Potassium: 87mg | Fiber: 1g | Sugar: 16g | Vitamin A: 240IU | Calcium: 29mg | Iron: 1mg
Enjoy!