For a soft-baked chocolate cookie with a special treat on top, try these amazing Andes Mint cookies. They're a super easy, one-bowl cookie that comes together with hardly any effort at all. Perfect for the holiday season or any time you feel like a chocolate minty treat!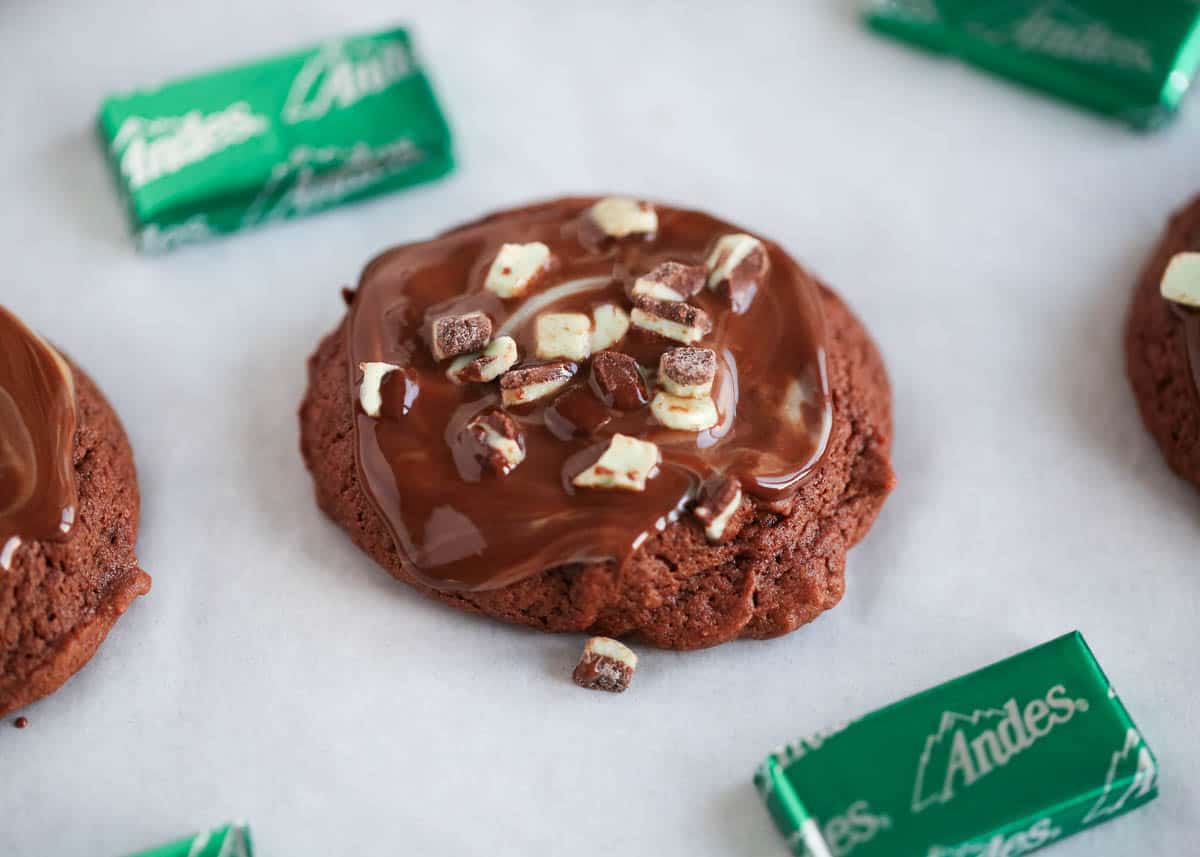 One is Never Enough!
I have a real love for chocolate cookie recipes. I'm usually busy pairing chocolate with peanut butter and then every once in a while, I make something that is chocolate mint and I fall in love all over again! My chocolate mint cookies are another favorite.
These soft and chewy Andes mint cookies are the perfect combination of soft chocolate cookies with a melted chocolate mint topping.
I know what you're thinking – you don't have time to make icing for your cookies. You want a quick recipe you can whip up and have ready in about half an hour. Well, I promise, this recipe is for you!
Once the chocolate mint has melted, you take a knife and spread it all over the top of the cookie and that's it! Instant icing!
Why This Recipe Works
The topping couldn't be any easier to make. The hardest part is unwrapping the mints! Once the cookies come out of the oven, you place an Andes Mint on top of each warm cookie and leave it to soften.
They're so simple and irresistible. They might remind you of chocolate mint brownies, they're that decadent. Make these in under 1 hour and you'll have everyone drooling!
A cookie for the holidays. There's something about chocolate mint that seems to go hand-in-hand with the holiday season, so these cookies would be a great addition to a platter of holiday cookies or a Christmas dessert board. Sometimes I'll even throw in some of my chocolate cookies with mint chips to continue with the chocolate mint theme.
Recipe Ingredients
Most of the ingredients you'll need for these cookies with Andes mints are pantry-friendly. Here are some notes on the key ingredients you'll need: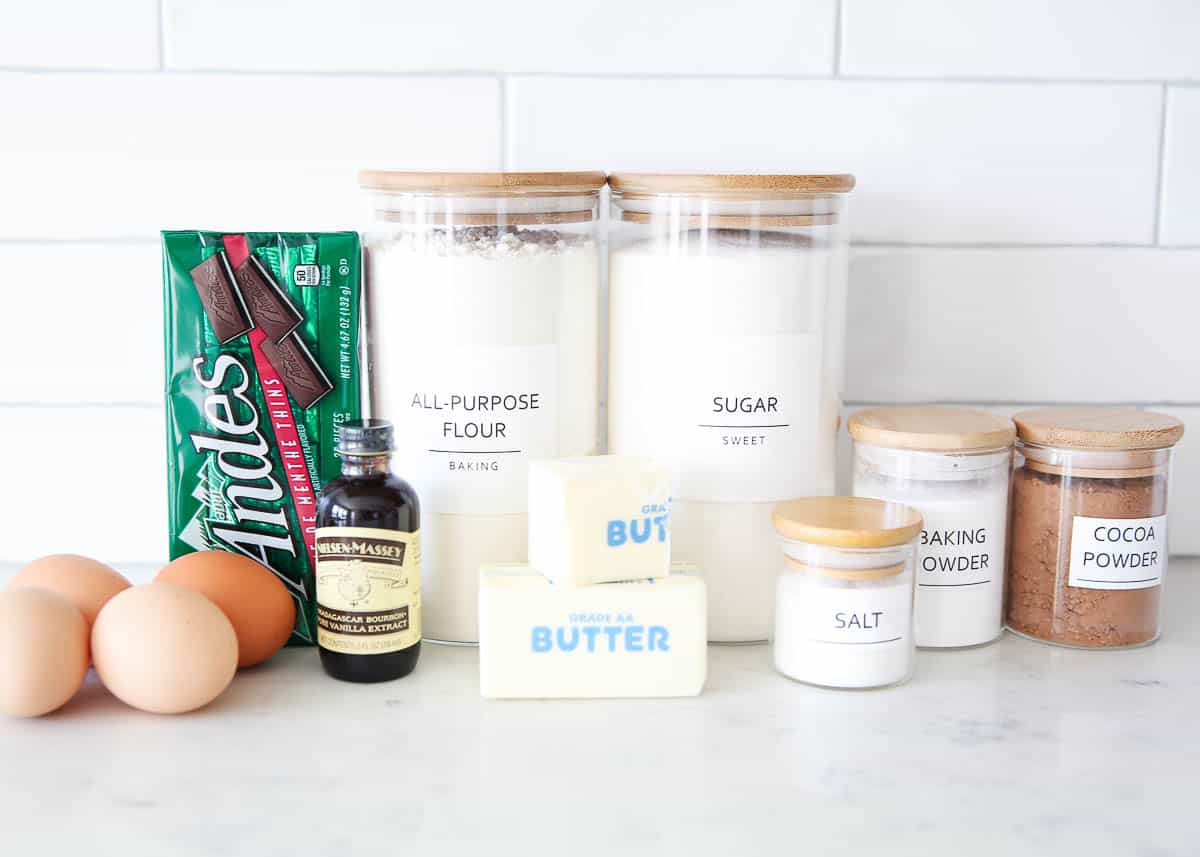 Find the full printable recipe with specific measurements below.
Unsweetened cocoa powder: I use natural cocoa (as opposed to Dutch-processed cocoa) to make these cookies.
Andes Chocolate Mints: Also known as Andes creme de menthe thins, these are popular (hello Olive garden after dinner mints!) bite-sized chocolates that have a layer of mint in the middle. They come individually wrapped, so you will have some unwrapping to do. You can also buy pre-chopped Andes chocolate mints to sprinkle over the cookies when they're done for even more chocolate mint flavor.
Unsalted butter: We're sticking to unsalted so we can control the amount of salt that ends up in the dough. Since each stick of butter can contain different amounts of salt, it's almost impossible to adjust it when necessary.
Vanilla extract: I prefer to use pure vanilla extract for the best flavor.
How to Make Andes Mint Cookies
This recipe comes together easily, and the fun addition of the Andes Mint topping makes these Andes mint cookies extra special.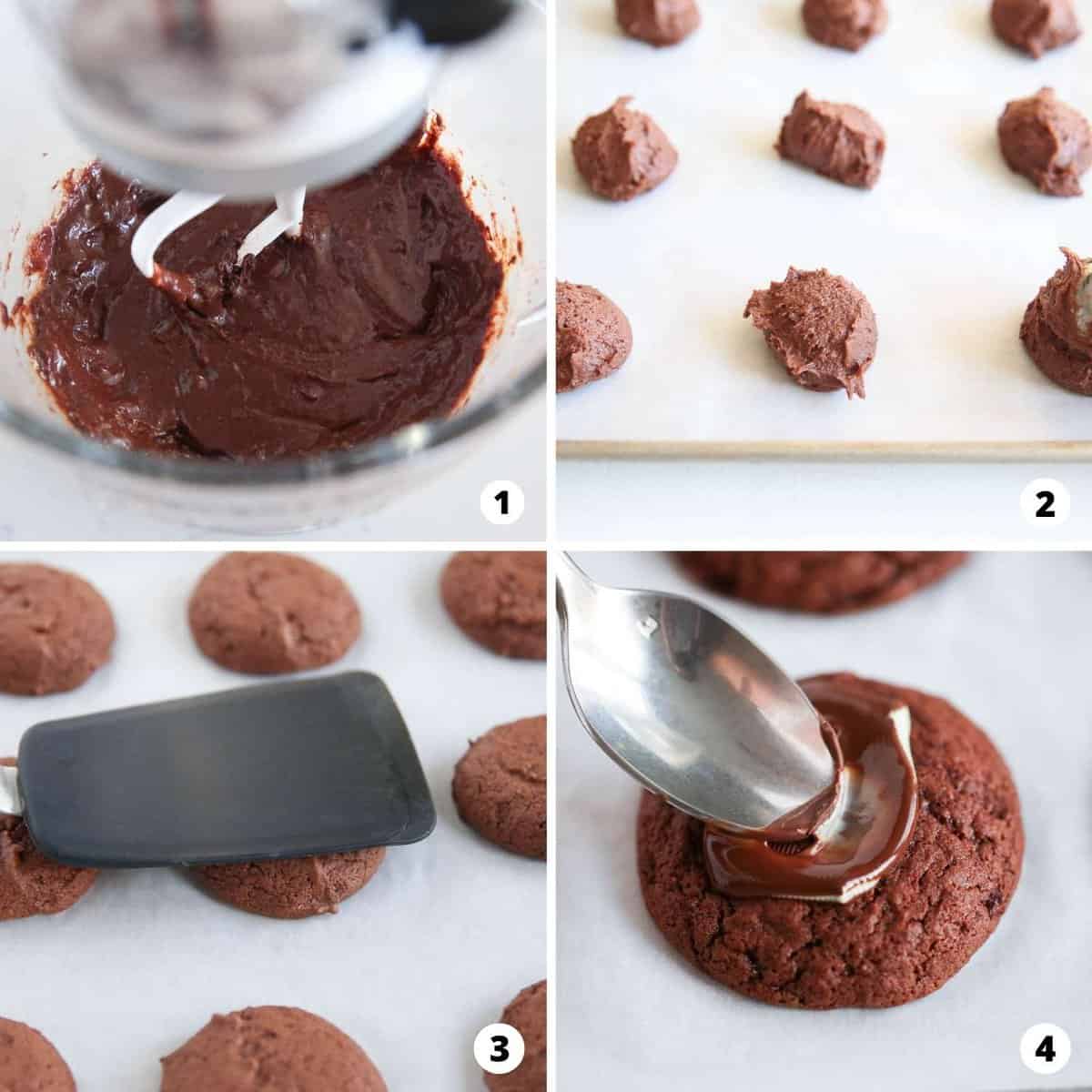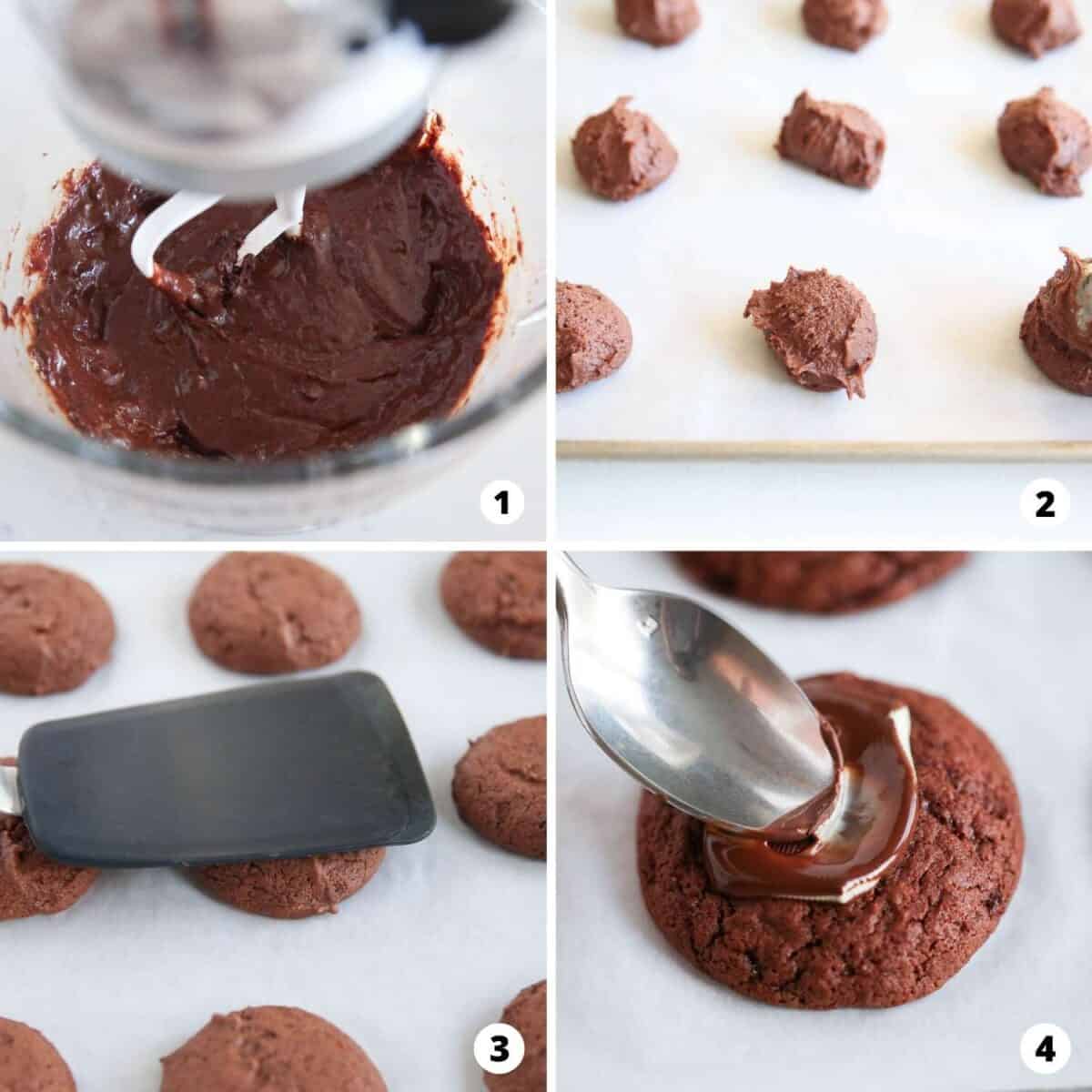 Make dough. In a large bowl, use a hand mixer to beat the butter and sugars together until smooth and creamy. Then beat in the eggs, cocoa powder, and vanilla until everything is smooth. Whisk in the dry ingredients and mix until everything is just combined. Chill the dough for a few minutes.
Scoop. Scoop the dough onto parchment-lined baking sheets using a cookie scoop.
Bake. Gently press down on the cookie dough to flatten each cookie and bake on the middle rack until the cookies are crispy around the edges and still soft in the middle.
Top with Andes Mints. Now for the best part! Place an Andes Mint on top of each cookie immediately after they come out of the oven and let them sit for a few minutes on the pan. Then, move them to a cooling rack and spread the melted Andes Mint over the top of the cookie. Go ahead and sprinkle on some chopped pieces of Andes Mints to give them even more flavor!
What To Use Instead of Andes Chocolate Mint
There are a few other options if you cannot find Andes chocolate mints and there seems to be more ever year at the store that combine chocolate with mint! All of the these options will follow the recipe directions to place the chocolate on top after baking.
Hershey's Kiss mint truffle or candy cane flavors
York Peppermint Patties, either miniature or cut in half
Russel Stover dark chocolate mint patty
Junior Mints
Dove Promises dark chocolate and mint swirl
Expert Tips
Measure accurately. They say that baking is a science and it's so true! I always recommend following the recipe when it comes to ingredient amounts. My guide to measuring flour is also great to have on hand to make sure you're adding the right amount of flour every time.
Easy clean-up. I always line my baking sheets with parchment paper or a silicone baking mat to make sure the Andes mint cookies don't stick to the sheet and to also make clean-up super easy.
Get the perfect shape. If they come out of the oven a bit misshapen, push the edges gently with a spoon to encourage them into a round shape again.
Use a cookie scoop. It's always a good idea to measure out the same amount of dough for each cookie as much as possible so that they bake evenly. I like to use a cookie scoop to make the job easier.
Make Ahead
You can make this cookie dough and form it into individually portioned balls to freeze before storing it in a zip-top freezer bag or another freezer-safe container. Freezing cookie dough is one of my favorite baking hacks!
Once you're ready to bake them, let the dough come to room temperature and follow the rest of the recipe directions as written.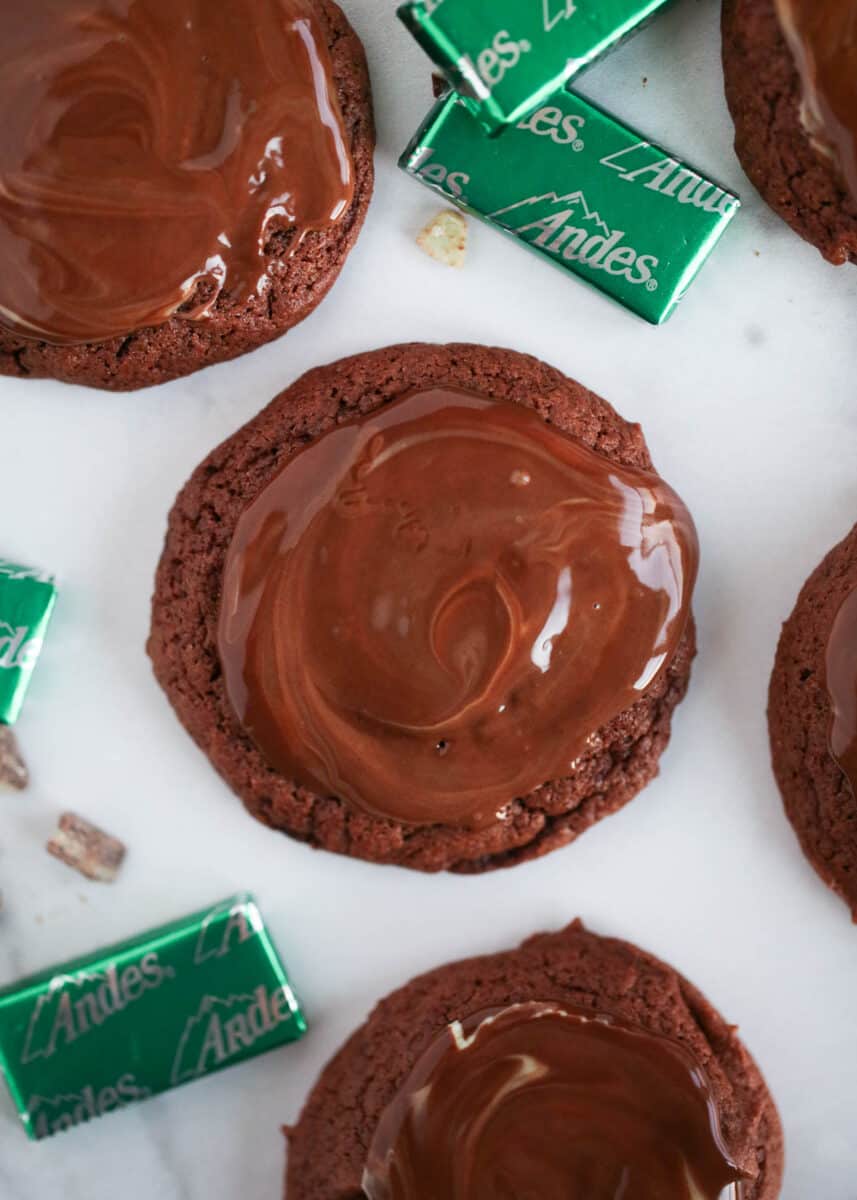 Recipe FAQs
Why does the cookie dough need to be chilled?
As tempting as it may be to skip the chilling step, it is important! Even though these cookies don't spread too much while baking, chilling helps the cookies to keep their shape and not overspread while baking.
What makes cookies dry?
Too much flour in your dough can cause dry and crumbly cookies. Remember to accurately measure all of your ingredients.
How do you know when these Andes mint cookies are done?
Chewy chocolate cookies should be crispy around the edges and soft in the middle. They will continue to bake and firm up when they come out of the oven.
Can I add nuts to them?
Sure! If you'd like an added crunch, throw in half a cup of walnuts or pecans into the dough. If you're feeling extra ambitious, you can even toast the nuts first for an even more nutty flavor.
Storing
Let your cookies cool completely then store them in an airtight container at room temperature for up to 3 days.
For longer storage, you can easily freeze a batch for up to 3 months. Make sure the cookies have cooled completely. Then place in a freezer bag or freezer-safe container and store in the freezer. To thaw, let them sit at room temperature then enjoy!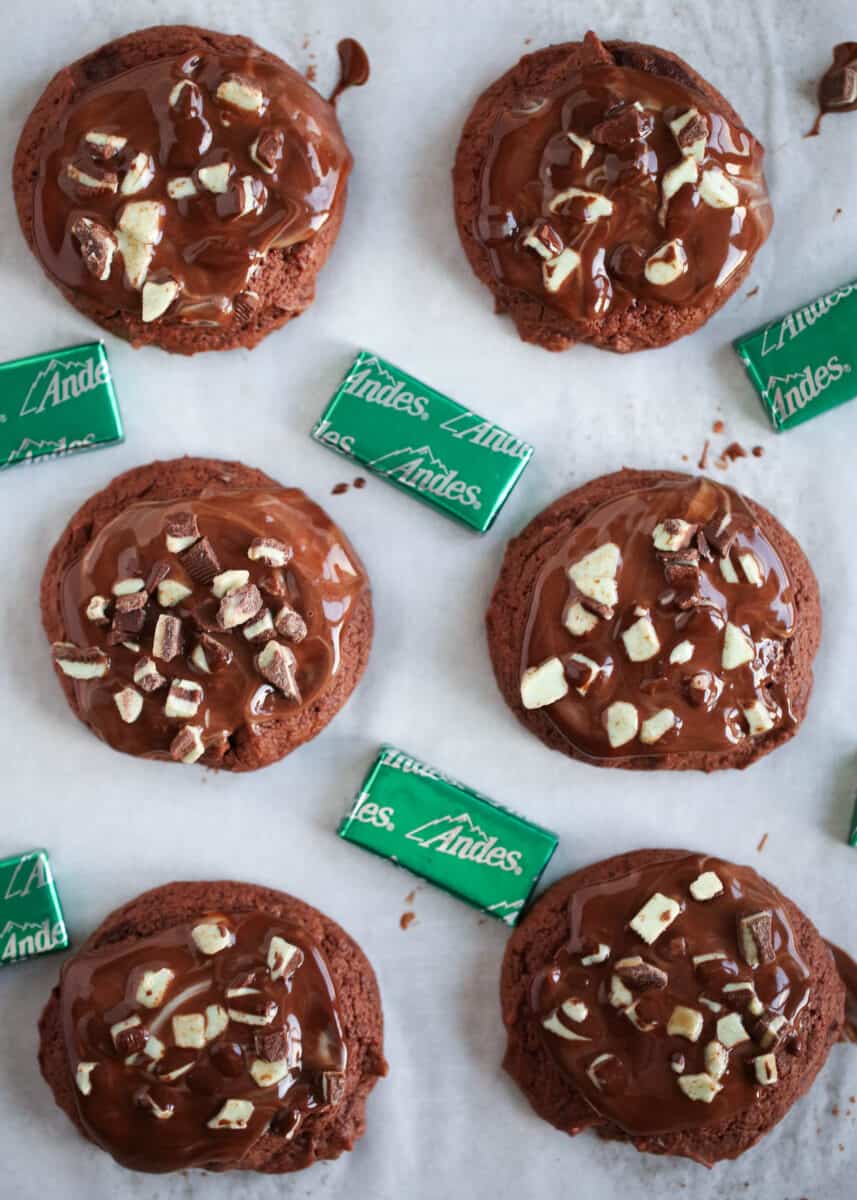 HUNGRY FOR MORE? Subscribe to my newsletter and follow on Facebook, Pinterest and Instagram for all the newest recipes!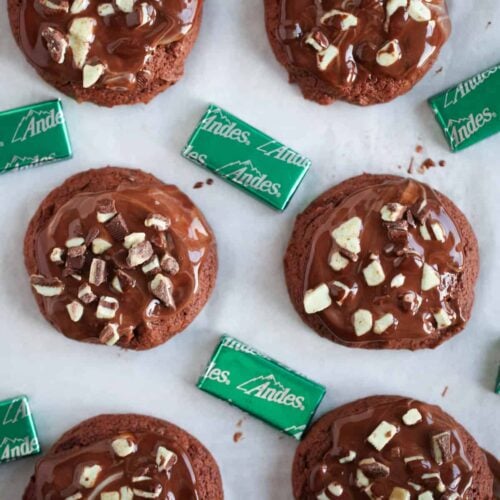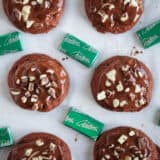 Andes Mint Cookies
For a soft-baked chocolate cookie with a special treat on top, try these amazing Andes Mint cookies. They're a super easy, one-bowl cookie that comes together with hardly any effort at all. Perfect for the holiday season or any time you feel like a chocolate minty treat!
Ingredients
¾ cup (170 grams) unsalted butter , softened
1 ½ cups (300 grams) granulated sugar
1 cup (80 grams) unsweetened cocoa powder
4 large eggs
2 ½ teaspoons vanilla extract
2 ¼ cups (292 grams) all-purpose flour , spooned and leveled
2 teaspoons baking powder
¾ teaspoon fine sea salt
36 Andes mints , unwrapped
Optional topping: Chopped Andes mints
Instructions
Preheat thee oven to 350°F. Line 2 baking sheets with parchment paper.

In the bowl of a stand mixer fitted with a paddle attachment, mix together the butter and sugar. Mix in eggs, and vanilla. Add cocoa powder and mix until smooth.

In a separate bowl, whisk together the flour, baking powder, and salt. Gradually add the flour mixture to the sugar mixture and mix just until combined. Refrigerate the dough for 15 to 20 minutes.

Using a medium cookie scoop (or about 2 Tablespoons), scoop the dough onto the baking sheets. Lightly press the tops of the dough ball flat.

Bake 8 to 10 minutes, or until the edges are slightly crisp, yet soft in the middle. Place 1 mint on top of each cookie immediately after they come out of the oven and let sit a few minutes on the pan.

Move the cookies to a cooling rack. Using a spoon or knife, spread the melted mint on top of the cookies.

Sprinkle additional chopped mints on top, if desired. Add after the chocolate has set for 1-2 minutes, so they don't melt. Let cookies cool before storing.
---
Notes
Cake mix version: To make these easier, follow my cake mix cookies with a box of deviled food cake. Then follow steps 6 and 7.
Andes mints: Occasionally I like to add the pre-chopped Andes mints on top for added mint flavor and decoration. You can find these in the baking isle. This step is optional.
Storage: Once cooled, store in an airtight container up to 3 days.
Freezer instructions: Make sure cookies have cooled completely. Then place in a freezer bag or container and store in freezer for up to 3 months. To thaw, let sit at room temperature.
Nutrition
Calories: 156kcal | Carbohydrates: 26g | Protein: 4g | Fat: 6g | Saturated Fat: 4g | Polyunsaturated Fat: 0.3g | Monounsaturated Fat: 2g | Trans Fat: 0.2g | Cholesterol: 31mg | Sodium: 59mg | Potassium: 148mg | Fiber: 3g | Sugar: 11g | Vitamin A: 153IU | Calcium: 25mg | Iron: 2mg
Nutrition provided is an estimate. It will vary based on specific ingredients used.
Did you make this recipe? Don't forget to give it a star rating below!