With just 10 minutes of prep time and a total of 1 hour from start to finish, this easy coffee cake recipe is a timeless dessert for all occasions!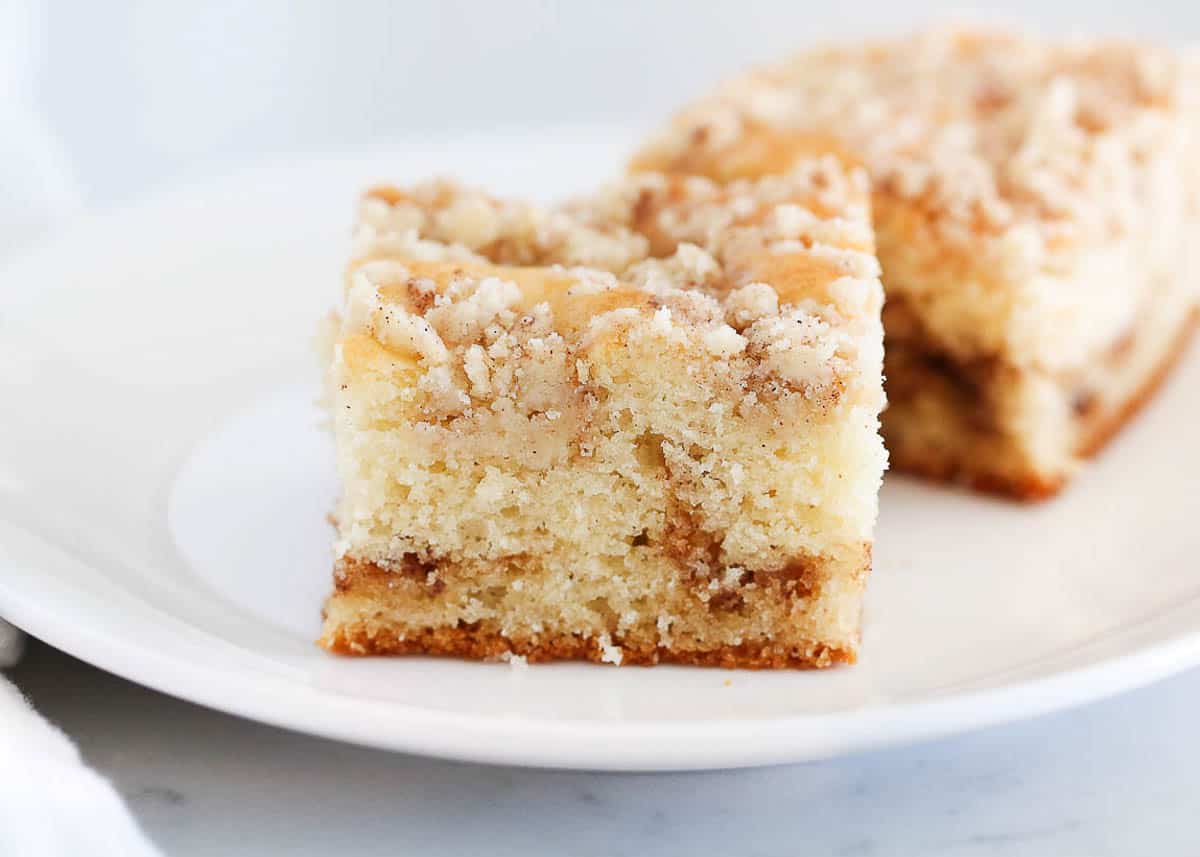 Even Better Than Starbucks!
A dessert as classic as this one is something everyone should know how to make from scratch. It's too easy not to and always ends up tasting so much better than what you'd get at a bakery or coffee shop!
This easy coffee cake recipe results in a moist buttery cake with a tender crumb that contains a ribbon of cinnamon sugar swirled throughout the center. It's topped with a deliciously sweet and crispy crumble topping which you can always add more of if you want. Turn it into a crumb cake and pile the crumble even higher!
Enjoy it during the holidays or a special occasion brunch. Baby showers, wedding showers, anytime for an afternoon snack. Coffee break or not, there is never a wrong time to enjoy a slice!
Why This Recipe Works
Kid-friendly. Despite the name, there is no coffee in this easy coffee cake recipe!
Taste and texture. If you like butter, cinnamon, sugar, or a combination of all three, this cake is for you. It's moist, soft, and just the right amount of brown sugary sweetness.
Freezes well. This is the perfect freezer-friendly cake. It lasts for months and can be pulled out for any last-minute occasion.
Ingredients Needed
No fancy ingredients required to make this easy recipe for coffee cake. A few common baking staples are all that's needed to get started. Check them out below.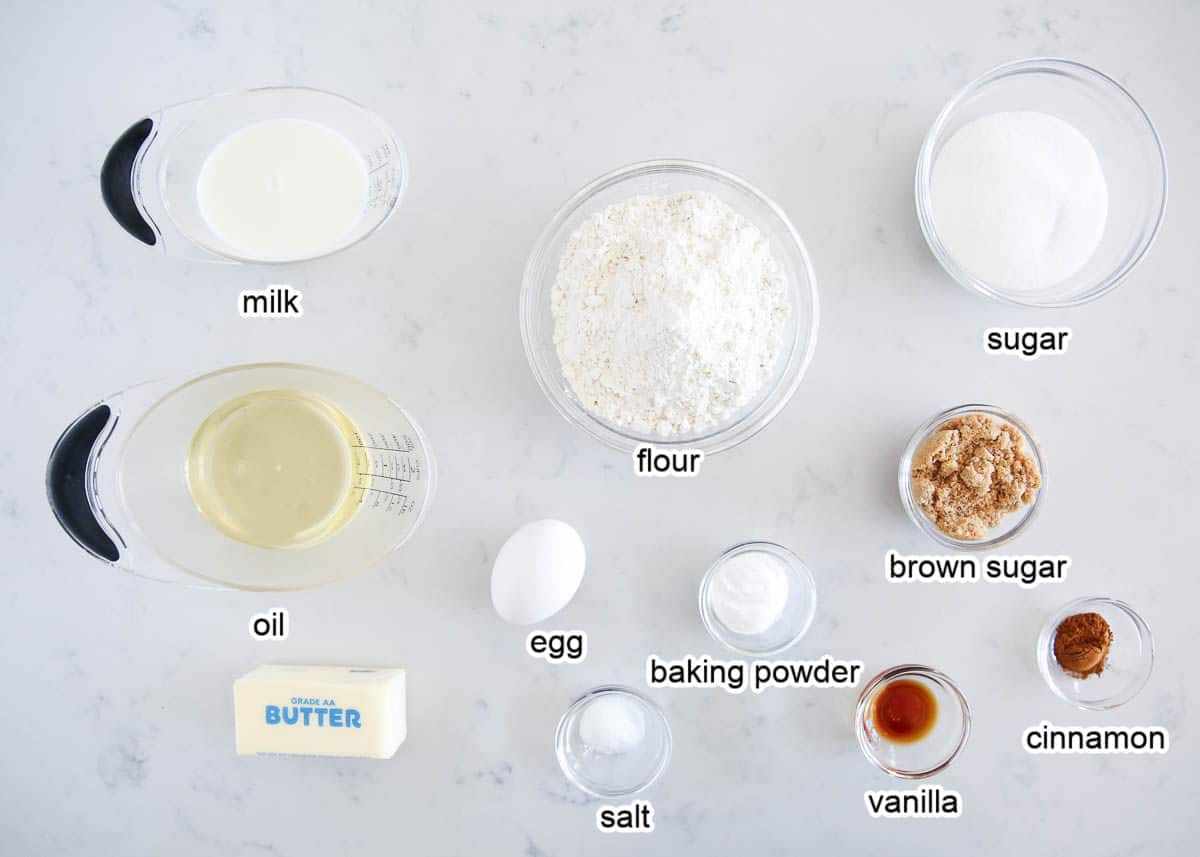 Find the full printable recipe below.
All-purpose flour: This recipe is pretty straightforward. It's all about achieving the perfect textures in each of the layers and knowing how to measure flour correctly is part of that.
Milk: Any milk will do. The higher the fat content the more moisture it will retain, so I like to use whole milk or at least 2%.
Baking powder: Check to see that yours has not expired. Otherwise, it won't give it the lift it needs for a light and airy texture.
Crumb topping: Made with flour, sugar, and butter but can be replaced with a streusel topping, similar to how I make this pumpkin streusel coffee cake.
Butter: This is a case where I prefer to use salted rather than unsalted butter. There is no added salt anywhere else and quite a bit of sugar, so it offsets it nicely. Just remember to bring the butter to room temperature early enough. Some will need to be melted, but some will need to be just very soft.
How to Make the Best Coffee Cake Recipe
With only 10 minutes of prep time, you'll soon understand why this easy coffee cake is a recipe I reach for again and again!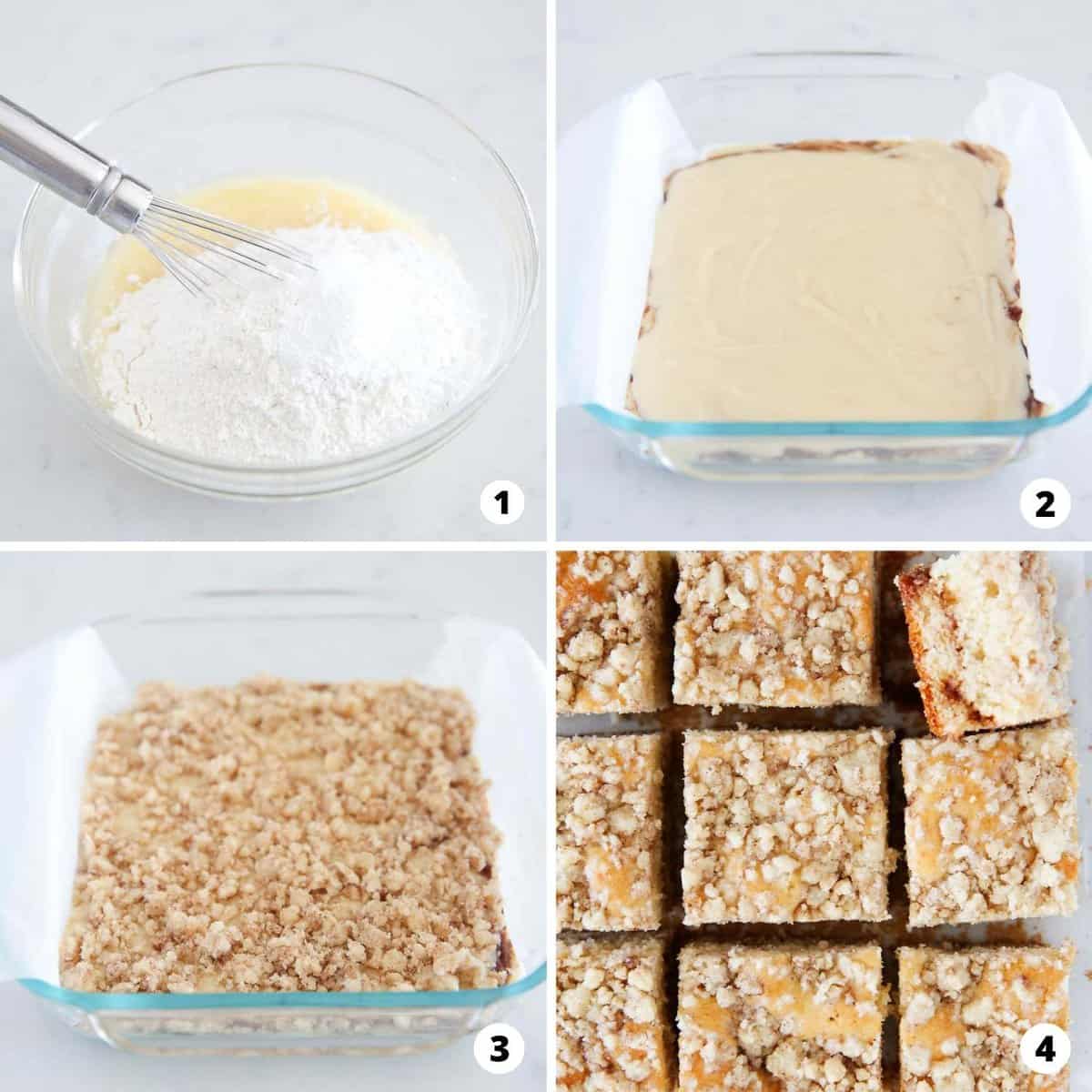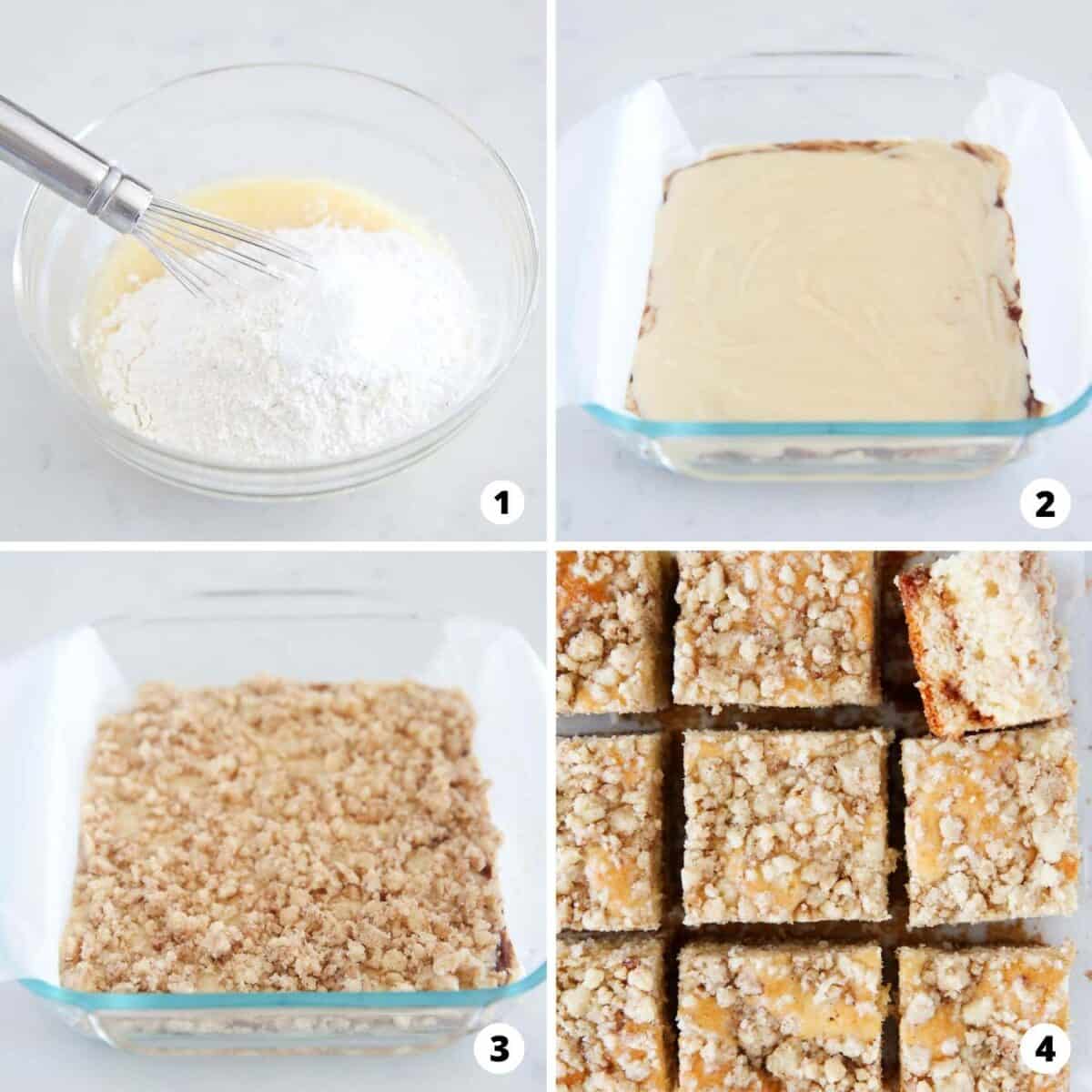 Prepare the batter. Whisk together the wet ingredients. Add in the dry ingredients which include the flour, baking powder, and salt, and mix to combine. Pour half of the cake batter into a prepared pan. I use an 8×8″ baking dish lined with parchment paper.
Make the filling. Combine the brown sugar and cinnamon in a small bowl and sprinkle it overtop of the bottom portion of the batter. Drizzle that with melted butter and then add the remaining batter on top.
Add a topping. In another small bowl, combine the flour sugar, and butter. Feel free to use your hands to crumble it up until coarse pea-sized crumbs appear. Sprinkle that overtop the batter and cover the dish loosely with foil.
Bake, cool, and slice. Transfer the dish to a preheated oven and bake for 25 minutes. Remove the foil and bake for 10 minutes more. A toothpick inserted into the center of the cake should tell you it's done if it comes out clean. Remove it from the oven and allow it to cool for 15 minutes before slicing it into 9 squares. Enjoy every bite of this easy coffee cake recipe!
Double The Recipe
Make twice the amount for a crowd and use a 9×13″ baking pan. Add an extra 5-10 minutes to the bake time and have enough to serve a larger crowd!
Either that or just make more of this easy coffee cake recipe so you can store some for later!
Expert Tips
Tasty topping. Sometimes I'll drizzle it with powdered sugar icing or cream cheese glaze for a little something extra.
Make muffins. Turn this classic coffee cake recipe into coffee cake muffins! You'll divide the batter into a muffin pan, swirl in the cinnamon sugar, and top with a crumble or cinnamon streusel topping.
Add nuts or berries. For extra crunch and flavor add some chopped nuts on top. Walnuts and pecans are always a safe bet! Try it with blueberries like I do in this blueberry coffee cake.
No oil. Sour cream or plain Greek yogurt can be added to the batter in place of the oil for a lighter version with just as much moisture. Greek yogurt also provides a bit of extra protein.
No mixer is required. This cinnamon coffee cake can be made just by mixing by hand. However, if you do prefer to use a hand mixer or stand mixer with the paddle attachment, go right ahead. I prefer just a medium bowl or large bowl, a whisk, and a wooden spoon.
If using unsalted butter. Add a teaspoon salt to the mixture.
Best Ways to Serve It
For breakfast or brunch serve it with a hot drink, a smoothie, or a refreshing glass of lemon water.
If it's for dessert, a scoop of vanilla ice cream is in order. A little extra indulgence with a drizzle of caramel sauce or glaze never hurts either!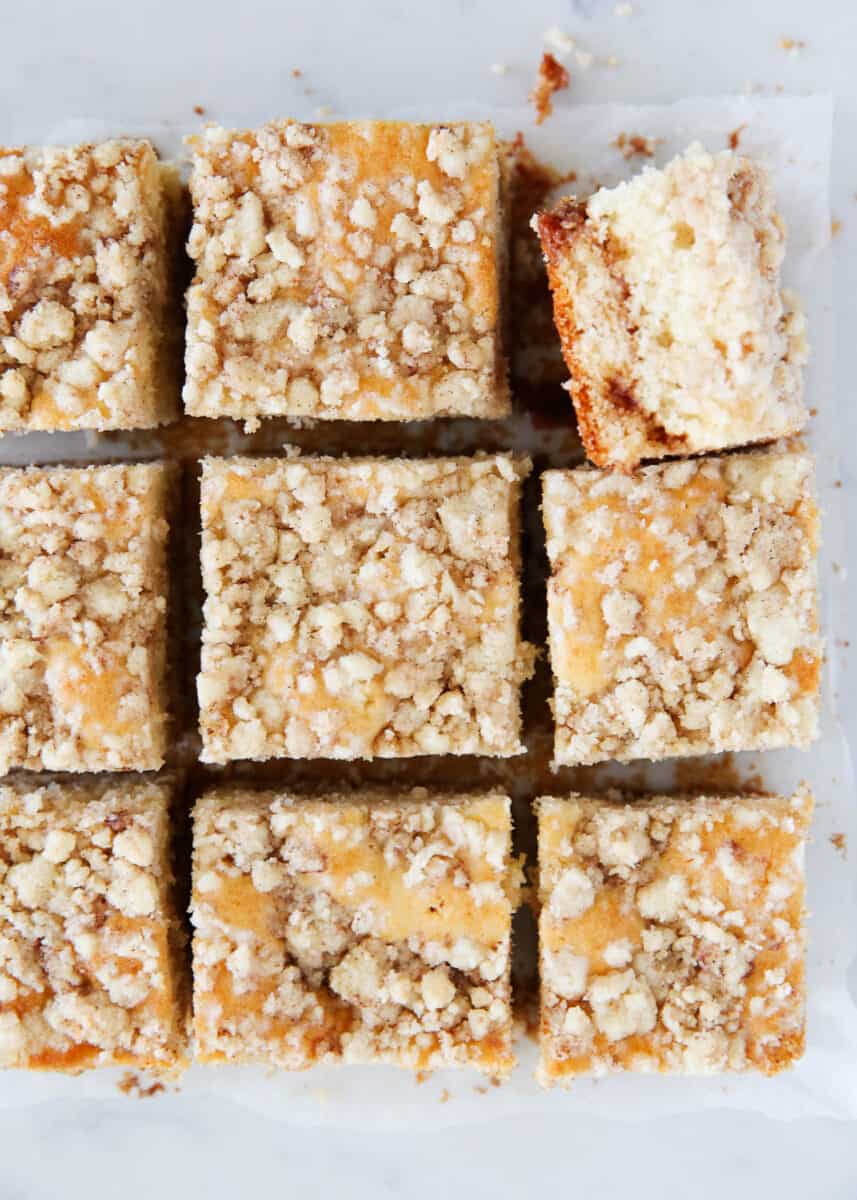 Recipe FAQs
What makes a coffee cake a coffee cake?
The name comes from eating cake with your cup of coffee during "coffee breaks." Good news for kids and caffeine-free adults, because it's not actually made with coffee as an ingredient.
What's the difference between coffee cake and regular cake?
Traditional coffee cake has a crumb topping or a cinnamon streusel topping layered on what resembles a pound cake. A regular vanilla cake is what you'd put frosting or fondant on!
Is cinnamon crumb cake the same as coffee cake?
Not exactly. They are very similar, however, a crumb cake is all about the crumb topping, whereas a coffee cake has the topping, but a thinner layer of it. When the crumble topping is piled high it's referred to as a crumb cake.
Storage
On the counter: To store leftovers, keep them in an airtight container at room temperature for up to 3 days. It doesn't need to be kept in the fridge and will stay moist as long as it stays covered.
In the freezer: If you want to freeze any pieces, wrap them in plastic wrap to avoid freezer burn, and so that you can keep them separate and only thaw what you need. Store them in a freezer-friendly bag for up to 3 months.
You can enjoy it cold, at room temperature, or even warmed up in the microwave. I admit I like to enjoy it warm if I'm having it with ice cream!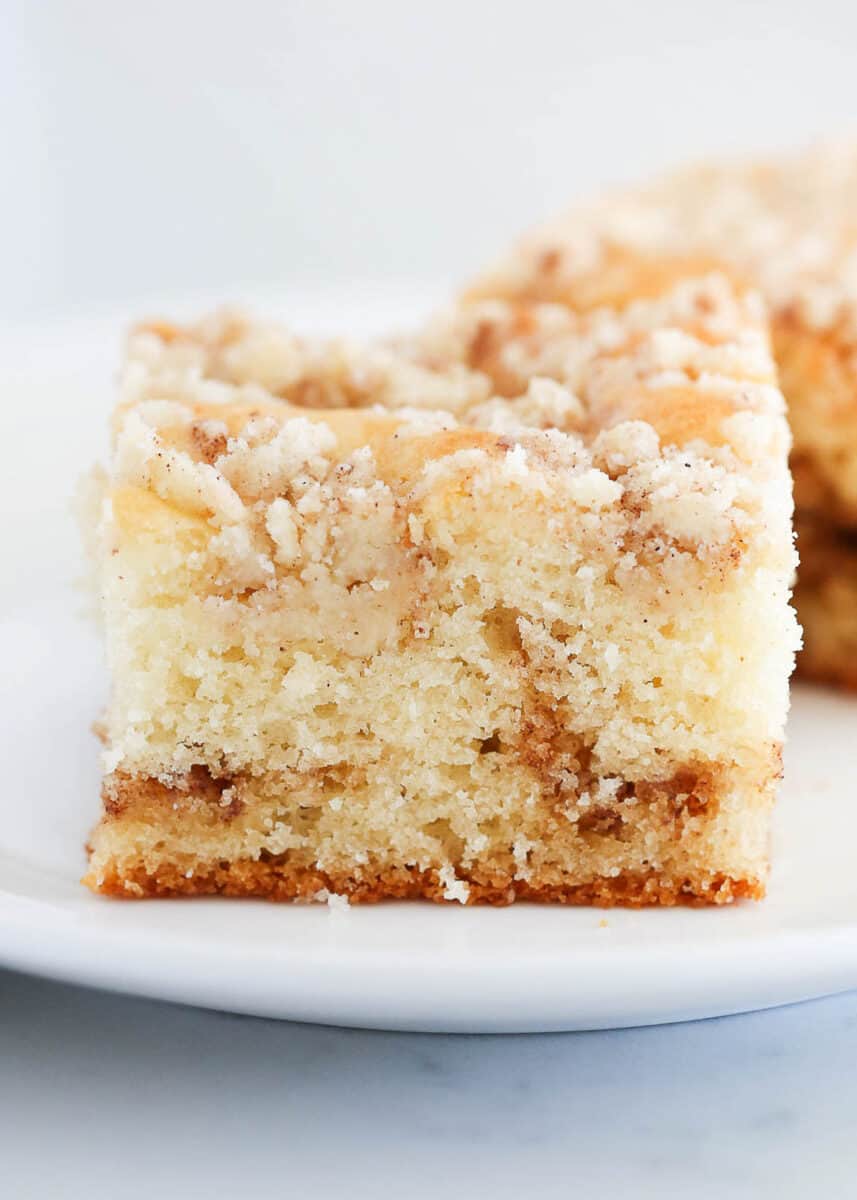 HUNGRY FOR MORE? Subscribe to my newsletter and follow on Facebook, Pinterest and Instagram for all the newest recipes!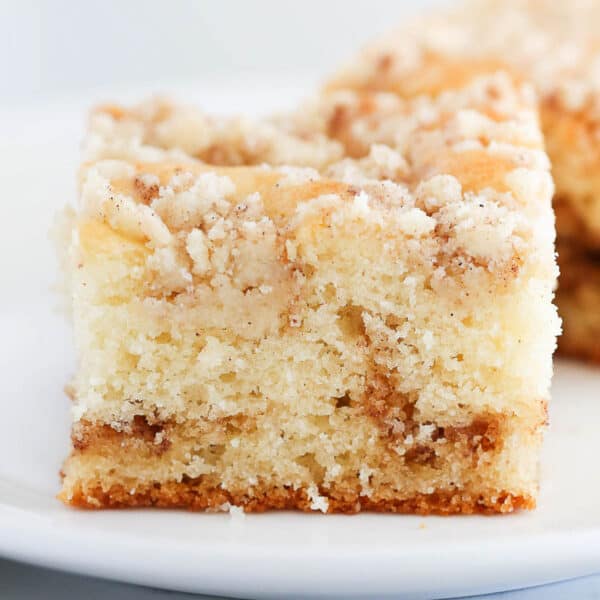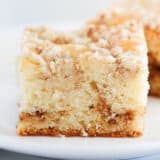 Easy Coffee Cake Recipe
With just 10 minutes of prep time and a total of 1 hour from start to finish, this easy coffee cake recipe is a timeless dessert for all occasions!
Ingredients
½ cup vegetable oil
½ cup milk
½ cup (100 grams) granulated sugar
1 large egg
1 teaspoon vanilla extract
1 ½ cups (195 grams) all-purpose flour
2 teaspoons baking powder
½ teaspoon fine sea salt or table salt
Filling
¼ cup brown sugar
1 teaspoon ground cinnamon
1 Tablespoon salted butter , melted
Topping
¼ cup all-purpose flour
¼ cup granulated sugar
3 Tablespoons salted butter , slightly melted
Instructions
Preheat the oven to 350°F. Line an 8×8-inch baking dish with parchment paper, if desired.

In a large bowl, whisk together the oil, milk, sugar, egg, and vanilla.

Add the flour, baking powder, and salt to the bowl and mix together with a wooden spoon. Pour half the batter into the baking dish.
Filling
In a small bowl, combine the brown sugar and cinnamon. Sprinkle over the top of the batter. Drizzle the melted butter evenly over the top. Pour the remaining batter over the filling.
Topping
In a small bowl combine the flour, sugar, and butter. Crumble evenly over the batter.

Cover dish loosely with foil and bake 25 minutes. Remove foil and bake 10 more minutes, or until a toothpick inserted in the center comes out clean.

Remove from the oven and let cool at least 15 minutes before serving. Slice into 9 squares and serve.
---
Notes
Crumb topping: If you'd prefer more of a crumb mixture on top, feel free to make half a batch of this crumble topping to add to the top. You'll only need half of the topping listed above for the middle.
Doubling: You can double the recipe for a crowd. Bake in a 9×13-inch baking dish for an additional 5 to 10 minutes.
Storage: Store leftover cake in a covered container for up to 3 days. Freeze up to 3 months.
Nutrition
Serving: 1slice | Calories: 411kcal | Carbohydrates: 57g | Protein: 6g | Fat: 18g | Saturated Fat: 5g | Polyunsaturated Fat: 7g | Monounsaturated Fat: 4g | Trans Fat: 0.3g | Cholesterol: 35mg | Sodium: 185mg | Potassium: 173mg | Fiber: 1g | Sugar: 23g | Vitamin A: 212IU | Vitamin C: 0.004mg | Calcium: 71mg | Iron: 2mg
Nutrition provided is an estimate. It will vary based on specific ingredients used.
Did you make this recipe? Don't forget to give it a star rating below!