Favorite Pumpkin Cake
This pumpkin cake is perfect for pumpkin lovers everywhere. It has a brown sugar crumb cake bottom and top with a delicious pumpkin filling. It's very similar to a pumpkin dump cake but has a crumb cake layer on the bottom as well which adds an extra layer of deliciousness.
Top this cake with a scoop or vanilla ice cream and caramel (trust me!) and you'll be in pumpkin heaven. Gah, this is seriously my favorite fall dessert. I can't wait to make it again.
The pecan crunch on top of this gooey pumpkin cake is what really takes it over the top. It's really easy to make and is a great addition (or substitution) to pumpkin pie.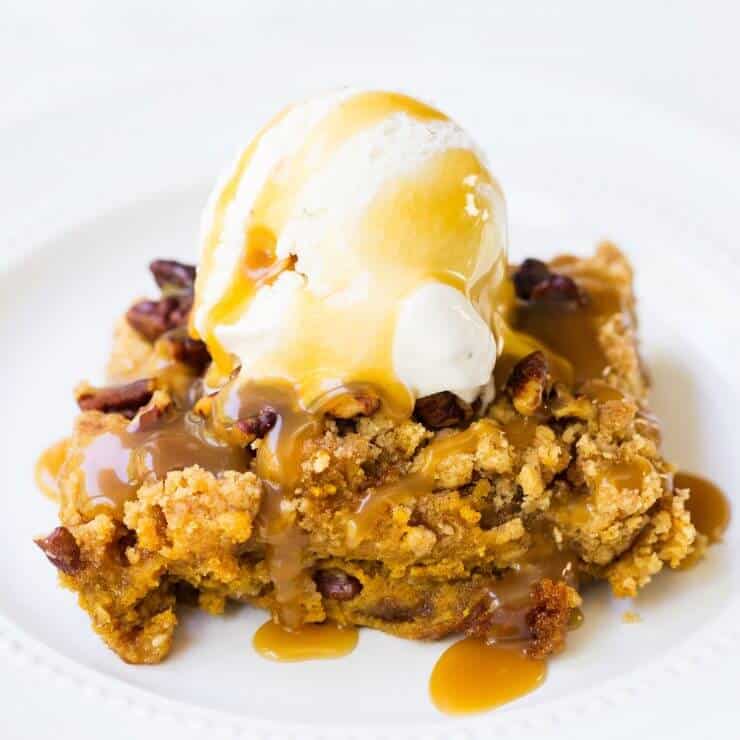 MY OTHER RECIPES
As I ran into Kroger the other day for milk I spotted pretty much everything pumpkin and before you knew it my whole shopping cart was full of pumpkin goodies (see here). Once I was stocked up on pumpkin and pumpkin spice I knew I had to make this pumpkin cake for you all. I've adapted it over the years and it is one of my families favorites for ringing in the fall season.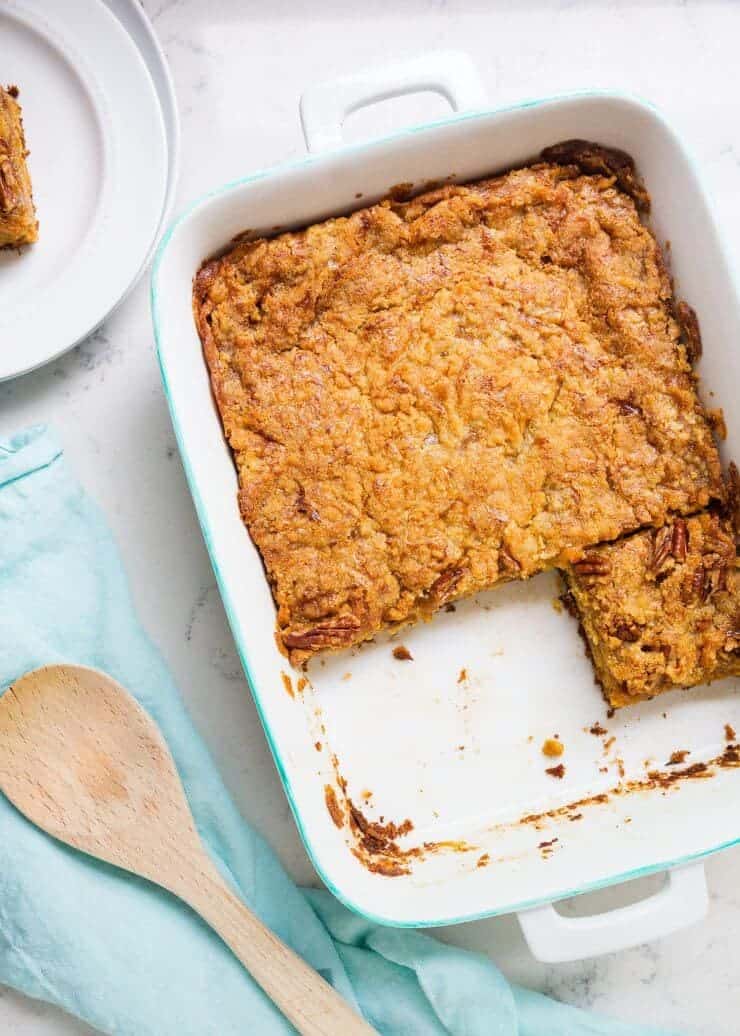 Seriously though… this time of year that makes me want to put pumpkin in EVERYTHING! I am so excited that fall is finally here. It is my absolute favorite time to live in Ohio. I love seeing the leaves change and getting to wear boots in September. Now once January hits… I think I'll catch a plane back home to AZ. ;)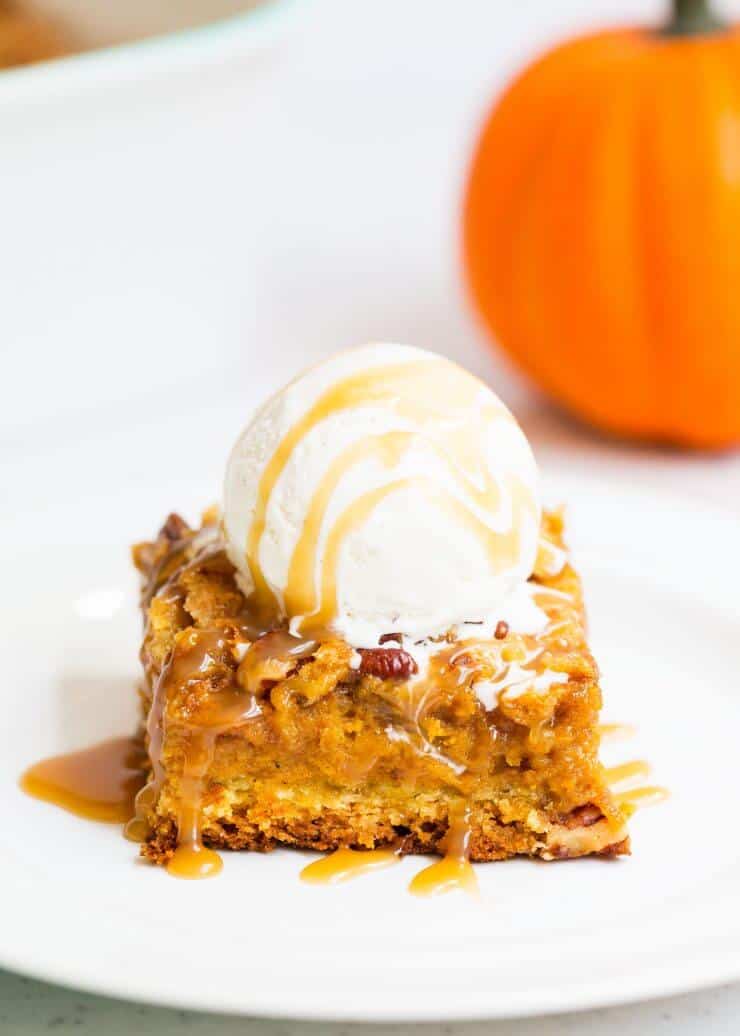 Pumpkin Cake Ingredients –
For this cake you'll need a box of yellow cake mix, eggs, butter, pumpkin, sugar, evaporated milk and pumpkin pie spice. Then you'll add a cake crumb layer to the bottom and top of the pumpkin filling. I used the 100% pure pumpkin from Kroger and it tasted great!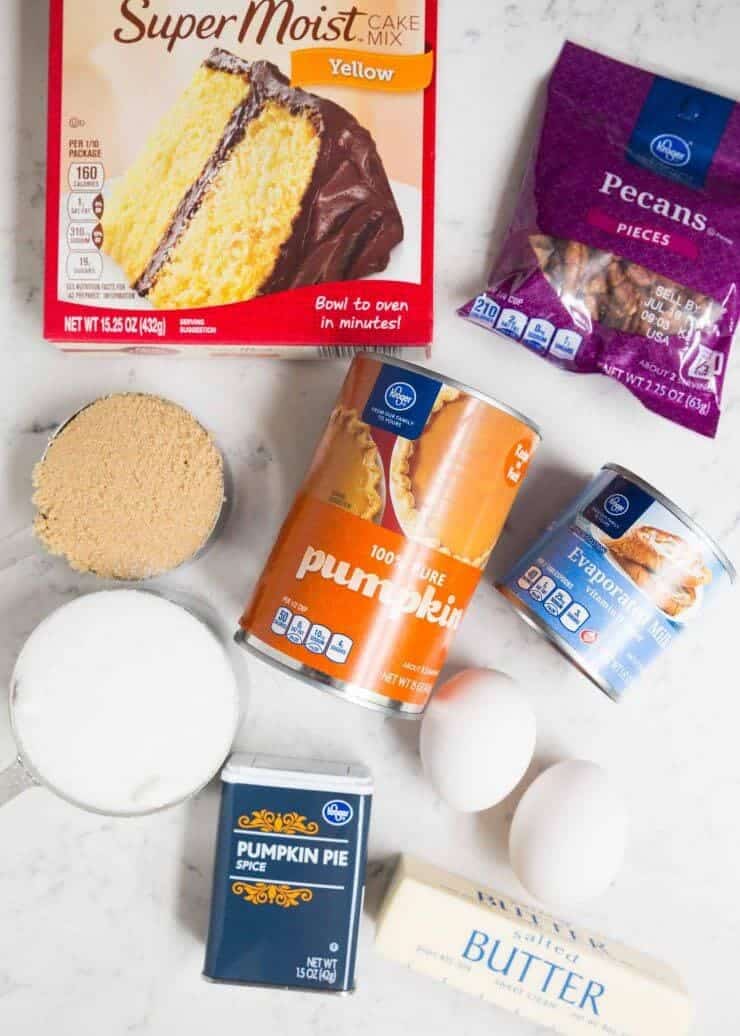 Pumpkin Cake Instructions –
Then for the first layer you'll add the half the crumb mixture. Then for the second layer you'll pour the pumpkin filling on top. Then for the third layer you'll add the rest of the crumb mixture with pecans. We always do half with and half without, since my kids prefer no nuts. ;)


I also HIGHLY recommend serving with ice cream or whipped cream. It just adds the perfect cool flavor. This salted caramel added a great addition as well. I used the Kroger vanilla bean ice cream and it was delicious!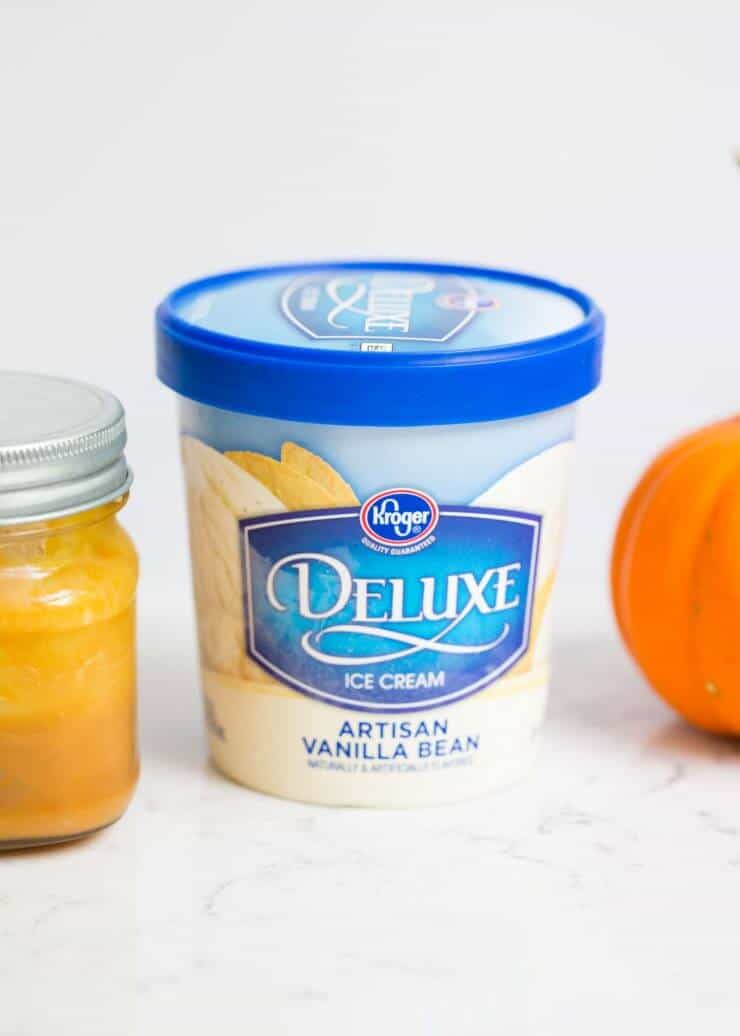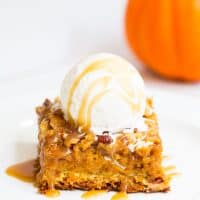 Pumpkin Cake
Yield: 15 to 20
Prep Time: 15 minutes
Cook Time: 1 hour
Total Time: 1 hour and 15 minutes
Ingredients:
Crumb topping:
1 (15-ounce) box yellow cake mix
3/4 cup salted butter, softened
1/2 cup light brown sugar
1 teaspoon cinnamon
Pumpkin filling:
1 (15-ounce) can pumpkin
1 cup sugar
2 large eggs
1 (5-ounce) can evaporated milk (about 2/3 cup)
1 Tablespoon pumpkin pie spice
1 teaspoon vanilla
1/2 cup chopped pecans, if desired
Ice cream and caramel sauce, if desired
Directions:
Pre-heat oven to 350°F. Butter a 9x13" pan and set aside.
In a medium size bowl stir together the cake mix, butter, brown sugar and cinnamon. Spread half the crumb mixture into the bottom of your pan.
For the second layer combine the pumpkin, sugar, eggs, evaporated milk, pumpkin spice and vanilla in a separate bowl. Mix until combined and then pour over your first layer.
Sprinkle the remaining crumb mixture over the top. Add pecans if desired.
Bake in the oven for 55 minutes - 1 hour, or until a toothpick comes clean.
Allow to cool. Top with whipped cream, ice cream and/or caramel sauce if desired.
Enjoy! :)
ENJOY! Happy fall friends!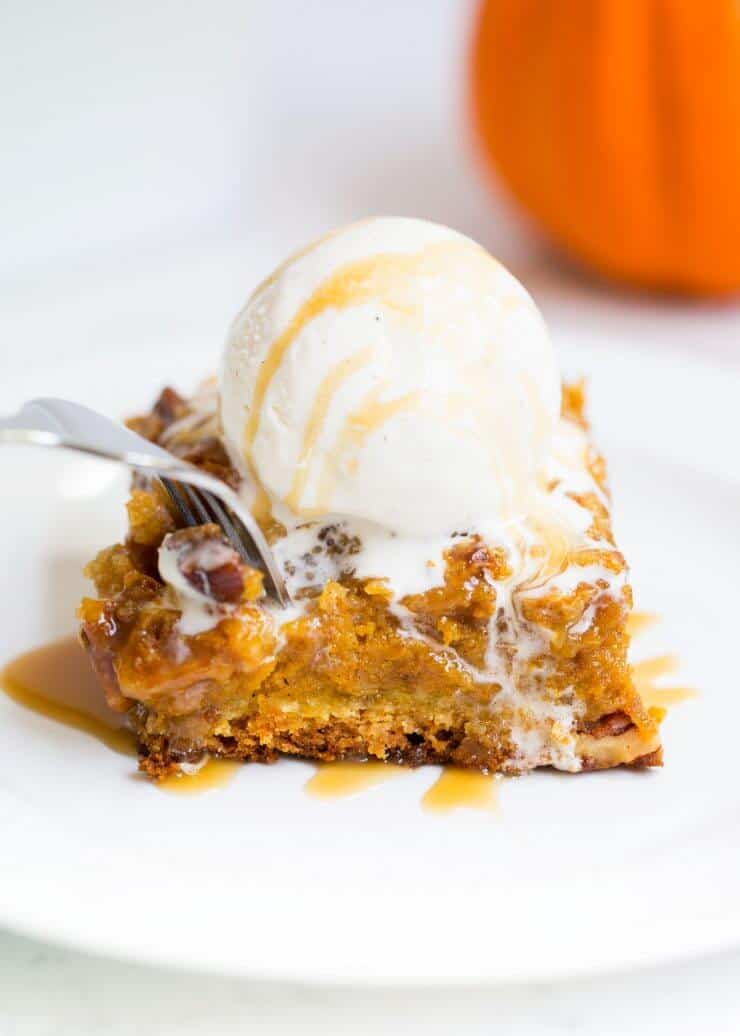 This post is brought to you by Kroger. Follow them on Instagram or Pinterest for more inspiration.
Join in! Leave a comment!
Comments