Loaded with sweet juicy blueberries and topped with a classic crumb topping, this blueberry coffee cake is moist, tender, and utterly delicious. The buttery topping is golden brown and slightly crunchy yet melts in your mouth!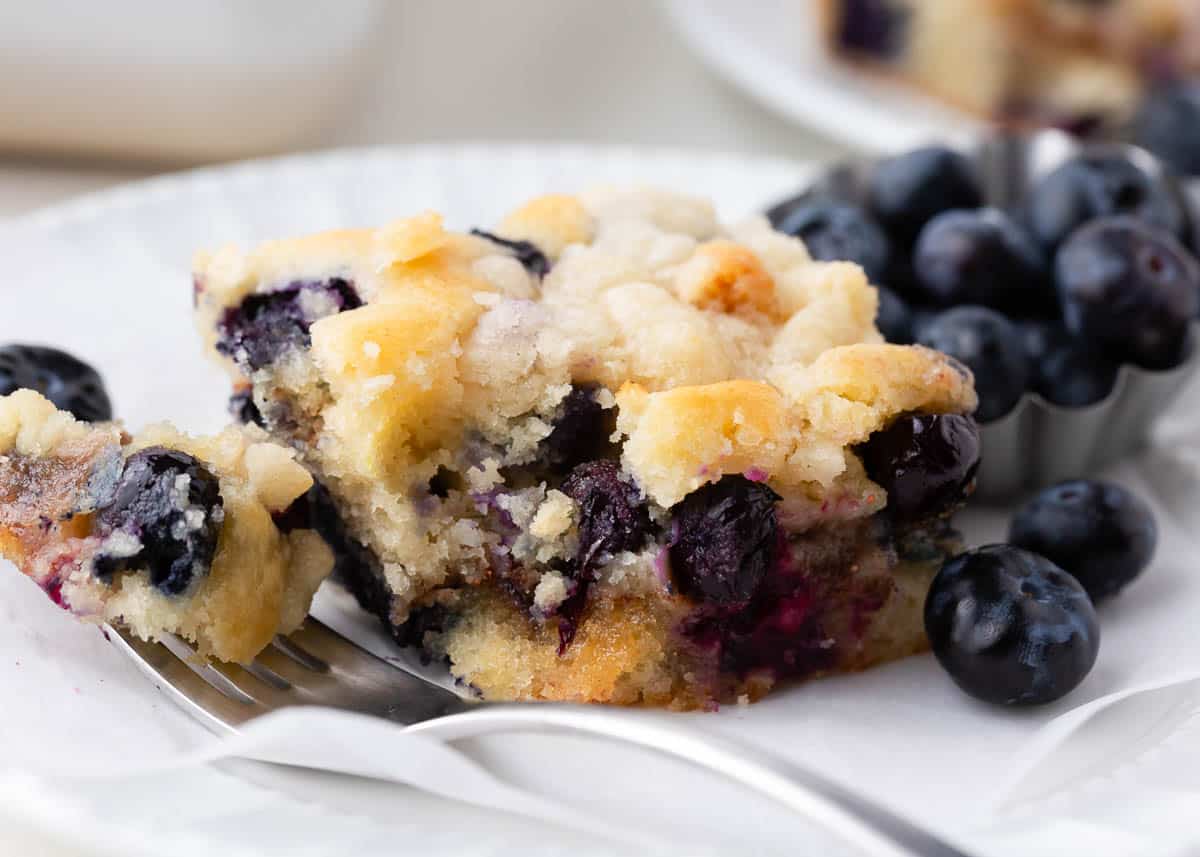 Light, Airy, and Irresistible
Coffee cakes, despite their name, have no coffee in them! These cakes are made with simple baking staples, are light, moist, and not overly sweet, making them just as perfect for breakfast or brunch as they are an afternoon snack or dessert.
I have a simple classic coffee cake recipe that I use throughout most of the year. During the fall I make my pumpkin coffee cake with streusel. Then once blueberry season rolls around we can't get enough of this blueberry coffee cake recipe!
If you go overboard with the blueberries as I do, you might enjoy using the rest of them in these blueberry pancakes, blueberry muffins, or blueberry buttermilk cake!
Why This Recipe Works
Fresh or frozen blueberries. Whether you've gone blueberry picking, picked up a fresh haul from the market, or you've got some frozen saved in the freezer, you can make this blueberry coffee cake all year round.
Easy to make. In just over an hour, this simple cake is ready to serve. Mix wet ingredients with the dry ingredients, add the topping, and bake!
Flexible ingredients. You can make this with any type of berry you'd like and swap the crumble topping with a streusel topping instead.
Perfect for any occasion. From special occasion brunches, to showers, potlucks, and more. You can even double the recipe to serve a larger crowd.
Recipe Ingredients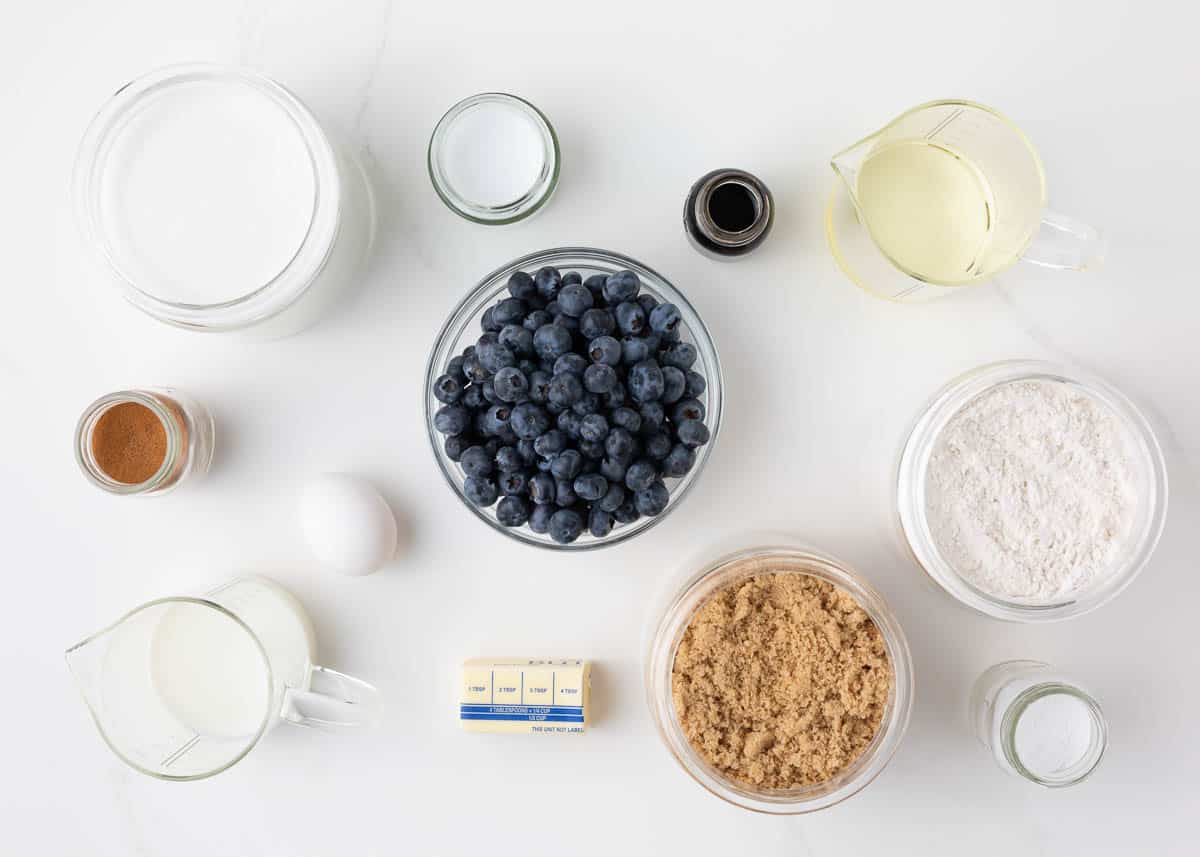 Find the full printable recipe with specific measurements below.
Milk & vegetable oil: Both of these add moisture to the cake, ensuring a soft and tender crumb. Oil traps the air while milk delivers protein and flavor.
Granulated sugar: Needed for sweetness. Coffee cake isn't meant to be indulgent so there is just the right amount of sugar.
Large egg: Used to bind the ingredients of the cake together so that it doesn't fall apart when you slice into it.
Vanilla: A flavor enhancer.
All-purpose flour: The structure to the whole cake! It's important to measure your flour correctly otherwise, adding too much of it will yield a dense cake.
Baking powder: A leavening agent that allows the blueberry coffee cake to rise without using yeast.
Salt: Just a bit for flavor since we're using salted butter.
Blueberries: Fresh or frozen. If using fresh blueberries, be sure to wash them and pick them over for stems and debris. Do not thaw frozen blueberries before adding them to the batter. If you do, they'll be runny and turn the batter purple!
Butter, melted: Adds a wonderful buttery flavor and yields a soft crumb.
For the topping: Flour, cinnamon, sugar, and room temperature butter.
Variations
There are plenty of ways to jazz up your blueberry coffee cake to make it slightly different each time.
Try it with a different berries such as blackberries, raspberries, or strawberries.
You can also swap the granulated sugar in the crumble and use brown sugar instead to give it a bit of a caramel flavor.
Brighten up the flavors with lemon juice and lemon zest for a lemon blueberry coffee cake. The citrus tart flavors pair so well with blueberries as shown in lemon blueberry muffins, another family favorite!
You can skip the topping altogether if preferred and sprinkle it with powdered sugar, or make a powdered sugar icing to drizzle on top.
There are plenty of options!
How to Make Blueberry Coffee Cake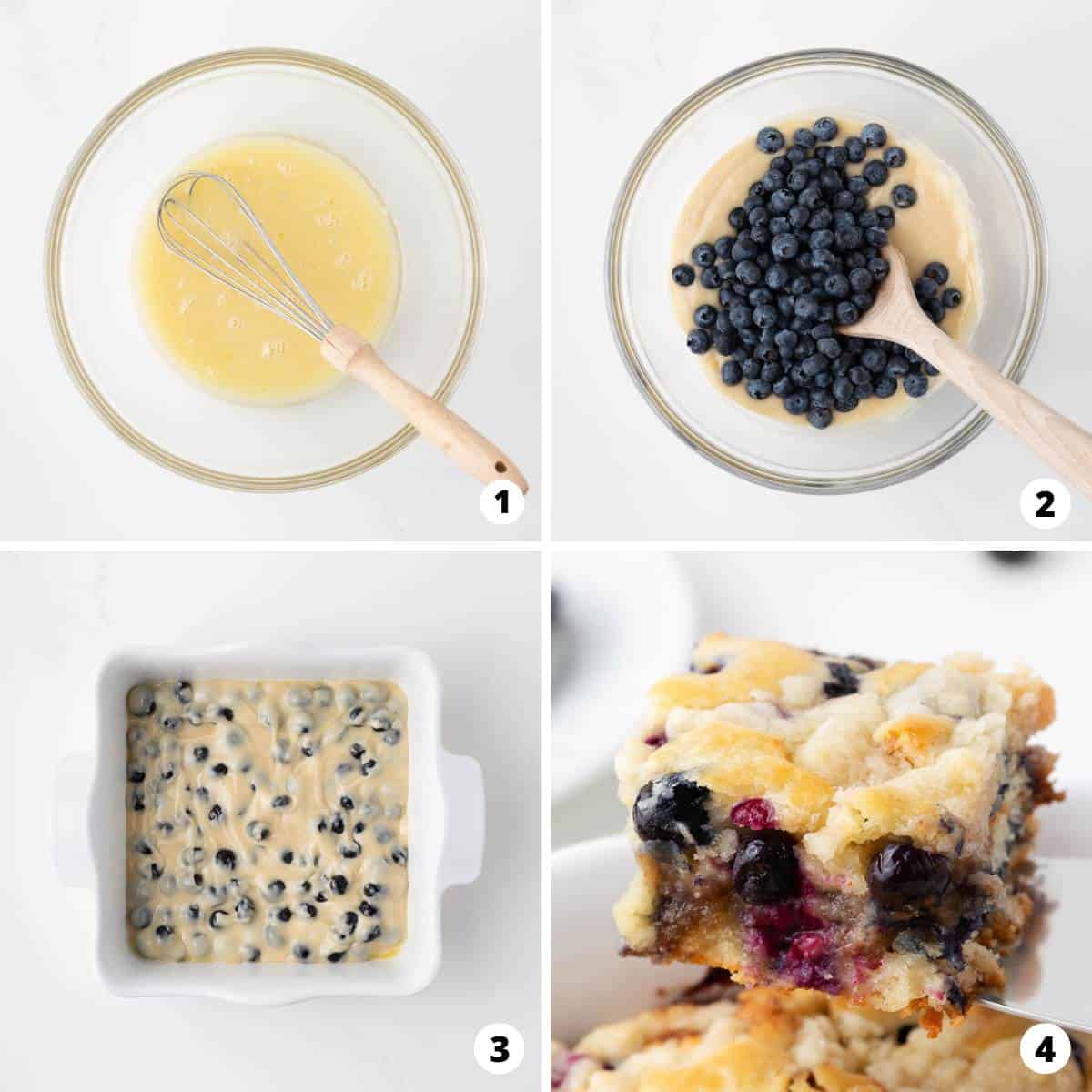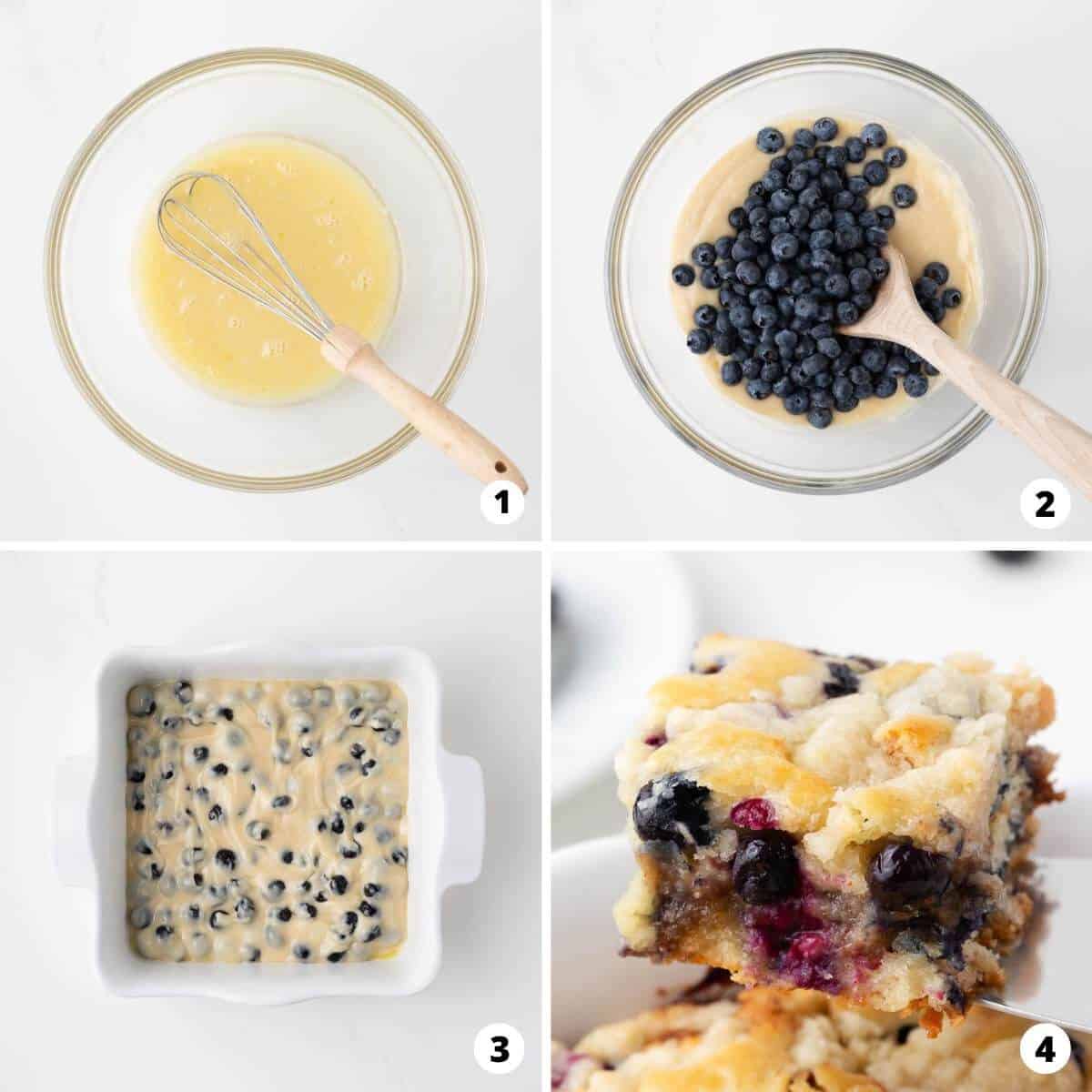 Mix wet ingredients. In a large mixing bowl or bowl of a stand mixer, whisk the oil, milk, sugar, egg, and vanilla together.
Add dry ingredients. Then, add the flour, baking powder, and salt to the bowl and mix with a wooden spoon. Gently fold in the blueberries until just combined.
Transfer cake batter to a dish. Pour the batter into a sprayed 8×8-inch baking dish and spread it out evenly. You want to make sure to use a dish at least 2 inches deep so that when it stays contained as it rises. Make topping if desired.
Bake the coffee cake. Cover it with foil and bake it for 35 minutes. Remove the foil and bake for another 5-10 minutes for a golden topping. It's done when you can insert a toothpick into the middle of the cake and it comes out clean.
Cool, slice, and serve. Allow it to sit and cool for at least 15 minutes before slicing. This makes an even 9 squares. Serve as is, with a scoop of ice cream, or topped with whipped cream for a special treat!
A Cinnamon Filling!
To add a layer of cinnamon sugar to the middle, pour half the batter into the dish. Sprinkle with a combination of cinnamon and sugar, then drizzle melted butter on top. Pour in the remaining batter and top with crumble topping.

You're going to want to bake for 45 minutes with the foil on rather than 35 minutes. Then continue as directed.
Expert Tips
Do not thaw frozen blueberries. Once frozen blueberries are thawed, they'll release too much water and become mushy.
Fold the blueberries in gently. You want them to stay whole and plump without breaking apart.
Double the recipe. To feed a larger crowd, double the recipe and use a 9×13 baking dish and bake for an extra 5-10 minutes.
Make it ahead. If you want to save time but aren't ready to bake anything yet, prepare it in the pan without the topping. Cover it with plastic wrap and store it in the fridge overnight. When you're ready to bake, bring it to room temperature for 30 minutes, add the topping, and into the oven it goes.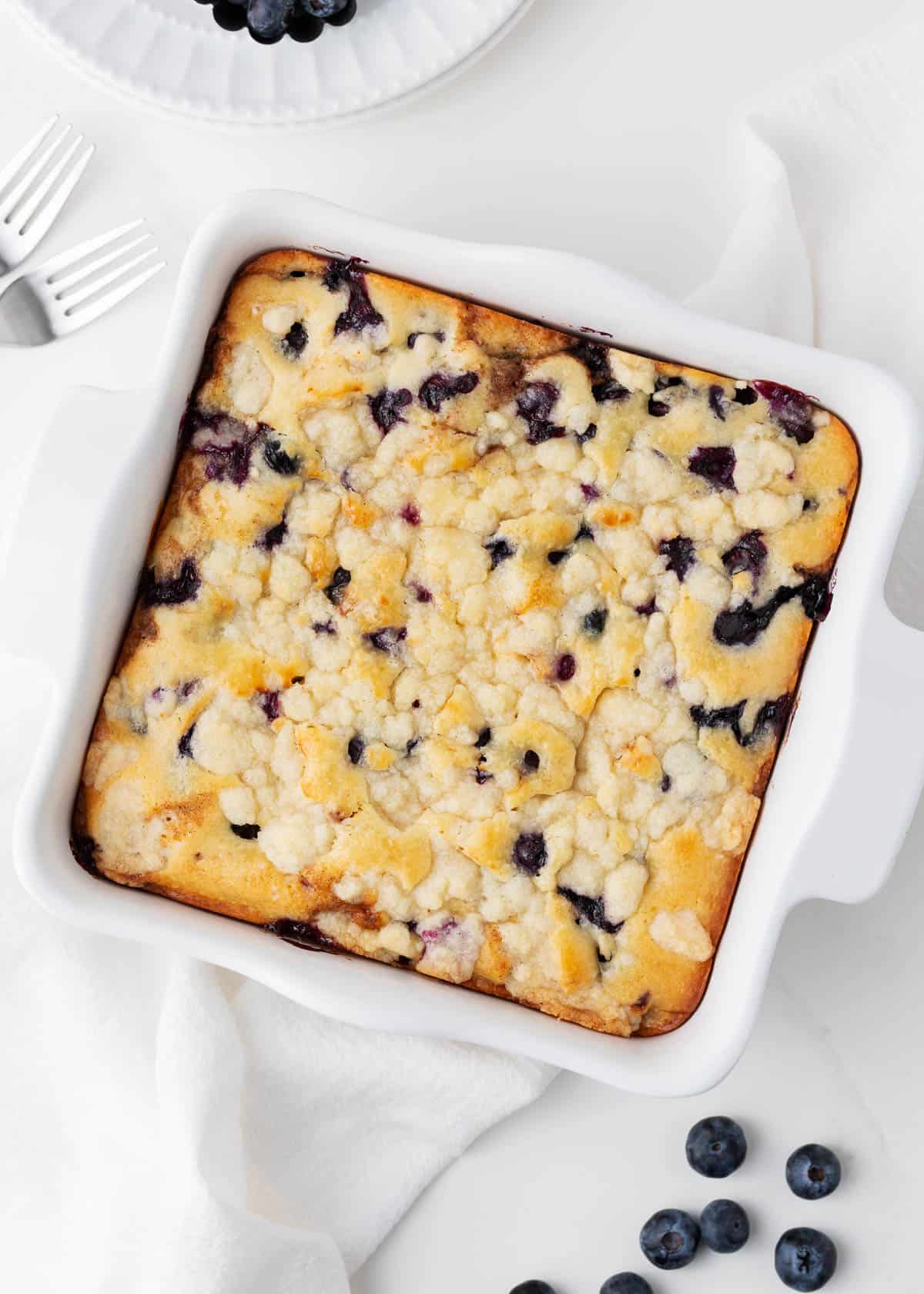 Recipe FAQs
What's the difference between a buckle and a coffee cake?
This type of coffee cake is a buckle cake because a buckle cake is one made with fruit in it with a top layer of crumble. A coffee cake is any sort of cake originally meant to be served with coffee.

So, a blueberry coffee cake is a buckle cake, but not all coffee cakes are buckle cakes. ;)
What makes a cake a coffee cake?
Traditionally, the coffee cakes we have come to know are simply made with soft, moist, and tender insides, a crumble topping, and any sort of flavoring. It's not too sweet, and quite delicate.

However, any cake can turn into a coffee cake when it's served with a cup of coffee.
How to store leftover blueberry coffee cake?
Keep it in an airtight container at room temperature for up to 3 days.
Can I freeze it?
Certainly. Once completely cooled, wrap it tight in plastic wrap and transfer it to a freezer-safe bag or use an airtight container. Keep it frozen for up to 3 months then thaw and enjoy.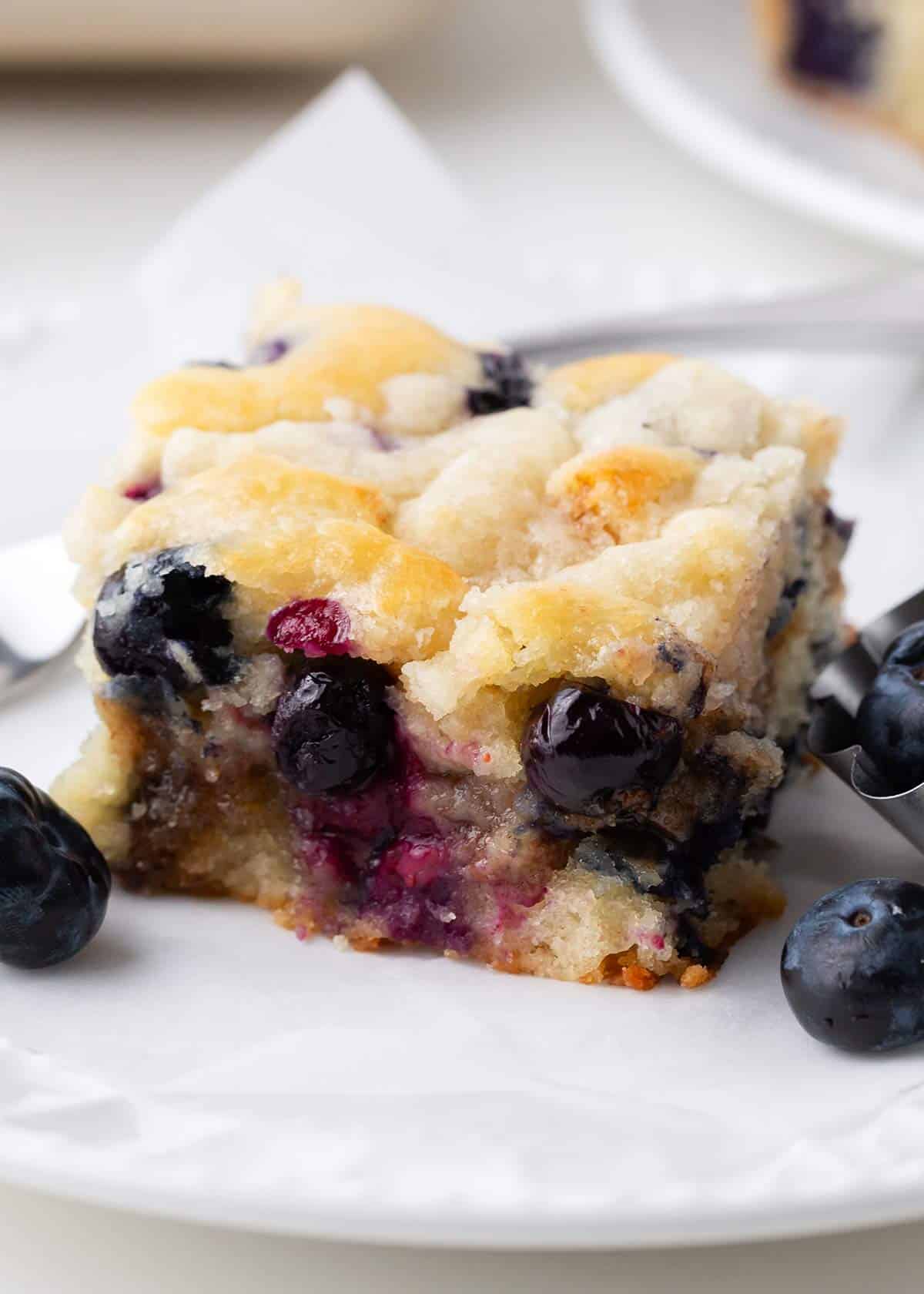 HUNGRY FOR MORE? Subscribe to my newsletter and follow on Facebook, Pinterest and Instagram for all the newest recipes!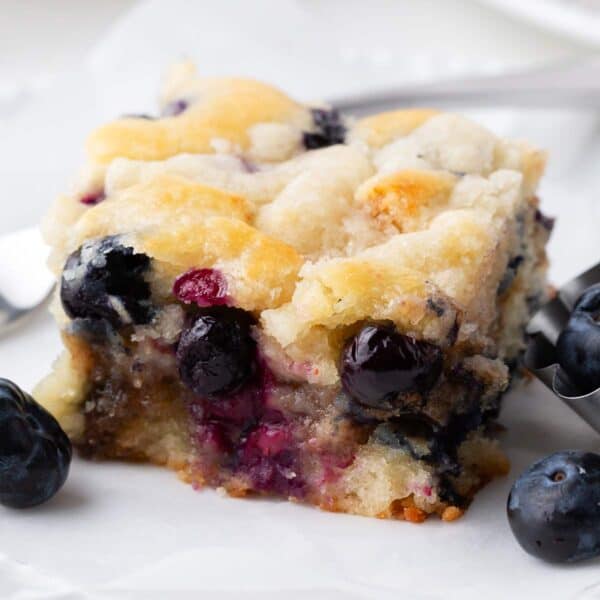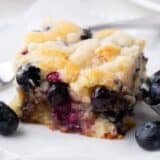 Blueberry Coffee Cake Recipe
Loaded with sweet juicy blueberries and topped with a classic crumb topping, this blueberry coffee cake is moist, tender, and utterly delicious. The buttery topping is golden brown and slightly crunchy yet melts in your mouth!
Ingredients
½ cup vegetable oil
½ cup milk
½ cup (100 grams) granulated sugar
1 large egg
1 teaspoon vanilla extract
1 ½ cups (195 grams) all-purpose flour
2 teaspoons baking powder
½ teaspoon fine sea salt or table salt
2 cups blueberries , fresh or frozen
1 Tablespoon salted butter , melted
Topping
¼ cup all-purpose flour
1 teaspoon ground cinnamon
¼ cup granulated sugar
3 Tablespoons salted butter , at room temperature
Instructions
Preheat the oven to 350°F. Spray an 8×8-inch baking dish (at least 2 inches deep) with nonstick spray and line with parchment paper, if desired.

In a large bowl, whisk together the oil, milk, sugar, egg, and vanilla.

Add the flour, baking powder, and salt to the bowl and mix together with a wooden spoon. Gently fold in the blueberries until just combined. Spoon the batter into the baking dish.
Topping
In a small bowl, cut the flour, cinnamon, sugar, and butter with a fork or your fingers until it forms clumps. Crumble evenly over the batter.

Cover dish loosely with foil and bake 35 minutes. Remove foil and bake 5 to 10 more minutes, or until a toothpick inserted in the center comes out clean.

Remove from the oven and let cool at least 15 minutes. Slice into 9 squares and serve.
---
Notes
Cinnamon Filling: To add even more cinnamon goodness to the coffee cake, you can add a layer of filling to the center.
Mix together 1/4 cup brown sugar and 1 teaspoon ground cinnamon in a small bowl.
Spread 1/2 of the batter in the baking dish and sprinkle with the sugar mixture.
Drizzle 1 Tablespoon melted butter over the top. Pour the remaining batter over the filling. Bake 5 minutes longer.
Crumb topping: If you'd prefer more of a crumb mixture on top, feel free to make half a batch of this crumble topping to add to the top. You'll only need half of the topping listed above for the middle.
Doubling: You can double the recipe for a crowd. Bake in a 9×13-inch baking dish for an additional 5 to 10 minutes.
Storage: Store leftover cake in a covered container for up to 3 days.
Freeze: Freeze in a freezer-safe container up to 3 months.
Nutrition
Serving: 1slice | Calories: 411kcal | Carbohydrates: 57g | Protein: 6g | Fat: 18g | Saturated Fat: 5g | Polyunsaturated Fat: 7g | Monounsaturated Fat: 4g | Trans Fat: 0.3g | Cholesterol: 35mg | Sodium: 185mg | Potassium: 173mg | Fiber: 1g | Sugar: 23g | Vitamin A: 212IU | Vitamin C: 0.004mg | Calcium: 71mg | Iron: 2mg
Nutrition provided is an estimate. It will vary based on specific ingredients used.
Did you make this recipe? Don't forget to give it a star rating below!