A homemade version of the fudgy, chewy, chocolaty brownies with rainbow chips that everyone loves! These easy cosmic brownies are made with just 20 minutes of prep time!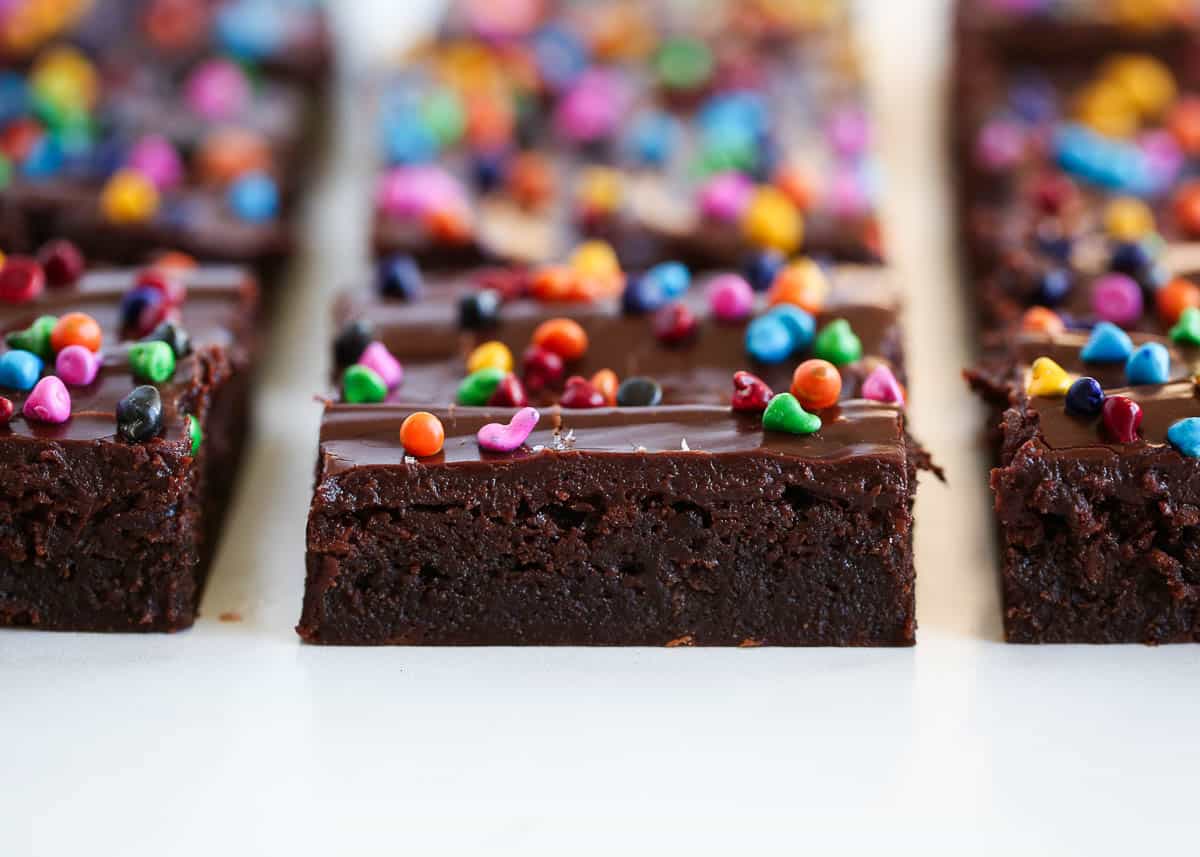 Out of This World Delicious!
This copycat cosmic brownies recipe is full childhood nostalgia! The familiar fudgy chocolate packed treats are the perfect blend of rich cocoa goodness and chewy texture, sure to transport your taste buds to another galaxy of flavor. Topped with a rich chocolate ganache they are similar to ultimate frosted brownies but with colorful candy-coated chocolate sprinkles on top, they are out of this world irresistible!
Homemade cosmic brownies taste even better than the ones that come individually wrapped in a box. You know, the kind we used to love having as a treat in our lunch box? They were the best shareable treats back then, but as adults, we now know that making brownies from scratch is even better!
We get to combine the memories and the wholesome ingredients in a way that is perfect for kids and the kid in all of us!
Why This Recipe Works
The enhanced flavors. Homemade cosmic brownies are made with chocolate chips and cocoa powder so you can taste the real chocolaty flavors rather than all the extra preservatives found in the store-bought packages.
Easy to make. With just 20 minutes of prep time and 35 minutes in the oven, it's the waiting for them to cool that's the hardest part!
A simple list of ingredients. There's nothing in this recipe that you probably don't already have in your pantry. The only thing you may want to run out and get is the rainbow chips.
Perfect for all occasions. Brownie recipes like cosmic brownies are so versatile. Birthday parties, showers, Valentine's day, or no matter the holiday, no one can resist that moist crumb and chewy texture!
Ingredients Needed
Find the full printable recipe below.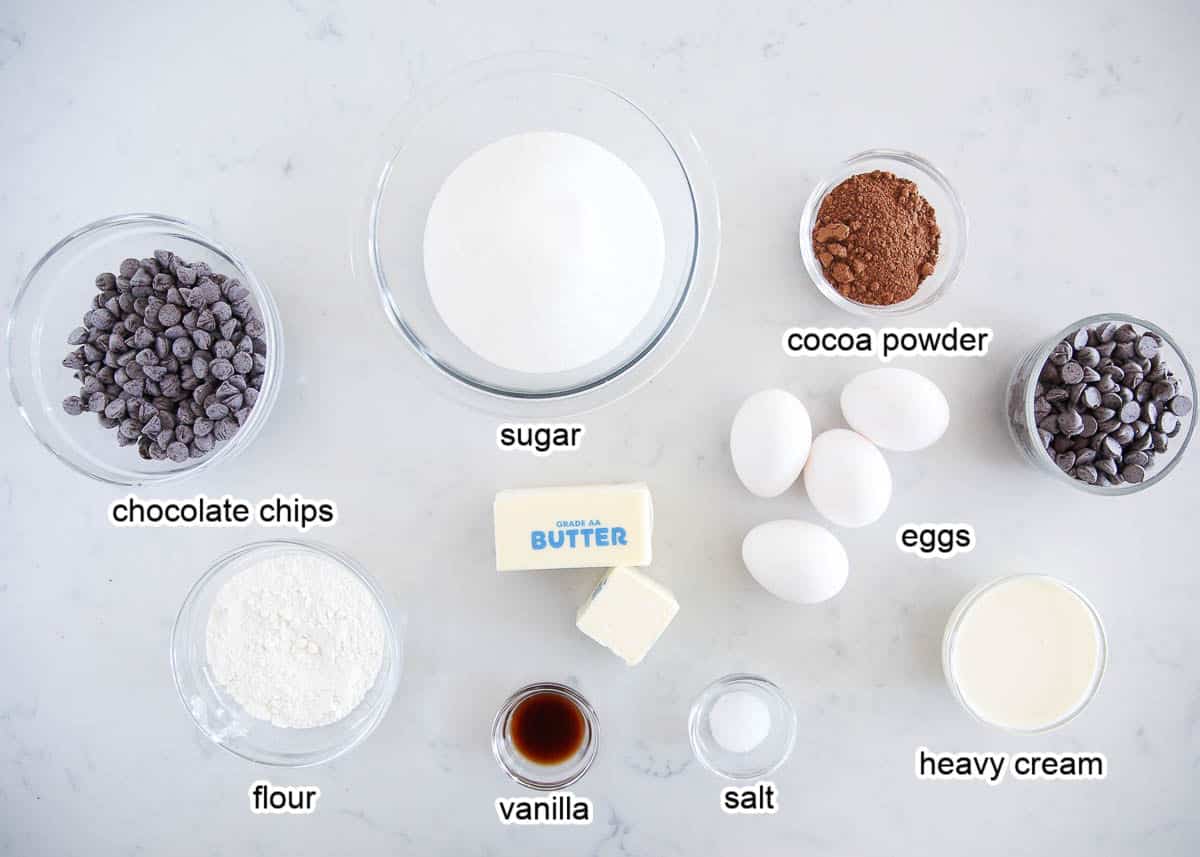 Cocoa powder: Use unsweetened cocoa powder because we are adding in the granulated sugar. This way we can control the amount of sweetness.
Unsalted butter: The same applies here. Use unsalted butter but add salt as an additional ingredient to better control the flavor.
Heavy cream: Used in the ganache, the higher fat content adds the richness that this type of chocolate frosting needs.
Rainbow chips: These are chocolate chips coated in candy and they're what make the Little Debbie cosmic brownies so recognizable. I use the Wilton brand.
Ingredient Substitutions
Butter vs. oil. You can technically replace butter with oil if you prefer, however the way to softer moist crumbs is definitely butter. It also will give you that thin layer of crust that forms on top of traditional homemade brownies that won't be the same with oil.
No rainbow chips? Use any sprinkles you prefer. Mini M&M candies would be great too.
Use an extra egg yolk. We're using 4 whole eggs, but adding extra yolk can help with moisture making these brownies extra fudgy!
How to Make Cosmic Brownies
Melt butter and chocolate chips. Simmer over medium-low heat in a medium saucepan until fully melted.
Add remaining batter ingredients. Remove the pan from the heat and stir in the sugar and vanilla. Add the eggs one at a time, and whisk well after each one. Mix in the cocoa powder, salt, and flour until combined into a smooth batter.
Pour the batter into the prepared pan and bake for 35-40 minutes. Remove from the oven and let it cool completely.
Make the ganache. Near the end of the cooling period start making the ganache by bringing heavy cream to a boil in a small saucepan and then pouring it over a small bowl of chocolate chips. Let it sit for a few minutes and then stir until the chocolate chips have melted.
Pour ganache over cooled brownies and add sprinkles. Use a spatula to spread it into an even layer. Sprinkle the rainbow chips overtop and allow them to set in the fridge until the top has hardened.
Slice the brownies. This makes 24 bars, less if you want them bigger! Serve chilled or at room temperature. Wash one or two cosmic brownies down with a cold glass of milk!
Expert Tips
Measure dry ingredients accurately. We talk a lot about the moisture in these treats, but to get the proper texture, it's important to measure the dry ingredients on a kitchen scale. You can also use the spoon and level method, just make sure you don't pack in too much flour!
Allow cosmic brownies to cool. Don't add the ganache on too early while the brownies are still warm, otherwise, it will just melt and won't set properly.
Line your baking dish! Use parchment paper or spray it with cooking spray. The nonstick surface will help keep the brownies intact when you lift them out of the pan.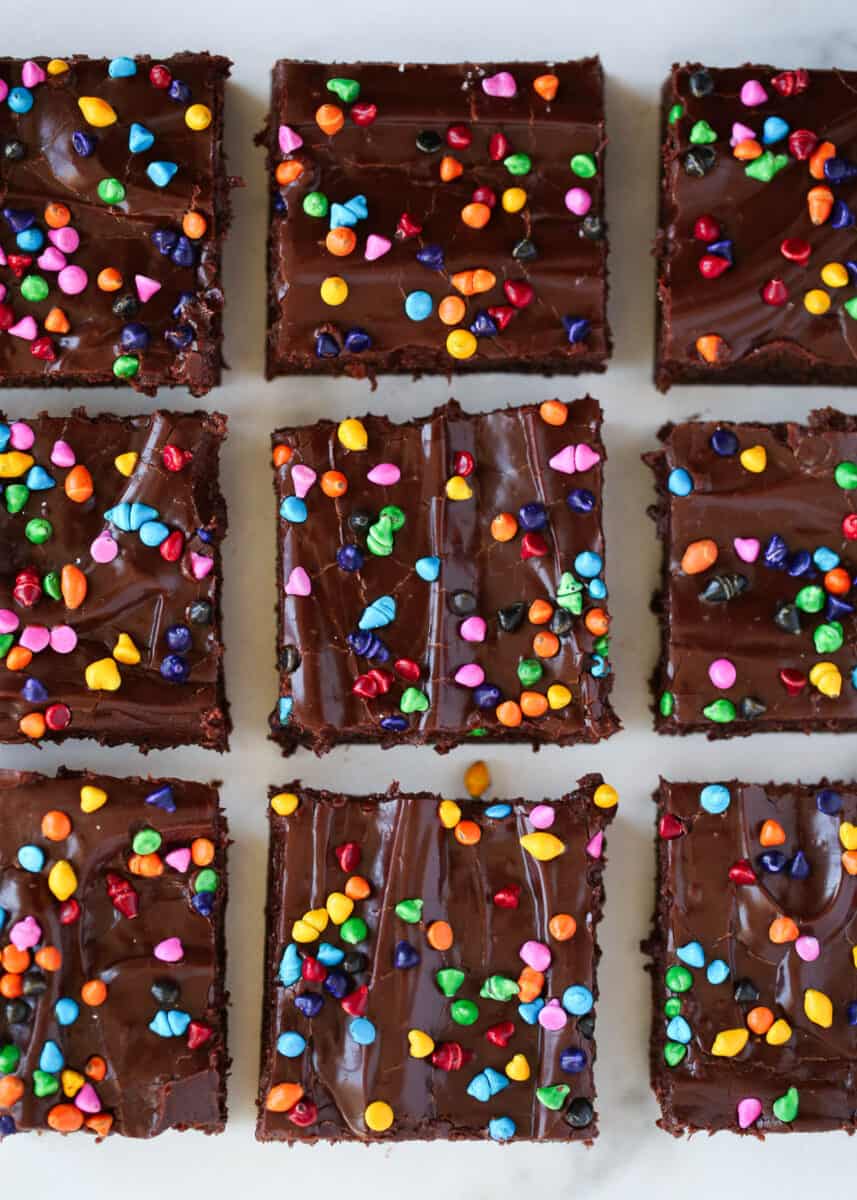 Recipe FAQs
Why are they called cosmic brownies?
Back in the late 90s when the cosmic bowling trend became a thing, the Little Debbie company created brownies with fudge icing to represent the darkness and colorful candies to represent the neon lights. A beautiful galaxy if you will ;)
Can I make these in advance?
Make the brownies up to 24 hours ahead of time. Then make and pour the ganache on top and let it set just before serving.
What candy is on a cosmic brownie?
The classic store-bought version uses candy-coated chocolate chips just like we are in this recipe. I found the Wilton brand works great.
Storing & Freezing
Keep these treats covered in an airtight container on the counter or fridge for up to 3 days. You can also keep them in the freezer for up to 3 months.
HUNGRY FOR MORE? Subscribe to my newsletter and follow on Facebook, Pinterest and Instagram for all the newest recipes!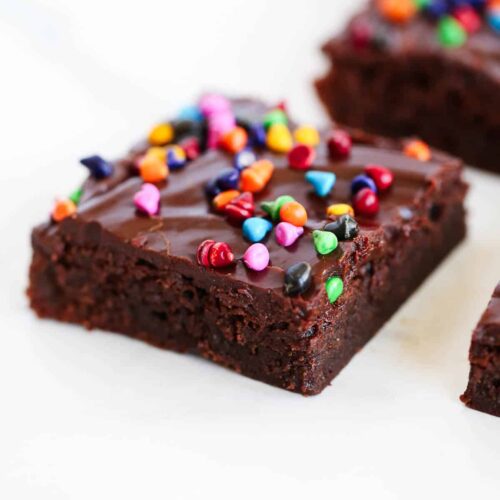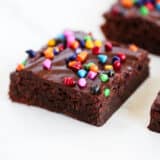 Cosmic Brownies
A homemade version of the fudgy, chewy, chocolaty brownies with rainbow chips that everyone loves! These easy cosmic brownies are made with just 20 minutes of prep time!
Ingredients
Brownies
12 Tablespoons (170 grams) unsalted butter , cut into pieces
1 cup (182 grams) semi-sweet chocolate chips
1 ½ cups (300 grams) granulated sugar
2 teaspoons vanilla extract
4 large eggs
¼ cup (17 grams) cocoa powder
½ teaspoon salt
½ cup (65 grams) all-purpose flour
Instructions
Brownies
Preheat the oven to 350°F. Line a 9×13-inch baking dish with parchment paper or spray with cooking spray, and set aside.

In a medium saucepan, melt the butter over medium-low heat. Stir in the chocolate chips and continue stirring gently until melted. Remove from heat and stir in the sugar and vanilla. Add the eggs, one at a time, whisking well after each addition. Mix in the cocoa powder, salt, and flour until combined.

Spread the brownie batter in the baking dish. Bake 35 to 40 minutes, or until a toothpick inserted into the center comes out clean. Remove from the oven and let cool completely.
Chocolate Ganache
When the brownies are nearly cool, place 1 cup chocolate chips in a heat-proof bowl. In a small saucepan, heat the heavy cream to boiling. Pour the hot cream over the chocolate chips. Let sit 3 minutes. Stir until the chocolate chips have melted completely. If it's too thick, microwave 15 to 20 seconds and stir until smooth.

Pour the ganache over the cooled brownies and spread evenly with a spatula. Sprinkle rainbow chips over the top. Allow to set at least 1 hour or refrigerate until the top has hardened.

Slice the brownies into 24 bars. Serve chilled or at room temperature.
---
Notes
Storage: Store in in a covered container at room temperature or in the refrigerator for up to 3 days. Freeze up to 3 months. Topping: If you can't find rainbow chips, you can use any sprinkles you'd like.
Nutrition
Serving: 1g | Calories: 270kcal | Carbohydrates: 32g | Protein: 3g | Fat: 15g | Saturated Fat: 9g | Polyunsaturated Fat: 1g | Monounsaturated Fat: 4g | Trans Fat: 0.3g | Cholesterol: 55mg | Sodium: 71mg | Potassium: 117mg | Fiber: 2g | Sugar: 25g | Vitamin A: 329IU | Vitamin C: 0.1mg | Calcium: 31mg | Iron: 1mg
Nutrition provided is an estimate. It will vary based on specific ingredients used.
Did you make this recipe? Don't forget to give it a star rating below!