Jump to Recipe⌄
Easy Mango Smoothie Bowl
Easy Mango Smoothie Bowl – A refreshing and healthy breakfast option that will make you feel as if you're on a tropical island.
Hey guys, it's Jane again from Baking-Ginger, and today I am bringing this fabulously delicious and healthy Mango Smoothie Bowl.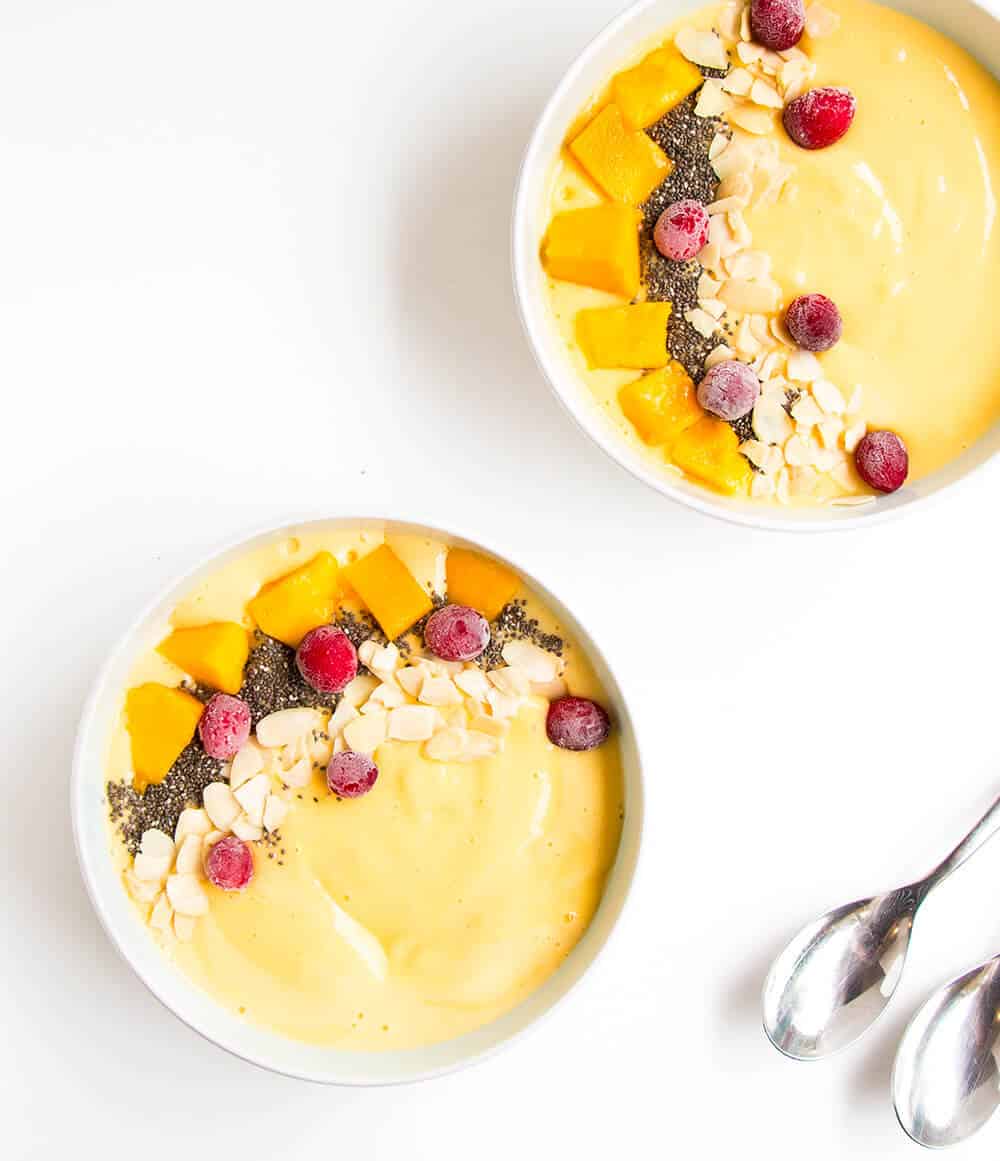 I have been a smoothie addict for a very long time, in fact I might even consider myself a bit of a smoothie connoisseur. I have tried and made pretty much every smoothie flavour there is under the sun. Because honestly, what's not to love about smoothies, right?

MY OTHER RECIPES
I really love how easy it is to make something filling, delicious and healthy  in no time at all. So the idea of a smoothie bowl was definitely an attractive one to me.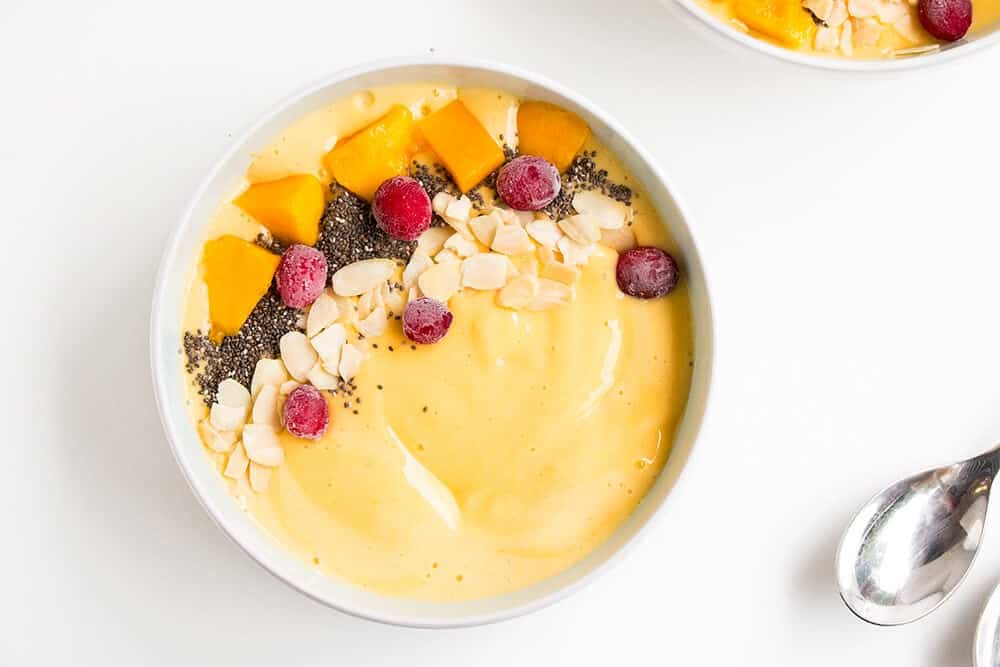 Smoothie bowls seem to be all the rage lately, they have been completely taking over my Instagram feed. So naturally I had to see what all the fuss is about and make one for myself. And boy do I understand what all the fuss is about! This thing is absolutely amazing!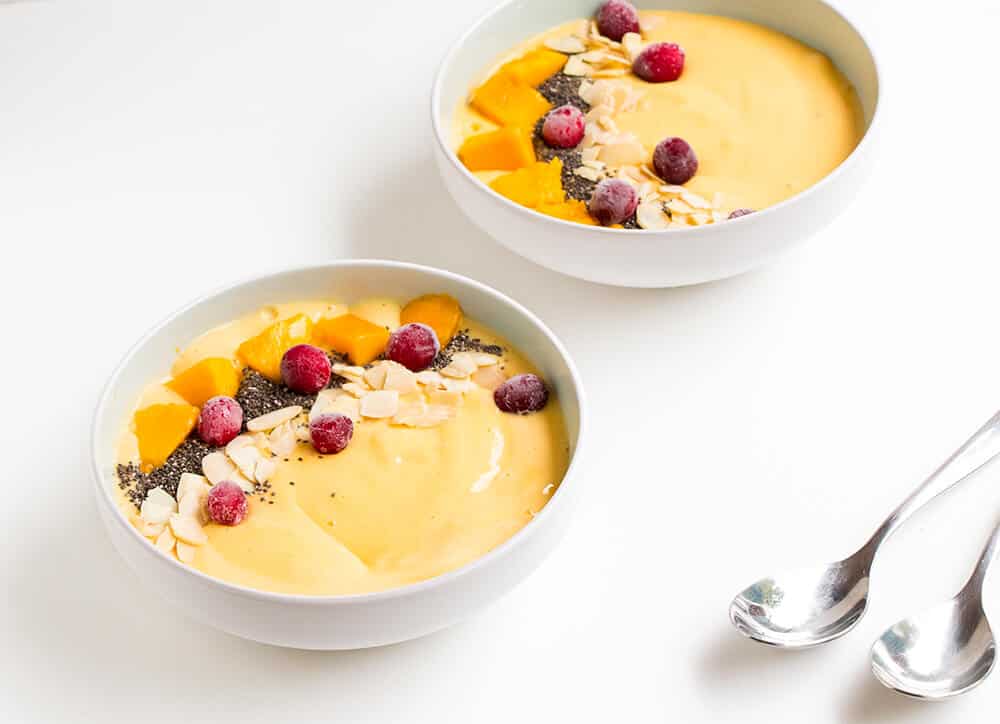 The thing that's so great about smoothie bowls is that it really feels like a meal, which is often the downside of smoothies, you eat it instead of drink it and most importantly, you can top it with whatever floats your boat.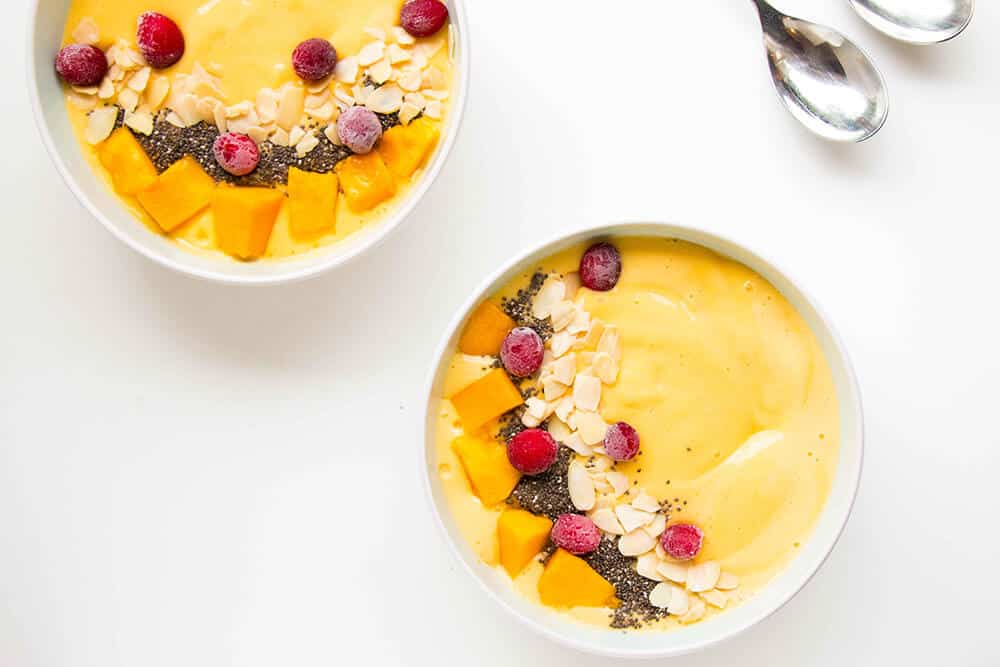 This Easy Mango Smoothie Bowl is truly one of my ultimate favourites. Eating this for breakfast makes me feel as if I am on vacation, sitting on the beach, reading a book and drinking a cocktail. The flavours of mango and coconut feel like a tropical holiday in a bowl. Top it with a few extra mango chunks, some delicious almonds and perhaps some chia seeds and you have tropical, protein packed bowl of deliciousness.
The options for toppings are endless when it comes to a smoothie bowl, as I mentioned my favourites are chia seeds and nuts, but you could easily add some berries or a little granola, really anything will do the job.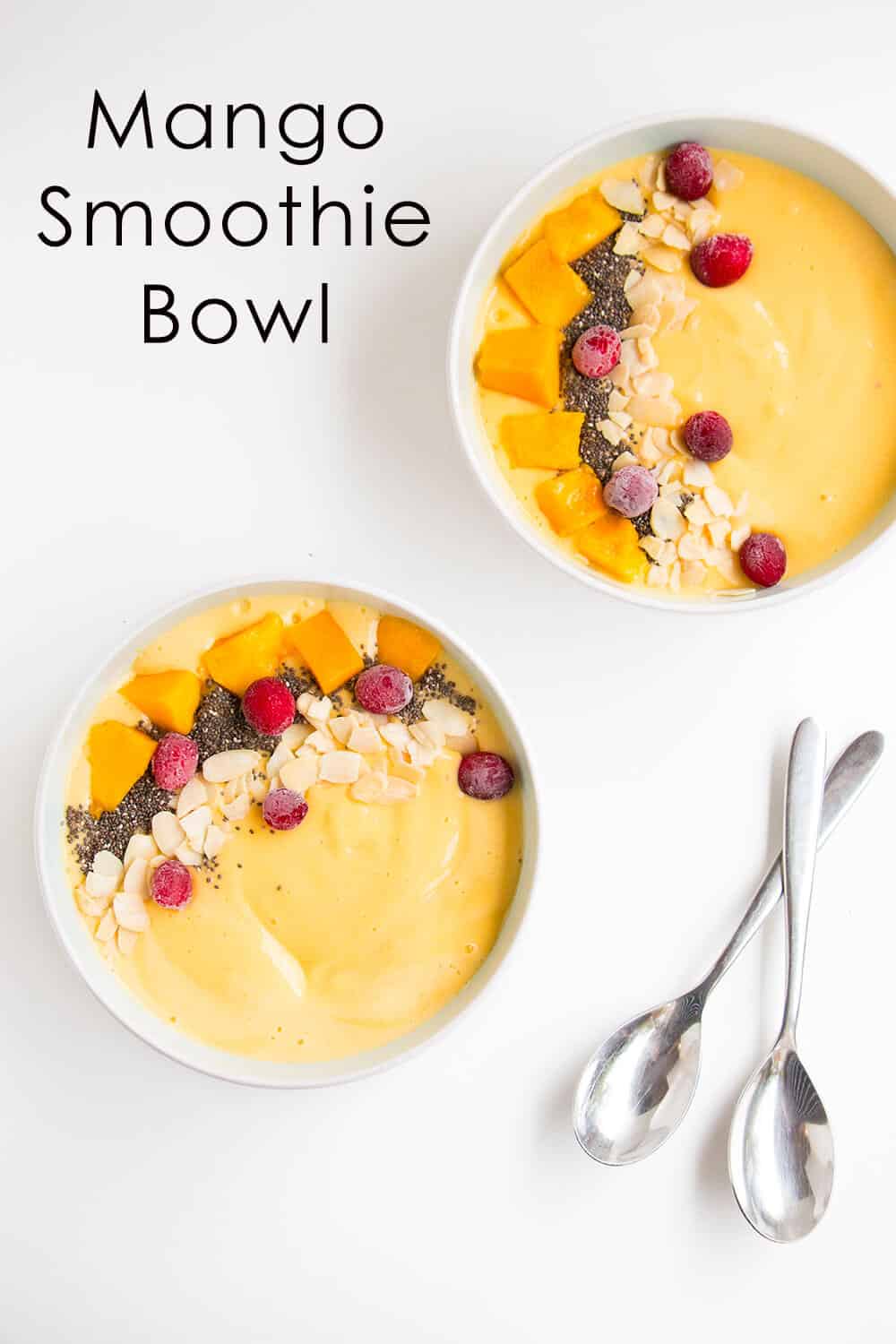 Thanks, Jane! These smoothie bowls look delicious!
If you enjoyed this this breakfast recipe, you'll enjoy these too!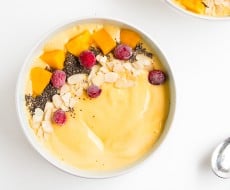 Easy Mango Smoothie Bowl
Easy Mango Smoothie Bowl - A refreshing and healthy breakfast option that will make you feel as if you're on a tropical island.
Print
Ingredients
2 Large Mangoes peeled,chopped & frozen
1 Cup Coconut Milk
1 Cup Almond Milk
2 teaspoons Honey
1 Frozen Banana
Toppings:
Chia Seeds
Fresh Mango
Berries
Almond Flakes
Instructions
Place the frozen mango, frozen banana, both milks and the honey in your blender.

Blend until smooth.

Divide the mango smoothie between two bowls.

Top with toppings of your choice.
Nutrition Facts
Easy Mango Smoothie Bowl
Amount Per Serving
Calories 206 Calories from Fat 117
% Daily Value*
Total Fat 13g 20%
Saturated Fat 10g 50%
Sodium 89mg 4%
Potassium 368mg 11%
Total Carbohydrates 23g 8%
Dietary Fiber 2g 8%
Sugars 17g
Protein 2g 4%
Vitamin A 18.2%
Vitamin C 40.2%
Calcium 9.4%
Iron 11.5%
* Percent Daily Values are based on a 2000 calorie diet.