A delicious and healthy green smoothie recipe filled with fruits, greens, milk and yogurt. Perfect for an extra boost of energy and nutrients.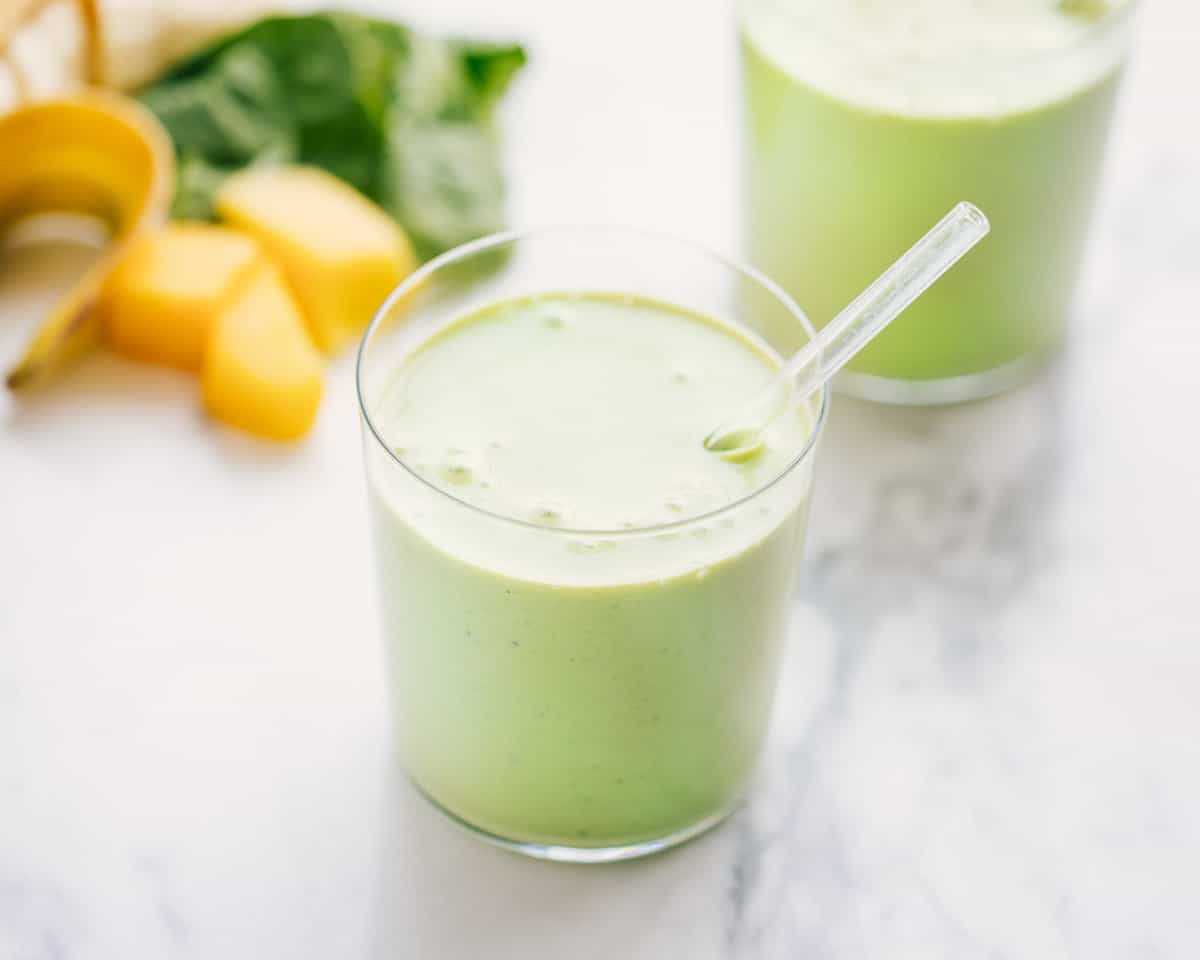 Healthy Green Smoothie
I love to make smoothies for a quick and healthy breakfast or lunch. I often make this green smoothie recipe, along with my pineapple smoothie, strawberry banana smoothie, and mango smoothie bowl.
During the hot months of summer, my family begs for smoothies every day! I wanted to keep our obsession somewhat healthy, so I started making green smoothies. After making several of them, I think I've discovered the perfect green smoothie recipe! This healthy smoothie recipe that I created won't even taste like you're drinking spinach…promise. ;)
Green smoothies not only help detox and boost your digestive tract but also give you more energy! After drinking one every day, I've had way more energy. It feels great!
Plus, you can make this recipe using pretty much any fruit and greens combo to create a delicious, energizing, and healthy smoothie that you'll be making over and over again!
Green Smoothie Ingredients
Start blending a specialty green smoothie drink! These ingredients are fresh and refreshing. They are packed with nutrients and will benefit your body inside and out. I love this green smoothie recipe so much that I buy spinach in bulk and then freeze it in zip-lock bags. One package from Costco will be enough for TEN smoothies!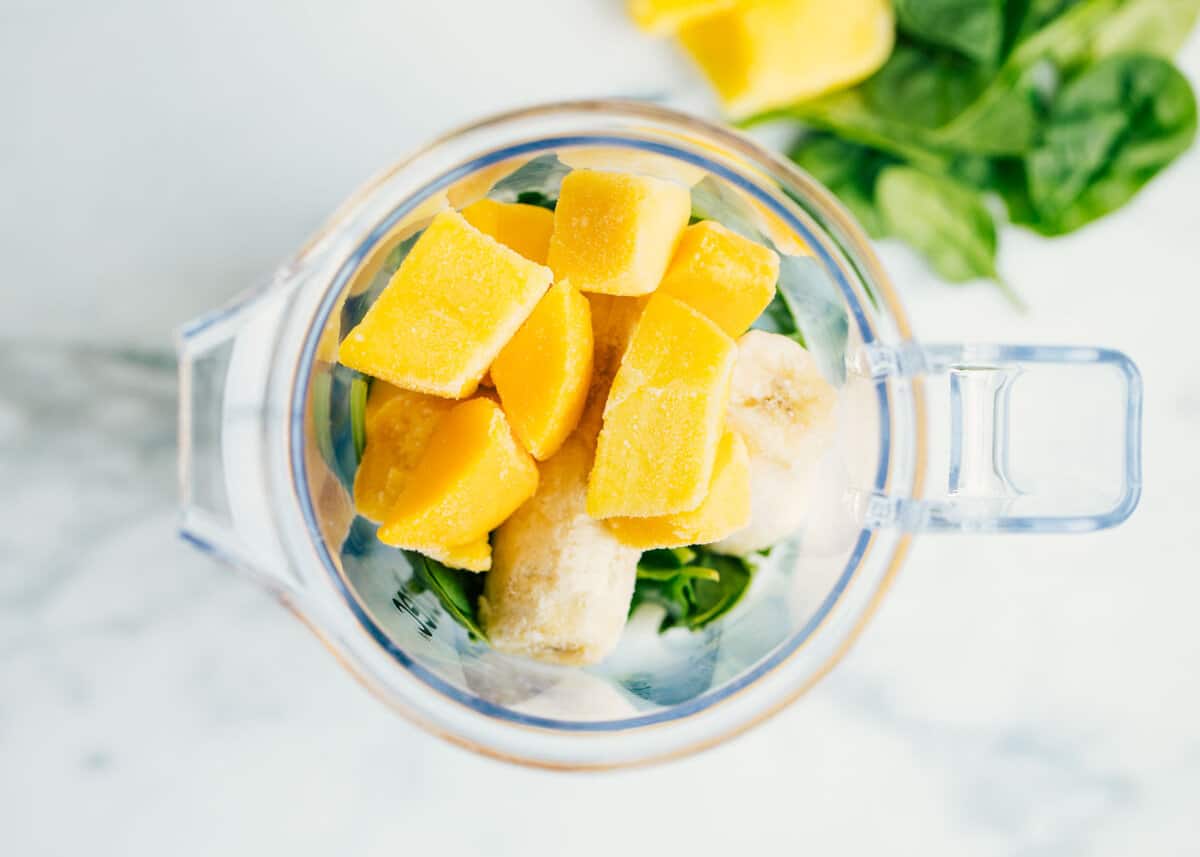 Find the full printable recipe with specific measurements below.
Liquid: The liquid included in this healthy smoothie helps it to easily blend. You can use regular milk, almond milk, coconut milk, or even some pineapple juice (or juice of choice).
Greek yogurt: I like to add Greek yogurt to give my smoothie a boost of added protein. This helps keep me fuller longer. It also helps to give the smoothie a creamier consistency.
Greens: Incorporating leafy greens is such an easy way to add extra fiber. You get all the health benefits from the greens without even being able to taste them! I've found that spinach works best, however, feel free to add kale or greens of choice.
Fruit: I typically add frozen bananas and mangoes, however pretty much any fruit would work. The bananas help to thicken the consistency of the smoothie…so if not adding in the banana, I would add a little more ice.
Extras: Feel free to add in extras like collagen or protein powder for more protein. I also like to add in some chia seeds and flaxseed for added nutrients and fiber.
How Do you Make a Green Smoothie?
Making this recipe is SO easy and takes only a couple of minutes! First, add in the liquid and then the fruits and vegetables. It is a smoothie you will be making day after day! Just follow the simple steps below.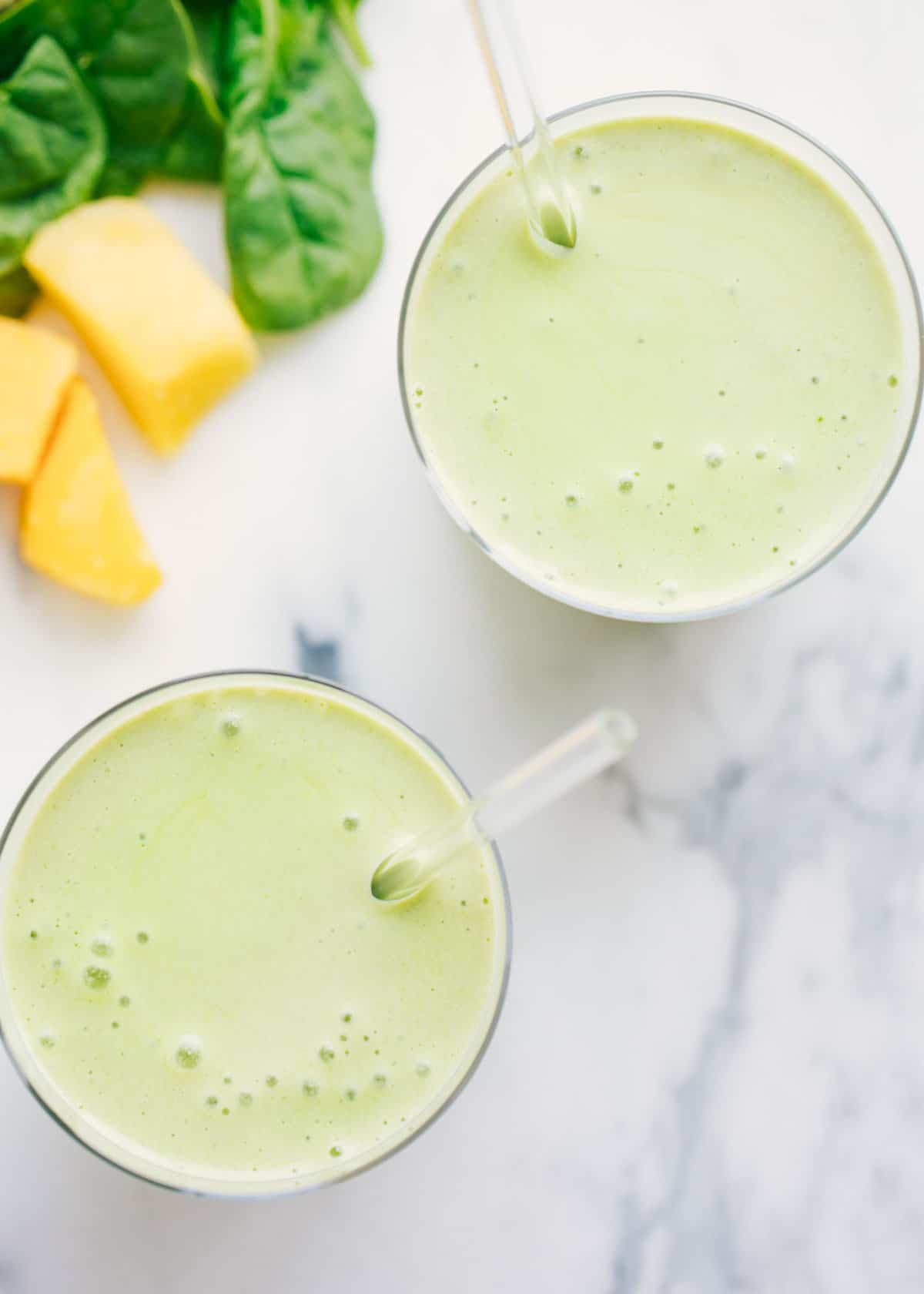 Add ingredients: Add the milk and yogurt to the bottom of your blender.
Blend: Add remaining ingredients on top of liquids and blend until smooth.
Add in: If needed, add more ice or liquid and blend. Enjoy while cold!
Tip: Use a High-Power Blender!
I should note, using a high-powered blender (like a Blendtec or ninja) helps blend all the spinach leaves. I've seen Blendtec do demos in Costco and have always thought they looked amazing! I did think the price tag was a little high though.
However now after using one for a few weeks, I'm sold! This blender is worth every penny! It creates the most smooth and delicious drinks! I was amazed that I couldn't taste the texture of the spinach in the smoothie. Usually, mine gets clumps. This time around my kids had no idea what was in there. ;) I can't wait to play with it some more.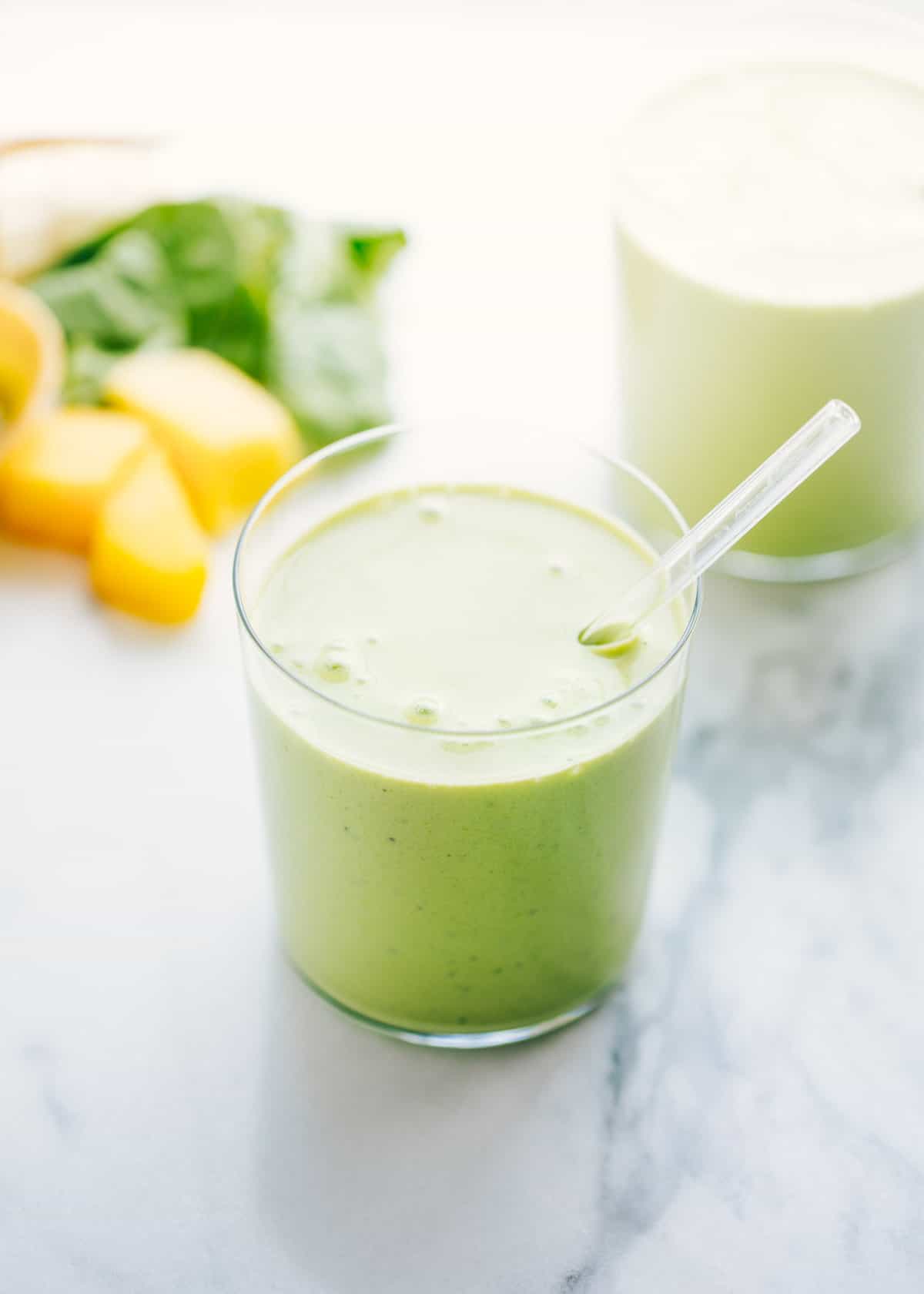 Healthy Smoothie Optional Add-In's and Toppings
Add in your favorite fruits, spices, liquid base, or raw veggies to make this simple green smoothie recipe! There are so many variations that can be made and delicious outcomes each time. Start with your creamy texture, and how much sweetness, and enjoy the amazing drink combination that you created!
Add-in's:
Protein powder or collagen
Chia seeds
Flaxseed
Rolled oats
Honey or bee pollen
Vanilla extract or powder
Coconut
Avocado
Herbs such as mint, basil, or ginger
A squeeze of lemon or lime juice
Toppings:
Coconut flakes
Sliced nuts
Nut butter
Great for Meal Prep!
Whenever I am doing big meal prep, I always end up making several smoothie bags to place in the freezer as well. You can portion out the fruit and spinach into ziptop bags and then when you're ready to make the smoothie, all you need to do is add in the milk and yogurt.
It's the perfect grab-and-go breakfast or snack and makes it easy to reach for something healthy rather than a junk item from the pantry!
5 star review
This smoothie was so easy to make and was delicious! My 3-year-old drank it right up and said she loved it. I will definitely be making it again!"

–Becky
Recipe FAQs
Are green smoothies good for you?
Yes! These green smoothie recipes are full of low-fat ingredients, raw vegetables, and fresh or frozen fruit. Packed with incredible flavor these healthy smoothies will boost your body from the inside, and out!
Are green smoothies good for your skin?
Green smoothies are known to supply our bodies with large amounts of hydration, nutrients, and antioxidants. Because of these health benefits, there is a boost in your health and appearance in a positive way.
Are green smoothies filling?
You are probably wondering how these green smoothies are more filling than other drinks you have had. Healthy smoothies are loaded with fruits and vegetables that are filling leaving you not craving food or not filling full.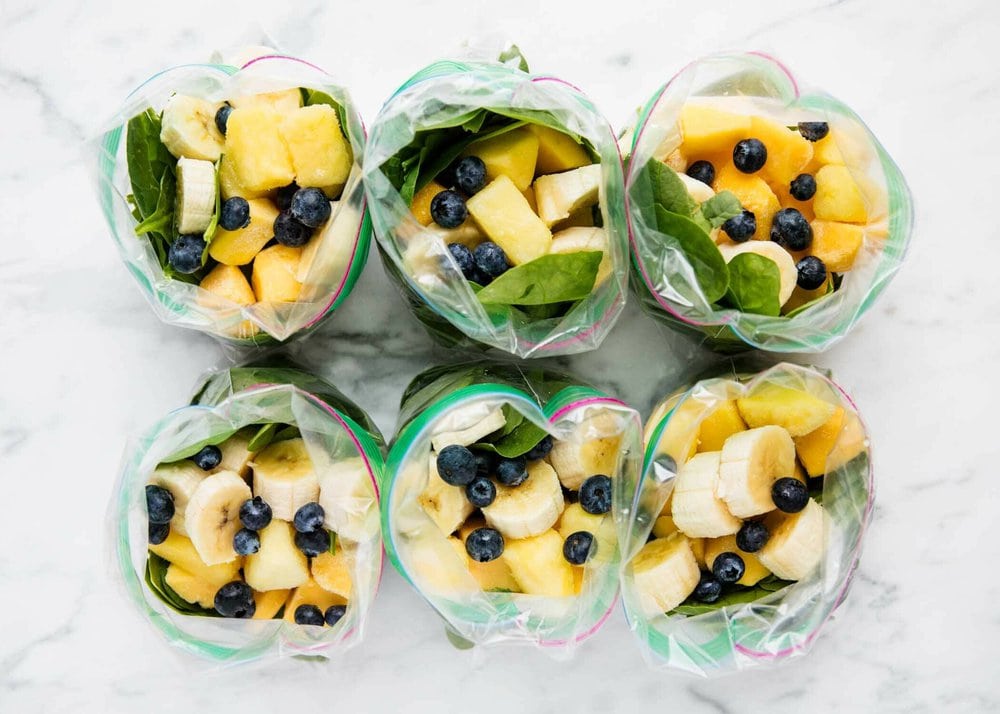 More Healthy Smoothie Recipes
HUNGRY FOR MORE? Subscribe to my newsletter and follow on Facebook, Pinterest and Instagram for all the newest recipes!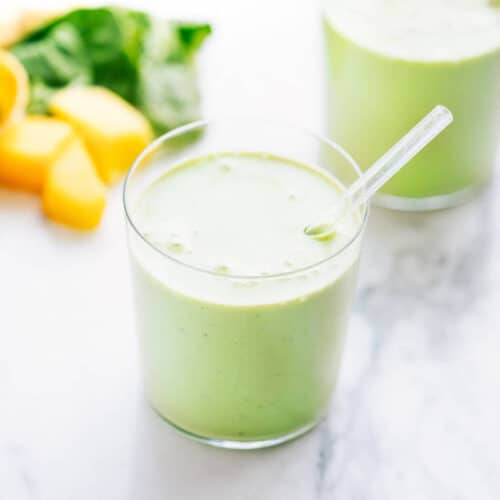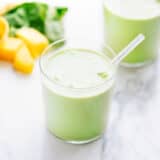 Best Green Smoothie Recipe
A delicious and healthy green smoothie recipe filled with fruits, greens, milk and yogurt. Perfect for an extra boost of energy and nutrients.
Ingredients
½ cup almond milk , more as needed (can substitute with regular milk)
1 1/2-2 cups spinach
1/2-1 cup frozen mango (or frozen pineapple and peaches )
plain greek yogurt , optional
Optional add in's: ground flaxseed, chia seeds, hemp hearts (I add 1 Tablespoon each), frozen berries, protein powder or collagen, honey (to sweeten)
Instructions
Add the milk to the bottom of a high power blender. Add the remaining ingredients on top of the liquids. Blend until smooth.

Add more ice or liquid as needed. Enjoy green smoothie recipe while cold!
---
Notes
Note: If you add frozen berries, it will change the color but will still be delicious.
Nutrition
Calories: 91kcal | Carbohydrates: 21g | Protein: 2g | Fat: 1g | Saturated Fat: 1g | Polyunsaturated Fat: 1g | Monounsaturated Fat: 1g | Sodium: 100mg | Potassium: 406mg | Fiber: 3g | Sugar: 13g | Vitamin A: 2594IU | Vitamin C: 26mg | Calcium: 105mg | Iron: 1mg
Nutrition provided is an estimate. It will vary based on specific ingredients used.
Did you make this recipe? Don't forget to give it a star rating below!