This healthy strawberry banana smoothie is the perfect way to welcome the new year! It only takes 5 ingredients and 5 minutes to make. It's the perfect drink to curb those sweet cravings!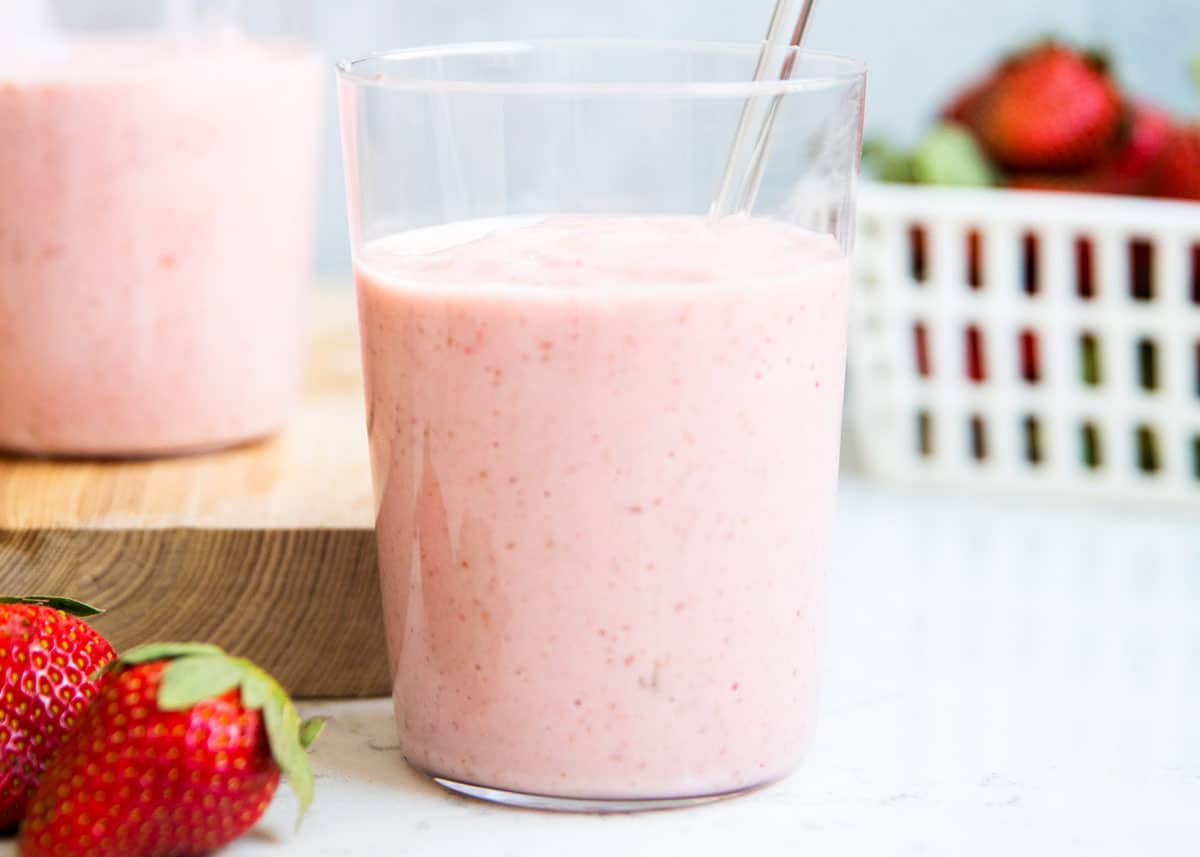 Best Strawberry Banana Smoothie
Is anyone else trying to eat a little better this year? I definitely ate my fair share of holiday desserts, so now I'm trying to clean up my eating and limit my treats. Healthy smoothies have been my go-to option whenever I'm craving something sweet!
We love to make all different types of smoothie combinations, but the flavor combo in this strawberry and banana smoothie is one of my absolute favorites. It's sweet, thick and super creamy, and refreshing. It makes a great breakfast, afternoon snack, or even midnight dessert. Plus it's family-friendly too…everyone in my whole family loves it!
Ingredients
These five simple ingredients can be stored and ready to go whenever you are craving a strawberry banana smoothie. Have your frozen fruit ready in the freezer, milk stored in the refrigerator, and your flax and honey sitting in your pantry. All these ingredients combined make a delicious and nutritious drink!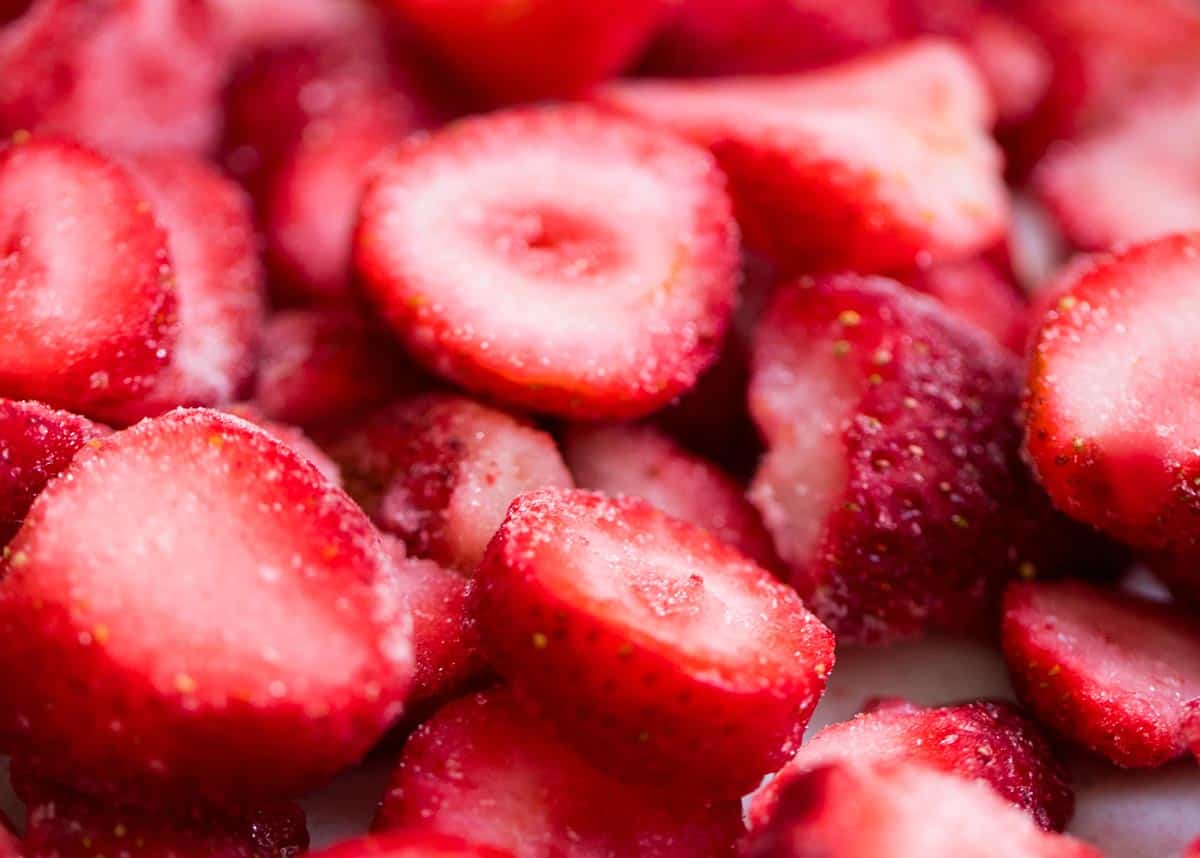 Find the full printable recipe with specific measurements below.
Milk: Any type will work. Try using regular, coconut, almond, or even oat milk.
Strawberries: I used frozen sliced strawberries. I always keep a bag in my freezer because they are super convenient. I love using these in my smoothies because they blend up so easily. They're also naturally very sweet and taste so refreshing.
Banana: I love to use a frozen banana for an extra thick and creamy texture. I'm telling you, it seriously reminds me of a milkshake!
Flax seed or chia seeds: Add these for an extra boost of healthy fat and nutrients. You won't even taste them!
Honey: I usually add a spoonful or two of honey to help boost the sweet flavor. The smoothie is naturally sweet on its own, so it would still taste delicious without the honey too.
How to Make a Strawberry Banana Smoothie
Strawberry banana smoothies are quick and easy to make using only a blender! Layer all the ingredients for the best blend and let your blender machine do the work. Banana strawberry smoothies are filling and delicious!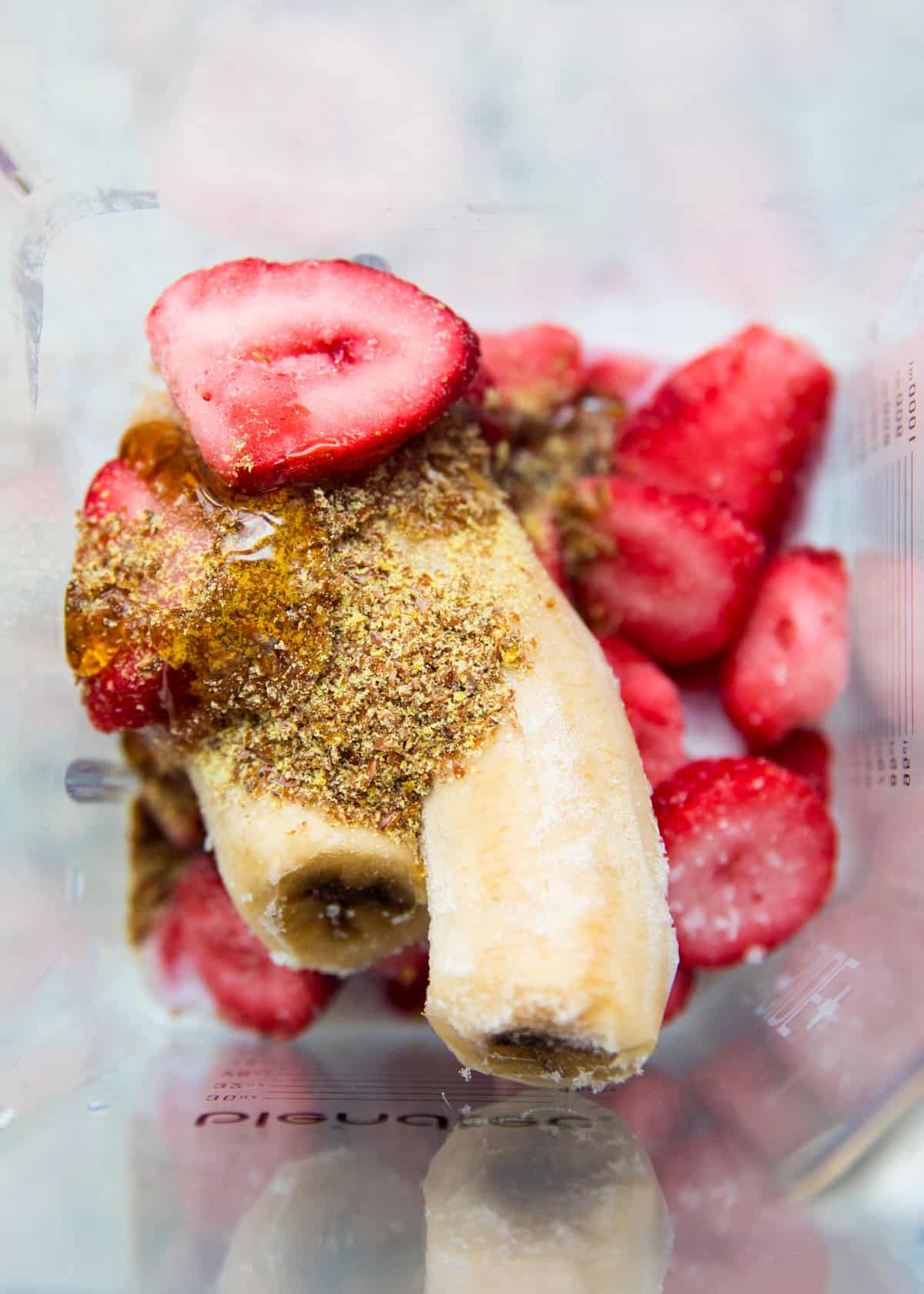 Combine. Add all of the ingredients to the bottom of the blender. I like to use 1 Tablespoon of honey at first, then add more to taste later on if needed.
Blend. Blend on high until the texture is smooth and creamy. If you need to thin it out a little, pour in more milk. To make it thicker, add in more frozen strawberries.
Serve. Pour into glasses and serve with a straw!
Additional Mix-In's
This strawberry smoothie recipe is really easy to customize. If you want to add in some greens, feel free to add a cup of spinach (note it will change the color). If you need a little more protein, add in a scoop of protein powder. You can also substitute the milk with almond milk or greek yogurt.
Spinach
Greek yogurt
Collagen
Fruit juice
Ice (if using fresh strawberries)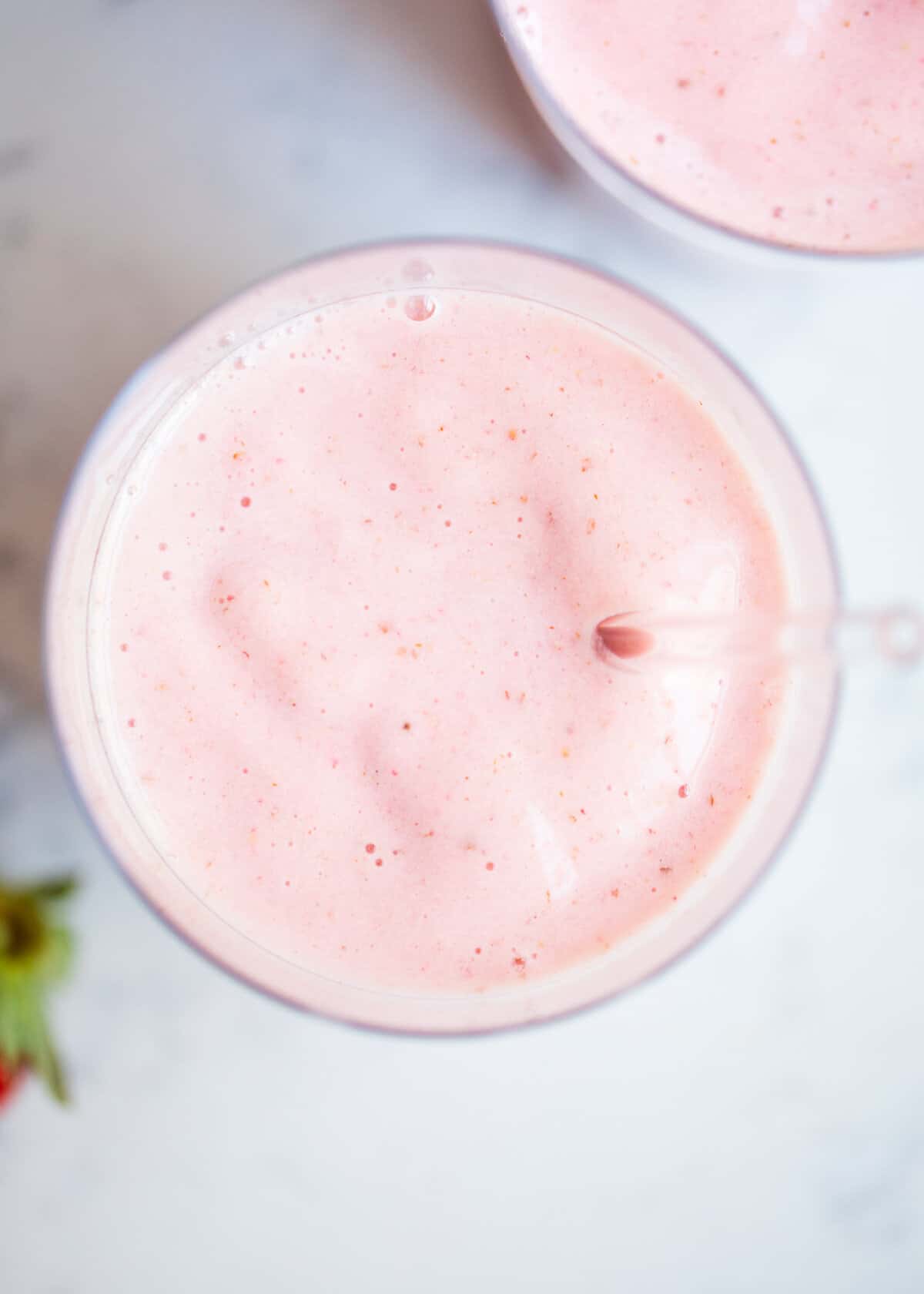 Tips for the Perfect Smoothie
Here are some helpful tips to help you make the best strawberry smoothie with bananas. Find the perfect way to store and use your ingredients, how many servings to make, and what types of delicious toppings will help add flavor and texture. Combine these tips with the instructions and you will have an amazing smoothie drink!
Frozen fruit. I prefer to use frozen fruit because it makes the consistency extra creamy and thick. When you use fresh fruit with ice, the consistency can get a little watery and seedy. If using fresh fruit, you may want to add both ice and little Greek yogurt to get that perfect creamy texture.
Add milk first. Pour the milk into the blender first before adding any of the other ingredients. This makes it easier to blend all of the ingredients together.
Servings. This recipe makes enough for my 3 kids and I, however, it would probably only serve 2 adults. If you want to double the recipe, I would make one batch and then the other right after. If you add too much-frozen fruit to the blender, I find it doesn't blend as well. The perfect amount seems to be around 2-3 cups.
Toppings. Don't forget the toppings! I love topping mine with fresh strawberries and bananas, as well as granola, coconut flakes, and extra chia seeds. The added toppings really take it over the top!
5 star review
"This is such an easy and delicious smoothie! My kids loved it!"

–Jocelyn
Recipe FAQs
Is a strawberry banana smoothie good for you?
Strawberries and bananas are both good for your body on the inside and out. They are rich in fiber, vitamins, and antioxidants. These are great fruits to have in your homemade smoothies.
What should you not mix in a smoothie?
If you are looking for a healthier type of smoothie you will want to avoid sherbet or ice cream, fruit juices, canned fruit, added sweeteners, or flavored yogurt. All of these things are high in fat or sugars that can alter your smoothie's nutritious value.
Which fruits and vegetables should not be combined?
Most fruits and vegetables can be combined in a smoothie. The sky is the limit when combining vegetables and fruit.
What is the best liquid base for smoothies?
Most liquids are perfect for adding to smoothies. If you want to keep it on a lower fat, try almond milk, lactose-free, skim milk, coconut milk, or water. Orange juice or apple juice gives it more of a fruitier smoothie taste rather than a smooth and creamy like a milk base liquid.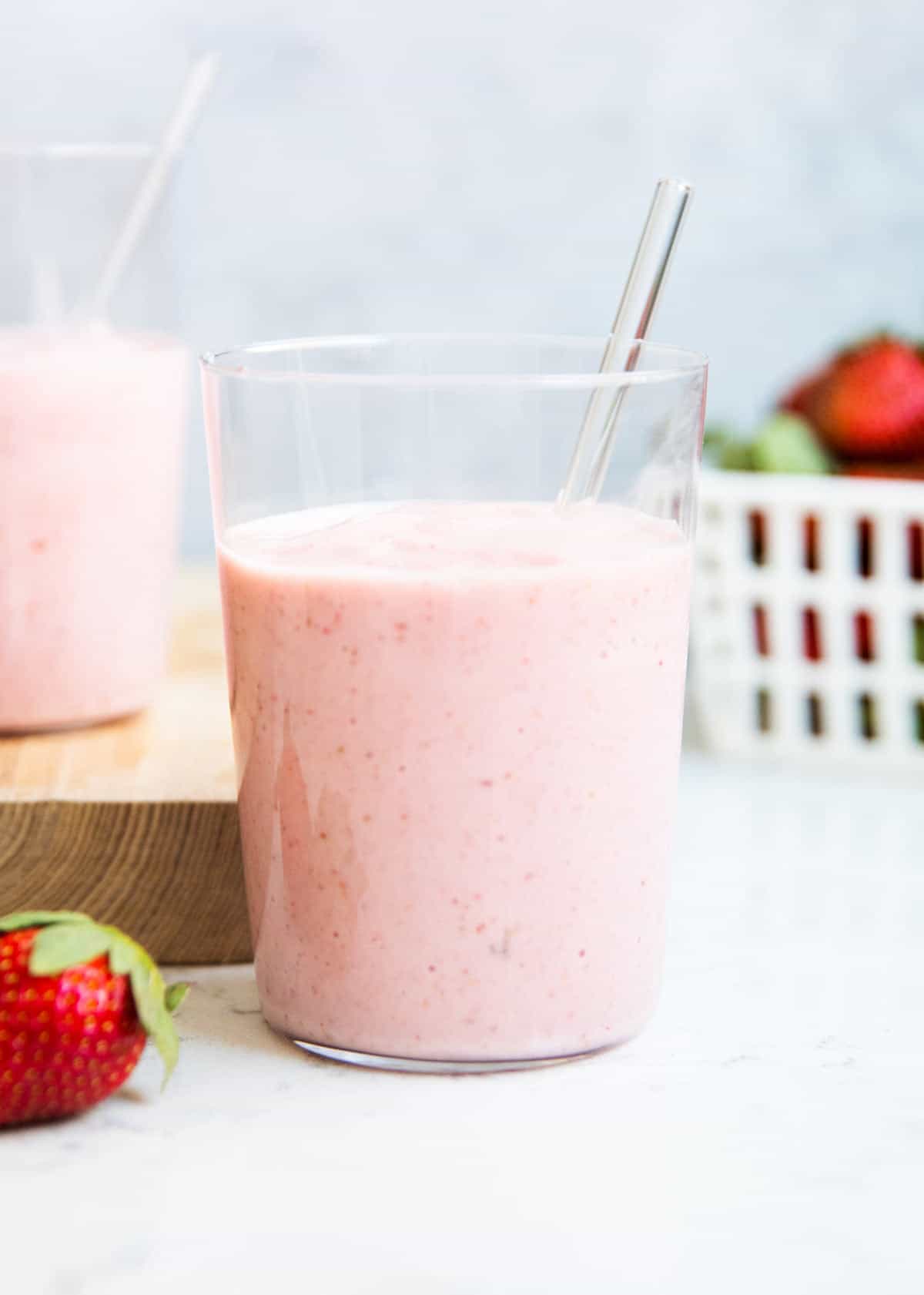 More Smoothie Recipes to Try
HUNGRY FOR MORE? Subscribe to my newsletter and follow on Facebook, Pinterest and Instagram for all the newest recipes!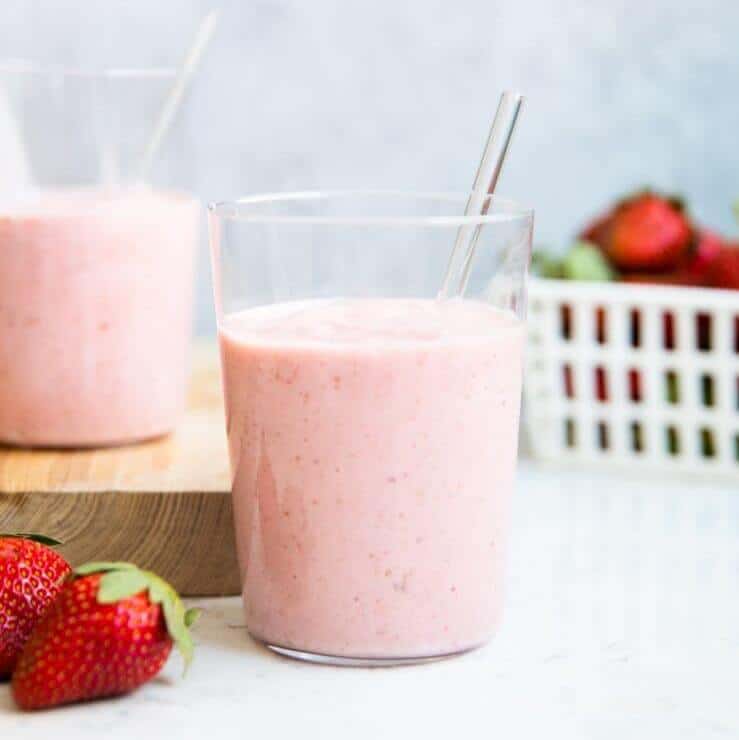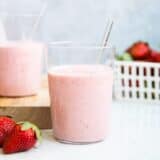 Strawberry Banana Smoothie
This healthy strawberry banana smoothie is the perfect way to welcome the new year! It only takes 5 ingredients and 5 minutes to make. It's the perfect drink to curb those sweet cravings!
Ingredients
1 ¼ cups milk
2 cups frozen strawberries
1 Tablespoon ground flaxseed , or chia seeds
1-2 Tablespoons honey , to taste
For extra protein: Add vanilla protein powder or collagen
Instructions
Combine the milk, strawberries, banana, flaxseed and 1 Tablespoon honey in a blender.

Blend until smooth and creamy. Taste and add more honey if needed. Add more milk if you need to thin it out, or more strawberries if you'd like it thicker.

Serve and enjoy!
---
Notes
Feel free to add in vanilla protein powder or collagen for extra protein. If you want a thicker consistency, use a frozen banana. It will taste more like a shake. ;)
Nutrition
Calories: 211kcal | Carbohydrates: 42g | Protein: 7g | Fat: 4g | Saturated Fat: 1g | Cholesterol: 7mg | Sodium: 68mg | Potassium: 681mg | Fiber: 5g | Sugar: 31g | Vitamin A: 327IU | Vitamin C: 90mg | Calcium: 216mg | Iron: 1mg
Nutrition provided is an estimate. It will vary based on specific ingredients used.
Did you make this recipe? Don't forget to give it a star rating below!