This easy egg salad recipe requires only 4 simple ingredients and takes just 10 minutes to make. It's a quick and flavorful dish that's perfect for lunch or dinner.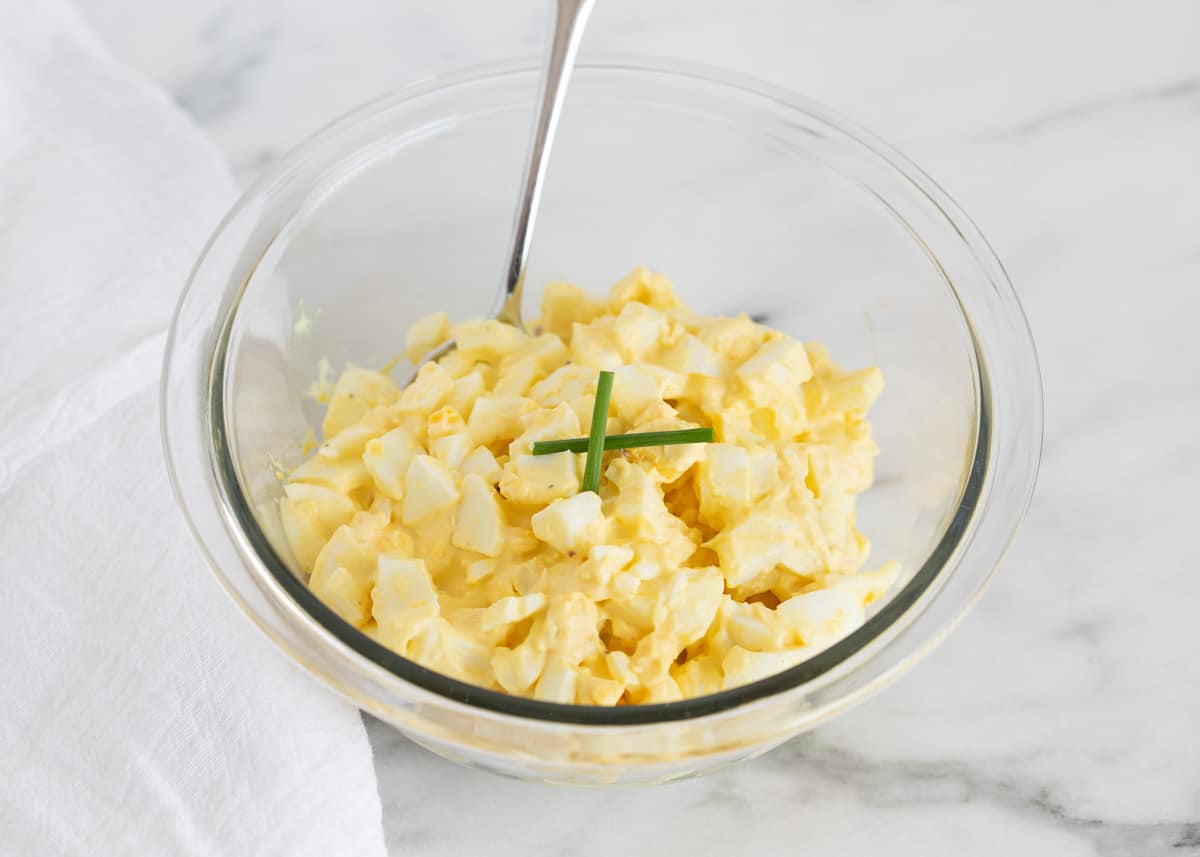 Easy Egg Salad
After Easter, we love to make egg salad sandwiches for lunch with all of the leftover colored eggs. They come together quickly and are the perfect way to use up the eggs so they don't go to waste. We also use leftovers to make deviled eggs or add them to this tuna salad recipe.
The best part about this egg salad recipe is that it takes only 4 simple ingredients and comes together in just 10 minutes. It tastes amazing served on a thick slice of whole wheat bread with leafy lettuce and sliced avocado. You could even enjoy it with some crackers or in a flour tortilla as well.
Plus there are lots of mix-in's that you can include to add even more flavor. If you have some some crispy bacon around, you could always add that in. Fresh dill also adds delicious and fresh flavor. Yum!
Ingredients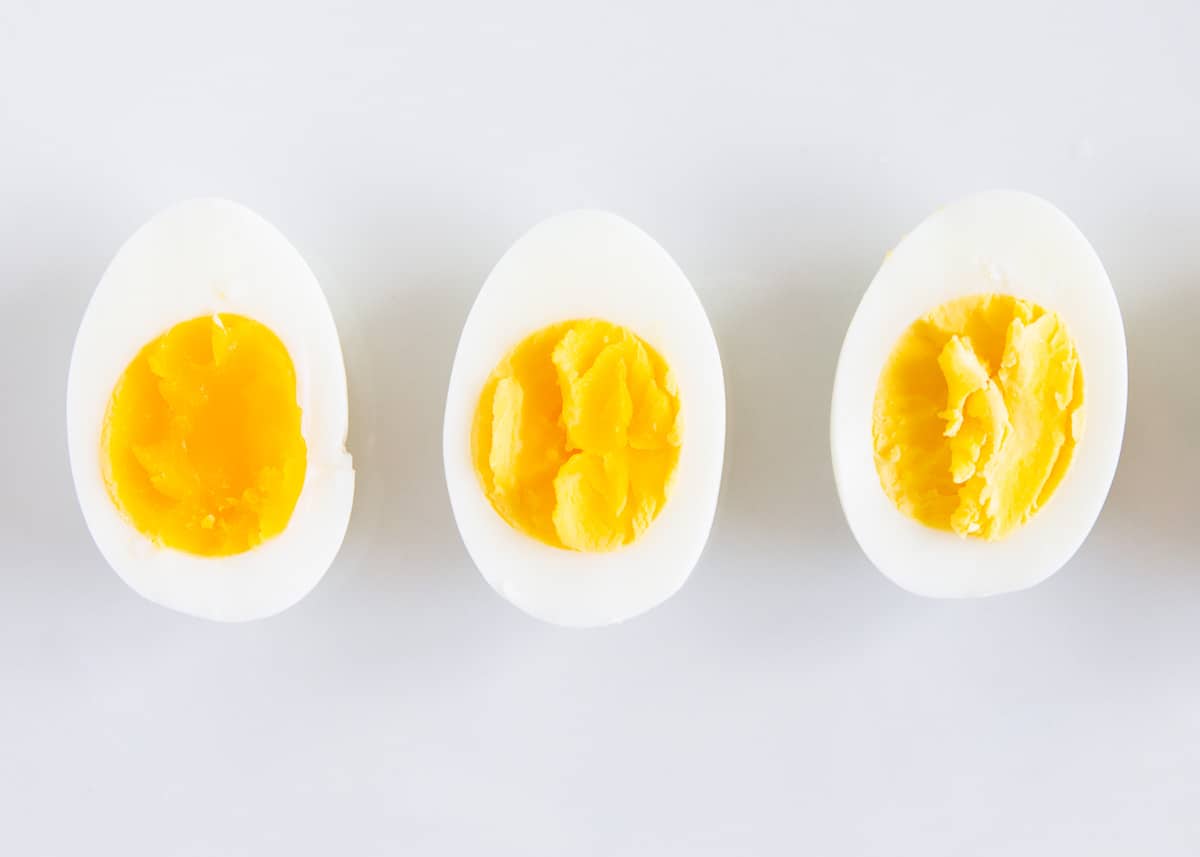 Hard boiled eggs: You'll need 6 hard boiled eggs for this recipe. You can make them day of with this easy hard boiled eggs in Instant Pot method, or use leftover hard boiled eggs too. You can even buy them premade from the grocery, although I do recommend making them fresh for more flavor.
Mayonnaise: You don't need a ton of mayo…just enough to create a creamy base. I used 1/4 cup. If you're looking for a lighter option, you could use Greek yogurt or even light mayo too. You can even make this a Whole30 recipe by making homemade mayo or using a compliant mayo such as Primal Kitchen.
Pickle juice: I love the flavor that pickle juice adds. If you don't have any on hand, you could use lemon juice or white vinegar as well. You only need a few teaspoons.
Dijon mustard: Dijon is my favorite mustard to use because of it's sharp flavor and bite. If you're not a fan of Dijon, regular mustard will work too. Add in 1-2 teaspoons to taste.
Favorite Ways to Serve
Make an egg salad sandwich with whole grain toast
Spread on top of crackers
In a croissant or flour tortilla
Over a bed of mixed greens or arugula
In lettuce wraps (with romaine or bibb lettuce)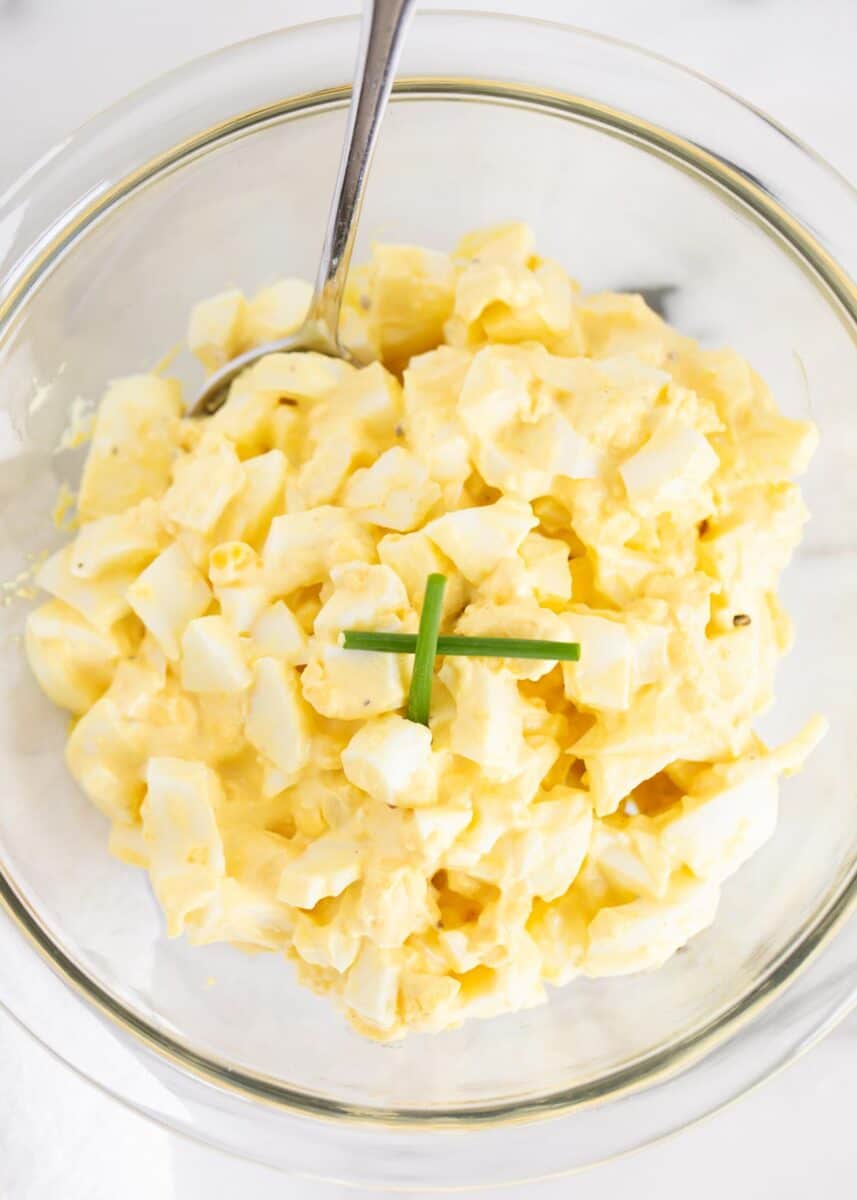 What to Add to Egg Salad?
There are plenty of optional add-in's you can include to make the egg salad your own. Below are a few great options.
Dill: I love the addition of dill. I always use fresh dill because it really enhances the flavor.
Chopped chives: Chives pair wonderfully with egg salad. You can either include them in the mixture or add them on top.
Bacon: Crumbled bacon adds amazing flavor and texture. I like to add in bacon that's extra crispy so that it holds up when covered in the sauce.
Celery: Celery is a popular addition and adds a nice crunch.
Onion: You could add in diced red onion for more fresh flavor.
Paprika: Add some paprika if you like a bit of a kick. I'd start with about 1/4 tsp and then taste and adjust.
Tabasco: You can also a few dashes of tabasco sauce for a kick of heat.
Make Ahead + Storing
To make ahead: You can prepare this salad the night before serving. Place in an airtight container or cover the bowl with plastic wrap, then store in the fridge overnight. Make sure to give it a big stir before serving. You may need to drain a little of the liquid out as well.
To store: Leftovers will stay fresh in the fridge for about 3 days. If it's been left out at room temperature for more than 2 hours, then you should toss the leftovers.
FAQ
What is in a traditional egg salad?
A traditional egg salad typically includes hard-boiled eggs that have been chopped, mayonnaise, and often some chopped celery and fresh herbs like parsley or dill. Some recipes may also include mustard, vinegar, salt, and pepper for added flavor.
What mayo is best for egg salad?
The choice of mayonnaise for egg salad is a personal preference. Some people prefer a traditional mayonnaise, while others may opt for a low-fat or vegan mayo. Some popular brands of mayonnaise for egg salad include Hellmann's, Duke's, and Kraft. I prefer Hellmann's.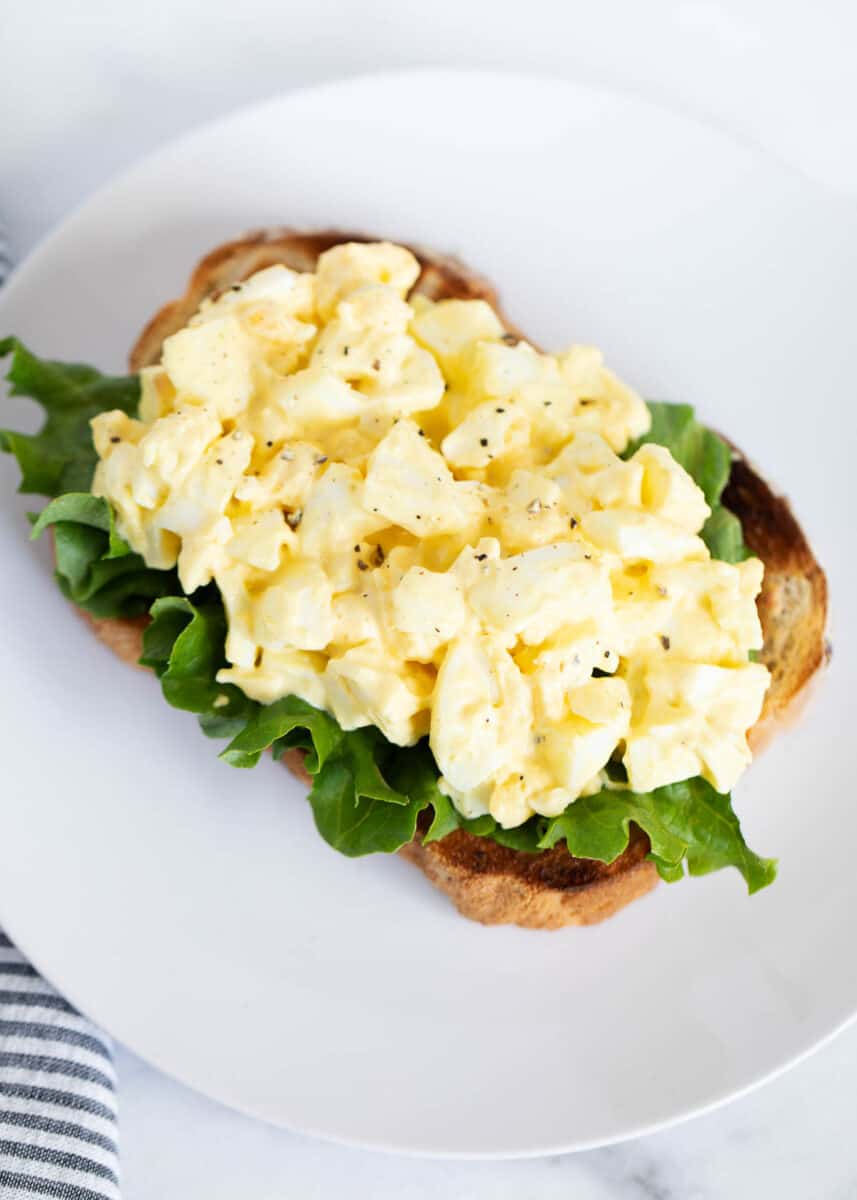 More Lunch Time Favorites
HUNGRY FOR MORE? Subscribe to my newsletter and follow on Facebook, Pinterest and Instagram for all the newest recipes!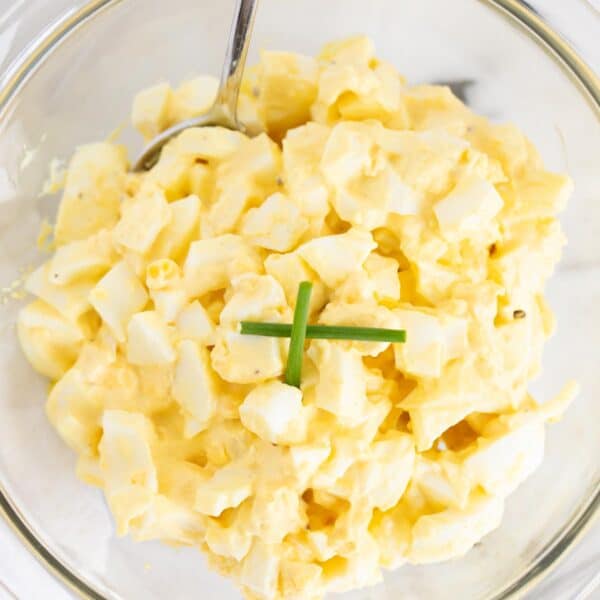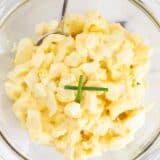 Egg Salad Recipe
This easy egg salad recipe requires only 4 simple ingredients and takes just 10 minutes to make. It's a quick and flavorful dish that's perfect for lunch or dinner.
Ingredients
¼ cup mayo
1-2 teaspoons pickle juice, lemon juice or white vinegar
1-2 teaspoons dijon mustard
For serving: chopped chives, lettuce, whole grain bread or crackers
Instructions
Peel and chop the eggs. Then place in a medium size bowl. Stir in the mayo, pickle juice and mustard. Salt and pepper to taste.

Serve on toasted bread with lettuce, chives and extra pepper if desired.

If the egg salad is properly stored in an air tight container, it will stay fresh up to 3 days. However, egg salad should be tossed out if left out for more than 2 hours.
---
Notes
Make ahead: You can make this salad the night before and store in the refrigerator an airtight container.
Variations to add to your egg salad sandwich:
Add 1-3 teaspoons fresh dill for a fresh twist
Arugula
Sliced tomato
Bacon
Sliced avocado
Chopped chives
Nutrition
Calories: 213kcal | Carbohydrates: 1g | Protein: 10g | Fat: 18g | Saturated Fat: 4g | Polyunsaturated Fat: 7g | Monounsaturated Fat: 5g | Trans Fat: 1g | Cholesterol: 286mg | Sodium: 196mg | Potassium: 100mg | Fiber: 1g | Sugar: 1g | Vitamin A: 400IU | Vitamin C: 1mg | Calcium: 39mg | Iron: 1mg
Nutrition provided is an estimate. It will vary based on specific ingredients used.
Did you make this recipe? Don't forget to give it a star rating below!