A classic tuna salad never gets old, but the BEST tuna salad recipe is made with creamy mayo, relish, Dijon mustard, red onion, and fresh herbs. This salad is the perfect sandwich filling or salad topping and makes a great tuna melt!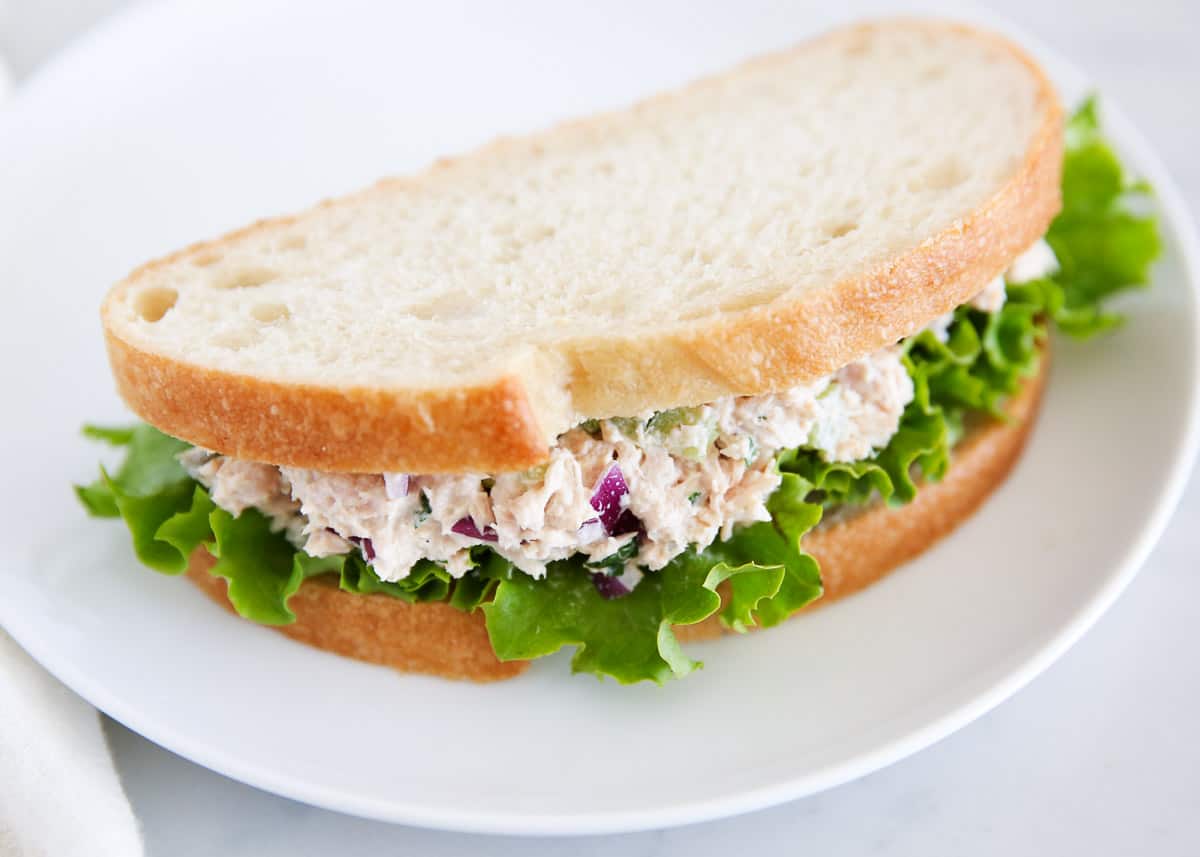 Classic Comfort Food
A really good classic tuna salad recipe is incredibly easy to make. It's also incredibly easy to mess up! As with all the classics like egg salad, chicken salad, potato salad, or macaroni salad, it's not just about the ingredients you use, but the amounts of each one that can make or break the recipe!
Gone are the days of tuna salad being too dry or too creamy, maybe flavorless or too briny. I'm sharing with you the best tuna salad recipe that will ruin you for all other tuna salads. A bit dramatic but true!
Flaked tuna, mayo, Dijon mustard, crisp celery, parsley, and more come together in a creamy, tangy, chunky salad perfect for making a tuna melt, tuna salad sandwiches, adding on top of leafy greens, or scooping it up with crackers!
Maybe you ate tuna salad all the time as a kid, or maybe you avoided it like the plague. Either way, everyone will love this jazzed-up version of a tried and true recipe!
Why This Recipe Works
Filling but not too heavy. Tuna fish salad is hearty yet light so it makes a great light lunch, snack, or dinner depending on how you serve it.
Easy to make. All of the ingredients come together in one bowl, mix, chill, and serve. It's that simple.
Versatile. Make sandwiches, wraps, salads, appetizer pinwheels, or for a low-carb option use lettuce leaves and fill it with tuna salad to make a lettuce wrap.
Healthy. Tuna itself is high in protein and Omega 3 fatty acids. The celery, fresh herbs, and red onion provide antioxidants, and because it can be used in a sandwich or salad it can be enjoyed with loads of extra veggies.
Recipe Ingredients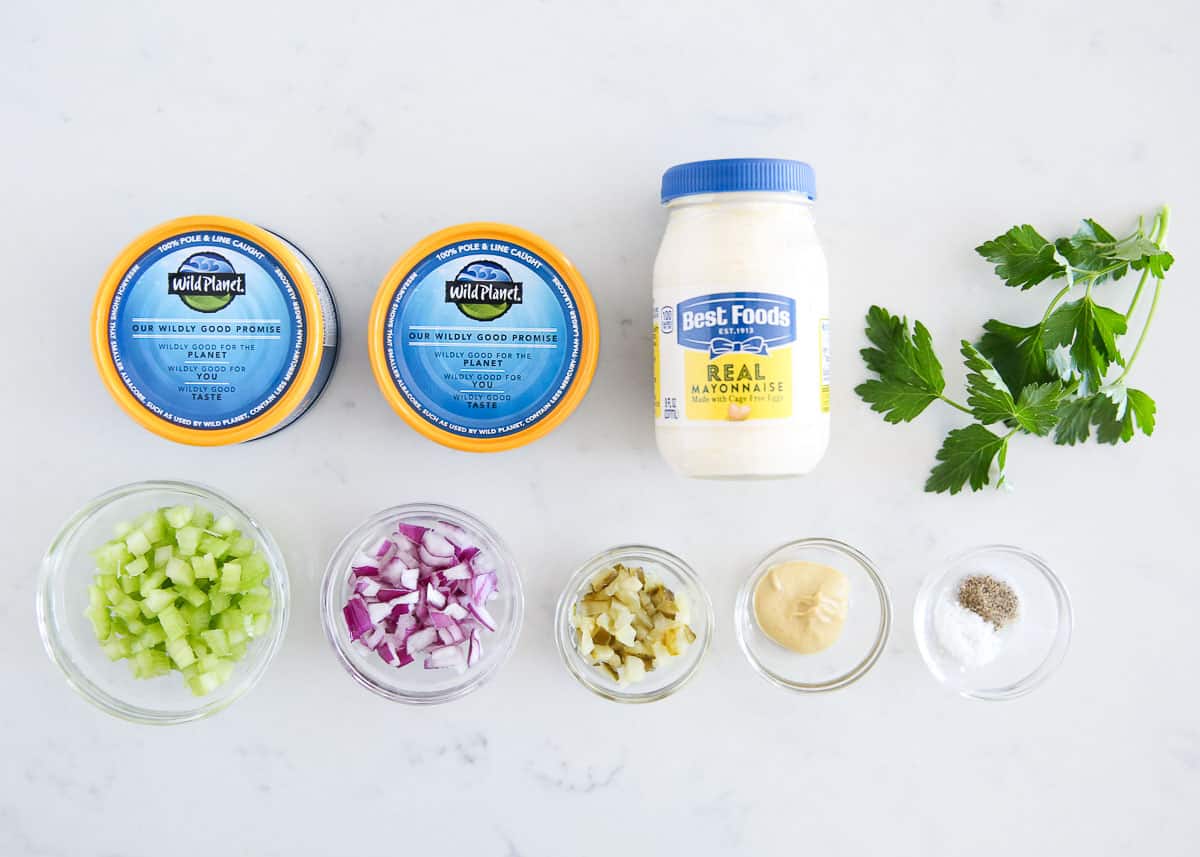 Find the full printable recipe with specific measurements below.
Canned tuna: Whenever possible, I buy pole and line caught albacore tuna. Pole and line is a sustainable fishing practice that prevents overfishing, however, it's not as cheap as other kinds. Use what you have!
Mayonnaise: Adds creaminess to the tuna salad recipe. You can adjust the amount to suit your tastes or swap it for Greek yogurt or mashed avocado.
Dijon mustard: A bit of a tangy, spicy, pungent mustard that adds a bit of a kick and so much flavor. Dijon isn't the same as prepared yellow mustard, so be sure to use the right one!
Relish: If you don't have sweet pickle relish or dill pickle relish, chopped pickles will do instead. You can even add a little of the pickle brine if you'd like.
Celery & red onion: Gives the creamy tuna salad a satisfying crunchy element.
Optional fresh herbs: If you want to liven up your salad a bit, feel free to throw in some chopped parsley, chives, or dill.
Salt & pepper: To taste.
Variations
I love added fruit to my tuna salad recipe. I do it with chicken salad too! Dried fruit like raisins or cranberries, or even fresh diced apples. It may sound funny, but trust me the added sweetness and texture are amazing.
Diced cucumber, bell peppers, or shredded cabbage is also a great way to add extra crunchy veggies.
Sprinkling in some curry powder can alter the flavor a bit in a delicious way.
Brighten the flavor with a squirt of lemon juice before serving.
How to Make Chicken Salad
When I say this is an easy tuna salad recipe, I mean it! Opening and draining the cans of tuna is the hardest part!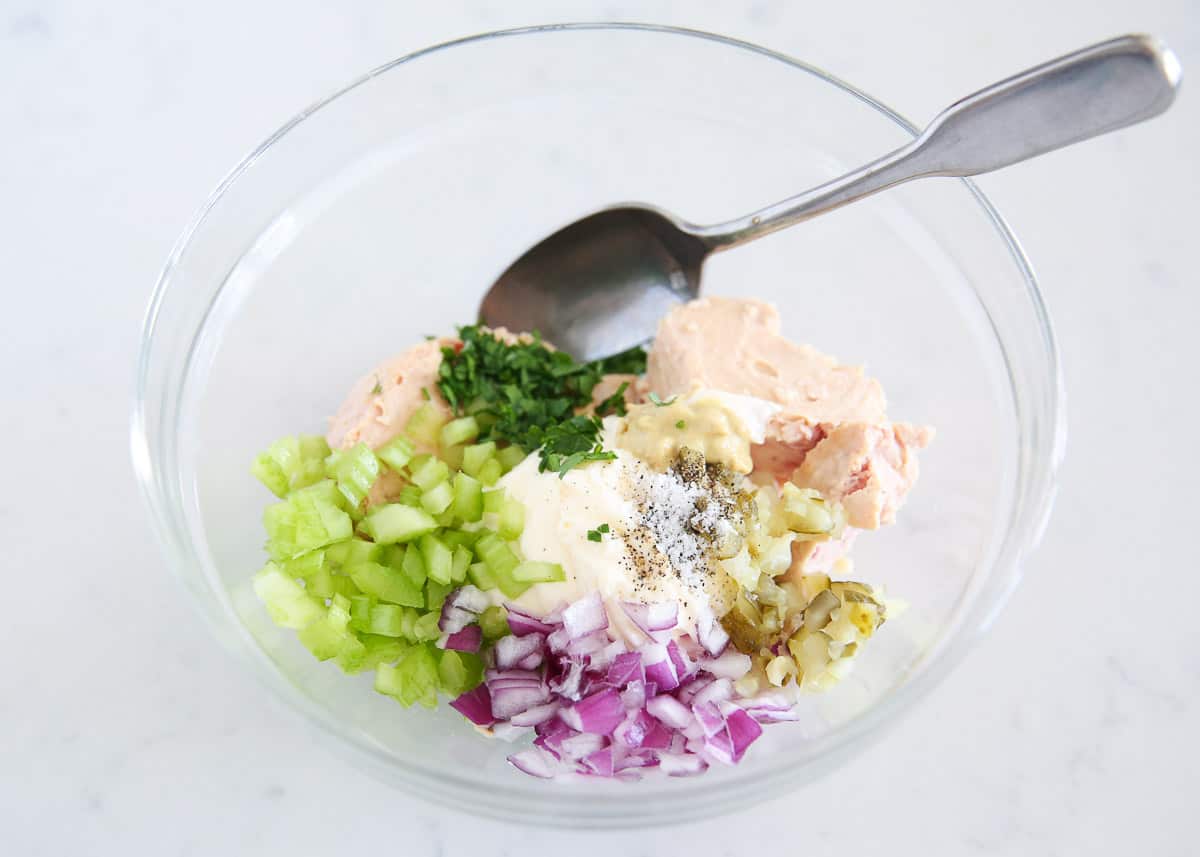 Combine ingredients. In a large bowl, combine all of the ingredients and stir until well combined. Add an extra Tablespoon of mayo if you want yours a bit creamier.
Chill and serve. If you have some extra time, take advantage of it and chill the salad until you're ready to serve. Warm mayo is not the greatest, plus you'll give the flavors a chance to meld.
Expert Tips
Tastes best the day it's made. However, it can be made ahead and chilled overnight.
I prefer water-packed tuna rather than tuna packed in oil just because mayo has enough oil already.
Flake with a fork. When you add the tuna to the mixing bowl, flake it with a fork. You'll need to do this especially if you're using chunky tuna.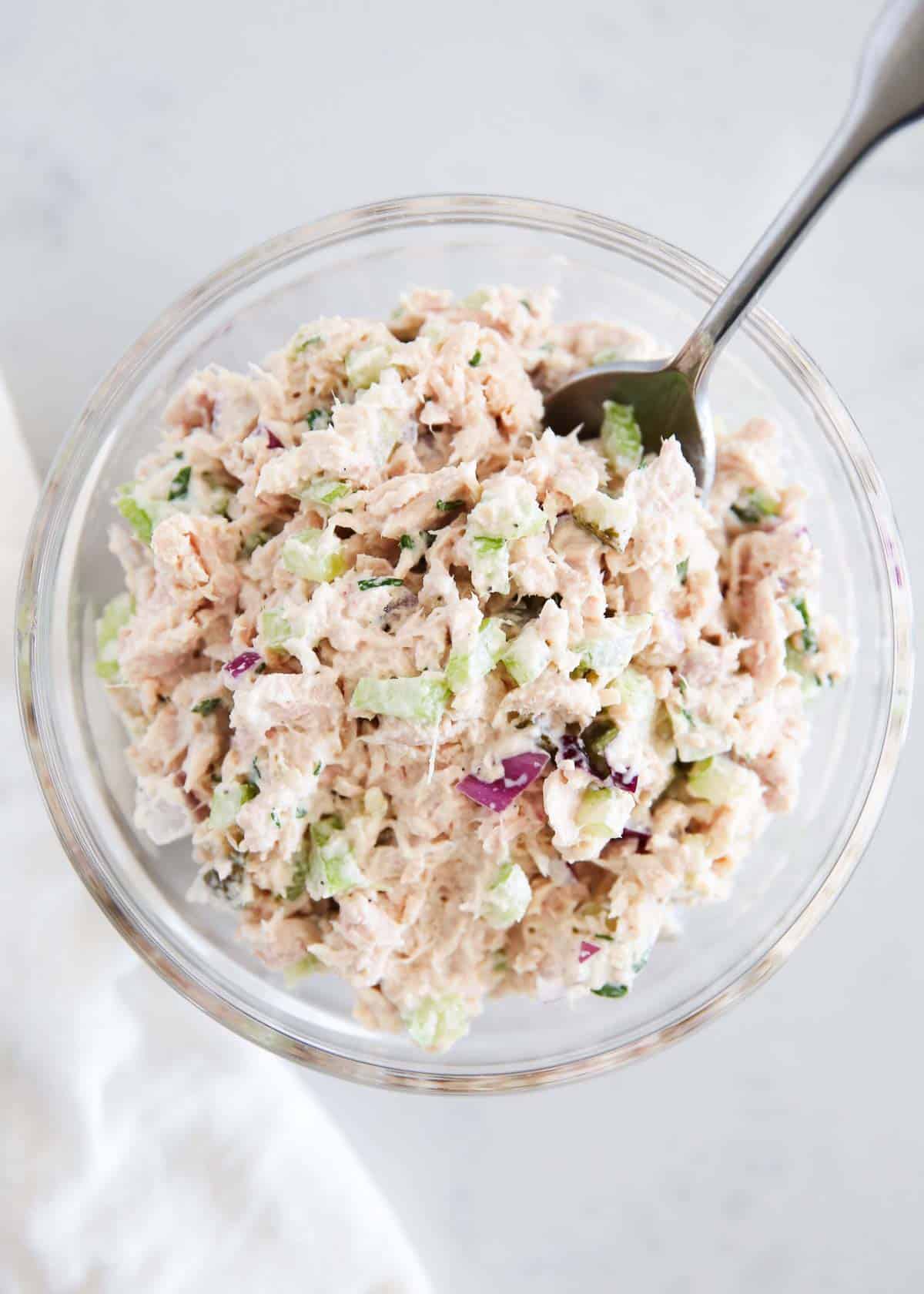 Recipe FAQs
How do I drain a can of tuna?
You can remove the tuna and drain it in a strainer, or you can use a can opener to open the can almost all the way. Press the top down into the tuna and turn it over allowing the liquid to run out through the open space around the edges.
What mixes well with canned tuna?
Cheese and tuna go hand in hand when you're making a tuna melt. You can always count on a variety of bread to make a sandwich. Pickles, olives, beans, you name it!
What can I add to bulk up this tuna salad recipe?
If you've got some hard boiled eggs, chop them up and add them in for a tuna salad with egg or throw in some cooked pasta noodles for a tuna pasta salad.

As mentioned above, you can also add dried fruit, crunchy apples, or extra crispy veggies.
Serving Suggestions
Have a delicious tuna salad in a homemade flour tortilla as a wrap for lunch. There are a few low-carb ways to do this as well such as using a lettuce leaf to make lettuce cups and using tuna instead of taco meat in this taco lettuce wraps instead. Collard greens also make a great wrap shell.
Make a sandwich or tuna melt using a croissant or slices of freshly baked bread. Homemade French bread, whole wheat bread, or French bread rolls are all hearty bread options that will hold up to piled on tuna salad!
Of course, you can also use it as a dip and just scoop it up with crackers or homemade tortilla chips.
How Long Does Tuna Salad Last?
This tuna salad recipe will keep fresh for up to 3 days in the fridge. You can also freeze it for up to 2 months in a freezer-safe container.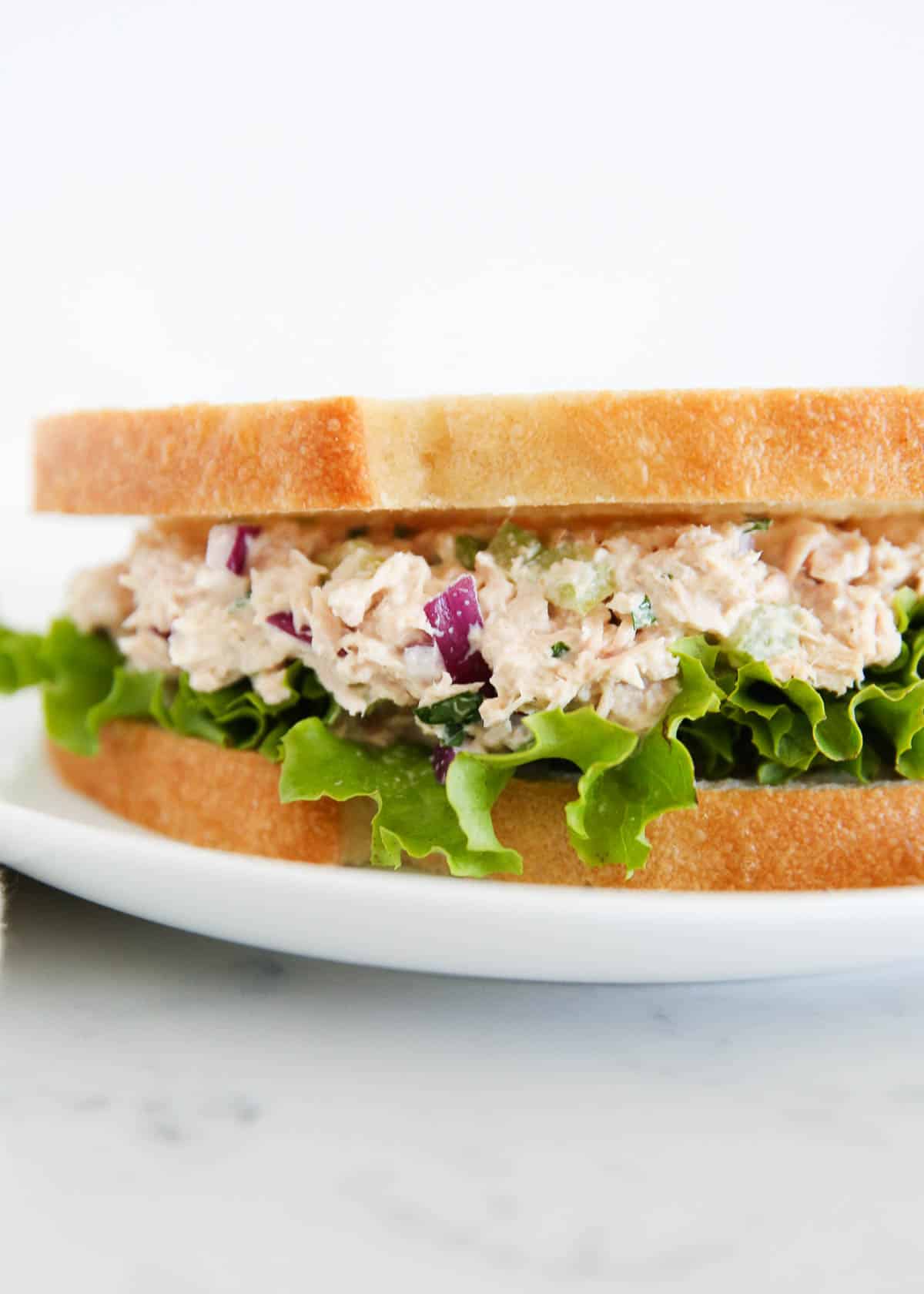 HUNGRY FOR MORE? Subscribe to my newsletter and follow on Facebook, Pinterest and Instagram for all the newest recipes!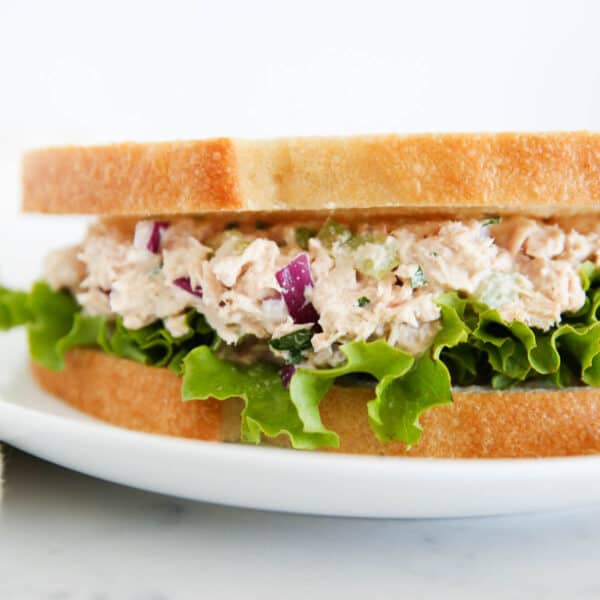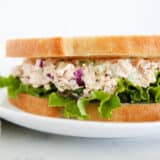 Tuna Salad Recipe
A classic tuna salad never gets old, but the BEST tuna salad recipe is made with creamy mayo, relish, Dijon mustard, red onion, and fresh herbs. This salad is the perfect sandwich filling or salad topping and makes a great tuna melt!
Ingredients
2 (5-ounce) cans tuna , drained
⅓ cup mayonnaise , more if desired
½ Tablespoon Dijon mustard
1 Tablespoon relish
1 stalk celery , diced
2 Tablespoons finely chopped red onion
1-2 Tablespoons chopped parsley , chives, or dill, optional
¾ teaspoon Kosher salt , more to taste
¼ teaspoon Ground black pepper , more to taste
For serving: Lettuce cups, Croissant, Sliced bread, Crackers
Instructions
In a large bowl, stir together the tuna, mayonnaise, mustard, relish, celery, onion, and parsley, if using, until well combined. You can add an extra Tablespoon of mayo if needed. Season with salt and pepper.

If there is time, chill 15 minutes, or until ready to serve, to let all the flavors meld.

Serve in lettuce cups, on bread, or dip in crackers.
---
Notes
Substitutions: You can swap the mayonnaise for Greek yogurt or mashed avocado, if you like.
Variations:
Add dried fruits such as raisins, cranberries, or freshly diced apples for a little sweetness.
Add diced cucumbers or shredded cabbage to add a little extra crunch.
Add curry powder to mix things up.
Squeeze in a little lemon for a brighter flavor.
Storage: This tastes best eaten fresh, but it can be stored in an airtight container in the refrigerator up to 3 days.
Freeze: Store in a freezer-safe container in the freezer up to 2 months.
Nutrition
Calories: 68kcal | Carbohydrates: 1g | Protein: 0.3g | Fat: 7g | Saturated Fat: 1g | Polyunsaturated Fat: 4g | Monounsaturated Fat: 2g | Trans Fat: 0.02g | Cholesterol: 4mg | Sodium: 95mg | Potassium: 25mg | Fiber: 0.2g | Sugar: 0.2g | Vitamin A: 75IU | Vitamin C: 1mg | Calcium: 5mg | Iron: 0.1mg
Nutrition provided is an estimate. It will vary based on specific ingredients used.
Did you make this recipe? Don't forget to give it a star rating below!