This chicken salad croissant sandwich is easy to make and ready in 30 minutes! Flavorful homemade chicken salad is sandwiched between two halves of a soft buttery croissant for a simple meal that is great year round!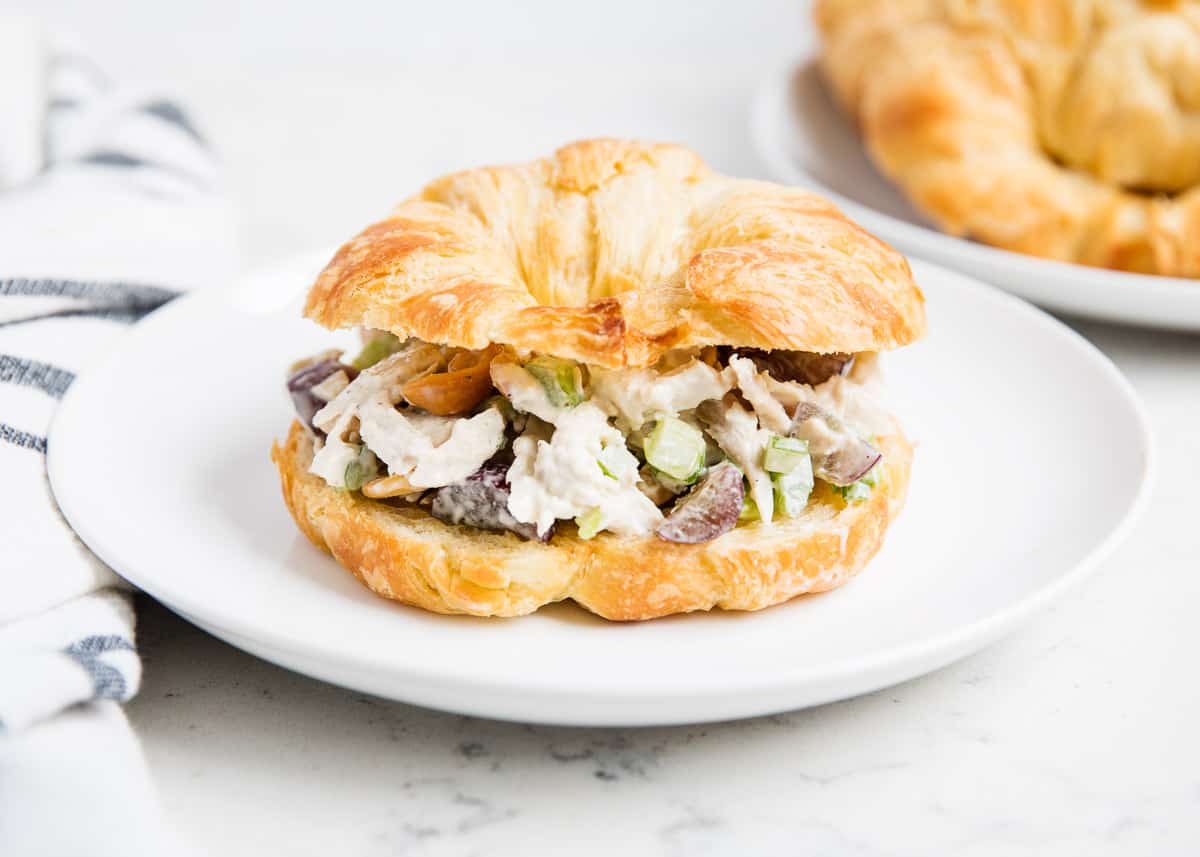 Chicken Salad Sandwich
Gather around friends, I'm about to share with you the reasons this croissant chicken salad sandwich is the BEST chicken salad you'll ever have and why it's about to ruin all other chicken salads for you from this day forward. True story.
Tender shredded chicken, creamy cashews, juicy grapes, and fresh crispy celery for starters. Then, all of this is coated in a light and creamy, tangy, zesty, and slightly sweet dressing that is something you could definitely eat by the spoonful!
This beautiful chicken salad is sandwiched between two halves of a flaky buttery croissant that basically melts in your mouth. It is just so good.
This simple chicken salad sandwich recipe comes together in minutes, so it's great for a party. Serve a crowd at outdoor summer parties, baby showers, and wedding showers, or make yourself a quick healthy lunch for one.
It's easy enough to whip up this elevated sandwich any time!
Recipe Ingredients
Each part of this chicken salad sandwich brings it's own flavor and contributes to a mouthful of amazing textures that complement each other in a perfectly balanced way.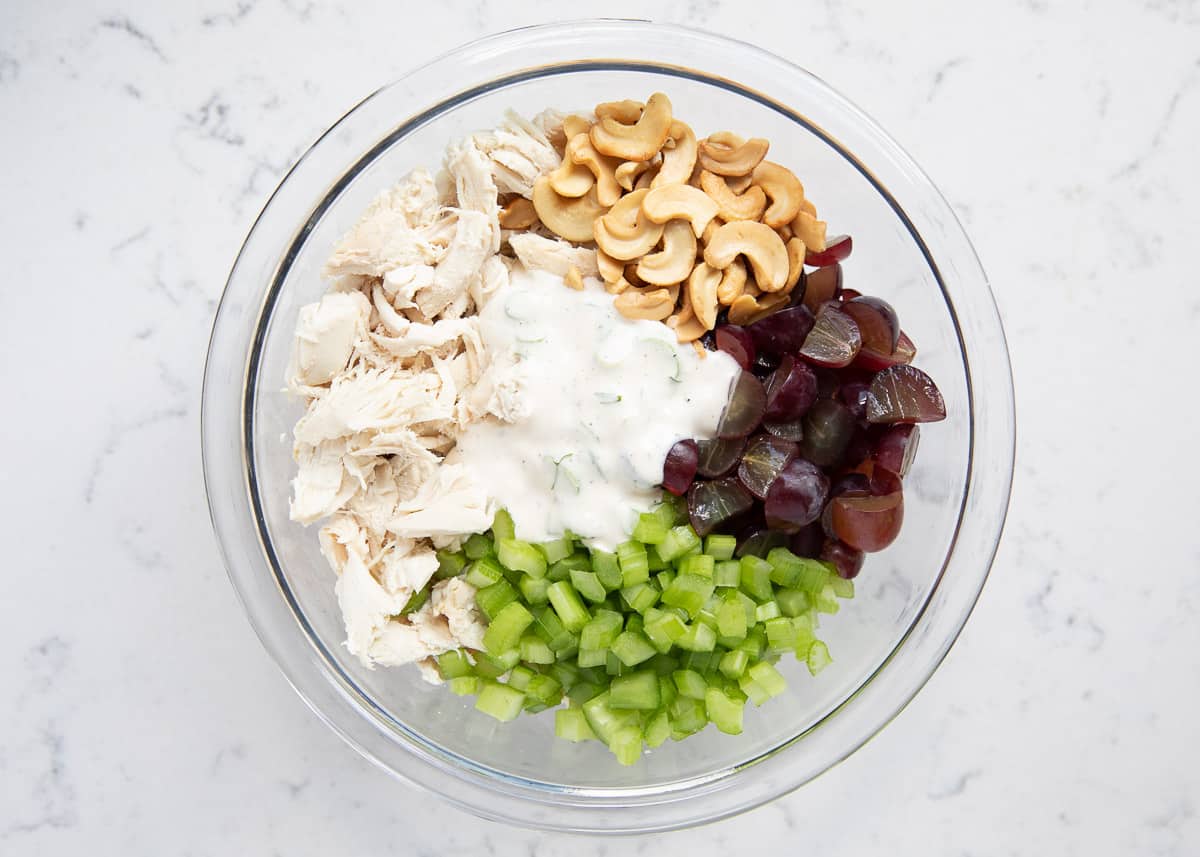 Dressing: Mayonnaise, Greek yogurt, lemon juice, green onions, fresh dill, brown sugar, salt, garlic powder, and pepper.
Rotisserie chicken: It's so convenient to use a rotisserie chicken in the chicken salad recipe, but feel free to use any leftover shredded chicken.
Celery: Adds crunch and flavor, if you are not a fan try diced cucumbers.
Red grapes: Gives the salad a juicy pop!
Cashews: Rich and buttery cashews are my favorite, although almonds work, too.
Croissant rolls: These make the best chicken salad sandwich in my opinion!
How to Quickly Make
Make dressing. Combine dressing ingredients and stir to combine.
Add remaining salad ingredients. Add your shredded chicken, sliced celery and grapes and quartered cashews and stir until it is evenly coated.
Chill to let flavors develop. Store your chicken salad in the refrigerator for at least 15 minutes or until ready to serve your chicken salad croissant.
Assemble sandwiches. Slice croissants in half and fill with chicken salad sandwich filling. Enjoy!
Tips for the Best Chicken Salad and Croissant
What makes great classic chicken salad sandwiches, the bread or the filling? I'd say it's the right balance of both. This perfect grilled cheese sandwich and egg salad sandwich are two of my other favorites that combine everything a really great sandwich needs!
Leftover chicken. Making a chicken salad is a great way to use up a leftover rotisserie chicken or really any type of shredded chicken you have. Either shred it or dice it!
Slightly toast the bread. A soft buttery flakey croissant is amazing when it's lightly toasted. Biting into that crispy buttery exterior is well worth a couple of extra minutes to toast it.
Provide napkins. This chicken salad croissant can get a little messy if it's over-filled or just because of the nature of the flaky croissant. If you're hosting, make sure to have extra napkins handy!
Filling to bread ratio. Speaking of overfilling, you don't want to add too much of the chicken salad. It's a hearty filling with lots of texture. The weight of the delicate croissant won't be able to hold more than 1/3 -1/2 cup.
Serrated knife. To cut the croissant in half crosswise, you'll want to use a serrated knife. It will slice it clean without deforming the bread.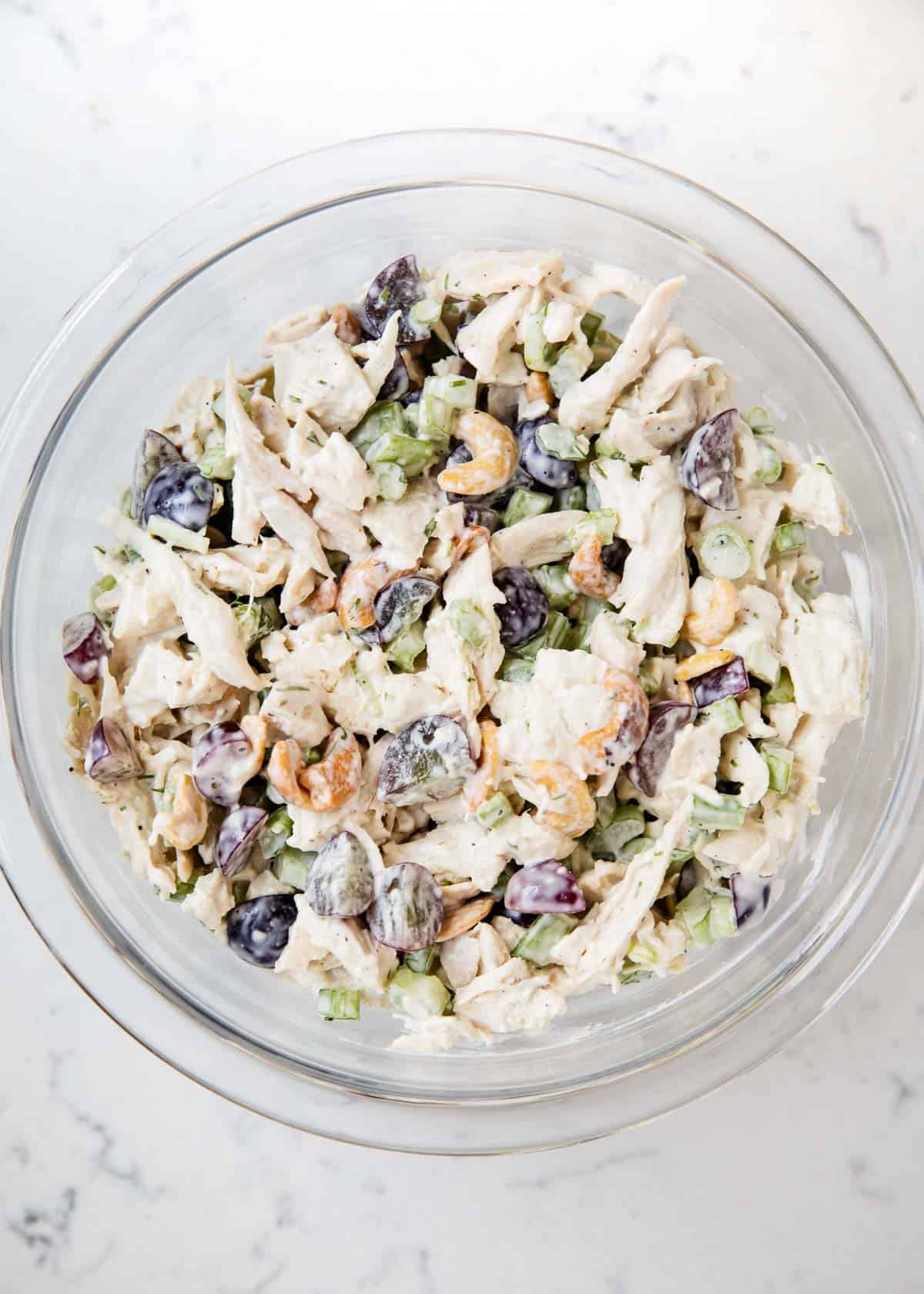 Variations
Low carb. Skip the croissant and make a chicken salad wrap with a crisp lettuce leaf.
No cashews. If they're not your thing or you don't have any on hand, use pecans, walnuts or almonds instead.
Bacon crumbles. For a salty smoky addition (think chicken club sandwich), you could add some bacon crumbles into the chicken salad itself.
No grapes. Swap raisins, dried cranberries, or apples (or both) for the grapes. Apples are crispy and tart and raisins will still give you that bit of sweetness.
Onion type. If you'd prefer chopped red onion instead of green, this would be an easy swap.
Sliced bread. You could always go the classic route and make yourself a sandwich on regular sliced bread. White, whole wheat bread, sprouted wheat, or any gluten-free bread will work.
FAQs
Can I use miracle whip instead of mayo?
That should work just fine although I like the mayo flavor better as it is not as sweet.
What can I use instead of Greek yogurt?
Sour cream or additional mayo would both work just fine as a substitute.
What should I serve with chicken salad sandwiches?
This chicken salad croissant sandwich is pretty filling for a light lunch or brunch, but dill pickles, chips or even french fries always taste great with it!
Can I use different bread other than a croissant?
Sure! Any hearty bread will work to make your chicken salad sandwich. Try sourdough, any deli roll, my homemade bread recipe or even a rye or hearty wheat.
Can I freeze leftover chicken salad?
No. Texture will change upon thawing and it will not taste good.
Make Ahead and Storage
Make ahead: The mixture is best served the first day, however, you can make it up to 3 days ahead of time. You'll want to wait to add the grapes, celery, and nuts until you're ready to serve, otherwise, they'll lose their crunch.
Storage: Any leftover chicken salad can be stored in the fridge in an airtight container for up to 3 days.
HUNGRY FOR MORE? Subscribe to my newsletter and follow on Facebook, Pinterest and Instagram for all the newest recipes!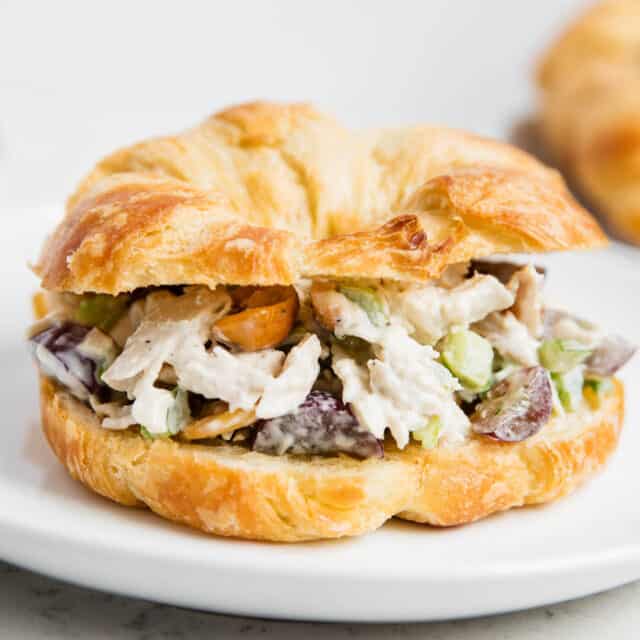 Chicken Salad Croissant
This chicken salad croissant sandwich is easy to make and ready in 30 minutes! Flavorful homemade chicken salad is sandwiched between two halves of a soft buttery croissant for a simple meal that is great year round!
Ingredients
¼ cup mayonnaise
3 Tablespoons plain Greek yogurt
1 Tablespoon lemon juice
2 Tablespoons green onions , chopped thin
1 Tablespoon light brown sugar
2 teaspoons fresh dill , minced
¼ teaspoon Kosher salt
¼ teaspoon garlic powder
⅛ teaspoon ground black pepper
3 cups chopped cooked chicken , I use rotisserie
1 cup celery , chopped
1 cup red grapes , quartered (firm grapes work best)
¼ cup cashews , quartered or slivered almonds
8 croissant rolls , sliced in half
Optional for sandwich: Lettuce leaves, tomatoes
Instructions
In a large bowl, combine the mayonnaise, yogurt and lemon juice. Stir in green onions, brown sugar, fresh dill, salt, garlic powder, and black pepper until combined.

Next, stir in the chicken, celery, grapes and cashews until it is evenly coated. Store in the refrigerator for at least 15 minutes or until ready to serve. Add more dill, salt and pepper to taste.

Serve the mixture in between the croissant roll. Add lettuce or tomatoes if desired.
---
Notes
Storage: Store in a covered container in the refrigerator for up to 3 days. Make ahead: This mixture is best served the first day. You may also make the night before; however, wait to mix the grapes, celery & nuts in until ready to serve so they stay crunchy. Substitutions: You may substitute the croissant for sliced bread, red onion for green onion, apples or raisins for the grapes and pecans or almonds for the cashews. Nutrition: Please note that the nutrition information provided below is an estimate based on an online nutrition calculator. It will vary based on ingredients used.
Nutrition
Calories: 428kcal | Carbohydrates: 33g | Protein: 25g | Fat: 21g | Saturated Fat: 8g | Trans Fat: 1g | Cholesterol: 98mg | Sodium: 500mg | Potassium: 510mg | Fiber: 2g | Sugar: 12g | Vitamin A: 542IU | Vitamin C: 3mg | Calcium: 43mg | Iron: 2mg
Nutrition provided is an estimate. It will vary based on specific ingredients used.
Did you make this recipe? Don't forget to give it a star rating below!