This chicken salad recipe is so flavorful and tastes amazing! Try it on a croissant, in a lettuce cup, spread on top of crackers, or stuffed in a pita or tortilla.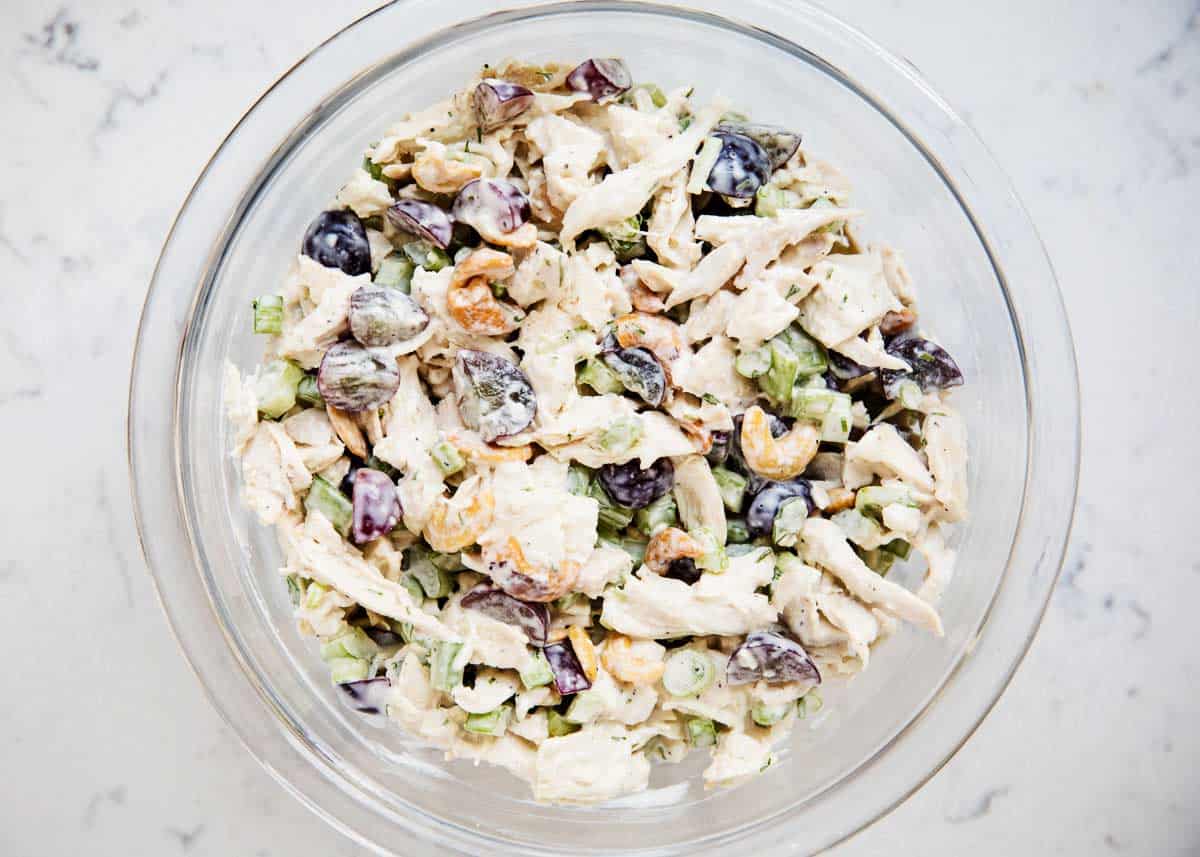 Classic Chicken Salad
Chicken salad is one of my all-time favorites. There are so many different ingredients you can add or swap to personalize them to your taste. You can even make a slow cooker version if you have a busy day ahead.
Chicken salad sandwiches are one of my favorite dishes along with lemon bars to make for a bridal or baby shower. Although Caesar salad with chicken and this tuna salad recipe are always hits, too! I've tried some that are boring and flavorless, but this recipe is far from that. The combination of textures and flavors is irresistible.
I don't love when the mayo in the dressing is overpowering, so I've used a combination of both mayo and Greek yogurt to lighten it up a bit. The brown sugar in the dressing gives the recipe a touch of sweetness and the dill adds the perfect fresh flavor. Don't forget to add crisp, fresh grapes to give it an extra crunch!
My Secret Ingredients
This chicken salad comes together in a quick stir with this delicious secret ingredient. You will love the tangy, sweet, and fresh sauce that is tasty when covered over chicken breast, grapes, cashews, and celery. It is an amazingly delicious combination!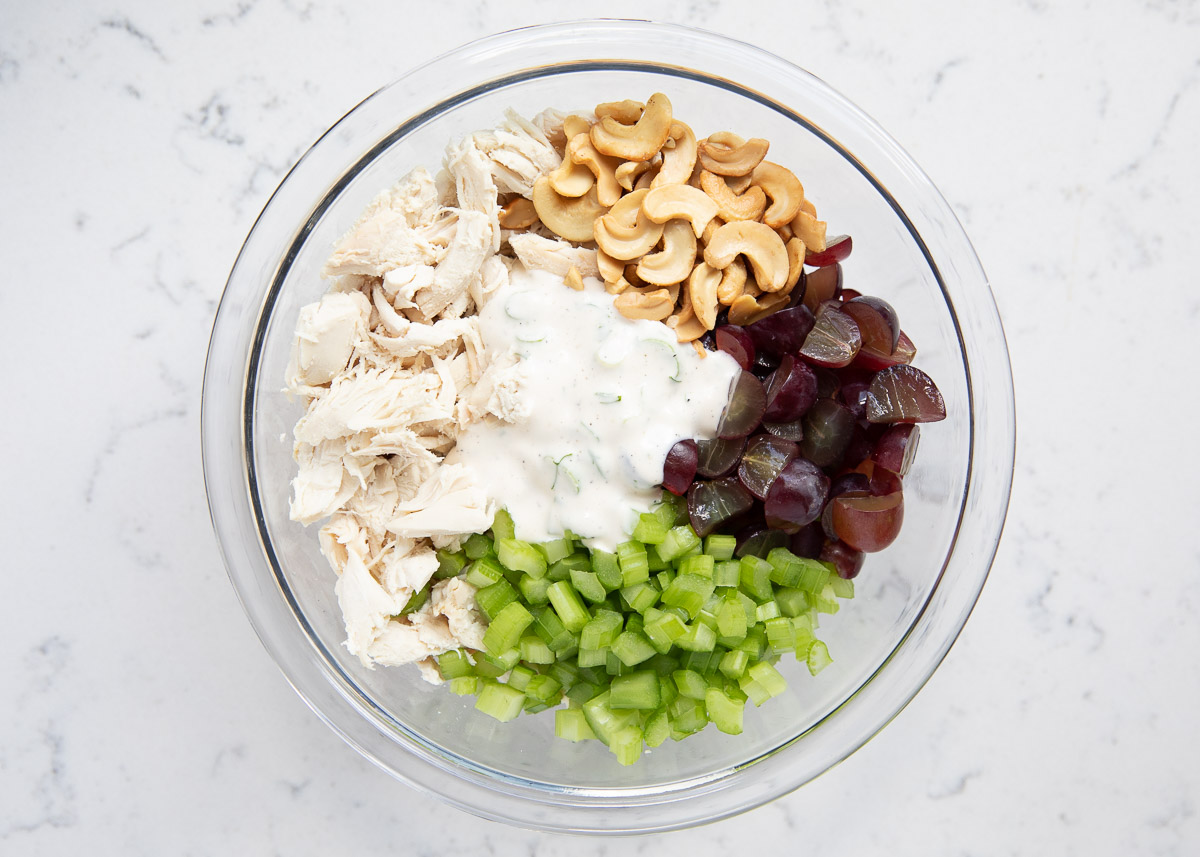 Find the full printable recipe with specific measurements below.
Greek yogurt: I'm not a fan of chicken salad that's too mayonnaise-forward. That's why I use a combination of both mayo and Greek yogurt to help lighten it up.
Brown sugar: I add a little light brown sugar to give it a hint of sweetness. You don't need a large amount…only a Tablespoon.
Dill: Fresh dill makes everything better and that's no exception in this recipe. It takes the flavor up a notch.
Cashews: Cashews are great for an added crunch. Other nuts would taste great too, but cashews are my favorite.
How to Make Easy Chicken Salad
Take this special ingredient and create one of the best chicken salads with a crunchy texture, tender chicken, and sweet grapes. All combined you have an amazing salad dish that is perfect for sandwiches, wraps, or tortillas.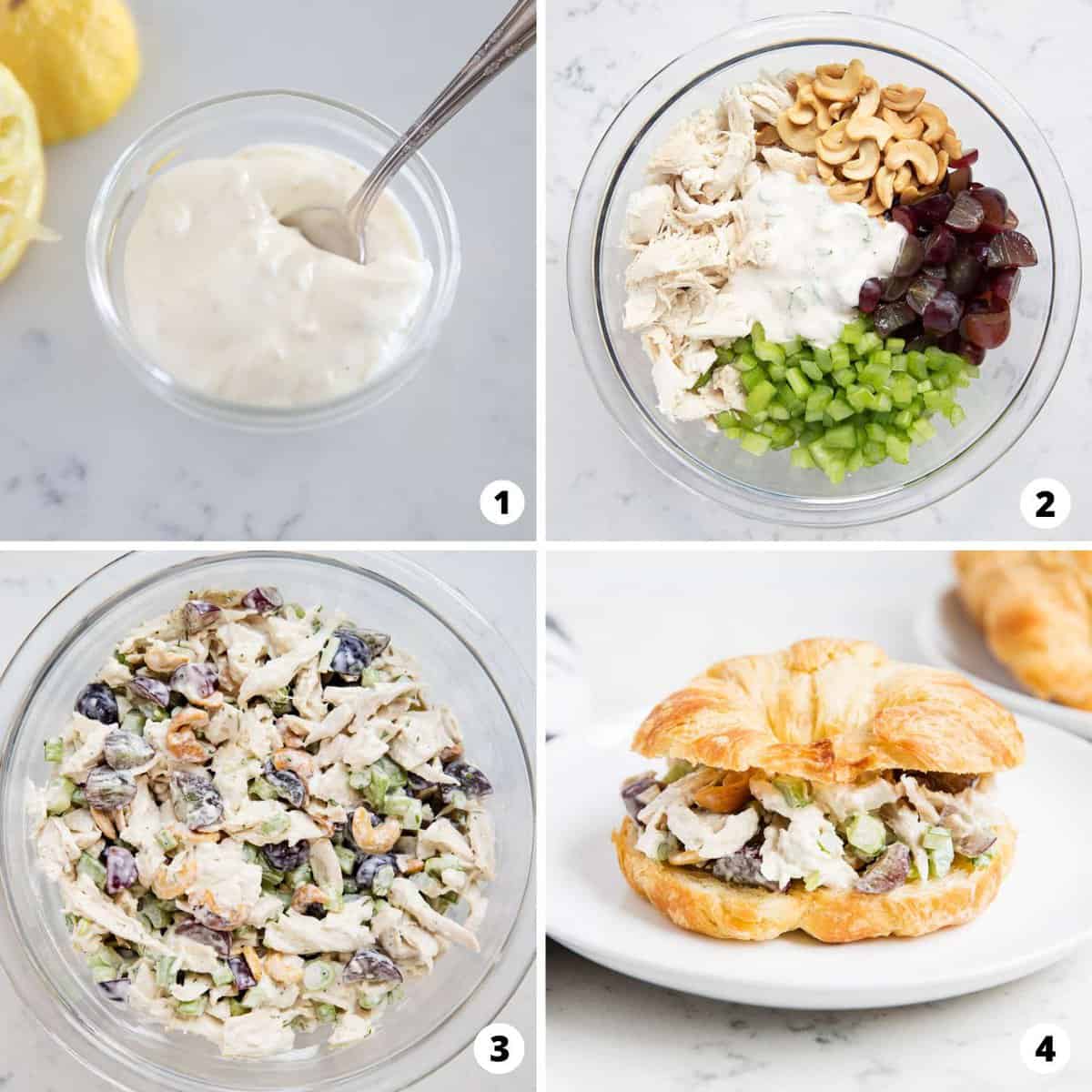 Stir. Combine the mayo, yogurt, and lemon juice in a large bowl. Then stir in the chopped green onions, brown sugar, dill, salt, garlic powder, and black pepper.
Mix. Pour the creamy mixture into the rotisserie chicken, celery, grapes, and cashews. Stir until the mixture is evenly coated.
Chill. Let chill in the refrigerator for at least 15 minutes prior to serving. Remove and add more seasonings to taste.
Tips + Modifications for the Best Chicken Salad Mixture
This chicken salad recipe is so easy to make but can have some modifications to accommodate each person. Follow these helpful tips and some ways to substitute to make this easy salad filling. Get ready to create the best chicken salad!
Buy grapes that are firm to the touch. They will hold up best when mixed in and still have that delicious crisp bite.
You can sub mayo for the Greek yogurt, however, I prefer the lightness the yogurt adds.
Make it into a Waldorf version by using walnuts instead of cashews and add in apples. Then serve in a lettuce cup.
Refrigerate for at least 15 minutes prior to serving. This helps the flavors meld together and shine through.
This mixture tastes best served on the first day.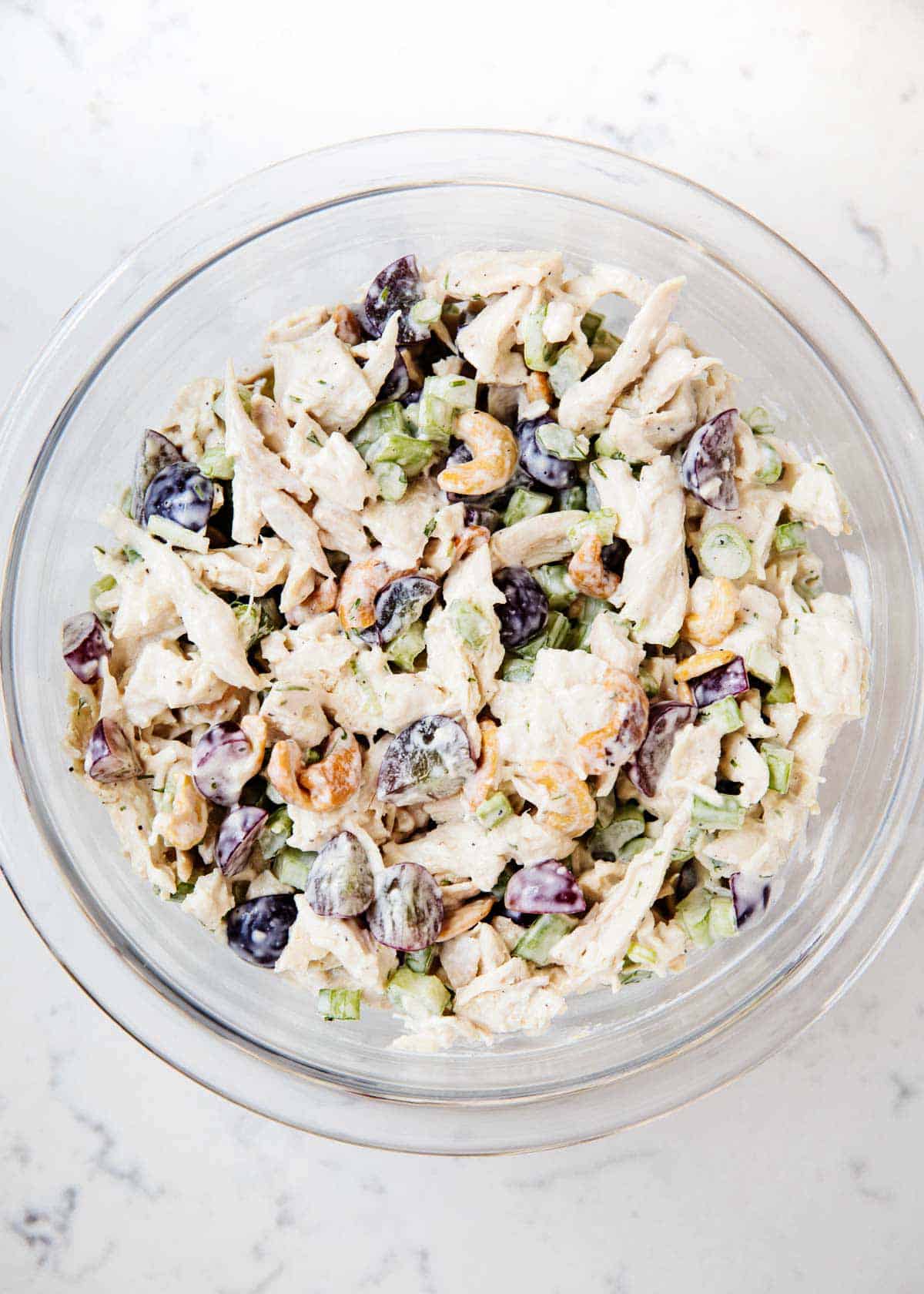 Ways to Serve
My favorite way to eat this chicken salad recipe is on a croissant, but you can also stuff it in a tortilla or pita bread, place it in a lettuce cup or spread it on top of crackers for a yummy snack.
5 star review
"This is an absolute favorite at my house. Light and so delicious no matter how you are eating it"

-Erica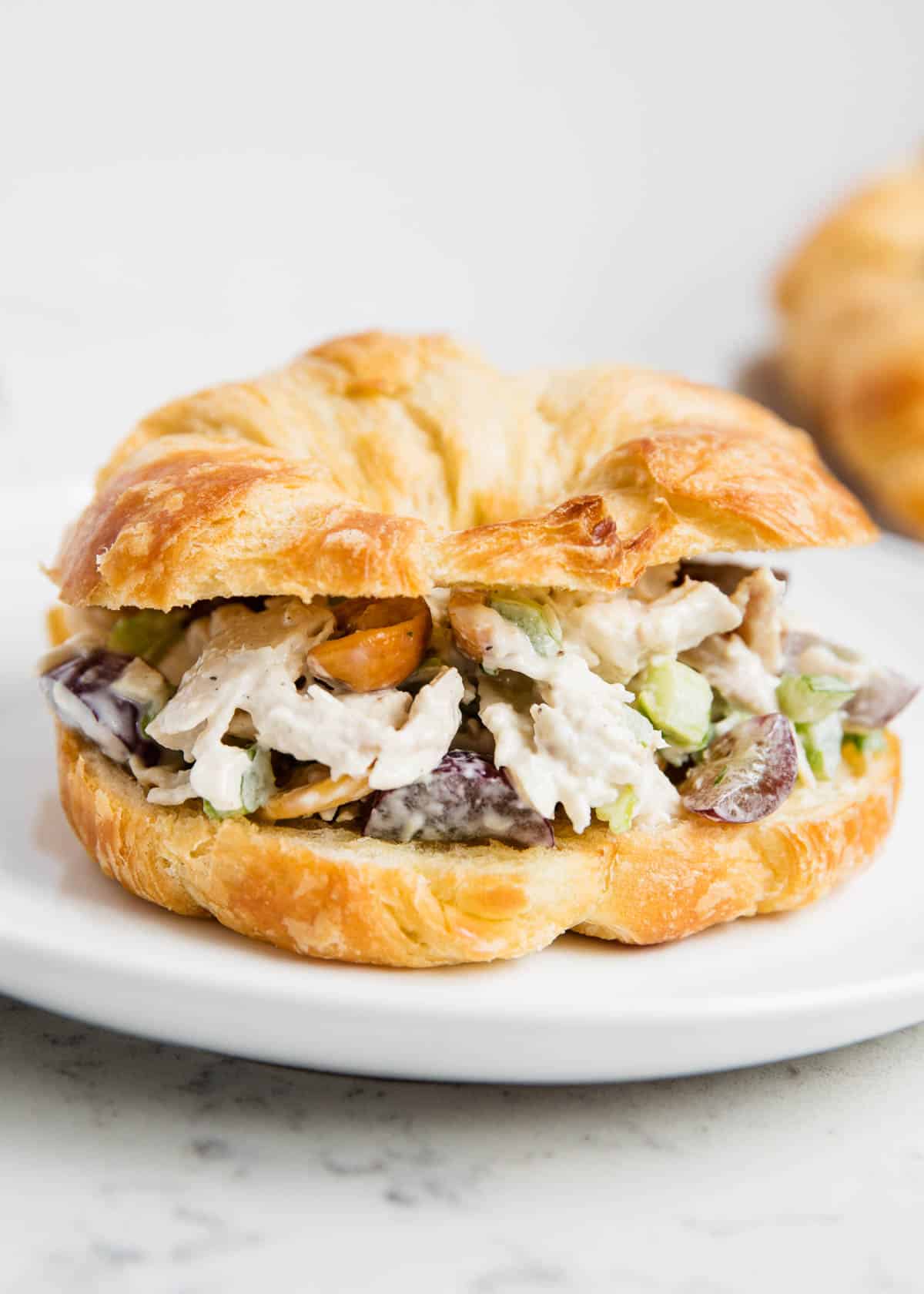 Recipe FAQs
How to make a bland chicken salad taste better?
Seasoning or sauces can make an additional change to the chicken salad recipe to
What goes well with chicken salad?
Using the chicken salad as a main dish with a croissant, sandwich bread, tortilla, or lettuce wrapped around can have baked chips or even skinny fries.
What makes chicken salad spoil?
Being careful when enjoying chicken salad mixture is a MUST! You do not want it to sit out too long and spoil. Keeping the salad mixture cold is best. If you are serving it at a party, try placing the bowl or container it is stored in over ice. Refrigerate as soon as you are done serving, especially during the warmer months. The bacteria can grow to begin the process once the heat reaches the yogurt mixture.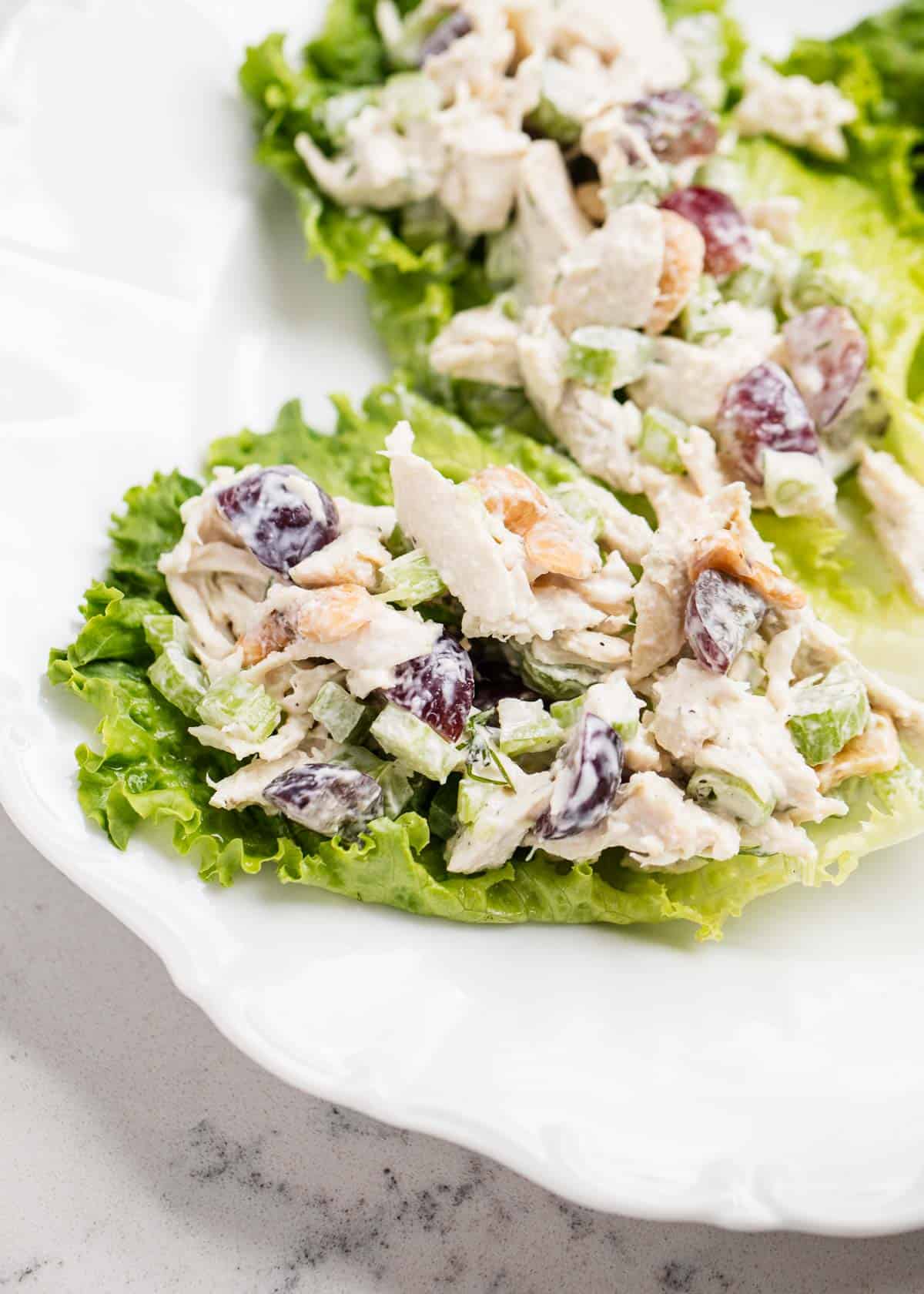 Storing + Making Ahead
Store this chicken salad mixture in an airtight container or glass bowl with a lid in the refrigerator for three to four days long. Try not to leave the salad out too long, as it will spoil. This is a great salad to make ahead for parties or get-togethers.
More Recipes You'll Love
HUNGRY FOR MORE? Subscribe to my newsletter and follow on Facebook, Pinterest and Instagram for all the newest recipes!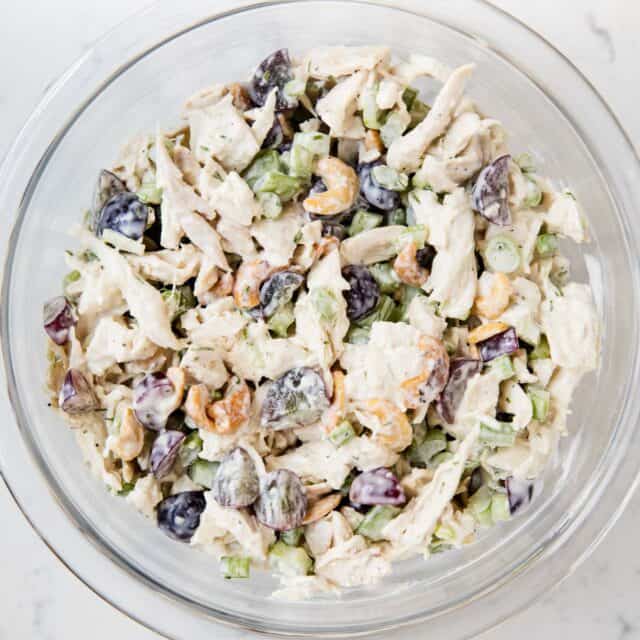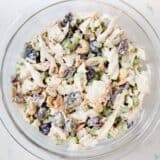 Chicken Salad Recipe
This chicken salad recipe is so flavorful and tastes amazing! Try it on a croissant, in a lettuce cup, spread on top of crackers or stuffed in a pita or tortilla.
Ingredients
¼ cup mayonnaise
3 Tablespoons plain Greek yogurt
1 Tablespoon lemon juice
2 Tablespoons green onions , chopped thin
1 Tablespoon light brown sugar
2 teaspoons fresh dill , minced
¼ teaspoon Kosher salt
¼ teaspoon garlic powder
⅛ teaspoon ground black pepper
3 cups chopped cooked chicken , I use rotisserie
1 cup celery , chopped
1 cup red grapes , quartered (firm grapes work best)
¼ cup cashews , quartered, or slivered almonds
For serving: Lettuce cups, croissant or bread, crackers
Instructions
In a large bowl, stir together the mayonnaise, yogurt and lemon juice. Stir in green onions, brown sugar, fresh dill, salt, garlic powder, and black pepper until combined.

Next, stir in the chicken, celery, grapes and cashews until it is evenly coated. Store in the refrigerator for at least 15 minutes or until ready to serve. Add more dill, salt and pepper to taste.

Serve the mixture on bread, lettuce cups or dip in crackers.
---
Notes
Storage: Store in a covered container in the refrigerator for up to 3 days. Make ahead: This mixture is best served the first day. You may also make the night before; however, wait to mix the grapes, celery & nuts in until ready to serve so they stay crunchy. Substitutions: You may substitute the croissant for sliced bread, red onion for green onion, apples or raisins for the grapes and pecans or almonds for the cashews. Nutrition: Please note that the nutrition information provided below is an estimate based on an online nutrition calculator. It will vary based on ingredients used.
Nutrition
Calories: 196kcal | Carbohydrates: 7g | Protein: 20g | Fat: 9g | Saturated Fat: 2g | Trans Fat: 1g | Cholesterol: 60mg | Sodium: 234mg | Potassium: 443mg | Fiber: 1g | Sugar: 5g | Vitamin A: 118IU | Vitamin C: 3mg | Calcium: 22mg | Iron: 1mg
Nutrition provided is an estimate. It will vary based on specific ingredients used.
Did you make this recipe? Don't forget to give it a star rating below!