Creamy and flavorful egg salad served on toasted whole grain bread with crisp green lettuce leaves. This delicious egg salad sandwich is easy to customize and the perfect lunch or dinner idea that takes just 10 minutes to make!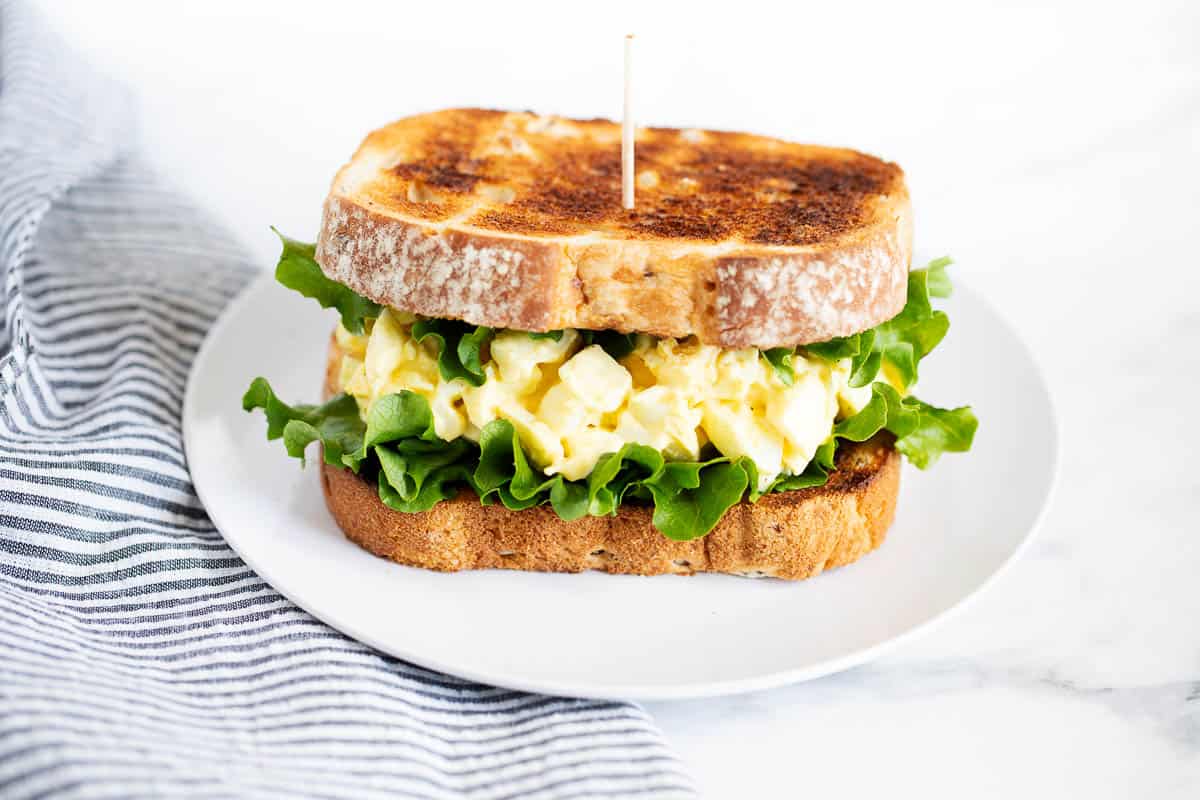 Classic Egg Salad Sandwich
Whenever we have leftover hard boiled eggs sitting in the fridge, my favorite way to use them is make this egg salad sandwich. In just 10 quick minutes, you'll have a totally new dish that's loaded with flavor from the egg salad, has an amazing consistency and tastes delicious over toasted whole wheat bread.
Make this egg salad recipe your own by adding some fresh herbs, a dash of hot sauce or mixing in some everything bagel seasoning. Sometimes I even use leftovers of my easy deviled eggs! There are tons of ways to customize the flavor to your taste. Then add your favorite toppings, cut the sandwich in half and serve with some some fresh fruit or sliced vegetables.
Why You'll Love This Recipe
Simple ingredients: It's only 5 ingredients or 6 if you include lettuce leaves!
Customizable: I have included my favorite egg salad sandwich variations below but feel free to put your own spin on it! Make is spicier or add some bacon for a salty, savory taste, it's delicious all ways!
Meal prep: Make the egg salad the night before and store it up to 3 days in the refrigerator for a few days worth of lunches.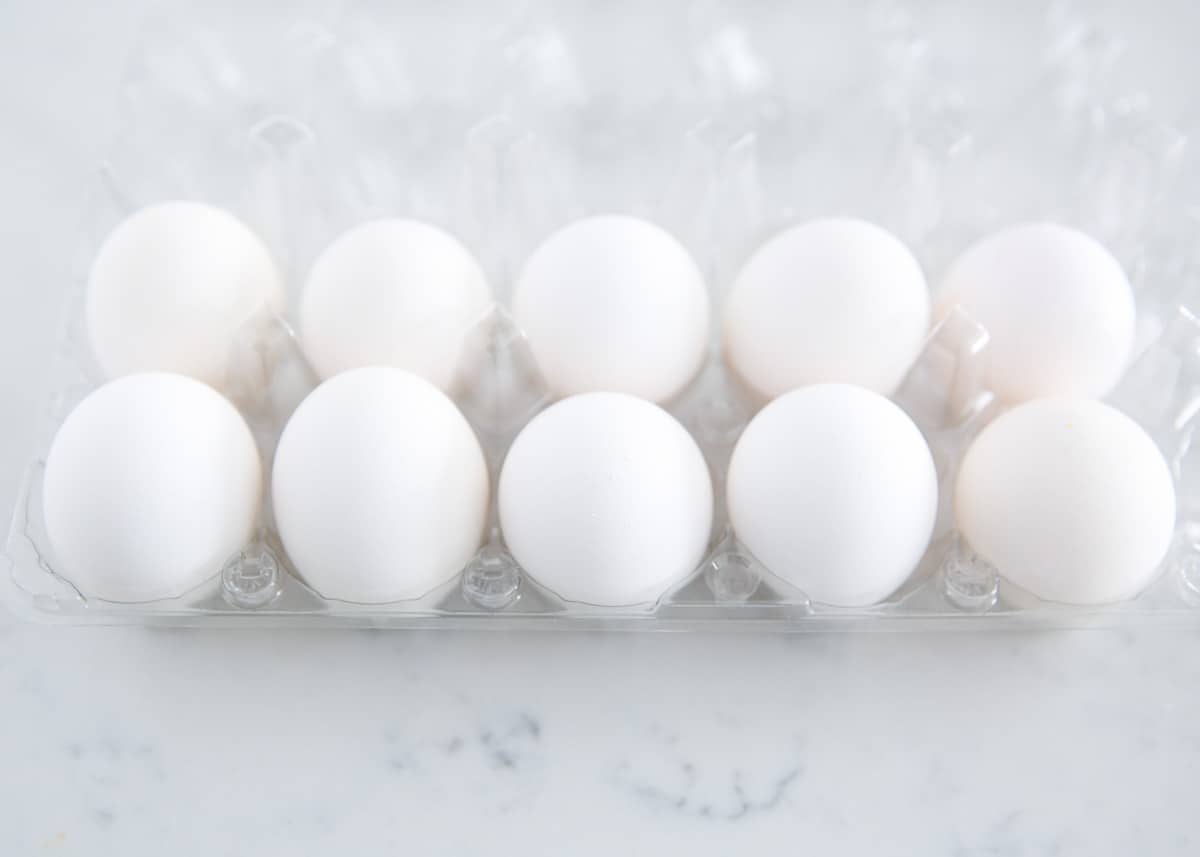 Recipe Ingredients
Eggs: You will need 6 hard boiled eggs. If you don't have any leftover, see my tips below on how to boil eggs for egg salad.
Mayo: Use one that you like and use often in recipes.
Acid: This will add a great tangy flavor. Choose from pickle juice, lemon juice or white vinegar.
Dijon mustard: Additional tang and savory flavor.
Sandwich: To make it a sandwich you need a slice of bread of lettuce.
Making Hard Boiled Eggs
To make the best egg salad sandwich you first need to have hard boiled eggs! Here are three popular ways that result in tender cooked whites and creamy yellow middles:
Stovetop: By far the most popular method, add eggs in a single layer to a large saucepan. Cover with an inch of cold water then cover with a lid and bring to a boil over high heat. Cook for 6 minutes when the water starts to boil. Transfer immediately to a bowl of ice water for 5 minutes.
Oven: This is such a simple method and all you need is a muffin tin. Place eggs inside a muffin and bake at 325ºF for 30 minutes. After baking, immediately place in an ice bath for 10 minutes.
Instant Pot eggs: Hard boiled eggs in the Instant Pot is so easy using the 5-5-5 method. This means 5 minutes at high pressure, 5 minutes natural release and then 5 minutes in an ice bath.
How to Make An Egg Salad Sandwich
With creamy texture and delicious taste, transforming your egg salad into a sandwich is the best way to enjoy it!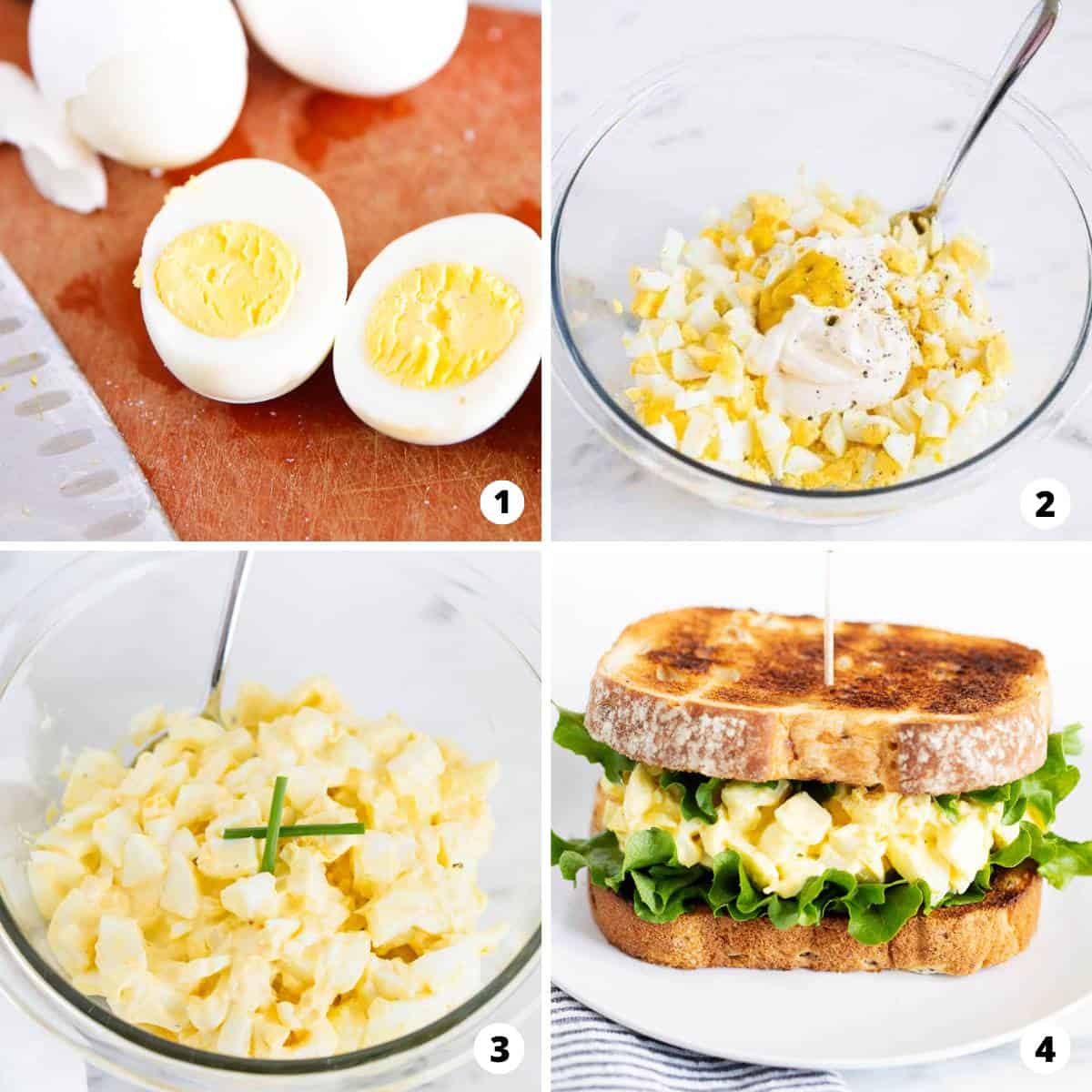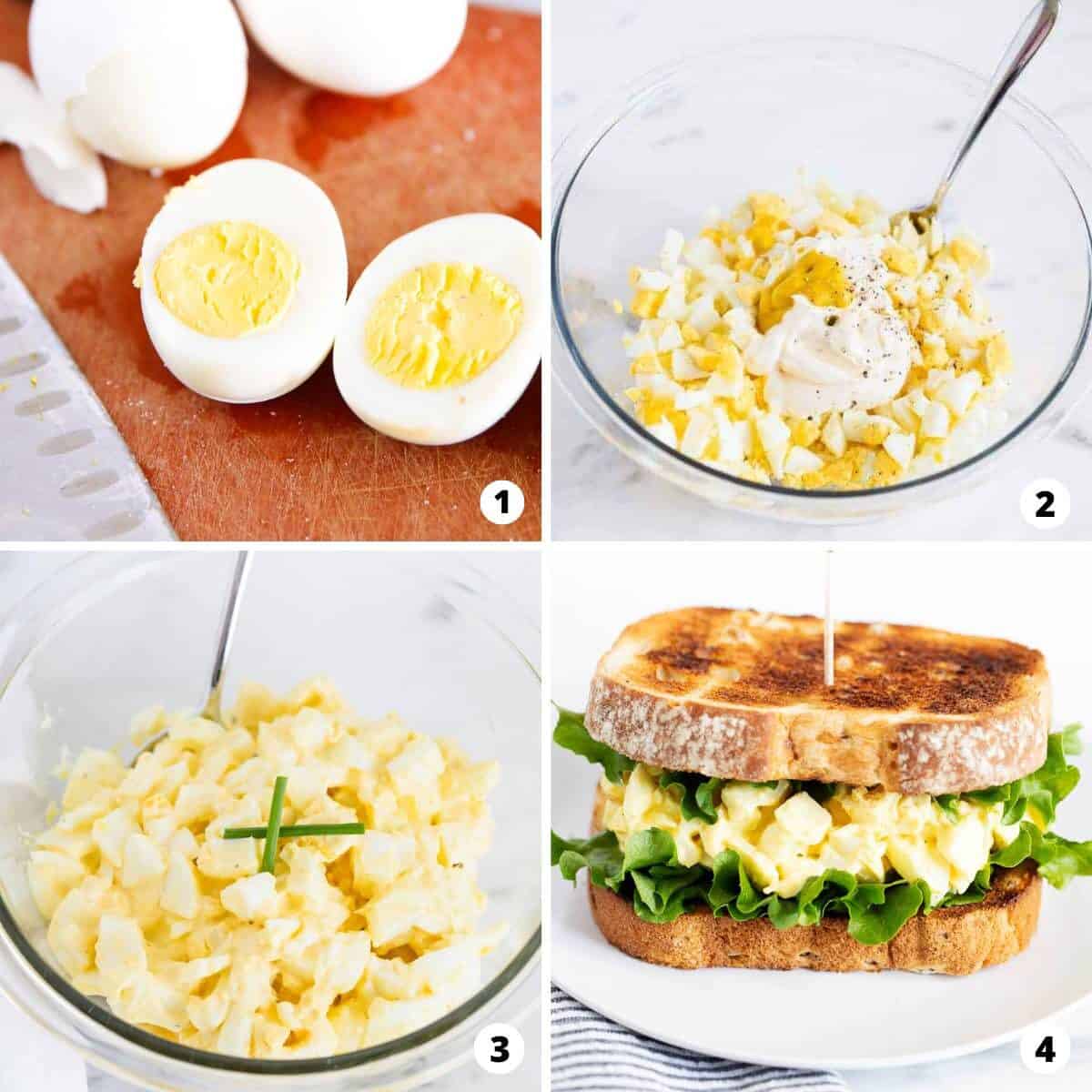 Hard boil eggs: Cook your hard boiled eggs, allow to cool and then chop.
Make egg salad: Place your peeled and chopped eggs in a medium size bowl. Stir in the mayo, pickle juice and mustard until combined and add salt and pepper to taste.
Serve or store: Serve your egg salad mixture right away on sandwich bread or store in the refrigerator up to 3 days until ready to use.
Favorite Toppings
I'm a toppings girl, so of course I love to load on a few extras beyond just fresh leaf lettuce when making my sandwich. Below are some topping ideas for the ultimate sandwich recipe!
Green leaf lettuce
Sliced tomatoes
Pickles
Arugula
Chopped chives or green onion
Expert Tips for the Best Sandwich
Toast the bread. This is important if you want to avoid your bread getting soggy. The toasted bread will stay crisp and sturdy after adding the creamy egg salad base.
Don't overfill. As tempting as it is, try not to pile your sandwich too high with egg salad. A good rule of thumb is to leave about a 1/2 inch of room from the edges. This way, when you go in to take a big bite, it won't overflow out of the sides and onto your plate.
Use a serrated knife. It's best to use a bread knife when cutting your sandwich. The serrated edges help to make a straight and clean cut through the thick pieces of bread.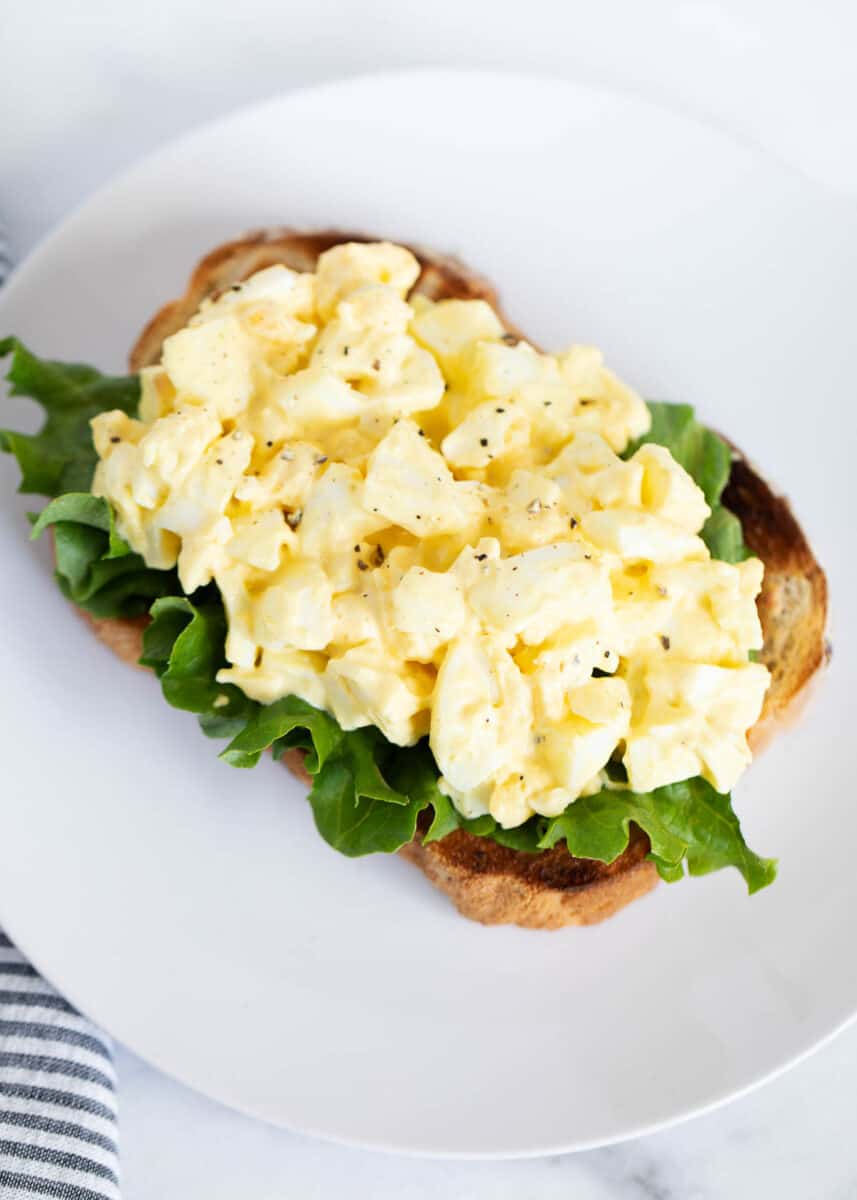 FAQs
What is inside an egg salad sandwich?
Inside is an egg salad that consists of hard boiled eggs, mayo, pickle juice, salt and pepper. You can then add lettuce, or any other desired toppings.
What kind of mayonnaise should I use?
Use a good mayonnaise such as Hellman's but more importantly one you like! It's also good to start with just a little mayo and then add more as needed. You can always add more in but you can't take it out.
How long is egg salad good for in the fridge?
If properly stored, it can last up to 4 days although I feel like it starts to peak at 3 days and really depends on the freshness of your eggs.
What is the easiest way to chop eggs for egg salad?
If you have an egg slicer that is a great tool to use! Otherwise, once you have cut your egg in half, flip it upside down so the flat side is lying on the cutting board. Then slice it like an onion, first going lengthwise then chopping the pieces into smaller pieces. Chop it as finely as you want or leave a few chunks for texture.
Other Variations
Bread substitutes. Instead of bread, try serving in a flour tortilla, over a lettuce wrap or spread on top of crackers. You can also make an open-faced sandwich using just one piece of bread.
Healthier swap. Replace mayo with Greek yogurt or light mayo for a lighter alternative.
Crunch. Mix in some chopped celery for an added crunch.
Flavor variations. Add more flavor by mixing in a spoonful of fresh dill or add a dash of hot sauce (or paprika) for some heat.
Pickle juice. You may also use lemon juice or white vinegar in place of pickle juice.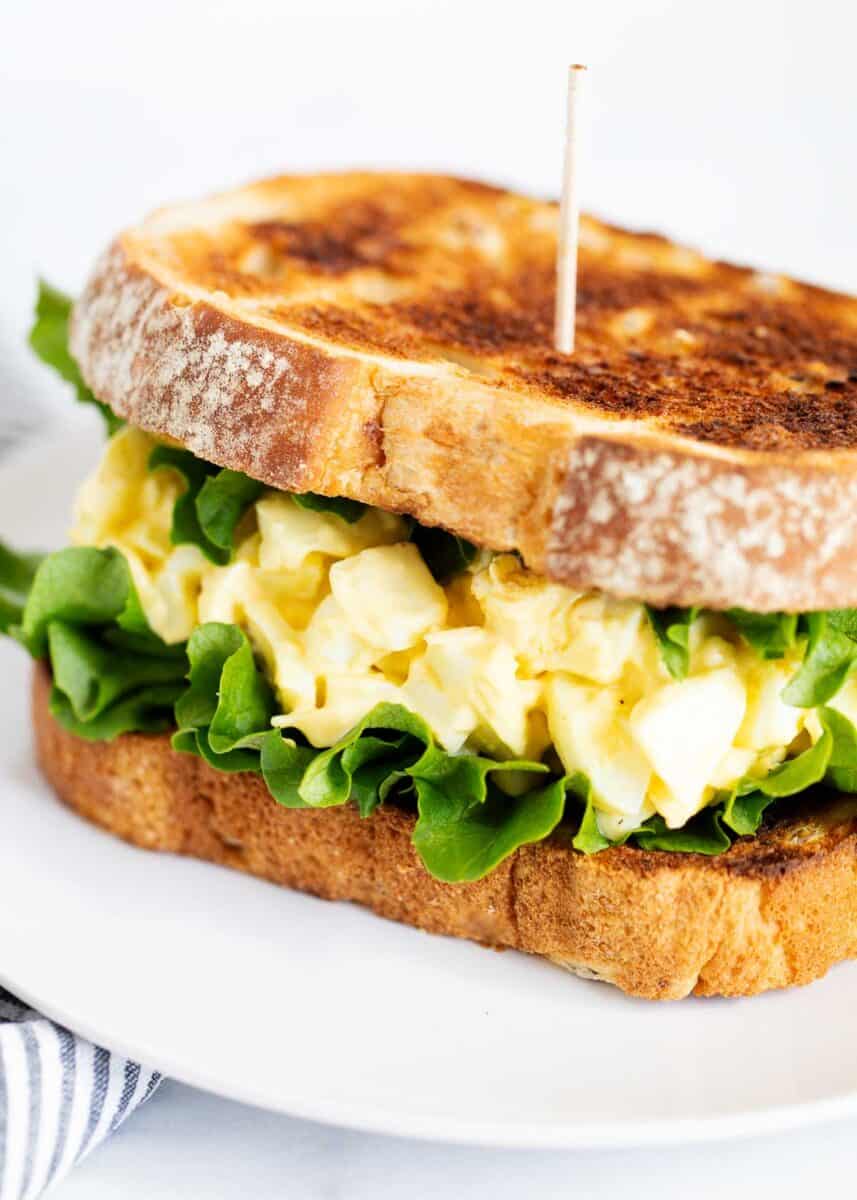 More Easy Lunch Ideas
HUNGRY FOR MORE? Subscribe to my newsletter and follow on Facebook, Pinterest and Instagram for all the newest recipes!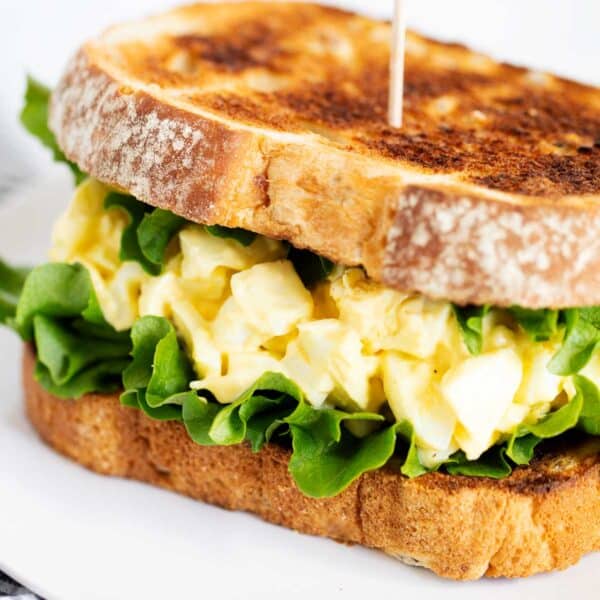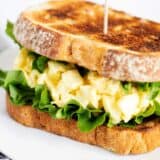 Egg Salad Sandwich
Creamy and flavorful egg salad served on toasted whole grain bread with crisp green lettuce leaves. This delicious egg salad sandwich is easy to customize and the perfect lunch or dinner idea that takes just 10 minutes to make!
Ingredients
¼ cup mayo
1-2 teaspoons pickle juice, lemon juice or white vinegar
1-2 teaspoons dijon mustard
4 slices bread , toasted
4 lettuce leaves
Instructions
Peel and chop the eggs. Then place in a medium size bowl. Stir in the mayo, pickle juice and mustard. Salt and pepper to taste.

Store in the refrigerator until ready to serve. If the egg salad is properly stored in an air tight container, it will stay fresh up to 3 days.

Serve on toasted bread with lettuce, chives and extra pepper if desired.
---
Notes
Make ahead: You can make this salad the night before and store in the refrigerator in an airtight container.
Variations to add to your sandwich:
Add 1-3 teaspoons fresh dill for a fresh twist
Arugula
Sliced tomato
Bacon
Sliced avocado
Chopped chives
Nutrition
Calories: 291kcal | Carbohydrates: 16g | Protein: 13g | Fat: 19g | Saturated Fat: 4g | Trans Fat: 1g | Cholesterol: 286mg | Sodium: 348mg | Potassium: 197mg | Fiber: 1g | Sugar: 3g | Vitamin A: 2178IU | Vitamin C: 4mg | Calcium: 87mg | Iron: 2mg
Nutrition provided is an estimate. It will vary based on specific ingredients used.
Did you make this recipe? Don't forget to give it a star rating below!