Learn how to make irresistible empanadas at home with this simple recipe. Discover tips for making perfect empanada dough and get creative with a range of savory and sweet fillings.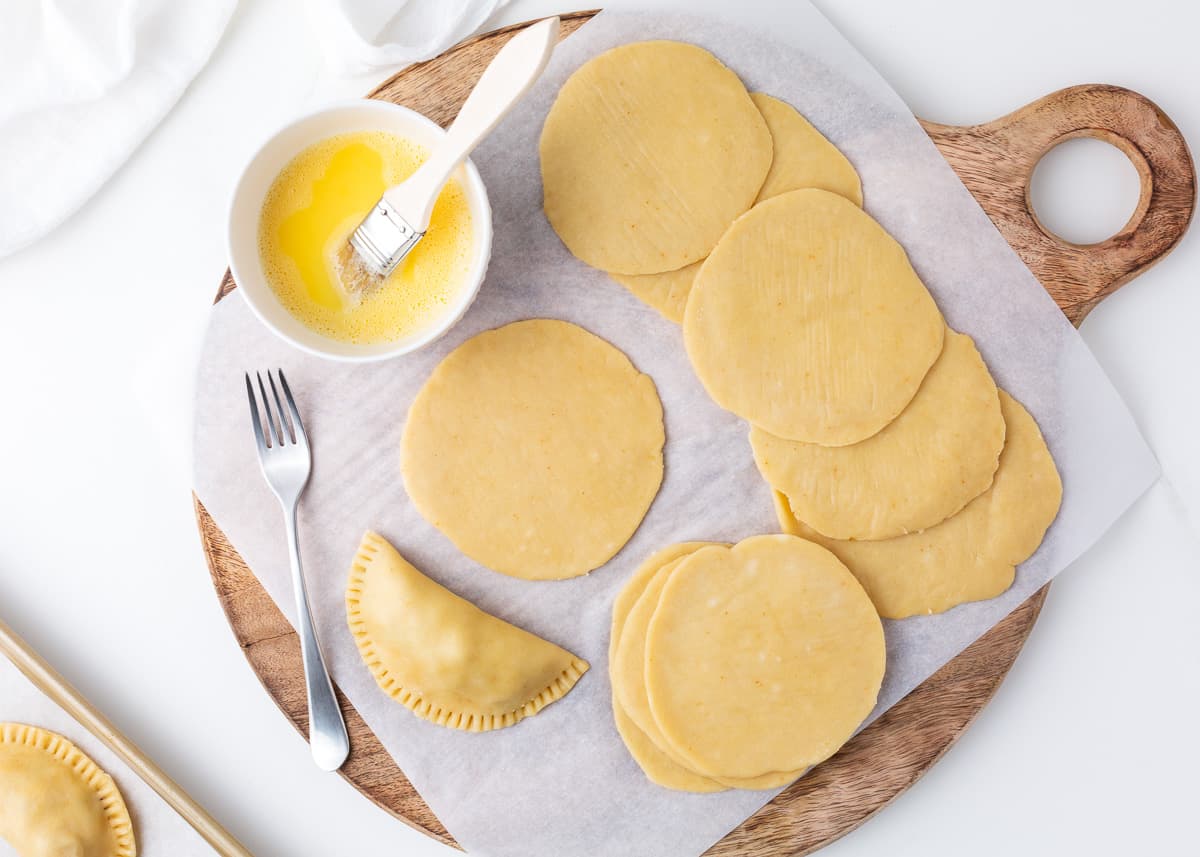 Ready in Less Than 30 Minutes
Have you tried empanadas? Classic beef empanadas are my favorite. Popular in Spain and Latin America, they are like a pastry turnover that is filled with either a savory or sweet filling and then baked or fried until golden brown. They are amazing!
Empanada dough doesn't require yeast which makes it super quick and easy to make at home. When you're done, you'll have the perfect dough that bakes up irresistibly flaky and crispy.
This recipe makes enough for 22 to 25 empanada shells, so you can fill and bake what you need and store the rest in the fridge for a couple of days or freeze them for up to 2 months.
When it comes to fillings, there are so many options! Taco meat or shredded Mexican chicken are classic fillings or for a meatless option, you can try some sauteed fajita veggies.
You can even make dessert empanadas! Fill your flaky pockets with homemade apple pie filling for a warm treat everyone will love.
Store Bought Empanada Discs vs. Homemade Dough
I use store-bought empanada discs when I'm short on time and need a convenient option, but for the best flavor, homemade empanada dough is the way to go.
Making it from scratch allows you to control the ingredients you use and it's also very budget-friendly. You most likely already have the ingredients you need at home.
Plus, the flavor and texture of homemade dough just can't be beat!
Once you get into the habit of making your own dough, there's no looking back!
Recipe Ingredients
The great thing about empanada dough is that you only need a handful of kitchen staples to make it. Here's what you'll need: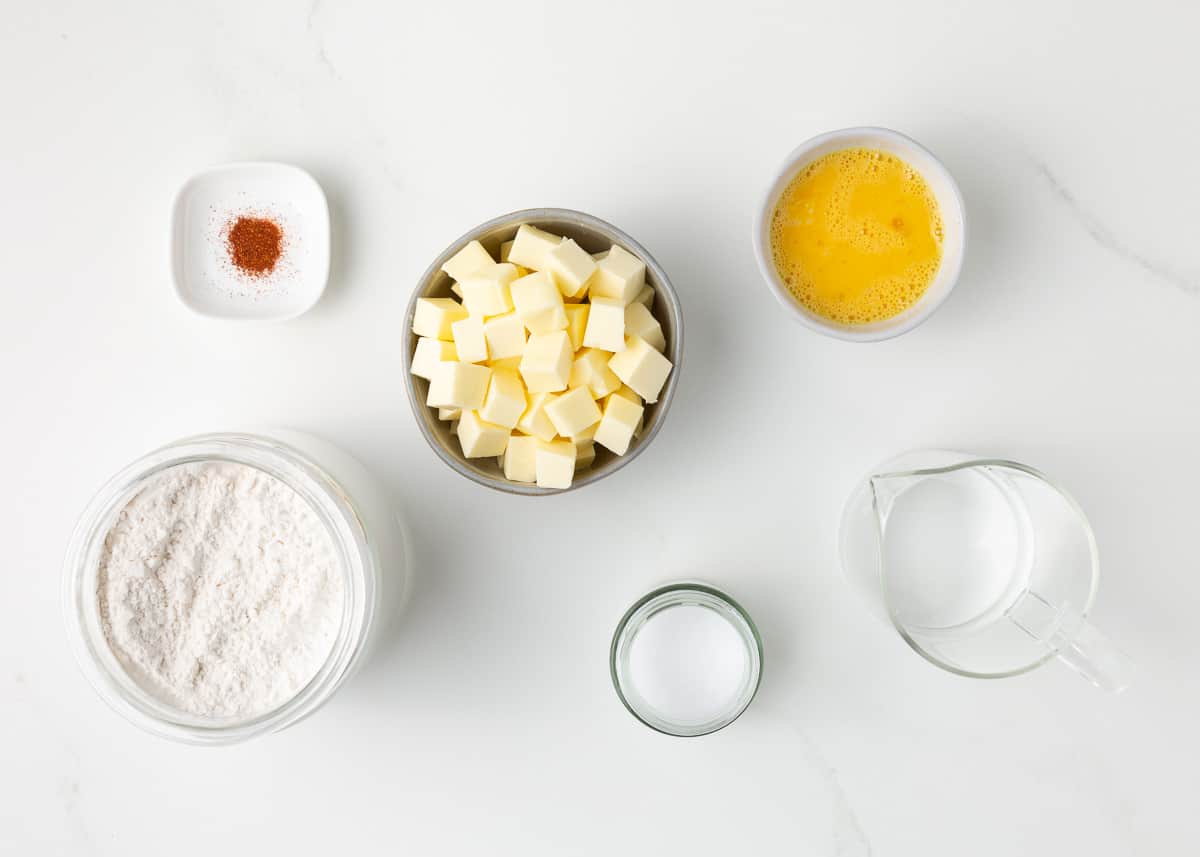 Find the full printable recipe with specific measurements below.
Unsalted butter: Keep your butter in the fridge until you're ready to use it. If it's too soft, as a result, you won't get that delicious flakiness .
All-purpose flour: The dough is usually made with wheat flour and that's what I've used in this recipe. You can experiment with other flours or sometimes it is also made with cornmeal or even mashed potatoes!
Egg and water: The egg should be at room temperature and the water should be warm, but not too hot! This makes it easier to incorporate them into the dough.
Paprika: This spice flavors the dough slightly and you can skip it if it's not to your taste. You would also only add it if you're making savory empanadas.
Variations
Most recipes for empanada dough call for wheat flour which is what I use here. You can also make it with corn flour or cornmeal, mashed potatoes, or sweet potatoes. The dough will have a different texture and taste if you use any of these.
Sometimes when I'm making dessert empanadas, also known as sweet empanadas (yes, that's a thing!), I'll add a bit of lemon or orange zest to the dough and maybe some cinnamon for a bit of spice.
It really is a versatile recipe, so don't be afraid to create your own unique empanada dough!
How to Make Empanada Dough
Making your own empanada dough can take a little bit of practice, so don't worry if it doesn't turn out perfectly the first time! You'll soon get the hang of it and in the meantime, have fun experimenting with different fillings and flavors!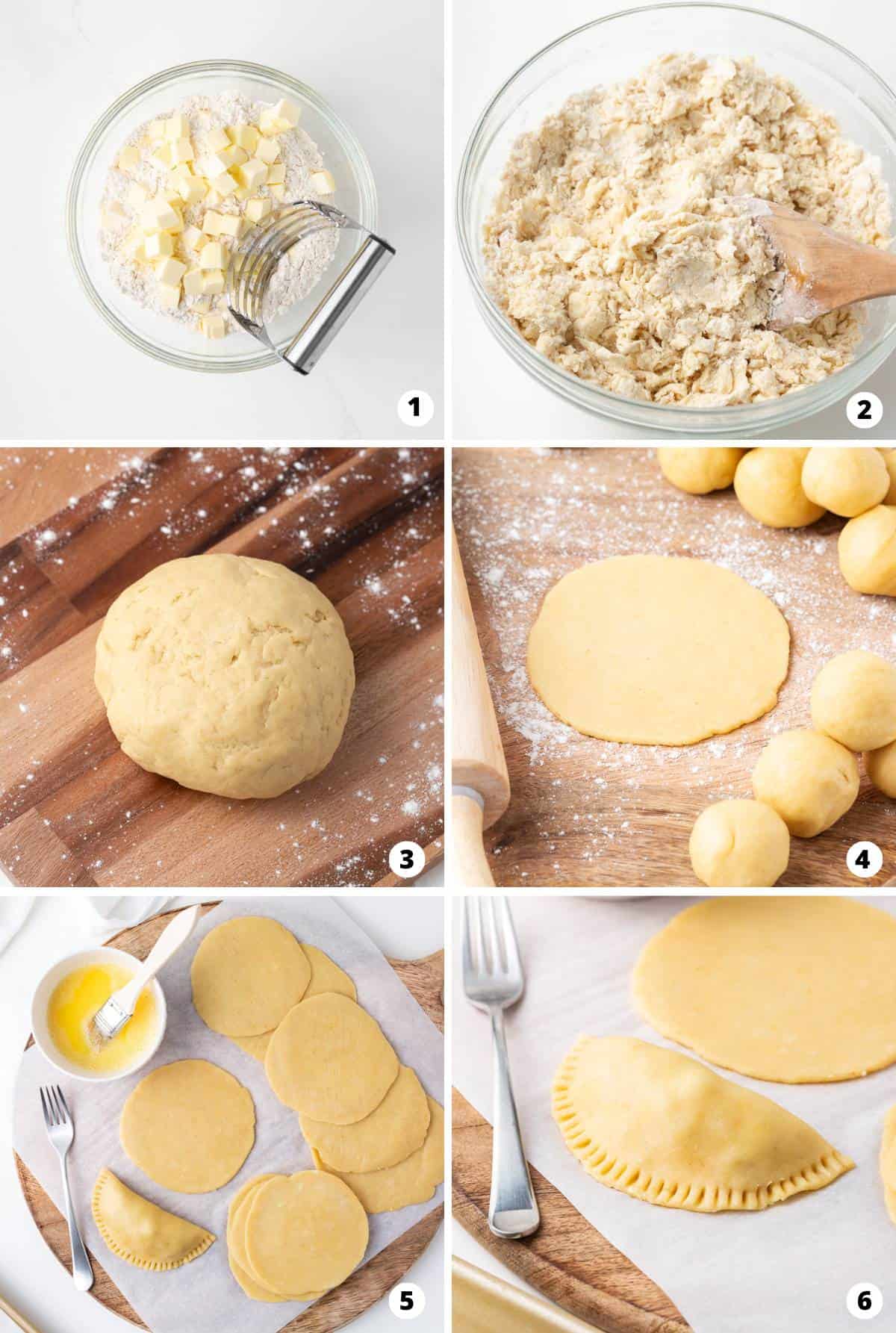 Combine butter and flour. This step is similar to making pie dough. You'll be 'cutting' the butter into the flour. This basically means you'll combine them until you have a crumbly consistency. You can use a pastry cutter, a fork, or your hands to do this step. If you're going to use your hands, make sure they're not too warm or the heat will melt the butter.
Add the rest of the ingredients. Sprinkle in the salt and paprika and then use a fork to stir in the water and the egg. Keep stirring until a clumpy dough starts to form.
Knead. Tip the crumbly mixture onto a lightly floured work surface and knead it until a ball is formed. Keep kneading for 5 minutes more.
Cut into pieces. Cut it into 22 to 25 equal-sized pieces. They will be about 1.5 ounces each.
Shape: Roll each piece into a little ball then one by one, use a rolling pin to roll out to a 5-inch circle about ¼-inch thick.
Fill and Bake. When you're ready to use your empanada discs, follow the instructions for your favorite empanada recipe.
How to Fold and Close Your Empanadas
The key to making empanadas is to make sure the filling doesn't leak out as it bakes. You don't want to lose all of that delicious filling, so your dough must be sealed before baking.
So, after you add a spoonful of your filling to the middle of the dough, fold the dough over to make a half-moon shape. Use your fingers to press the edges together making sure they are sealed.
Then, crimp the edges by taking a fork and pressing along the outside rim. This will keep the filling extra safe from oozing out plus it really finishes off the look!
Now, you're ready to follow the instructions in your recipe to bake your empanadas!
Tips for the Best Dough
Use cold butter. Cold unsalted butter helps to create those delicious flaky layers! If the butter is too warm, you could end up with tough dough.
Don't overfill. Overfilling can cause the filling to leak out during baking which is exactly what you don't want!
Lightly flour the rolling surface. You want to lightly dust the rolling surface so the empanada dough doesn't stick to it. If you use too much flour, your empanadas can turn out tough and dry.
Don't overwork the dough. Too much kneading and overworking the dough can make your empanadas dry and tough.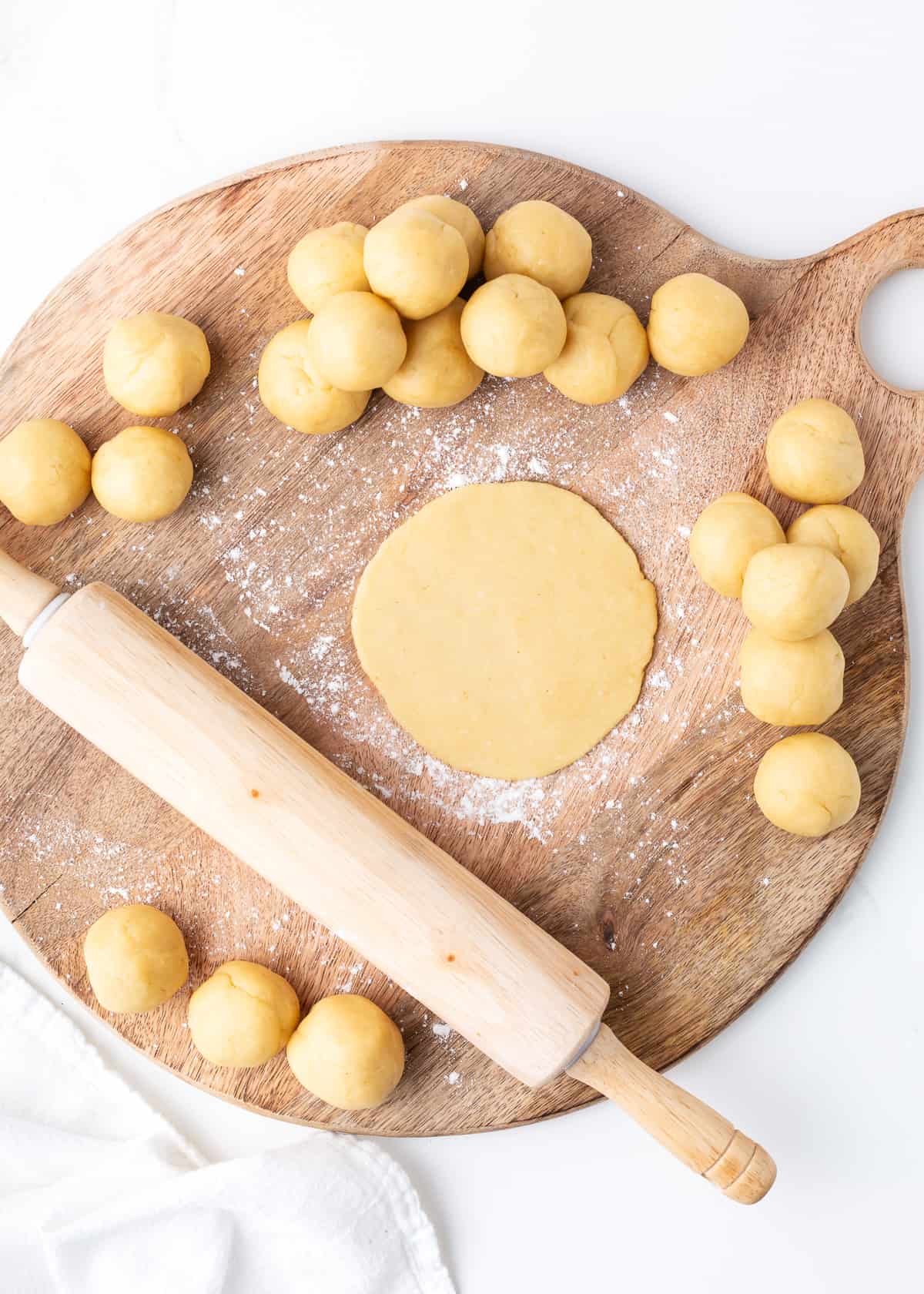 Recipe FAQs
Can I use something other than butter to make this dough?
Yes, you can substitute the butter with margarine, shortening, or lard. Keep in mind that if you use an alternative type of fat, it may change the texture and flavor of your empanada dough.
Do I need to let the dough rest before rolling?
You probably don't need to let it rest, but if you're finding that it won't roll out for you, then leave it for 20 minutes to let the gluten relax a bit and try rolling it again.
Can I make empanada dough without a rolling pin?
If you don't have a rolling pin, don't sweat it. Grab an empty glass bottle like a wine or water bottle and use it in the same way you would a rolling pin. A smooth tall glass will also work in a pinch.
How thick should I roll the dough?
I like a thicker dough casing so I roll my discs about ¼" thick. If you want it to be thinner, roll it 1/8" thick. You don't want to roll it so thin that the filling leaks out.
Filling Ideas
Now, this is the fun part! There are so many options that you'll never run out of empanada filling ideas! Meat, vegetables, cheese, and even sweet fillings are all fair game, so go ahead and experiment! Here are some ideas for your next batch:
Easy beef empanadas: Ground or shredded beef and seasonings is a classic empanada filling.
Chicken: Another popular filling is ground or shredded chicken with tomato sauce.
Vegetables: For a meatless option, try sautéing a mix of vegetables like mushrooms, zucchini and peppers and sprinkle in some fresh herbs for flavor.
Cheese: Some popular cheese choices are mozzarella, cheddar, or goat cheese.
Ham and cheese: Take it up a notch by adding some diced leftover ham to your cheesy filling.
Spinach and feta: Sauteed spinach and feta make a great filling combination!
Dessert: Stuff your empanada dough with Nutella, fruit compote, or dulce de leche for a warm and comforting sweet snack.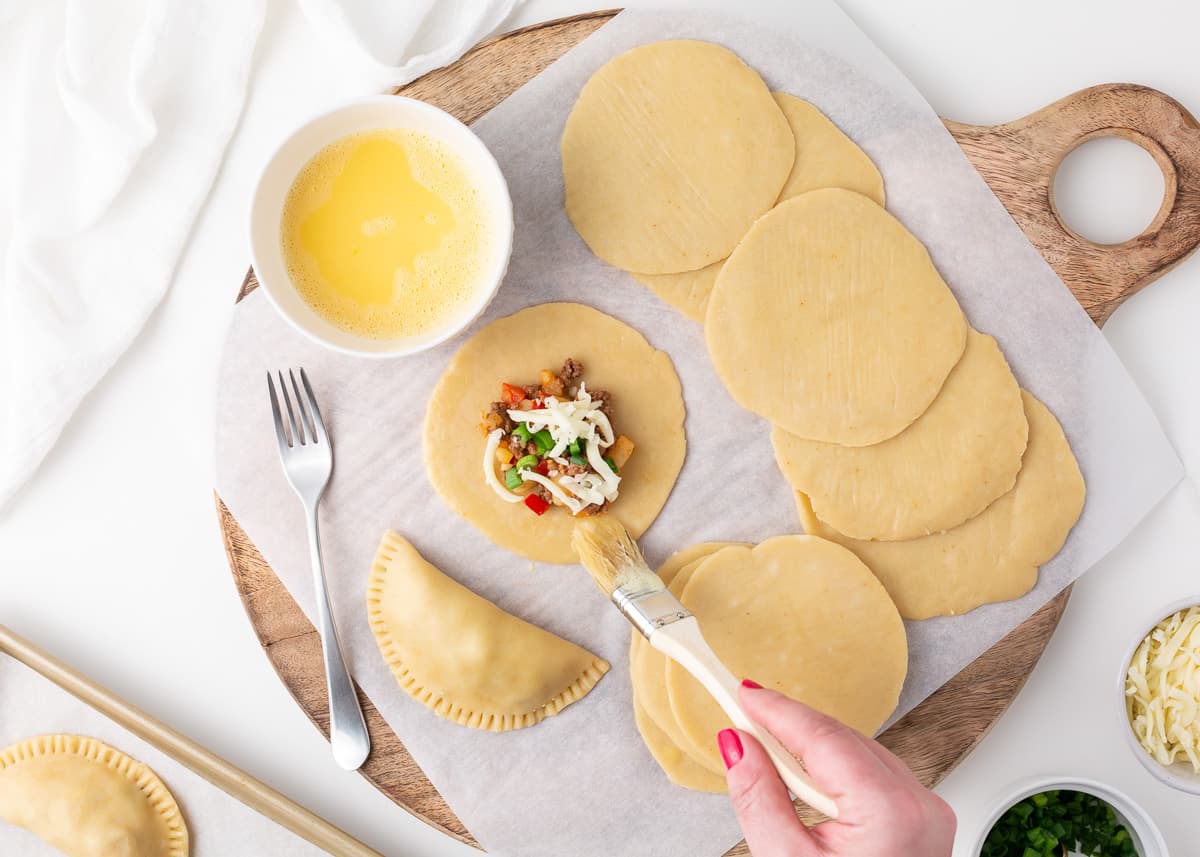 Make Ahead + Storage
If you want to make your empanada dough ahead and store it to use another day, cover it tightly with plastic wrap and keep it in the fridge for up to 2 days.
When you're ready to make your empanadas, let the dough sit at room temperature for 20 minutes so the butter warms up. It will make them easier to fill and fold before baking.
For longer storage, you can freeze unbaked empanada discs. Stack the circles placing a piece of parchment paper between each one and storing them in a zip-top bag for up to 2 months. Let them thaw on the counter before filling and baking.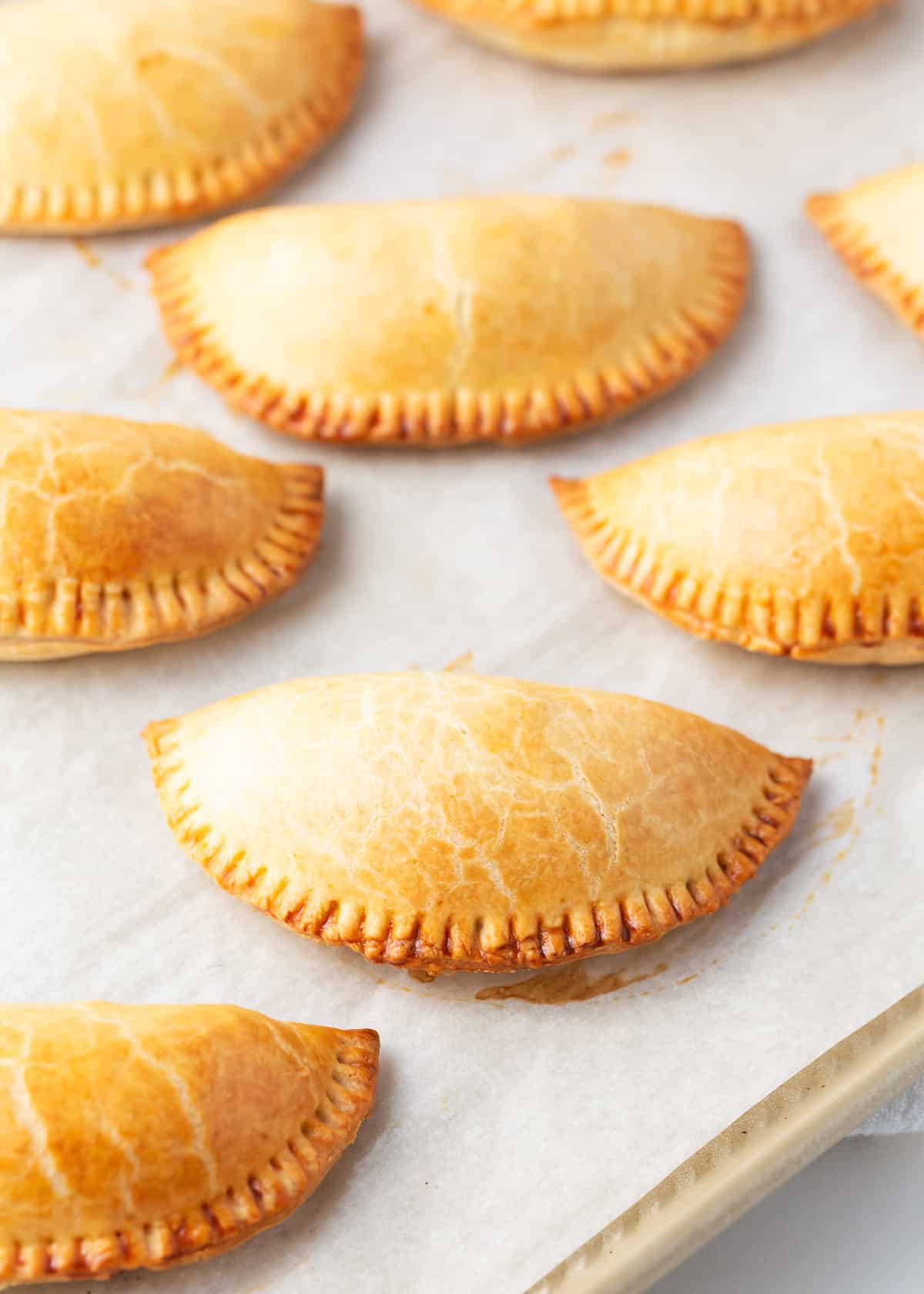 Empanada Filling Ideas
HUNGRY FOR MORE? Subscribe to my newsletter and follow on Facebook, Pinterest and Instagram for all the newest recipes!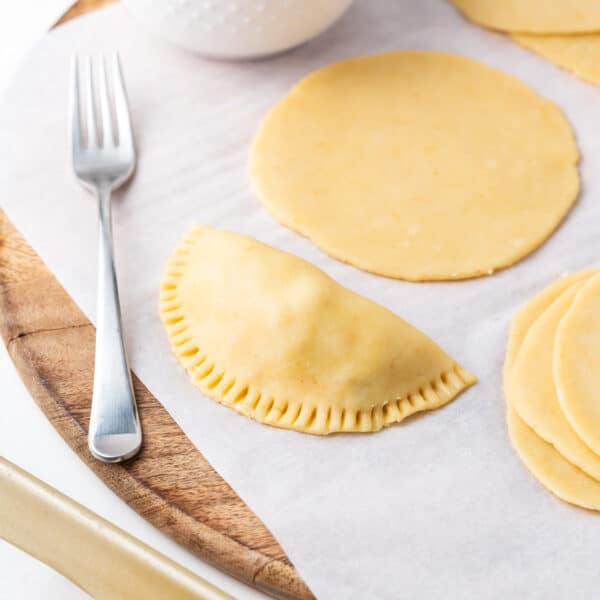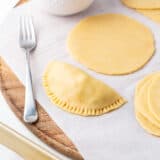 Empanada Dough Recipe
Learn how to make irresistible empanadas at home with this simple recipe. Discover tips for making perfect empanada dough and get creative with a range of savory and sweet fillings.
Ingredients
14 Tablespoons unsalted butter , cut into cubes
4 cups all-purpose flour , plus more for the counter
½ teaspoon table or fine sea salt
Pinch paprika , optional
½ cup warm water
1 large egg , at room temperature and whisked
Instructions
Using a pastry cutter, a fork, or your hands, cut the butter into the flour until it is well incorporated and forms a crumbly consistency. Stir in the salt and paprika, if using.

Stir in the water and egg until a clumpy dough starts to form.

On a lightly-floured work surface, dump out the crumbly dough and knead until a ball is formed. Do not add water; it will come together. Continue to knead 5 minutes more.

Cut the dough into 22 to 25 (1 1/2-ounce) pieces and roll into balls. On a lightly-floured work surface, roll the balls into 5-inch circles about 1/4-inch thick with a rolling pin. Keep the dough covered with a towel while rolling and filling to avoid drying the dough out.

When ready to fill and bake the empanadas, follow the instructions of your favorite recipe.
---
Notes
Quantity: This recipe makes about 22 to 25 (1/4-inch thick, 5-inch diameter) empanada dough rounds.
Empanada fillings:
Chicken
Vegetables
Cheese
Make-ahead:
Cover the dough with plastic wrap and store in the fridge up to 2 days before using. Remove 20 minutes before filling and baking to let the butter warm up a bit.
Freeze: Stack the circles with parchment paper between each and store in a zip-top bag in the freezer up to 2 months.
Nutrition
Serving: 1slice | Calories: 43kcal | Carbohydrates: 3g | Fat: 3g | Sodium: 292mg | Potassium: 3mg | Sugar: 3g
Nutrition provided is an estimate. It will vary based on specific ingredients used.
Did you make this recipe? Don't forget to give it a star rating below!