Jump to Recipe⌄
Homemade Pizza Dough from The I Heart Naptime Cookbook
I'm excited to share my favorite Homemade Pizza Dough recipe with you today! I shared this recipe in the I Heart Naptime Cookbook and get to give you a little sneak peak of the book today as well. Yay!
One of my family's favorite traditions is making homemade pizza together. My kids love rolling out the dough and putting their favorite toppings on. This pizza dough has a nice crisp outside, and great flavor. It seriously is the best.
I also share our favorite classic pizza sauce below, but you can also use a white or pesto sauce as your base. Then you and your family can get creative with your toppings.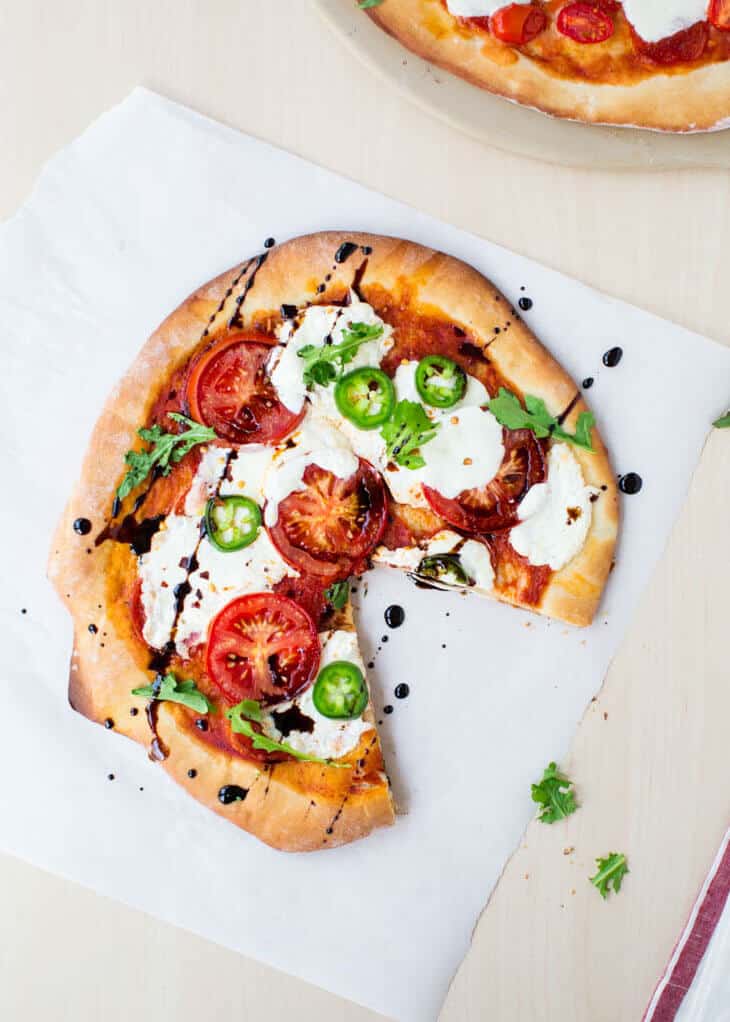 Thanks to everyone who has already pre-ordered the book. It means the world to me and I can't wait for you to start cooking from it. I was SO excited to receive my cookbook this week. All the feels! After two years of working on it, it still feel surreal. I love how it turned out!
Preorder your copy today!!

Click one of the retailers below to get your copy: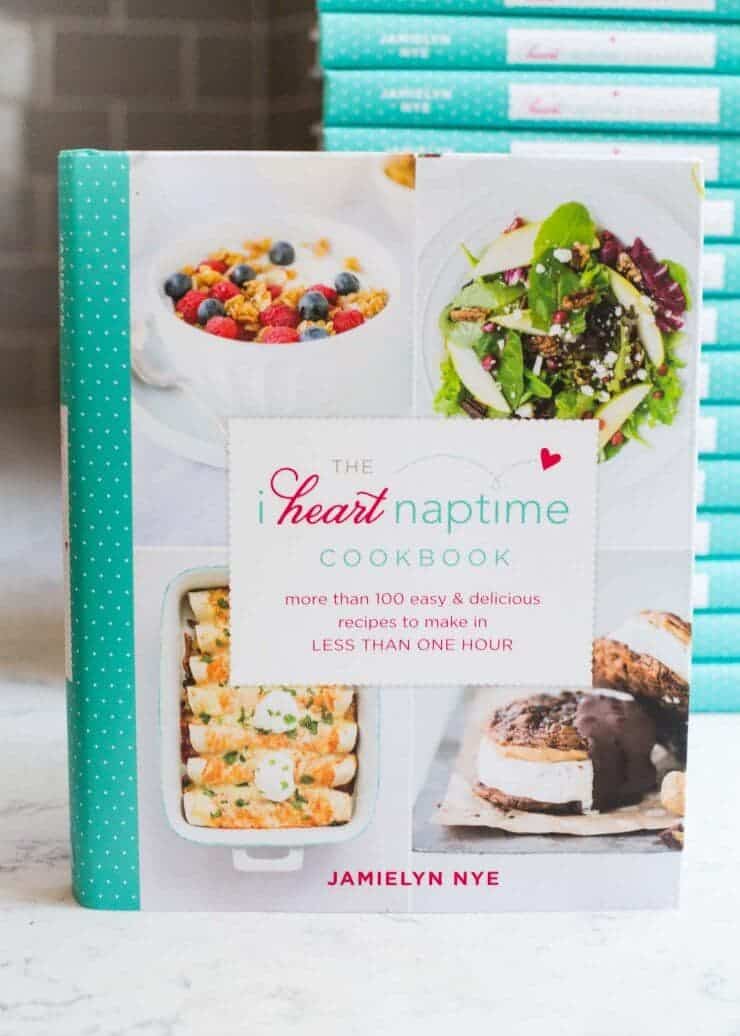 I made this little video for you in honor of the cookbook launch and pizza, of course :)
Homemade pizza dough recipe video

This dough is pretty simple to make and is made with a yeast mixture, flour, olive oil, honey and salt. What I love about this recipe, is we always have everything in our pantry.

MY OTHER RECIPES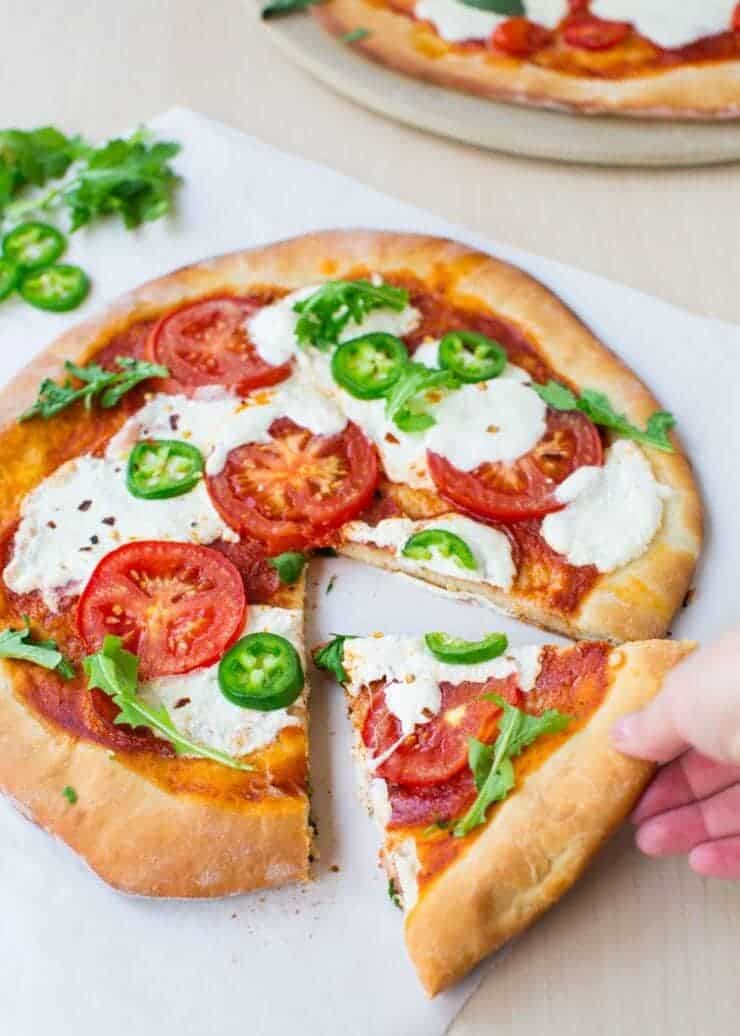 Here's a sneak peak of what the inside of the book looks like :)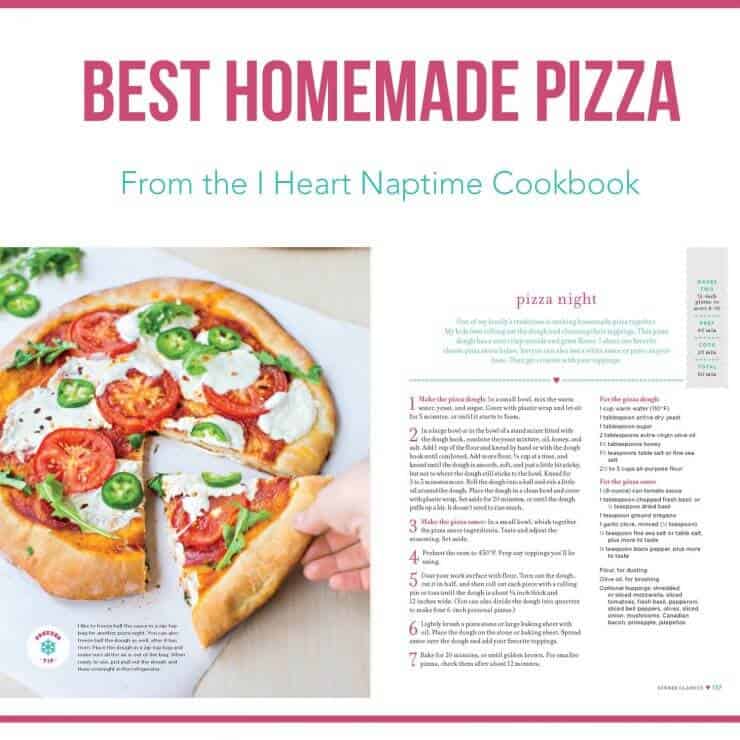 Favorite Homemade Pizza Dough printable recipe
Homemade Pizza Dough
I'm excited to share my favorite Homemade Pizza Dough recipe with you today! I shared this recipe in the I Heart Naptime Cookbook and get to give you a little sneak peak of the book today as well. Yay!
Print
Ingredients
For the pizza crust:
1 cup warm water 110°F
1 Tablespoon active dry yeast
1 Tablespoon granulated sugar
3 Tablespoons extra-virgin olive oil divided
1 1/2 Tablespoons honey
1 1/2 teaspoons table or fine sea salt
2 1/2 to 3 cups all-purpose flour plus more for the counter
For the pizza sauce:
1 8-ounce can tomato sauce
1 Tablespoon chopped fresh basil or 1/2 teaspoon dried basil
1 teaspoon ground oregano
1 clove or 1/2 teaspoon minced garlic
1/4 teaspoon fine sea or table salt plus more to taste
1/8 teaspoon black pepper plus more to taste
Optional toppings: Shredded or sliced mozzarella sliced tomatoes, fresh basil, pepperoni, sliced bell peppers, olives, sliced onion, mushrooms, Canadian bacon, pineapple, jalapenos
Instructions
Mix the water, yeast, and sugar in a small bowl. Cover with plastic wrap and let sit for 5 minutes, or until it starts to foam. Place the yeast mixture, 2 Tablespoons oil, honey, and salt in a large bowl. Add 1 cup of flour and knead with a dough hook or by hands until combined. Add 1/4 cup more flour at a time and knead until the dough is smooth, soft, and just a little bit sticky, but not to where the dough still sticks to the bowl. Once the dough resembles this, knead for 3 to 5 minutes. Roll into a ball and rub a little oil around the dough.

Place into a bowl and cover with plastic wrap. Let rest for 20 minutes, or until the dough puffs up a bit. It doesn't need to rise much.

While the dough is rising, whisk together the pizza sauce ingredients in a small bowl. Add more salt and pepper, to taste. Prepare the toppings as well.

Preheat the oven to 450°F. Place flour on the counter. Cut the dough in half and then roll out the dough with a rolling pin or toss until 1/4-inch thick and 12-inches wide. You can also make four 6-inch pizzas. Lightly brush oil onto a pizza stone or large baking sheet. Place dough onto the stone or pizza pan. Spread sauce over the dough and add your favorite toppings. Bake for 20 minutes, or until golden brown and bubbly. If baking smaller pizzas, check around 12 minutes.

Nutrition Facts
Homemade Pizza Dough
Amount Per Serving
Calories 279 Calories from Fat 63
% Daily Value*
Total Fat 7g 11%
Saturated Fat 1g 5%
Sodium 683mg 28%
Potassium 62mg 2%
Total Carbohydrates 46g 15%
Dietary Fiber 1g 4%
Sugars 6g
Protein 5g 10%
Vitamin A 0.4%
Vitamin C 0.2%
Calcium 1.3%
Iron 14.3%
* Percent Daily Values are based on a 2000 calorie diet.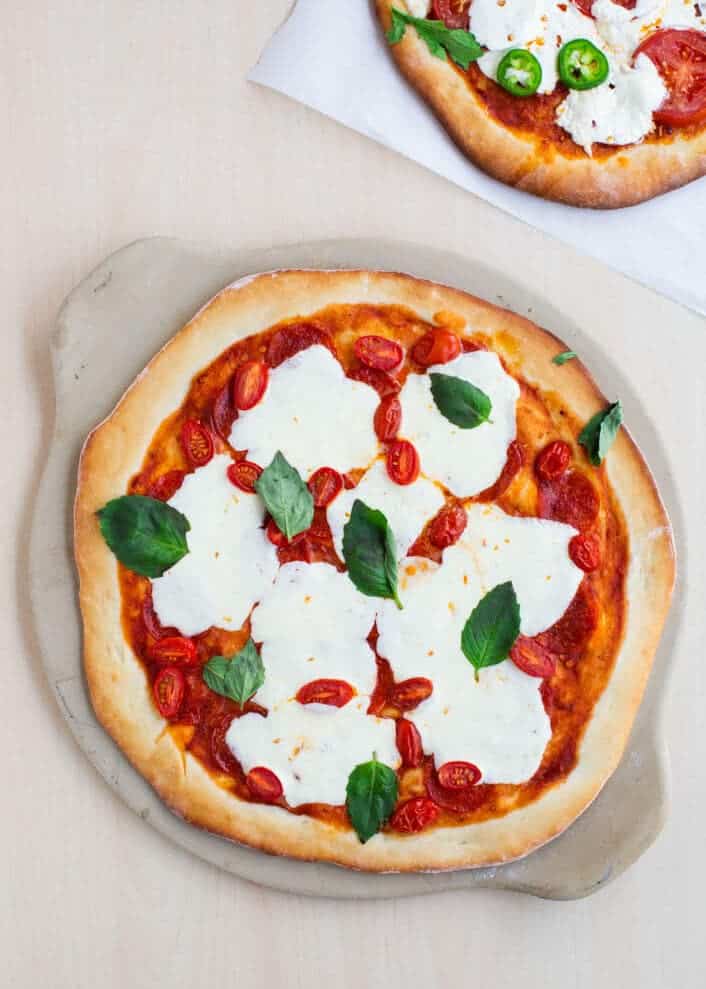 In the photo above I added burrata cheese, grape tomatoes, pepperonis and fresh basil. Mmm…so good!!

What's your favorite pizza toppings?
Preorder your copy today to find 100 more recipes!
Click one of the retailers below to get your copy: