Looking for the perfect filling appetizer or dinner idea? Try this easy beef empanadas recipe packed with beef and veggies, all in a crispy baked shell. This is the ultimate in comfort food!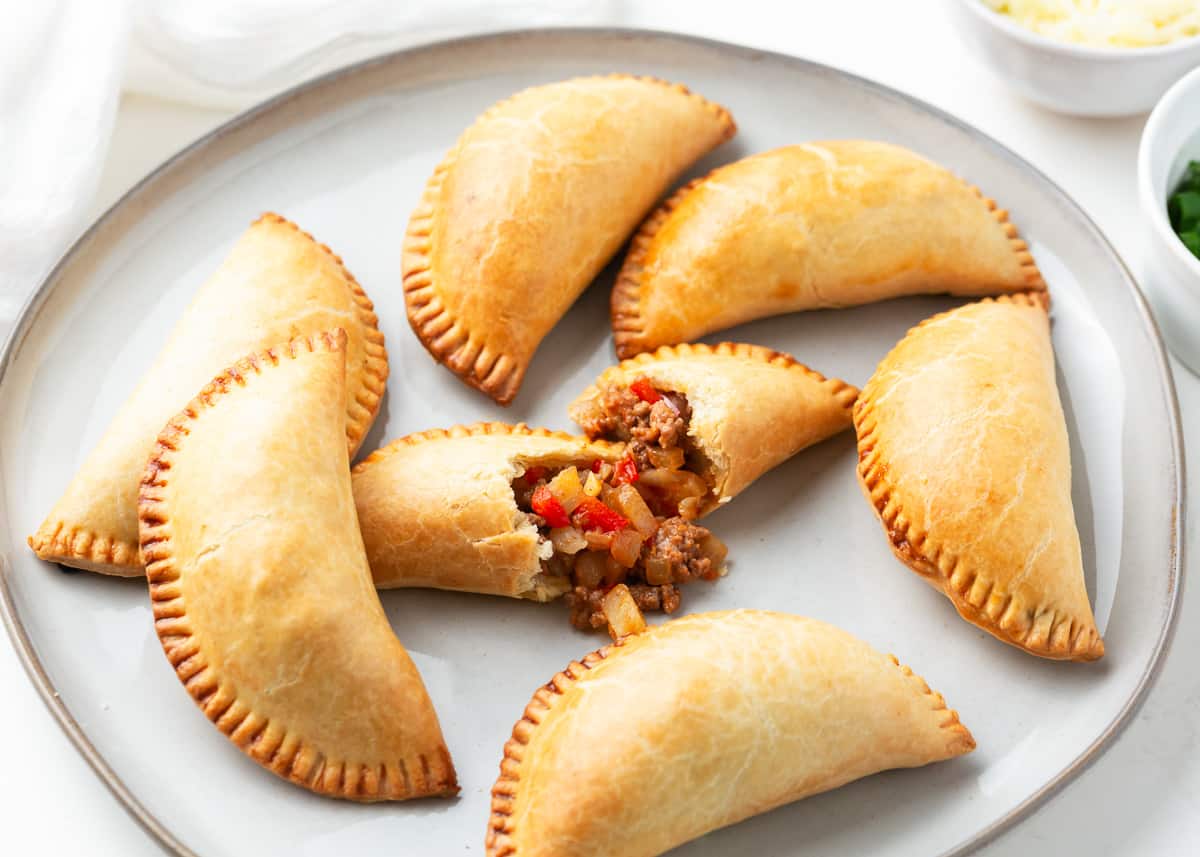 Juicy, Beefy, and Perfectly Seasoned
This may be my one of my favorite Mexican food recipes. I know I say that a lot, but I'm serious this time! This beef empanada recipe ticks all of the boxes: tasty, convenient, and full of amazing beefy flavor. What more could we want?
For a quick shortcut, use store-bought empanada shells or if you have more time on your hands, make your own dough. Either way, they're going to taste delicious!
You can be enjoying warm homemade beef empanadas in under an hour with this easy-to-follow recipe. Other Mexican recipes with ground beef that we love include these beef enchiladas, ground beef tacos, walking taco and taco braid!
What is an Empanada?
Empanadas are popular street food in Latin American and Spanish countries, although most cultures have something similar that goes by a different name.
Imagine crispy golden-brown pastry that's filled with seasoned ground beef, potato, onions, and peppers, and there you have it – the beef empanada. They're juicy, they're flaky, and they're bursting with flavor!
Recipe Ingredients
This easy beef empanadas recipe is very straightforward. You can use a few shortcuts or make everything from scratch. However, you choose to make them, I promise you that your friends and family will be so impressed!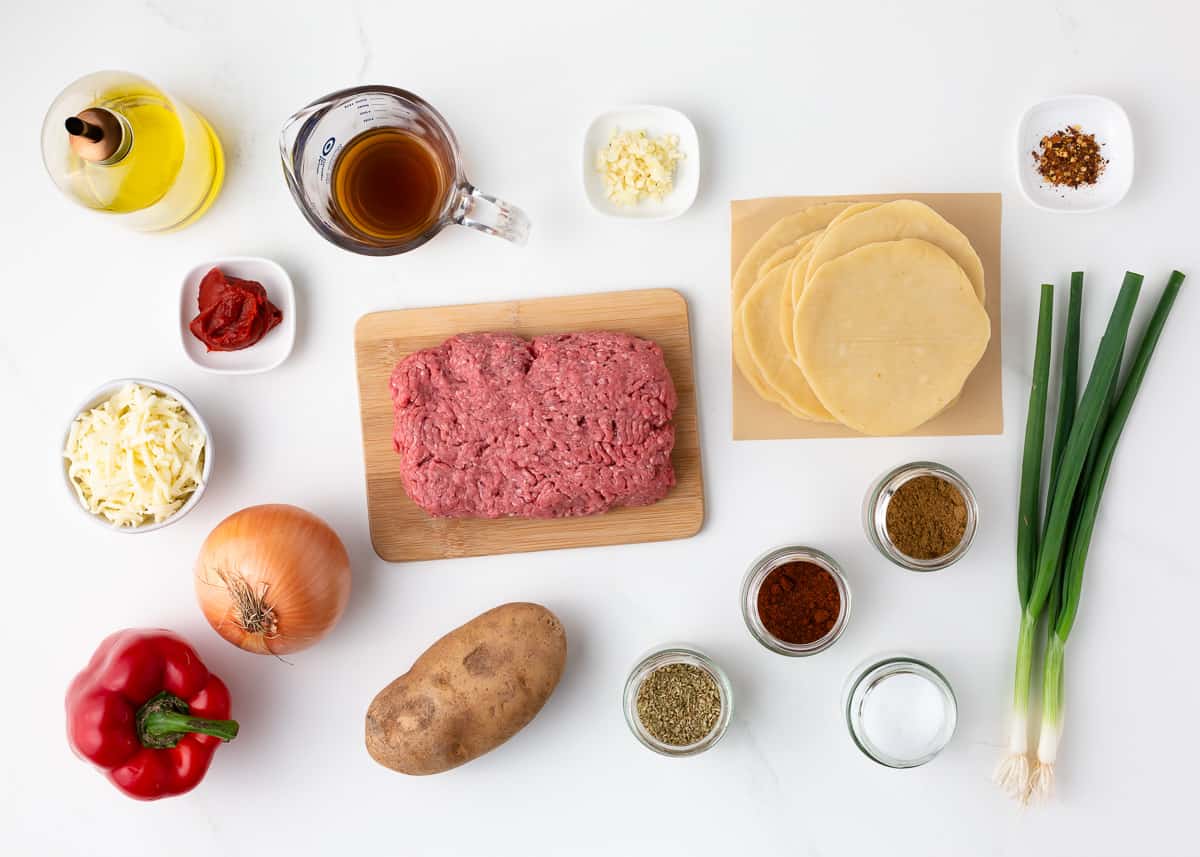 Find the full printable recipe with specific measurements below.
Beef: I use 85% – 90% ground beef for the filling. If you prefer shredded beef, then go ahead and use it!
Vegetables: I keep it simple with some sautéed onion and bell pepper. You can add in your favorite veggies here.
Spices: Oregano, chili powder, ground cumin, and red pepper flakes. You can leave the pepper flakes out if you don't want any heat.
Potato: You'll need one boiled potato finely diced. I recommend using russet potatoes. Cook the potato before you start your recipe.
Cheese and green onions: These are optional, but I love to add them for extra flavor. Besides, who doesn't love cheesy beefy empanadas?
Empanada dough discs: You can buy these premade (I like Gyoza) or make your own empanada dough at home.
Egg wash: Mix 1 beaten egg with 3 tablespoons of water. This mixture will act as glue to seal your empanada dough together and when you brush it over the dough before baking, it will give your finished empanadas a nice golden brown and shiny finish.
Dipping sauce: Again, these are optional, but I love to serve bowls of dipping sauce with my beef empanadas. Try dunking them in some store-bought or homemade salsa, or red enchilada sauce.
Variations
Ok, this beef empanadas recipe is perfect just as it is, but you can take it to another level by adding a few simple ingredients! Here are some ideas:
Spicy beef: Turn up the heat by adding a few dashes of hot sauce to the filling.
Beef and beans: Add some refried beans to the beef filling for a delicious twist on the classic recipe.
BBQ: Stir some BBQ sauce into the beef filling for a sweet and tangy flavor.
Salsa: Add some salsa for a little added heat.
Cheesy beef: Love melted cheese? Throw in some shredded cheddar, mozzarella, or queso fresco for an incredible cheesy beef flavor.
Carrots and peas: Sneak in some more veggies, plus enjoy the pop of color by adding some diced carrots and peas to the beef.
What Kind of Dough Should I Use for Empanadas?
Most empanada dough is made from wheat flour. It's easy to make and it works well for most recipes. You can purchase premade shells in the grocery store, or you can make your own empanada dough at home. Check out my post for lots of tips.
Butter pie crust is also a good substitute. It has similar ingredients to empanada dough and works in a pinch.
You can also find recipes for corn flour dough or potato dough, which would be good if you're avoiding wheat in your diet.
How to Make Beef Empanadas
The steps are easy to follow in this recipe just make sure you boil the potato beforehand so it's ready to mix into the beef empanada filling.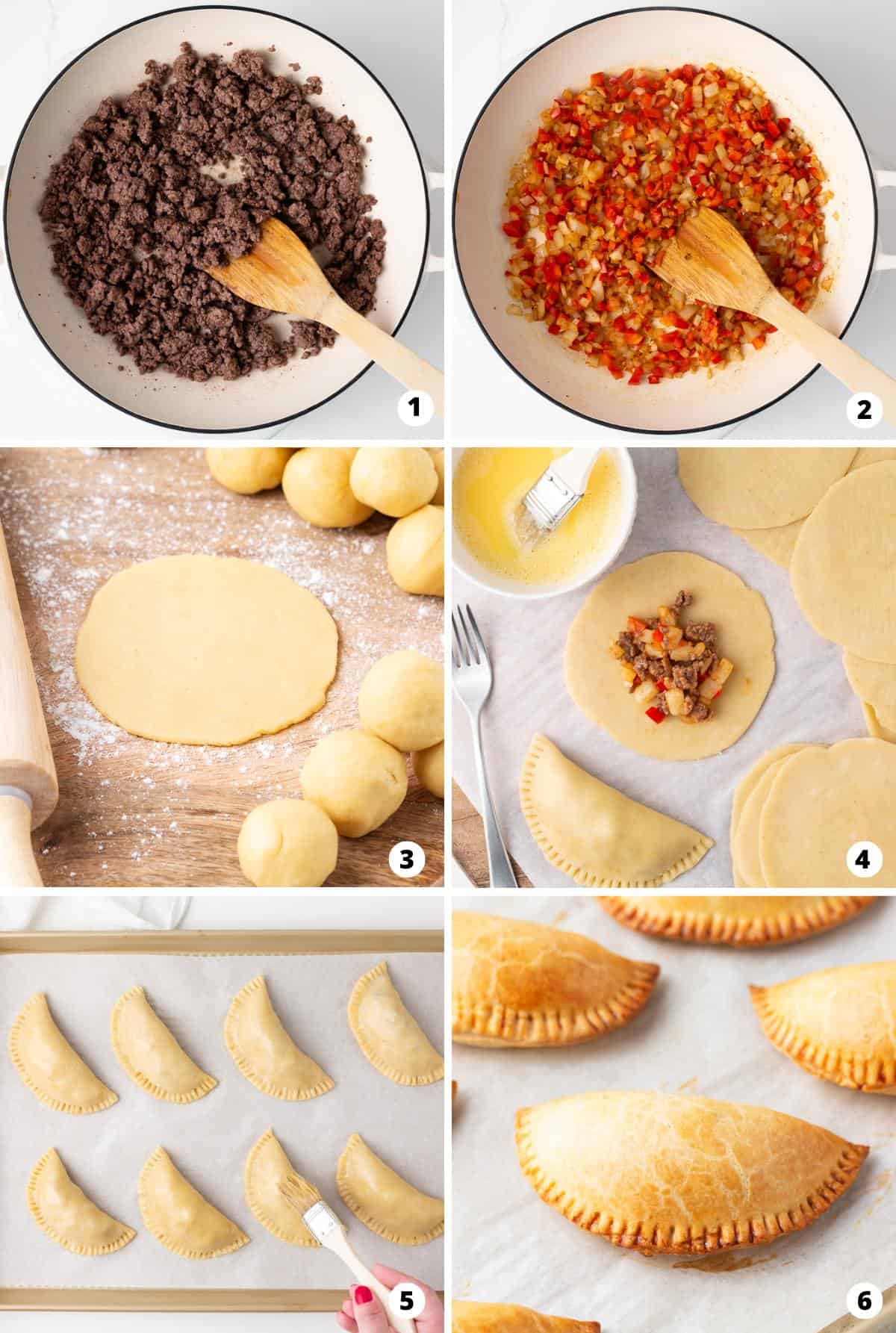 Brown beef. Brown the beef in a large skillet then use a slotted spoon to transfer it to a plate. Keep a couple of tablespoons of that delicious beefy grease in the skillet.
Sauté vegetables. Cook the onions in the same skillet until translucent, then add the bell pepper, garlic, and spices. Continue to sauté for 3 minutes.
Finish filling. Add the broth and scrape up all of the tasty brown bits on the bottom of the pot. Then add the tomato sauce and cook until it dissolves. Finally, stir in the beef and potatoes and remove the filling from the heat.
Assemble. In the center of one empanada dough disc, add 1.5 tablespoons of filling and top with scallions and cheese. Brush the edges of one half of the disc with egg wash.
Fold. Bring one side of the dough over to touch the other side, creating a half-moon shape and press the edges firmly to seal them together. Crimp the edges with the back of a fork. Brush the tops of the dough with egg wash.
Bake. Place the beef empanadas on a large baking sheet lined with parchment paper or a Silpat and bake at 400°F for 20 minutes until golden brown.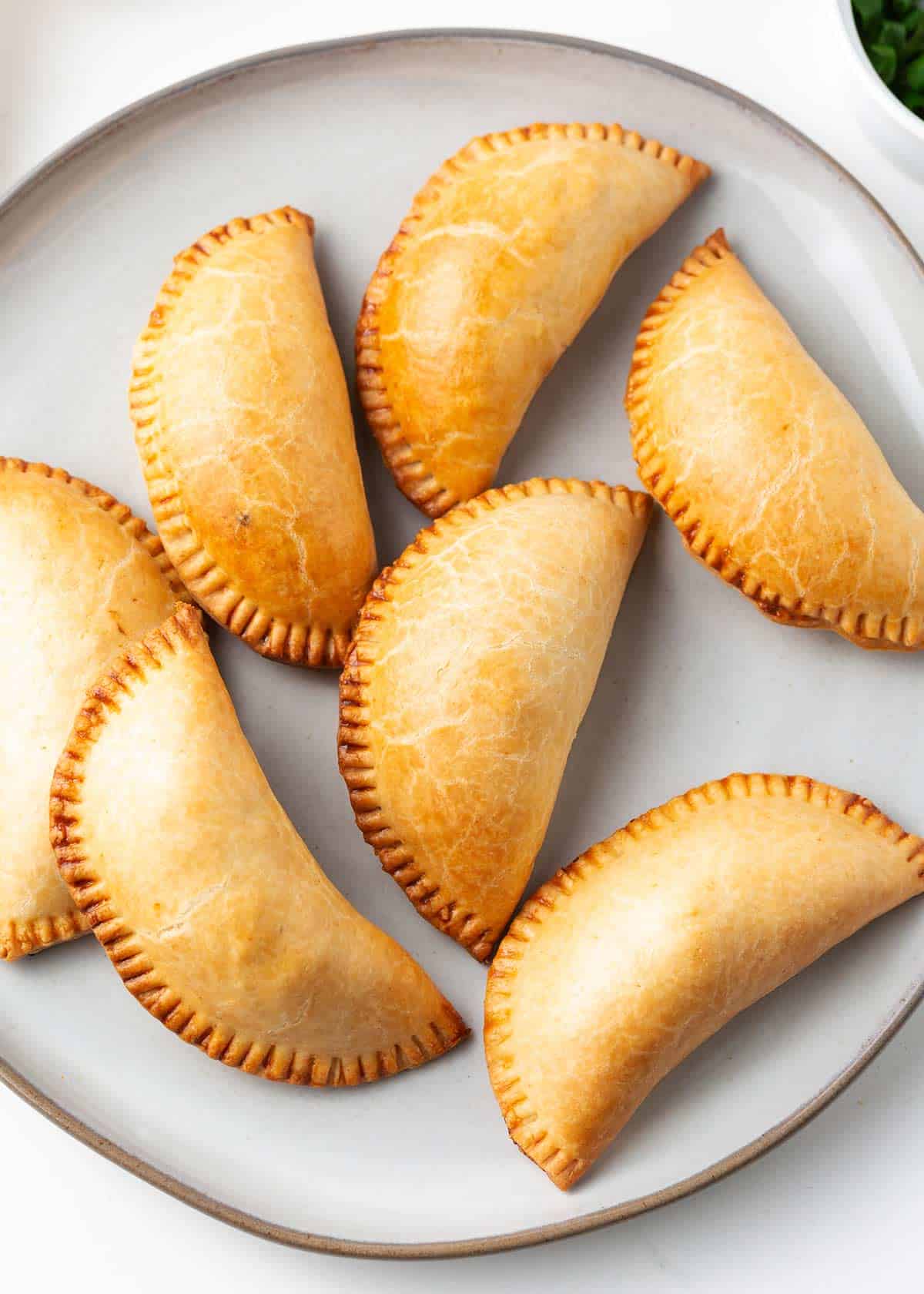 Expert Tips
Don't overfill your empanadas. If you add too much filling, it could burst and leak out while it's baking. Make sure you leave enough space around the edges to seal your empanadas tightly.
As an alternative to an egg wash, brush the tops of the dough with heavy cream or milk to help it brown and give it a bit of shine when baked.
Let the beef empanadas cool for a few minutes before eating. The filling will have time to set and the dough will be less likely to fall apart.
Recipe FAQs
Can I make beef empanadas ahead of time?
Yes, you can bake your empanadas and store them in the fridge for up to 3 days or in the freezer for up to 3 months. Thaw them in the refrigerator overnight and warm them up in the oven or microwave before serving.
How long can beef empanadas sit out?
You should refrigerate your easy beef empanadas after two hours to make sure they remain safe to eat!
Can I make this a vegetarian option?
Absolutely! Leave out the beef and add more diced or mashed potato to make a tasty veggie filling. You could also add some refried beans for more flavor.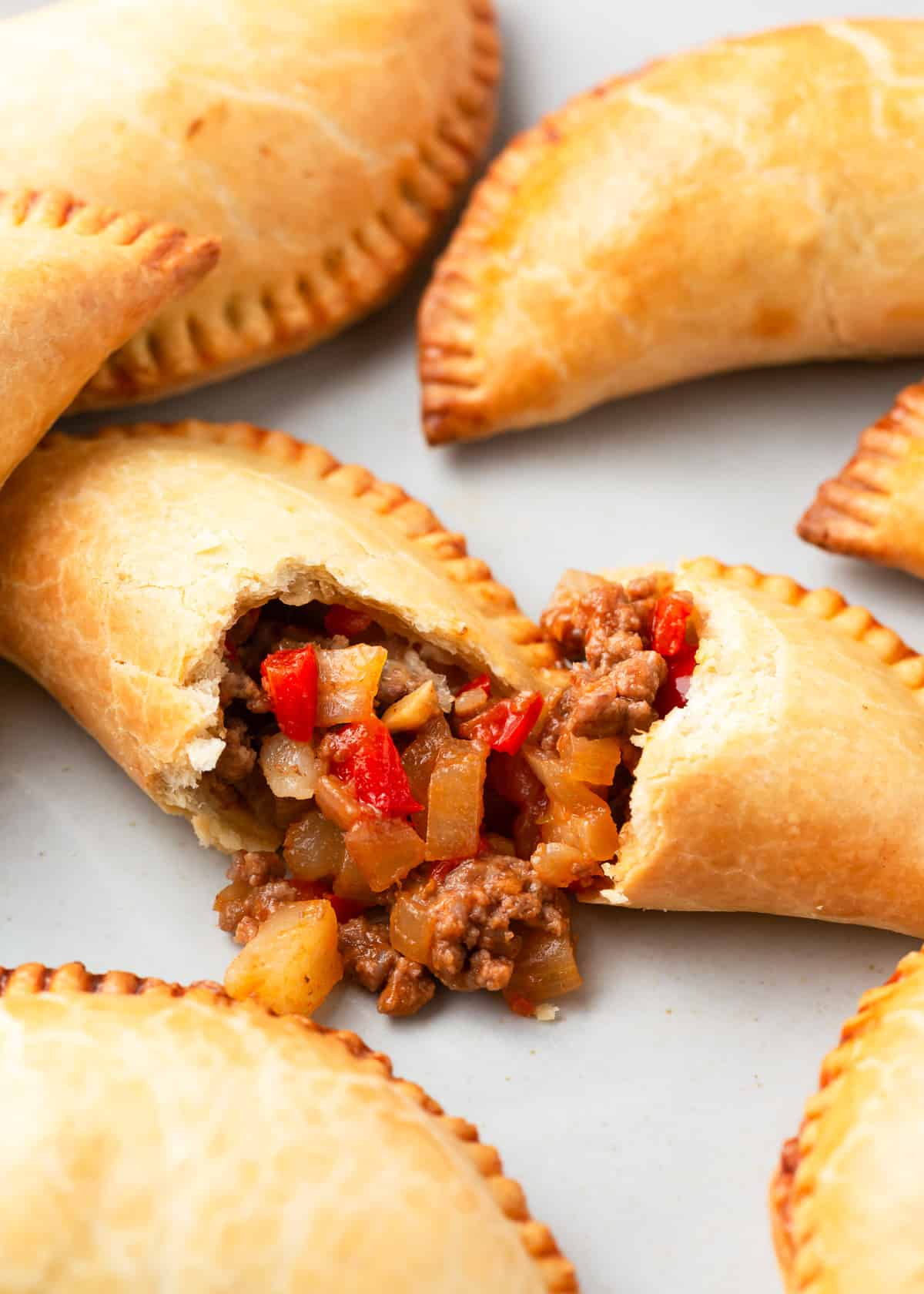 Make Ahead and Storing
You can easily store leftovers of this beef empanadas recipe for up to 3 days in the refrigerator. Let them cool to room temperature and put them in an airtight container then into the fridge.
For longer storage, keep cooked empanadas in a resealable freezer bag or airtight container in the freezer for up to 3 months.
To reheat, unwrap as many empanadas as you want and warm them in a 300°F oven for 10 minutes until heated through and crispy. You can also warm them in the microwave, but the texture will be less crispy.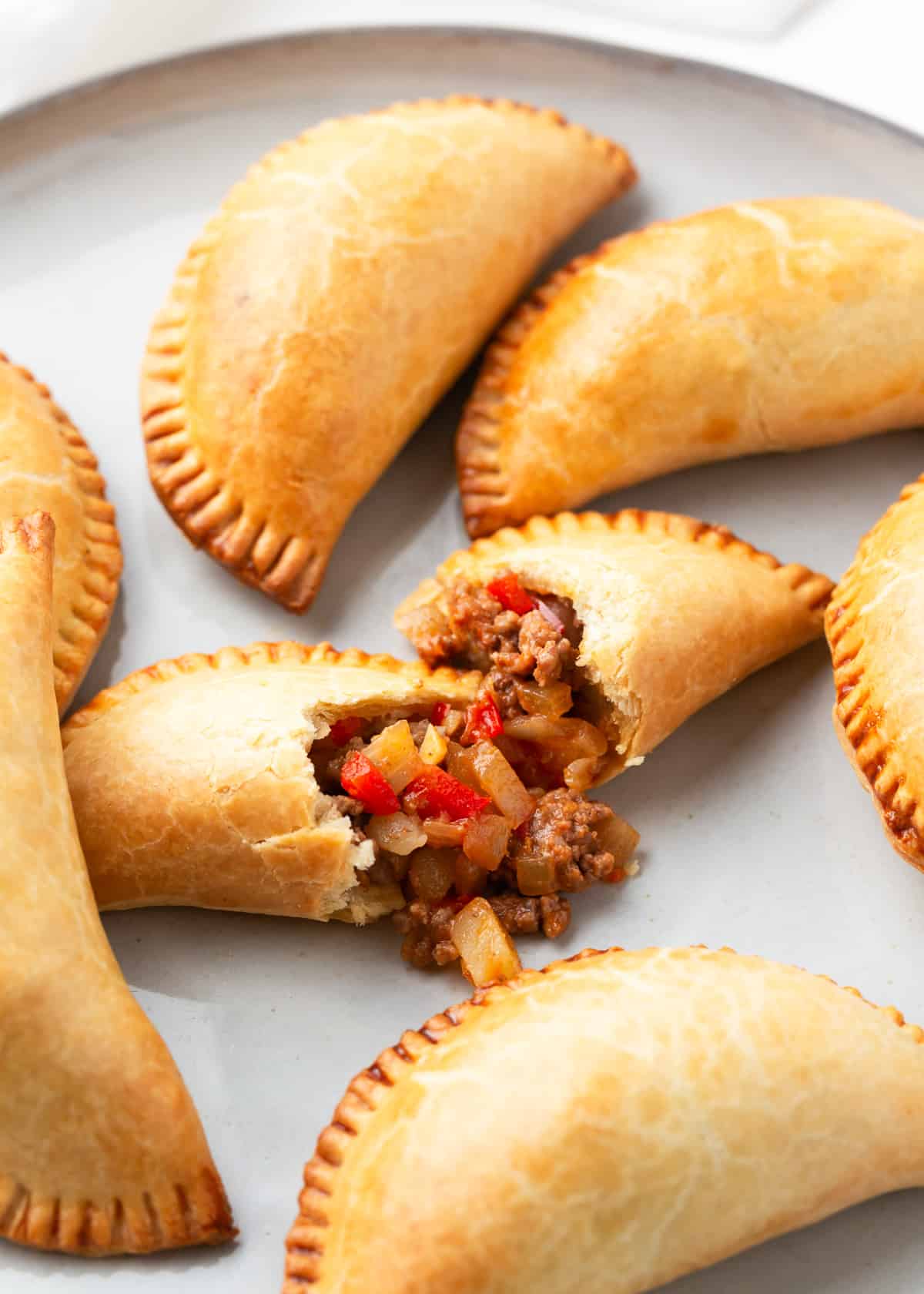 HUNGRY FOR MORE? Subscribe to my newsletter and follow on Facebook, Pinterest and Instagram for all the newest recipes!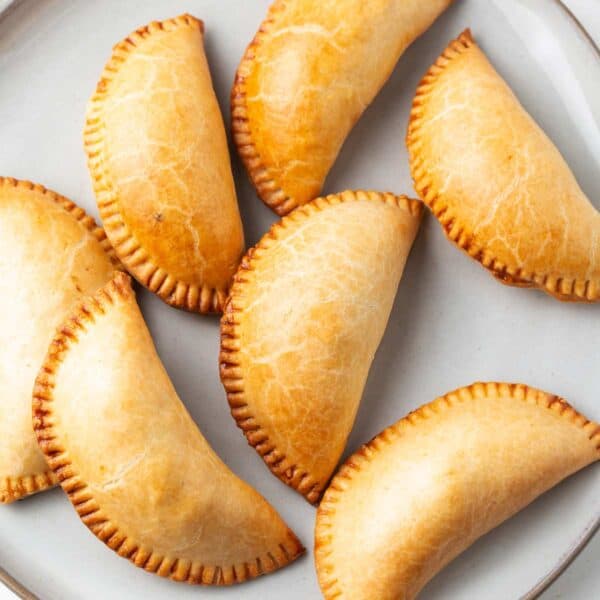 Beef Empanadas Recipe
Looking for the perfect filling snack or dinner idea? Try this easy beef empanadas recipe packed with beef and veggies, all in a crispy baked shell. This is the ultimate in comfort food!
Ingredients
3 Tablespoons olive oil , divided
1 pound ground beef (85%-90%)
1 yellow onion , finely chopped
1 red bell pepper , finely diced
2 cloves garlic , minced
¼ teaspoon oregano
1 teaspoon Kosher salt
½ teaspoon chili powder
½ teaspoon ground cumin
½ teaspoon crushed red pepper flakes , optional
¼ cup beef broth
1-2 Tablespoons tomato paste , to taste
1 small russet potato , peeled, boiled until fork tender, and finely diced
3 green onions , chopped
½ cup shredded Monterey jack cheese
2 (14-ounce) package empanada dough discs (I like Gyoza) , or homemade dough
Egg wash: 1 egg beaten with 3 Tablespoons water
Instructions
Preheat the oven to 400°F. Line a large baking sheet with parchment paper or a silicone baking mat.

In a large skillet, heat 2 Tablespoons of oil over medium heat. Add the beef and cook 10 minutes, or until browned. Using a slotted spoon, transfer to a plate. Reserve 2 Tablespoons grease in the skillet.

Add the remaining 1 Tablespoon olive oil to the drippings. Stir in the onion and sauté 10 to 15 minutes, or until translucent. Stir in the bell pepper, garlic, oregano, salt, chili powder, cumin, and red pepper flakes, if using. Sauté 3 minutes, or until the peppers have wilted slightly and the spices are aromatic.

Stir in the broth, scraping up any brown bits from the bottom of the skillet. Add the tomato paste, to taste, and cook over medium heat until dissolved. Mix in beef and potatoes. Remove from heat.

In the center of 1 dough disc, add 1 1/2 Tablespoons filling. Top with 1/2 teaspoon scallions and sprinkle lightly with cheese, if using. Brush egg wash lightly over one side of the edge's border. Fold dough over to create a half-moon shape and press edges firmly to seal. Crimp edges with the back of a fork and place on baking sheet. Repeat with remaining dough discs. Brush the tops lightly with egg wash.

Bake 20 minutes, or until golden brown. Serve warm.
---
Notes
Homemade empanada dough
:
If you have extra time, I would recommend you make your own empanada dough. The results are a light and flaky crust.
Storage: Store in an airtight container in the fridge up to 3 days.
Freeze: Keep cooked empanadas in a resealable freezer bag or airtight container in the freezer up to 3 months. To reheat, unwrap as many empanadas as you want and warm in a 300°F oven 10 minutes.
Nutrition
Calories: 92kcal | Carbohydrates: 3g | Protein: 5g | Fat: 6g | Saturated Fat: 2g | Polyunsaturated Fat: 0.4g | Monounsaturated Fat: 3g | Trans Fat: 0.2g | Cholesterol: 18mg | Sodium: 169mg | Potassium: 148mg | Fiber: 1g | Sugar: 1g | Vitamin A: 320IU | Vitamin C: 9mg | Calcium: 32mg | Iron: 1mg
Nutrition provided is an estimate. It will vary based on specific ingredients used.
Did you make this recipe? Don't forget to give it a star rating below!