An easy peach pie filling made from scratch knows no bounds! It comes together in minutes with just 5 ingredients and can be used for cakes, pies, tarts, and even on its own with a scoop of vanilla ice cream!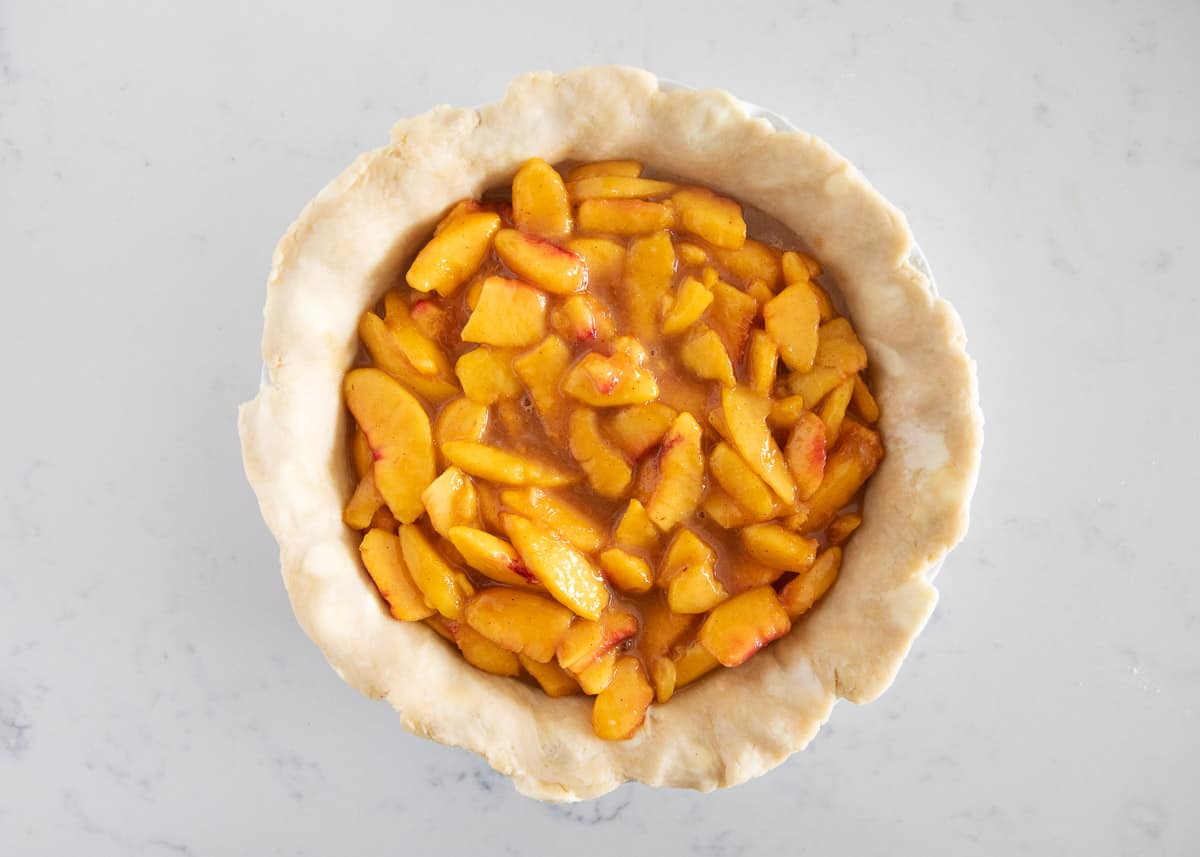 Favorite Summer Dessert
If you're like me and will find any and every reason to enjoy the spectacular peach, then you're going to love making this homemade peach pie filling recipe. And not just for a delicious peach pie! It's definitely the best way to complement a homemade easy pie crust, but you can also use it for more than that. It's fresh, it's sweet, and it comes together so easily with just a handful of ingredients.
Making a peach crumble pie with a crumble topping using fresh peach pie filling is one of my favorite summer desserts. I do, however, also enjoy making a lot of filling at once and using it for recipes like the topping on a no-bake cheesecake or when I make my peach cobbler or peach dump cake. My kids also love eating whole bowls of it topped with a scoop of vanilla ice cream!
What's great about knowing how to make peach pie filling from scratch is that you can make as much as you want at a time, freeze some, and enjoy fresh filling all year round!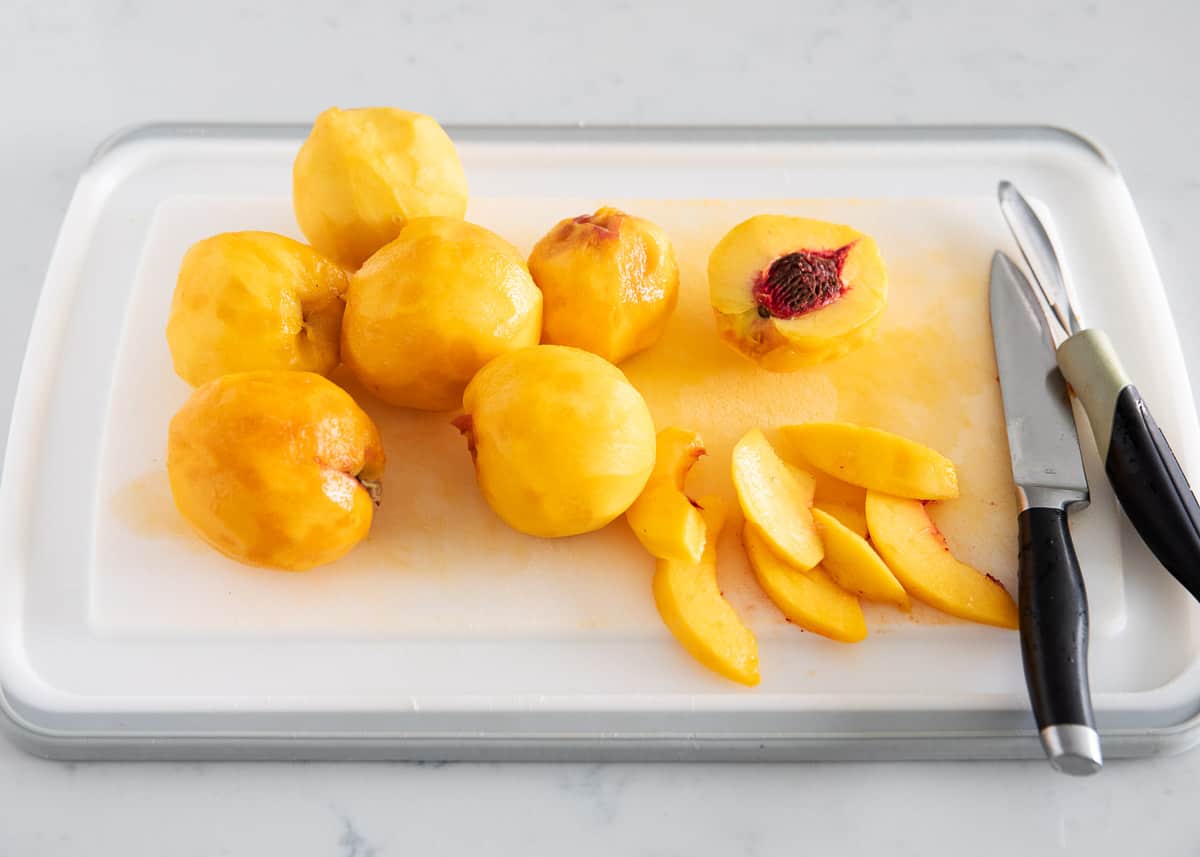 Homemade vs Store-Bought
There's no law against using a canned filling. In fact, in a pinch, it has been known to come through on many occasions. It's relatively inexpensive, it's fast and it's easy.
The differences, though, are enough to know that the taste and quality of a homemade filling are far superior. There's no way around it, there is nothing like it. You can taste the flavor of the peaches, you can control what goes into it, and avoid preservatives, and added sugars like corn syrup. Plus you can make a lot at a time which is budget-friendly and super convenient.
If you can get your hands on beautifully ripe, juicy peaches or even frozen peaches, use them!
How to Quickly Ripen Peaches for Pie Filling
If your peaches are not quite ripe enough and are very hard to the touch, you can place them in a paper bag along with an apple (like you would bananas or avocados) and place them on the counter for a couple of days, checking on them occasionally. You want the peaches to have some give when pressed on them, and you want them to smell fragrant and sweet.
Keep in mind, when the peaches are cooked down, in a pie, for example, their natural sugars will be released, making them softer and sweeter. It's always recommended you start with nice ripe peaches nonetheless.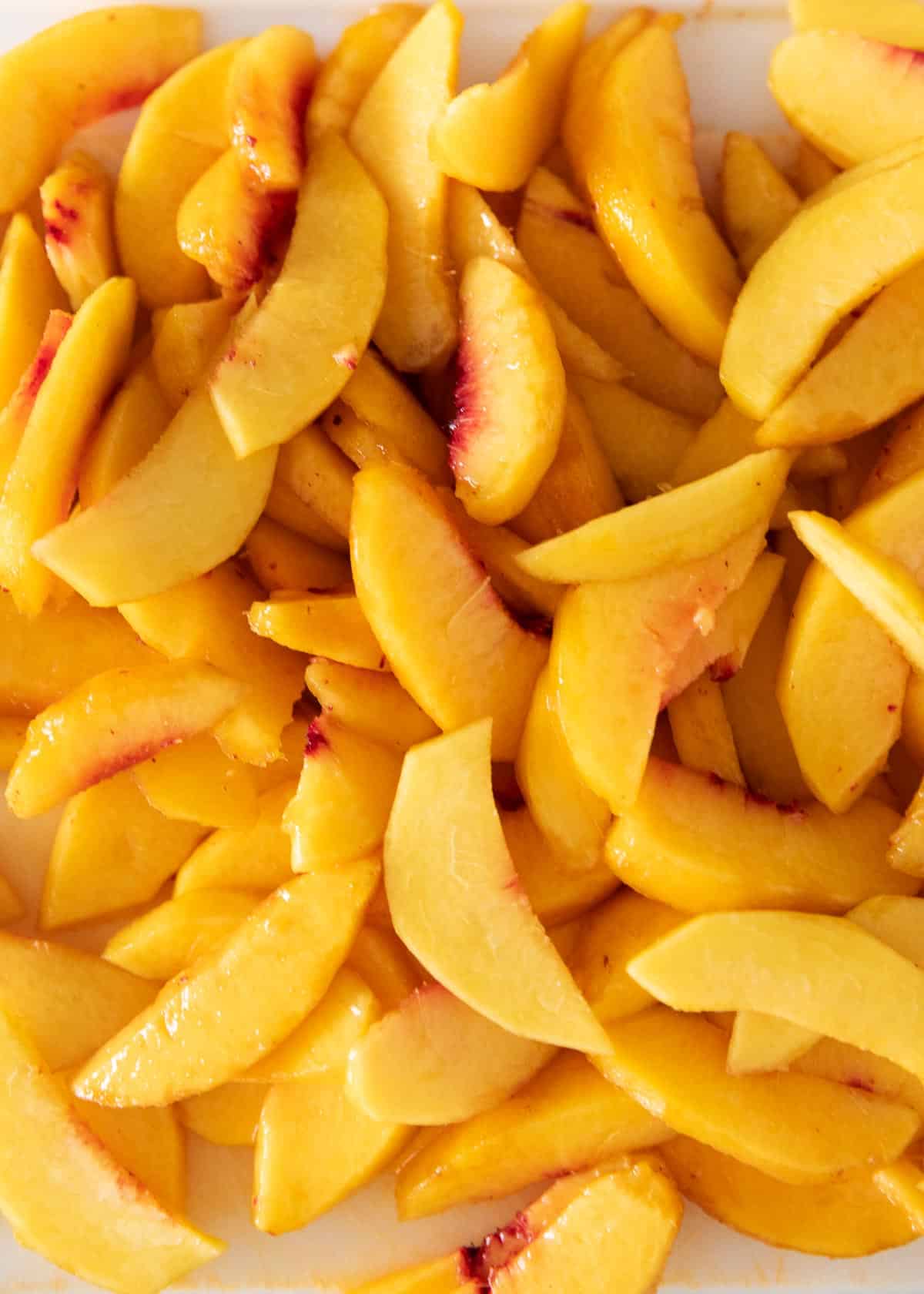 Tips + Variations
Peel your peaches first. Depending on what you're using the peaches for, you don't always need to peel them because they are edible and give it a rustic appearance. In this pie filling, it is much more pleasing to eat when they are peeled.
Use fresh or slightly thawed, frozen peaches. You can also use canned, just making sure to drain it of all of the excess liquids and juices.
To make a cooked-down version of the pie filling, bring all ingredients except the peaches to a boil. Remove from heat and then add the peaches to coat and combine.
Add a little bit of lemon juice, nutmeg, or vanilla for added flavor.
Toss in some of your favorite nuts for added crunch.
Ways to Use Peach Pie Filling
There are so many ways to put your peach pie filling to good use. Listed below are just a few!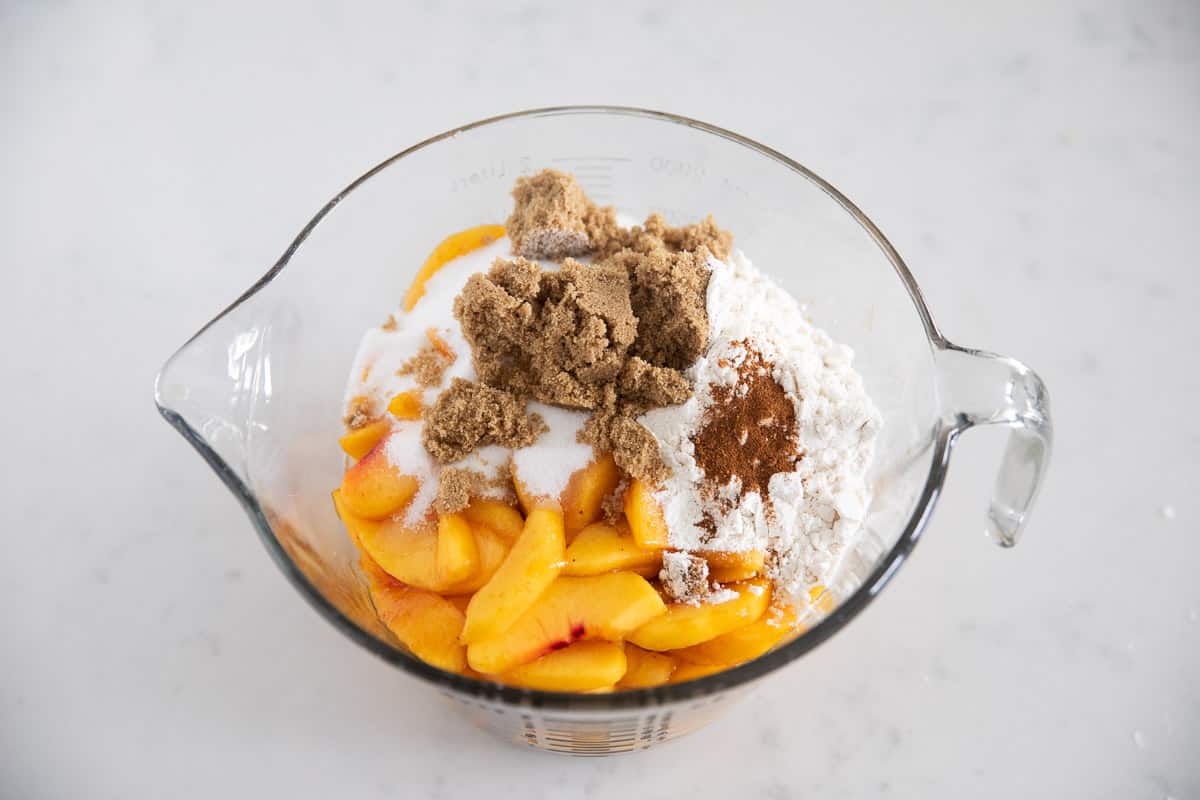 Storing & Freezing
To store: Once all the pie filling ingredients are combined, the mixture can be kept in an airtight container in the fridge for about 3-5 days.
To freeze: This pie filling can be kept frozen for up to 3 months. Allow thawing in the fridge before using it.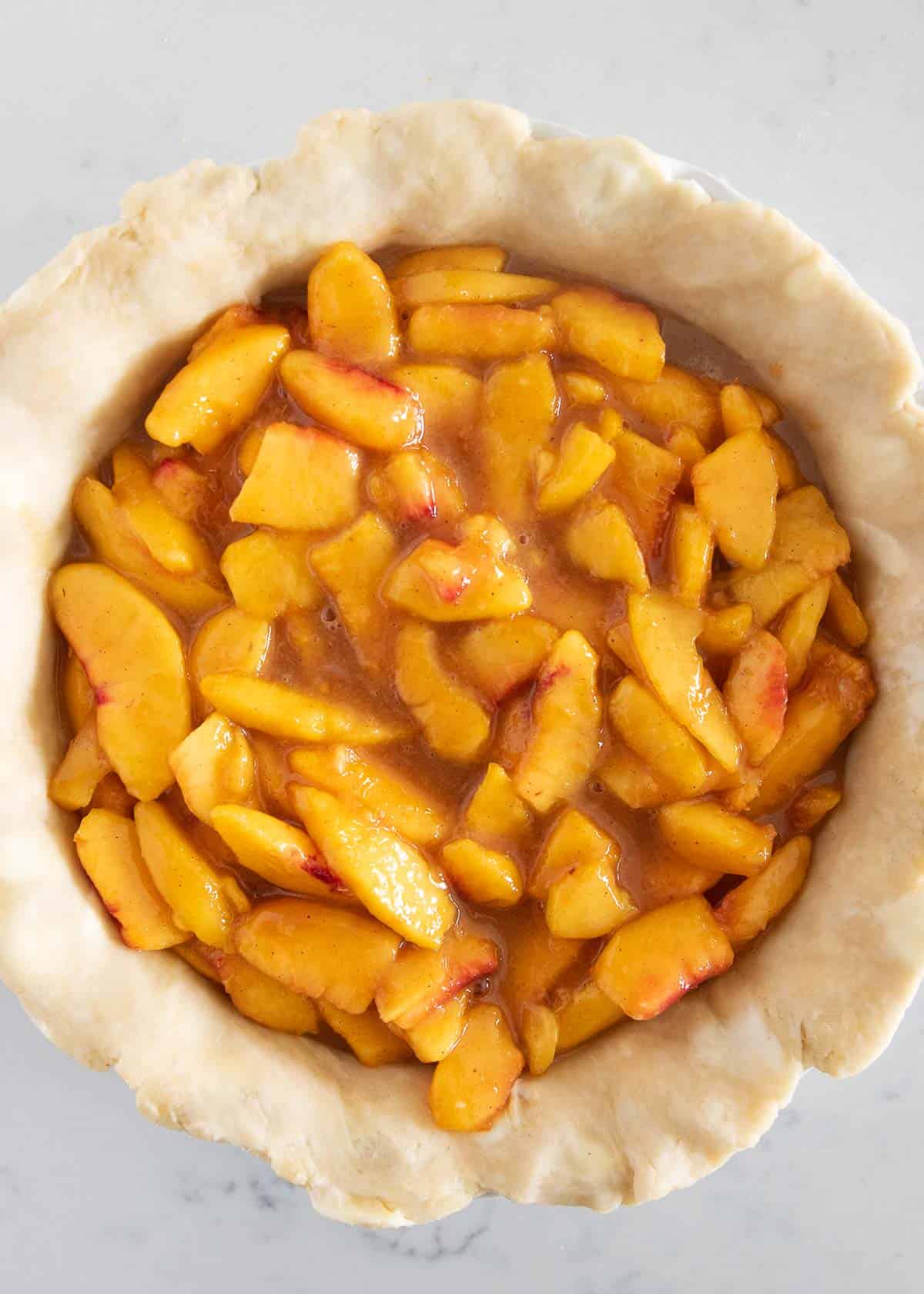 More Fresh Fruit Recipes
HUNGRY FOR MORE? Subscribe to my newsletter and follow on Facebook, Pinterest and Instagram for all the newest recipes!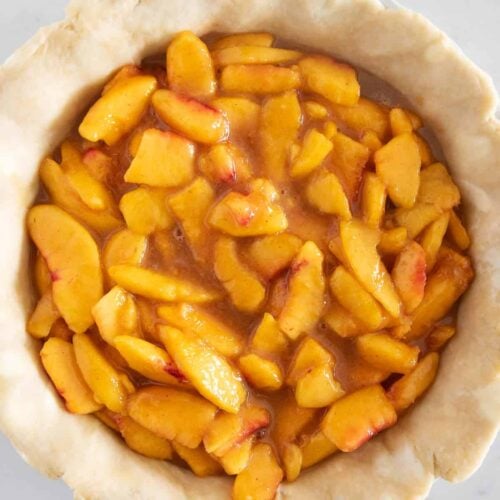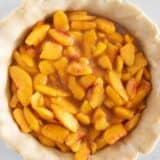 Peach Pie Filling
An easy peach pie filling made from scratch knows no bounds! It comes together in minutes with just 5 ingredients and can be used for cakes, pies, tarts, and even on its own with a scoop of vanilla ice cream!
Ingredients
5 cups sliced peaches , 7 peaches peeled
¾ cup granulated sugar
¼ cup light brown sugar , packed
⅓ cup corn starch , can substitute for flour
¼ teaspoon ground cinnamon
Instructions
Combine peaches in a bowl. In a separate bowl mix together the the sugar, brown sugar, corn starch and cinnamon. Then combine with the peaches and stir together.

Spoon filling into a prepared 9-inch pie crust or place in a covered container to store for later. It will stay fresh for 3 to 5 days in the refrigerator and up to 3 months in the freezer.
To bake peach pie:
Preheat oven to 375ºF. Place crust or crumb topping on top of the peaches and then bake for 40-45 minutes or until the crust is golden brown.
---
Notes
Notes: This peach pie filling also tastes amazing on top of vanilla ice cream. You could also place on top of a fruit pizza or fruit tart (reserving the juices).
Frozen peaches: You can use frozen peaches for this pie. Allow to thaw slightly. Drain any excess juices before adding to crust.
Pie crust: You can use store bought pie crust, but here is my favorite homemade pie crust recipe. You can also add this crumble topping if desired.
Nutrition
Calories: 359kcal | Carbohydrates: 61g | Protein: 3g | Fat: 12g | Saturated Fat: 4g | Sodium: 327mg | Potassium: 89mg | Fiber: 3g | Sugar: 33g | Vitamin A: 36IU | Vitamin C: 2mg | Calcium: 14mg | Iron: 1mg
Nutrition provided is an estimate. It will vary based on specific ingredients used.
Did you make this recipe? Don't forget to give it a star rating below!