I'm sharing this quick and easy gingerbread house icing made with just 2 ingredients! It's a delicious edible glue for the walls of your house that can also be used to decorate all your cookies and cupcakes!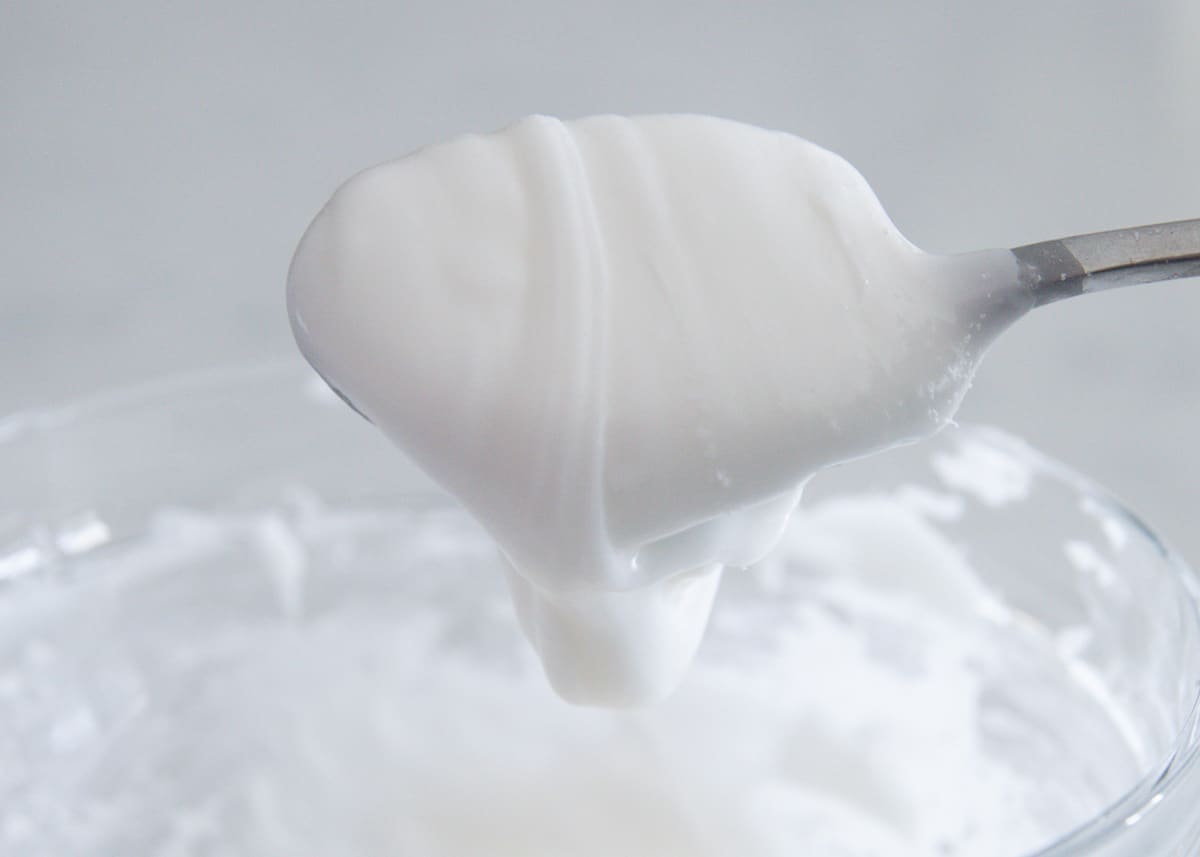 Best Icing for Gingerbread House
This is the perfect gingerbread house icing recipe, especially when making a graham cracker gingerbread house! I've tried several, including royal icing recipes, that require meringue powder or egg whites but found this recipe with 2 simple ingredients to be just as sturdy.
I love this recipe because I can quickly whip up more as needed if one of my kids needs more but I can also use the leftovers to drizzle on top of my favorite Christmas cookies or gingerbread cookies! It tastes similar to a classic powdered sugar icing which is great if you plan on eating your house!
Just 2 Ingredients
Grab your powdered sugar and add water to make the easiest icing you need! Gingerbread icing is a special icing to really "glue" the pieces together. Quick and easy icing will make these gingerbread houses come to life quickly!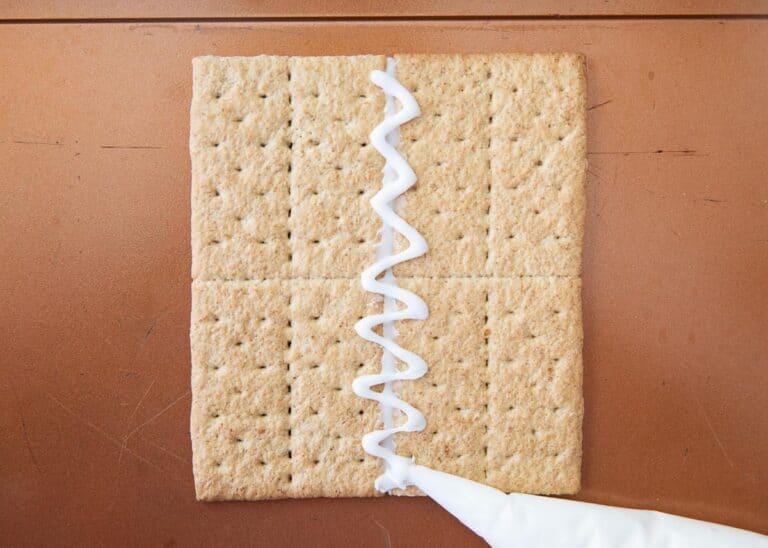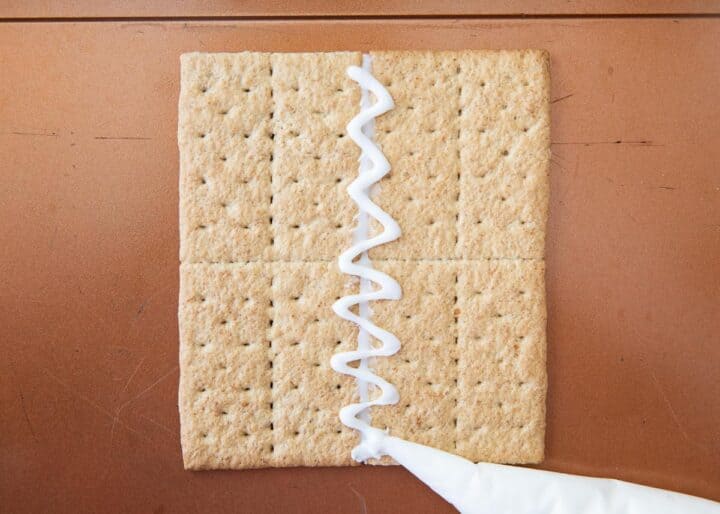 Find the full printable recipe with specific measurements below.
Powdered sugar: This is sugar ground up to a powder and usually contains cornstarch to act as an anti-clumping agent. Even still, make sure to sift it to guarantee a smoother glaze.
Water: This is necessary to make the icing and helps keep it reaching the right consistency for gingerbread house building.
Other Ways to Use It
This gingerbread icing is perfect for graham cracker houses. This icing is used for cinnamon rolls and some cookies and cakes too! Learn all the other ways to spread more icing around
If you are planning on whipping out your rolling pin and making your gingerbread dough from scratch this year, this icing can still definitely hold your gingerbread house template together.
Use it for a lighter, smaller, graham cracker house, if the ginger and molasses flavors aren't your favorite! It also works great for celebrating other holidays, such as when making an easy Halloween gingerbread house with graham crackers.
Drizzle it overtop of freshly baked cinnamon rolls or slather it for an extra special Christmas morning!
How to Make Gingerbread House Icing
It is a very simple process to make this certain gingerbread house icing. Sift your powdered sugar then slowly add in water. It is that simple!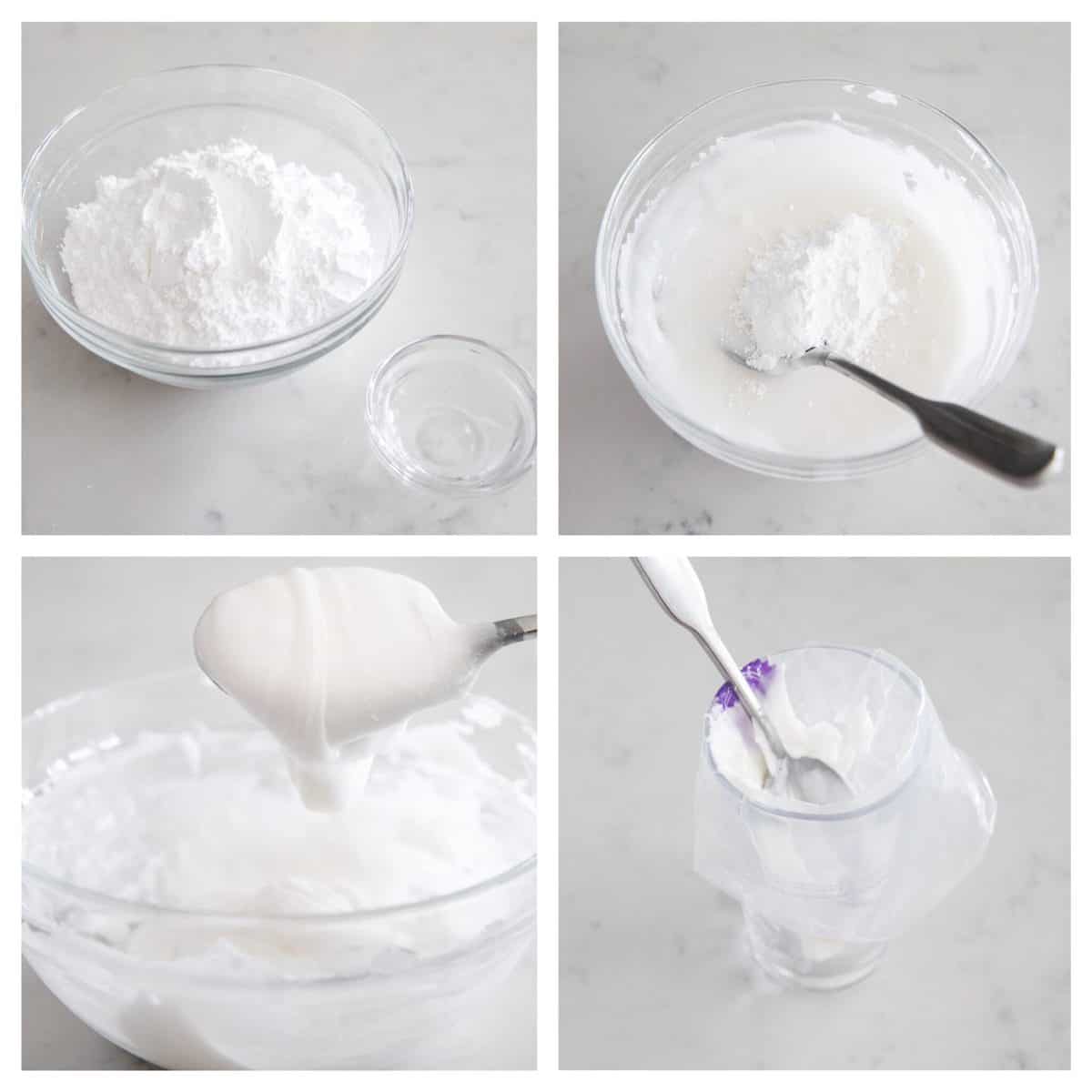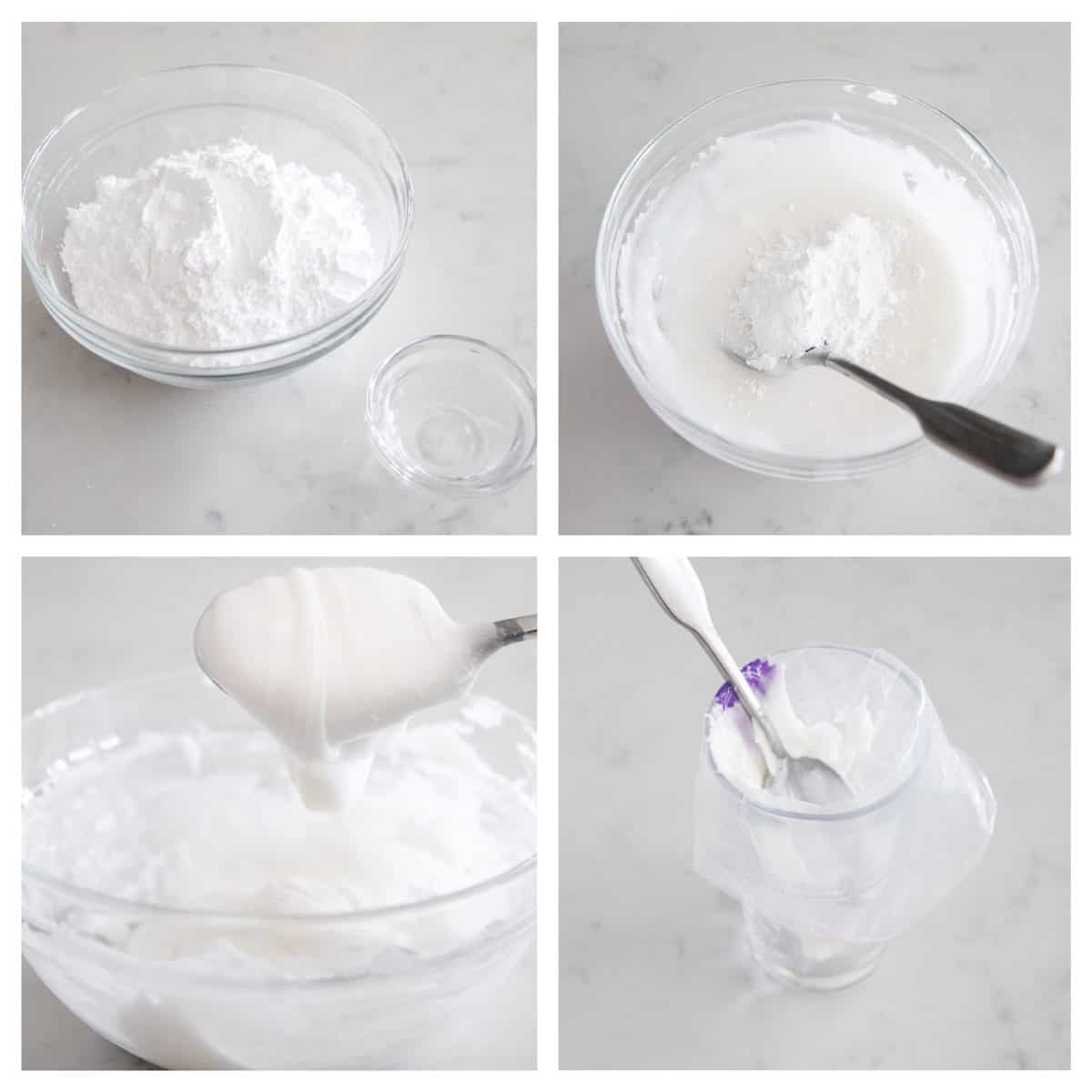 Combine: Sift the powdered sugar into a bowl and add water. Stir until smooth.
Add: If you are finding it too thick, add more water, as needed. You want it on the thicker side, otherwise, it will run off your gingerbread houses.
Expert Tips
Here are a few ideas and tips to help you along the way! Decorate and have a fun time creating the best gingerbread house. Make this gingerbread house icing in a matter of minutes and use it for so much more!
The icing acts as glue for the gingerbread house pieces so you'll need it to be thicker than traditional powdered sugar icing.
Add a bit of water at a time until a smooth cream but thick enough that it will stick to a spoon.
To decorate a gingerbread house recipe, gingerbread man cookies, or any other treat you've got baking away in the oven, add the icing to a piping bag for neater decorating and cleaner lines.
Use it as glue to hold the pieces together, but also to add dots to place candies or crunch candy canes, sprinkles, and other decorative items. You can even drizzle it like snow or draw on little snowmen.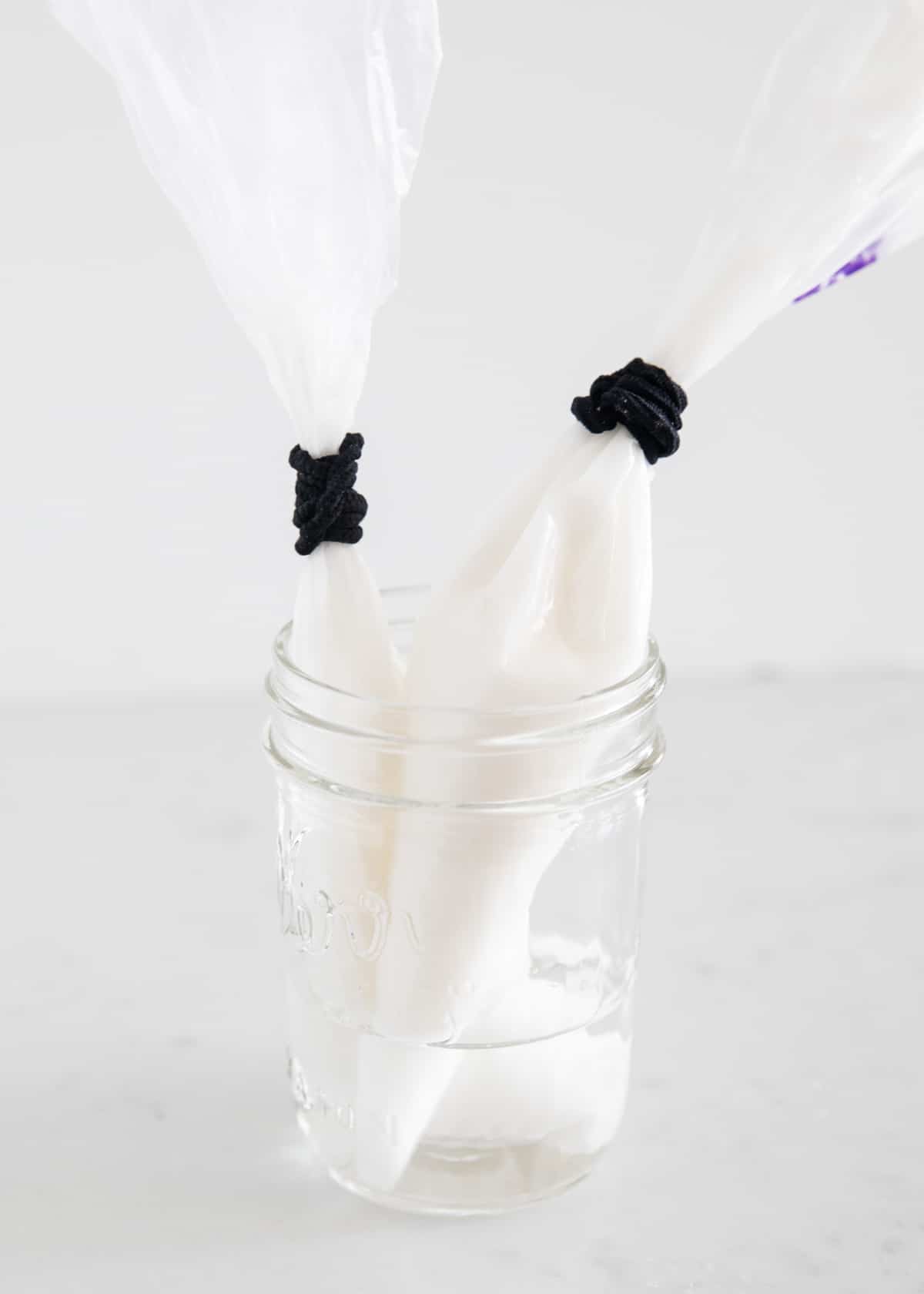 Recipe FAQs
Can I use regular sugar to make this gingerbread house icing?
Sadly, no. You really need it to be powdered. You can, however, make your own by blending granulated sugar in a blender or food processor until it is fine and fluffy.
Can I add vanilla extract?
Of course, you can add vanilla, almond, orange, butter, or lemon extract to the icing. I would start with 1/2 teaspoon and adjust to taste from there.
Can I use a stand mixer or an electric mixer?
You sure can, but you will want to mix at a low speed to make sure you can keep an eye on the consistency of the icing. Mixing on a medium speed or a high speed might send powdered sugar flying.
Storing Leftover Icing
Keep any leftovers stored in a Ziploc bag in the fridge for up to 5 days.
If you've still got some left in the piping bag/Ziploc bag with the tip cut, place the tip end into a cup with warm water in it. The icing is thick enough that it won't run out, but it will keep it nice and soft.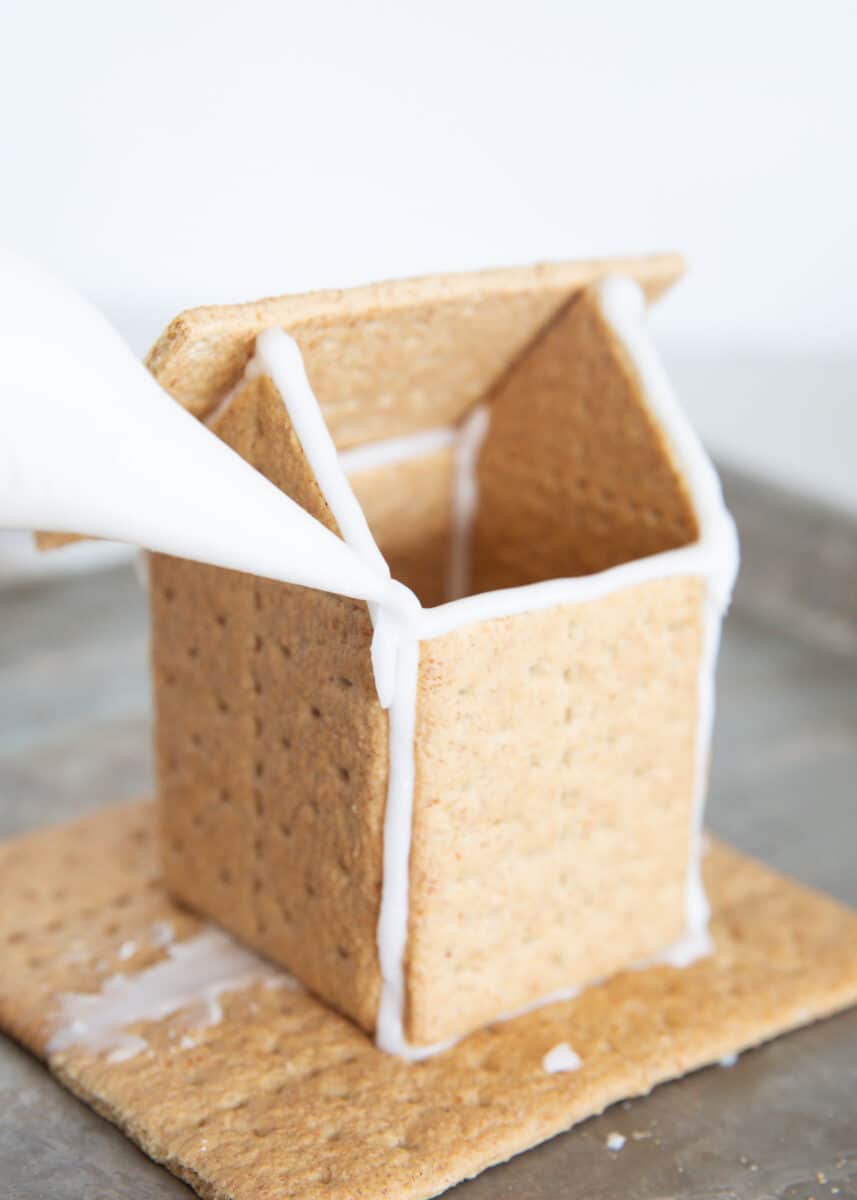 Perfect Recipes for this Icing
HUNGRY FOR MORE? Subscribe to my newsletter and follow on Facebook, Pinterest and Instagram for all the newest recipes!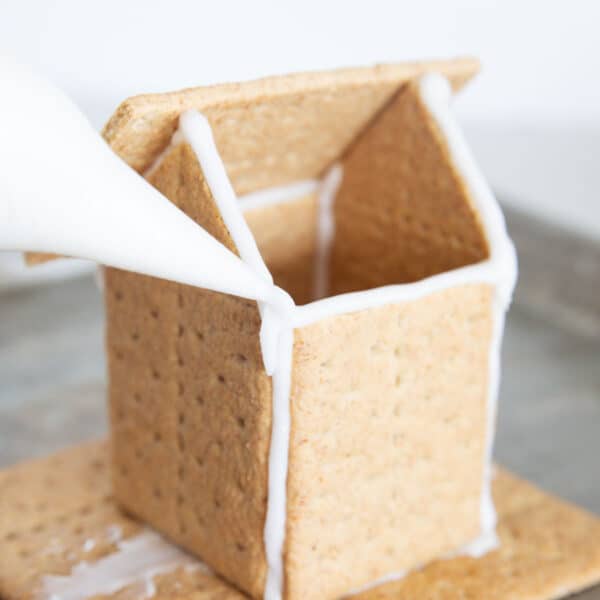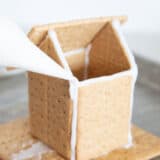 Gingerbread House Icing
I'm sharing this quick and easy gingerbread house icing made with just 2 ingredients! It's a delicious edible glue for the walls of your house that can also be used to decorate all your cookies and cupcakes!
Ingredients
2 cups powdered sugar
2 Tablespoons water , more or less as needed
Instructions
In a medium bowl, stir together the powdered sugar and 1 Tablespoon of water until dry. Add another Tablespoon of water. It will be clumpy but keep stirring until smooth. If it needs more water, add 1 teaspoon at a time.

You want it to be smooth and but thicker than your typical icing so it doesn't run off the gingerbread house. To check if it's the right consistency, raise the spoon above the bowl. The icing should remain on the spoon when turned over. If it drizzles off, add 1 to 2 Tablespoons of powdered sugar. Add more water as needed to thin out the consistency.

Place in a zip-top bag and snip off the end to decorate your house.
---
Notes
Make Ahead + Storage: Store leftovers in a zip top bag in the refrigerator for up to 1 week. If you are using a frosting bag with a cut tip, simply place in a glass of water to keep the end soft. Remove the fridge about 30 minutes before you're ready to use, so it has time to soften up a bit.
Nutrition
Calories: 934kcal | Carbohydrates: 239g | Sodium: 6mg | Potassium: 5mg | Sugar: 235g | Calcium: 3mg | Iron: 1mg
Nutrition provided is an estimate. It will vary based on specific ingredients used.
Did you make this recipe? Don't forget to give it a star rating below!