Skillet Green Beans with Pecans, Red Peppers and Onions – the perfect side dish for any meal!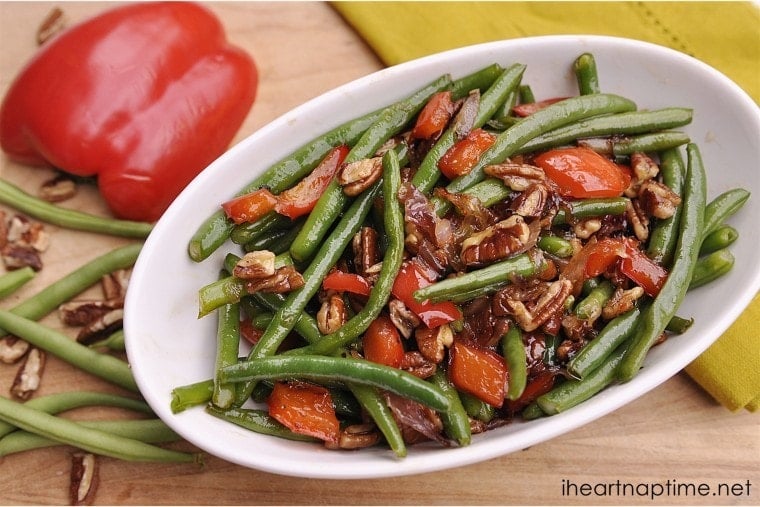 As a child the only vegetable I would eat was green beans. I was a pretty picky eater. Of course those green beans came out of a can.
Green beans are still my favorite vegetable although my vegetable repertoire has expanded a bit now that I am a mature adult and I prefer my green beans out of the garden rather than out of the can!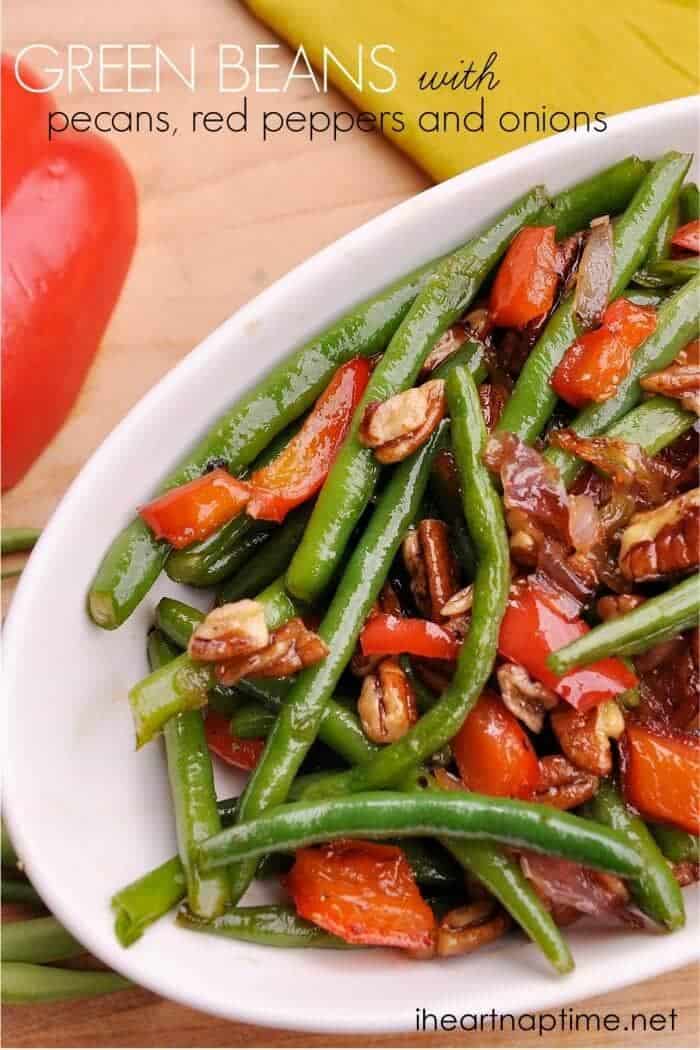 Each summer we always plant lots of beans in our garden. This year we got smart though and we didn't plant them all at one time. Usually I have beans coming out my ears and my husband is walking up and down the neighborhood giving bags of beans away. But this summer we have had a nice steady supply of beans although we still shared!
Today's recipe has become my favorite of the season. I have made this over and over again this summer and haven't gotten tired of it yet. I love the crunch of the nuts and the way the little bit of sugar caramelizes the onions and red peppers. So good!
How to make green beans
To prep the beans for the dish I par boil them. Which means I throw them into a pot of boiling water for a few minutes. Just until they are slightly tender. The amount of time will depend on how thick your beans are. I like my beans thin and young so it only takes a couple of minutes. You don't want them too soft because they will cook some more in the pan.
Wash them off with cold water right away to stop the cooking process. Saute your onions and red peppers in the butter and then add in the sugar to caramelize them.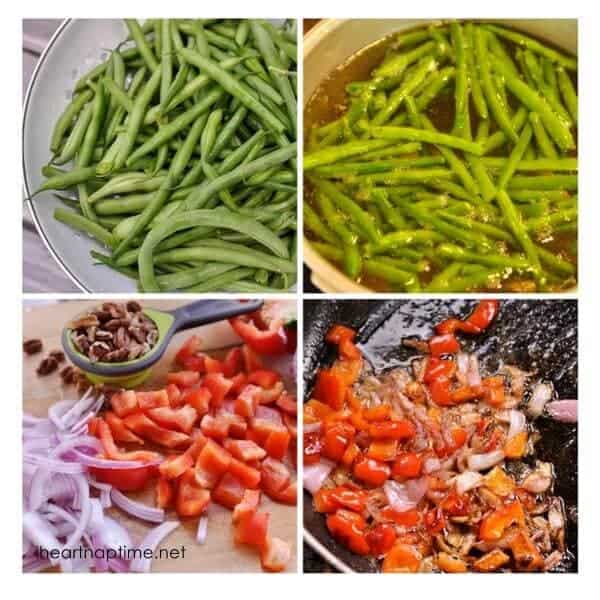 Add in your beans and pecans. Stir it a bit to get everything heated through and you're beans just the way you like them. You've got yourself a delicious side dish! Perfect for just about any meal. Of course if you don't have fresh green beans out in the garden you can pick some up in the produce department of your local grocery store or maybe watch for my husband walking down the street!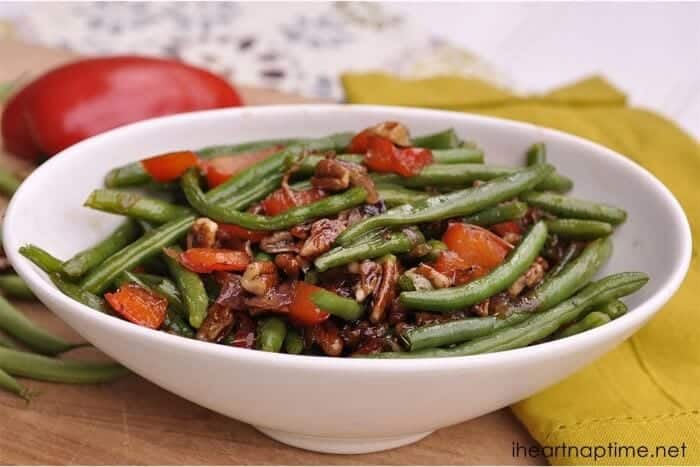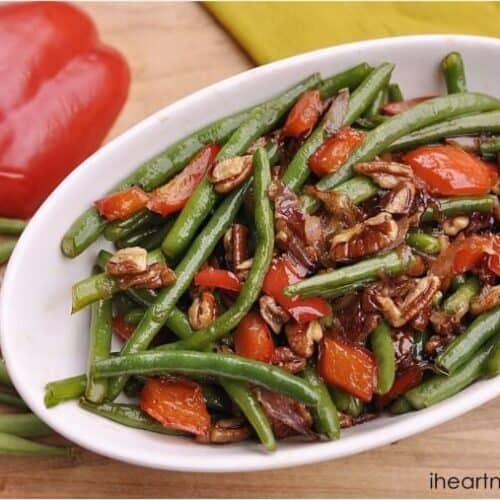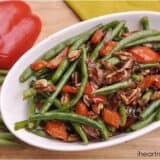 Green Beans with Pecans, Red Peppers and Onions
Perfect for just about any meal! These green beans are so good and savory!
Ingredients
1/4 cup toasted pecans
3 tablespoons butter
1/2 red onion sliced thinly
1 red bell pepper chopped
1-2 tablespoons granulated sugar
1 1/2 pounds fresh green beans trimmed and snapped
salt and pepper to taste
1/2 teaspoon minced garlic
Instructions
Toast Pecans in microwave for 1-2 minutes.

Bring a pot of water to a boil and par boil green beans. Only leave beans in 2-4 minutes depending on how thick the beans are. You just want them slightly tender. Rinse beans with cold water.

Add butter to a large frying pan and saute onions and red peppers over medium heat until tender (about 3 minutes).

Add in sugar, cover pan and allow sugar to caramelize. Stir occasionally.

Add in green beans, garlic and pecans. Cook an additional 3-5 minutes. Stir to heat through and combine.
---
Calories: 131kcal | Carbohydrates: 12g | Protein: 2g | Fat: 8g | Saturated Fat: 3g | Cholesterol: 15mg | Sodium: 58mg | Potassium: 311mg | Fiber: 4g | Sugar: 7g | Vitamin A: 1580IU | Vitamin C: 39.8mg | Calcium: 49mg | Iron: 1.4mg
What's your favorite summer vegetable?
For some other vegetable recipes check out these:
Roasted Corn Summer Salad | Roasted Broccoli | Roasted Winter Vegetables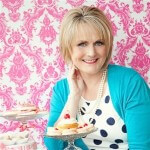 I'm Leigh Anne and food, family and friends are three of my favorite things. I am the mother of four young adults, a new mother in law and am still trying to adjust to life as an empty nester along with my husband of over 30 years. I love throwing parties, burying my head in a book and digging in the dirt in my garden.