Perfectly tender, flavorful, and fresh green beans make an amazing side dish recipe. Learn how to cook them in 2 ways – sautéed or roasted in the oven.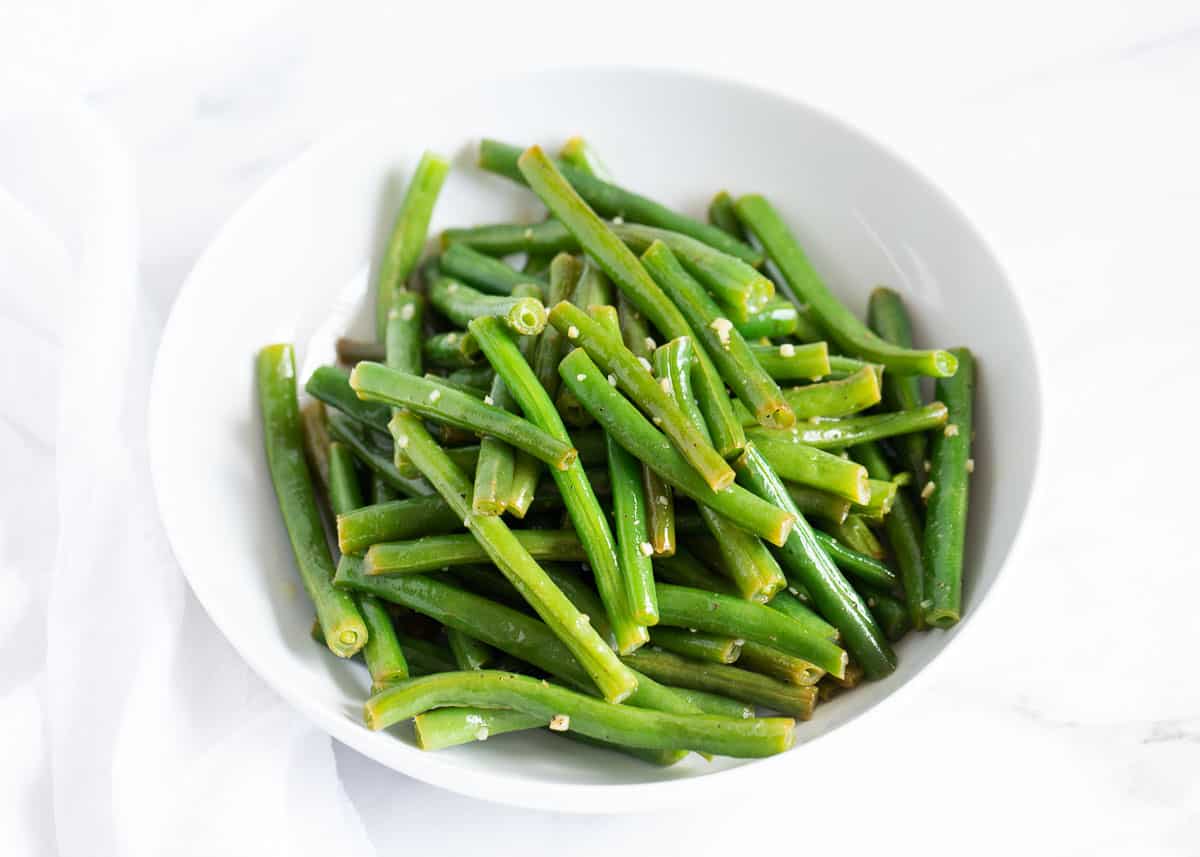 Sautéed Green Bean Recipe
These are such classic and easy side dish recipes that pair perfectly with almost any main dish. They're one veggie that everyone in my family loves, as well as parmesan roasted broccoli and roasted potatoes and carrots.
Sometimes it's nice to take it back to the basics, and that's exactly what this green bean recipe does! It's a classic, easy and delicious side dish that I'm sure many of you make at home. My favorite way to cook them is either to sauté or roast them in the oven. They turn out perfectly tender, flavorful, and taste so fresh.
Easy Sautéed Green Beans Ingredients
Finding green beans at the farmer's market or grocery store work perfectly for this dish. The texture is smooth, and firm, and has a crunchy outside. The green beans sauteed in sweet and zesty ingredients give you the best side dish!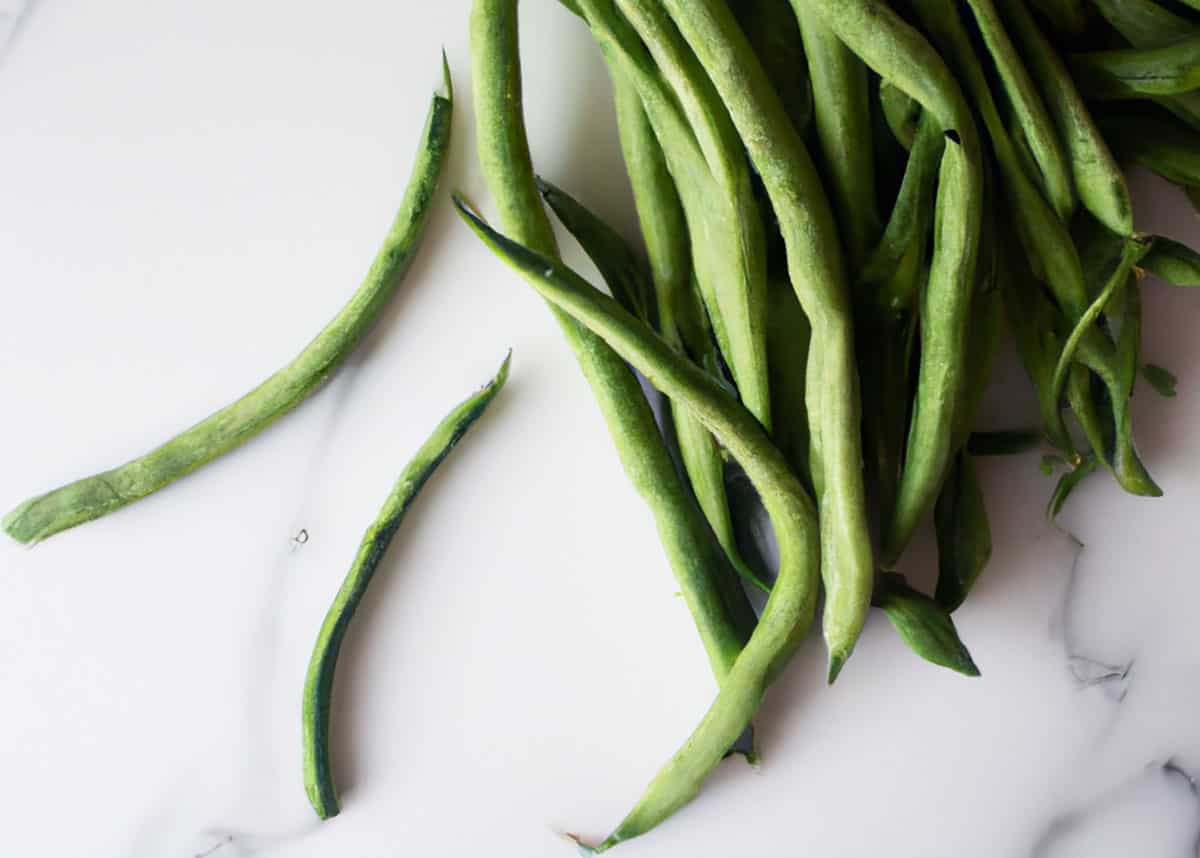 Find the full printable recipe with specific measurements below.
Green beans: The firmer the better! Look for fresh and not wilted green veggies for a fresh and delicious dish.
Butter: Melt the butter in the skillet and coat the green beans with the
Minced garlic: Slice and cut the garlic cloves into small, tiny pieces. You can even use the minced garlic from the jar.
Lemon pepper: Has zesty and citrusy flavors with a hint of black pepper in the seasoning.
Seasonings
There are plenty of ways to season them based on preference. One variation that we love is adding a fresh squeeze of lemon juice and sprinkling 1/4 cup of parmesan cheese on top. It adds the perfect twist!
Lemon juice: Squeeze some fresh lemon juice on top once they're done cooking for a zesty flavor. The lemon zest is a light flavor everyone loves!
Crushed red pepper flakes: Add some red pepper flakes if you like a little heat.
Onion: Feel free to add in some minced onion with the garlic if you have some on hand.
Garlic: Adding fresh garlic or garlic powder adds a great flavor.
Salt and pepper: Keep it simple and season with salt and black pepper. It adds plenty of flavors and showcases their natural freshness.
How to Cook Green Beans
I love them sautéed, however, roasted are equally as delicious and a bit more crispy! I've included both methods below, so feel free to cook however you prefer. Make sure to serve fresh while hot for the best taste!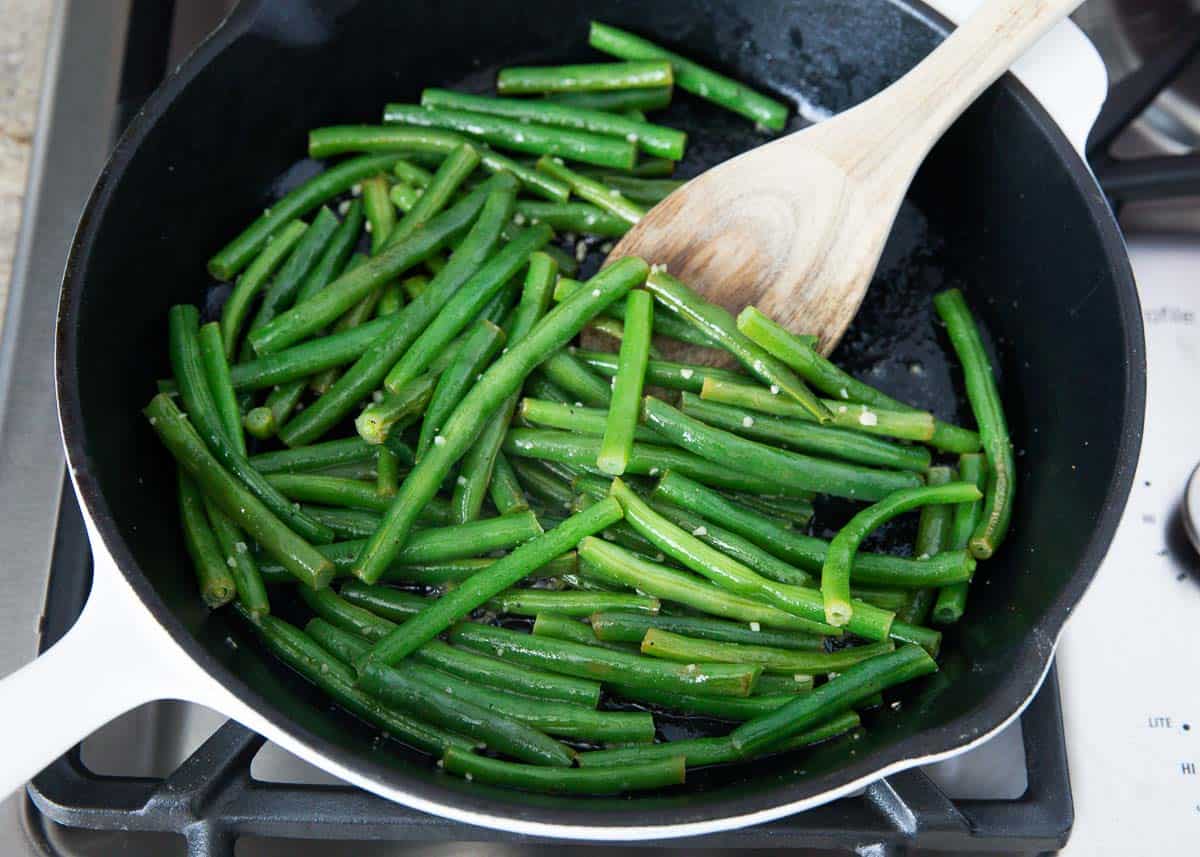 Sautéed. In a large skillet, add beans and cover with 1/3 cup water. Cover skillet and cook for 3 to 5 minutes.
Season. Remove the lid and let the water evaporate. Add butter (or olive oil), minced garlic, and lemon pepper, then cook an additional 3 to 5 minutes until tender. Add salt and pepper to taste.
Roasted. Preheat oven to 400°F. Place green beans on a pan and drizzle with oil and sprinkle with S&P. Roast until edges are slightly brown about 20-25 minutes.
5 star review
"These are the best green beans!! Only recipe I use to make green beans…so delicious!"

-Jennifer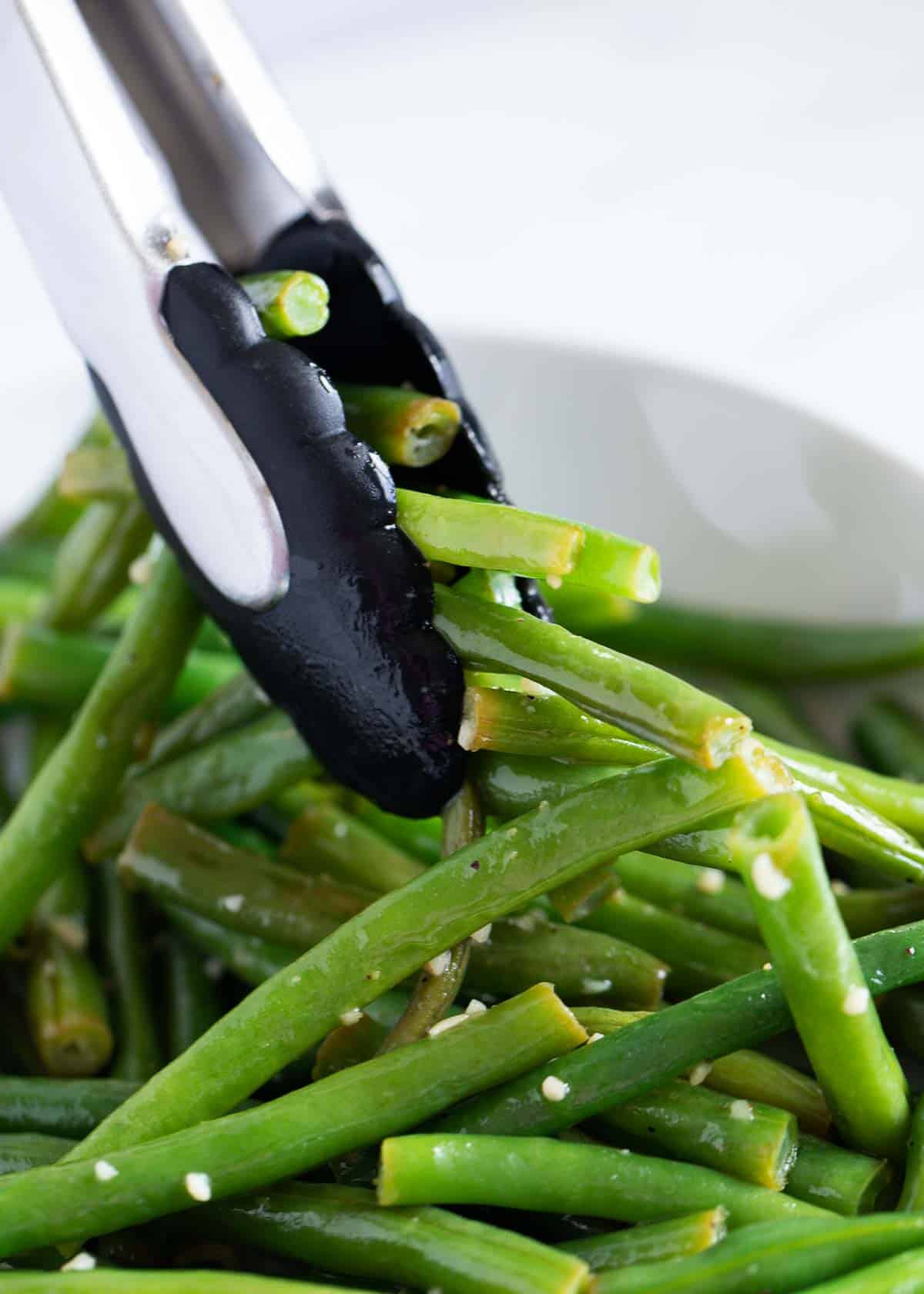 Favorites to Serve Alongside
Pair these sauteed green beans with your favorite protein or a delicious pasta dish! Vegetables are a light and tasty side dish that compliments any meal. These green beans will complete any meal!
Recipe FAQs
Do you have to cut the ends off of the green beans?
I recommend trimming them prior to cooking them. The ends are a bit tough and fibrous, so trimming helps to create a tender and delicious green bean. I typically cut about 1/4 of an inch off of the ends.
Should you boil green beans before sauteing them?
You do not need to blanch or steam green beans before sauteing them. Using the saute cooking method, the green beans will become perfectly tender nad bright green.
Why do you blanch green beans before cooking?
If you choose to blanch beans before sauteeing, it can bring out more color and give a crisp and tender outer layer. It also preserves texture too.
Are sauteed green beans healthy?
Yes! Green beans are important for vitamin K, manganese, Vitamin C, finger, and B vitamins. Vegetables can reduce the risk of heart disease, blood pressure, and forms of cancer, as well as avoid obesity.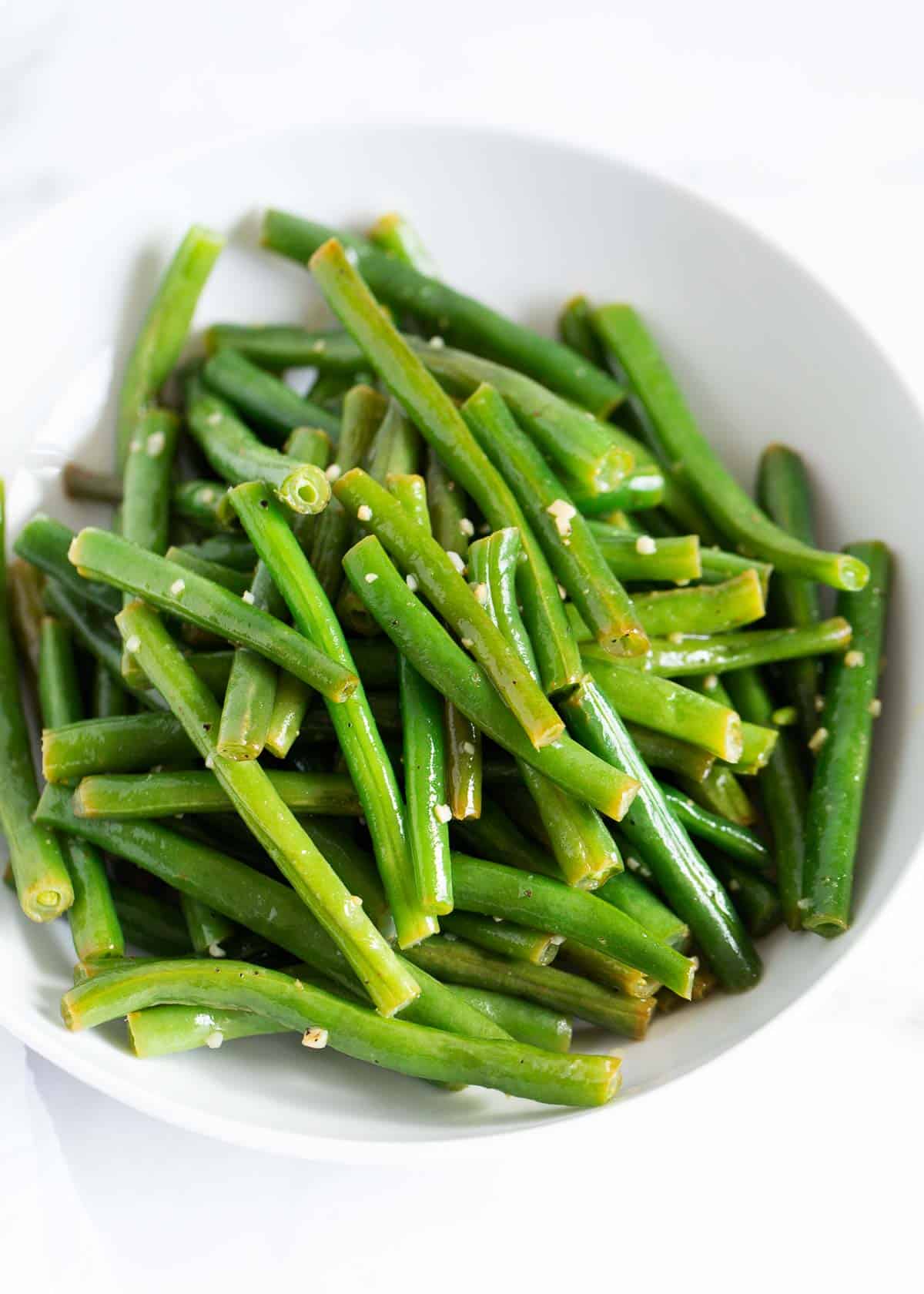 Storing Seasoned Green Beans
If you have them sitting in the fridge, they'll stay fresh for about a week. They make a great vegetable to keep on hand to whip up throughout the week. Once sautéed or roasted, they'll keep in the fridge for about 3 days. Just make sure to store them in an airtight container.
More Veggie Recipes to Try
HUNGRY FOR MORE? Subscribe to my newsletter and follow on Facebook, Pinterest and Instagram for all the newest recipes!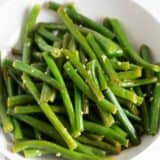 Green Beans
Perfectly tender, flavorful and fresh green beans that make an amazing side dish recipe. Learn how to cook them 2 ways – sautéed or roasted in the oven.
Ingredients
1 pound fresh green beans , trimmed
1-2 Tablespoons butter , or olive oil
1 teaspoon minced garlic
¼ teaspoon lemon pepper
Instructions
Place green beans in a large skillet and cover with 1/3 cup water. Cover and cook for 3-5 minutes. Remove lid and let water evaporate.

Add the butter or olive oil, minced garlic and lemon pepper. Cook an additional 3-5 minutes, or until tender. Salt and pepper, to taste.
---
Notes
Tip: Add a fresh squeeze of lemon juice and sprinkle 1/4 cup parmesan cheese on top to add a special twist! To roast in oven: Preheat oven to 400°F. Place green beans on the pan and drizzle with olive oil. Sprinkle with salt and pepper. Roast for 20-25 minutes or until the edges are slightly brown.
Nutrition
Calories: 41kcal | Carbohydrates: 5g | Protein: 1g | Fat: 2g | Saturated Fat: 1g | Cholesterol: 5mg | Sodium: 21mg | Potassium: 159mg | Fiber: 2g | Sugar: 2g | Vitamin A: 580IU | Vitamin C: 9.6mg | Calcium: 30mg | Iron: 0.8mg
Nutrition provided is an estimate. It will vary based on specific ingredients used.
Did you make this recipe? Don't forget to give it a star rating below!