We're bringing the taste of Louisiana right to your kitchen with a big pot of New Orleans Gumbo! Packed with juicy sausage, tender chicken, and shrimp simmering in a fire-roasted tomato and chicken broth. This flavor-infused one-pot meal will knock your socks off!
Homemade Always Tastes Better
This chicken and sausage gumbo starts with a homemade dark roux made with oil but for extra flavor sometimes I'll use bacon grease. Then we add our "holy trinity" of veggies which consists of bell peppers, onions, and celery, and then we add fresh meat, seafood, and some Cajun spice that you can add as little or as much of as you'd like.
Of course, there are a few extra steps to go along with that, but you get the idea! This one-pot New Orleans gumbo is easy to make with a prep time of just 20 minutes and even less if you made your roux ahead of time!
There is nothing more comforting than a bowl of this easy gumbo recipe served hot over white rice to soak up all that rich broth. Make a big batch of this because the whole neighborhood will be coming over for dinner!
What is Gumbo?
New Orleans gumbo is a thick soup or stew that has a broth almost like gravy. It usually contains sausage and either seafood or chicken, or both. It's not overwhelmingly spicy, but has a kick, and has layers upon layers of complex flavors that come together so beautifully.
It is the official dish of the state of Louisiana and is very popular in New Orleans. It can be made Cajun style or Creole, or many ways in between, and is almost always served over rice.
There are so many ways to make a traditional gumbo recipe, from adding things like crab and oysters or making it with just meat or just seafood, or a combination of both.
Since it's generally never too cold in New Orleans, you can assume gumbo can be eaten year-round.
Recipe Ingredients
If it looks like there are a lot of ingredients in New Orleans gumbo, you'd be right. Most you probably have on hand or can easily be found at most grocery stores. Trust me, there is a rhyme and reason for such rich, complex flavors of a really good gumbo!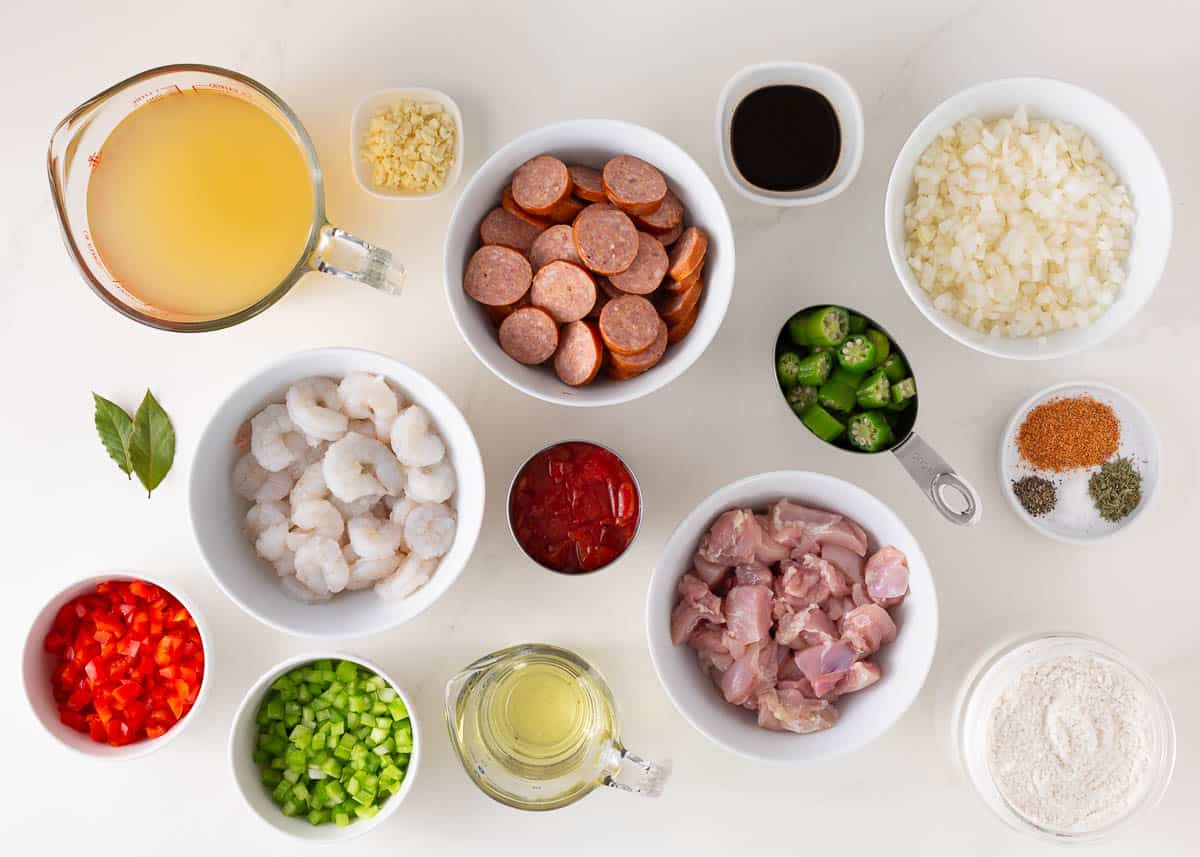 Find the full printable recipe with specific measurements below.
For the roux: Oil and all-purpose flour are cooked together to form a paste and then a gravy-like consistency. This is what thickens the broth.
Veggies: Diced onion, bell pepper, and celery are known as the holy trinity of veggies. Together they add incredible aromatic flavor.
Garlic: Minced garlic is another aromatic that always pairs well with anything that has onion in it!
Protein: Sliced andouille sausage, boneless skinless chicken thighs, and shrimp peeled and deveined. Use any leftover shrimp for one of my favorite shrimp recipes!
Fire-roasted tomatoes: A can of fire-roasted tomatoes gives the dish a fantastic smoky element without the usual highly acidic tomato flavor from regular tomatoes.
Chicken broth: Store-bought or homemade broth can be used. It's what provides the liquid that helps bring the stew together.
Seasoning: Dried thyme, bay leaves, Cajun seasoning, salt, and pepper. Use as little or as much Cajun seasoning as you like depending on how much spice you and your family like.
Sliced okra: Fresh or frozen okra is a vegetable that comes from a seed plant and is sometimes a bit slimy, which actually works in our favor as it helps to thicken the gumbo. When cooked just right it is delicious! And unlike other veggies it actually contains protein.
Worcestershire sauce: A salty, savory flavor addition for an extra depth of flavor.
Variations
There are so many ways to make gumbo! You can have fun making this dish just a bit different each time.
Use a variety of different colored bell peppers. Green bell pepper, red bell pepper, yellow, orange, or a combination of all of them for color.
If you like a little extra heat, add some cayenne pepper or hot sauce to taste. Or you could just have it at the table and allow whoever wants to add it to their dish.
Other meats that can be added are turkey, duck, and lump crabmeat.
If you don't like the subtly smokey fire-roasted tomatoes, you can swap them with tomato sauce instead.
How to Make New Orleans Gumbo
The flavors marry even more as leftovers, so make a big batch on Sunday and have it throughout the week!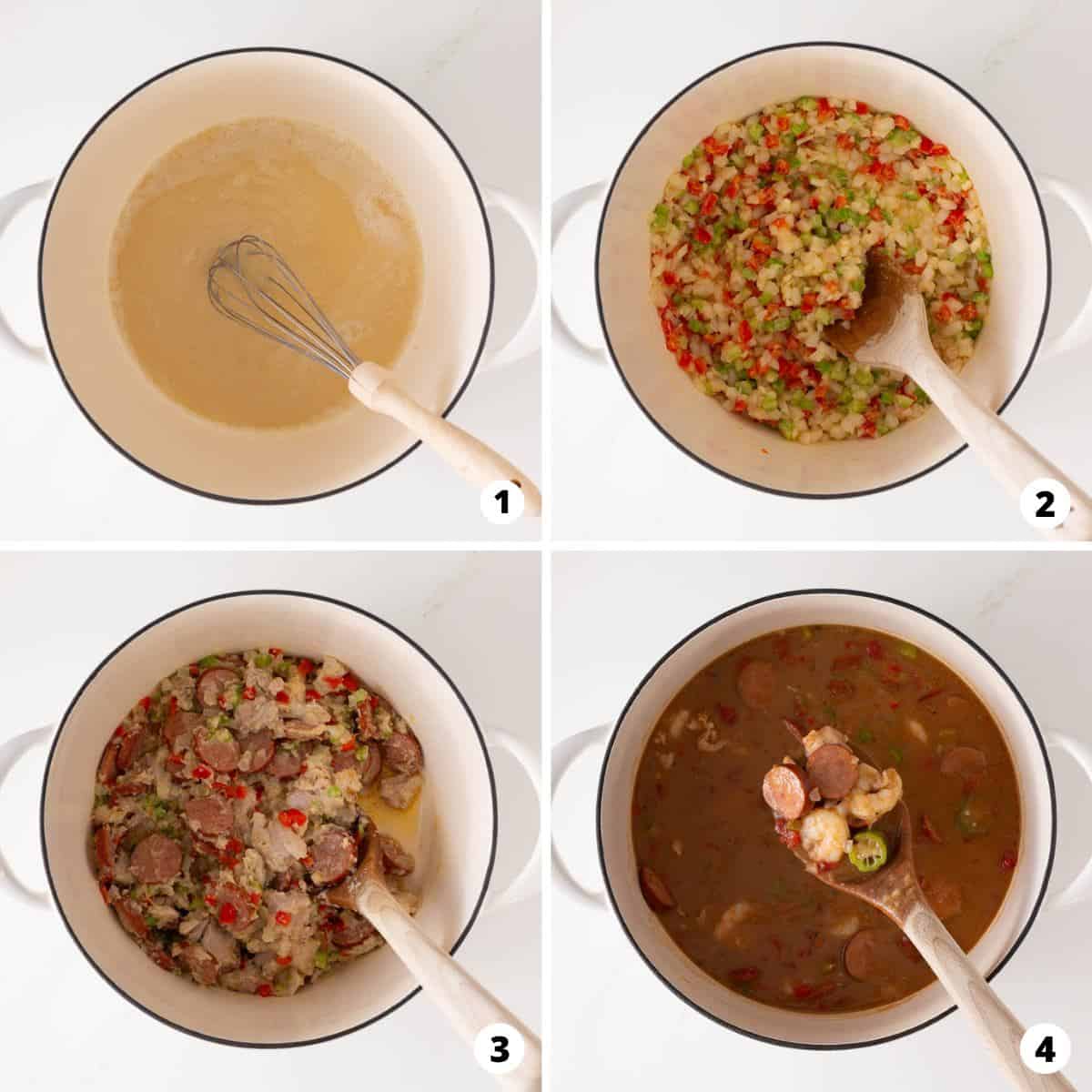 Make a roux. In a large pot or Dutch oven, slowly whisk the flour into the heated oil over medium-low heat. Making a dark roux takes much longer than a light roux, it takes a bit of patience. You'll be mixing for about 20 minutes until it turns a dark brown color with a nutty aroma.
Add in the veggies. Stir the onions, bell peppers, celery, and garlic into the roux and cook for about 5-7 minutes until the vegetables have softened.
Add the sausage and chicken. Rotate the chicken pieces as they cook until it's browned on all sides. You can also brown the meat separately and then add it in, it's up to you.
Combine the remaining ingredients. Stir in the tomatoes, broth, and all the seasoning. Bring it to a boil and then reduce the heat, cover and simmer for 45 minutes, stirring occasionally. Then, add the shrimp, okra, and Worcestershire sauce and simmer for an additional 10-15 minutes.
Once the shrimp are cooked through and the okra is tender, season your New Orleans gumbo to taste and enjoy!
Making the Perfect Roux for Gumbo
There are different types of roux varying from light to dark. Light roux is formed in a few minutes and is great to use for white sauces and light gravies. A dark roux is what we want for gumbo. It requires some patience but it's worth every second!
It can be made with oil, butter, or bacon grease and flour. However, for Cajun gumbo, the roux is made with oil that gets stirred constantly over medium-low heat for about 20-25 minutes. It passes through the various stages of roux to get to what we want, which is dark brown, rich in flavor, and has a gravy-like consistency and looks a bit like melted chocolate.
Expert Tips
Be prepared! You can't take your eyes off the roux or it might burn. However, once it's ready you'll want to continue with the recipe. If you have everything chopped, diced, and minced ahead of time, you won't have to stop what you're doing to catch up.
Store any extra roux you've made for up to 1 month in the fridge.
Follow directions carefully. Add the shrimp towards the end as it cooks faster than chicken or sausage. If you add it too early you risk overcooking it.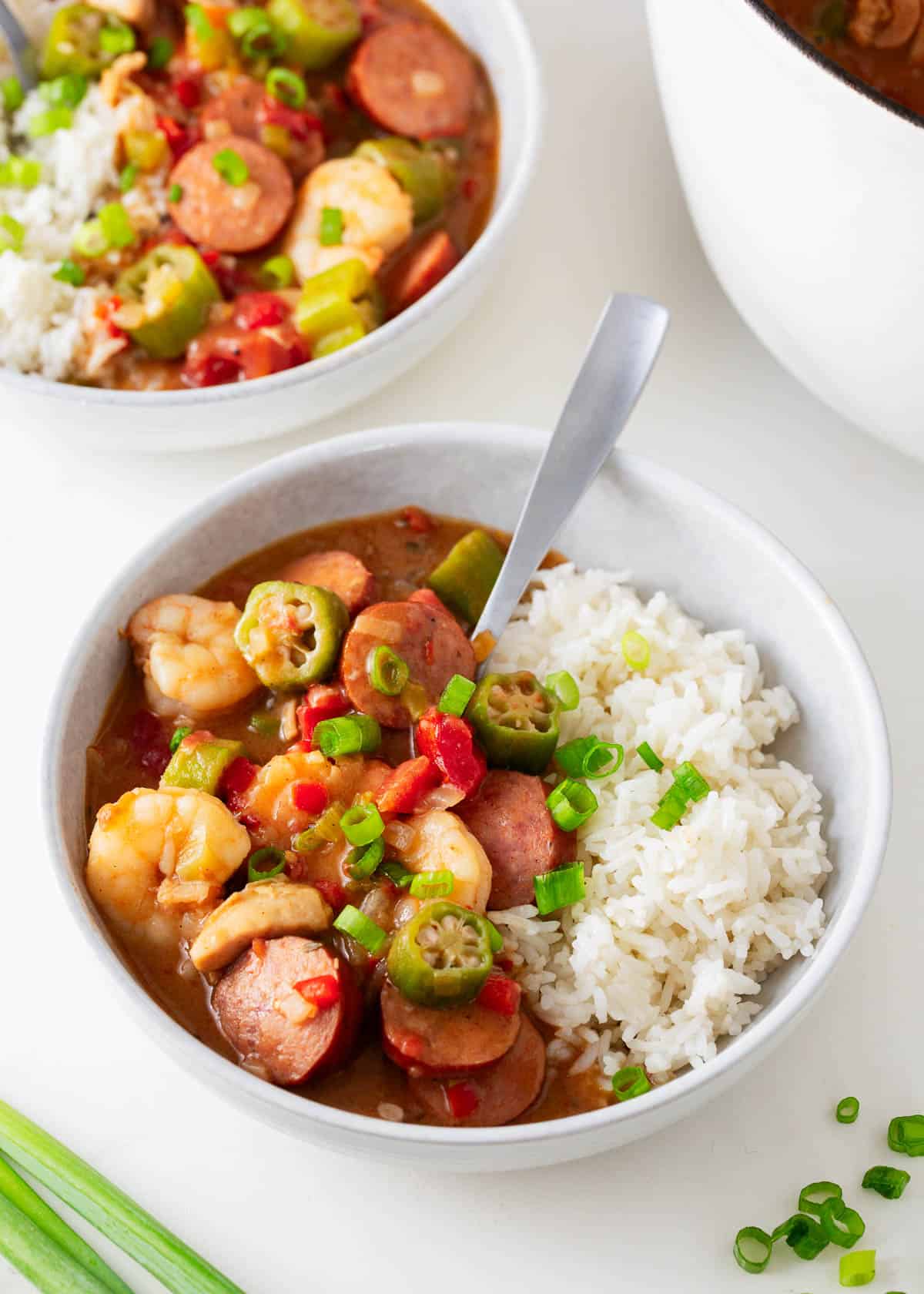 Recipe FAQs
What is the difference between cajun gumbo and creole gumbo?
If you're a stickler for the rules, then you'll notice my New Orleans gumbo recipe has a bit of both styles. Although this recipe uses oil for the roux (instead of butter) and contains chicken and Cajun seasoning, it also contains tomatoes, which is a signature ingredient in Creole gumbo.

Overall, cajun gumbo has more of a stew consistency, while creole gumbo has a thinner soup base. However, this dish has evolved in so many different ways, and has formed into many different styles, so it's hard to pinpoint exactly which is which anymore!
What is gumbo vs jambalaya?
They are very similar so it's easy to get them confused. The main difference is that gumbo is a stew served over rice and jambalaya is a dish that is cooked with rice. The rice is a major component of jambalaya. If you're interested in trying both, I have a great crockpot jambalaya that you'll love.
Can I make New Orleans gumbo in advance?
You can! The longer it sits, the tastier it is. So, make it the day before and serve it the next day.

Or, you can save some time and make the roux up to a few days ahead of time.
Serving Suggestions
White rice is the classic choice, but sometimes we'll do black beans and rice which is also a fantastic combo. As long as there's a starch underneath to soak up all the flavorful broth, we're happy.
I also like to whip up a batch of cornbread muffins to complete the meal.
A lot is going on in a hearty New Orleans gumbo, so sometimes a simple side salad is the way to go.
Storing
Keep leftovers of gumbo in an airtight container in the fridge for up to 4 days. It's great for making ahead and having dinner leftovers for days!
To freeze, allow the gumbo to cool completely and keep it frozen in a freezer-safe container for up to 2 months. Thaw gumbo in the fridge overnight then reheat on the stovetop or microwave.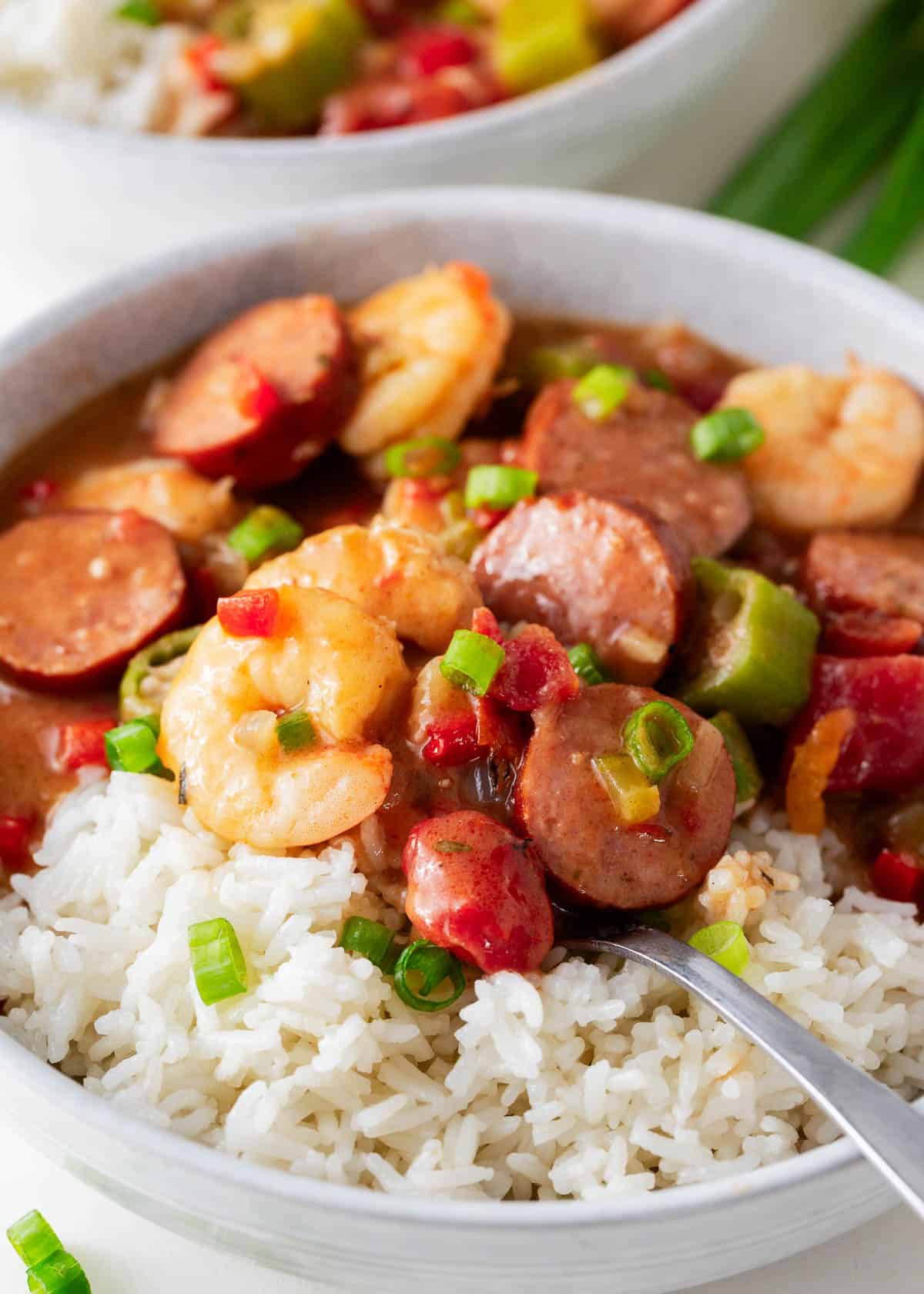 More Comfort Food Recipes
HUNGRY FOR MORE? Subscribe to my newsletter and follow on Facebook, Pinterest and Instagram for all the newest recipes!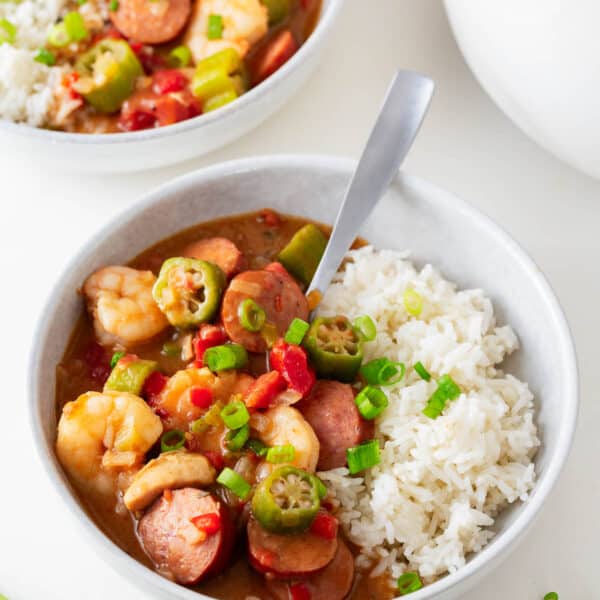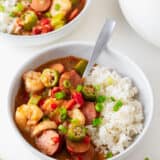 Gumbo Recipe
We're bringing the taste of Louisiana right to your kitchen with a big pot of New Orleans Gumbo! Packed with juicy sausage, tender chicken, and shrimp simmering in a fire-roasted tomato and chicken broth. This flavor-infused one-pot meal will knock your socks off!
Ingredients
⅔ cup vegetable oil , or bacon grease
⅔ cup all-purpose flour
1 large onion , finely diced
1 bell pepper , finely diced
2 celery stalks , finely diced
4 cloves garlic , minced
1 pound andouille sausage , sliced
1 pound boneless, skinless chicken thighs , cut into bite-sized pieces
1 (14-ounce) can fire roasted tomatoes
4 cups chicken broth
½ teaspoon dried thyme
2 bay leaves
1-3 teaspoons cajun seasoning , adjust to your spice level
Kosher salt , to taste
Ground black pepper , to taste
1 pound shrimp , peeled and deveined
1 cup okra , sliced (fresh or frozen)
2 tablespoons Worcestershire sauce
Cooked white rice , for serving
4 green onions , thinly sliced, for serving
Instructions
In a large pot or Dutch oven, heat the oil over medium-low heat. Whisk in the flour slowly and whisk constantly until it turns a rich brown color (about 20 minutes). Continue stirring being careful not to burn it. This is the roux and you want it to be a thick consistency.

Stir in the diced onion, bell pepper, celery, and garlic. Cook, stirring occasionally, 5 to 7 minutes, or until the vegetables are softened.

Add the sausage and chicken. Cook, rotating the chicken pieces, 5 to 7 minutes, or until the chicken is browned on all sides. Alternatively you can brown the meat with some oil in a separate skillet and add in.

Stir in the tomatoes, broth, thyme, bay leaves, Cajun seasoning, salt, and black pepper. Bring the mixture to a boil, then reduce the heat to low. Cover and simmer, stirring occasionally, 45 minutes.

Stir in the shrimp, okra, and Worcestershire sauce. Simmer for an additional 10 to 15 minutes, or until the shrimp are cooked through and the okra is tender.

Remove the bay leaves from the pot. Taste and adjust the seasoning with salt, black pepper, and Cajun seasoning, if desired.

Serve gumbo warm over cooked white rice and topped with sliced green onions.
---
Nutrition
Calories: 576kcal | Carbohydrates: 17g | Protein: 32g | Fat: 42g | Saturated Fat: 10g | Polyunsaturated Fat: 15g | Monounsaturated Fat: 14g | Trans Fat: 0.3g | Cholesterol: 140mg | Sodium: 1344mg | Potassium: 699mg | Fiber: 2g | Sugar: 4g | Vitamin A: 1054IU | Vitamin C: 34mg | Calcium: 61mg | Iron: 3mg
Nutrition provided is an estimate. It will vary based on specific ingredients used.
Did you make this recipe? Don't forget to give it a star rating below!