Get into the Halloween spirit with this super adorable Halloween gingerbread house with graham crackers! It's completely edible and easy to make using cookies and icing for a sturdy house ready for everyone to help decorate!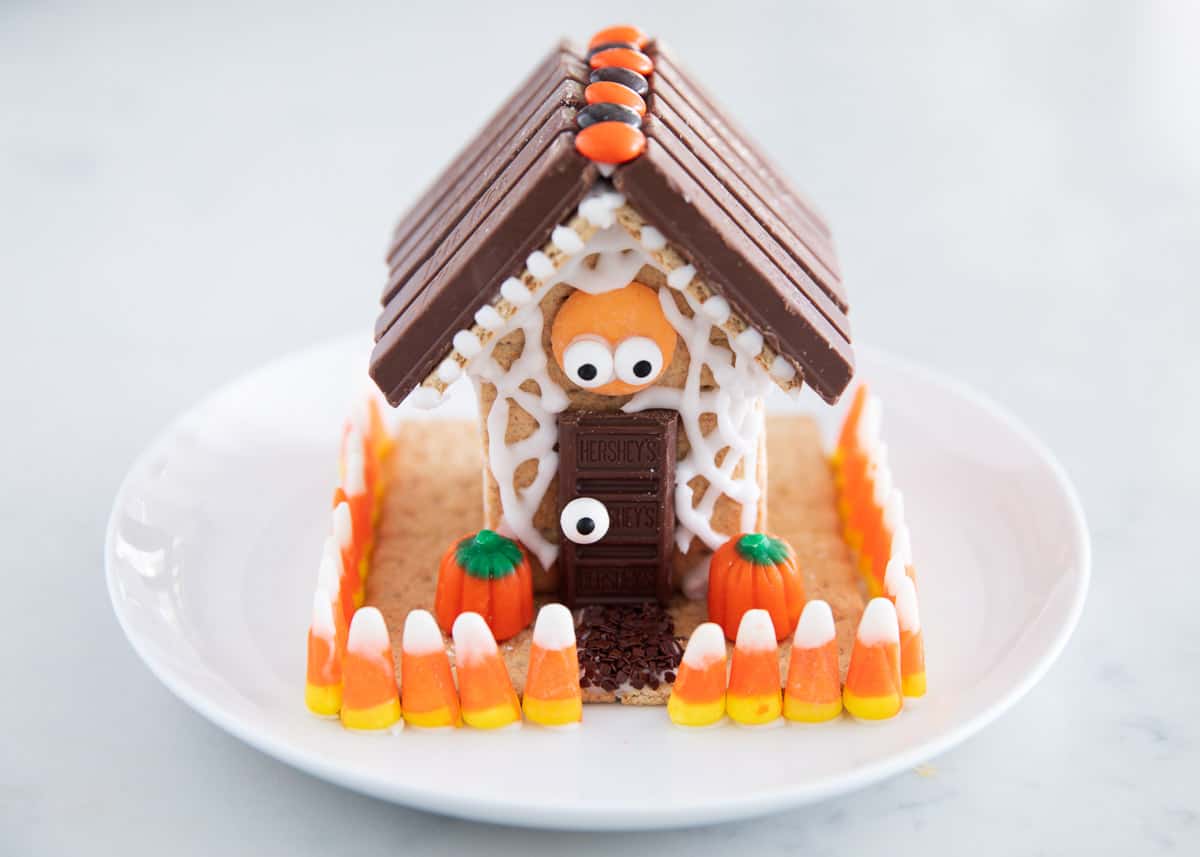 Easy, Fun, and Affordable!
I'm always on the lookout for new Halloween desserts and if they're fun and funky, even better! Making the Halloween version of the traditional Christmas graham cracker gingerbread house has become one of my kids' favorite fall activities. Mine too!
It lasts a while, so we can make it as far in advance of Halloween as we need, or wait until after Trick-or-Treating and use a bunch of leftover candy!
It's made with just 3 ingredients. The graham crackers, the powdered sugar, and water. The gingerbread icing is what holds the house together and is very sturdy, so it's perfect for decorating with all sorts of candy and chocolate!
It's an easy Halloween recipe that takes very little effort, is fun for kids and adults, and is completely edible when it's finished. I'm excited to see what my kids come up with this year!
Why This Recipe Works
Fun for the whole family. Decorate a single Halloween gingerbread house, or set it up so that everyone decorates their own. A little friendly competition can be so much fun!
It's delicious! Building it is fun, but so is eating it! Make sure you're using candies and treats you know you and your family will enjoy eating once it's been taken down.
Quick and easy. Way faster than baking and cutting out gingerbread cookie pieces for this house. You definitely could, but that's a whole other recipe. Today, this Halloween gingerbread house is a twist on the traditional gingerbread house kit.
Ingredients Needed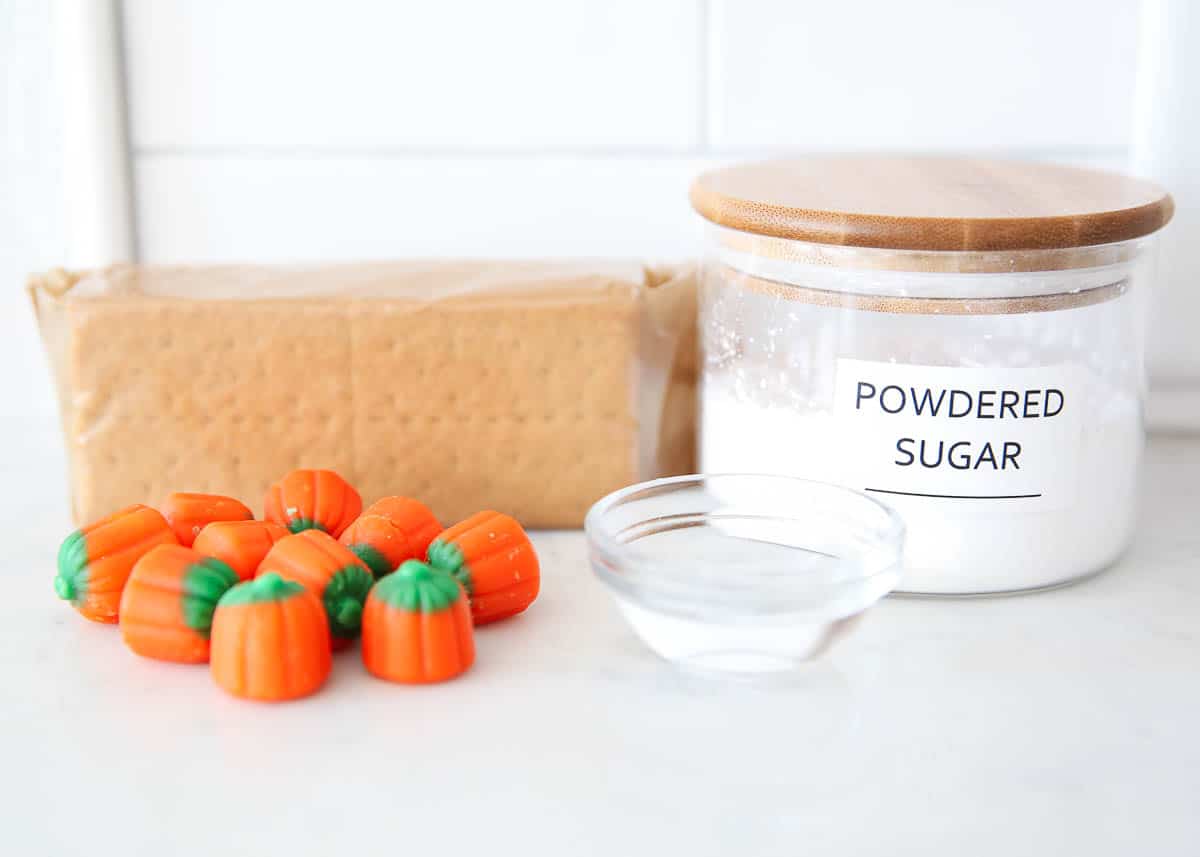 Graham crackers: You'll need 28, but I always recommend having more available ready to be used. You never know how many will be broken, or eaten along the way.
Powdered sugar & water: This is a simplified version of the traditional royal icing that is used to hold the gingerbread house together. Graham crackers are lighter therefore using this type of icing is enough to hold them together.
Cake board: Not an ingredient, but a handy piece of equipment you might find comes in handy when decorating the Halloween gingerbread house. You can always use a large sheet of unbroken crackers too.
A Spooky Twist!
Use chocolate graham crackers for a dark and gloomy effect. The added chocolate flavor is something everyone can get on board with!
Candy Decoration Ideas
These are all optional. Have your kids pick their favorite (or use leftover Halloween candy) and have some fun decorating!
M&Ms
Skittles
Gum drops
Candy corn
Caramels
Candied ginger
Licorice
Mints
Nerds
Runts
Sprinkles
Coconut
Pretzels
Mini marshmallows
Chocolate chips
Brown sugar
Little candy bones
Tiny pumpkins, a spiderweb, tombstones, or skeletons
How to Make a Halloween Gingerbread House
Follow the directions step-by-step to get your gingerbread Halloween house intact. Once you've done that, feel free to decorate to your heart's content. No need to do it exactly the way we do as shown in the photos. Just have fun with it!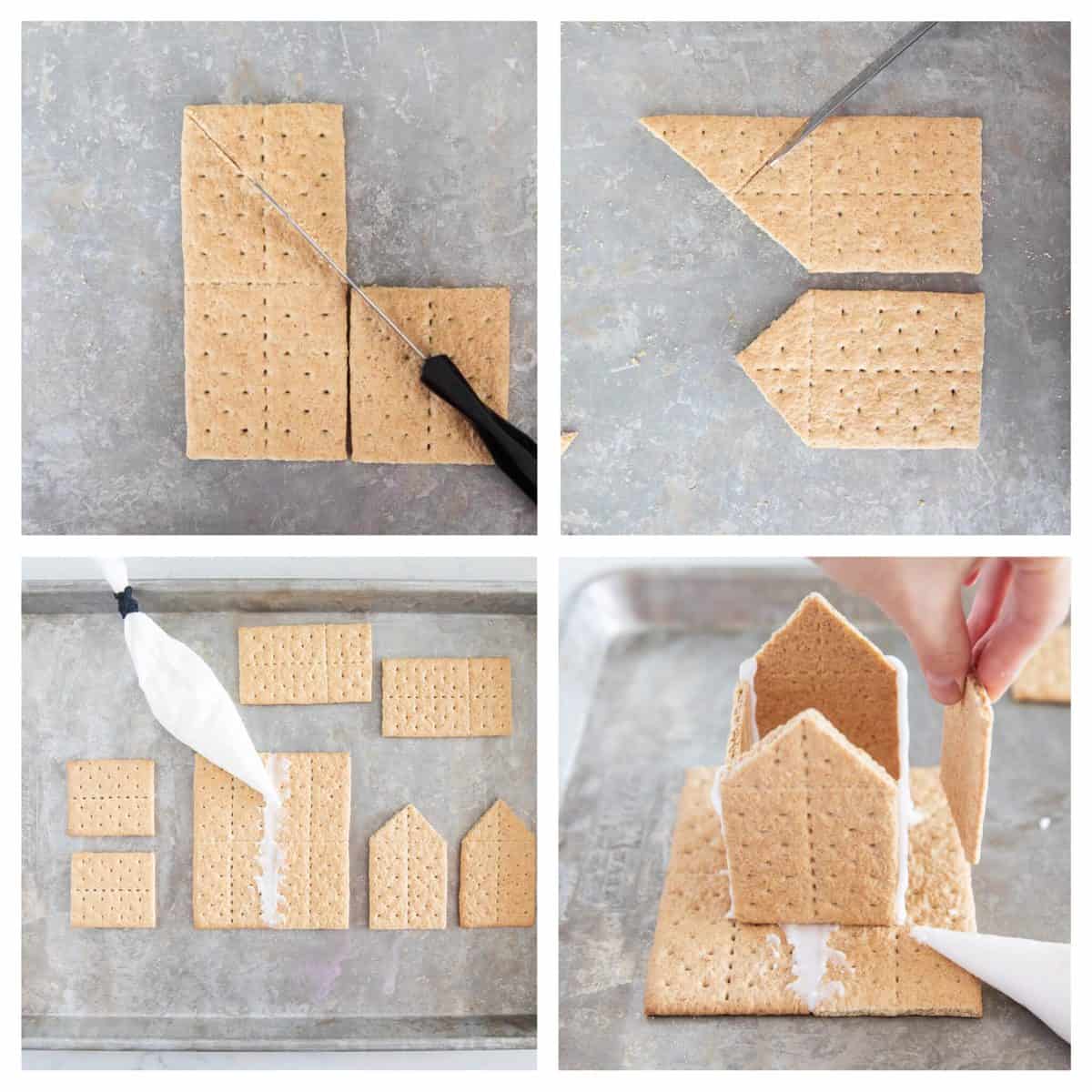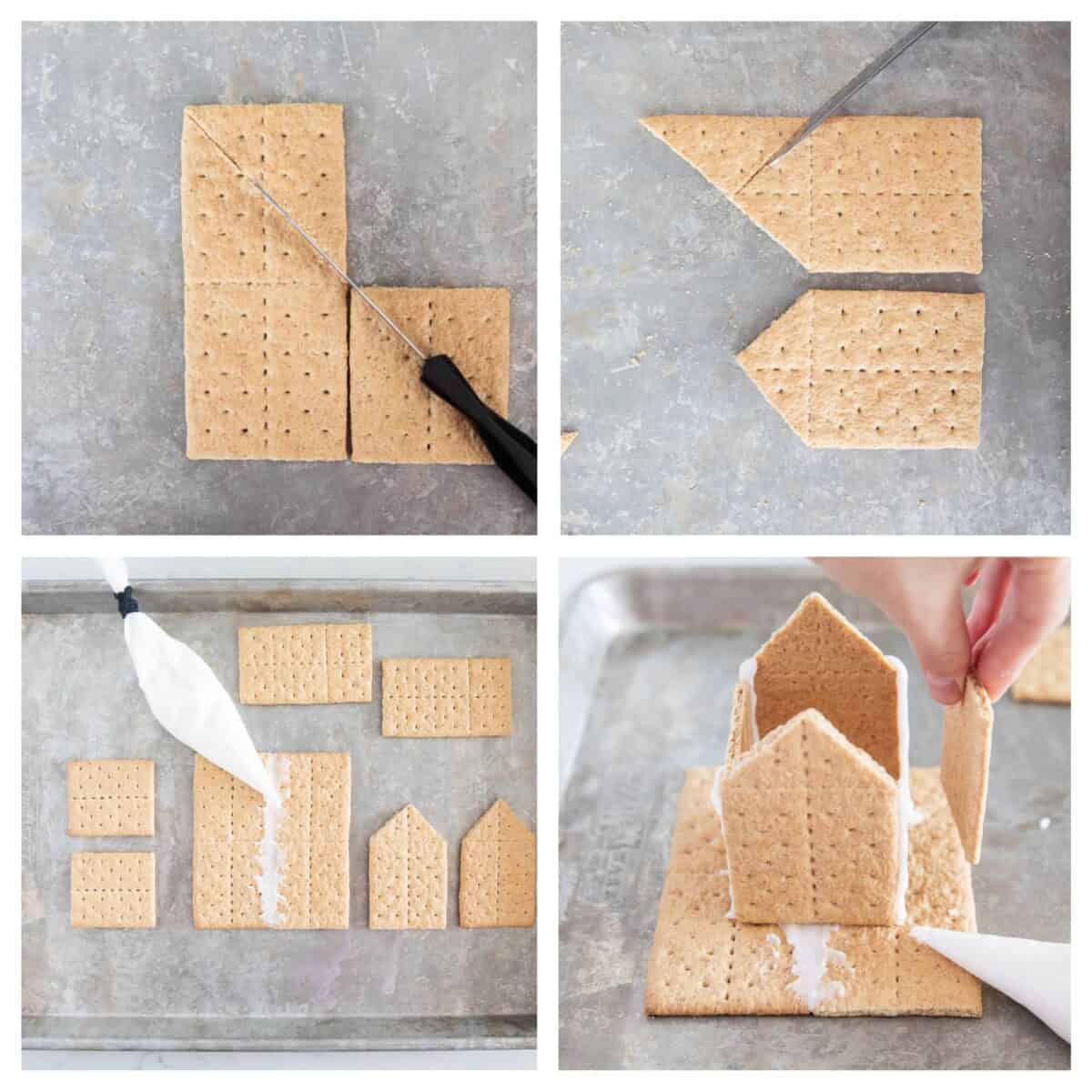 Cut shapes. Use a sharp knife, preferably serrated, and cut the pieces as directed (see pictures for extra help). You will need a total of 5 graham cracker sheets. If you're using graham crackers for the base if you don't have a cake board, glute a couple of extra sheets together and let them set.
Make the icing. Stir together the powdered sugar and water. Add an extra Tablespoon of water and continue stirring. Continue adjusting the water or sugar as needed. It's going to be thicker than traditional icing. You don't want it runny so try spooning out some icing and flipping over the spoon. If it doesn't drizzle out and stays in place, it's good to go!
Glue the house. Work with just 2 graham crackers at a time. Pipe the icing along the edges to create the front and side of the house. Continue with the back of the house and the other side. Add icing to the bottom edge of the house and use it to hold the house onto the cake board or cookie base and press for 30 seconds until sturdy. Add the roof. Last, pipe a line of icing around the base of the Halloween gingerbread house just for extra security.
Dry and decorate. Leave it alone for about 30 minutes to give it a chance to dry and set. This is a great time to organize your candy. Separate things into little bowls, make some extra icing with added food coloring (orange icing is always a hit, as is black icing, or even chocolate frosting!), and then decorate as desired.
Expert Tips
To get the back of the house and the front of the house perfectly even, you can cut one and use that one as a template. If you're making more than one house, feel free to keep one or two as template pieces for the rest of them. It's easier to add a roof to even shapes!
If you don't have a piping bag, use a zip-top bag and snip the end. If neither is an option, feel free to use your fingers or a popsicle stick.
Plan for mistakes! Have more than you need of everything. More cookies, candy, and icing. So the icing and candy aren't for the mistakes, but it definitely helps with the mysterious disappearance of the candy by the time you're ready to decorate.
Tips for a Classroom Halloween Party
Attention teachers and room moms! This fun activity will be a hit with your students! No need to make individual houses, this is a great small group activity.
For younger kids, you may already want to have houses glued and set, for older kids they can do this part using plastic spoons or wooden popsicle sticks.
Divide the candy evenly into small bowls and distribute it to everyone's tables. Cover each one in plastic wrap until it's time to use them.
Place the house on baking sheets lined with parchment paper to catch all the mess. It makes for easier cleanup!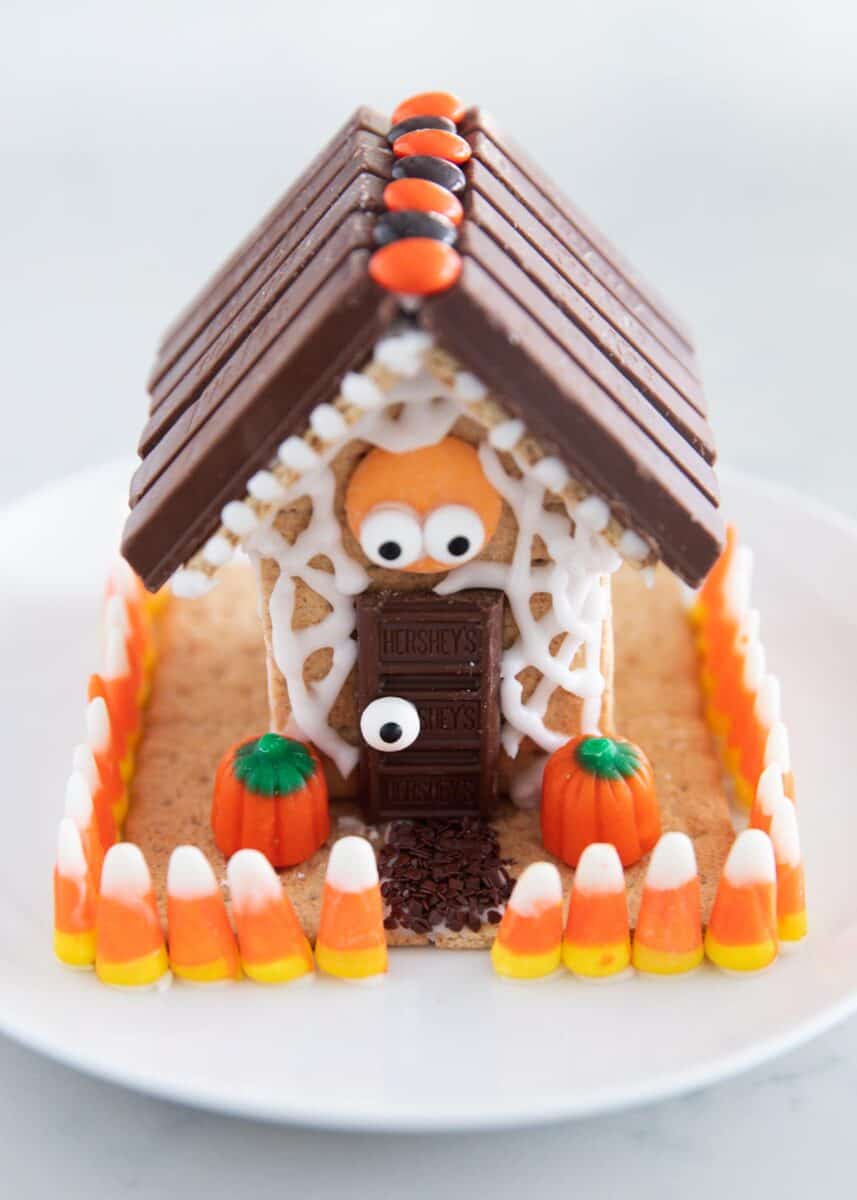 HUNGRY FOR MORE? Subscribe to my newsletter and follow on Facebook, Pinterest and Instagram for all the newest recipes!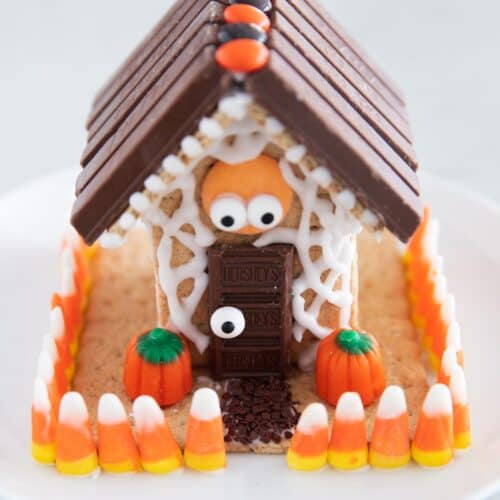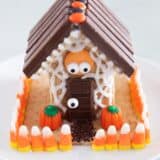 Halloween Gingerbread House
Get into the Halloween spirit with this super adorable Halloween gingerbread house with graham crackers! It's completely edible and easy to make using cookies and icing for a sturdy house ready for everyone to help decorate!
Ingredients
28 graham crackers , plus more if needed
2 cups powdered sugar
2 Tablespoons water (more or less as needed)
For decorating: Candy, Sprinkles, Coconut, Pretzels, Mini marshmallows, Gum drops, Mints, Cake boards
Instructions
Place the graham crackers on a cutting board and grab a serrated knife to cut the pieces. If you have cake boards, you can set the houses on those or you can glue 2 full graham crackers together to create a base, if desired. For the house you will you need 5 graham crackers. To create the front of the house, make a perpendicular cut from the right middle edge to the top left of 1 whole graham cracker. I like to cut in a sawing motion and then break it off.

Next, cut the triangle from the left middle side creating a house shape for the front. Repeat with 1 whole graham cracker for the back of the house.

To create the middle of the house, break 1 graham cracker in half. To create the roof, cut off 1/4 of 1 graham cracker. Repeat with remaining graham crackers to create a total of 4 sets of front, back, sides, roof, and base of the houses.

In a medium bowl, stir together the powdered sugar and 1 Tablespoon water. Add 1 more Tablespoon water and continue to stir. It will be clumpy but keep stirring.

If it needs more water, add 1 teaspoon at a time until it is smooth but thicker than your typical icing so that it doesn't run off the house. To check if it's ready, lift the spoon above the bowl and turn it over. The icing should remain in place. If it drizzles, add 1 to 2 Tablespoons powdered sugar.

Spoon the icing into a zip-top bag and snip the end for piping.

Add the icing to the edges of the front and side of the house (working only 2 pieces at a time). Hold about 15 seconds, or until they stick together. Place the icing around the bottom edges and gently push down onto your base. Add the other sides and roof. Draw a line of icing around the base to make it extra sturdy.

Let dry about 30 minutes before decorating with candy. Place desired candy into bowls and decorate as desired.
---
Nutrition
Calories: 649kcal | Carbohydrates: 135g | Protein: 7g | Fat: 10g | Saturated Fat: 2g | Polyunsaturated Fat: 0.5g | Monounsaturated Fat: 4g | Sodium: 647mg | Potassium: 175mg | Fiber: 3g | Sugar: 81g | Calcium: 78mg | Iron: 4mg
Nutrition provided is an estimate. It will vary based on specific ingredients used.
Did you make this recipe? Don't forget to give it a star rating below!