Start a new tradition with your kids and grandkids this year! Learn how to assemble and decorate the easiest adorable graham cracker gingerbread house just in time for Christmas!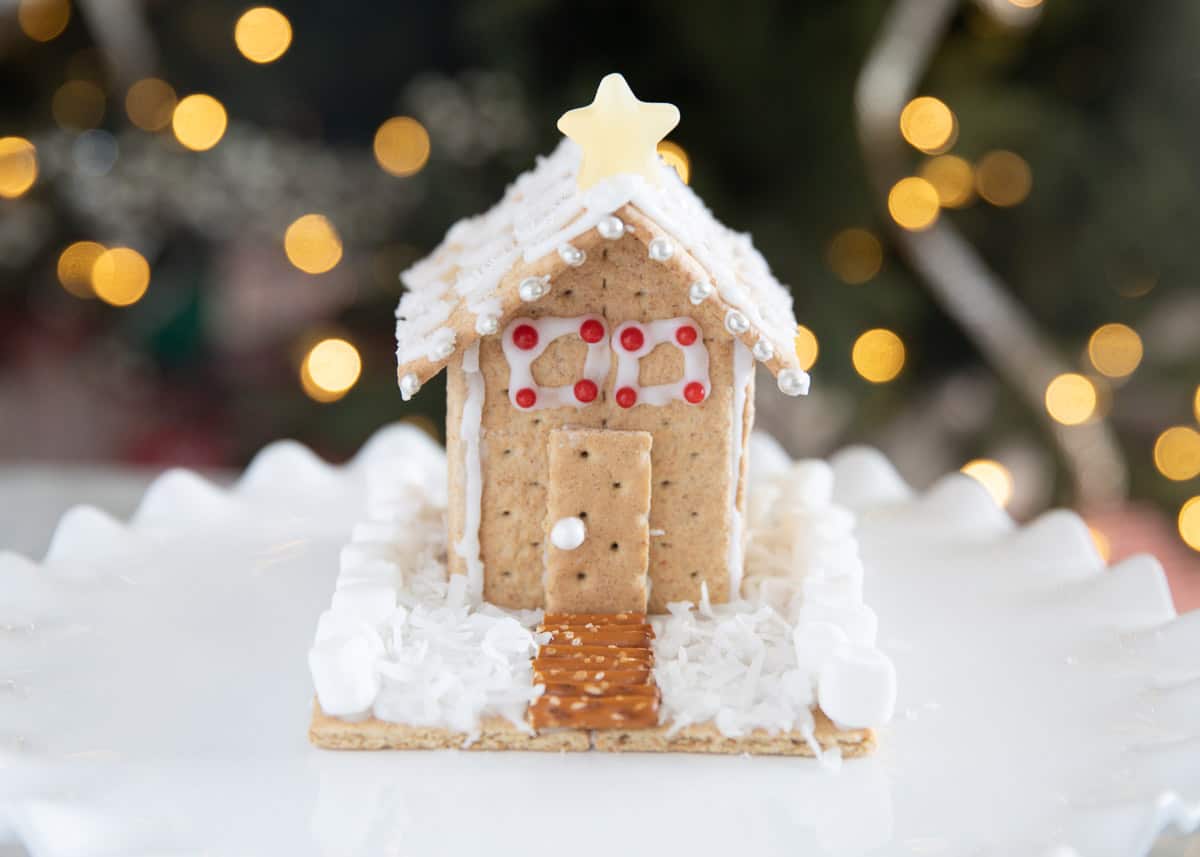 An Easy Graham Cracker House
A graham cracker gingerbread house is a fun way to make a house without any gingerbread! It's a less involved version than the intricate classic version, especially when you're not making the cookies from scratch. The kids will love this activity which may very well become a family tradition!
There are no rules set in stone when making this easy graham cracker gingerbread house. With this easy-to-follow guide, you will have a perfect standing structure ready to decorate how you like it. I also include the easiest 2-ingredient gingerbread house icing that requires no egg whites or meringue!
Getting Started
Let's get started making your very own gingerbread house with this simple icing.
Graham Crackers: You'll need about 32 in total. Don't break them up individually!
Serrated knife: You'll need this to cut through some of the crackers to get the proper angle.
Icing: Used as the glue that fills in the seams and holds the pieces together.
Cookie boards: For the base of the house, if you have them. Otherwise graham crackers will create the base.
How to Assemble It
Grab a cake board or glue 2 full sheets of graham crackers together to use as a base.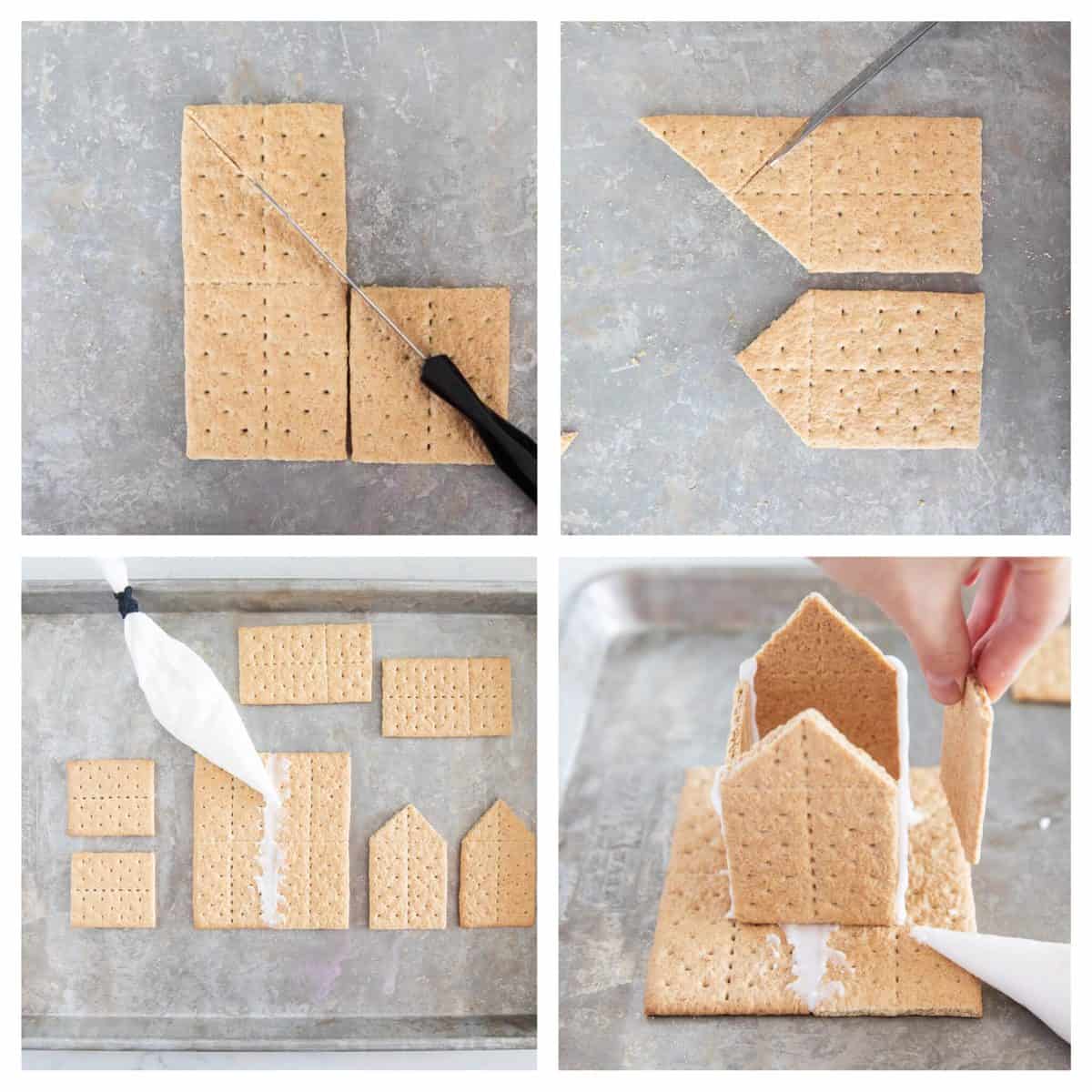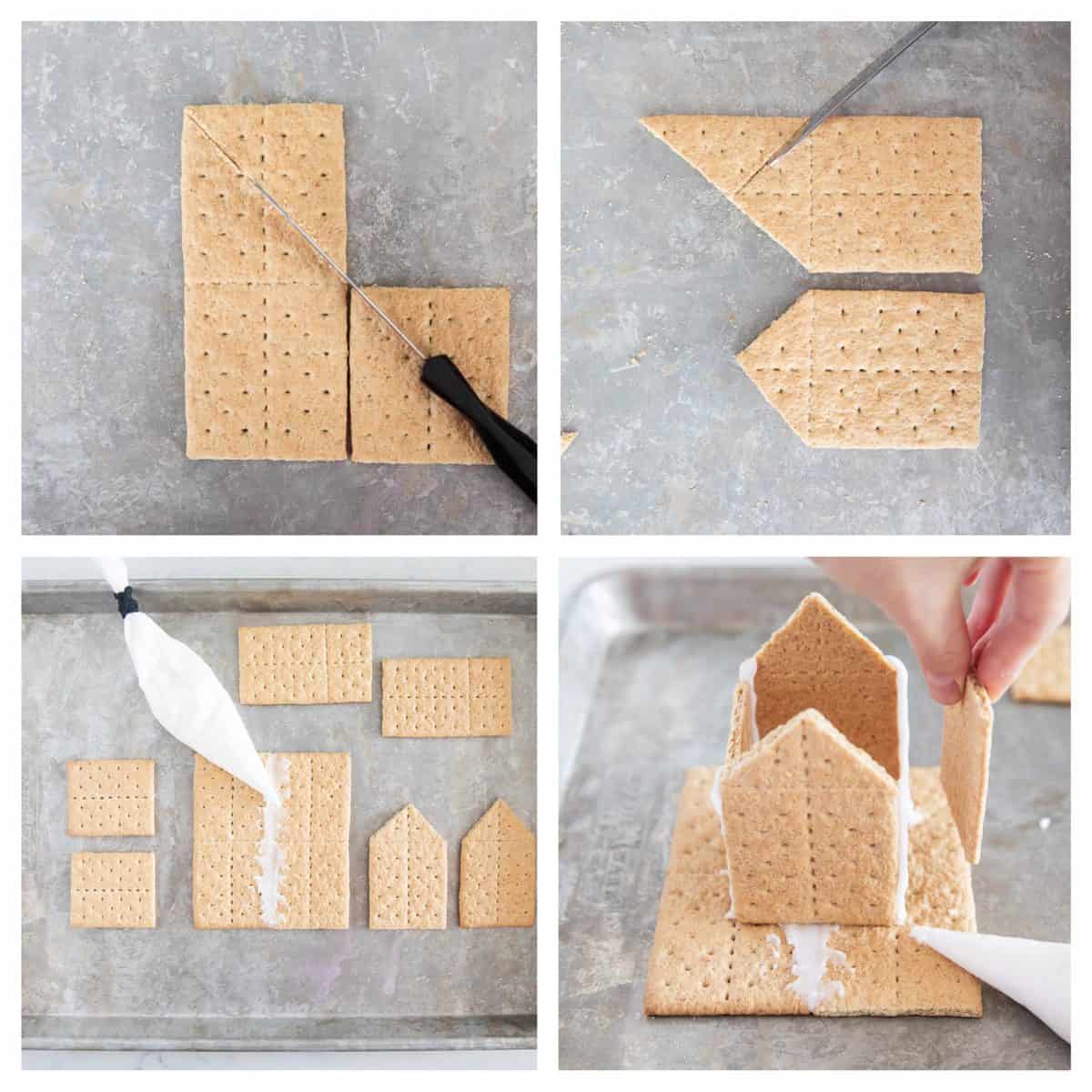 Cut crackers into required shapes for the front and back walls, side pieces, and roof pieces. Set aside.
Make the thick icing to use as the glue and fill a zip-top bag and snip the end of it.
Working with only two pieces at a time, add icing to the edge of the front and side of the house. Hold together for about 15 minutes or until the corner is stuck together.
Add icing around the bottom of both of those pieces and gently press it down onto your base.
Add the other sides, and the roof.
Draw a line of icing around the base to give it a little extra security.
Allow it to dry before decorating.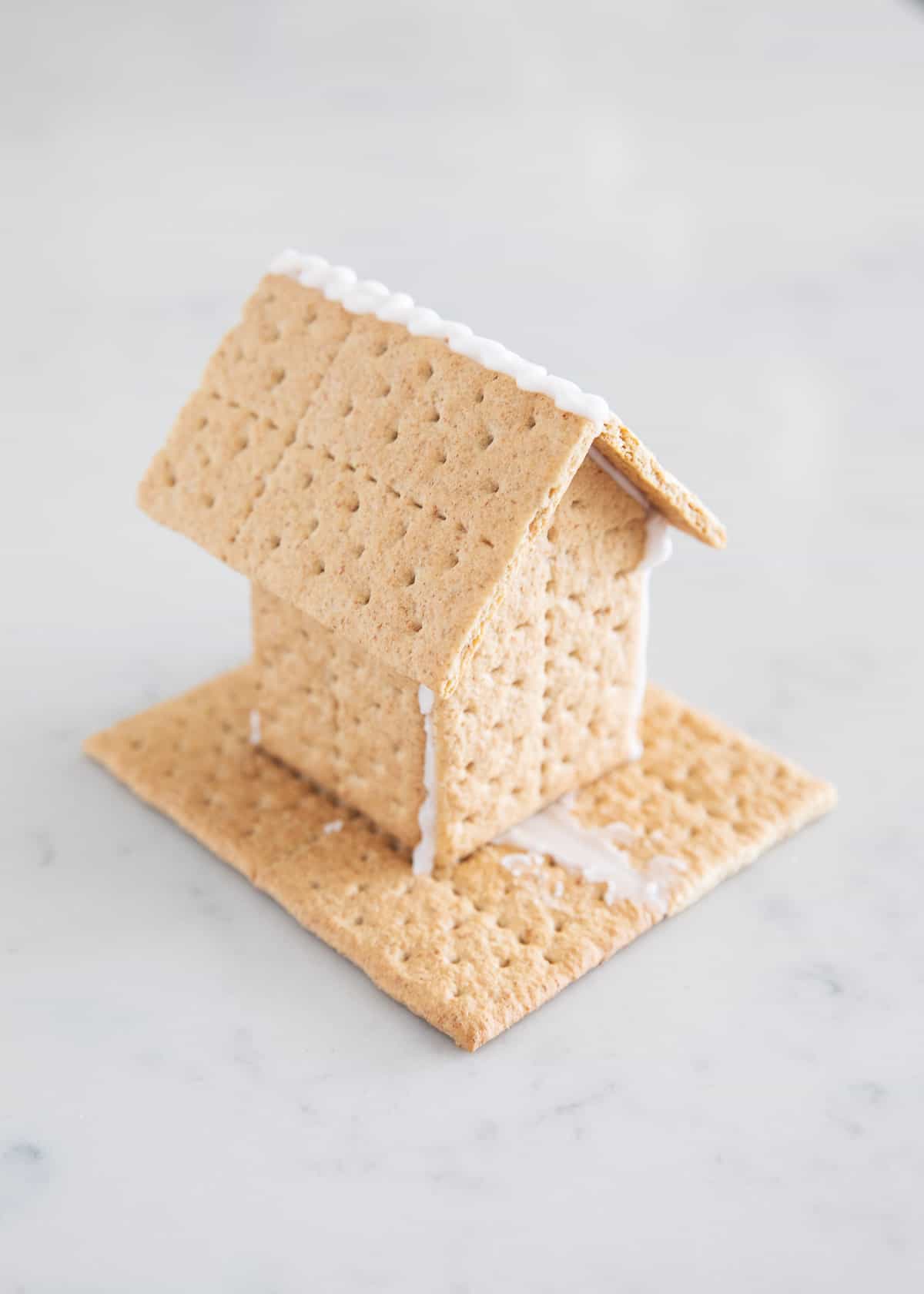 Decorating Ideas
Here are some of my favorite decorating ideas which are always a hit and make for a beautiful (and delicious) display throughout Christmas time.
This recipe also works great for celebrating other holidays, such as when making a Halloween gingerbread house. Feel free to get creative with it!
Candy balls for decorated around the windows and along the edge of the roof.
Green sprinkles, red sprinkles, or any festive colorful candies.
Coconut flakes or white chocolate shavings for snow on the roof and around the base.
Pretzel sticks for the walkway.
Mini marshmallows can be used along the border as snowbanks or made into a mini snowman or two.
Gumdrops for added color on the roof, along the walkway, or anywhere you want!
Peppermint candies or mini candy canes for festive yumminess wherever you can find a spot for them!
Extra frosting to create a dripping effect when you drizzle a bit down the roof to look like icicles.
Especially for the Kids!
While you're waiting for the house to dry, set up a DIY decorating station. Add everything to little bowls, perfect for little hands, and have the kids decorate it themselves.
Helpful Tips
Use a serrated knife to cut the graham cracker pieces. You want straight edges!
The icing contains confectioner's sugar and water so it's important you only add a bit of water at a time. You want it to be thicker than you normally would make an icing sugar frosting.
Make it as smooth as possible without being too thin and runny. When scooped up into a spoon it should not drip once turned over.
Make sure the first two pieces are stuck together before adding them to the base.
Don't forget to add extra icing around the base of the house for added grip.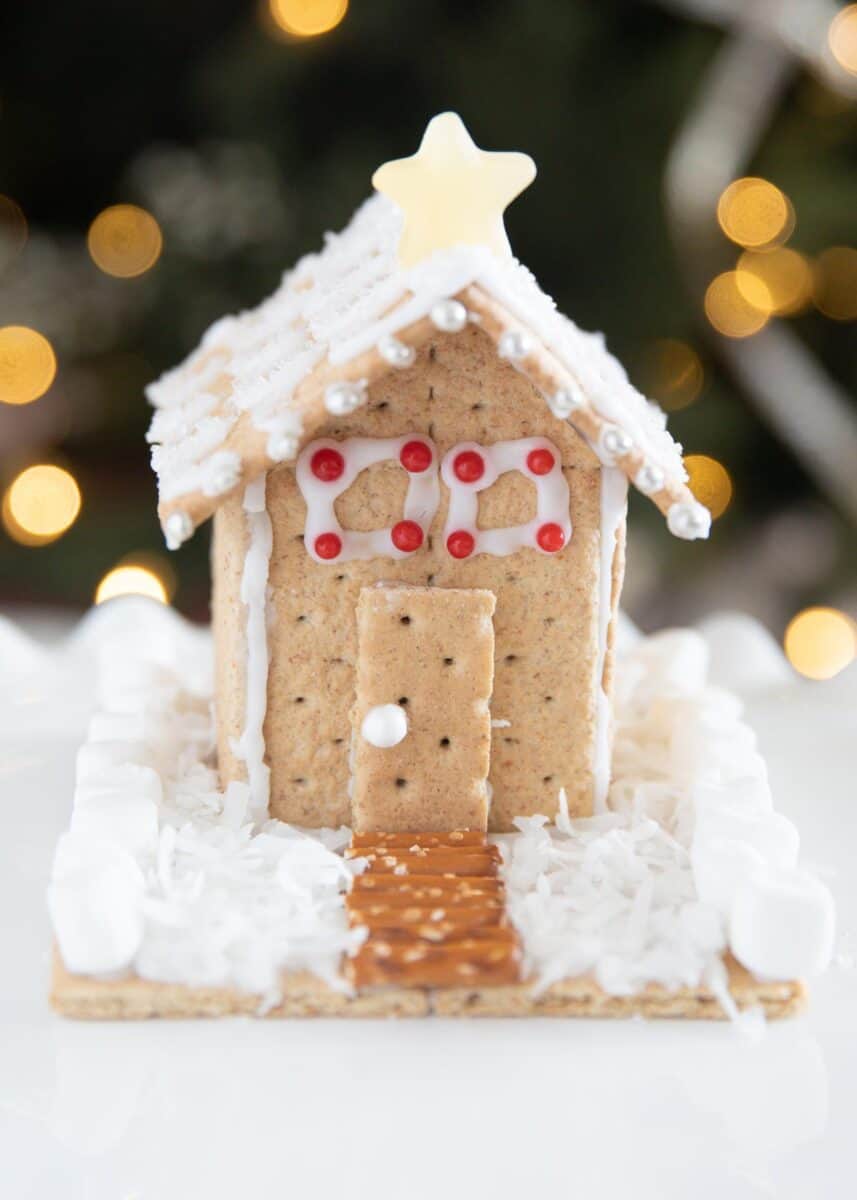 Are you looking for more frosting ideas!? Try these
More Christmas Fun
HUNGRY FOR MORE? Subscribe to my newsletter and follow on Facebook, Pinterest and Instagram for all the newest recipes!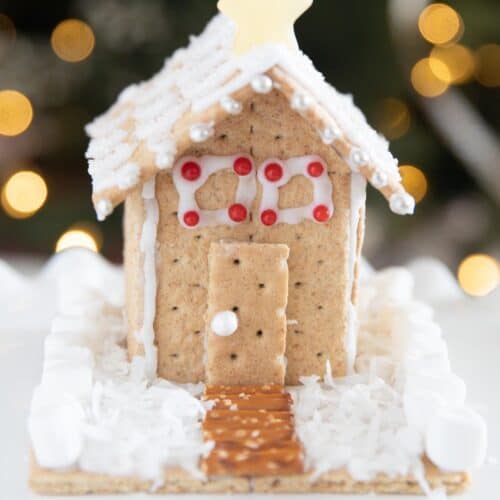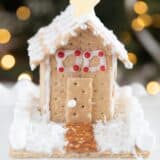 Graham Cracker Gingerbread House
Start a new tradition with your kids and grandkids this year! Learn how to assemble and decorate the easiest adorable graham cracker gingerbread house just in time for Christmas!
Ingredients
2 cups powdered sugar
2 Tablespoons water (more or less as needed)
32 graham crackers
For decorating: candy, sprinkles, coconut, pretzels, mini marshmallows, gum drops, mints, cake boards
Instructions
Place the graham crackers on a cutting board and grab a serrated knife to cut the pieces. If you have cake boards, you can set the houses on those. For the house you will you need 5 graham crackers. Then you can glue 2 full sheets together for a base if desired. For the front of the house make a perpendicular cut from the right middle edge to the top left. I like to cut in a sawing motion and then break it off.

Next cut off the triangle from the left middle side creating a house shape for the front. Repeat for the back of the house.

For the middle of the house break one graham cracker in half. Then for the roof you're going to cut off 1/4 of the graham cracker. Set graham crackers aside and make icing.

Combine the powdered sugar and 1 Tablespoon of water in a medium size bowl. Stir and then add another Tablespoon of water. It will be clumpy but keep stirring. If it needs more water, add 1 teaspoon at a time.

Add more water as needed to thin out the consistency. You want it to be smooth and but thicker than your typical icing so that it doesn't run off gingerbread house. To check if it's ready, lift up the spoon and the icing should not come off the spoon when turned over. If it drizzles off, add a Tablespoon or two more powdered sugar.

Fill the icing in a zip top bag and snip the end to build your house.

Add the icing to the edges of the front and side of the house (working only 2 pieces at a time). Hold for about 15 seconds or until they stick together. Then place the icing around the bottom and gently push down onto your base. Add the other sides and roof. Draw a line of icing around the base to make it extra sturdy.

Allow to dry for about 30 minutes before adding the candy. Gather desired candy for decorating and set into bowls. Then decorate as desired.
---
Nutrition
Calories: 708kcal | Carbohydrates: 145g | Protein: 8g | Fat: 11g | Saturated Fat: 2g | Polyunsaturated Fat: 1g | Monounsaturated Fat: 4g | Sodium: 740mg | Potassium: 199mg | Fiber: 4g | Sugar: 84g | Calcium: 89mg | Iron: 5mg
Nutrition provided is an estimate. It will vary based on specific ingredients used.
Did you make this recipe? Don't forget to give it a star rating below!