These mummy hot dogs are the easiest Halloween appetizer that takes only 2 ingredients to make! So fun, festive and delicious. Serve with spooky spider web sauce for the ultimate Halloween experience!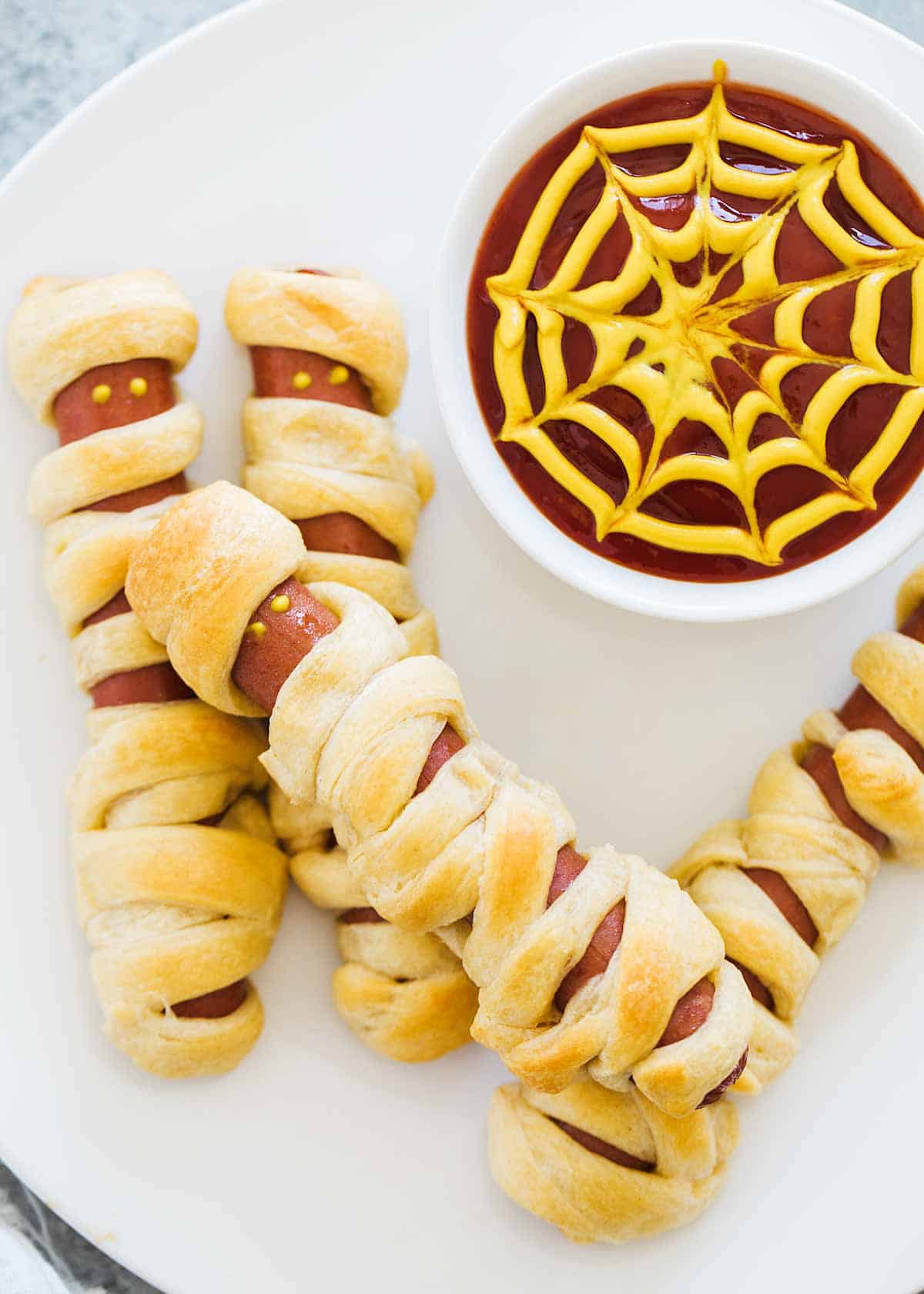 Easy Halloween Mummy Dogs
My kids absolutely love these mummy dogs and request them every year. They make the perfect easy Halloween recipe. You could also serve them for Halloween dinner with a warm bowl of homemade chili.
These hot dog mummies are SO easy to make and take only 2 simple ingredients: hot dogs and crescent rolls! They are great to make for Halloween and are the perfect festive party appetizer to serve alongside this puking pumpkin with guacamole and 3-ingredient Halloween punch.
I love making mini mummy hot dogs with lil' smokies too. They are so cute and taste just like pigs in a blanket. Always a family favorite!
Recipe Ingredients
Made with just 2 ingredients, these mummy hot dogs are nearly impossible to mess up! The juicy hot dog paired with the flaky and buttery crescent dough is a match made in heaven.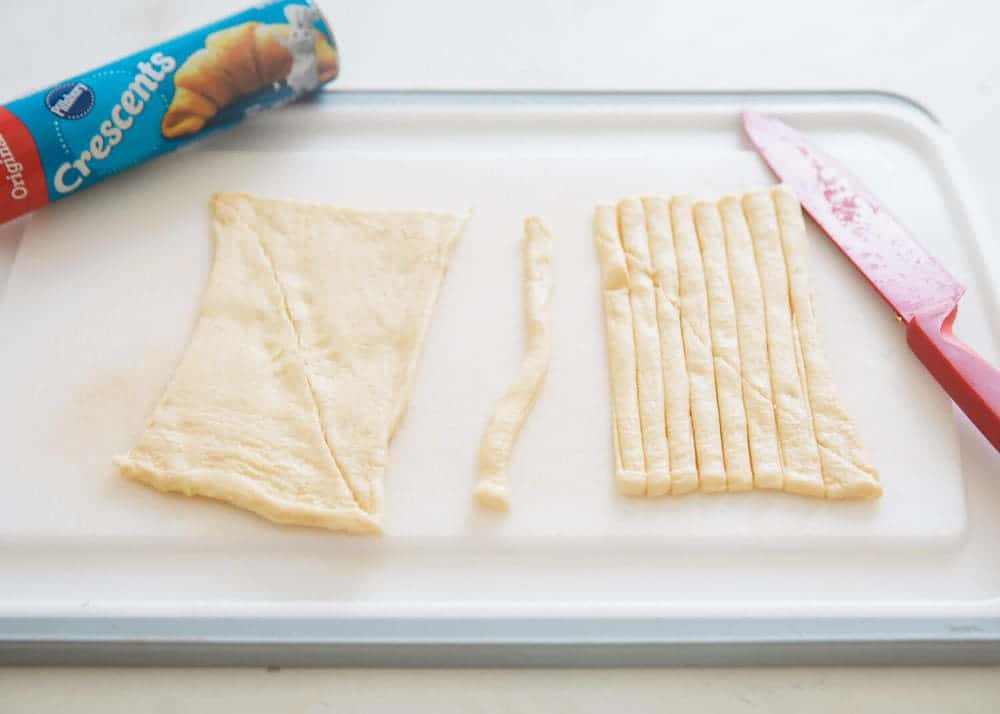 Find the full printable recipe with specific measurements below.
Hot dogs: One package of your favorite hot dog brand. You could also use little smokies to make a mini version, but the mummy dogs will seem more realistic using regular sized hot dogs.
Refrigerated crescents: One can of the original refrigerated crescent dough (such as Pillsbury). You could also always make your own homemade pizza dough to make them, but Halloween night is usually a little hectic at our house so we go with easy. ;)
Mini Mummy Dogs
To make the mini version, simply follow the same steps as making the regular mummy dogs, however use a pack of lil' smokies instead. I like to make both regular and mini sized…it's fun to have some variation. Plus my kids love the minis, too!
How to Make Mummy Hot Dogs
These Halloween hot dogs are so simple to make and come together in just 20 minutes…it really doesn't get any easier than this! Scroll down for the printable recipe.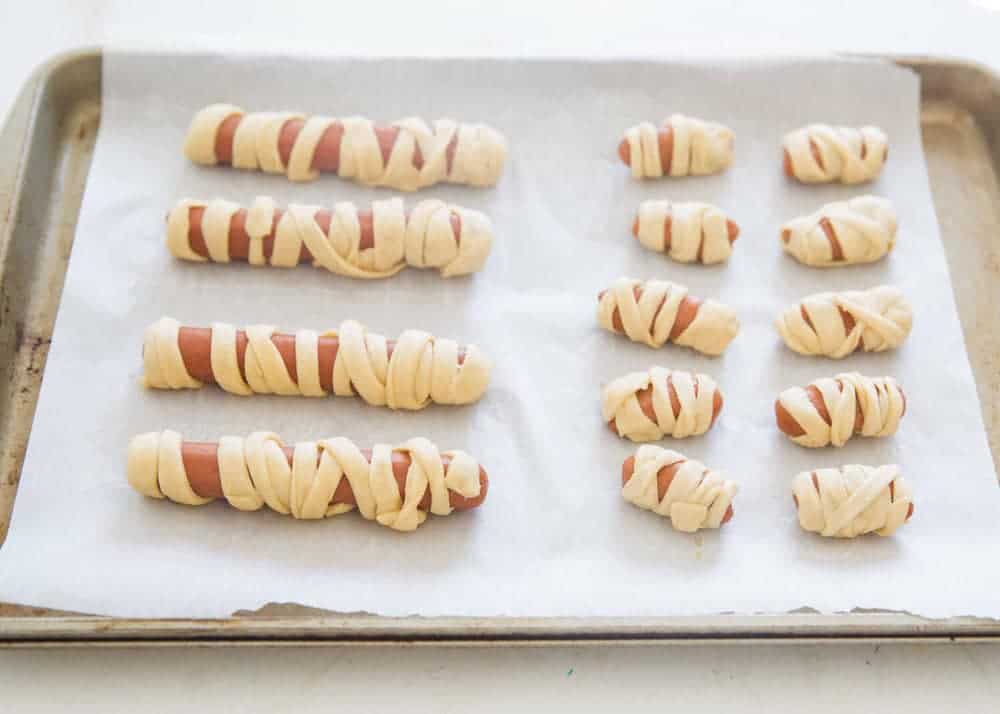 Seal. First separate the dough and then seal the 2 triangles together to create a rectangle.
Cut. Then use a sharp knife or pizza cutter to create 1/4″ strips of dough.
Wrap. Wrap 2-4 of the thin strips of dough around the hot dogs to create the mummy look with bandages.
Bake. Place on baking sheet and bake for 10 minutes (until golden brown)
Once they're done, you can add 2 eyes with mustard and a toothpick or leave them without. You could even stick on some candy eyes if you'd like. Cute and creepy all at the same time!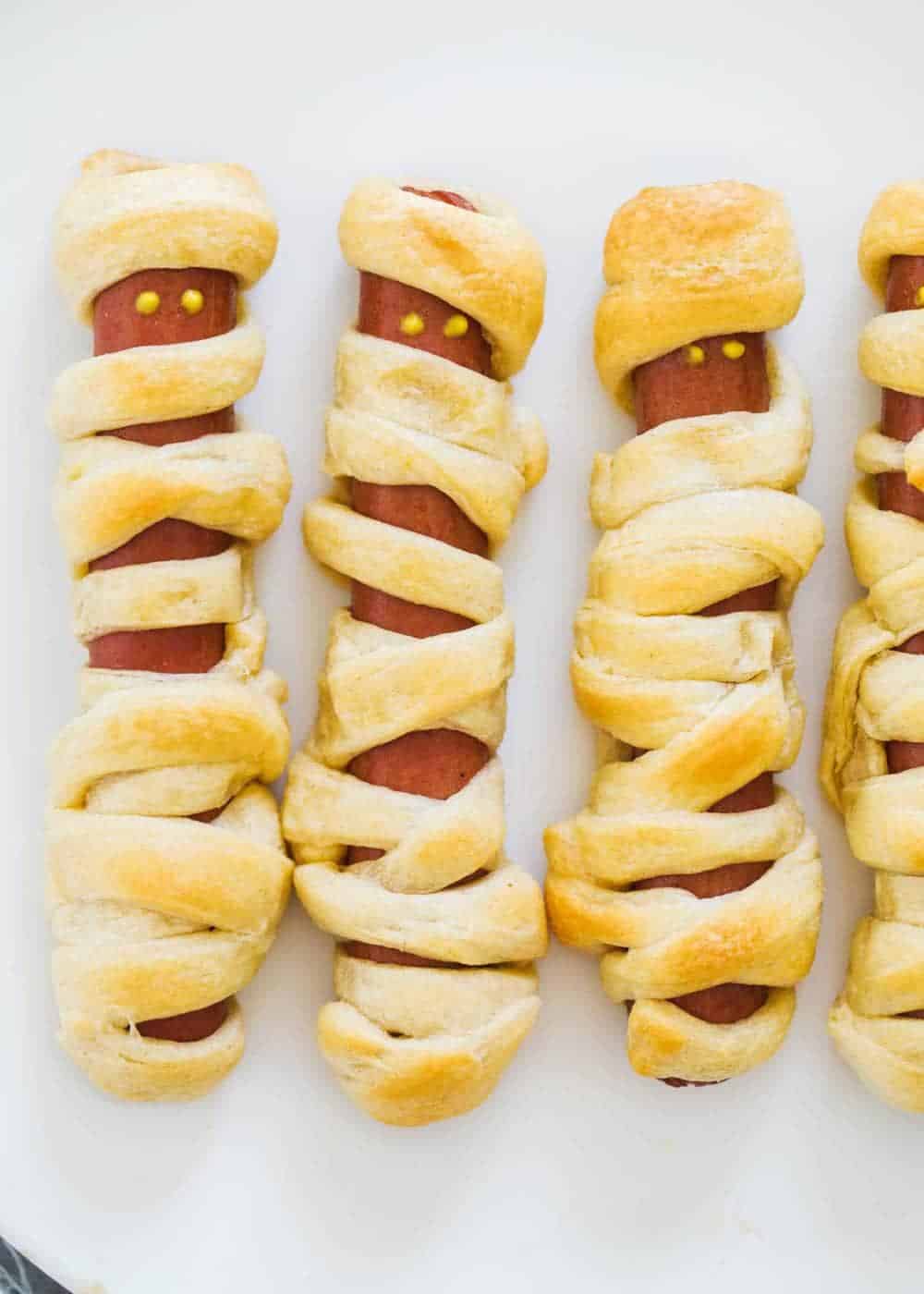 Spooky Spider Web Sauce
We love to make this spooky spider web sauce for dipping. It's super fun and festive and is so easy to prepare. All you need is some ketchup and mustard.
1. Pour the ketchup into a bowl.
2. Next draw a few circles on top with the mustard.
3. Then use a toothpick to draw the lines to create the web.
Super easy and the kids love to dip the mummy dogs into it!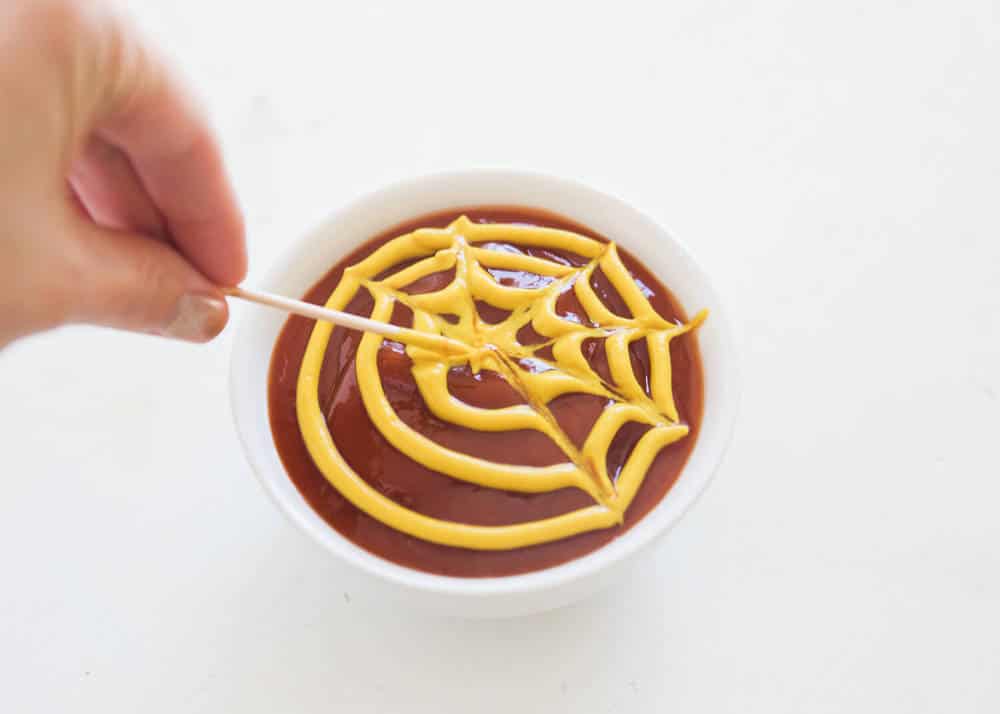 Making Ahead of Time
What's great about this recipe is that you can easily prepare the mummy dogs in advance. Just wrap the dough around the hot dogs and store in an airtight container in the refrigerator until ready to bake. Then when you're ready, simply pop the wrapped hot dogs in the oven. So easy and they'll be done baking in just 10 minutes!
Recipe FAQs
How do you store mummy hot dogs?
Store any leftovers in an airtight container in the refrigerator for up to 3 days. Then reheat in the microwave or oven until warm.
Can they be frozen?
Yes, store in a freezer bag for up to 2 weeks. Thaw overnight, then place on a baking sheet and reheat in the oven until warm throughout.
Can I add cheese?
Sure. If you love cheesy pigs in a blanket, then you will love making a cheesy version of these mummy hot dogs with American cheese. Cut the cheese slices into thin strips about the size of the hot dogs, then pair each mummy dog with one cheese strip and wrap with crescent roll dough.
What kind of pastry is best for mummy dogs?
Popular options include crescent rolls, crescent roll sheets, puff pastry, pizza dough or even pie crust.
What kind of hot dogs?
You can use classic beef, pork, turkey or even mini smokies! Use the brand and type of hot dog that your family prefers.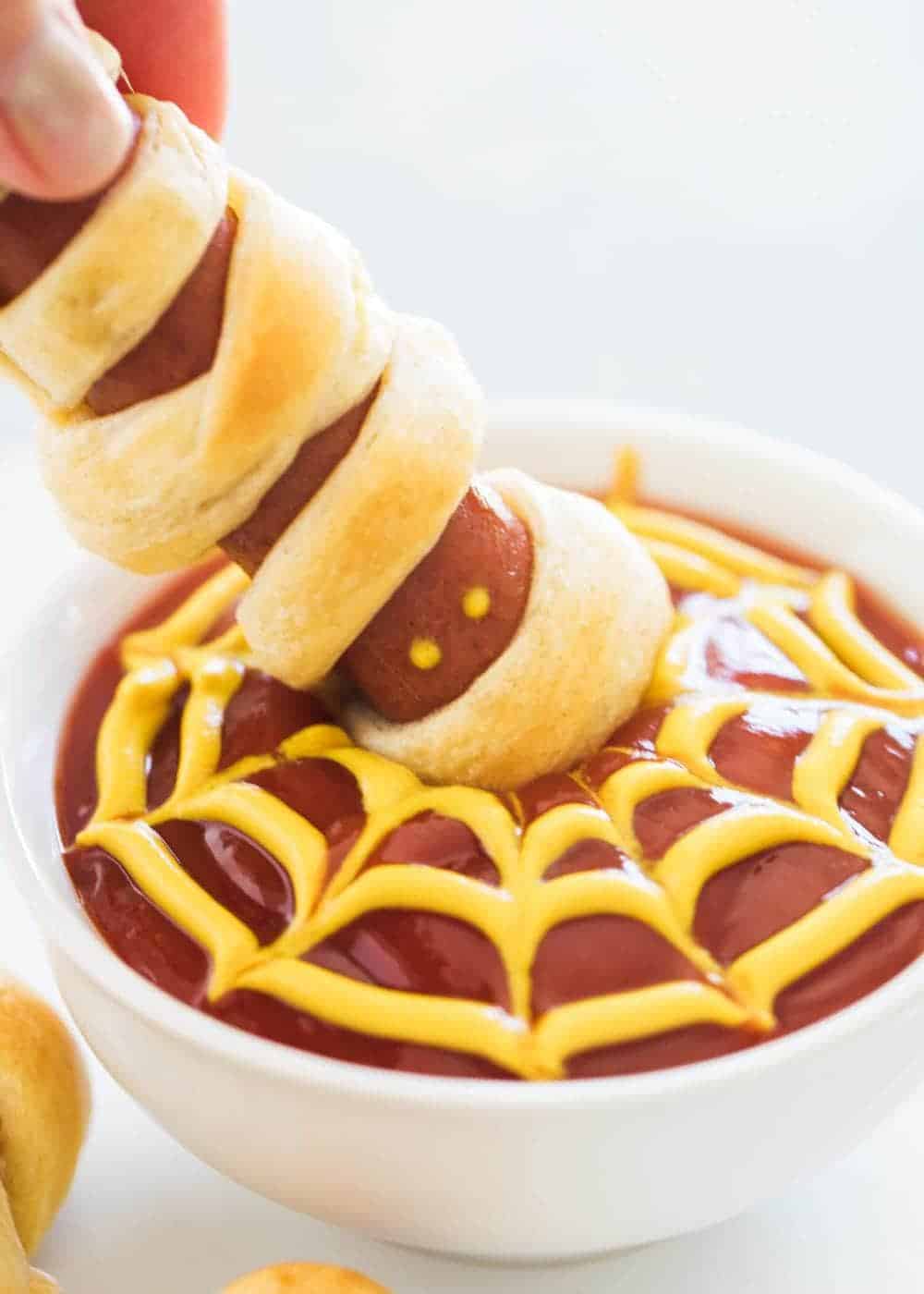 HUNGRY FOR MORE? Subscribe to my newsletter and follow on Facebook, Pinterest and Instagram for all the newest recipes!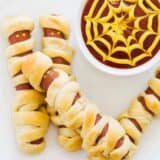 Mummy Dogs
These mummy hot dogs are the easiest Halloween appetizer that takes only 2 ingredients to make! So fun, festive and delicious. Serve with spooky spider web sauce for the ultimate Halloween experience!
Ingredients
8 hot dogs (1 package)
8 ounces refrigerated crescent roll dough , use the sheets if you can find them
Instructions
Preheat the oven to 350°F. Line a pan with parchment paper. Unroll the dough and then press the perforations to seal, creating 4 rectangles. Then cut strips about 1/4".

Wrap the dough around the hot dogs and then place on the pan.

Bake for 13-15 minutes, or until the tops are lightly golden brown. Remove from oven and allow to cool a few minutes before serving. Serve while warm.
---
Notes
Variations:
You can cut thin slices of American or cheddar cheese to place on top of the hot dog before wrapping the dough.
Alternatively, you can also make these with lil' smokies to make a smaller sized version.
Nutrition
Calories: 210kcal | Carbohydrates: 19g | Protein: 5g | Fat: 12g | Saturated Fat: 4g | Cholesterol: 20mg | Sodium: 530mg | Potassium: 65mg | Sugar: 2g | Calcium: 11mg | Iron: 1.4mg
Nutrition provided is an estimate. It will vary based on specific ingredients used.
Did you make this recipe? Don't forget to give it a star rating below!