When you're craving Chinese takeout this orange chicken recipe is a game changer! Tender bites of crispy chicken are coated in a glossy, sweet, and tangy orange sauce made with orange juice and zest. It's so easy to make, tastes better, and is much more budget-friendly than what you'd find on any menu!
Looking for more chicken recipes? Try sweet and sour chicken, General TSO's chicken and Kung Pao Chicken.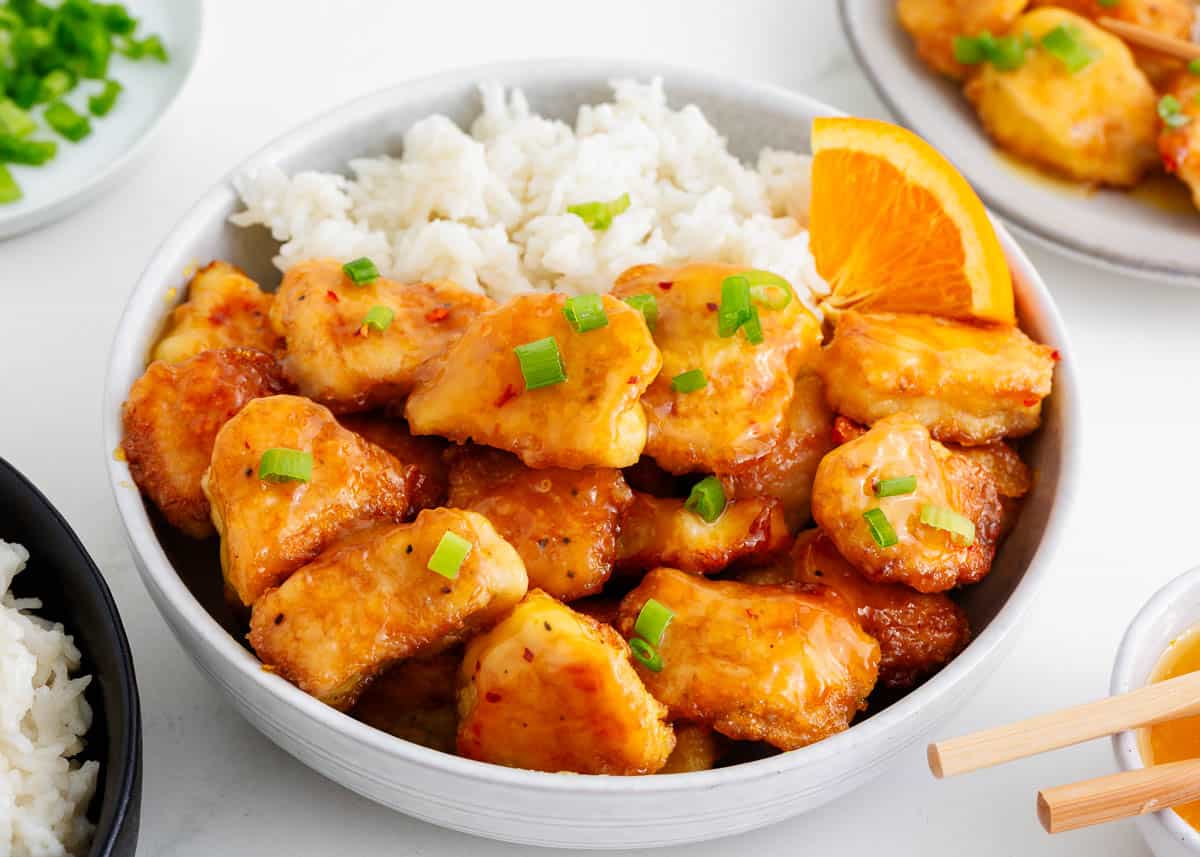 Panda Express Orange Chicken
This recipe for easy orange chicken is enough to keep you home on any takeout night!
Never mind the trips to Panda Express or P.F. Changs, because homemade orange chicken is so much better. The entire dish is prepped in just 15 minutes and ready to serve in 1 hour. It's healthier, tastier, and much easier to make from scratch without all the extra preservatives!
I've made Instant Pot orange chicken before which is super convenient and flavorful, however, it doesn't quite have the same texture because it lacks the coating. So on days when I have a little extra time, this is my go-to copycat recipe!
This easy orange chicken recipe is made similarly to my version of General Tso's chicken and sweet and sour chicken, where we coat the chicken in cornstarch and seasoning, then dip the pieces in egg then pan-fry. Into the oven, the chicken goes, and then we smother it in a thick, sweet, and tangy orange sauce bursting with citrusy flavors.
Why This Recipe Works
Better than takeout. A cheaper and healthier alternative to Panda Express orange chicken, using everyday ingredients found in your kitchen or pantry and no added preservatives or MSG.
Easy to make. There are a few steps involved, but nothing complicated. It's all about being prepared to get started!
Irresistible orange chicken sauce. No one can get enough of this addicting sauce. It's a rich sauce with layers of flavor from sweet, to savory, to tangy, citrusy, and even spicy if you'd like!
Recipe Ingredients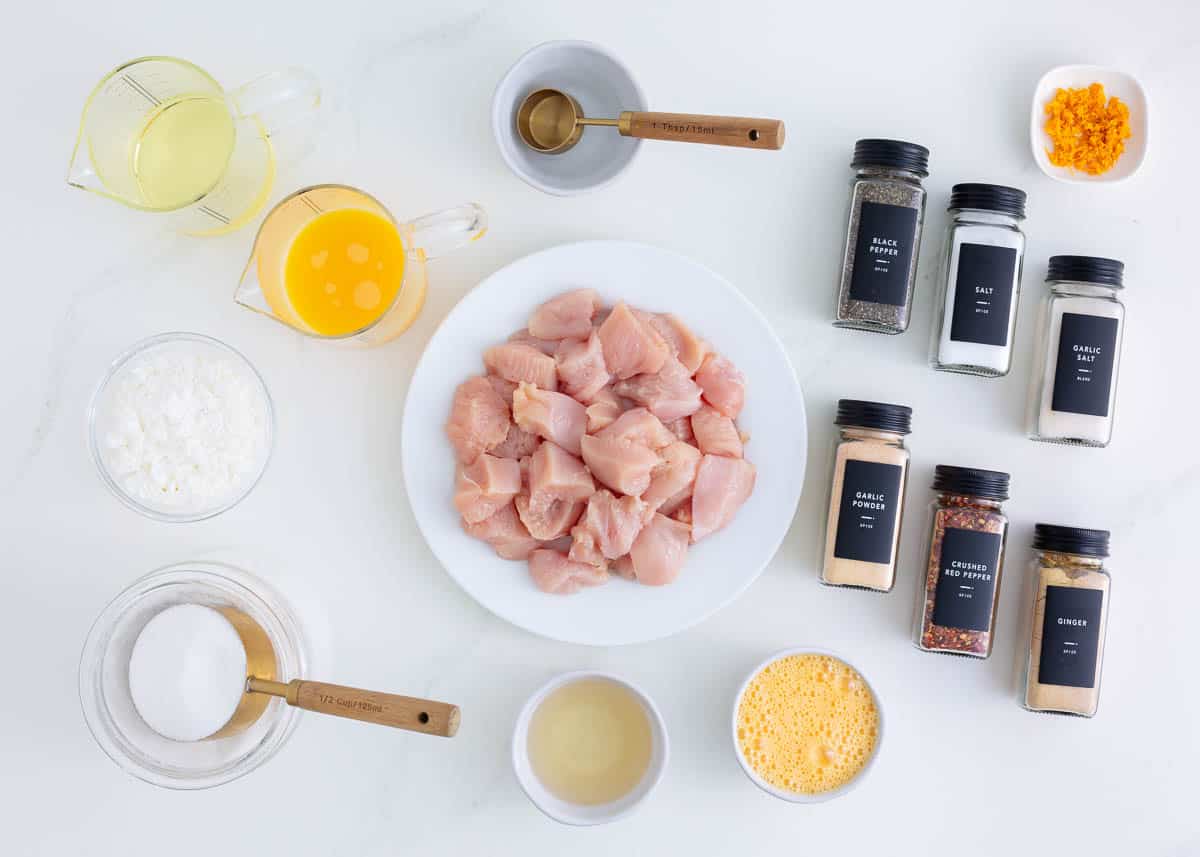 Find the full printable recipe with specific measurements below.
Chicken: Boneless skinless chicken breasts cut into bite-size pieces. I prefer the lean meat in this case, as the sauce gives more than enough extra flavor, but if you prefer to use chicken thighs you can.
Cornstarch: This will coat the pieces of chicken to absorb excess moisture, and to allow the egg to stick.
Seasoning: Garlic salt, kosher salt, and pepper. Everything you probably keep on hand.
Canola oil, divided: The oil is used to cook the chicken in batches. It's important not to overcrowd the skillet but it's also important not to cook the second batch in used oil, otherwise, it will alter the flavor of the second batch.
Eggs: Whisked eggs are used to coat the chicken giving them a crispy coating. It's a similar technique to chicken francese where the egg coating is on the outside!
Orange Chicken Sauce Recipe
The orange sauce is made primarily of orange juice, rice vinegar, granulated sugar, ground ginger, garlic powder, or minced garlic, and red pepper flakes. Then we use a cornstarch slurry to thicken it up and stir in the orange zest for extra orange flavor.
Variations
There are plenty of ingredients that allow for substitutions. Things like using vegetable oil instead of canola oil, or flour instead of cornstarch. I prefer gluten-free cornstarch, but both work.
If you're out of fresh oranges or even sugar, you can use orange marmalade in its place. For a different flavor profile, you could use low sodium soy sauce if you'd prefer, or to keep it gluten-free, tamari.
Instead of granulated sugar, brown sugar works just as well. As does honey! You can also add a little spice with red chili flakes.
How to Make Orange Chicken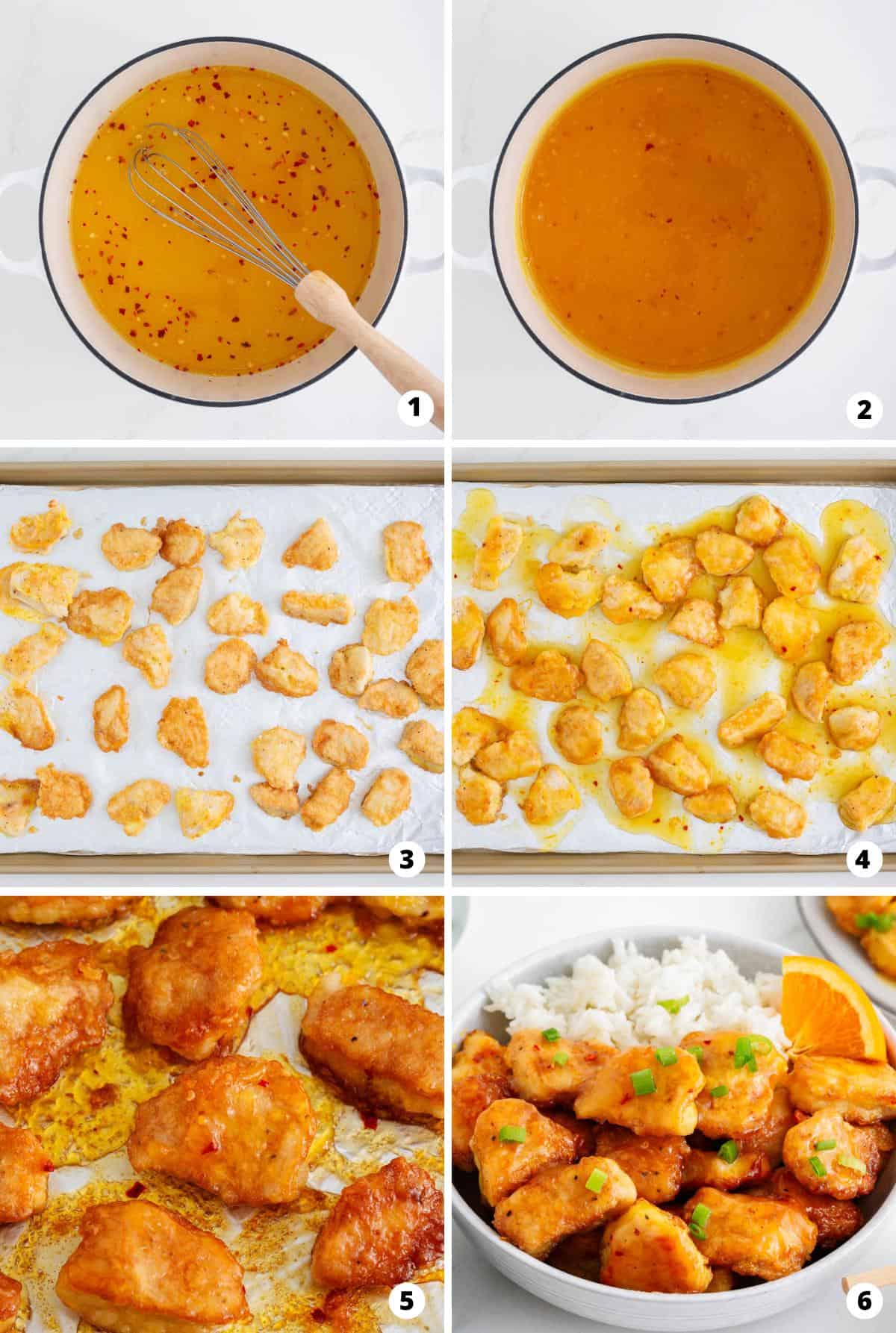 Combine sauce ingredients. In a small saucepan, you'll whisk all of the sauce ingredients (minus the cornstarch) together and simmer over medium heat for 3 minutes until the sugar has dissolved.
Thicken the sauce. Now you'll add the cornstarch slurry, by pouring it into the saucepan and whisking it into the sauce. Simmer for another 5 minutes until the sauce has thickened. Remove it from the heat and add the orange zest. Set that aside for now.
Coat the chicken and fry. Place all the pieces of chicken into a large zip-top bag along with the cornstarch, salt, pepper, and garlic salt. Shake the bag until each piece is evenly coated. Whisk the egg in a shallow bowl and coat each piece, using tongs to transfer them from the bag to the egg mixture one or two pieces at a time. Fry each side for a couple of minutes until golden. Work in batches!
Bake and flip. Arrange the chicken pieces onto the prepared baking sheet and once they are all done frying, bake them for 20 minutes in a preheated 325°F oven.
Bake some more. Flip them and bake for another 15-20 minutes.
Serve and enjoy. Garnish with green onions and serve with white rice or brown rice and a side of vegetables. Dig in!
Expert Tips
Always make sure the oil is hot before adding the chicken. Otherwise, you'll end up with a soggy coating.
To test whether the oil is hot enough, splash a little water on the oil. If it pops and sizzles, it's good to go.
Do not overcrowd the pan. Fry chicken in batches so that the outside sears nicely without steaming.
Wipe the pan clean between each batch so that you're not transferring the flavor of burnt bits.
Double the amount of sauce you make if you want to set some extra aside for dipping.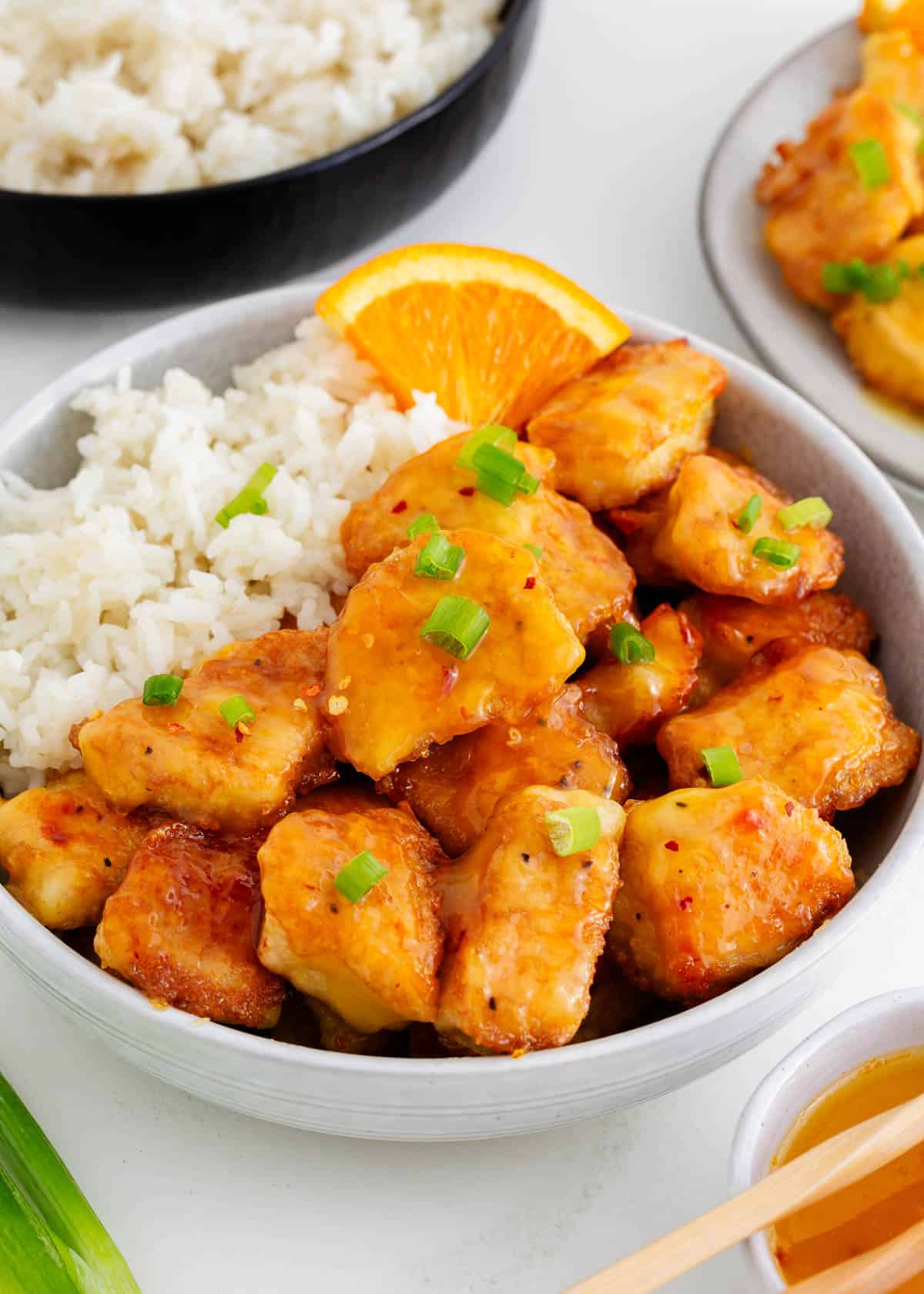 Recipe FAQs
What is the difference between General Tso and orange chicken?
They are quite similar, especially the way I make mine, however, General Tso isn't made with any orange flavor at all and has more of a tangy, savory, and slightly spicy flavor profile.
Is orange chicken flavored with oranges?
It sure is! At least in my homemade version, it is. We use fresh orange juice as well as orange zest. Of course, you can serve it with pieces of orange too!

As for what you'd find in restaurants, it's orange-flavored sauce. Perhaps made with oranges, perhaps not.
Does orange chicken require deep frying?
No, all it needs is a shallow pan-fry! That's why it's crucial to cook in batches so that the outside gets a crispy coating without any deep frying.
Is orange chicken really Chinese?
No, it's not at all. It's a spinoff of another non-authentic Chinese takeout favorite, General Tso chicken! While we're at it, let's throw sweet and sour chicken in the mix too.

These are American-made with a Chinese influence.
Storing
Keep any leftovers stored in the fridge in an airtight container for up to 5 days. The pieces will get soggier the longer they sit, so I don't recommend reheating them in the microwave.
Reheat in a skillet in a little bit of oil until crispy and heated through.
You can also freeze orange chicken. Once it's completely cooled, transfer it to a freezer-safe container and freeze it for up to 3 months. Thaw in the fridge overnight.
You may find you want to make some additional sauce once you are reheating your leftovers.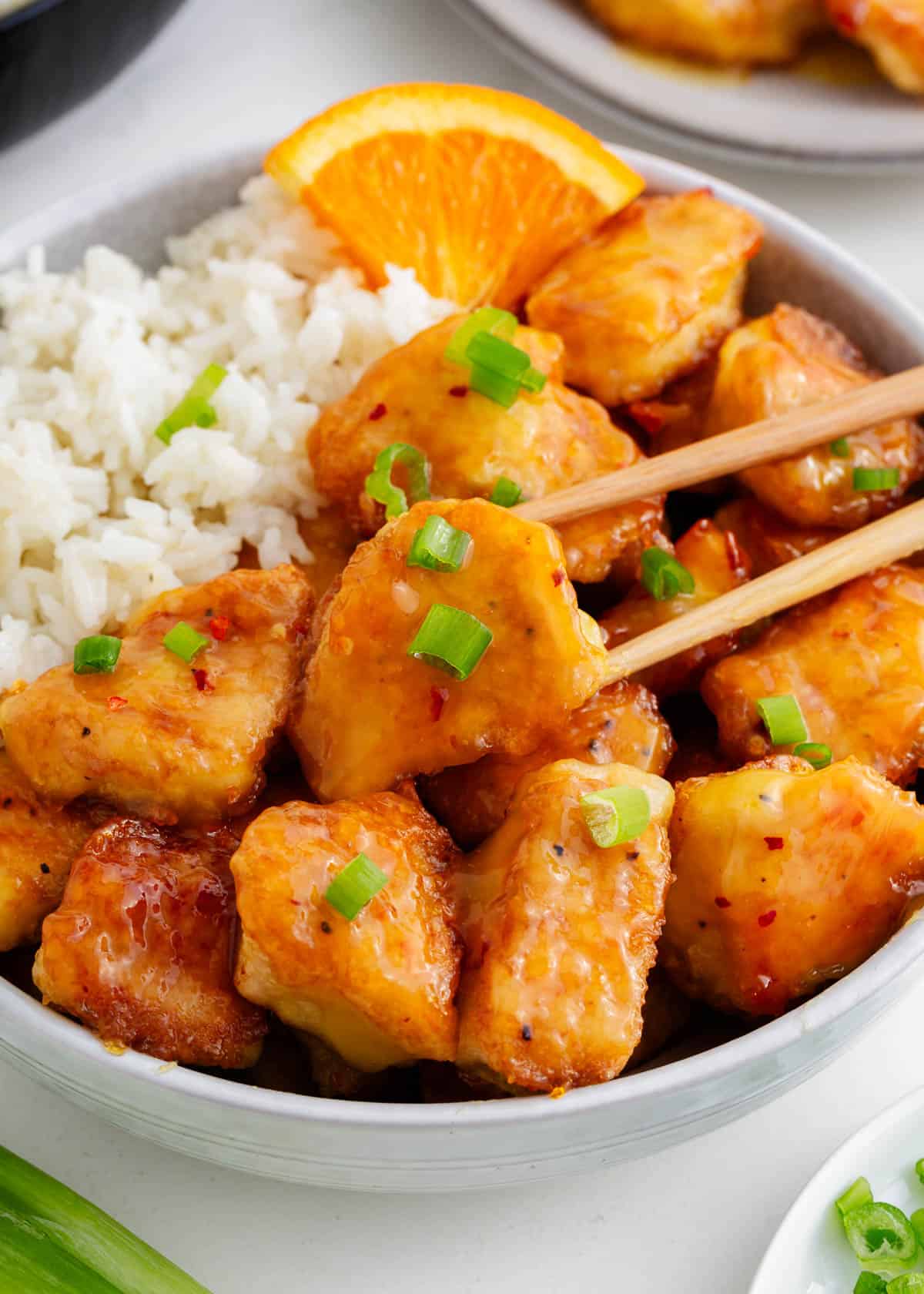 HUNGRY FOR MORE? Subscribe to my newsletter and follow on Facebook, Pinterest and Instagram for all the newest recipes!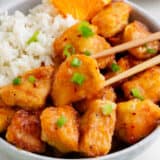 Orange Chicken Recipe
When you're craving Chinese takeout this easy orange chicken recipe is a game changer! Tender bites of crispy chicken are coated in a glossy, sweet, and tangy orange sauce made with orange juice and zest. It's so easy to make, tastes better, and is much more budget-friendly than what you'd find on any menu!
Ingredients
Orange Sauce
¾ cup orange juice
3 Tablespoons rice vinegar , distilled or apple cider vinegar will work too
½ cup granulated sugar
¼ teaspoon ground ginger
¼ teaspoon garlic powder , or 2 garlic cloves, minced
Crushed red pepper flakes , optional
1 Tablespoon corn starch
2 Tablespoons water
1 orange , zested
Chicken
1 ¼ pounds skinless, boneless chicken breasts , cut into bite-sized pieces
¾ cup corn starch
¼ teaspoon garlic salt
½ teaspoon Kosher salt
¼ teaspoon ground black pepper
½ cup canola oil , divided
2 large eggs , whisked
For serving: Sliced green onions, Cooked rice and broccoli and/or carrots
Instructions
Orange Sauce
In a medium saucepan, whisk together orange juice, sugar, vinegar, ginger, garlic powder, and red pepper flakes, if using, over medium heat. Simmer 3 minutes, or until sugar is dissolved.

In a small bowl, whisk together cornstarch and water to form a paste. Whisk into the sauce and simmer 5 minutes more, or until thickened. Remove from heat and stir in the orange zest.
Chicken
Preheat the oven to 325°F. Line a rimmed baking sheet with foil.

In a large zip-top bag, shake the chicken, cornstarch, garlic salt, salt, and pepper until the chicken is evenly coated. In a shallow bowl, add the egg.

In a large frying pan, heat 1/4 cup oil over medium heat. Using a fork, dip 1/2 of the chicken pieces in egg and place in the frying pan. Fry each side 2 minutes, or until golden. Transfer to baking sheet. Dispose of the burnt oil and heat the remaining 1/4 cup oil. Repeat process with the remaining chicken.

Pour the sauce over the chicken and stir to coat. Bake 20 minutes. Flip the chicken to evenly coat in sauce. Bake an additional 15 to 20 minutes.

Sprinkle with green onions and serve with steamed rice and vegetables. Enjoy!
---
Notes
Tips:
To test if the oil is hot enough, splash a little water on the oil. If it pops, it's ready.
Double the sauce if you'd like extra for dipping the chicken in.
Nutrition
Calories: 453kcal | Carbohydrates: 39g | Protein: 23g | Fat: 23g | Saturated Fat: 2g | Polyunsaturated Fat: 6g | Monounsaturated Fat: 13g | Trans Fat: 0.1g | Cholesterol: 122mg | Sodium: 427mg | Potassium: 479mg | Fiber: 1g | Sugar: 21g | Vitamin A: 230IU | Vitamin C: 28mg | Calcium: 28mg | Iron: 1mg
Nutrition provided is an estimate. It will vary based on specific ingredients used.
Did you make this recipe? Don't forget to give it a star rating below!