Crispy on the outside, fully loaded with a colorful filling on the inside! Southwest egg rolls are made with shredded chicken, beans, peppers, jalapenos, and melty cheese, and seasoned with taco seasoning. Shallow fried until ultra crispy and served with a creamy dip!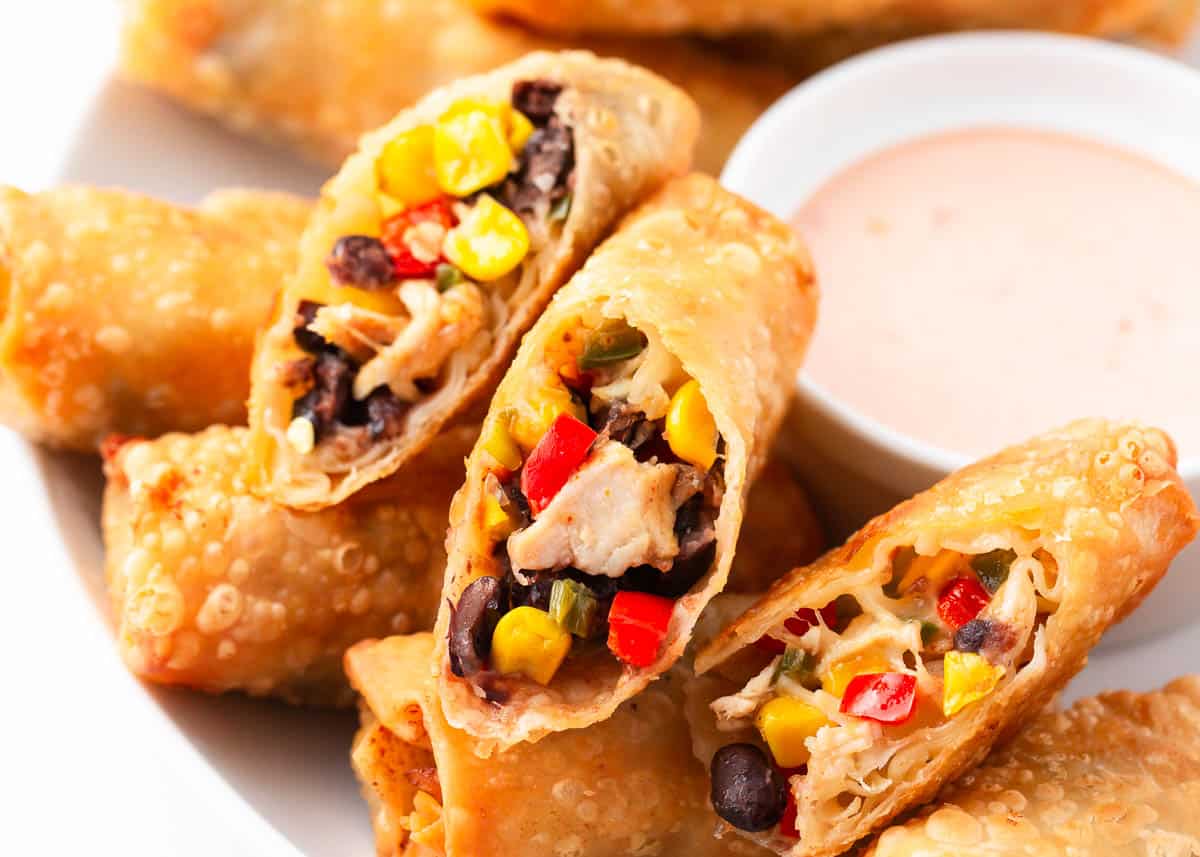 Appetizer, Snack, or Dinner!
Southwest chicken egg rolls are one of the most fun hand held party appetizers to make!
They are a crispy fried egg roll shell stuffed with a colorful Tex Mex filling of shredded chicken, corn, black beans, taco seasoning, jalapeño for heat, and melty Monterey Jack cheese!
The smoky, spicy, cheesy filling is a true crowd pleaser at any Superbowl party or whenever you are gathering with friends!
I shallow pan-fry mine so they're made without the mess of deep frying but still have that crispy outer shell.
Eat enough of them with a salsa ranch dressing, or serve them with a side of rice and you've got a complete 30-minute meal. No need to think about making the main dish for dinner!
Chili's southwest egg rolls may have popularized this Mexican-inspired version of Chinese egg rolls but now we get to make them at home and they're even better!
Why This Recipe Works
Delicious! Each little egg roll has so much flavor in each bite. You can adjust the spice level or omit the jalapenos for the kids, but either way, they'll be a hit with everyone.
Easier than you think. Rolling the eggroll shells might be intimidating and look intricate, but they're not!
Simple ingredients. We're using cooked rotisserie chicken and fresh veggies to make this delightful, healthy, and flavorful filling mixture.
Recipe Ingredients
Find the full printable recipe with specific measurements below.
Cooked chicken: I use a store-bought rotisserie to make life a little easier, but you can use whatever leftover chicken you've got. Just be sure to shred it or chop it up finely.
Cheese: Monterey Jack is a flavorful cheese that pairs nicely with the Tex Mex ingredients. You can play around with the amount if you like yours more or less cheesy.
Veggies: Canned corn, finely diced red bell pepper, green onions, black beans, and chopped jalapeno.
Seasoning: I usually have my homemade taco seasoning on hand, so I'll use that with a bit of extra garlic powder and salt.
Egg roll wrappers: These are a thicker, larger version of a spring roll wrapper. Sort of. Once fried, they form these pockets of air and are crispy yet chewy in texture. Find them in your local grocery store, usually not frozen, unlike spring roll wrappers which are frozen, so pay attention to the label!
Variations
Make it vegetarian by omitting the chicken and bulking up the filling with more beans and veggies.
Use ground beef or pork instead of chicken for a different protein.
If you don't have a taco seasoning blend, use chili powder, cumin, onion powder, or any combination of the individual spices.
Swap the Monterey Jack for cheddar cheese if preferred.
For a low carb alternative, instead of using the wrappers, make lettuce wraps instead!
Air Fryer Southwest Egg Rolls
If you want to use less oil but still have a crispy shell, the air fryer is the way to go.
Preheat the air fryer to 375°F. Lightly spray the rolls or brush them lightly with oil. Cook for 5 minutes or until crisp. Work in batches to not overcrowd the basket.
How to Make Southwest Egg Rolls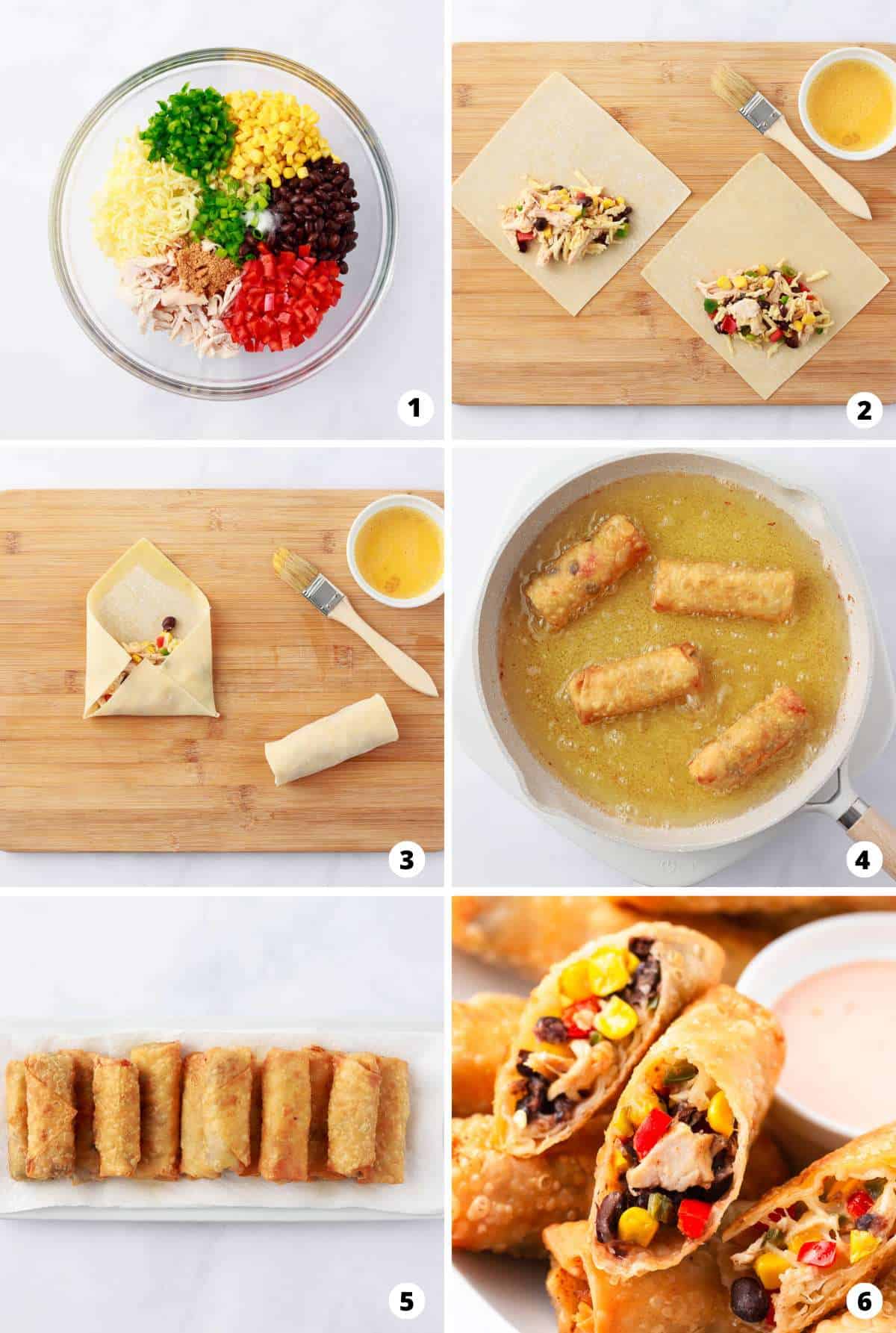 Make the filling mixture. The first step is to combine the filling in a bowl and set it aside. The chicken, cheese, beans, corn, bell pepper, jalapeno, green onions, and seasonings.
Add filling. Working with 1 egg roll wrapper at a time, lay it flat on a clean flat surface. Have one of the points facing up and one facing towards you. Fill the corner closest to you (the bottom corner) with 1/3 cup of filling.
Roll it up. Start by folding the bottom corner up and over the filling. Then take the two sides and fold them toward the center, like an open envelope. Brush the edges of the top corner with whisked egg, then roll it up tightly like a burrito and seal it with the egg-washed corner. Repeat with remaining wrappers until all the filling has been used.
Pan-fry. Add 1 inch of vegetable oil to a large skillet and heat to 350°F. Once hot, carefully add 4-5 rolls at a time. Cook in batches if needed, so that they're not overcrowded. Cook until golden brown and flip occasionally.
Let rest and slice. Transfer the fried southwest egg rolls to a paper towel-lined plate. Once they're all finished and slightly cooled, use a sharp knife to cut them into a diagonal for presentation.
Serve warm with salsa ranch dressing for dipping.
Dip Them!
As you may have guessed salsa ranch dressing is our family's favorite dipping sauce, but there are a few others that are delicious too! Like these:
Tips for the Best Southwest Chicken Egg Rolls
Cover the wrappers with a damp paper towel. Egg roll wrappers can dry out quickly, so I like to cover the stack with a damp paper towel so they don't dry out.
Avoid soggy rolls. Make sure the oil is hot before adding your southwest egg rolls to the skillet. Otherwise, they'll absorb too much oil waiting for the heat to rise for them to turn golden.
Use a thermometer if you can. You want to always make sure you're maintaining a temperature of 350°F. Turn down the heat if you see them browning too quickly.
Recipe FAQs
Are egg rolls actually Chinese?
Nope! Funny enough, they're actually American. You apparently won't find an egg roll anywhere in authentic Chinese cuisine.
What is the difference between egg rolls and spring rolls?
Egg rolls are larger and made with a thicker, chewier dough wrapper. Once fried, spring roll wrappers are crispy, crunchy, and flaky. They're also much thinner.
Can I make these ahead?
You can certainly combine the filling and make the dipping sauce ahead of time. Keep them both in the fridge for a couple of days and assemble the entire batch when you're ready.
Storing
To store: Allow them to cool completely. This will help avoid extra sogginess (although, they'll lose crispness no matter what). Keep them stored in an airtight for up to 4 days.
To freeze: I recommend freezing them even before cooking, if possible. Flash freeze them for an hour until solid, then transfer them to a freezer bag or airtight container and keep them frozen for up to 3 months. Thaw in the fridge overnight and continue cooking as directed.
Reheat: Use the oven or air fryer at 300°F until warmed through.
HUNGRY FOR MORE? Subscribe to my newsletter and follow on Facebook, Pinterest and Instagram for all the newest recipes!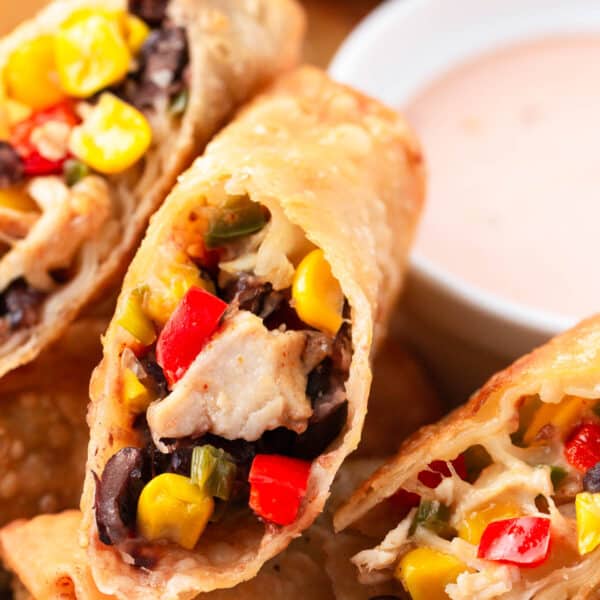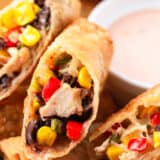 Southwest Egg Rolls
Crispy on the outside, fully loaded with a colorful filling on the inside! Southwest egg rolls are made with shredded chicken, beans, peppers, jalapenos, and melty cheese, and seasoned with taco seasoning. Shallow fried until ultra crispy and served with a cool creamy dip!
Ingredients
Filling
1 ½ cups cooked shredded chicken , I used a rotisserie
1 ½ – 2 cups shredded Monterey jack cheese , more as desired
1 cup black beans
½ cup corn
½ red bell pepper , finely chopped
3-4 green onions , sliced
1 jalapeño , seeds removed and finely diced
1-2 teaspoons taco seasoning
¼ teaspoon garlic powder
½ teaspoon Kosher salt
Instructions
Filling
In a large bowl, combine the chicken, cheese, beans, corn, bell pepper, jalapeño, green onions, taco seasoning, garlic powder, and salt.
Egg Rolls
Lay an egg roll wrapper flat on a work surface. Spoon about 1/3 cup filling onto the bottom corner.

Fold in the 2 side corners and roll like a burrito, until it looks like an envelope. Brush the top corner triangle with the egg. Continue rolling and seal. Repeat with remaining filling and wrappers. I like to keep a damp paper towel over the top of the wrappers while rolling, so they don't dry out.

Place 1 inch oil in a skillet and heat to 350°F. (*see notes for using an air fryer.) Carefully add 4 to 5 egg rolls in the oil at a time. Cook until browned, flipping occasionally. Turn down the heat if they are browning too fast.

Transfer egg rolls to a paper towel-lined plate. Let cool slightly. Repeat with remaining egg rolls.

Serve while warm with a salsa ranch dressing for dipping.
---
Notes
Air Fryer: These also cook great in an air fryer. Preheat the air fryer to 375°F. Lightly brush or spray the rolls with olive oil. Cook 5 minutes, or until crispy (you will need to cook in 2 to 3 batches so there is room).
Substitutions:
Storage: Let cool completely before storing. Store in an airtight container in the refrigerator up to 4 days. Reheat in the oven or air fryer at 300°F (until warm) for best results.
Freezer instructions: Flash freeze the egg rolls on a pan (preferably before they are cooked) for 1 hour. Once frozen, transfer to a freezer-safe container and freeze up to 3 months. Thaw and cook as instructed.
Nutrition
Calories: 224kcal | Carbohydrates: 13g | Protein: 16g | Fat: 12g | Saturated Fat: 7g | Polyunsaturated Fat: 1g | Monounsaturated Fat: 4g | Trans Fat: 0.002g | Cholesterol: 59mg | Sodium: 390mg | Potassium: 170mg | Fiber: 2g | Sugar: 1g | Vitamin A: 501IU | Vitamin C: 9mg | Calcium: 263mg | Iron: 1mg
Nutrition provided is an estimate. It will vary based on specific ingredients used.
Did you make this recipe? Don't forget to give it a star rating below!