Minced garlic is a staple in so many recipes. Learn how to peel, slice, and mince garlic in just a few steps with this easy tutorial!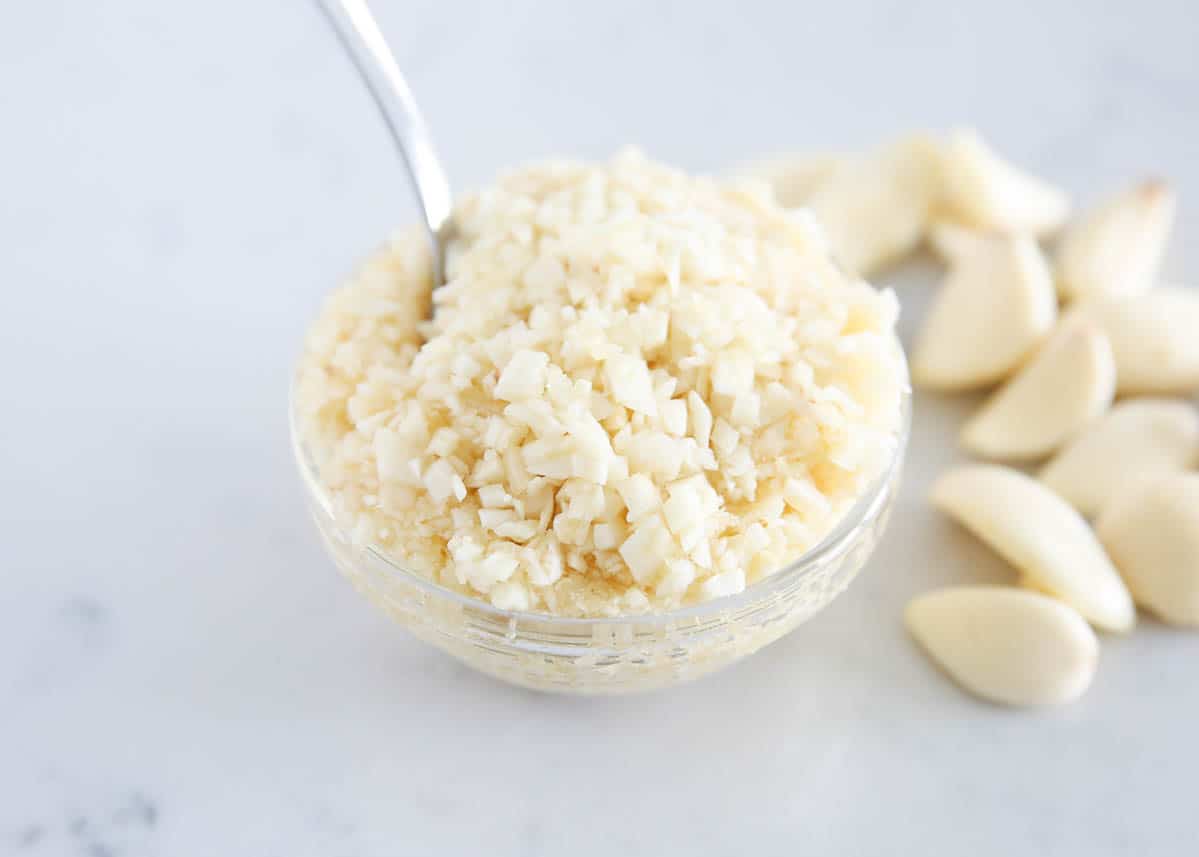 Why We Love Using Minced Garlic
Garlic is one of those cooking ingredients that even a small amount adds so much flavor. When I see a recipe that calls for minced garlic, I know it's going to taste amazing!
Cutting it boosts the flavor and aroma. The more you chop, the more pungent and aromatic a clove becomes. That's why when using minced garlic, a little really can go a long way.
There are several ways you can learn how to mince garlic. The technique I use the most is mincing it with a chef's knife. I find it's easy, the cleanup is minimal, and I have more control over how fine the mince is.
You may be tempted to use the store-bought kind in jars, and while that's ok in a pinch, I encourage you to try mincing it raw. Knowing how to mince garlic takes just a few minutes of work and is so worth it. The flavor you'll get is so much bolder than the jarred variety!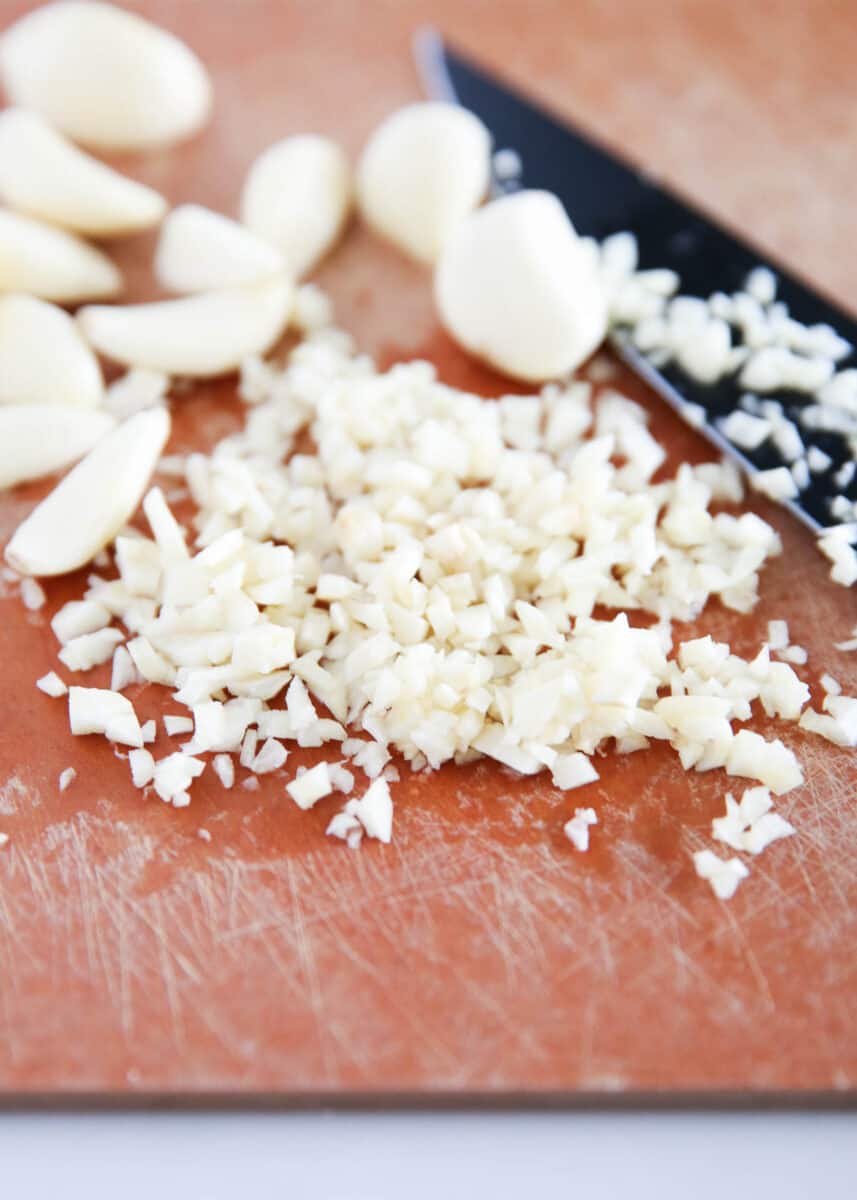 What You'll Need to Mince Garlic
I like to keep things simple by just using a kitchen knife to mince my cloves on a sturdy cutting board.
Choosing Fresh Garlic Bulbs
When choosing bulbs of garlic at the store or market, look for ones that are firm and plump. Older bulbs tend to wither and have more papery skin and feel thinner rather than firm. So you'll want to stay away from any like this.
How to Mince Garlic
Remove the outer skin. Peel away the outer skin from the bulb and separate it into individual cloves.
Remove skin from cloves. The skin on a garlic clove is thin and papery, so the easiest way to remove it is to place the flat side of your knife on top of the clove and then with the palm of your hand, the free hand, firmly press down on the top of the blade to crush it. The clove will smash open, and the skin will come right off. Cut off the darker tip (root end) of the clove.
Thinly slice and mince. Cut the clove lengthwise into thin slices and then chop with the knife until it is minced. I find it's often easiest to rock the knife over the pieces on the board using the palm of my non-chopping hand to gently hold the top of the knife in place.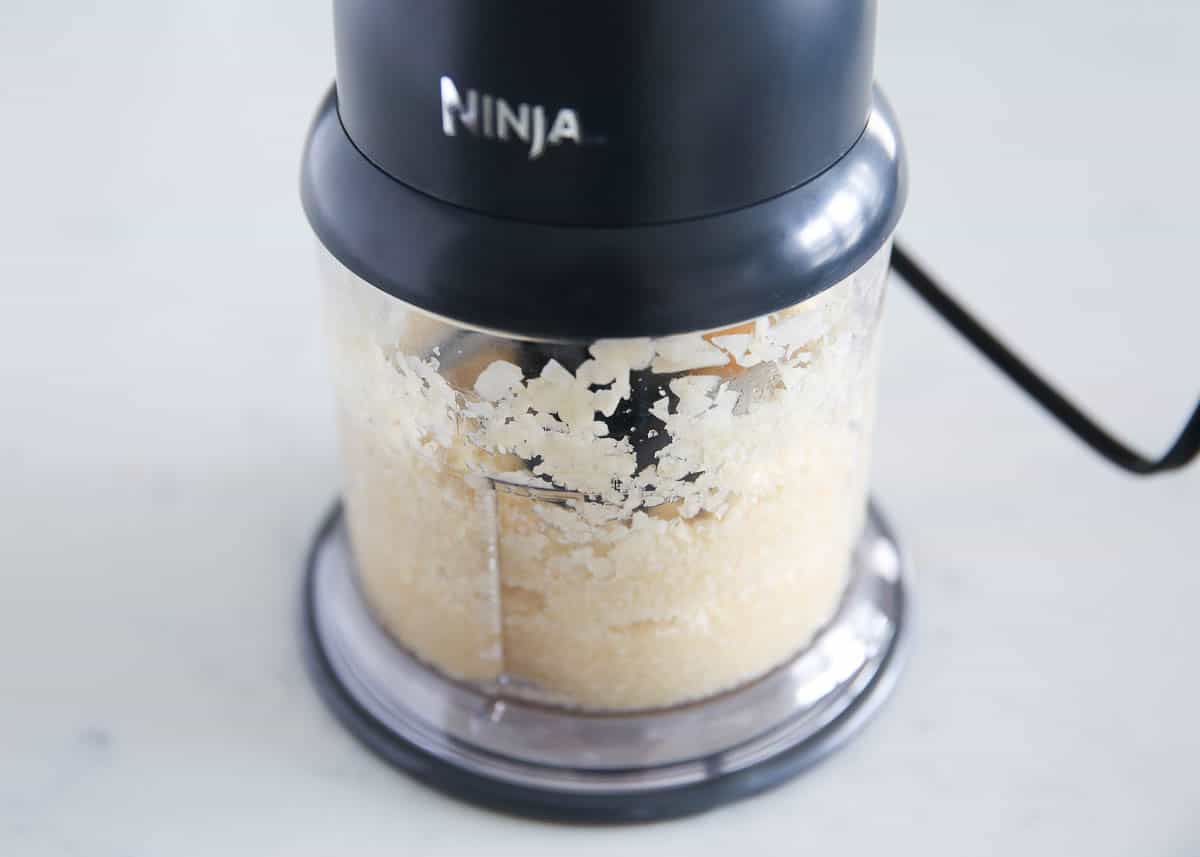 Alternate Methods
There are a few ways that you can mince garlic in addition to using the knife method:
Garlic press. This kitchen tool makes it easy to mince. The result will be finer and damper than if you use a knife.
Microplane or small holes on your box grater. Grated is similar to minced, but it will be stronger in flavor and have more of a wet consistency like paste.
Food processor. For larger batches, toss the peeled cloves in a food processor and mince them up in no time!
Mortar and pestle. This will typically result in crushed garlic, but it works too.
Ratio of Minced Garlic to Cloves
Cloves of garlic come in many sizes, so it depends. A good rule of thumb is that generally 1 clove = 1 teaspoon of minced garlic. If the clove is really small, then you might only need ½ teaspoon.
How Much Garlic Powder Equals a Clove
I'm a huge cheerleader of fresh garlic but garlic powder does have its time and place. The conversion is, 1 clove = 1/4 tsp of garlic powder.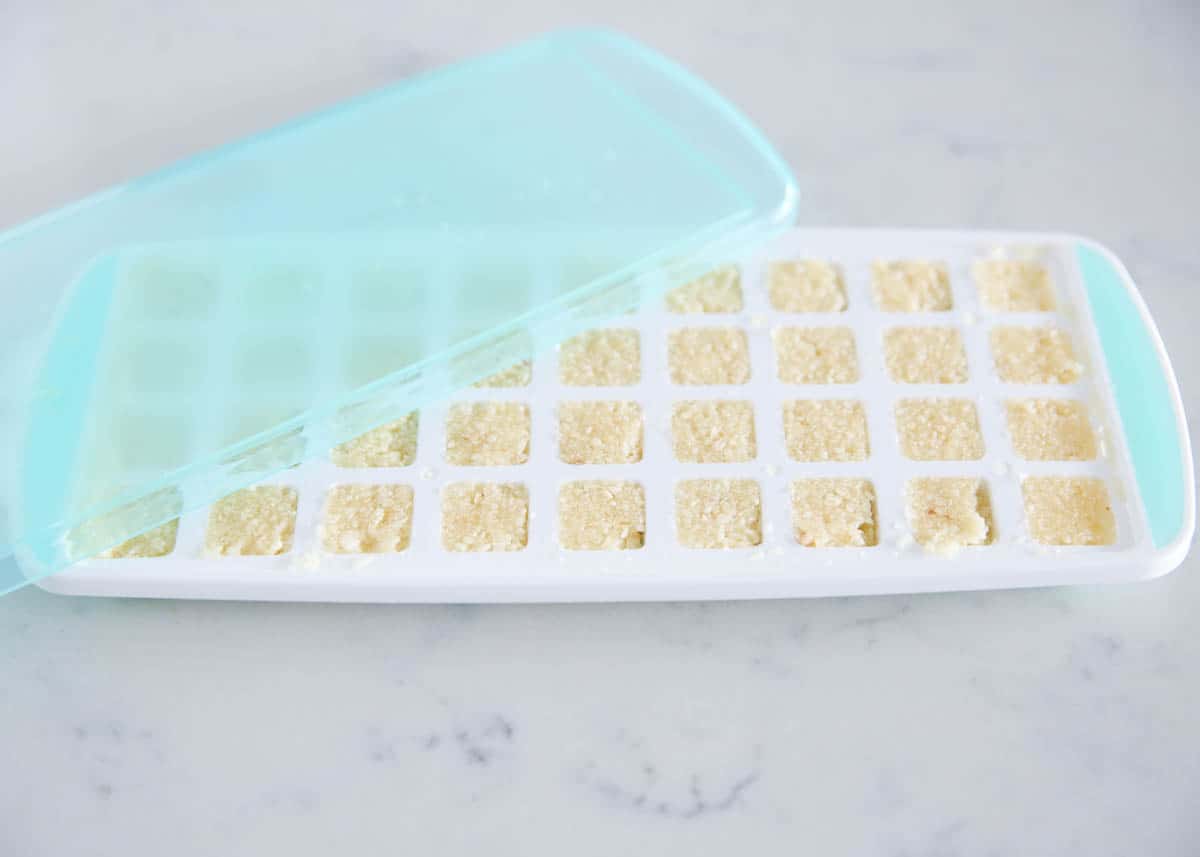 Tips For Cooking With Garlic
Mince right before using. The longer minced garlic sits, the less potent it will become. If you don't use it within an hour, put it in the fridge to help preserve some of the flavors.
Cut off the green tip. If you see a green tip starting to grow out of the top of your garlic bulb, you can still use it. Simply cut off the tip and use it as normal.
It can burn easily and turn bitter. I suggest always adding garlic near the end of sautéing your other vegetables.
Ways To Use It
Outside of soups, stews, and stir-fries, I have tons of amazing recipes that use minced garlic. Here are some of my favorites for you to try:
Storage
You can store minced garlic in an airtight container in the refrigerator for 1 – 2 days. If you want to prepare a larger batch to use later, it also stores beautifully in the freezer for up to 3 months. I like to mince a big batch and then freeze in an ice cube tray. Then you can easily pop out a frozen cube of garlic whenever you need it!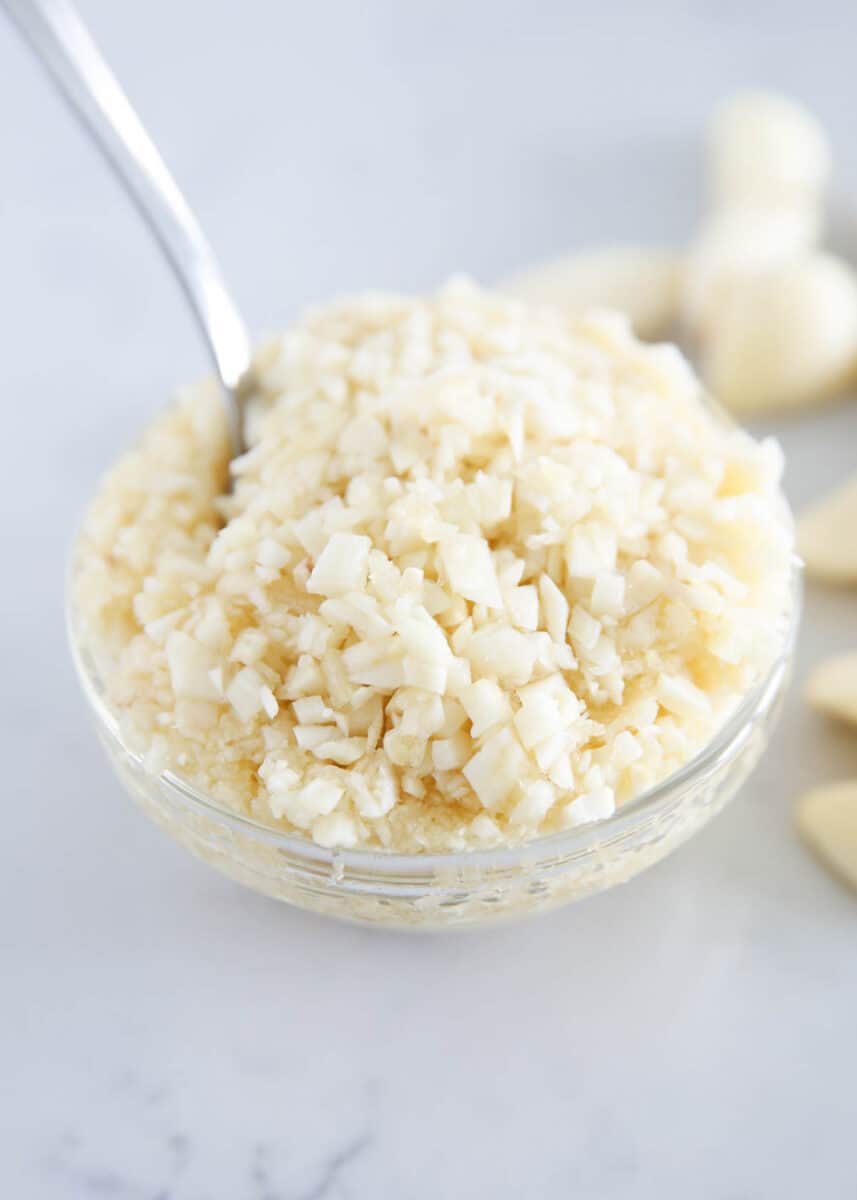 More Recipes That Use Minced Garlic
HUNGRY FOR MORE? Subscribe to my newsletter and follow on Facebook, Pinterest and Instagram for all the newest recipes!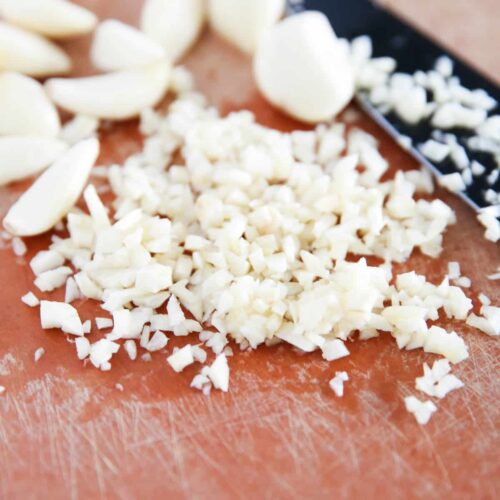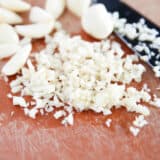 How To Mince Garlic
Minced garlic is a staple in so many recipes. Learn how to peel, slice, and mince garlic in just a few steps with this easy tutorial!
Instructions
Peel away the skin on the garlic and separate it into cloves.

Using the flat part of your knife smash the top of the clove. This will help break open the skin and separate the clove. Remove any outer skin that is left and then cut off the darker pointed edge.

Thinly slice the clove and then chop with your knife until it is minced. Use garlic within the hour or store in the refrigerator.
---
Notes
Food processor: Alternatively, if you are mincing garlic in bulk, you can also use a food processor to speed up the process. Storage: Store in a covered container for 1-2 days. Store in the freezer for up to 3 months.
Nutrition
Calories: 4kcal | Carbohydrates: 1g | Protein: 0.2g | Fat: 0.01g | Polyunsaturated Fat: 0.01g | Sodium: 1mg | Potassium: 12mg | Fiber: 0.1g | Sugar: 0.03g | Vitamin A: 0.3IU | Vitamin C: 1mg | Calcium: 5mg | Iron: 0.1mg
Nutrition provided is an estimate. It will vary based on specific ingredients used.
Did you make this recipe? Don't forget to give it a star rating below!