Jump to Recipe⌄
Garlic white pizza sauce
Today I'll be sharing a garlic white pizza sauce that tastes great with all kinds of toppings. My favorites are cheese (of course) tomatoes and and fresh basil. This sauce is super creamy with the perfect hint of garlic and basil.
One of my families favorite nights of the week is pizza night. It's a fun and yummy family tradition we have at our house. It's definitely my kids favorite night of the week. Sometimes we make our own pizza dough, sometimes we buy store bought and sometimes we order pizza in. Nonetheless it's always a good time and tasty of course!
Last week we whipped up some yummy pizzas using Pillsbury pizza crust which made it super easy and tasty. I made a garlic white pizza sauce to mix it up and it turned out so yummy. I love a thick and creamy white sauce and this one did not disappoint.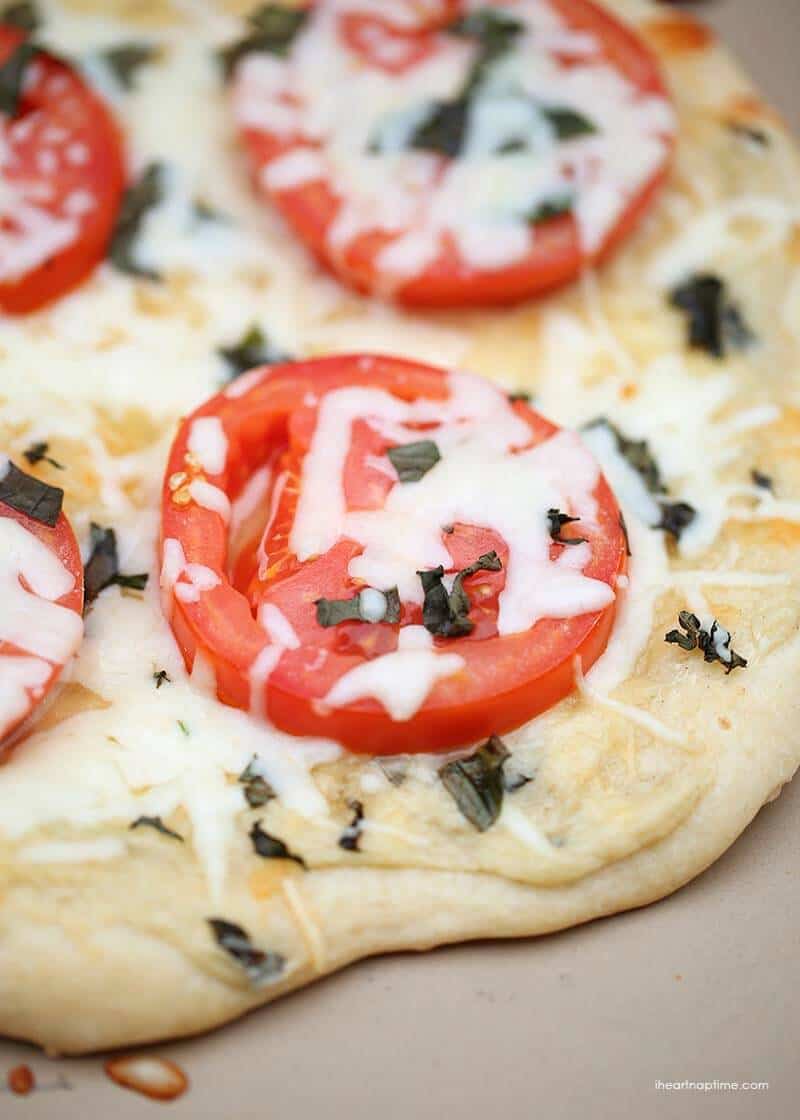 For my husband and I, we made a white margherita pizza with the garlic white pizza sauce and it turned out delicious! Then for the kids I let them make a ghost pizza for Halloween. All I did was cut the dough into pieces and then I let them roll out the dough and add the sauce, cheese and toppings.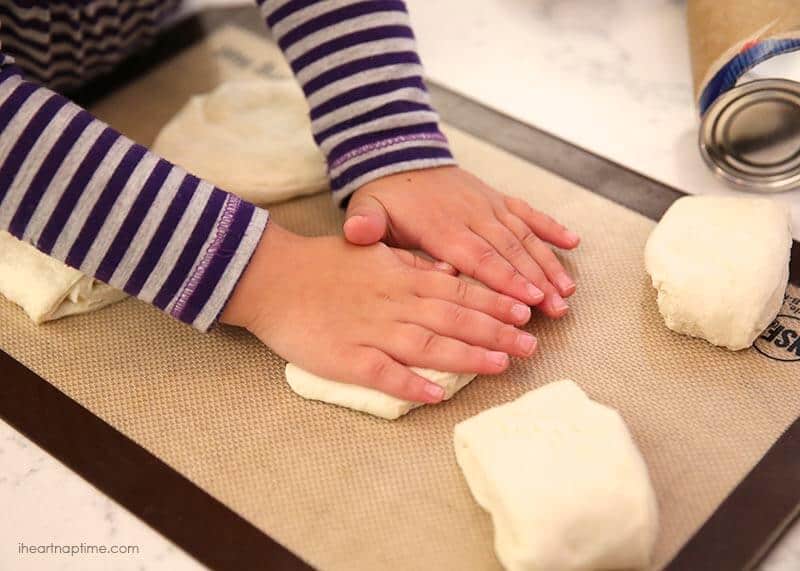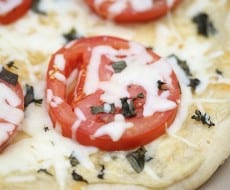 Garlic white pizza sauce
Ingredients:
3 Tablespoons salted butter
3-4 Tablespoons flour
1 1/4 cup half and half
2 Tablespoons fresh basil, chopped
3/4 teaspoons minced garlic
1/4 teaspoon ground oregano
1/4 teaspoon thyme
1/8 teaspoon dried minced onion
1/2 cup parmesan
S & P to taste
Pizza dough ( I used 2 cans Pillsbury classic crust)
1 cup shredded mozzarella cheese
1/2 cup parmesan
Directions:
In a sauce pan melt butter over medium-low heat. Add flour and whisk until combined. Slowly whisk in half and half and then add the basil, garlic, oregano, thyme and minced onion. Once combined stir in the parmeasean and let sit until melted. Salt and pepper to taste. Turn heat to simmer until ready to serve.
Cook pizza dough according to package directions. Then top with sauce, cheese and your favorite toppings. My favorite are fresh basil and tomatoes.
Enjoy while it's hot!
All images and text ©
Here is the big ghost we made. I helped them shape this big guy and then they did the rest!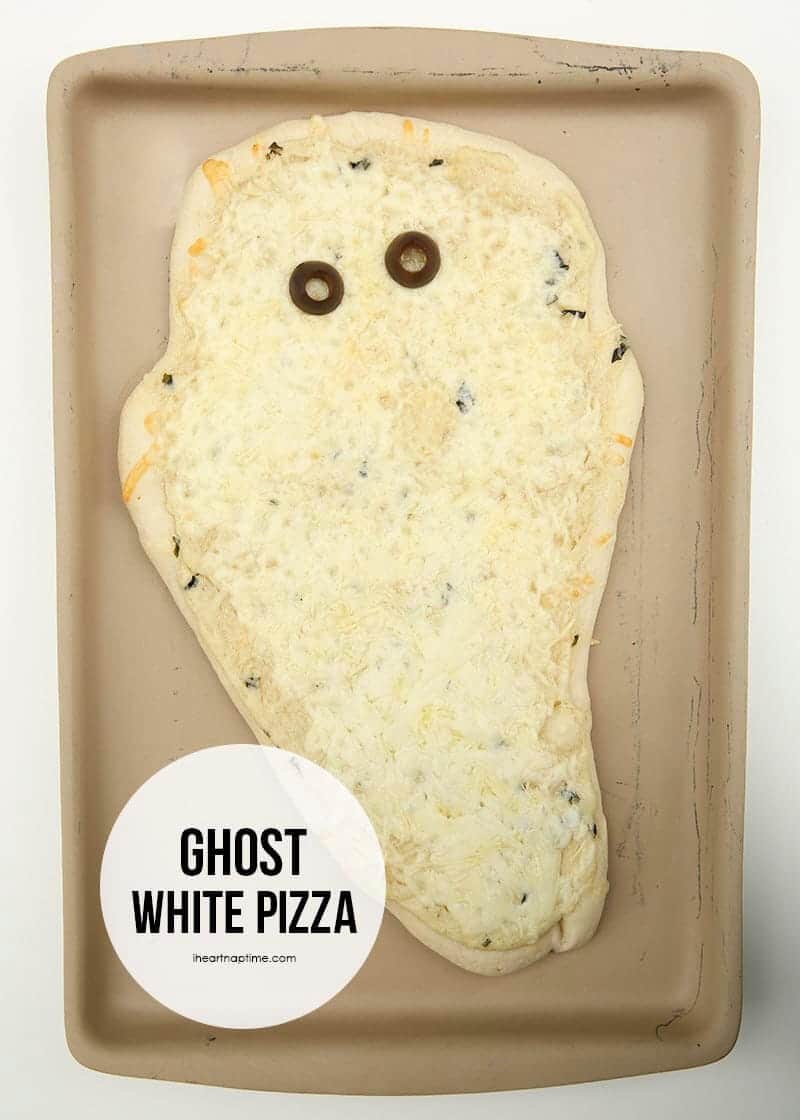 My kids always have so much fun making their own pizzas. They loved making different shapes for Halloween. I gave them a plastic knife to help shape their dough. Here is the little ones my kids made… a pumpkin and a mini ghost pizza! Too cute!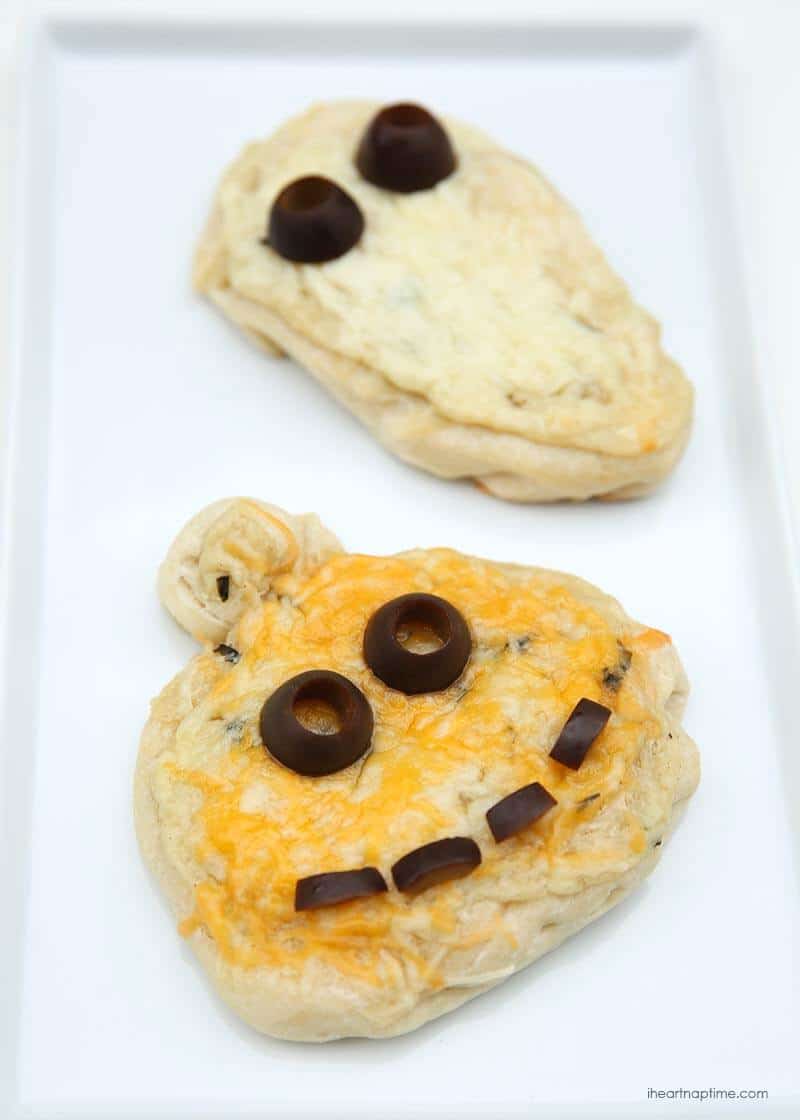 Some of our favorite activities on pizza night is to play games (the kids fave is don't eat pete), build forts, watch a movie and eat pizza of course. ;)
Does your family have pizza night? What's your favorite kind of pizza?
Check out these other yummy pizza recipes for some more ideas:
Bacon cheeseburger pizza by The Girl Who Ate Everything
BBQ beef pizza by Taste and Tell
 Family pizza night by The Baker Mama
Apple peanut butter s'mores pizza by Picky Palate
You can also follow Pillsbury on their Website, Facebook, Twitter, Instagram, YouTube or Pinterest  for how-to recipes, videos, and tips.
 This post is brought to you by Pillsbury. All opinions are 100% my own. #PillsburyPizzaNight