This garlic aioli recipe is a way to elevate your everyday mayo into something irresistible! Creamy, rich, and tangy, it's a sauce perfect for topping, spreading, and dipping pretty much anything!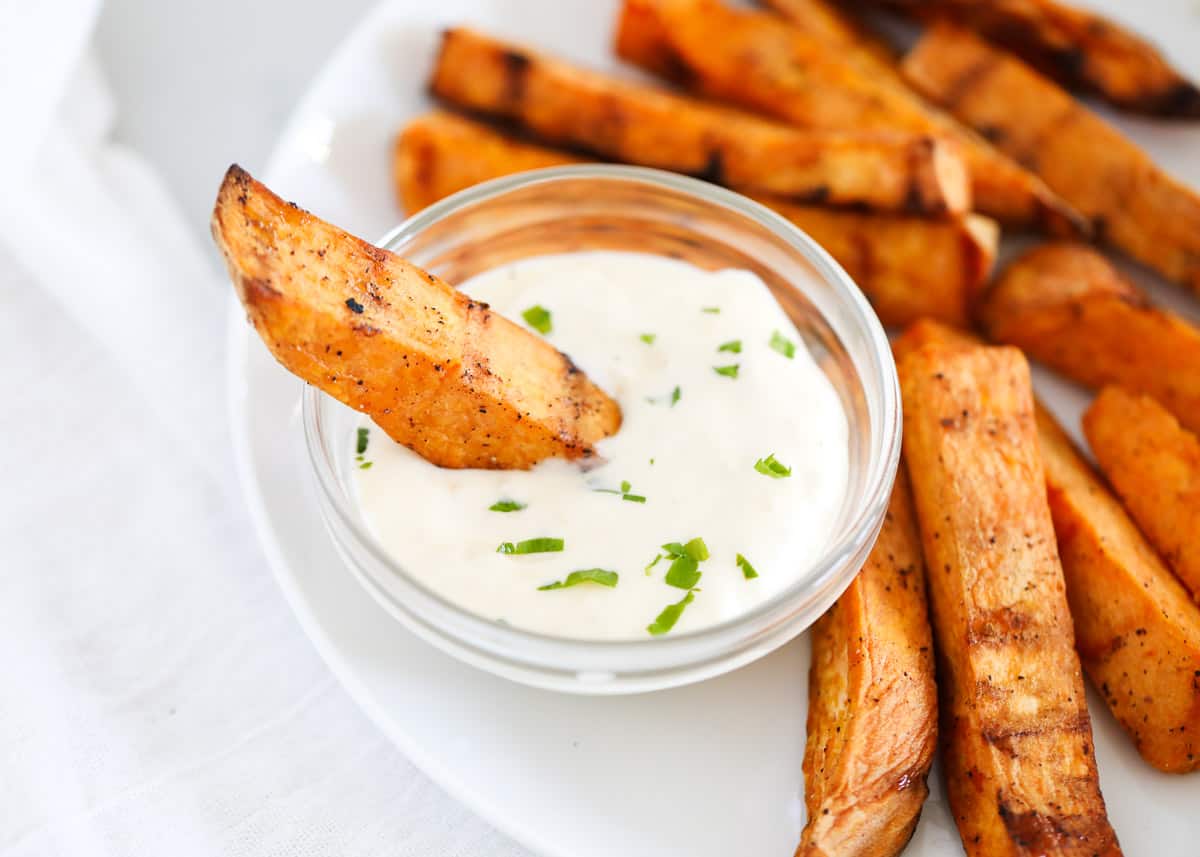 Simple Garlic Aioli Sauce
This easy garlic aioli is made with 5 ingredients and just 1 single step. Well, 2 if you count taste-testing a step :)
It's one of those recipes that takes a simple concept of adding just a few extra ingredients to a common recipe and what comes out the other side is spectacular. It's a step up from your everyday mayo, elevated with a depth of extra delicious garlicky lemon flavor.
Most of the time when we order something like this when eating out we never really consider how easy it is to make it at home. While this is definitely a short-cut version, it does rival the flavor of any aioli you'd find at a restaurant!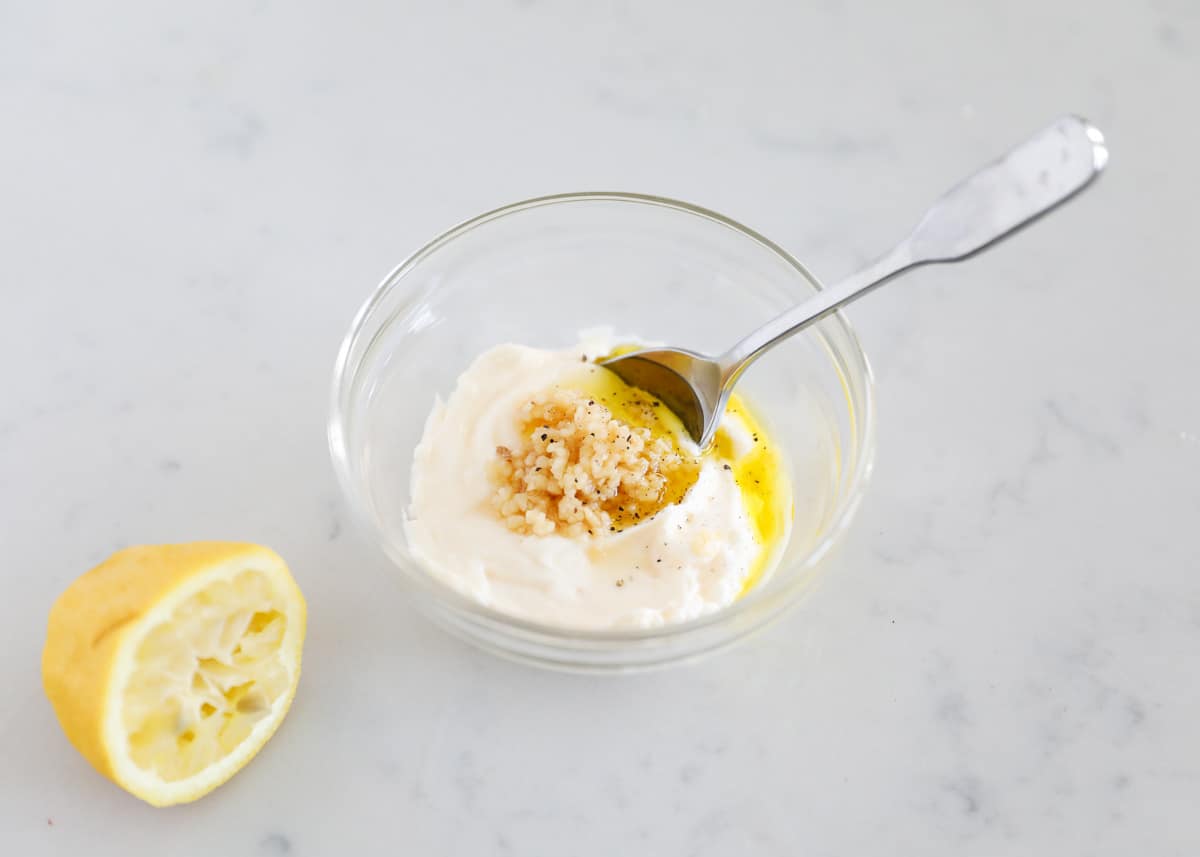 What is Aioli?
Alright, so true aioli originally had nothing to do with mayo, believe it or not. It's started off as a popular sauce in the Mediterranean consisting of a whipped emulsified blend of olive oil, minced garlic, and salt resulting in a creamy textured condiment. However, to be able to get to this creamy texture from olive oil and garlic takes a lot of effort, so a shortcut version was born. Hello, mayo.
These days, we can't get enough of the creamy dreamy stuff, which is now basically the ingredients for mayo (whether store-bought or not) with added flavor variations such as garlic, and lemon, among many others.
Variations
Learning how to make garlic aioli is basically foolproof. Once you try it, you'll look for any excuse to make it. Then you can try adding in a few different flavor options as listed below.
Spicy – Add any of your favorite spices, like buffalo sauce, a sprinkling of cayenne, red pepper flakes, or some sriracha sauce. Some dijon mustard for a kick might also be nice!
Roasted & Smokey – For a milder garlic flavor, roast bulbs of garlic to add to your aioli. You could also add some roasted red pepper or sundried tomatoes for a sweet and smoky note. Learn how to roast garlic in the oven.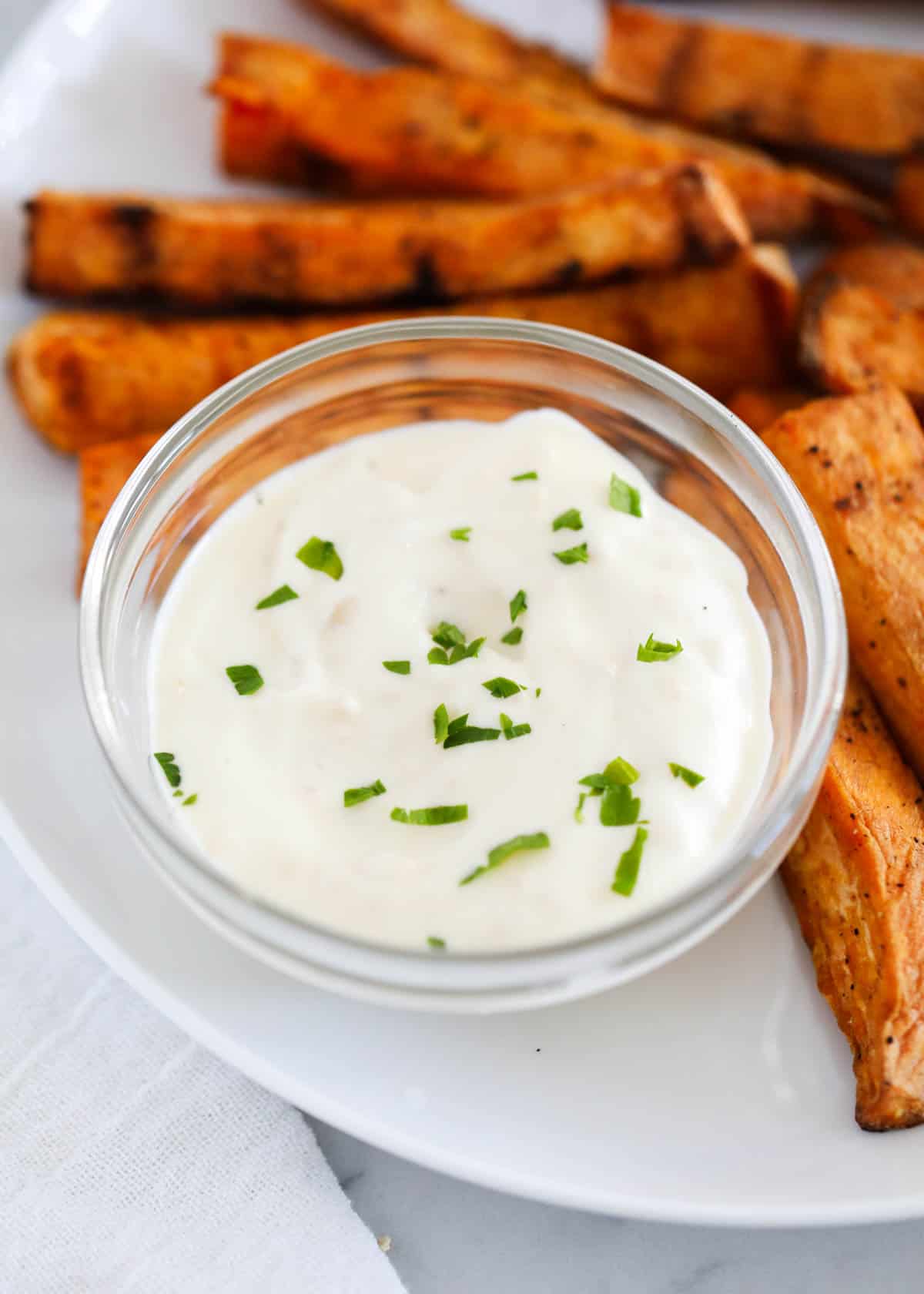 What to Serve it With
It's one of my favorite creamy and rich condiments that can be used on just about everything. I enjoy it on the side of anything grilled. Grilled salmon, grilled sweet potatoes, and all my grilled vegetables. My kids love using it to jazz up their hamburger with a little extra on the side for dipping sweet potato fries or french fries. To be honest, it's the perfect way to get them to eat more veggies!
You can also use it as a creamy coleslaw dressing and a cracker and veggie dip too! It is also a great dipping sauce for appetizers like pigs in a blanket, zucchini fritters or breadsticks. Trust me, there's always a reason to eat it!
Storage Suggestions
Keep this garlic aioli sauce recipe stored in an airtight container for up to 5 days.
FAQs
Is aioli the same as garlic mayonnaise?
Although both are creamy condiments, mayo will contain egg yolk and vinegar while aioli contains garlic, olive oil and lemon juice. For this shortcut version, though, we combine olive oil and lemon juice with a base of mayo for simplicity!
Is garlic aioli healthy?
While not considered a health food, it can fit into a variety of dietary lifestyles including Keto or low-carb.
How long does garlic aioli last in the fridge?
This can be stored for about 5 days covered in the refrigerator. While it would still be good on days 5-10 the garlic will become more pungent the longer it sits.
Can I freeze leftover aioli?
It is not recommend to freeze mayo as it will separate when thawed.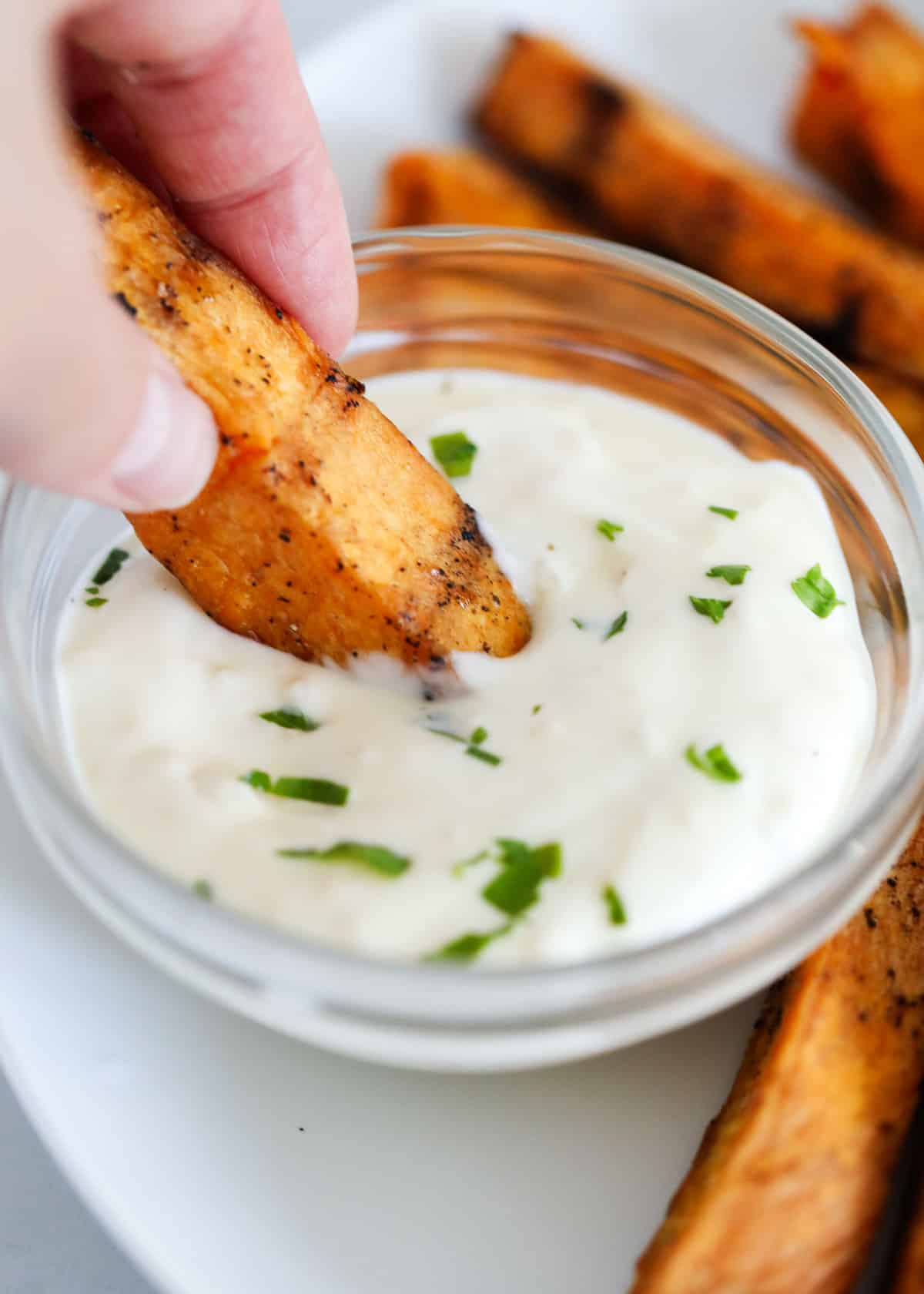 More Creamy Sauce Recipes
HUNGRY FOR MORE? Subscribe to my newsletter and follow on Facebook, Pinterest and Instagram for all the newest recipes!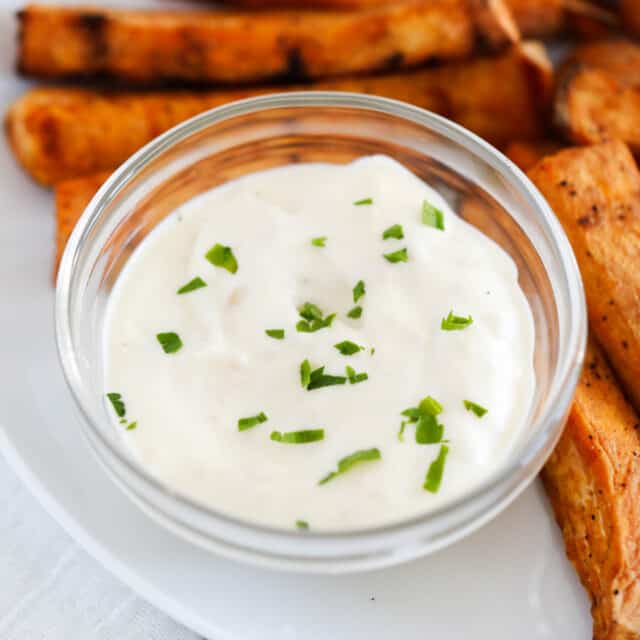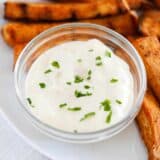 Easy Garlic Aioli
This garlic aioli recipe is a way to elevate your everyday mayo into something irresistible! Creamy, rich, and tangy, it's a sauce perfect for topping, spreading, and dipping pretty much anything!
Ingredients
⅓ cup mayo
2 cloves garlic , 1 teaspoon minced
2 teaspoon lemon juice
2 teaspoons olive oil
salt and pepper , to taste
Instructions
Combine mayo, garlic, lemon juice and olive oil in a small bowl. Whisk in until combined. Salt and pepper to taste.

Store in the refrigerator until ready to use. Serve with your meats, veggies and sides.
---
Notes
Storage: Store leftovers in a covered container for up to 5 days.
Nutrition
Calories: 172kcal | Carbohydrates: 31g | Protein: 2g | Fat: 5g | Saturated Fat: 1g | Sodium: 471mg | Potassium: 512mg | Fiber: 5g | Sugar: 6g | Vitamin A: 21451IU | Vitamin C: 4mg | Calcium: 46mg | Iron: 1mg
Nutrition provided is an estimate. It will vary based on specific ingredients used.
Did you make this recipe? Don't forget to give it a star rating below!