Jump to Recipe⌄
Restaurant Style Salsa
Restaurant style salsa made in a blender in less than 10 minutes! Seriously the best recipe out there.
Homemade salsa is sort of my weakness. It is hard finding a restaurant with GOOD salsa out in Ohio, so we usually end up making this once a week. This salsa is seriously SO good! I have tried my fair share of salsa's living in AZ and I have to say this is the best homemade salsa recipe I have tried yet!  We make this at least once a month! It is seriously our favorite. Make sure you have lots of chips on hand. You have been fair warned. ;)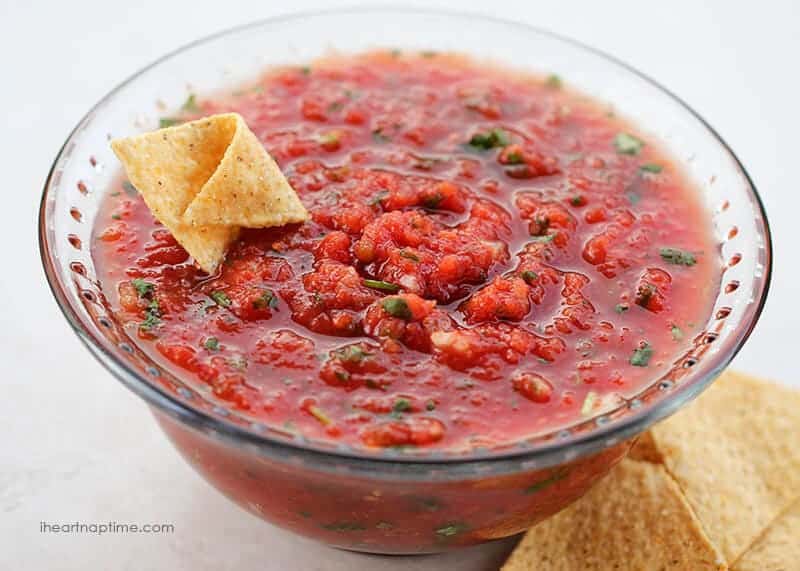 We made this recipe for a YW/YM fundraiser several years ago and everyone loved it! Luckily I got the recipe from my friend (who found it in The Pioneer Women Cookbook) and have tweaked it a little here and there over the years until it was just right. I usually never measure things and just taste as I go. Feel free to add more cilantro and seasonings to your taste. This salsa not only tastes great with chips, but on top of pretty much anything. We love to make a big batch and serve it on tacos or burrito bowls throughout the week. Mmm.. soo good! I could eat this stuff daily and never get sick of it!
How to make Restaurant Style Salsa Video
All you need to make this salsa is a few simple ingredients: canned tomatoes, onions, cilantro, garlic, salt and fresh lime juice. If you like it spicy feel free to add in a jalepeno and a dash of cumin. Then all you do is combine the ingredients in a blender and pulse it a few times. Seriously, so easy to make!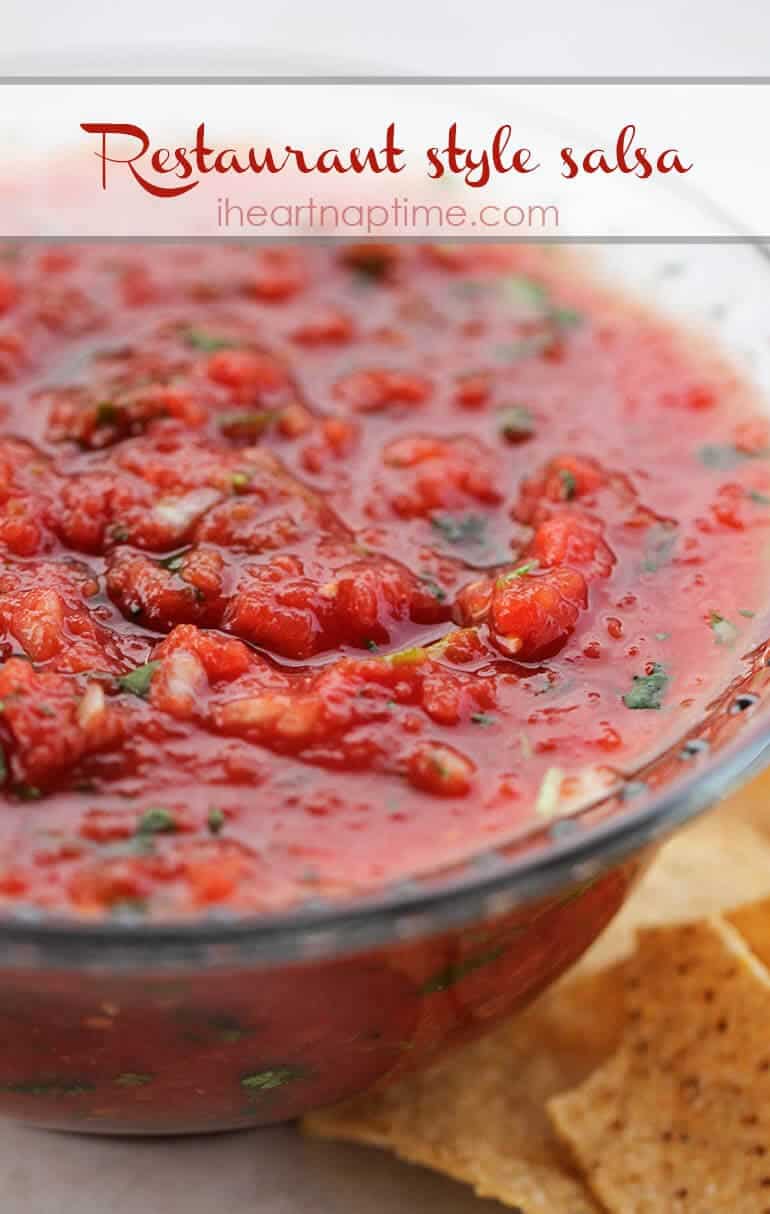 Be sure to subscribe and follow on social, so you never miss a recipe!

Facebook | Instagram | Pinterest | Twitter

Free email subscription HERE
Restaurant Style Salsa Printable Recipe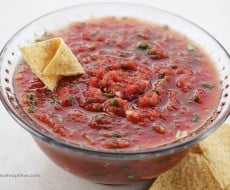 Restaurant Style Salsa
Ingredients:
1 can (28-Ounce) Whole Tomatoes (drained)
2 cans (10-Ounce) Rotel (diced Tomatoes And Green Chilies) Original or Mild
¼ cup chopped onion
1/2 -3/4 cup Cilantro, finely chopped (more or less to taste)
1 1/2 TB fresh lime juice
1 teaspoon minced garlic
¼ teaspoon Kosher Salt
Pinch of sugar (optional)
If you like your salsa a little spicy throw in:
1/2 to 1 Jalapeño, chopped fine
Dash of ground cumin
Directions:
Combine all of the ingredients in a blender or food processor. Pulse a few times until you get a nice consistency. Taste, and add more spice as needed. Refrigerate salsa for at least an hour before serving to help marinate the flavors. Serve with tortilla chips or on top of your favorite Mexican dish.
Feel free to use fresh tomatoes if they are in season.
All images and text ©
This pioneer woman restaurant style salsa is the best recipe I have found! Just make sure to have a BIG bag (or two) of tortilla chips…you won't want to run out! ;)
Looking for more homemade salsas? You'll love these too: