The absolute BEST restaurant style salsa that's made in the blender in less than 10 minutes! Easy, authentic and full of Mexican flavor.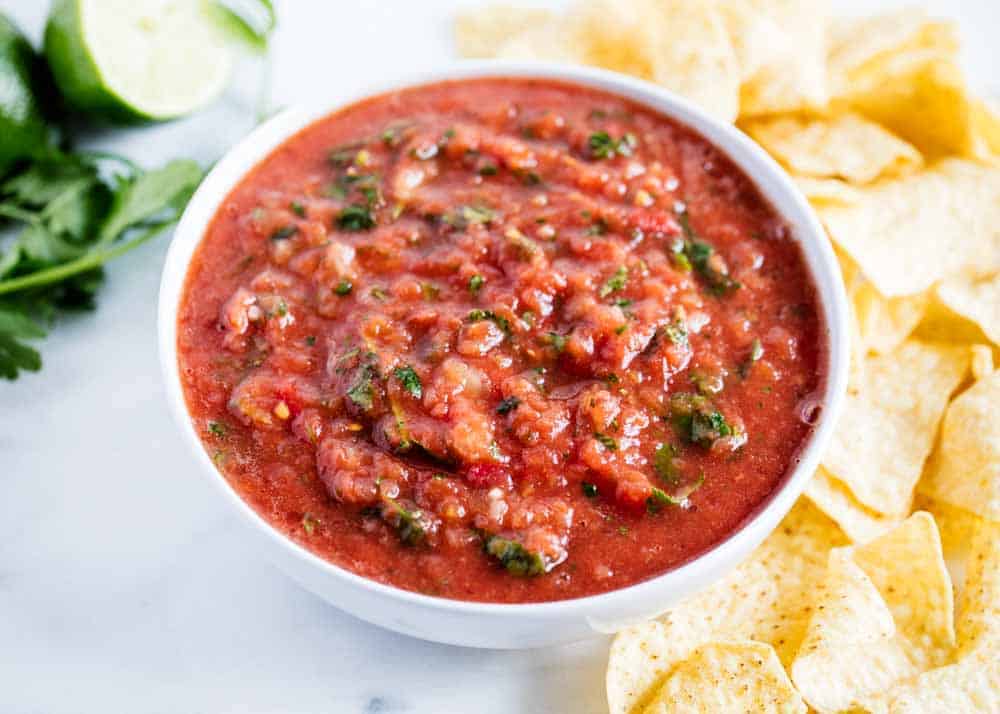 Authentic Mexican Salsa Recipe
Homemade salsa is sort of my weakness. I've tried my fair share of salsas living in AZ and I have to say, this is the best recipe I have tried yet! We make it at least once a month in rotation with my salsa verde. Make sure you have lots of tortilla chips on hand. You have been fair warned. ;)
I got this restaurant salsa recipe from my friend (who found it in The Pioneer Women Cookbook) and have tweaked it a little here and there over the years until it was just right. All you need to make it are a few simple ingredients: canned tomatoes, onions, cilantro, garlic, salt and fresh lime juice. Then all you do is combine the ingredients in a blender and pulse it a few times.
This salsa not only tastes great with chips, but on top of pretty much anything. We love to make a big batch and serve it on beef tacos or burrito bowls throughout the week. Mmm…soo good! I could eat this stuff daily and never get sick of it. It's my absolute FAVORITE Mexican appetizer!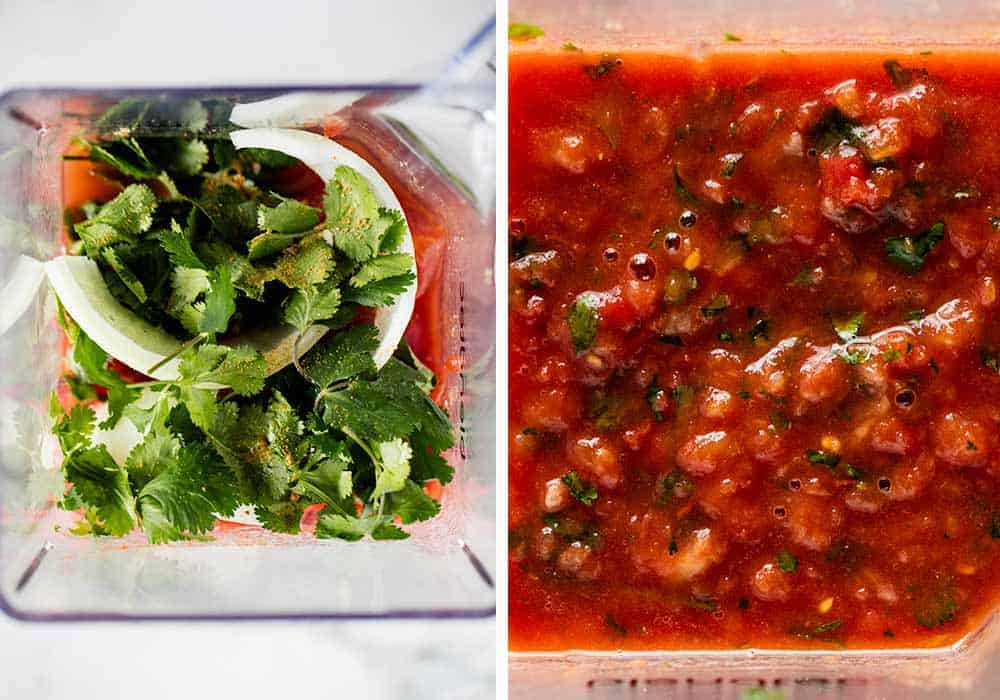 Tips for the Best Restaurant Salsa
Tomatoes. Whole canned tomatoes give the salsa an amazing texture. They aren't too liquidy and have great flavor. Feel free to use fresh tomatoes when they are in season. Make sure they're ripe, with a vibrant red color and sweet smell. I would probably use 10 to 12 red tomatoes, peeled (or about 2 pounds).
Consistency. If you like a thicker salsa, I'd recommend draining the juice from the can of whole tomatoes. You can add the juice in if you prefer it thinner.
Sugar. It may sound strange, but adding a small pinch of sugar really does make a difference in flavor. The sweetness helps balance out the acidity from the tomatoes.
Pulse. This is important! Pulse (don't blend) the ingredients together. This gives you more control over the consistency. It only takes a few pulses until everything is combined.
Let chill. After blending the salsa, let it chill in the refrigerator for at least an hour. The longer it chills, the more flavor it will have.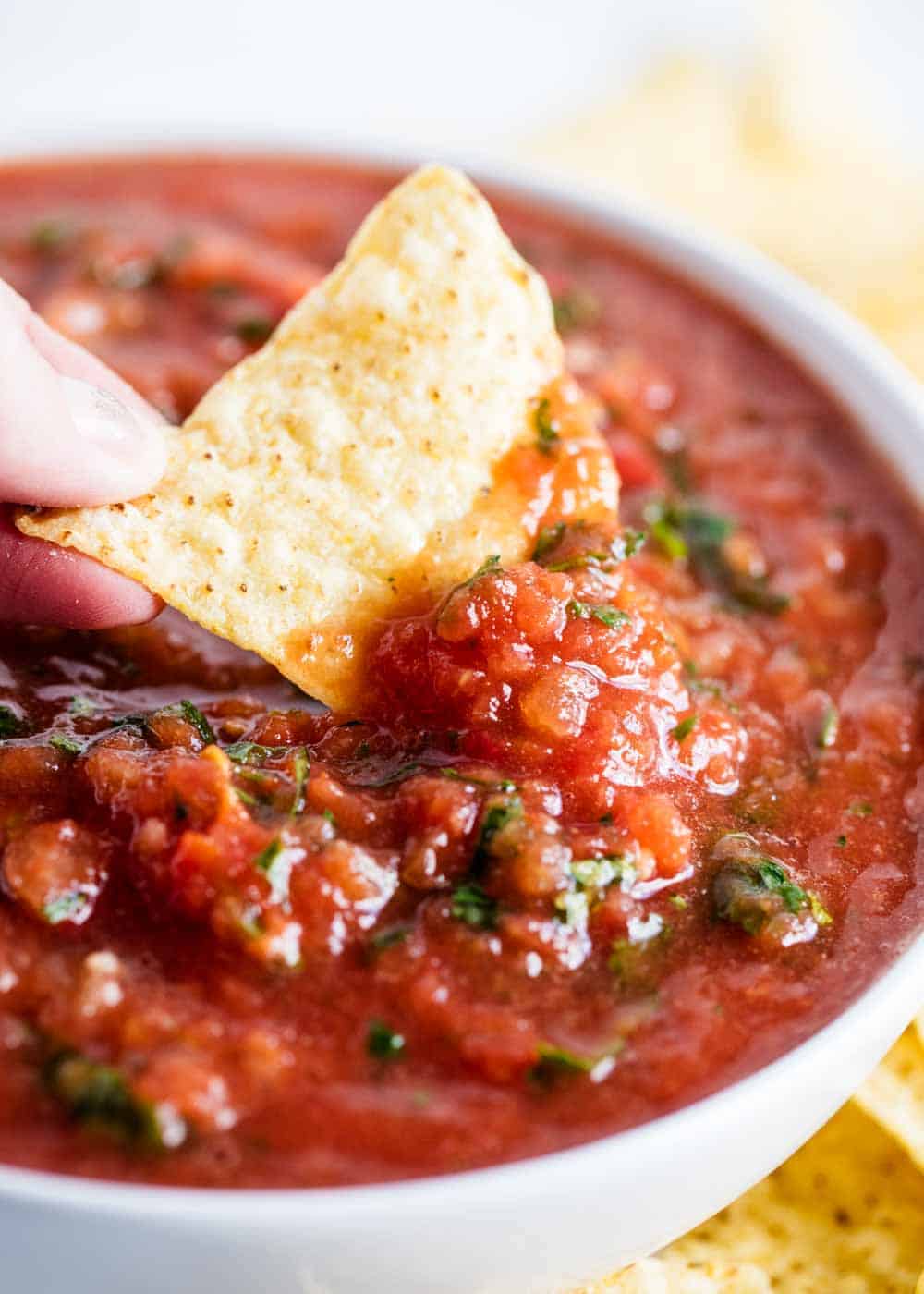 Flavor Modifications
This recipe is SUPER customizable, meaning you can taste the salsa and easily adjust the flavors as needed. I usually never measure things out and just taste as I go. If you like it spicy, feel free to add in a jalapeno and a dash of cumin. Or you can add more cilantro and seasonings to your taste.
Spice. If you like heat, throw in a jalapeno. You can use half, or even the whole pepper. Just remember, the seeds add an extra spicy flavor, so use them at your own risk. :) You could also use hot Rotel diced tomatoes instead of mild.
Garlic. Add in a few more cloves of garlic if you're a big garlic fan.
Lime. For more of a tang, squeeze in extra lime juice.
Sugar. As mentioned above, sugar is optional. Adding a small pinch helps balance out the acidity. If you would rather not add it, the salsa will still taste delicious.
Spices. I love cumin, so sometimes I'm a little heavy handed when adding it in. You can also add in a sprinkle of cayenne or paprika.
How to Store Homemade Salsa
This blender salsa will keep for about two weeks in the fridge, but it never makes it that long around here! :) I like to store mine in mason jars. They're the perfect size and great for shaking up the salsa before serving.
I don't typically freeze my homemade salsa because it gets more moisture and liquid in it when thawing. If you decide to freeze, you may need to decrease the liquid a bit.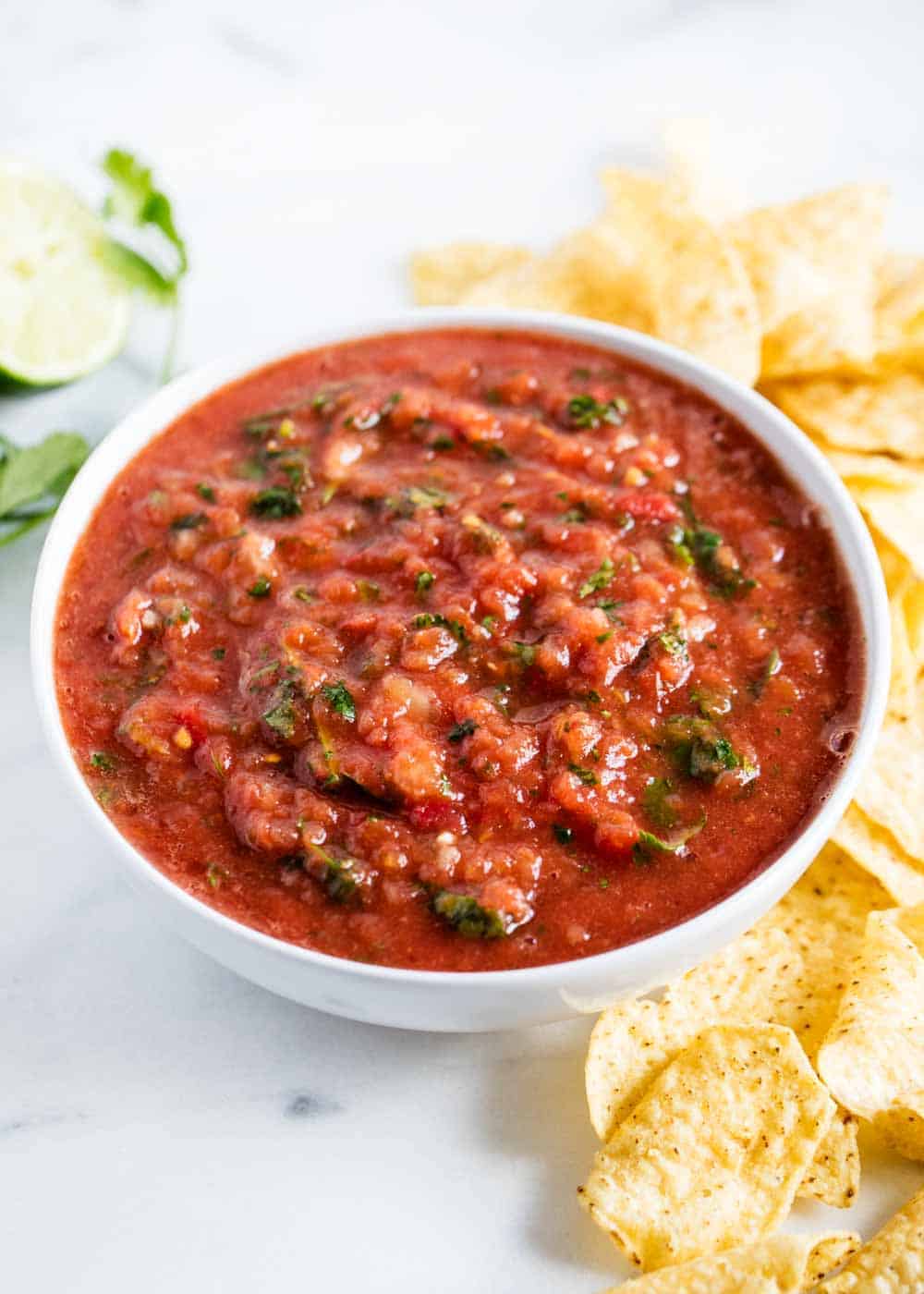 5 star review
"This is my favorite salsa recipe of all time! I will never use another recipe. It is that perfect restaurant consistency and doesn't disappoint on flavor!"

– Amanda
More Fresh Salsa Recipes
HUNGRY FOR MORE? Subscribe to my newsletter and follow on Facebook, Pinterest and Instagram for all the newest recipes!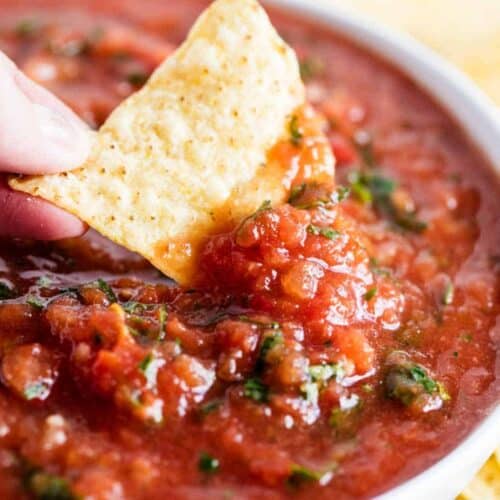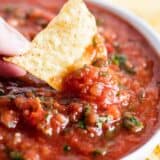 Restaurant Style Salsa
The absolute BEST restaurant style salsa that's made in the blender in less than 10 minutes! Easy, authentic and full of Mexican flavor.
Ingredients
28 ounce can whole tomatoes , drained
20 ounces Rotel diced tomatoes and green chiles , 2 cans
¼ cup chopped onion
½ cup cilantro , finely chopped (more or less to taste)
1 ½ Tablespoons fresh lime juice
1 teaspoon minced garlic
½ teaspoon ground cumin
¼ teaspoon Kosher salt
Pinch of sugar , optional
If you like your salsa spicy, throw in a jalapeno
Instructions
Combine all of the ingredients in a blender or food processor.

Pulse a few times until you get a nice consistency. Taste, and add more spice as needed.

Refrigerate for at least an hour before serving to help marinate the flavors. Serve with tortilla chips or on top of your favorite Mexican dish.
---
Notes
Fresh tomatoes: Feel free to use fresh tomatoes if they are in season. I would probably use 10 to 12 red tomatoes, peeled (or about 2 pounds). Serving size: Makes about 6 cups total.
Nutrition
Calories: 16kcal | Carbohydrates: 3g | Sodium: 111mg | Potassium: 166mg | Sugar: 2g | Vitamin A: 135IU | Vitamin C: 8.7mg | Calcium: 26mg | Iron: 0.9mg
Nutrition provided is an estimate. It will vary based on specific ingredients used.
Did you make this recipe? Don't forget to give it a star rating below!