Juicy and tender mini meatloaf muffins coated in a sweet and tangy meatloaf sauce. An easy, kid-friendly dinner idea that's on the table in just 35 minutes!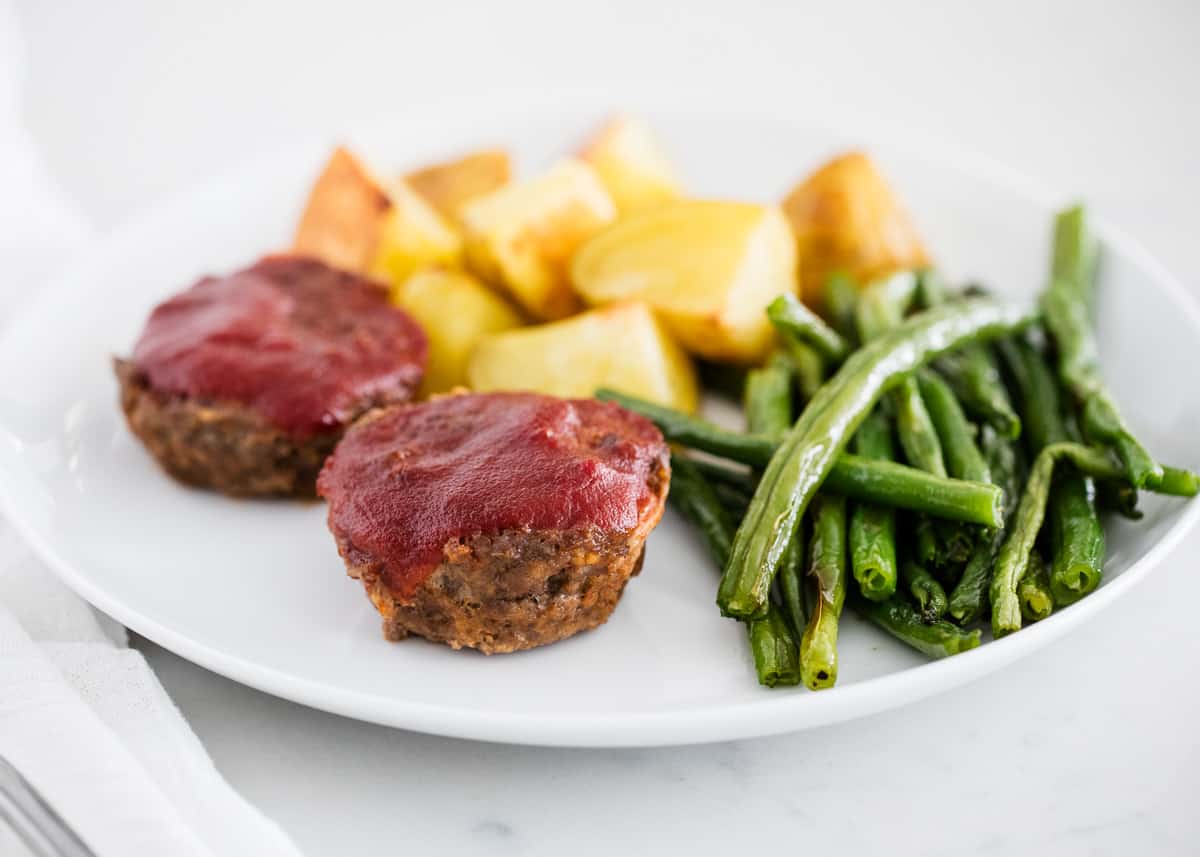 Muffin Tin Meatloaf
My family loves this muffin tin meatloaf! My kids prefer them over a classic meatloaf or my cheese-stuffed meatloaf, and honestly, most nights I do too. They taste just as delicious as the traditional recipe but don't need to bake as long in the oven.
Convert your kids to meatloaf lovers with these easy mini meatloaf muffins! There's just something about mini-individual portions that makes dinner that much more fun. These are an easy twist on the classic recipe and are the perfect serving size for your little ones.
They also make a great freezer meal for busy weeknights. Just thaw, reheat and serve with roasted red potatoes and green beans for the ultimate comfort meal.
Why This Recipe Works
Fast and easy: When you make meatloaf in a muffin tin it's ready in just over 30 minutes! Much faster than regular meatloaf.
Kid friendly: Regular meatloaf slices can sometimes be a little big for kids to eat, but these mini muffins are just the right size. No waste or extras left over on their plate!
Flavorful: These perfectly seasoned meatloaf muffins are topped with a 2-ingredient meatloaf sauce that makes them so delicious!
Freezer-friendly: Make ahead and freeze for later for nights when you don't have a ton of time to spend in the kitchen. Easy peasy!
Easy Meatloaf Muffin Ingredients
Each ingredient has so much flavor and combines to make this delicious mini meatloaf dinner! This muffin tin meatloaf recipe is so quick and simple. They are cute and delicious!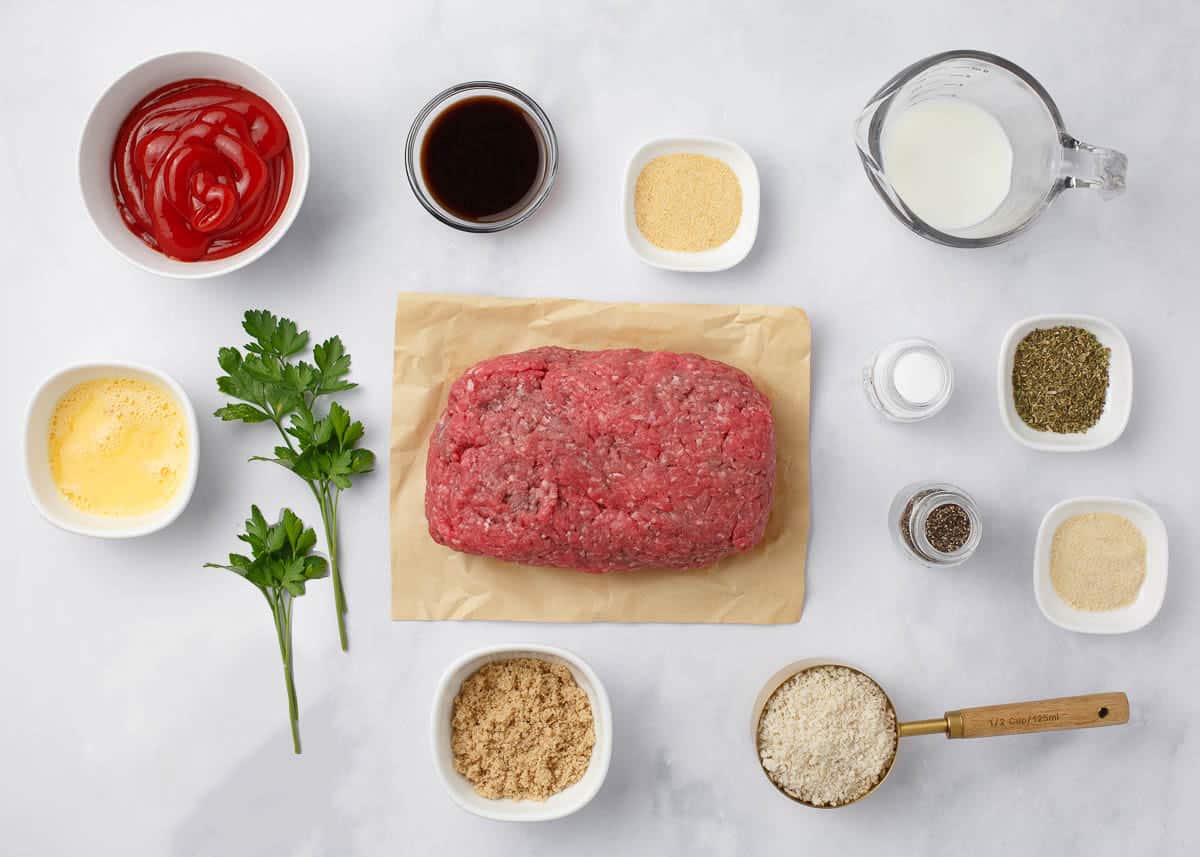 Find the full printable recipe with specific measurements below.
Ground beef: Use lean ground beef at least 90% lean. This will help make the ground beef soft and moist when baking.
Panko bread crumbs: Gives the meat texture and volume.
Egg: Creates a moist meatloaf as well as holds the meat and remaining ingredients together.
Parsley: A great seasoning that is fresh and adds a savory flavor.
Worcestershire sauce: This is a strong flavorful liquid that tastes similar to soy sauce without salt.
Ketchup: A classic ingredient that is always in traditional meatloaf. Ketchup and ground beef are the perfect combinations. You will use this in the meatloaf mixture as well as in the sauce.
Garlic powder: Give a garlic taste with some garlic powder.
Onion powder: The onion flavor is subtle and tastes delicious all mixed together.
Brown sugar: Add this to your sauce for sweetness.
How to Make Mini Meatloaf Muffins
Simply combine the ingredients together, make the special sauce, press your meat mixture in the muffin tins, and add sauce. It is super simple and comes together quickly. These bite-sized muffins are perfect for dinner time!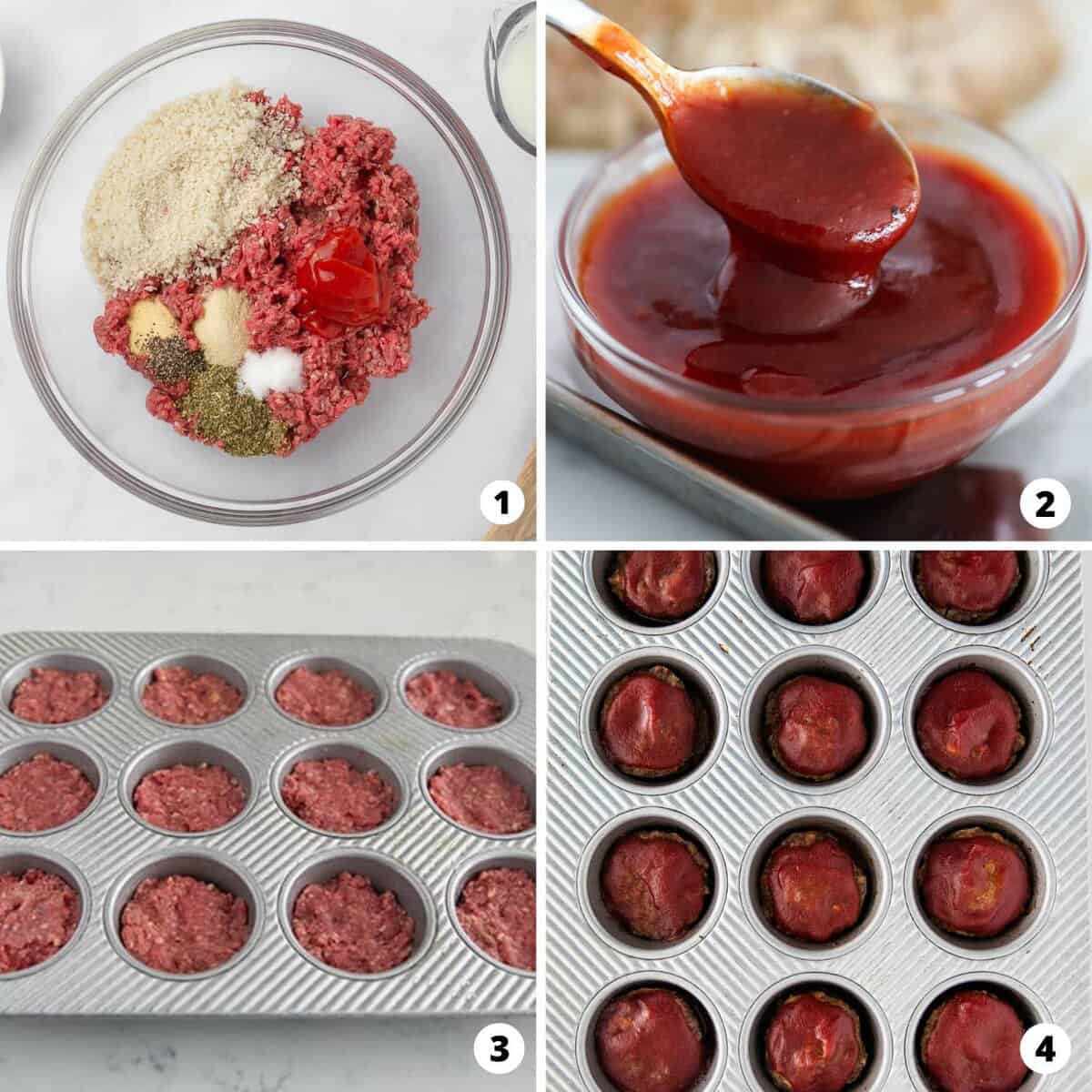 Mix. Combine all of the meatloaf ingredients in a large bowl and mix just until combined. Make sure not to over-mix, or the meatloaf will dry out when baking.
Stir together. Mix the sauce ingredients together in a bowl and set aside. Don't add the sauce just yet.
Press. Divide the meat mixture evenly into a greased muffin pan and press down.
Bake. Place in the oven and bake at 350°F for 15 minutes. Remove from oven and use a paper towel to absorb any extra grease in each muffin cup. Then spread the sauce evenly on top of each. Place back in the oven and cook for an additional 10 to 15 minutes. They are done when the centers reach 160°F.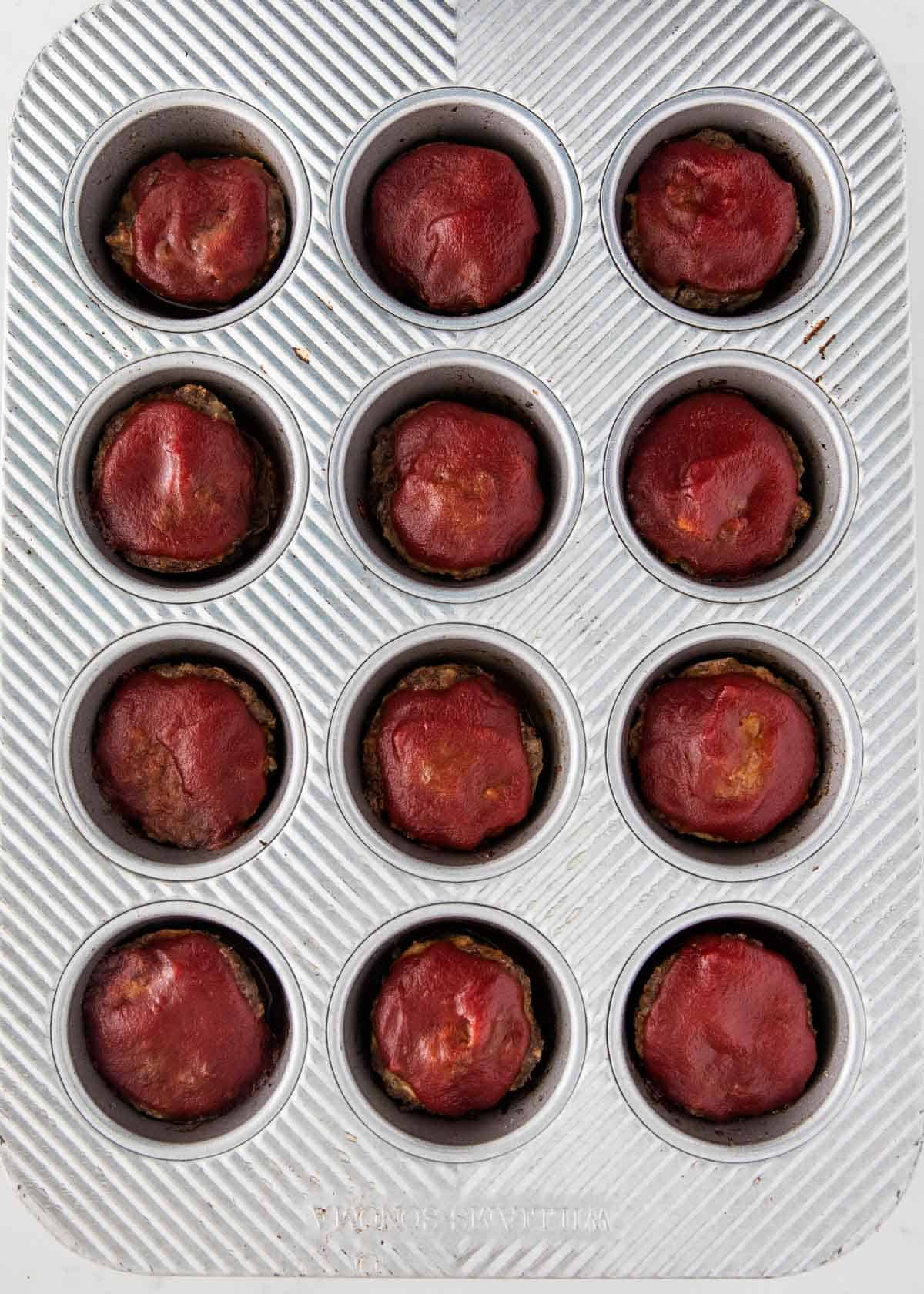 5 star review
"I made this tonight. I love the portability and the quick bake time on the muffin tin meatloaf! Great flavor! I served with corn bread, sweet potatoes and a kale/spinach mixture. My almost 2 year old loved it and she doesn't usually eat meat! Thank you!"

-Kimberly
Tips + Variations
Here are a few tips and variations to make these mini meatloaf muffins. Each tip can help make this mini meatloaf pan even better. This is a great family dinner!
Spray the pan. The last thing you want is for the mini meatloaf to stick to the pan. So make sure to lightly spray with cooking spray each muffin tin before pressing the meat mixture into the pan.
Don't over-mix. If you over-mix, your meatloaf won't be as juicy and tender. Stir the meat mixture just until combined,
Ground turkey. Sub ground turkey for beef to make turkey meatloaf instead. Beef makes it a little juicier, but ground turkey is a lighter alternative that still tastes super delicious.
Breadcrumbs. If you can't find any in the pantry, make your own homemade breadcrumbs by toasting some leftover bread and then blending them into fine crumbs.
Spice. If you like spice, add a few red pepper flakes to the meat mixture or mix in some sriracha when making the sauce.
Recipe FAQs
What is the secret to moist meatloaf?
Using a higher fat cut in your ground beef will give you a rich and moist meatloaf. Mixing in turkey, ground pork, or veal will also give it a delicious flavor as well as a moist base.
How can I add flavor to my meatloaf?
Salt and pepper are classic seasonings to help add flavor to most meals. To have a deeper flavor try adding in minced garlic, thyme, and even paprika or a liquid like dijon mustard.
What does adding an extra egg to meatloaf do?
Eggs have a few helpful components in meatloaf. It helps to shape the meatloaf, gives it a nice crust on the outside while keeping the inside moist, and helps keep the meatloaf together and not falling apart.
Should I cover my meatloaf as it is baking?
Since this meatloaf is baked in mini muffin tins you do not need to cover the muffin tin. If the tops are becoming darker quickly and burning the sauce on top then you can cover but it is not mandatory.
Storing, Freezing + Reheating
Meatloaf muffins are so easy to make and can be stored in the refrigerator or frozen. Reheat them in the microwave, air fryer, or oven. Start making your meatloaf and storing it in the best way for your family!
Storing: They will stay fresh in the refrigerator for about 3 to 4 days if stored in an airtight container or bag.
Freezing: If you have plans to freeze them raw, I recommend leaving off the sauce. Prepare the meat mixture as directed and then press it into the muffin tin. Place the pan in the freezer and flash freeze for about an hour until hardened. Then transfer the muffins to a freezer bag and store them in the freezer for up to 3 months.
Reheating: Thaw the mini meatloaf cups in the fridge overnight. Then place back into the muffin pan and bake according to directions. Spread the sauce on top about halfway through baking.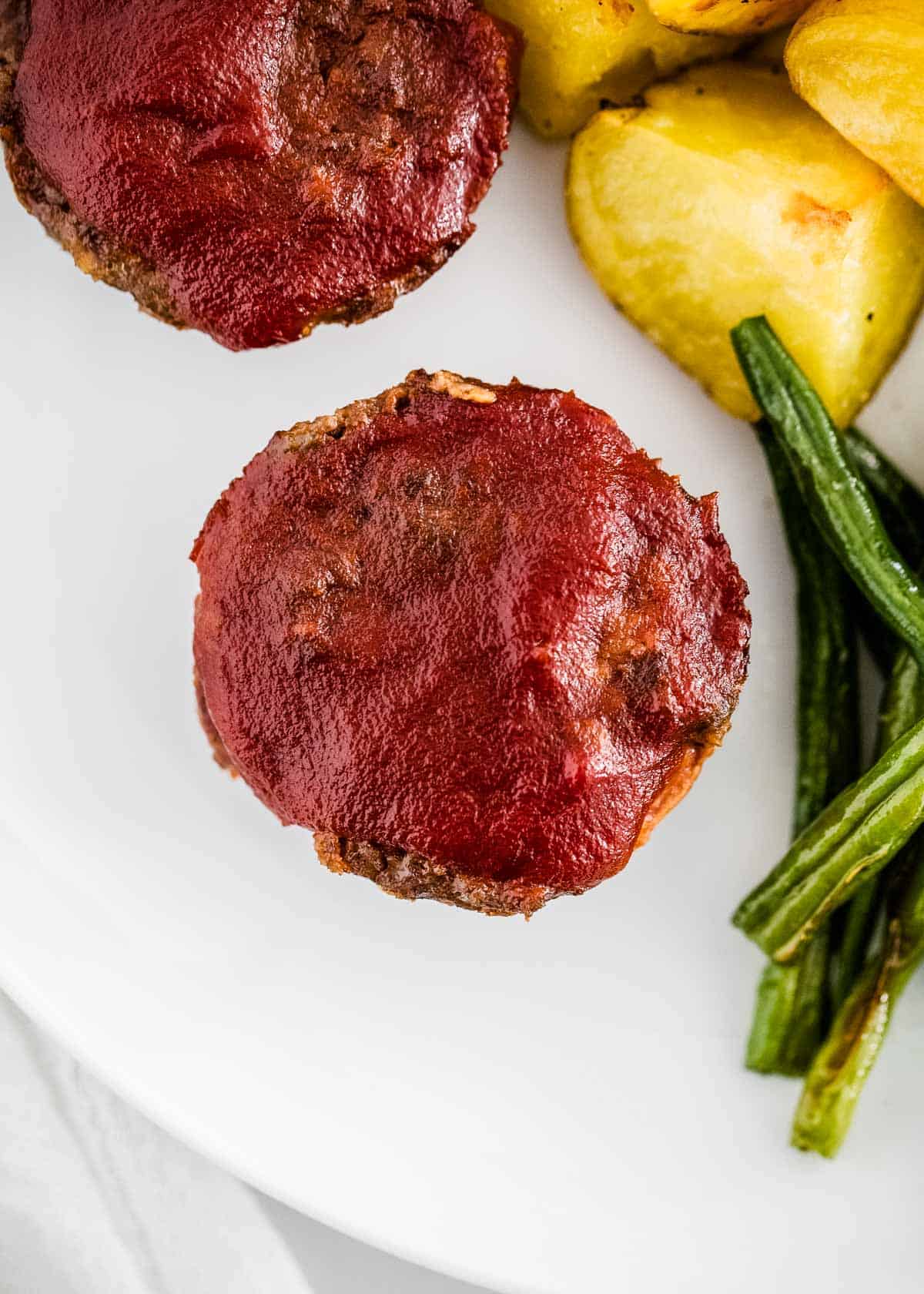 Favorite Sides for Serving
HUNGRY FOR MORE? Subscribe to my newsletter and follow on Facebook, Pinterest and Instagram for all the newest recipes!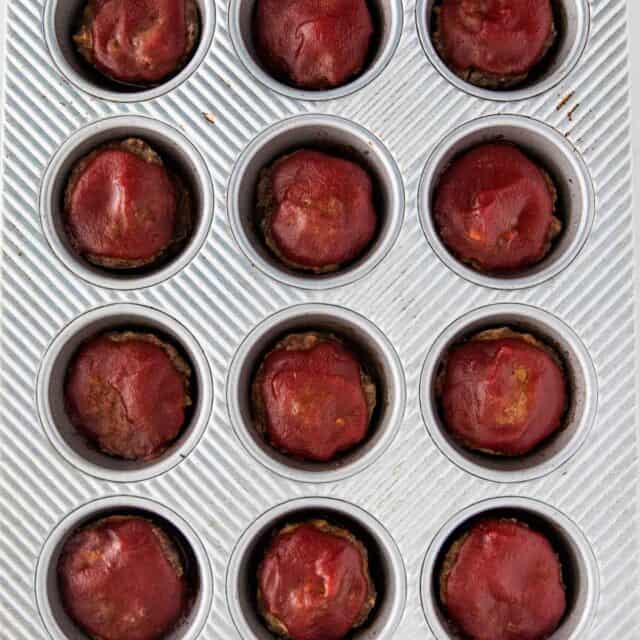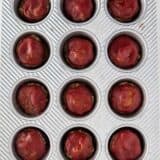 Meatloaf Muffins
Juicy and tender mini meatloaf muffins coated in a sweet and tangy sauce. An easy, kid-friendly dinner idea that's on the table in just 35 minutes!
Ingredients
Meatloaf Ingredients:
1 ½ pounds 90% lean ground beef , you could also use ground turkey
½ cup panko breadcrumbs
1 large egg , whisked
2-3 Tablespoons fresh parsley , finely chopped
1 Tablespoon Worcestershire sauce
1 Tablespoon ketchup
¾ teaspoon Kosher salt
¼ teaspoon ground black pepper
½ teaspoon garlic powder
½ teaspoon onion powder
Sauce Ingredients:
½ cup ketchup or BBQ sauce , you could mix half and half
2 Tablespoons light brown sugar
For serving: Potatoes and green beans
Instructions
Preheat the oven to 350°F. Lightly spray muffin pan and set aside.

Combine the meat, breadcrumbs, egg, parsley, Worcestershire sauce, ketchup, salt, pepper, garlic powder and onion powder in a large bowl. Mix just until combined. Don't overmix or the meat won't be as tender.

Divide the meat evenly into the muffin pan and press down.

In a small bowl, mix together the ketchup and/or BBQ sauce and brown sugar. Set aside.

Bake meatloaf for 15 minutes. Then remove from oven and absorb any extra grease with a fork and paper towel. Then pour sauce over the meat evenly. Add pepper on top if desired. Then bake an additional 10-15 minutes or until the center reaches 160°F.

Serve while warm with potatoes and green beans.
---
Notes
Substitutions:
You may substitute fresh onion and garlic (1 cup onion, 4 garlic cloves minced). Saute them with a little olive oil before adding to the meat.
If you prefer a little heat, add in a pinch of red pepper flakes to the meat or a few dashes of chili sauce or sriracha to the meatloaf sauce.
Extra sauce: If you prefer your meatloaf extra saucy, you can always mix up another batch and brush more on the last 10 minutes of cooking or use it for dipping.
Storage: Store in a covered container in the refrigerator up to 4 days.
Nutrition
Serving: 2muffins | Calories: 276kcal | Carbohydrates: 14g | Protein: 25g | Fat: 12g | Saturated Fat: 5g | Polyunsaturated Fat: 1g | Monounsaturated Fat: 5g | Trans Fat: 1g | Cholesterol: 105mg | Sodium: 648mg | Potassium: 497mg | Fiber: 1g | Sugar: 9g | Vitamin A: 275IU | Vitamin C: 3mg | Calcium: 41mg | Iron: 3mg
Nutrition provided is an estimate. It will vary based on specific ingredients used.
Did you make this recipe? Don't forget to give it a star rating below!