We're adding a layer of cheese to a classic recipe making this cheesy mozzarella stuffed meatloaf an instant hit! Juicy seasoned meat, a melty middle, and a delicious sweet and tangy glaze on top makes this the ultimate comfort food!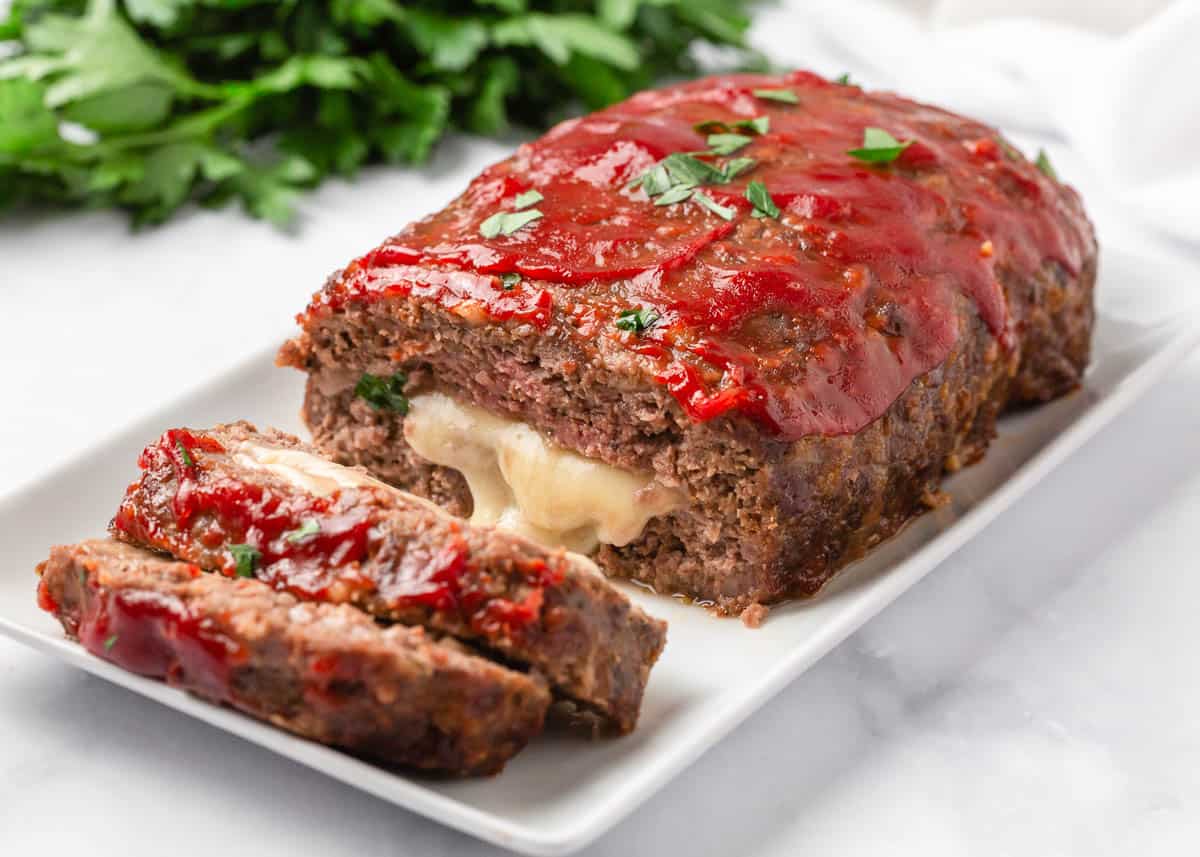 A Family Favorite
This cheesy stuffed meatloaf recipe puts a cheesy twist on my favorite homemade meatloaf recipe and according to my family, it rivals the classic meatloaf any day!
It's incredibly flavorful and well-seasoned, the meat is juicy, and the entire loaf has the perfect amount of ooey gooey melty cheese so that it oozes out of every slice. They're very similar in flavor to mozzarella stuffed meatballs!
First, we take half of the meat mixture, layer it with mozzarella cheese, then top it with the remaining mixture and the best meatloaf sauce. This healthy, wholesome, and hearty meal can feed your family and then some!
We serve cheesy mozzarella stuffed meatloaf alongside traditional creamy mashed potatoes and green beans for a complete meal and a tried and true family favorite.
Why This Recipe Works
Cheese just makes everything better! There's always room for adjustments to classic American comfort food. We'll always love traditional meatloaf, but cheese is cheese!
Customizable. Use my turkey meatloaf for this recipe, if preferred, or any other type of ground meat. You can also swap the cheese and some of the seasonings too.
Freezer-friendly. Mozzarella stuffed meatloaf makes a great freezer meal. I usually double up the recipe and freeze an entire loaf.
Inexpensive. Serve your entire family on a budget with this cheesy mozzarella stuffed meatloaf recipe. Pick up meat when it's on sale or use what you've got in your fridge or freezer.
Stuffed Meatloaf Recipe Ingredients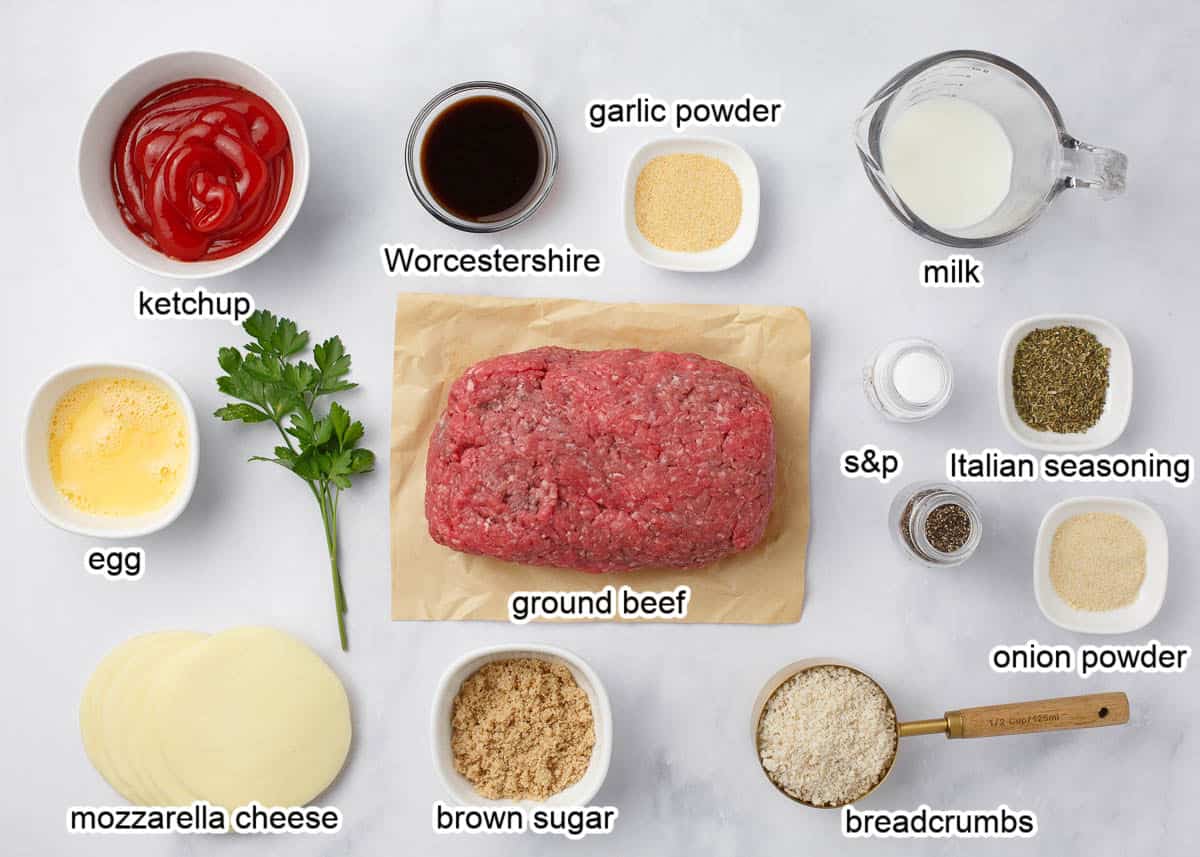 Find the full printable recipe with specific measurements below.
Ground beef: I use 80-90% lean ground sirloin. Don't worry about using lean beef, it will not dry out and still provide you with great flavor. You don't want to add any unnecessary grease to your loaf.
Breadcrumbs: Panko breadcrumbs work great, but if you're like me and enjoy making homemade breadcrumbs from leftover bread ends, this is a great way to use them up.
Seasoning: I make a mean Italian seasoning blend using a blend of dried herbs. It's great to have on hand because I use it a lot.
Milk or broth: The liquid adds moisture to the mixture, and the breadcrumbs help to absorb it, so they work together to create the structure that the egg holds together! Milk or beef broth are both great. Milk is a bit richer, however, the beef broth will add extra flavor, so it's up to you!
Mozzarella cheese: Slices of mozzarella from a ball will melt much nicer than pre-sliced from a package, but in this case, either will work. You can also ask for fresh slices that they will do for you at the deli section of your grocery store.
Variations
As mentioned earlier, you could swap the beef with turkey or chicken for a lighter cheesy mozzarella stuffed meatloaf. Or you could use a combination of pork and beef for extra flavor.
You could also turn these into mini meatloaf muffins.
Use fresh onion and fresh minced garlic in place of the onion and garlic powder.
For a bit of heat, you can add a pinch of red pepper flakes to the meat or a few shakes of chili sauce or sriracha to the sauce.
If you don't have Italian seasoning, or even all of the ingredients to make your own, you can substitute it for oregano or basil.
Sprinkle in some Parmesan cheese to the loaf mixture for some extra umami flavor and cheesiness.
I love the gooey mozzarella cheese, but by all means, use your favorite kind of cheese. Provolone, Gouda, Monterey Jack, Colby or pepper jack. Try cheddar cheese with this meatloaf with BBQ sauce.
How to Make Mozzarella Stuffed Meatloaf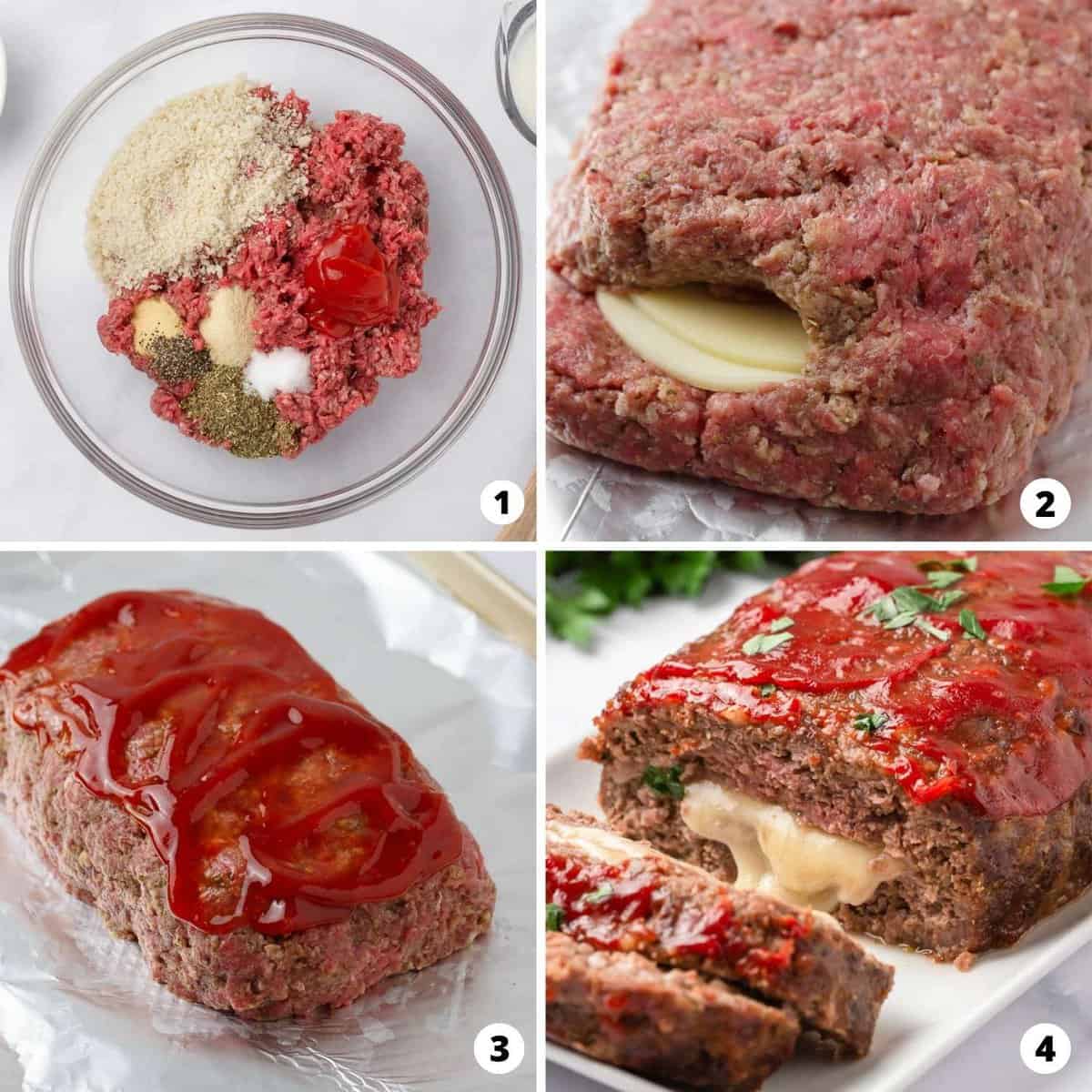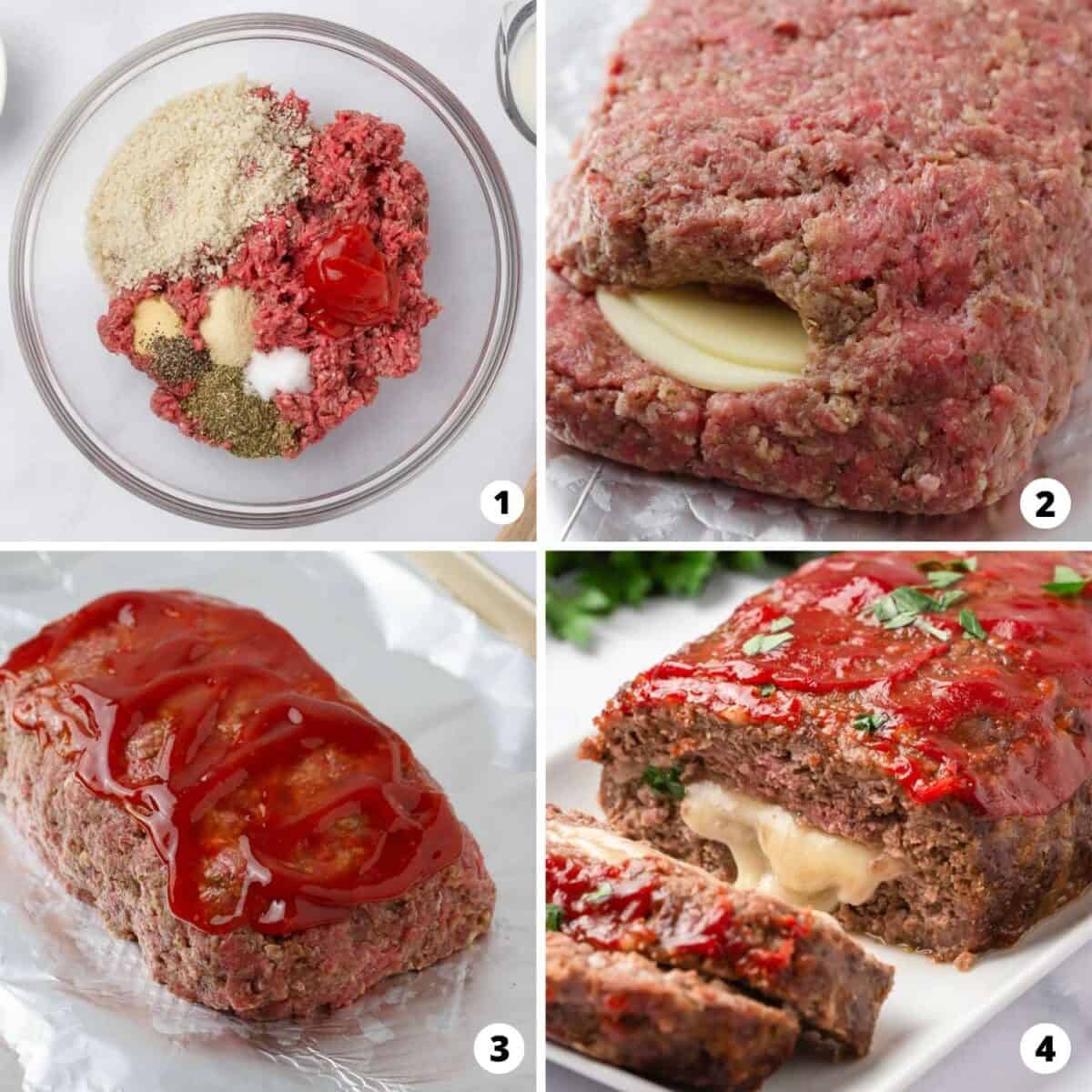 Combine meat mixture. In a large mixing bowl, gently mix the beef, breadcrumbs, broth, eggs, Worcestershire sauce, ketchup, and seasonings. Use your hands or a wooden spoon to combine, being careful not to overmix or overwork the meat.
Layer the loaf. Add half of the mixture and add it to your prepared loaf pan, or baking sheet. If using a baking sheet, you'll need to form the loaf shape with your hands. If using a loaf pan, just press the mixture into the bottom of the pan. Add the slices of cheese on top, leaving about 1/2 an inch around the sides. Add the rest of the meat mixture on top and seal the edges.
Top with sauce and bake. Combine sauce ingredients in a small bowl, then pour it over the top of the meatloaf. Spread it out with a spatula if needed. Bake for 45 minutes in a 375°F oven.
Rest and serve. Once your cheesy mozzarella stuffed meatloaf is ready and out of the oven, allow it to rest and let the juices settle for 5 minutes. Then, slice it up and serve it with a sprinkle of some fresh parsley. Enjoy!
Expert Tips
Rest the meat. This juicy meatloaf needs to keep all its juices, so don't slice it too early. You need to let it rest for about 5 minutes so that the juices settle and redistribute throughout the loaf before slicing and losing all of it.
Line your loaf pan. Use either aluminum foil or parchment paper to line the baking sheet or loaf pan. This makes for an easy clean-up and easy removal of the meat.
Leftover meatloaf. The next day, use a slice to make a meatloaf sandwich. The ultimate comfort food!
Extra sauce. If you prefer your cheesy mozzarella stuffed meatloaf extra saucy, make extra and brush more on the last 10 minutes of cooking or use it for dipping.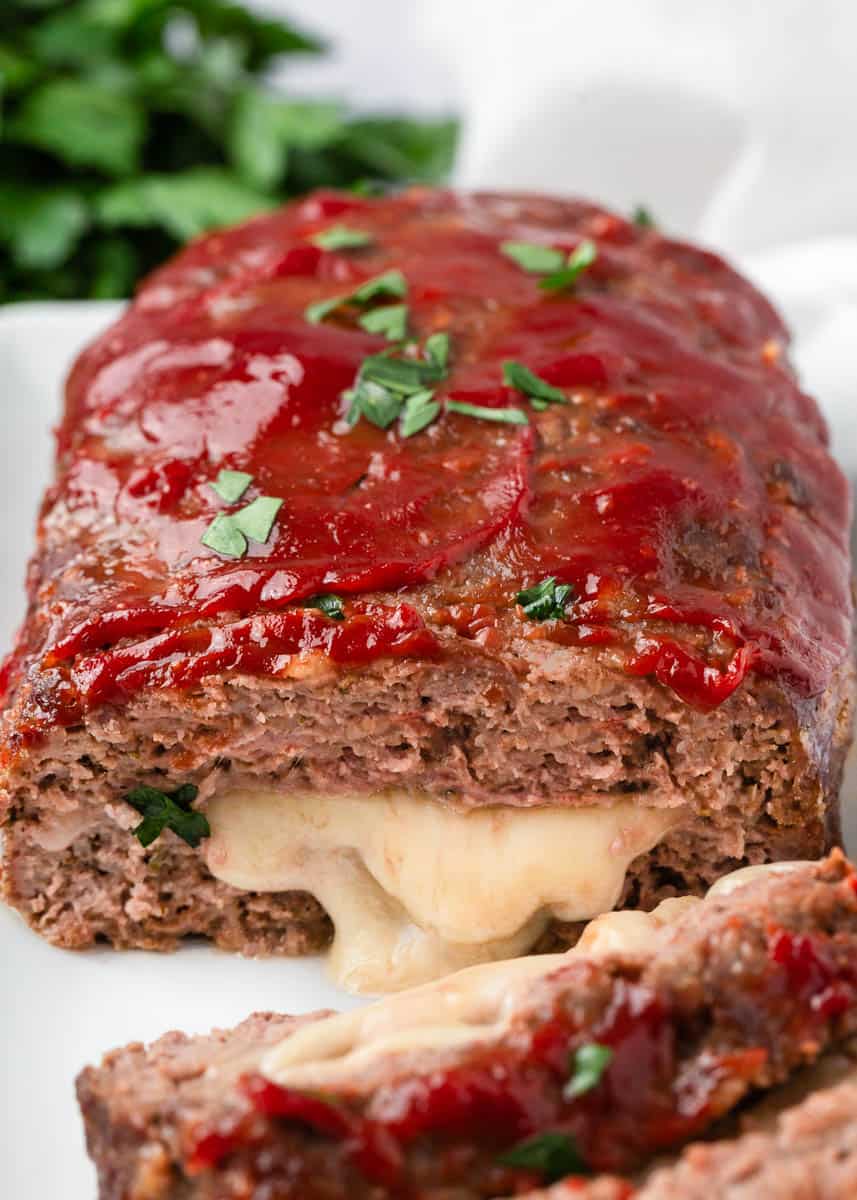 Recipe FAQs
Is this cheese-stuffed meatloaf keto-friendly?
As written it is definitely low-carb, but not completely keto-friendly. With a few simple tweaks, it definitely can be.

You would need to find sugar-free ketchup and probably just stick to a ketchup glaze because you'd want to avoid the brown sugar. Then, swap the bread crumbs for an almond meal.
How do I know when my meatloaf is done?
Use an instant read thermometer to see that the inside has reached 160°F.
Why is my meatloaf falling apart?
Meatloaf might commonly fall apart if you did not include enough binding agents such as eggs or breadcrumbs. Your meatloaf may also fall apart if you overcooked it.

Follow this recipe and your meatloaf stuffed with cheese should have no problem staying together!
What is the secret to moist meatloaf?
There are a few secrets! One is to not overdo it on the breadcrumbs. They will help to absorb excess moisture, but you don't want them absorbing all of the moisture!

Don't skip the egg or milk/broth. They both play a part in the moisture level of the finished loaf, especially if you are using lean meat.

Last, you do not want to overmix the mixture. If you overwork it, that's when it becomes tough and dry. A gentle combine and then leave it alone.

Storing
To store: Keep leftover meatloaf in an airtight container in the fridge for up to 3 days.
To freeze: If you know ahead of time you'll be freezing it, feel free to leave the saucy topping off until you are ready to bake it later on. You can still freeze it with the sauce though, so no biggie. Wrap it in plastic wrap to avoid freezer burn and place it in a freezer-friendly bag. Freeze it for up to 2 months.
Thaw in the fridge overnight.
To reheat: You can reheat a slice or two in the microwave or an entire loaf in the oven. You can whip up some extra sauce to add more on top if needed.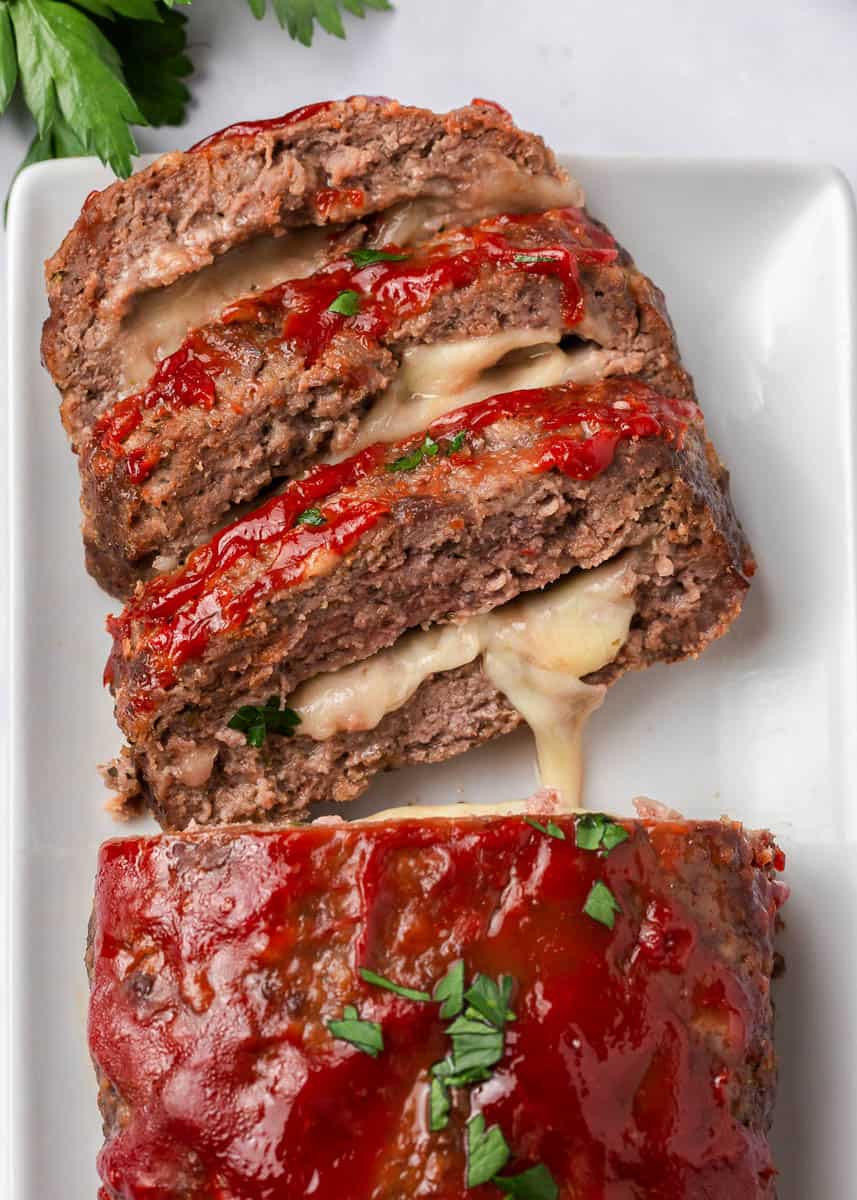 HUNGRY FOR MORE? Subscribe to my newsletter and follow on Facebook, Pinterest and Instagram for all the newest recipes!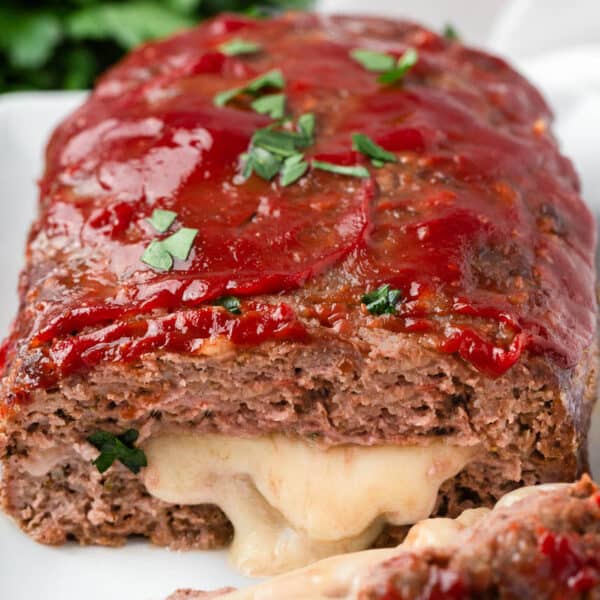 Cheesy Mozzarella Stuffed Meatloaf
We're adding a layer of cheese to a classic recipe making this cheesy mozzarella stuffed meatloaf an instant hit! Juicy seasoned meat, a melty middle, and a delicious sweet and tangy glaze on top makes this the ultimate comfort food!
Ingredients
Meatloaf:
1 ½ pounds 80%-90% lean ground beef , or ground turkey or 1 pound ground pork and 1 pound ground beef
½ cup panko breadcrumbs
¼ cup milk , or beef broth
1 large egg , whisked
2 Tablespoons Worcestershire sauce
2 Tablespoons ketchup
2 teaspoons Italian seasoning
1 teaspoon Kosher salt
¼ teaspoon ground black pepper , plus more for topping (optional)
1 teaspoon garlic powder
1 teaspoon onion powder
4-8 ounces mozzarella cheese , sliced
Sauce
⅔ cup ketchup or BBQ sauce , you could mix half and half
2-3 Tablespoons light brown sugar
Fresh parsley , for serving
Instructions
Preheat the oven to 375°F. Line a baking sheet or 9×5-inch loaf pan with foil. Lightly spray with nonstick spray.

In a large bowl, gently mix together the beef, breadcrumbs, broth, eggs, Worcestershire sauce, ketchup, Italian seasoning, salt, pepper, garlic powder, and onion powder with a wooden spoon or your hands until just combined, being careful not to overmix.

Remove half the meat from the bowl and shape on the prepared pan (you can also press into a loaf pan). Place the mozzarella slices down the center, leaving about 1/2 inch around the sides. Place the remaining meat on the top and shape the loaf, making sure to seal the edges.
Sauce
In a small bowl, stir together the ketchup and/or BBQ sauce and brown sugar until smooth. Pour over the top of the meatloaf. Add pepper on top, if desired.

Bake 45 minutes, or until a meat thermometer reaches 160°F. Let rest 5 minutes. Slice and sprinkle with parsley to serve.
---
Notes
Substitutions:
You can use 1 cup onion and 1 Tablespoon minced garlic in place of the onion powder and garlic powder. Sauté with a little olive oil before adding to the meat.
Add in a pinch of red pepper flakes to the meat or a few dashes of chili sauce or sriracha to the meatloaf sauce for a little heat.
Extra sauce: If you prefer your meatloaf extra saucy, you can always mix up another batch and brush more on the last 10 minutes of cooking or use it for dipping.
Storage: Store leftovers in an airtight container in the refrigerator for 3 days.
Nutrition
Calories: 261kcal | Carbohydrates: 15g | Protein: 22g | Fat: 13g | Saturated Fat: 6g | Polyunsaturated Fat: 1g | Monounsaturated Fat: 5g | Trans Fat: 1g | Cholesterol: 90mg | Sodium: 747mg | Potassium: 430mg | Fiber: 1g | Sugar: 9g | Vitamin A: 278IU | Vitamin C: 2mg | Calcium: 122mg | Iron: 3mg
Nutrition provided is an estimate. It will vary based on specific ingredients used.
Did you make this recipe? Don't forget to give it a star rating below!