These Nutter Butter Thanksgiving turkey cookies are the perfect festive treat for kids of any age. Your child will be eager to help both make and eat this fun party-ready dessert.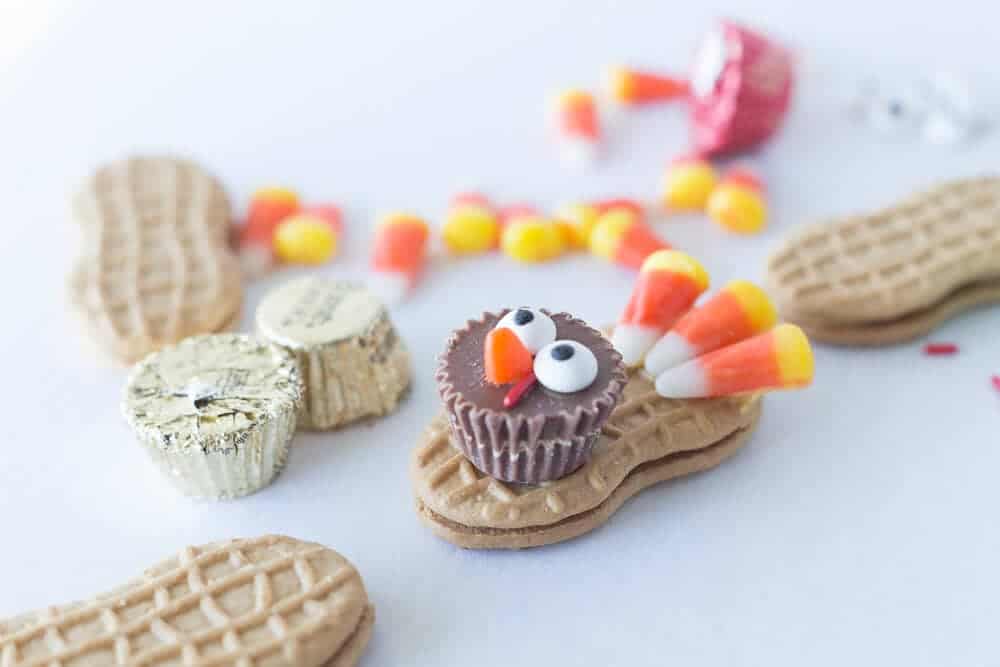 Easy Turkey Cookies
These turkey cookies have long since been one of my favorite holiday desserts. If you are looking for a few more recipes to add to your rotation, try this pumpkin pie, these pumpkin chocolate chip cookies, or this Snickers caramel apple pie.
I love experiencing the holidays through my children. Watching them get excited about every little thing ignites that old childhood excitement and really puts the magic back in the day.
These turkey cookies are the perfect example. When I first made these I thought "cute!" and went right about my day. My kids, on the other hand, squealed with delight and immediately started giving the cookies names, personalities, and histories. Aren't kids the best?
Perfect Dessert for Kids to Make
Not only will your children love playing with these decorated turkey cookies, but they will also love helping you make them. There's no baking required, so they take just minutes to put together. It's a simple project that can definitely hold their attention span.
Younger kids will be fascinated by the entire process and be able to practice their fine-motor skills while putting them together. Additionally, older kids will enjoy the satisfaction of being able to put these fun Thanksgiving cookies together all on their own while you finish up the rest of your meal prep.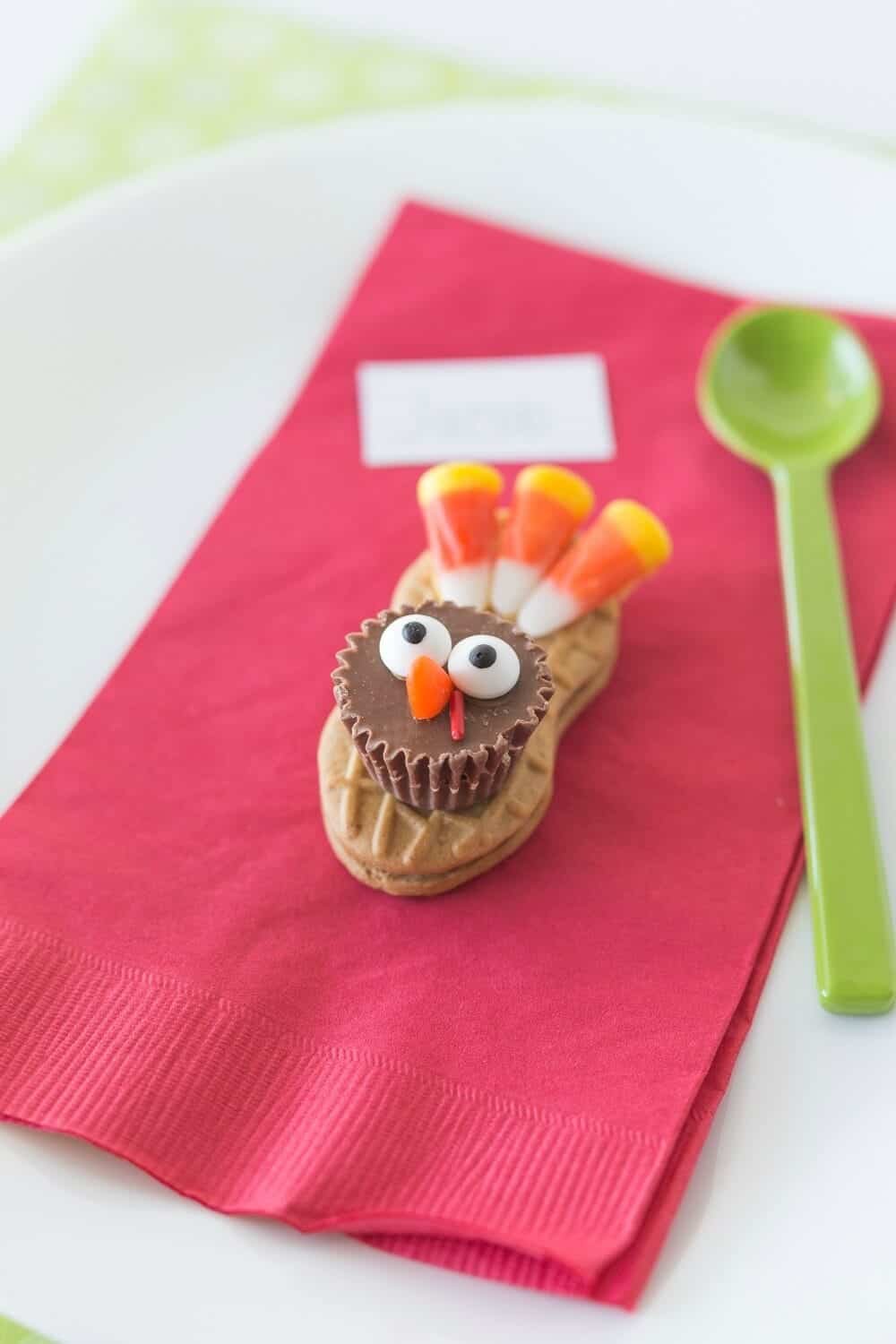 Edible Table Decor
I'll admit it: I am sometimes jealous of the kids' table at holiday celebrations. Unlike their adult counterparts, this space is so playful and fun. If I'm hosting, I'll lean into it a bit and add color a few different ways.
First, I like to use an inexpensive piece of scrapbooking paper for a pop of color under their plate, then add another festive hue with a bright and festive napkin.
You know what goes perfectly on top of the napkin? Nutter Butter turkey cookies, of course! Your kids will take one look at the decorated cookies and make a beeline for the "cool" table.
How to Make Turkey Cookies
Making these easy Thanksgiving cookies couldn't be any more simple. Grab a package of Nutter Butters, and the rest of your supplies. I like to set up an assembly line of sorts to be able to create these fast.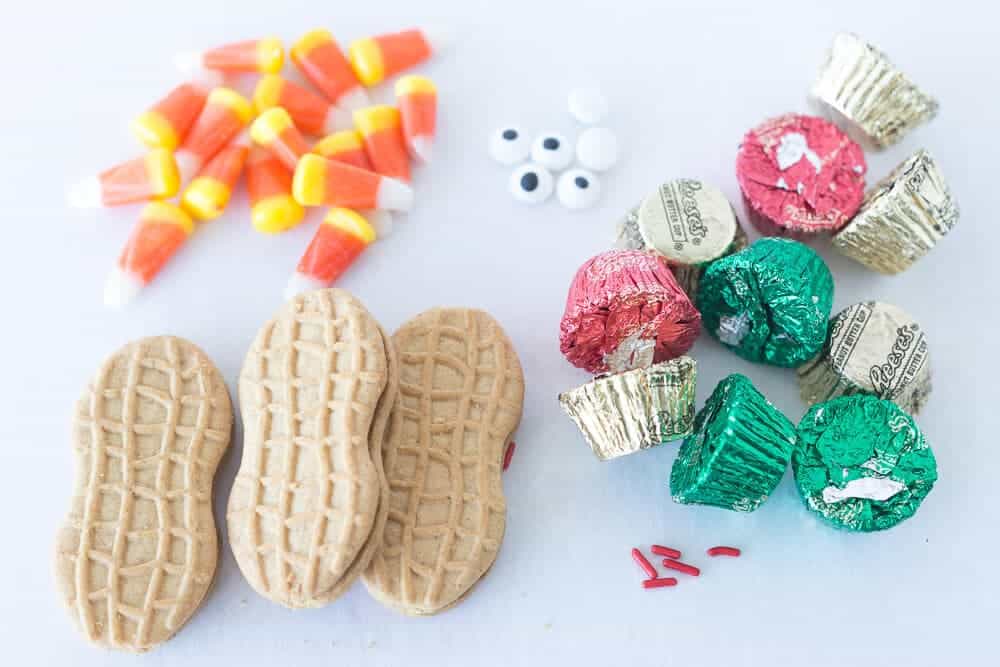 To hold the cookies together, you'll need an edible glue, so to speak. Candy melts serve this purpose wonderfully!
Melt a couple of medallions in a microwave-safe bowl for 30-second increments until melted. Once they are totally melted, grab a toothpick and use it to add your first element to the cookies—peanut butter cups.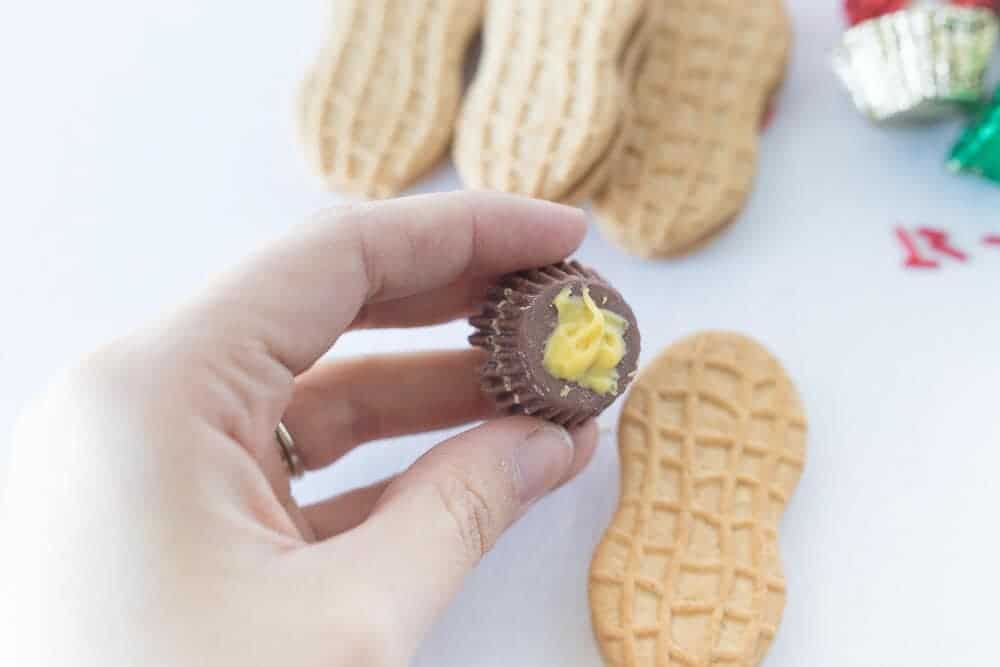 Simply add a dab of the melted candy medallion to the back of the peanut butter cup, then place it on the Nutter Butter. You'll want to put slight pressure on it to help it hold.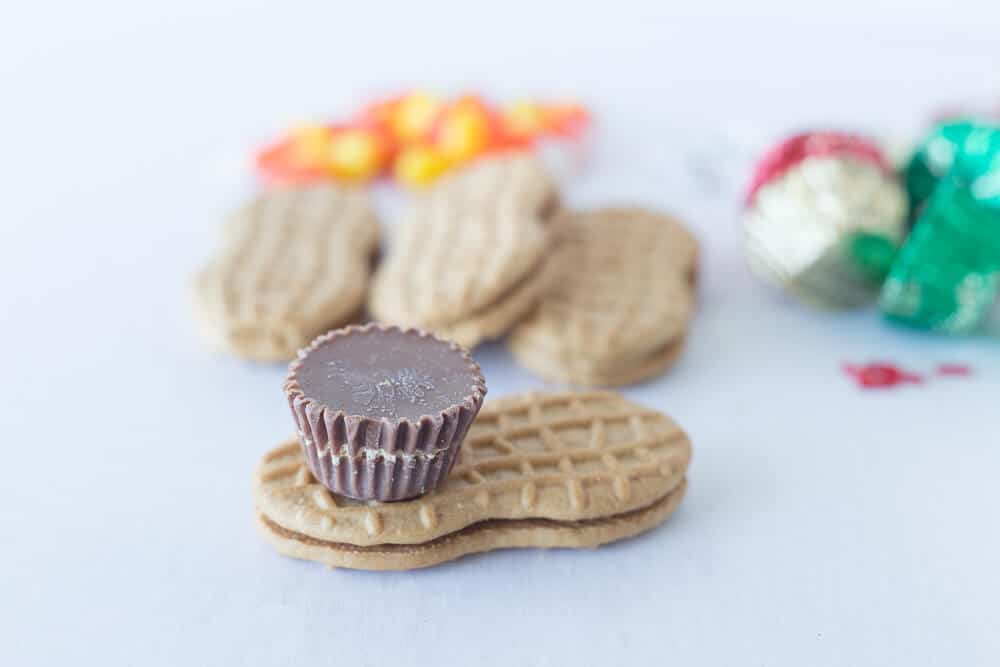 Add candy eyes to your Nutter Butter turkey cookies using the same technique. Remember to press gently or you'll risk breaking the cookie.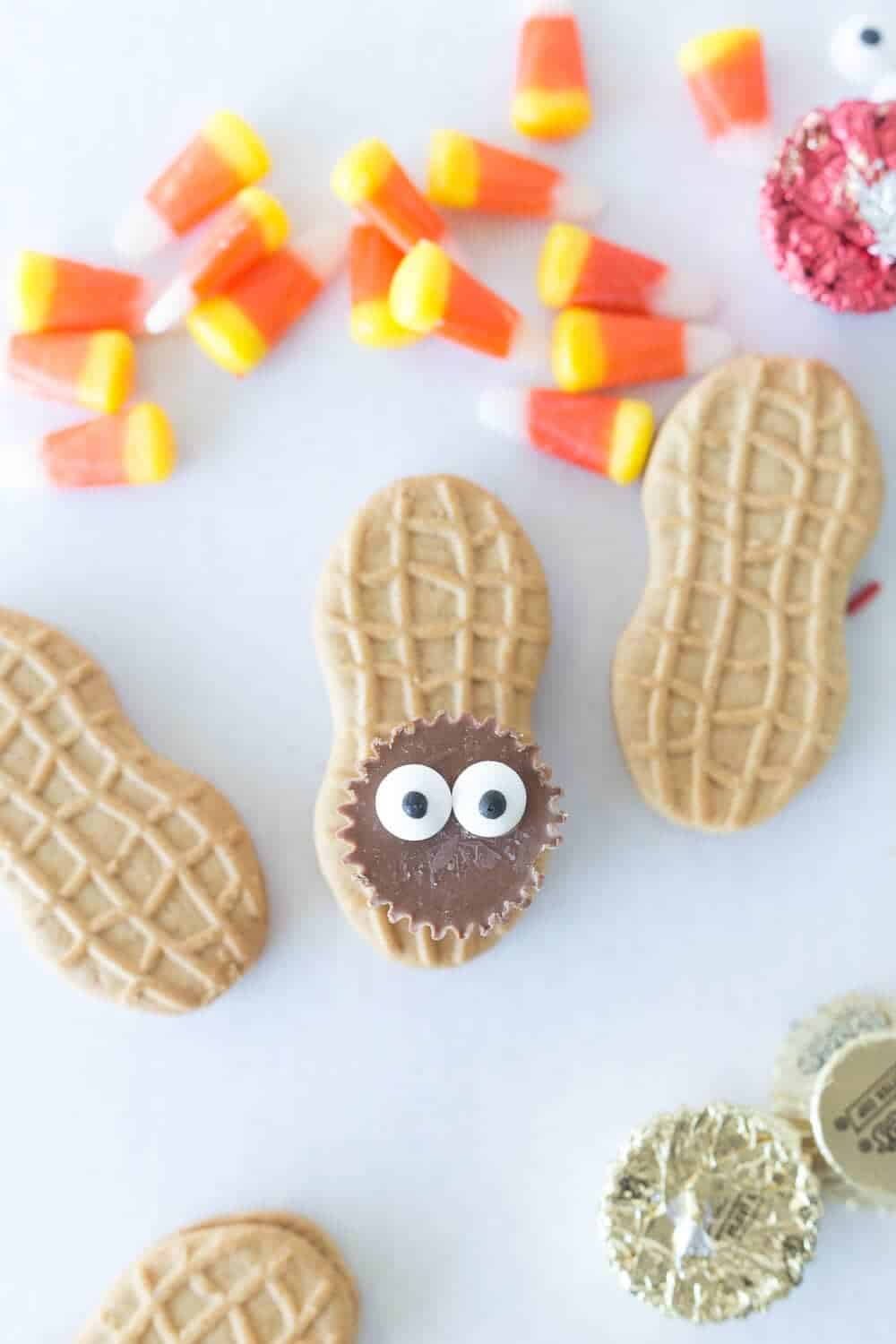 Next, it's time to add the "feathers" to the dessert. Decorate the turkey cookies with candy corn busing candy melts to "glue" the candy corns on.
You can also use the orange piece of the candy corn to add the nose, or try a mini orange M&M. Don't forget the red sprinkle to finish them off. Enjoy! :)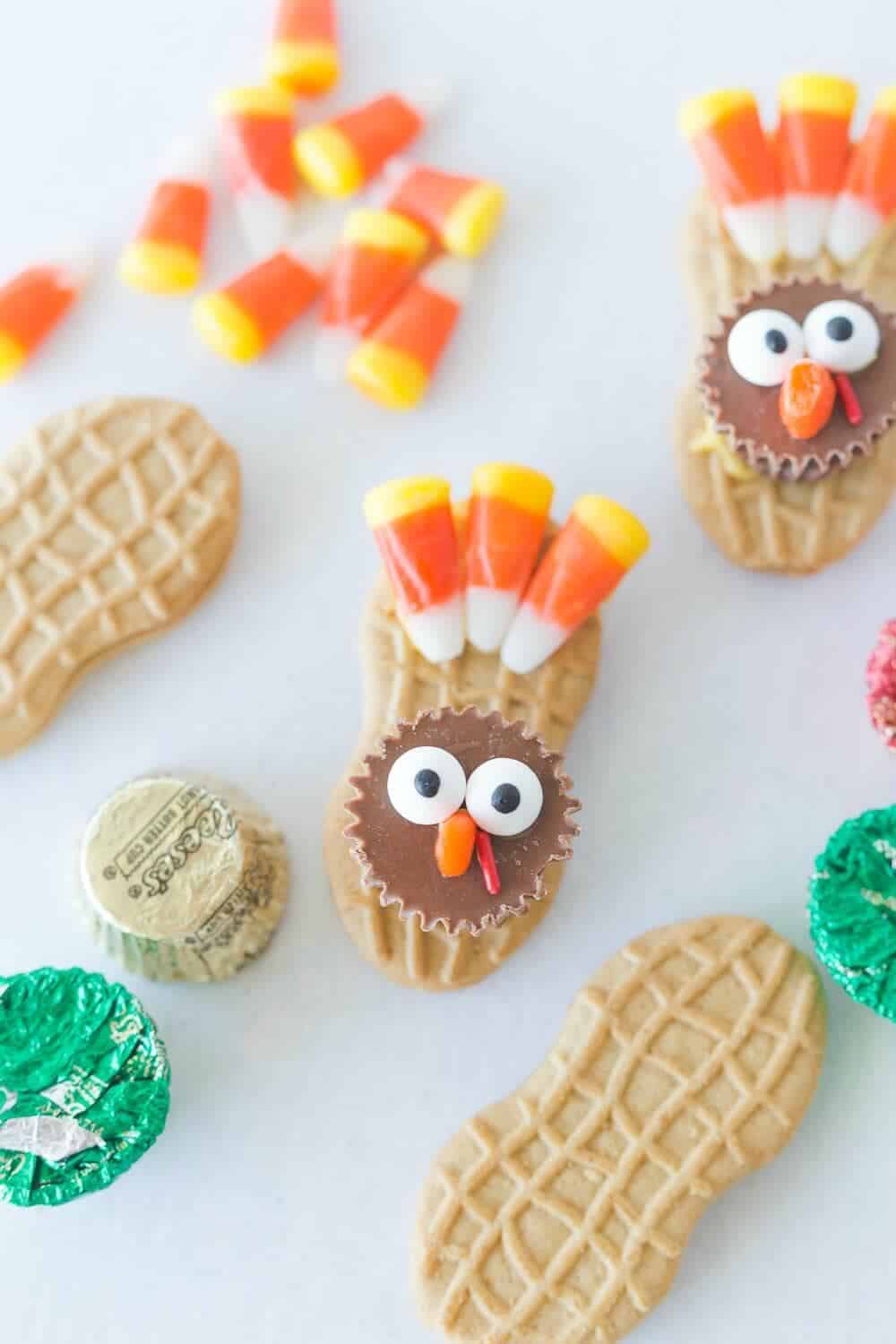 More kid-friendly holiday ideas:
HUNGRY FOR MORE? Subscribe to my newsletter and follow on Facebook, Pinterest and Instagram for all the newest recipes!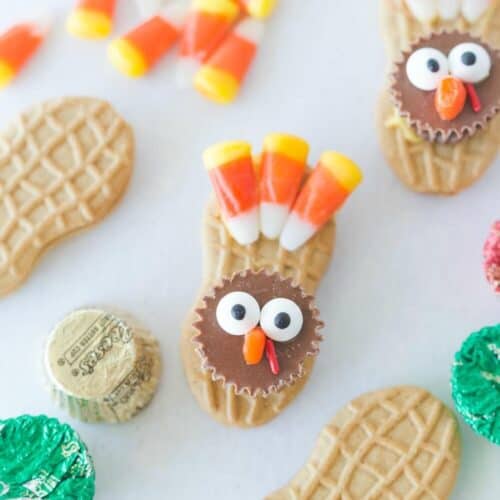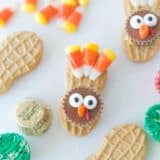 Nutter Butter Turkey Cookies
Turkey cookies – These Nutter Butter Thanksgiving cookies are the perfect festive treat for kids of any age. Your child will be eager to help both make and eat this fun party-ready dessert.
Ingredients
24 Nutter Butter Cookies
24 Mini Peanut Butter Cups
11 ounce package candy corn
0.88 ounce package candy eyes
3 ounce container small red sprinkles
¼ cup candy melts medallions
Instructions
Begin by melting candy melts medallions in a microwave-safe bowl at 30 second increments, or until melted. The melts are what you use to "glue" the pieces together.

Use a toothpick to begin "gluing" your pieces with the melted candy melts. I used a mini peanut butter cup to add a fun layer to the turkey, but you could always skip the peanut butter cup if you wanted.

Gently place the peanut butter cup on the bottom middle of the Nutter Butter.

Repeat the "gluing" steps with the candy eyes, sprinkles and three candy corns for the feathers.

Then add a small orange piece of candy corn for the turkey's beak. You could also use a mini orange M&M.
---
Nutrition
Calories: 158kcal | Carbohydrates: 27g | Protein: 1g | Fat: 5g | Saturated Fat: 1g | Cholesterol: 2mg | Sodium: 113mg | Potassium: 34mg | Sugar: 20g | Vitamin A: 15IU | Calcium: 9mg | Iron: 0.4mg
Nutrition provided is an estimate. It will vary based on specific ingredients used.
Did you make this recipe? Don't forget to give it a star rating below!