This homemade pumpkin pie is super smooth and velvety with the perfect blend of spices. An easy and delicious holiday dessert that will be the star of your Thanksgiving dinner!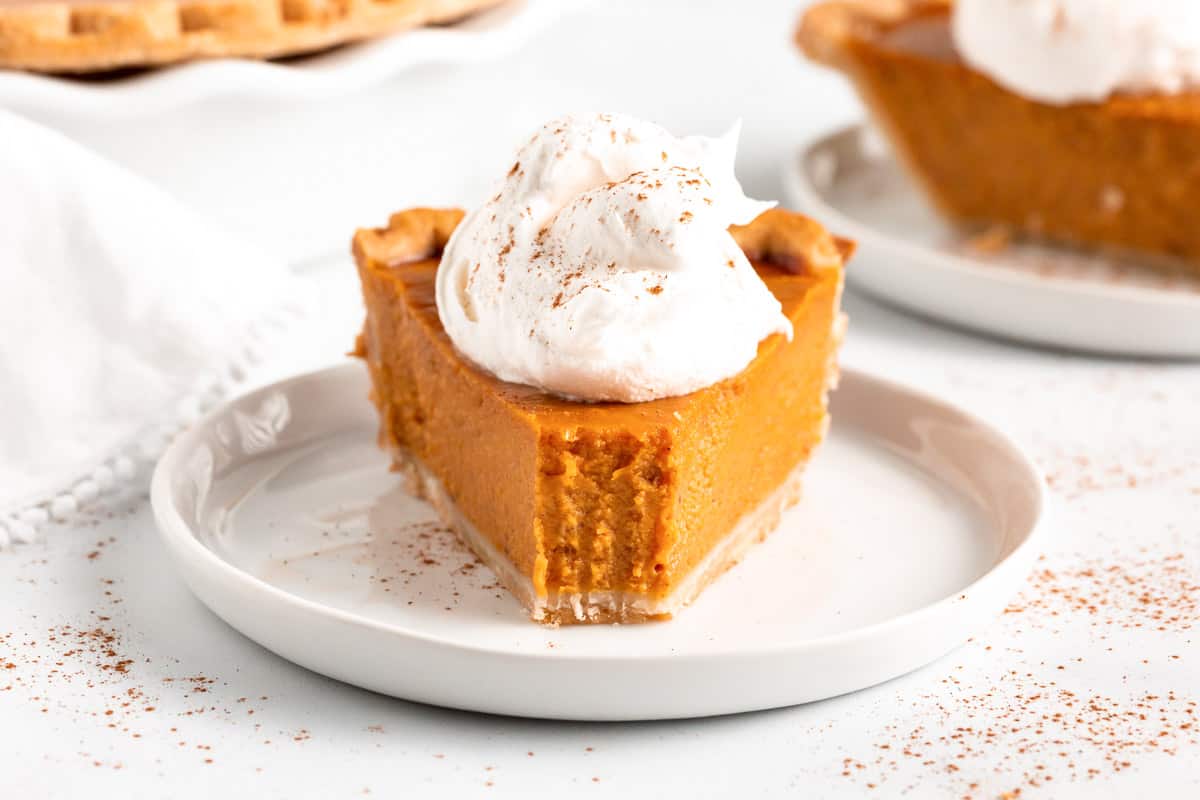 Favorite Holiday Pie
Is it even the holidays without pumpkin pie on your Thanksgiving menu?? I think not! It's the perfect dessert to accompany the roasted turkey and all of the famous Thanksgiving side dishes. The delicious fall flavors just can't be beat!
I know I told you that razzleberry pie is my all time favorite, but this easy pumpkin pie comes in at a close second! I always have to get a piece of each…followed by lots of whipped cream. Everything you'd want in a classic pumpkin pie is right here. It's smooth and velvety with the perfect blend of spices.
I've tried so many different recipes and always seem to come back to Libby's famous recipe. I adapted it a tad and it turned out amazing! The main difference I made was that I reduced the evaporated milk to make it a little more firm. I also added in a dash of vanilla. It gives it the perfect flavor. Mmm…so good!
Recipe Ingredients
This easy pumpkin pie recipe is made with a simple homemade pumpkin filling, with the option of using a premade or from scratch crust depending on how ambitious you feel. It's a breeze to prepare and is loaded with the best flavor!
Find the full printable recipe with specific measurements below.
Pumpkin pie filling: Made with a mixture of 100% pure pumpkin puree, eggs, vanilla, sugar, evaporated milk, cinnamon, ginger, cloves and salt. It has a smooth and creamy texture with just the right amount of pumpkin and spice flavor.
Crust: Store-bought or homemade both work, just make sure it's unbaked. If you would prefer to make it from scratch, I love this easy pie crust recipe or making an all butter pie crust.
Topping: I don't know about you, but whipped cream is a must on top of my pie! Make it extra special with a simple homemade whipped cream.
How to Make Pumpkin Pie
With only 15 minutes of prep time, this is the best pumpkin pie recipe to make for all of your holiday celebrations. All that's left is baking and cooling time, and then you're ready to dig in!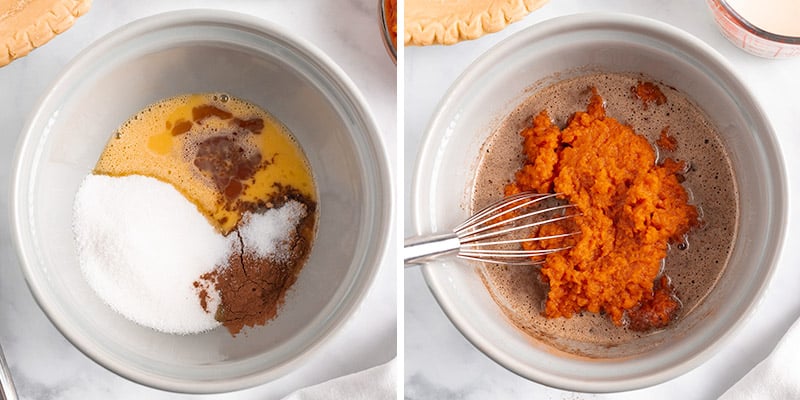 Crust. I love to make a homemade pie crust, but you could definitely buy the premade refrigerated pie dough as well. Either way, no need to prebake the crust before adding the filling. Just roll the dough out, then press it into your pie pan.
Filling. Beat (or whisk) the eggs very well in a large bowl. Then mix in the vanilla, sugar and spices until combined. Stir in the canned pumpkin and then gradually mix in the evaporated milk until the filling has a smooth consistency. Then pour the filling on top of the pie dough.
Bake. Bake at 425°F for about 40 to 55 minutes, or until the center is done. You can tell when it's ready by sticking a knife in the center of the pie. If it comes out clean, you can remove it from the oven. If there's filling on the knife, continue cooking it a little longer.
5 star review
"Made this extra pie just for hubby and I. Tastes just like mom used to make. Extremely easy to prepare. Pie baked perfectly in time allotted. Highly recommend using Libby's as recipe suggests. DELICIOUS!"

– Alina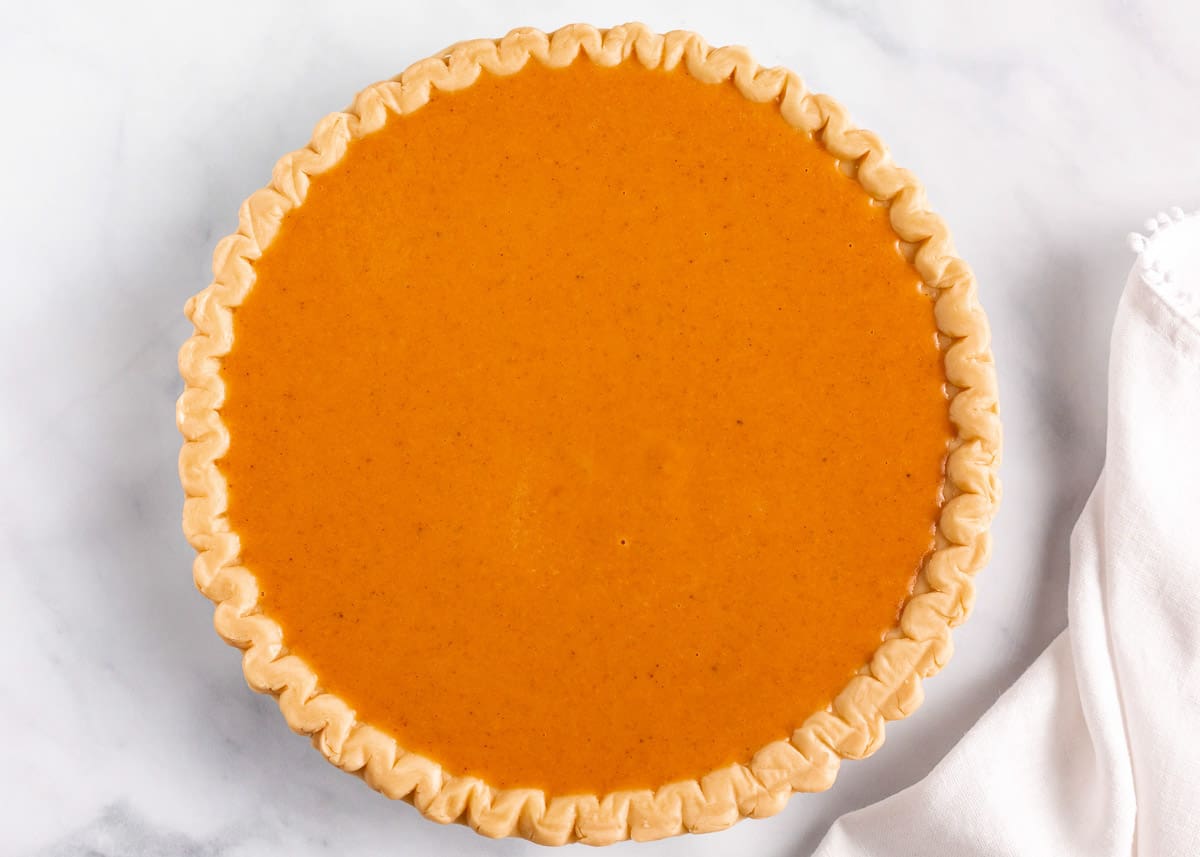 Expert Tips
Homemade pumpkin puree. You can make your own fresh pumpkin puree if you'd like. Just be sure to drain out the liquid from the fresh pumpkin with a paper towel. Pumpkin that's fresh holds extra water.
Heavy cream. Although I prefer to use evaporated milk, you can substitute with the same amount of heavy cream. The cream will make it a bit thicker and have a custard-like consistency.
Keep crust from browning. I usually cover the crust edges with foil for the last 20 minutes so that it doesn't get too brown.
Don't overcook. Overcooking is what causes the filling to crack. Remove it from the oven when the center has just a slight jiggle (the pie will continue to cook as it cools).
Recipe FAQs
Does pumpkin pie need to be refrigerated?
Yes, this pie will need to be refrigerated instead of stored at room temperature due to the eggs in the pie filling.
How long does pumpkin pie last in fridge?
It will stay fresh covered with plastic wrap in the fridge for up to 5 days.
Can you freeze pumpkin pie?
Yes, it freezes well. Simply bake according to directions, then remove from the oven and let cool completely. Cover tightly with foil or saran wrap, then store in the freezer for up to 1 month. The day before serving, place in the fridge to thaw overnight.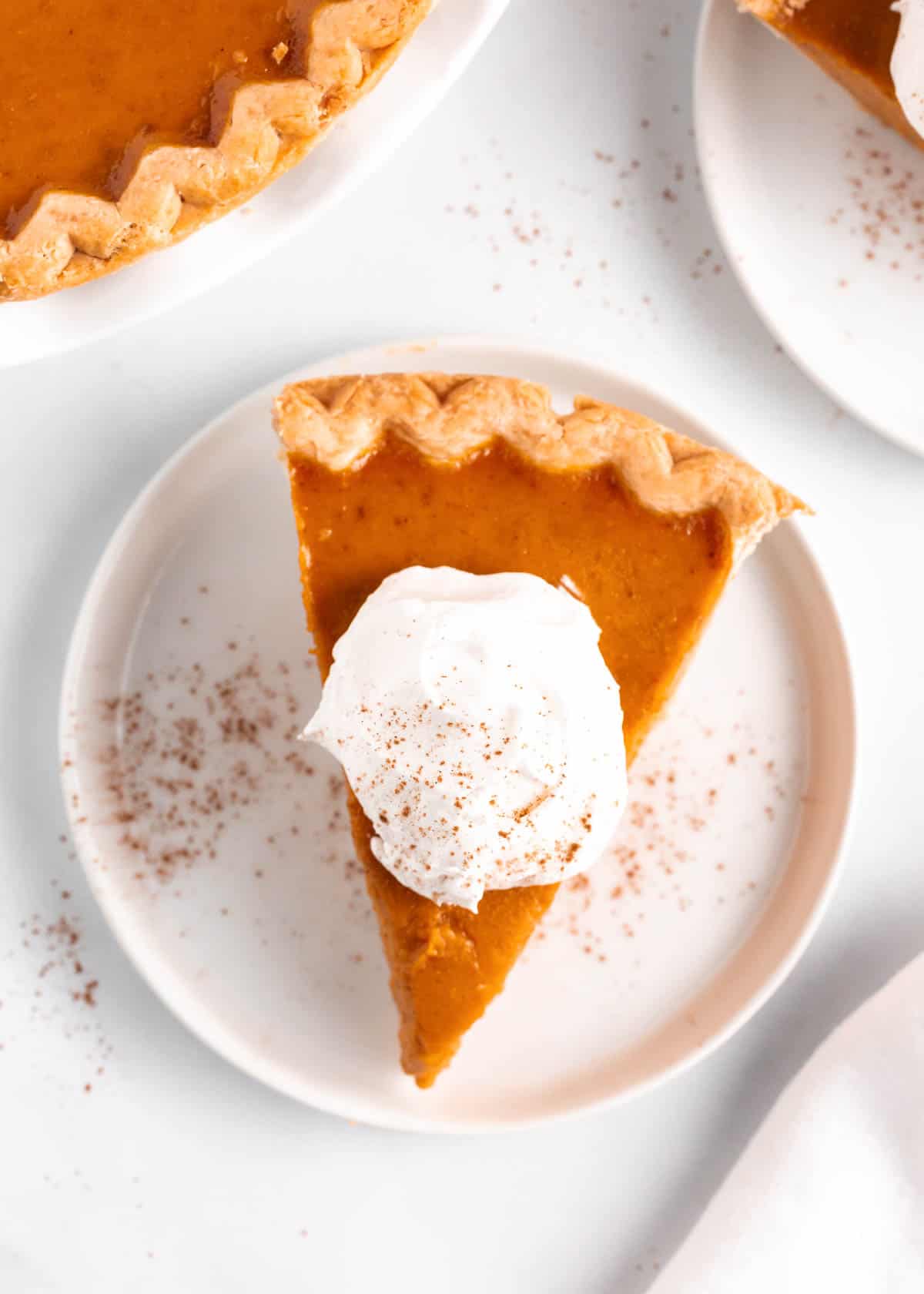 Make Ahead Instructions
For best results – I'd recommend making the pie dough and filling ahead of time, then assembling and baking the day of. This way the crust stays nice and crisp and the filling will stay moist and smooth. You could bake it a day in advance if you'd like, however just make sure to refrigerate the pie until serving.
Crust: You can make homemade pie dough in advance and either keep it in the fridge or the freezer. It will keep in the fridge for up to 3 days or in the freezer for up to 3 months. To thaw from frozen, place in the refrigerator overnight.
Filling: The filling can be made 1 day in advance if preferred (no earlier due to the dairy components).
Whipped cream: Make stabilized whipped cream with gelatin if preparing in advance. It will hold it's shape for about 1-2 days.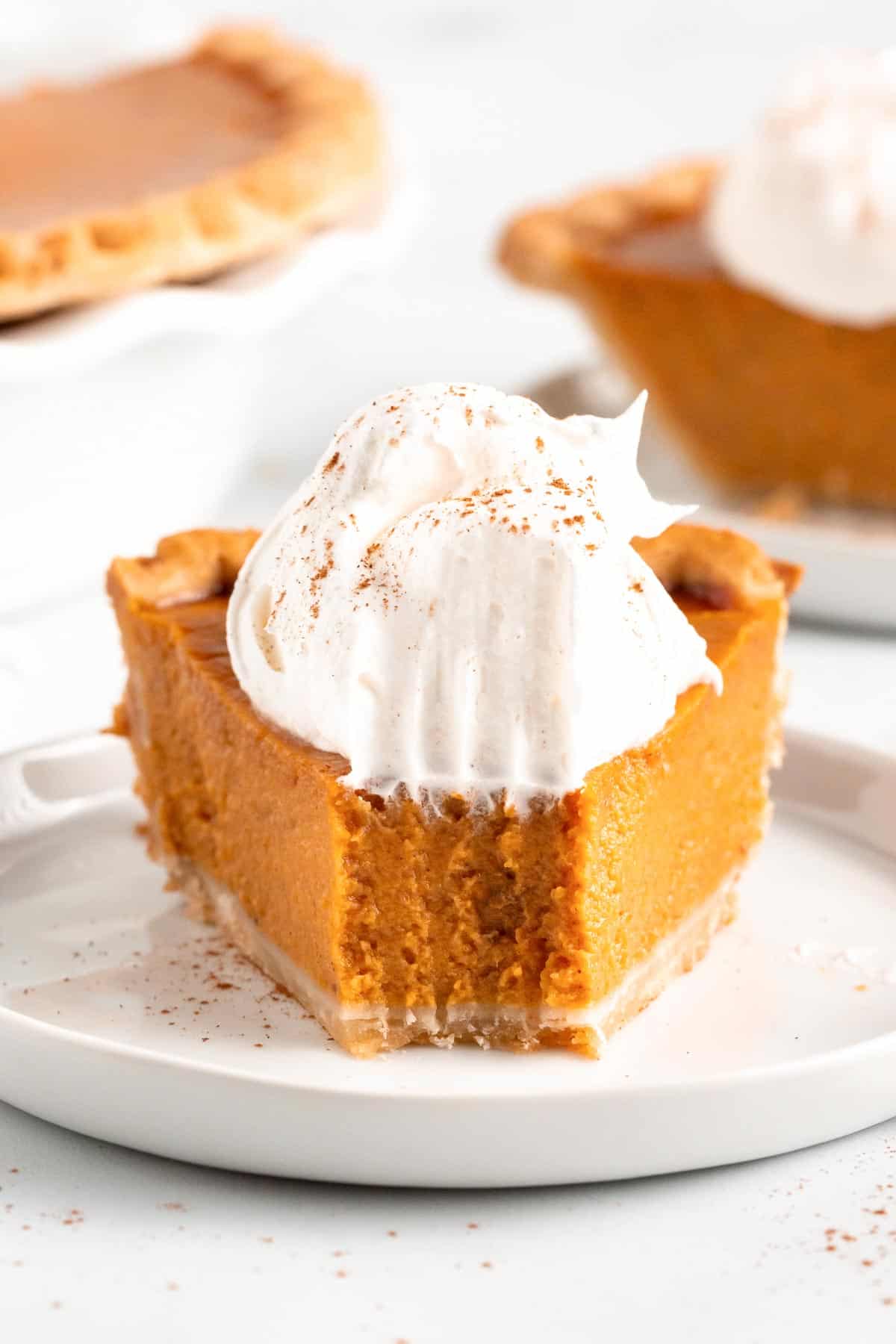 HUNGRY FOR MORE? Subscribe to my newsletter and follow on Facebook, Pinterest and Instagram for all the newest recipes!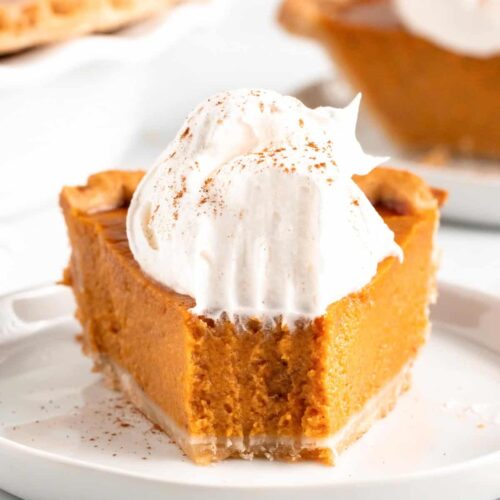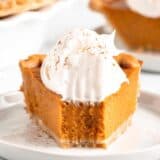 Homemade Pumpkin Pie
This homemade pumpkin pie is super smooth and velvety with the perfect blend of spices. An easy and delicious holiday dessert that will be the star of your Thanksgiving dinner!
Ingredients
2 eggs
1 teaspoon vanilla extract
3/4 cup granulated sugar
1 teaspoon ground cinnamon
1/2 teaspoon ground ginger
1/2 teaspoon Kosher salt
1/4 teaspoon ground cloves
15 ounce can pure pumpkin (I use Libby's 100% pure pumpkin)
1 1/4 cups evaporated milk
1 unbaked pie crust
whipped cream for topping
Instructions
Preheat oven to 425°F. Roll out the pie dough on a floured surface to about 1/8 – 1/4" thick. Then carefully transfer to a pie pan. Make the crust edges using your thumb and index finger. You can also cut off the extra dough around the edges or press it down with a fork.

Beat eggs in a large bowl. Add vanilla, sugar and spices and mix until combined. Stir in pumpkin. Gradually stir in evaporated milk until the mixture is smooth. Pour filling on top of the pie dough.

Place the pie pan on a baking sheet and place in the oven to bake for 40-55 minutes, or until the center is done. Place a knife in the center to make sure it comes out clean. Also, I usually cover the crust with foil the last 20 minutes of baking so it doesn't get too brown.

Transfer pie to a cooling rack and allow to cool completely (about 3 hours). Top with homemade whipped cream when ready to serve.
---
Notes
Pie crust: While a homemade pie crust is preferred, I've also find the ones in the freezer section work great. You can even try this recipe with my graham cracker crust.
Storage: Store in a covered container for up to 5 days in the refrigerator.
Recipe adapted from Libby's.
Nutrition
Calories: 216kcal | Carbohydrates: 35g | Protein: 4g | Fat: 7g | Saturated Fat: 3g | Cholesterol: 43mg | Sodium: 259mg | Potassium: 170mg | Fiber: 2g | Sugar: 21g | Vitamin A: 8351IU | Vitamin C: 2mg | Calcium: 47mg | Iron: 2mg
Nutrition provided is an estimate. It will vary based on specific ingredients used.
Did you make this recipe? Don't forget to give it a star rating below!