This fresh turkey veggie tray is a cute and colorful appetizer display that brings a healthy balance to your holiday Thanksgiving spread. Best of all, kids love to help make it!
It's the perfect easy Thanksgiving appetizer to kick off your holiday gathering along with this turkey fruit tray or chocolate strawberry turkeys!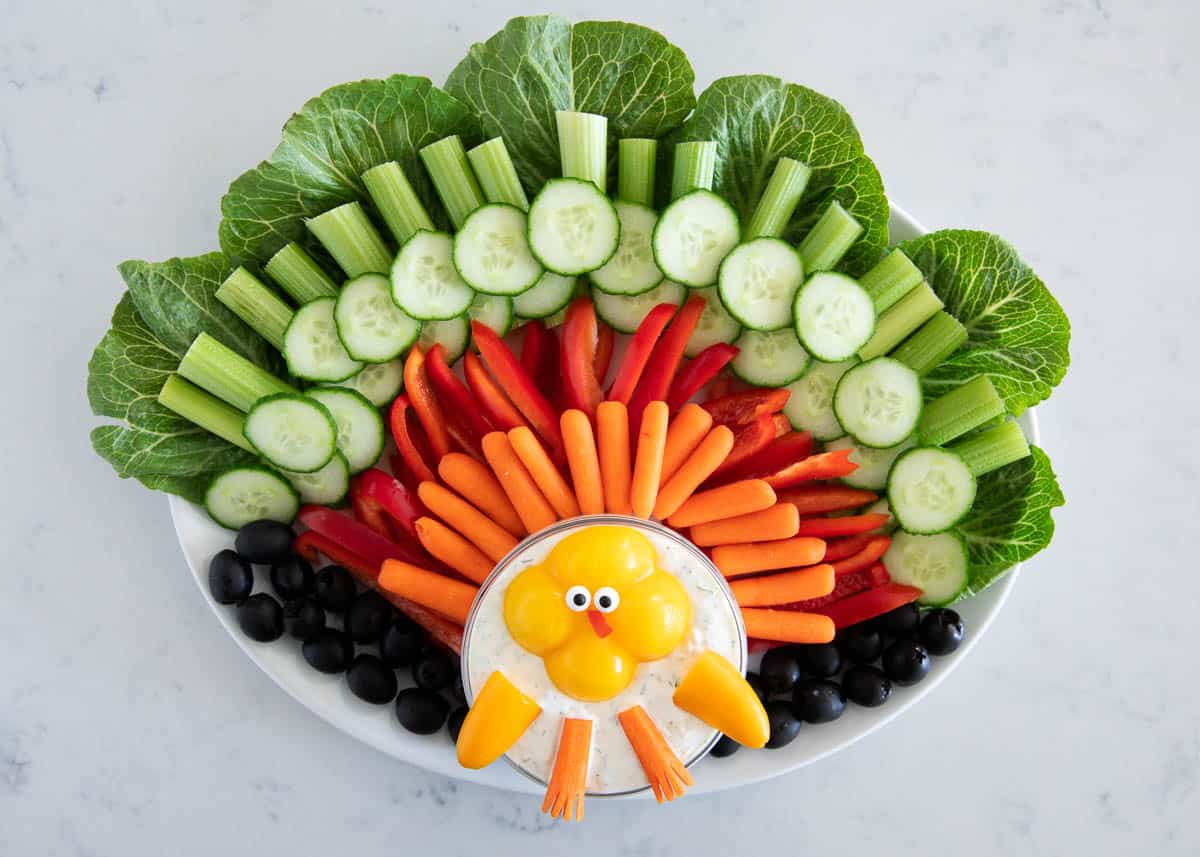 Turkey Veggie Platter
As you can probably imagine, this turkey vegetable tray for Thanksgiving is always a hit next to the oven roasted turkey!
Placing fresh, colorful, healthy veggies as a turkey-shaped veggie tray is super simple to do, yet so creative! It's the perfect appetizer to kick off your Thanksgiving menu and is a fun twist on a fruit and veggie platter.
The kids will love these platters especially when you add their favorite dip. This customizable turkey vegetable tray is an inexpensive way to serve a crowd and easy enough to do in just 20 minutes!
Assembling the Thanksgiving Turkey Veggie Tray
To start, grab a large circular or oval-shaped platter and a small bowl or ramekin. Grab your veggies out of the fridge and if you haven't washed them yet, do so and allow them to dry.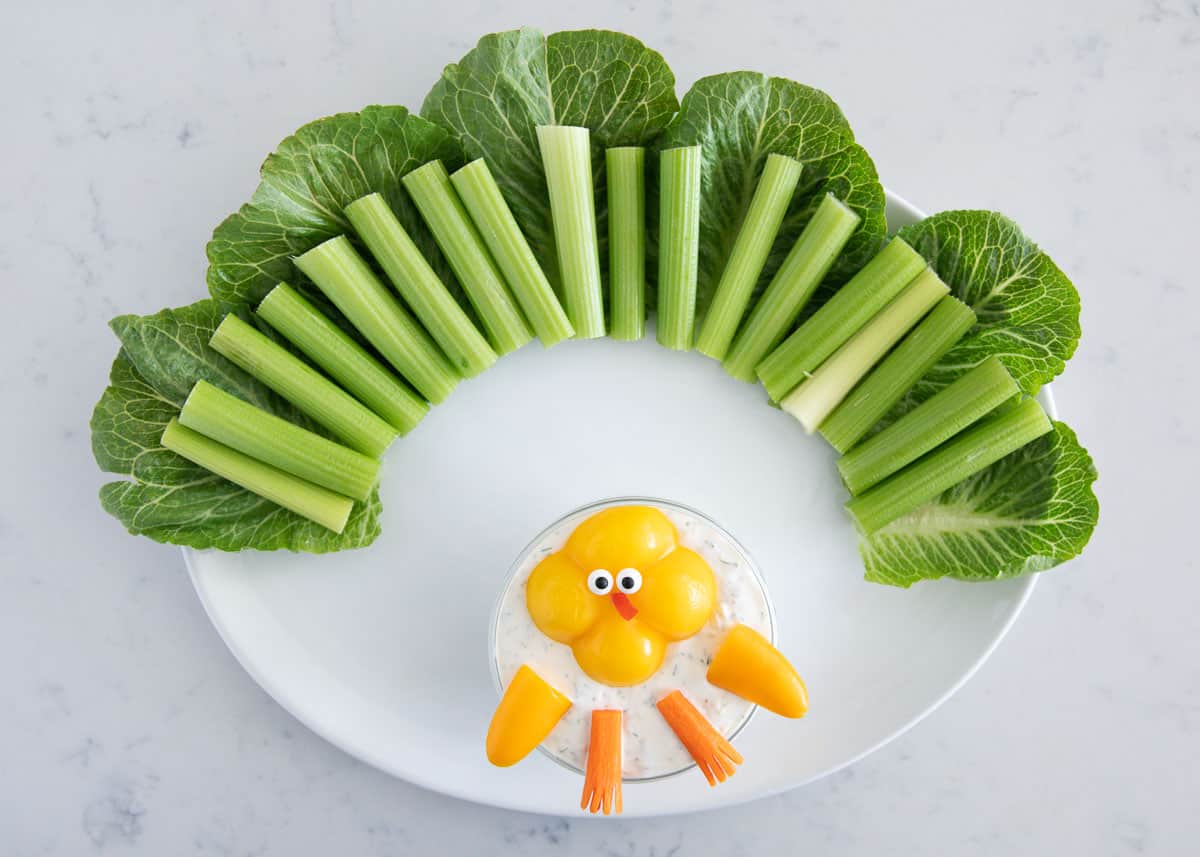 Find the full printable recipe with specific measurements below
Set up. Place the bowl in the center at the bottom of the platter. Fill it with your favorite dip.
Turkey body. Cut the bottom of a yellow bell pepper off and place two candy eyes on two bumps on the bell pepper end. Use a small sliver of red bell pepper for the beak and cut out more yellow pepper for the wings. Slice the carrots for the feet.
Lettuce. Place lettuce leaves around the outer edge of the platter. Lay them flat side by side but a little overlapping is fine. Fan them out like turkey feathers.
Celery. Line celery stalks beside one another and layer them around the platter just below the lettuce leaves.
Cucumber. Place slices of cucumber just below the celery in the same fashion.
Bell pepper and carrots. Keep going you're almost done! Layer the red bell pepper sticks first followed by the baby carrots.
Black olives. Last but not least, add them to the bottom of the tray before serving.
Tip: Make sure to use the pictures as a guide. I love making mine this way, but it's your platter, so you can have fun with it!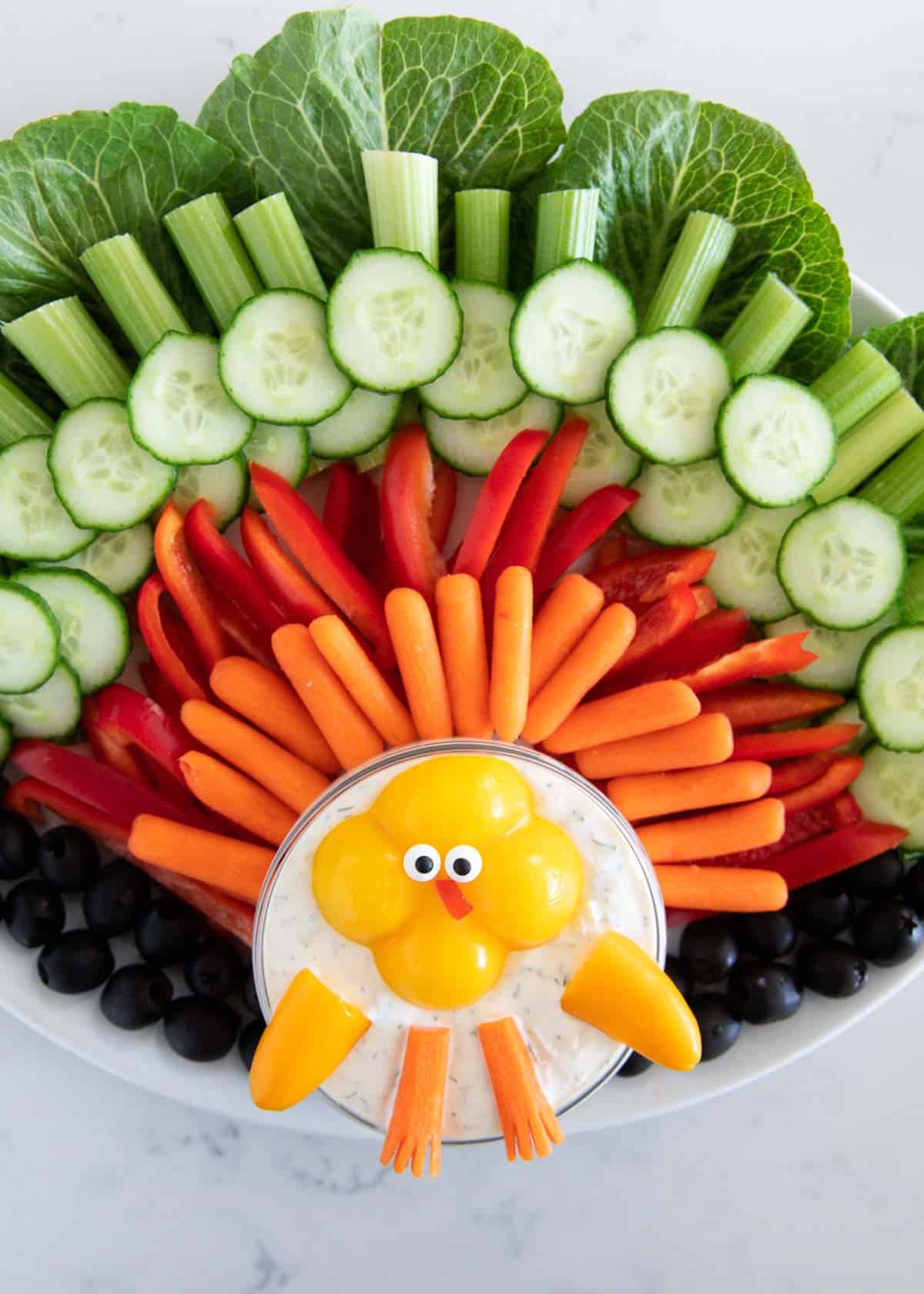 Tips & Variations
Make the best turkey veggie tray for your next Thanksgiving! These simple tips and variations can help keep your vegetables fresh and last throughout the day.
Wash and cut your veggies ahead of time for faster assembly. Keep them crisp by placing them in a Ziploc bag with a paper towel to absorb the moisture.
Keep them in the vegetable crisper in your fridge for a few days until you're ready to use them.
To assemble the platter ahead of time, cover the dip with plastic wrap and leave off the olives and turkey face until just before serving.
Use different veggies. You can follow the color scheme by swapping the cucumber for broccoli, the red bell pepper for cherry tomatoes, and Kale or collard greens for the lettuce leaves.
You could also do a completely different color pattern and arrange the veggies any way you like.
Make this entire platter using fruit instead! Strawberries, kiwi, oranges, you get the idea. Use this funfetti dip to pair with it!
Favorite Veggie Dip Ideas
There are so many great dips to choose from! These dips are perfect to dip vegetables, chips, and sliced bread. Choose which dip is best for you and your family!
Recipe FAQs
Is is cheaper to make your own party trays?
It can be, that is for sure! It depends on purchasing organic or nonorganic vegetables as well as how much you will be needing. Usually making your own does save money.
Can I make a veggie tray the night before?
Yes! Throughly was and cut up your vegetables. Place them in a ziplock bag or airtight container with a paper towel at the bottom.
How far in advance can you cut vegetables?
You can cut your vegetables 2 to 3 days ahead of time. Store them properly to have them last longer and keep their crisp layer.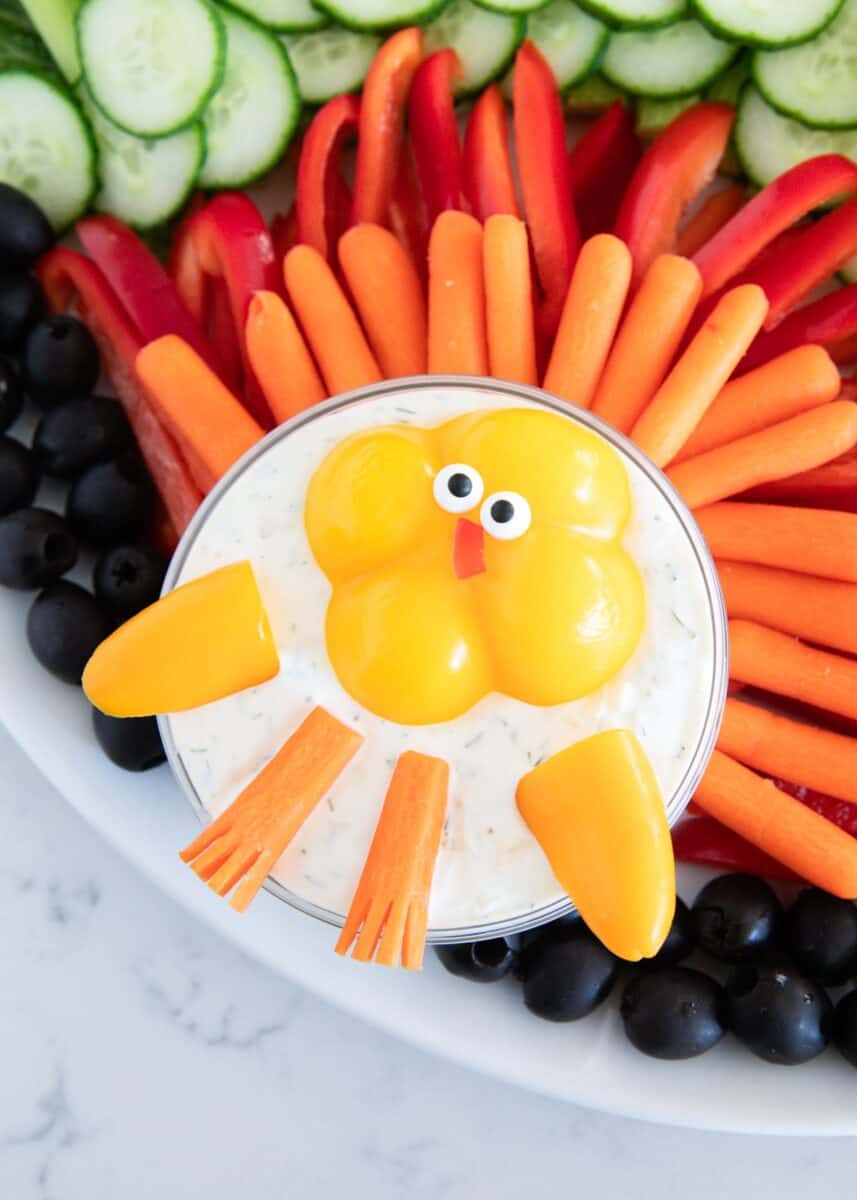 5 star review
"This was so cute. All the kids loved it."

-Taryn
More Thanksgiving Favorites
HUNGRY FOR MORE? Subscribe to my newsletter and follow on Facebook, Pinterest and Instagram for all the newest recipes!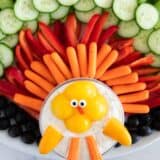 Turkey Veggie Tray
This clever turkey veggie tray is a festive and colorful appetizer display that brings a healthy balance to your holiday dessert indulgence. Best of all, kids love it!
Ingredients
1 baby romaine lettuce
1 stalk celery , sliced into 3-inch pieces
1 english cucumber , sliced
1 red bell pepper , sliced
8 ounces carrots , sliced
1-2 cups black olives
For turkey dip:
1 cup dill dip
1 yellow bell pepper
1 mini yellow pepper
2 baby carrots
Instructions
Wash vegetables, slice and allow to air dry. Gather a large oval or circle platter. Place bowl for the dill dip in the bottom center of the platter.

Then cut the bottom of the bell pepper off and place at the top of the bowl. Place two candy eyes on top and cut a little sliver from a red bell pepper to make the beak. Then slice the mini pepper in half for the wings. Next slice the carrot in half and carve out the feet. Then place onto the bottom of the bowl.

Start at the top of the plate and add the romaine lettuce all around the top. Then layer the celery and cucumber.

Next add the bell pepper and baby carrots. Place olives on the bottom of the platter and serve.
---
Notes
Dill dip: For the bowl I love to use this dill dip or ranch dressing. You could even use a hummus.
Make ahead: This veggie tray can be made ahead of time. Cover the dip with plastic and wait to add the olives and bell pepper turkey on top of the dip until ready to serve.
Nutrition
Calories: 67kcal | Carbohydrates: 7g | Protein: 1g | Fat: 4g | Saturated Fat: 1g | Cholesterol: 3mg | Sodium: 289mg | Potassium: 169mg | Fiber: 1g | Sugar: 3g | Vitamin A: 3873IU | Vitamin C: 51mg | Calcium: 44mg | Iron: 1mg
Nutrition provided is an estimate. It will vary based on specific ingredients used.
Did you make this recipe? Don't forget to give it a star rating below!