Delicious oatmeal butterscotch cookies are a one-bowl recipe ready in 35 minutes (including chill time!). They're made with rolled oats, a hint of cinnamon, and loaded with butterscotch chips perfect for making as thin or thick, or as crispy or chewy as you'd like!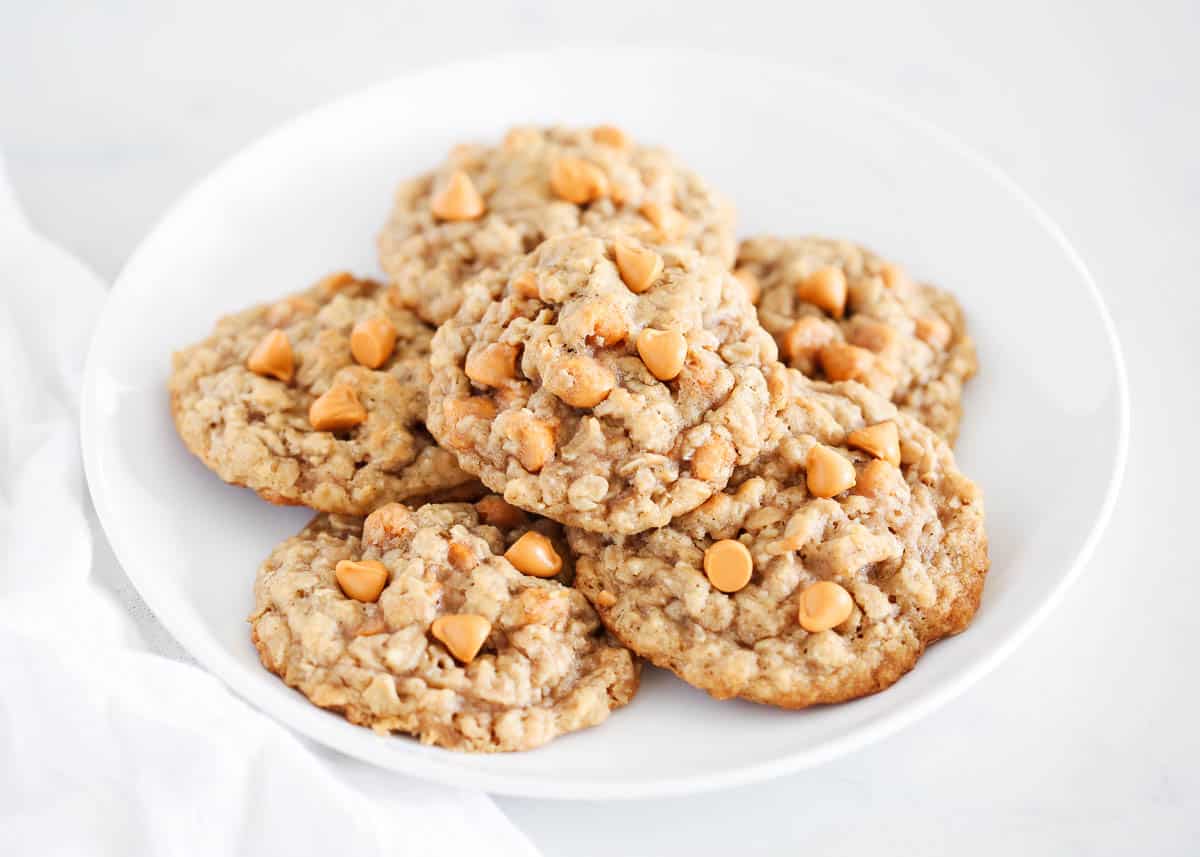 Easy Oatmeal Scotchies
This oatmeal butterscotch cookie recipe, also called oatmeal scotchies, are the perfect blending of two of my other favorite cookies. Oatmeal cookies and butterscotch cookies!
They've got the hearty texture of a classic oatmeal cookie and the sweet buttery brown sugar flavor of butterscotch combined with a hint of cinnamon. I tell you, these are addicting!
These oatmeal cookies with butterscotch chips are made quickly and easily in one bowl with a total time of 35 minutes, including the chill time. They can be made just how you like them, thick or thin, soft or crispy!
I'm sharing all the tricks to getting your cookies to the ultimate perfection. Satisfy all your cookie cravings with my other favorites including the best chocolate chip cookies and butterscotch pudding cookies.
Recipe Ingredients
The perfect oatmeal butterscotch cookies rely on simple ingredients that you may already have on hand or can easily find in the baking aisle at the store.
Butter: To ensure your butter properly creams with the sugar soften it to room temperature first. Learn how to soften butter for a refresher on how to do this.
Sugar: You will need both brown sugar and granulated sugar for the best chewy cookies with crispy edges.
Eggs: Add both moisture and binding.
Old fashioned oats: Rolled oats provide the best texture vs using quick oats.
All purpose flour: I use a spoon and level method to measure. Learn how to measure flour correctly here. It will help ensure the best outcome. Baking is a science, so using the right amount of flour is crucial!
Cinnamon: Gives these oatmeal scotchies a warm taste, plus they will smell irresistible as they bake!
Butterscotch chips: Rich and buttery butterscotch chips add the best taste.
How to Make Oatmeal Butterscotch Cookies
This oatmeal butterscotch cookie recipe is simple to prepare at a moments notice as there is no chill time!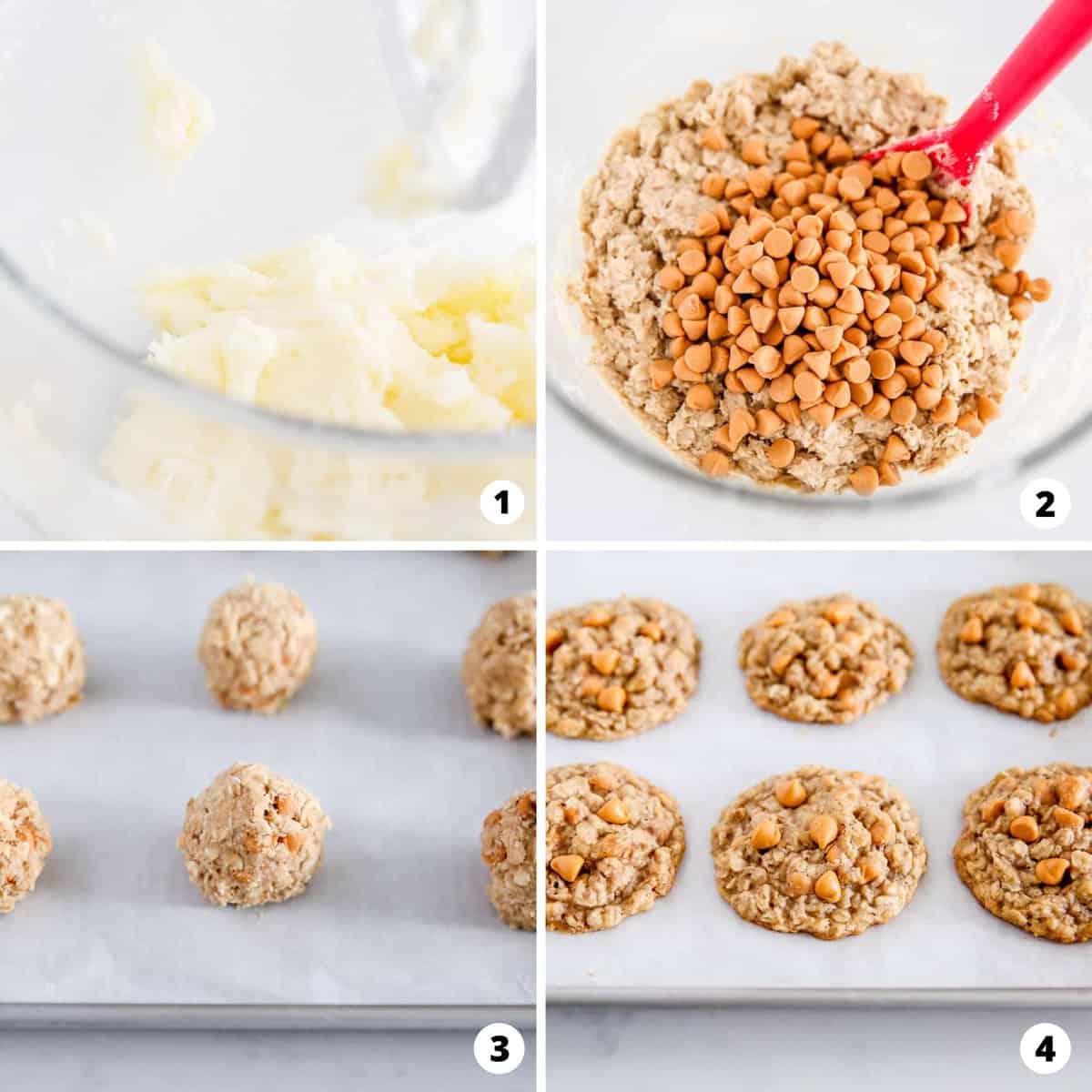 Cream butter and sugar. In a large bowl, cream butter and sugar, then add the vanilla and eggs.
Stir in remaining ingredients. Add rolled oats, flour, salt, and baking soda and stir to combine. Refrigerate the dough for a minimum of 15 minutes.
Place dough on baking sheets. Scoop dough onto prepared baking sheets using a tablespoon or cooking scoop. Add more butterscotch chips to the top, if desired.
Bake: Bake for 10 minutes, or until edges are lightly golden brown. Allow cookies to cool on the pan before transferring them to a wire rack to cool completely.
How Long to Bake Oatmeal Cookies
For softer cookies, take them out of the oven a little sooner at around 9 minutes. For crispier cookies, leave them in a little longer. Simple as that!
Note that all ovens do vary in baking temperatures so keep an eye your batch!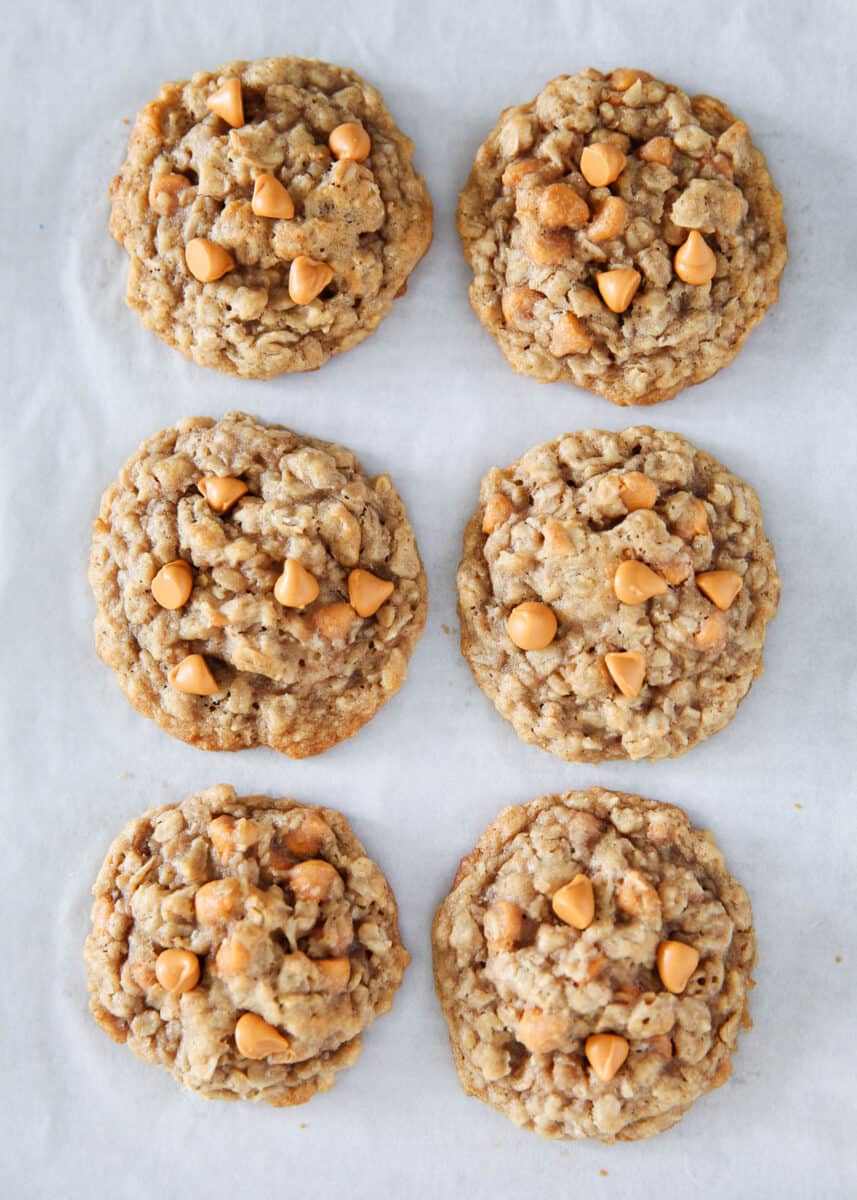 Baking Tips
Don't skip the nonstick surface. Be sure to prepare the cookie sheet with a silicone mat or parchment paper.
Using a cookie scoop to scoop out the dough will help keep all cookies the same size. If you don't have one, using a couple of tablespoonfuls of dough will suffice.
Once the cookie dough balls are formed, chill again for 15-20 minutes for a thicker, slightly chewy, cookie. This will help keep the butter from melting in the oven too quickly, therefore spreading it too thin.
For a thinner cookie press the cookie dough ball slightly before baking.
Swap the butterscotch chips for regular chocolate chips, white chocolate chips, or raisins for a few different twists!
Add a drizzle of icing after they have cooled like a I do in this iced oatmeal cookies recipe!
FAQs
Why are my oatmeal butterscotch cookies flat?
If your butter was melted or too warm it can cause your cookies to spread. If you skipped the chilling time, it can also cause your oatmeal cookies with butterscotch chips to spread thin while baking.
Why are my oatmeal cookies so hard?
If your cookies are dry it can be for a few reasons. You either overbaked them, over mixed them or added to much flour. Either decrease baking time next batch, stir gently when incorporating your flour to prevent too much gluten from developing and avoid packing your flour into your measuring cup.
What is the best way to store oatmeal scotchies?
Keep them in an airtight container (or cookie jar) on the counter for up to 3 days.
How to Freeze Oatmeal Butterscotch Cookies
To freeze baked oatmeal scotchies: Once cookies have cooled completely, transfer them to a freezer-friendly bag or container and keep frozen for up to 3 months. Thaw at room temperature or pop them in the microwave to warm through.
To freeze unbaked cookies: Roll any remaining dough into dough balls. Place them on a baking sheet and flash freeze until hardened. This is so when they're stored in the freezer they won't freeze in one clump. Transfer to a freezer-friendly bag and freeze for up to 3 months. Check out how to freeze cookie dough for details!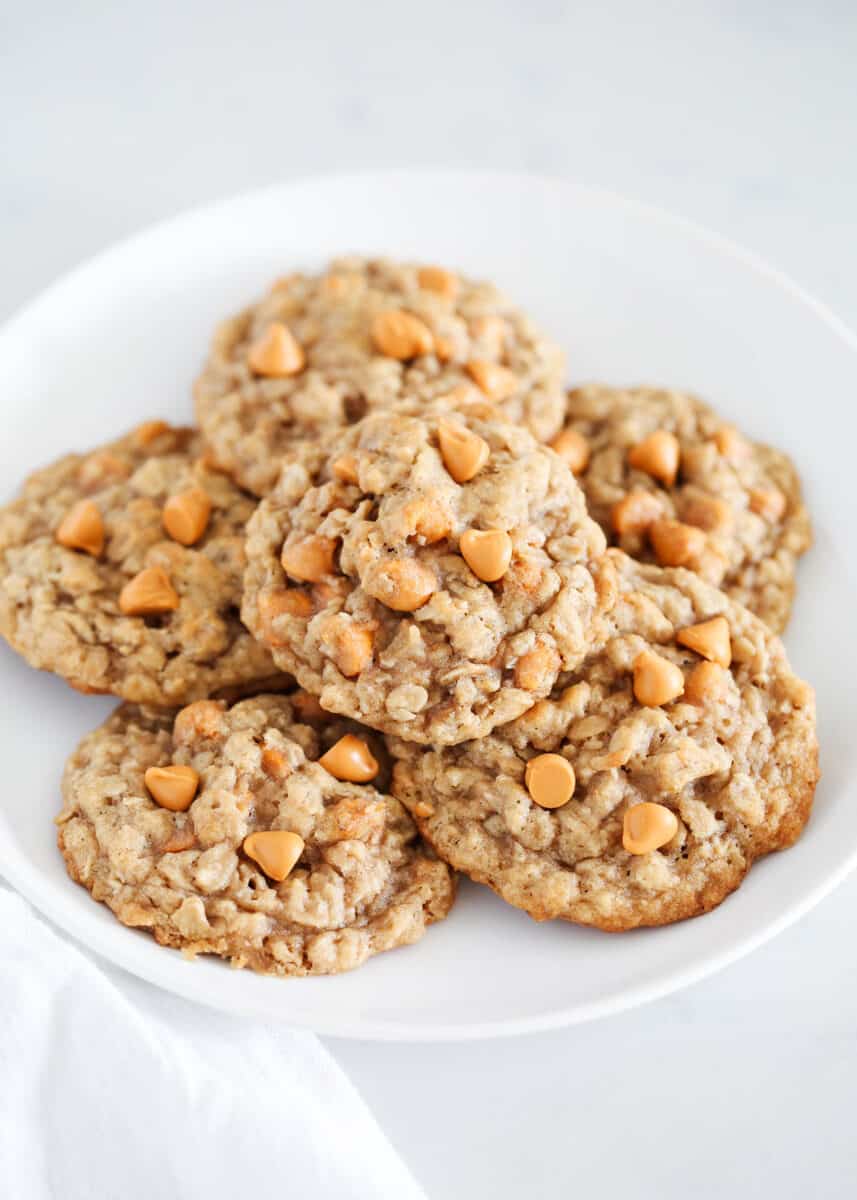 HUNGRY FOR MORE? Subscribe to my newsletter and follow on Facebook, Pinterest and Instagram for all the newest recipes!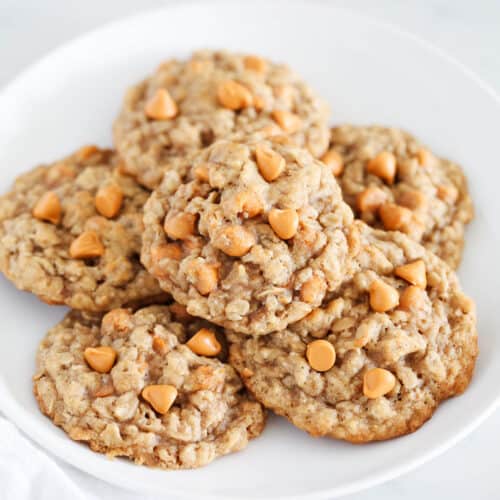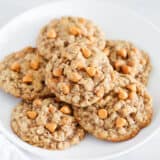 Oatmeal Butterscotch Cookies
Delicious oatmeal butterscotch cookies are a one-bowl recipe ready in 35 minutes (including chill time!). They're made with rolled oats, a hint of cinnamon, and loaded with butterscotch chips perfect for making as thin or thick, or as crispy or chewy as you'd like!
Ingredients
1 cup butter
1 ¼ cups light brown sugar , packed
¼ cup granulated sugar
2 large eggs
2 teaspoons vanilla extract
2 ½ cups (225 g) old-fashioned oats
2 cups (260g) all-purpose flour , spooned and leveled
¾ teaspoon fine sea salt
1 ½ teaspoons baking soda
½ teaspoon ground cinnamon
1-2 cups butterscotch chips , more for tops
Instructions
Preheat the oven to 350°F. Line baking sheets with parchment paper or a silicone mat. Cream the butter in a large mixing bowl until smooth, about 1 minute. Add in the sugars and mix until creamy. Add eggs and vanilla and mix until combined.

Add oats flour, salt and baking soda. Stir just until combined. Then fold in butterscotch chips. Refrigerate dough at least 15 minutes.

Use a medium cookie scoop and scoop onto the prepared baking sheets. Press extra chocolate chips on top if desired. Refrigerate dough balls on the pan for 15-20 minutes if your prefer a little thicker cookie.

Bake for 10 minutes, or until the edges are just light golden brown (the centers should look a little soft). Take them out a little early for softer cookies and bake a little longer for crispier cookies. Let rest on pan for a few minutes and then transfer to a cooling rack to cool completely.
---
Notes
To store: Store in an airtight container at room temp for up to 3 days. Leftover dough: Form dough into balls and add to baking sheet. Place sheet in freezer until dough has hardened. Remove from freezer and add to freezer bag. Store in freezer until ready to bake, about 2-3 months. Freezing: Make sure cookies have cooled completely. Then place in a freezer bag or container and store in freezer for up to 3 months. To thaw, let sit at room temperature or heat in the microwave until warm.
Nutrition
Serving: 1cookie | Calories: 179kcal | Carbohydrates: 26g | Protein: 2g | Fat: 8g | Saturated Fat: 4g | Cholesterol: 26mg | Sodium: 183mg | Potassium: 46mg | Fiber: 1g | Sugar: 16g | Vitamin A: 191IU | Vitamin C: 1mg | Calcium: 24mg | Iron: 1mg
Nutrition provided is an estimate. It will vary based on specific ingredients used.
Did you make this recipe? Don't forget to give it a star rating below!