Cake mix chocolate chip cookies are chewy and delicious, and take quick and easy cookie recipes to another level using just a boxed mix, oil, eggs, and loads of chocolate chips!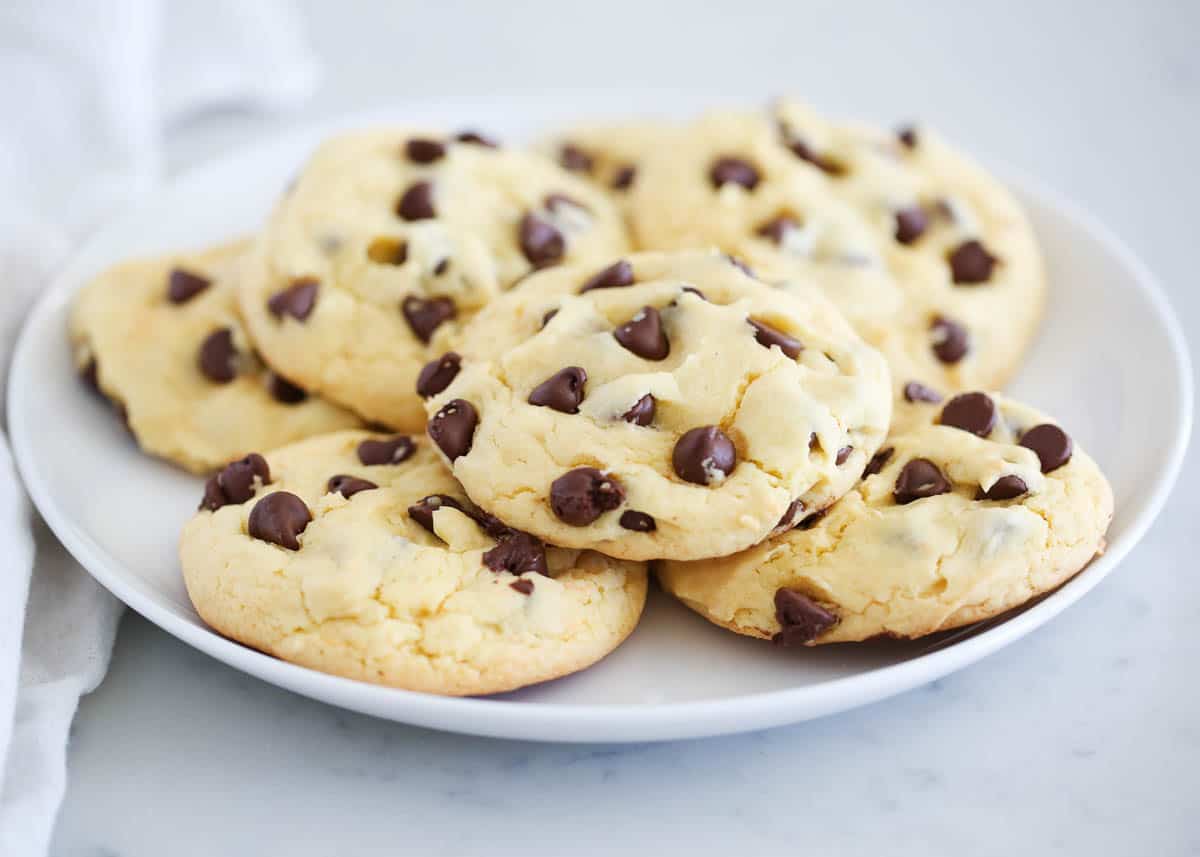 Homemade Cookies Not Made From Scratch!
When you've got a hankering for something sweet, cake mix cookies are the quickest way to satisfy your cravings.
They're an easy and simplified version of classic chocolate chip cookies and they look and taste like the real thing with the bonus of also tasting a bit like cake! Take another step and make these oatmeal chocolate chip cookies too!
They're soft, chewy, delicious, and loaded with chocolate chips. Made with just 4 ingredients, they're perfect for kids to get in on the action as well, without a laundry list of ingredients or steps to follow.
Talk about a time saver! These chocolate chip cookies made with cake mix are going to become one of your new favorite dessert and cookie recipes, perfect for birthdays, sleepovers, and the holidays! I love desserts with a box mix like my cake pops or this gooey butter cookie recipe.
Why We Love Them
Texture. A decadent soft cookie with slightly crisped edges that turns out perfectly every time. No need to worry about measuring flour!
Taste. These yellow cake mix chocolate chip cookies taste both like a cookie and a bit like cake!
Easy. Using a boxed cake mix plus a few extra baking staples means these are ready in just 20 minutes. Homemade chocolate chip cookies in a pinch!
Fun! I don't know about you but I call a one-bowl recipe with easy cleanup fun!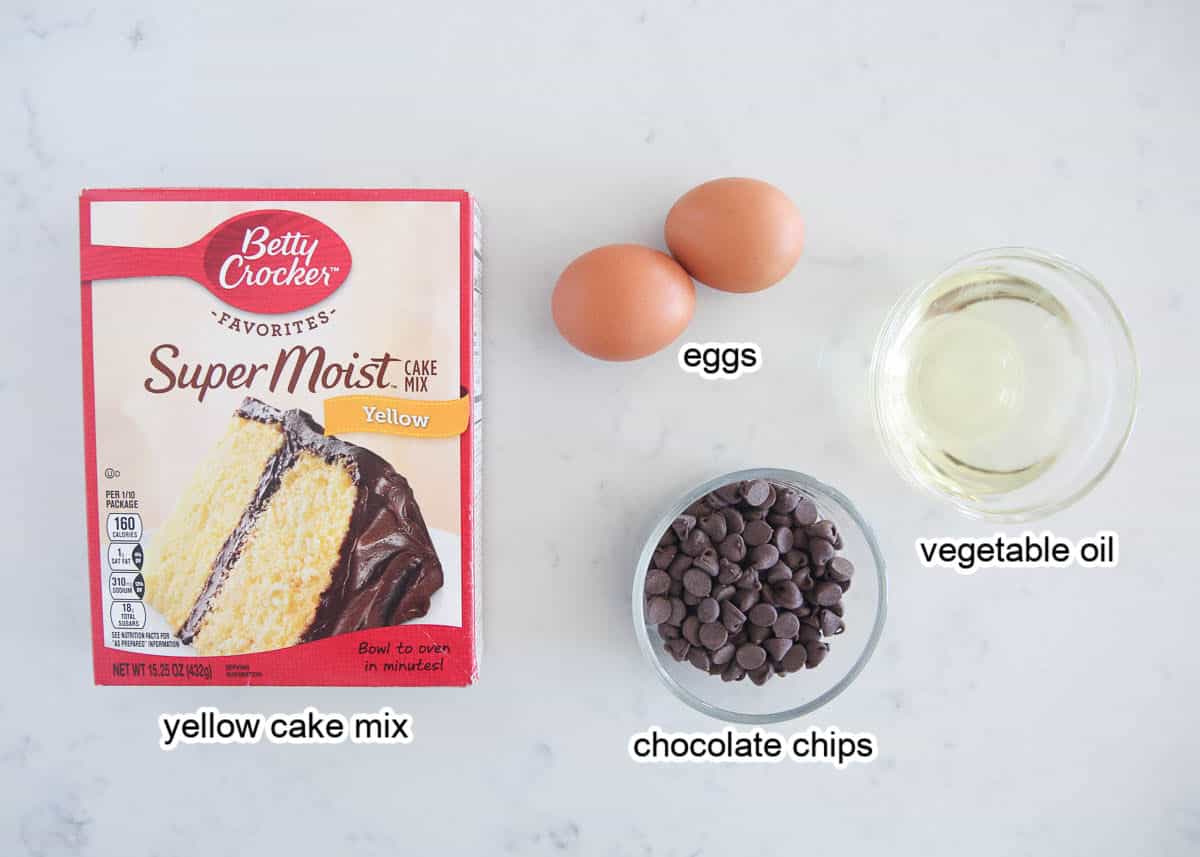 Just 4 Ingredients Needed
Box of yellow cake mix: Any brand of cake mix you prefer. Betty Crocker, Duncan Hines, it doesn't matter. Ignore the amount of each ingredient on the box. Follow the recipe as I have it listed. Otherwise, you really will be making a cake!
Vegetable oil: The fat needed to add moisture and richness to the batter.
Large eggs: Used to bind the ingredients together.
Chocolate chip cookies: I use semi-sweet as sometimes I find milk chocolate chips a little too sweet, but you use whatever you like.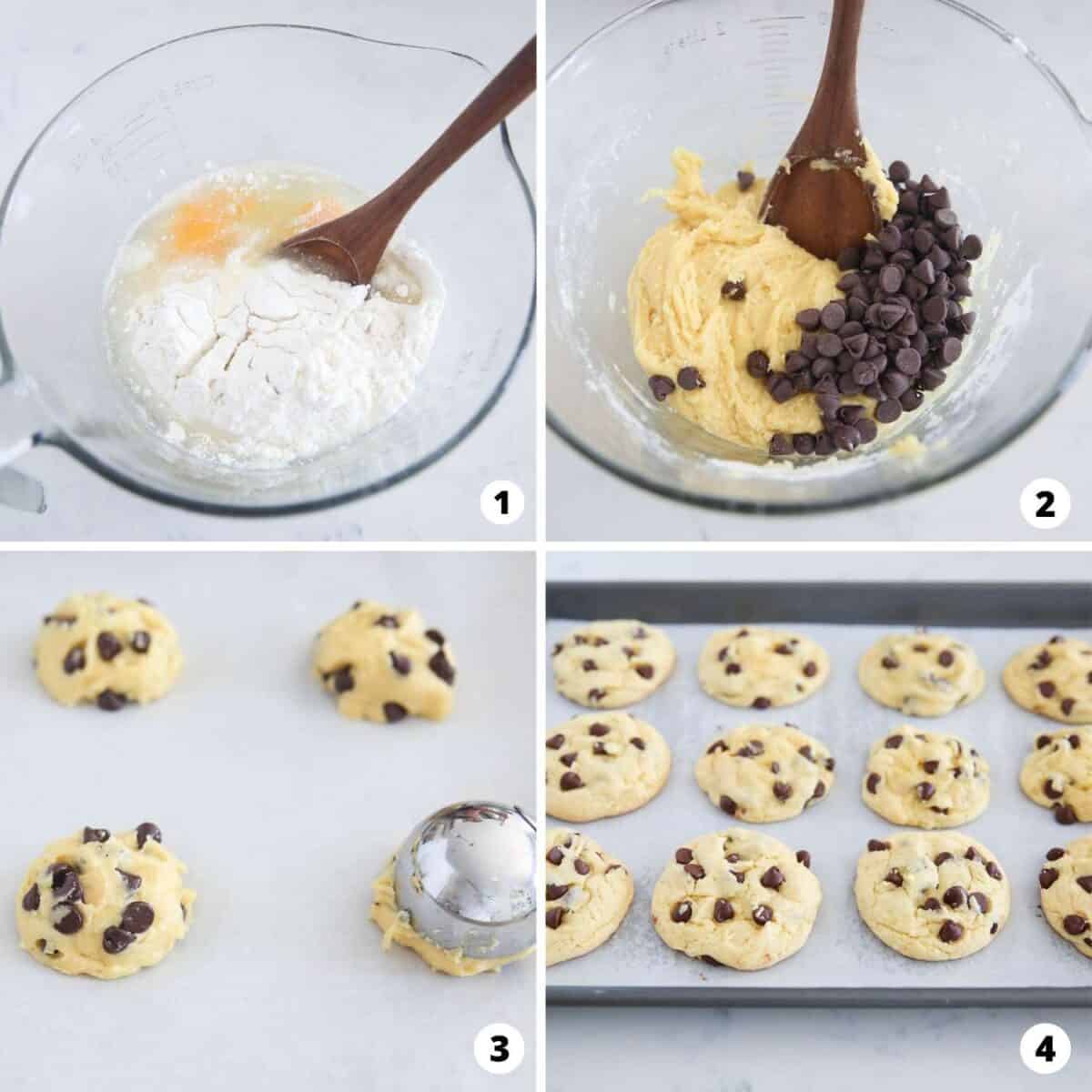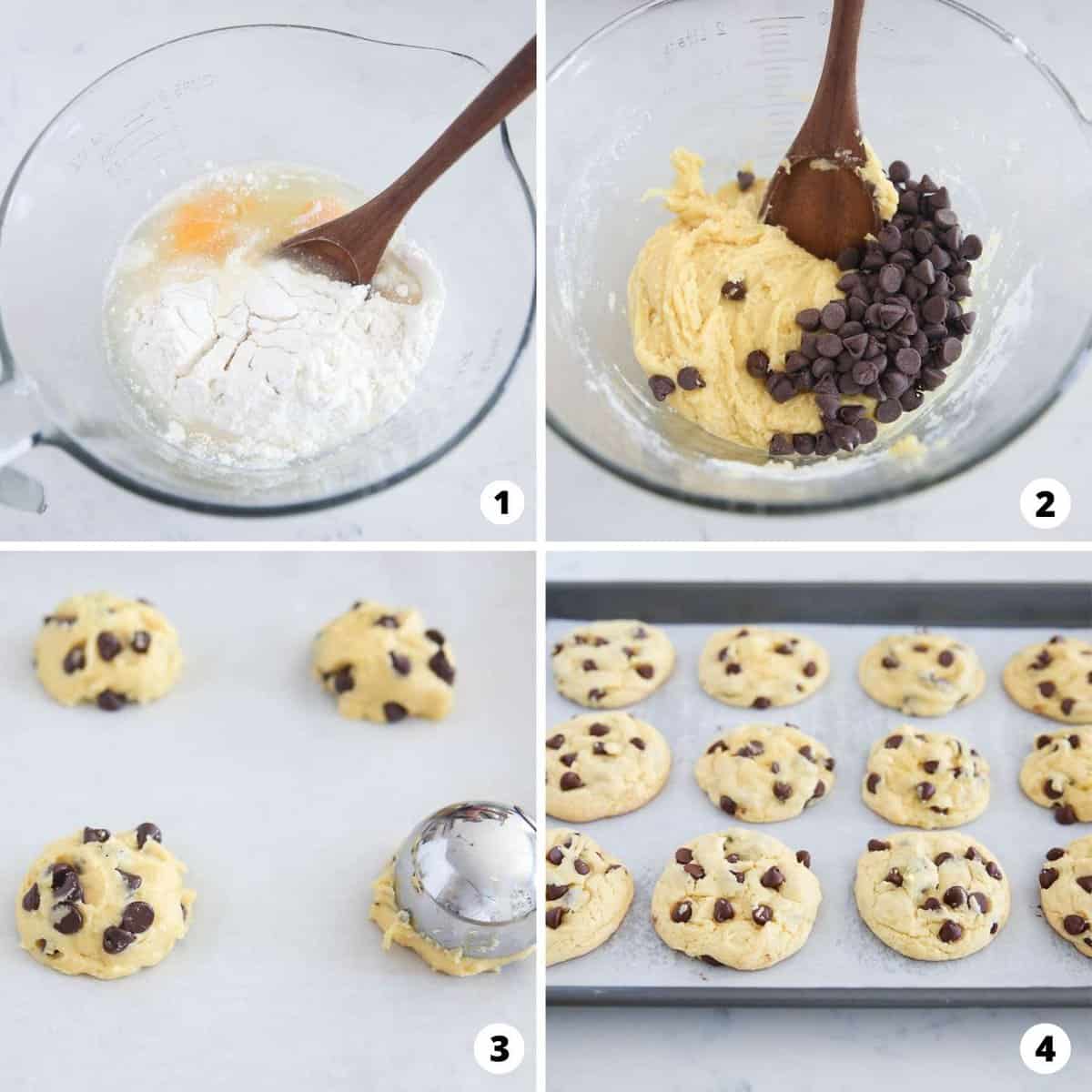 How to Make Cake Mix Chocolate Chip Cookies
There is no mixing of wet ingredients and dry ingredients separately in this recipe. It's all done easily in one bowl!
Mix ingredients. In a large mixing bowl, dump in the mix, along with the oil, and eggs. No need for an electric mixer, but you can go right ahead and use one on medium speed if you'd like.
Fold in the chocolate chips. The cookie dough may be sticky and that's fine!
Scoop out the cookie dough using a medium scoop, and place the cookie dough balls onto a parchment-lined baking sheet. I like to place a few extra chocolate chips on top just before putting them into the oven.
Bake cookies for 9-11 minutes until the cookies are set. You're not waiting for them to brown. Remove them from the oven and allow them to cool on the cookie sheets before transferring them to a wire rack to cool completely.
Easy Baking Tips
Use a cookie scoop. Besides not having your kids fight over who gets the bigger cookie, having the same sizes makes it easier for them to bake evenly.
Extra chocolate chips. The chips that get folded into the batter can get lost in the mix. Keeping a few extra to put on top afterward, is great for presentation. It just looks better!
Allow them to cool. These cookies will be soft when they're out of the oven and will continue to set as they cool.
Sweet and salty. Sprinkle a bit of flaky sea salt on top for a delicious finish!
Line your sheet pan. Parchment paper or a silicone baking mat will create nonstick pans, making cleanup a breeze, and helping to keep the cookies from spreading too much.
Want a slightly crispier cookie? You can leave them to bake for a couple of extra minutes!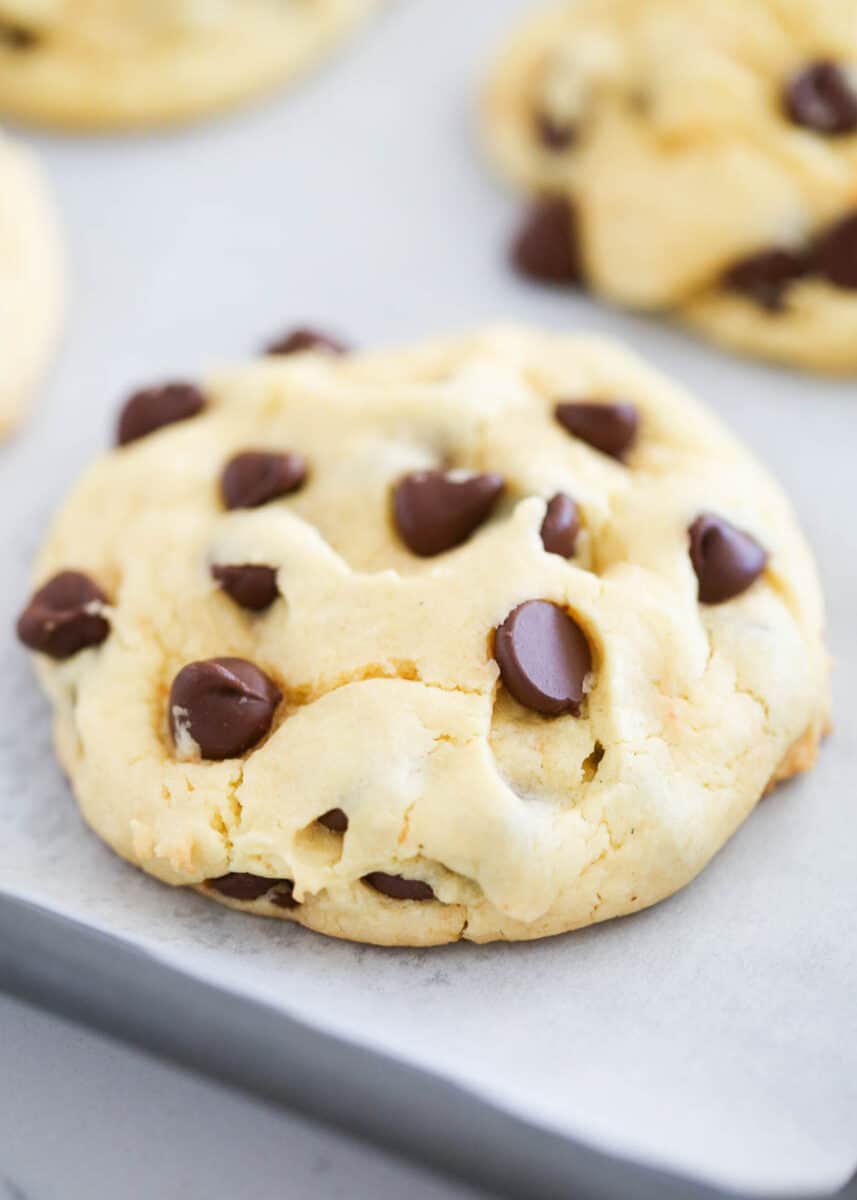 Fun Variations
Add whatever add-ins you like! Butterscotch chips, white chocolate chips, dark chocolate chips, sprinkles, or nuts like walnuts, or pecans.
Dip them in chocolate. Dipping the cookies in chocolate gives them an extra special presentation.
Double chocolate. Use a chocolate cake mix with chocolate chips for chocolate, chocolate chip cookies!
Red velvet – Use a red velvet cake mix with 1 cup of chocolate chip cookies.
M&M's. Use a box of white cake mix for this version. Yellow cake mix cookies will still work. Swap the chocolate chips for M&M's or use both.
Make a cookie sandwich: Spread peanut butter, chocolate spread, marshmallow fluff, or frosting on the back side of one cookie and top it with another cookie.
Storage
Keep these on the counter covered in an airtight container for a few days. After that, transfer them to a freezer-friendly bag and keep them frozen for up to 3 months.
FAQs
What is the difference between a cake mix and a cookie mix?
Generally speaking, cake batter has a higher amount of liquid than cookie dough, which is much thicker and stickier.

Cake batter, you'll notice is smooth and runny. They do share similar ingredients, but it comes down to the amount for the most part.

That is why you'll notice to turn cake mix into cookie dough, the secret is not adding any liquid!
How do you make red velvet cake mix into cookies?

Easily! I have a great red velvet cookie recipe made deliciously gooey with cream cheese and white chocolate chips. Check it out!
Why did my cookie dough turn into a cake?

The culprit is probably due to following the directions on the box rather than the instructions in this recipe!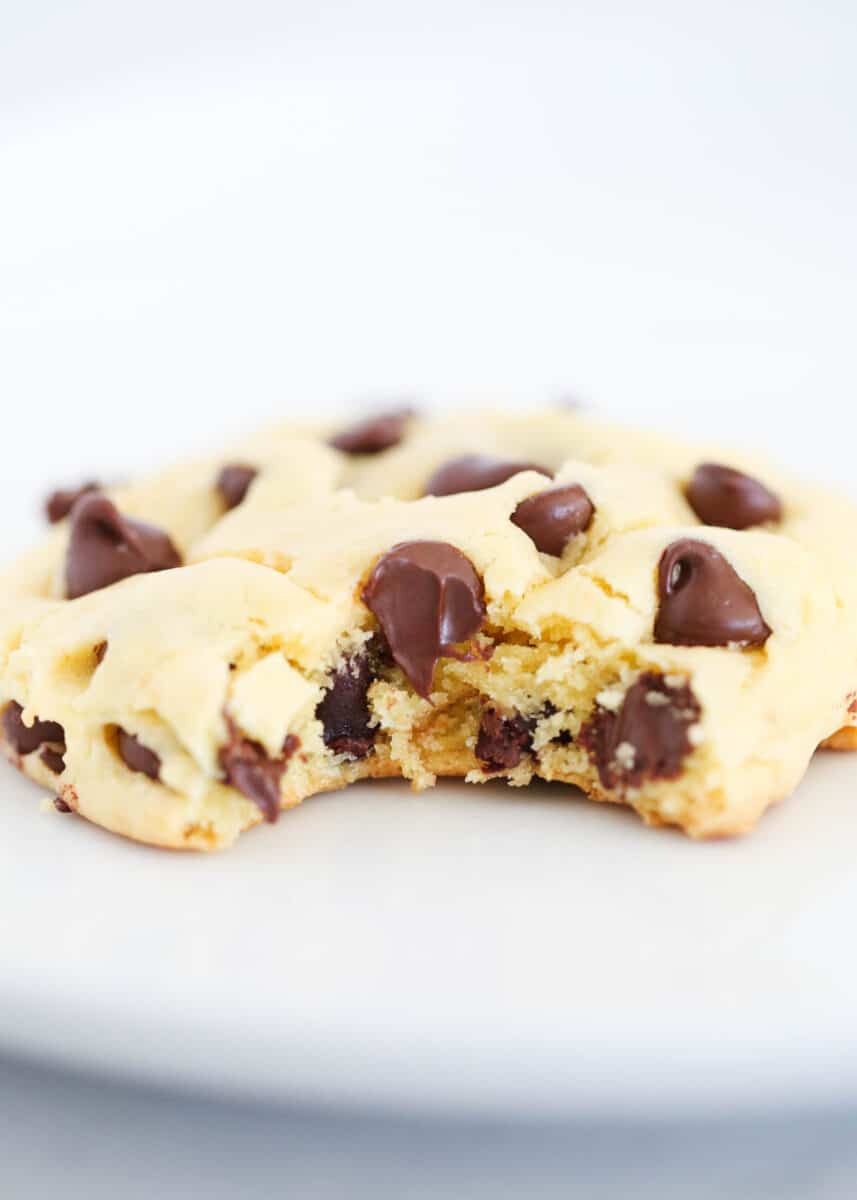 The sky's the limit with what you can do with simple moist cake mix flavors and a few extra ingredients.
HUNGRY FOR MORE? Subscribe to my newsletter and follow on Facebook, Pinterest and Instagram for all the newest recipes!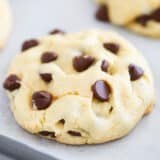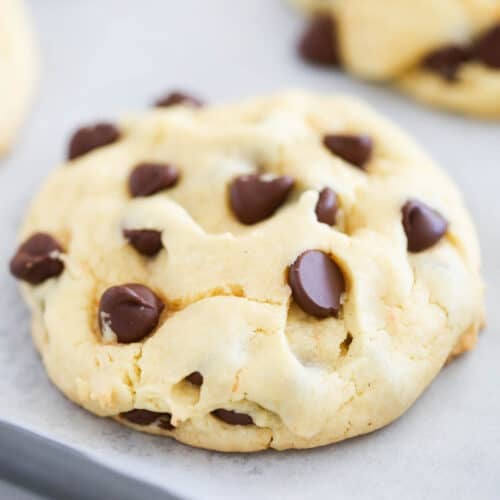 Cake Mix Chocolate Chip Cookies
Cake mix chocolate chip cookies are chewy and delicious, and take quick and easy cookie recipes to another level using just a boxed mix, oil, eggs, and loads of chocolate chips!
Ingredients
1 (15.25-ounce) box yellow cake mix
½ cup vegetable oil
2 large eggs
Instructions
Preheat the oven to 350°F. Line a baking sheet with parchment paper.

In a large bowl, stir the cake mix, oil, and eggs until combined. Fold in chocolate chips (it is okay if the dough is sticky).

Using a medium scoop, scoop the cookie dough onto the baking sheet. Add extra chocolate chips on top, if desired. Bake 9 to 11 minutes, or until the cookies are set. You don't want them to brown.

Let cool several minutes on the baking sheet and then transfer to a cooling rack.
---
Notes
Storage: Store in a covered container up to 3 days. Freeze in a covered container up to 3 months.
Variations: Feel free to add in your favorite mix-ins or dip cookies in chocolate.
Red velvet white chocolate chip: If you're a fan of red velvet cake, you're going to love this version! Use a red velvet cake mix and mix in 1 cup of white chocolate chips.
M&M: You can use white or yellow cake mix for this variation. Mix in 1 cup M&M's.
Nutrition
Calories: 135kcal | Carbohydrates: 6g | Protein: 1g | Fat: 12g | Saturated Fat: 4g | Polyunsaturated Fat: 4g | Monounsaturated Fat: 3g | Trans Fat: 1g | Cholesterol: 24mg | Sodium: 10mg | Potassium: 72mg | Fiber: 1g | Sugar: 4g | Vitamin A: 39IU | Calcium: 11mg | Iron: 1mg
Nutrition provided is an estimate. It will vary based on specific ingredients used.
Did you make this recipe? Don't forget to give it a star rating below!