In just 25 minutes you could be biting into crispy soft pumpkin oatmeal cookies made with old-fashioned rolled oats, real pumpkin, and pumpkin spice with extra cinnamon. These hearty flavorful cookies are a must-make!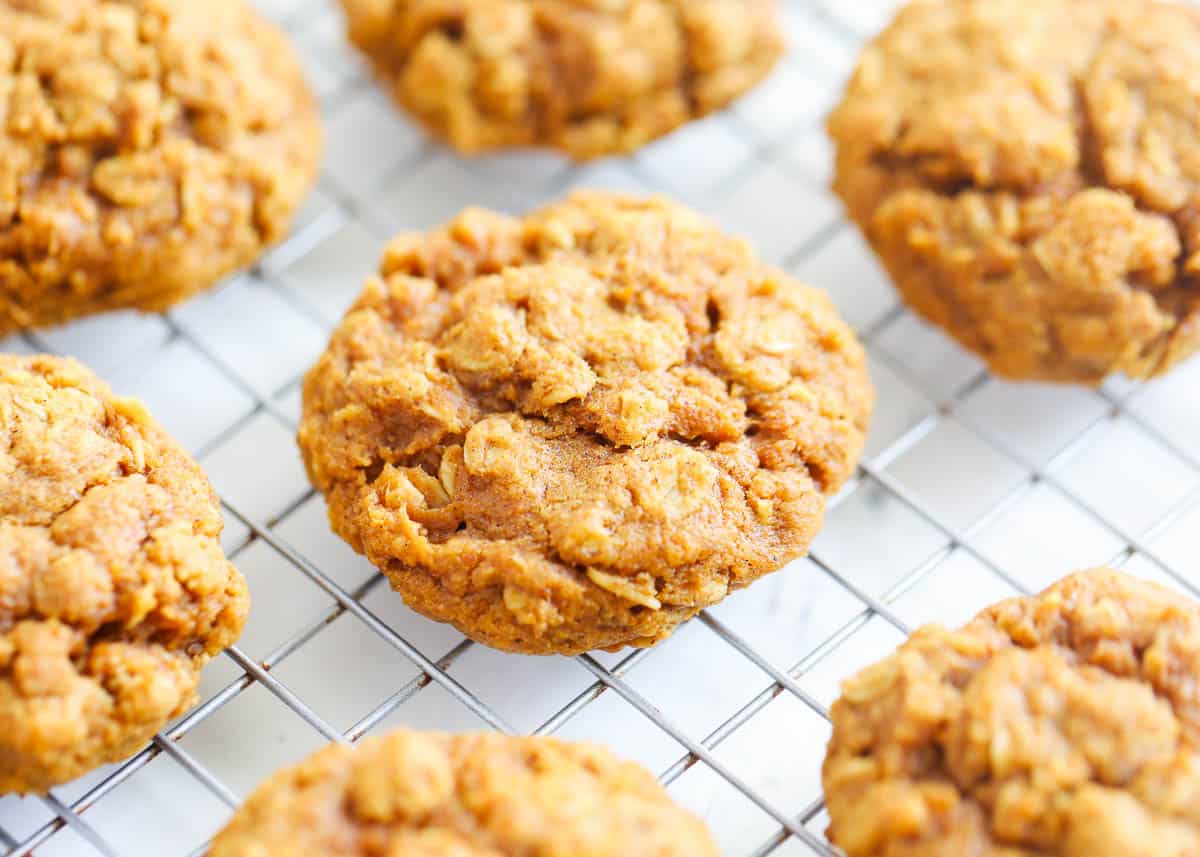 Quick and Easy Fall Treat
Pumpkin oatmeal cookies are an autumn-inspired treat with moist pumpkin and hearty oats. They are sweet, soft and spiced with warm flavors, just like my pumpkin snickerdoodles which are also so cozy for fall!
Pumpkin spiced oatmeal cookies taste like a delicious mix of my favorite pumpkin cookies and chewy oatmeal cookies and have become a favorite amongst all the fall treats I've been baking lately!
The best pumpkin recipes always use a combination of real pumpkin and the aromatic flavor of pumpkin pie spice and a little extra cinnamon to give us what we crave this time of year.
They come out of the oven soft, yet slightly crisp but they're best enjoyed cooled or even a day old. You could even turn them into an oatmeal cookie with icing for a real treat!
Why This Recipe Works
A quick treat. These crave-worthy cookies can satisfy a sweet tooth in just 25 minutes. A tasty afternoon snack or after-dinner dessert in no time.
Loaded with pumpkin. Anyone who loves oatmeal cookies and pumpkin cookies will love this delightful combination.
A welcome addition to any cookie tray. Pumpkin oatmeal cookies are great for cookie exchanges (along with my pumpkin bars with cream cheese frosting), bake sales, holiday parties, and dessert tables. I sometimes like to drizzle them with a tasty glaze for something extra special.
Make a batch, freeze a batch. Keep them frozen for months! Double the batch and keep some for yourself, and share the rest with friends and neighbors.
Ingredients Needed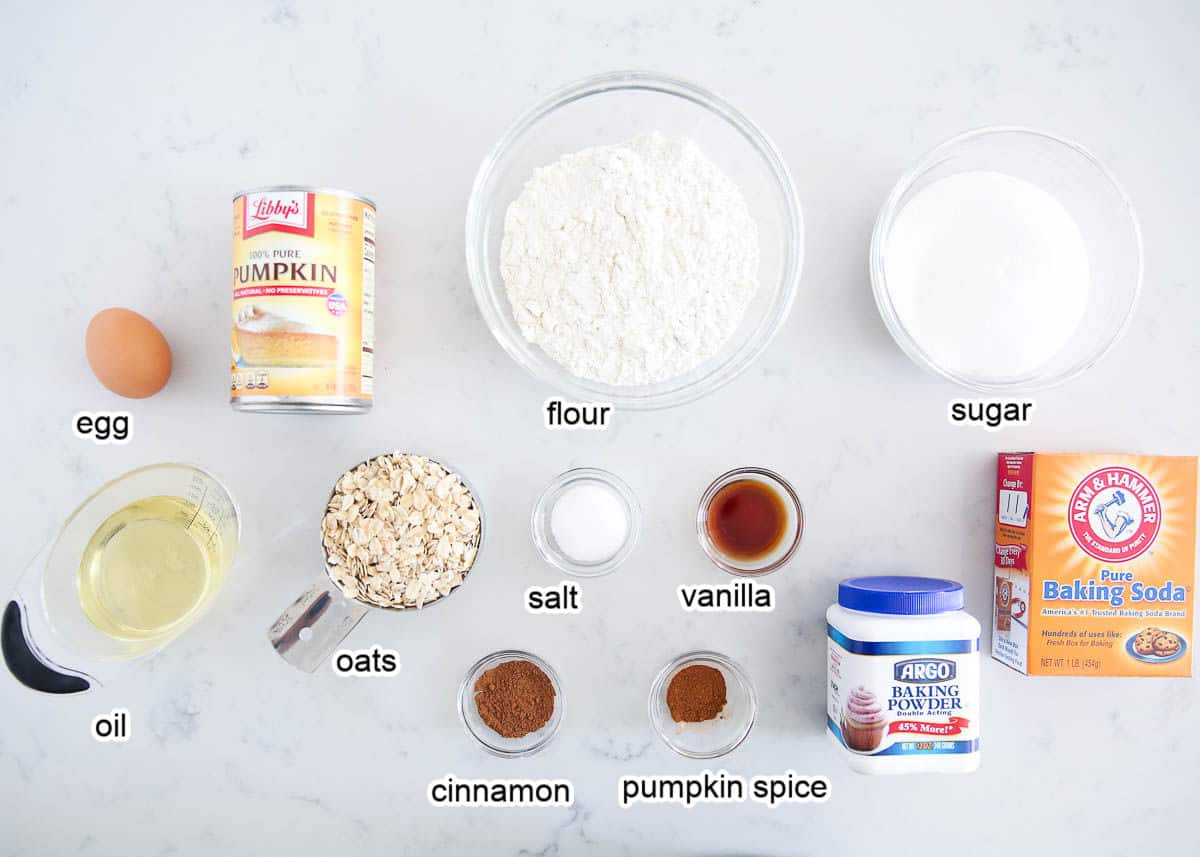 Find the full printable recipe with detailed measurements below.
Pumpkin puree: You can learn how to make pumpkin puree from scratch using a roasted sugar pumpkin or use canned pumpkin. As long as it's just pumpkin!
Coconut oil: Using melted coconut oil or vegetable oil instead of butter helps to keep the cookies nice and tender. Coconut oil solidifies at room temperature, so depending on how soft you like yours, that would determine which you go with.
Flour: Pumpkin spice oatmeal cookies require accurately measured ingredients, like any baked good. I have some tips on how to measure flour without a scale that will come in handy for this and many other recipes. Check it out!
Old-fashioned oats: I like the texture of rolled oats and how hearty they make the cookie. Using instant or quick oats can be done, but they absorb moisture much easier and the texture of your cookies won't be the same.
Optional Mix-Ins
Got a love for all things chocolate? These pumpkin oatmeal chocolate chip cookies may be right up your alley!
Swap the granulated sugar for brown sugar to produce a more caramelized flavor and add a bit of moisture to make them more cakey cookies.
Add some chopped walnuts or pecans to the cookie dough for added crunch.
Cranberries, raisins, white chocolate chips, or butterscotch chips would also be amazing.
How to Make Pumpkin Oatmeal Cookies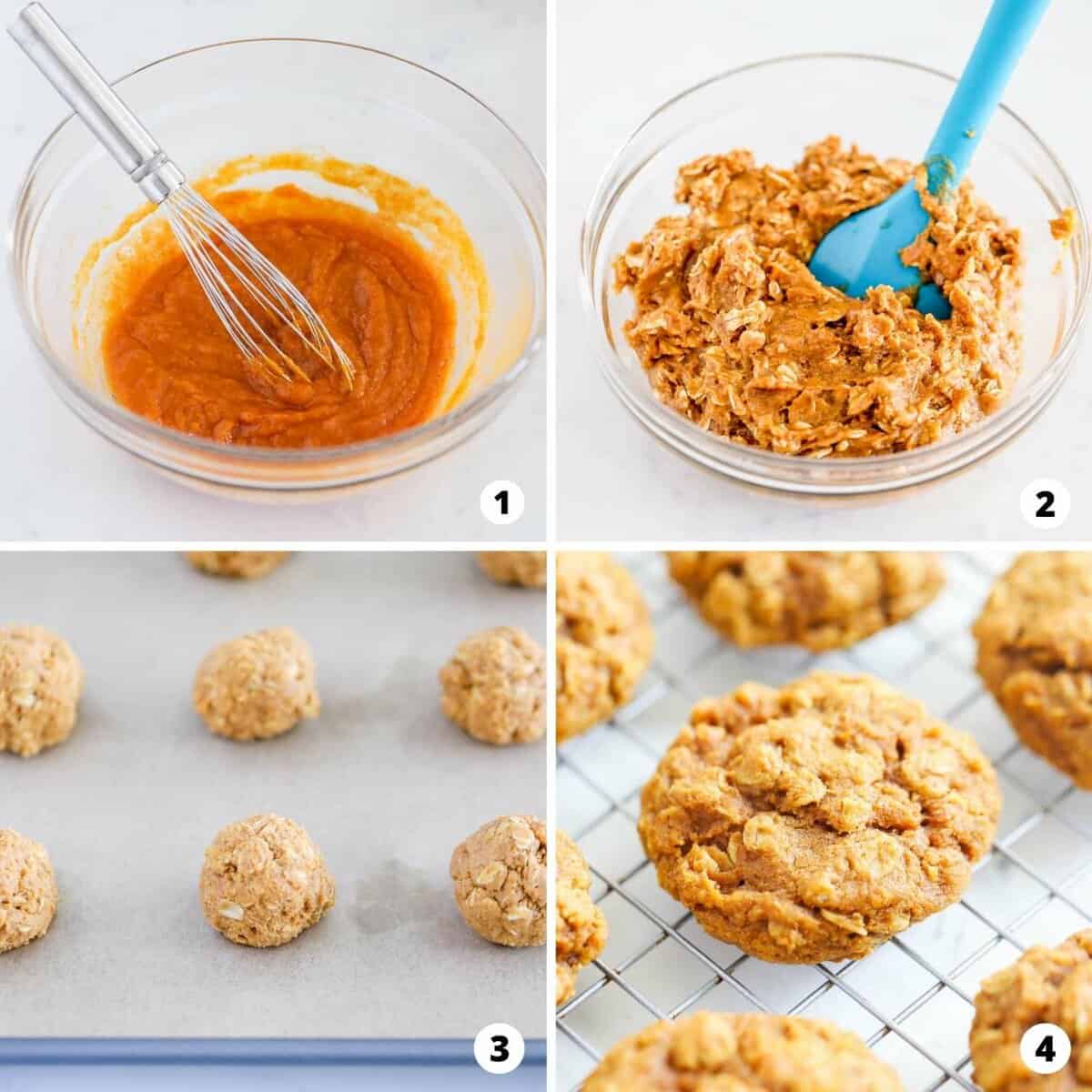 Mix wet ingredients. In a large mixing bowl whisk together the pumpkin, sugar, oil, vanilla extract, and egg until smooth.
Combine wet and dry ingredients. In a separate bowl, whisk the flour, oats, baking powder, baking soda, cinnamon, pumpkin pie spice, and salt together. Then, add the flour mixture to the pumpkin mixture and combine using a wooden spoon or spatula. You want to see very little flour left, but do not overmix the batter.
Scoop out the dough. Use a medium cookie scoop or a spoon to drop dollops of cookie dough onto a prepared baking sheet lined with parchment paper or a silicone baking mat. Place them about 2 inches apart so there's room to spread.
Bake until lightly browned. Transfer them to a preheated 350°F oven and bake for 10-13 minutes. The center should be set and no longer soft. A good way to tell is by inserting a toothpick into the center of the cookie. If it comes out clean it is done. Allow them to cool on the cookie sheet for 5 minutes before moving them to a wire rack to cool completely.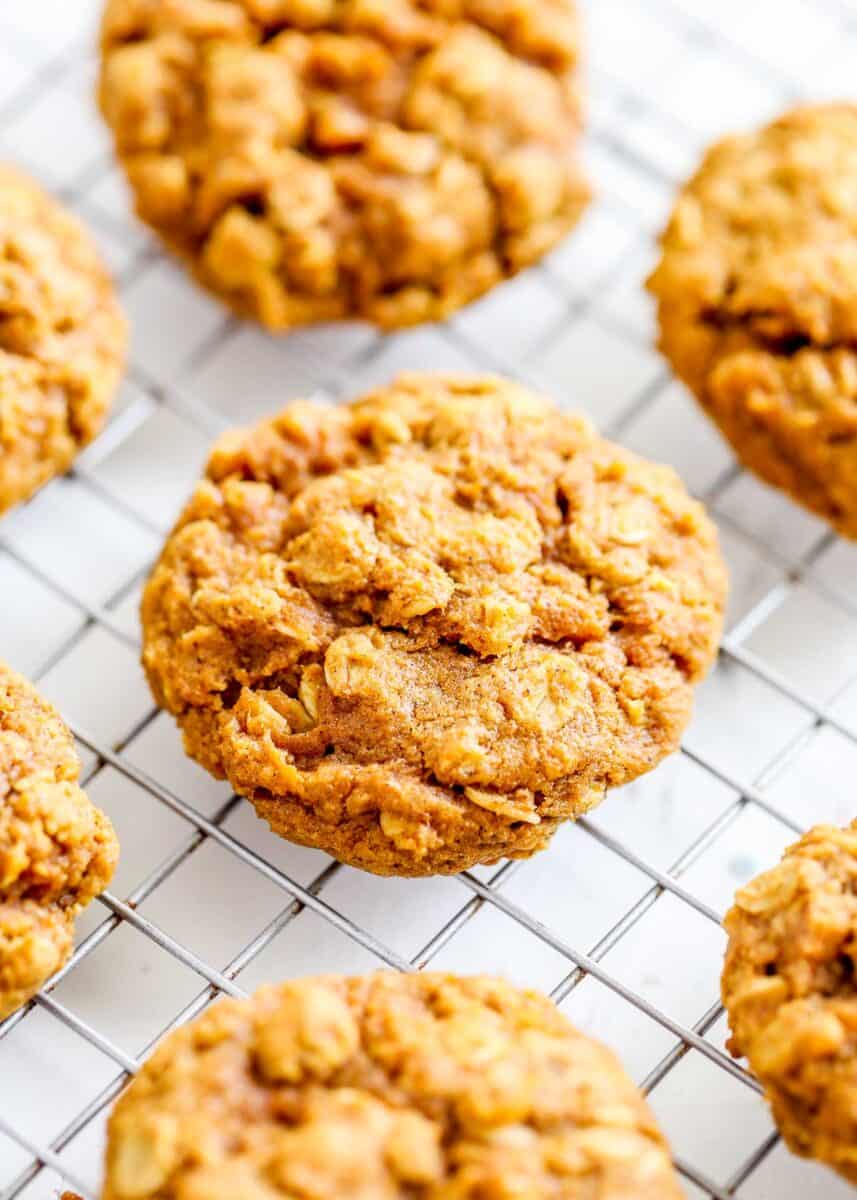 Expert Tips
For chewier cookies, blot your puree with paper towels to remove as much moisture as you can. I don't blot mine, but you do you!
Add a tasty glaze on top. These pumpkin oat cookies deserve a drizzle! Try a maple glaze, cream cheese glaze, powdered sugar icing, or slather it in a classic cream cheese frosting, because, why not!
Use a cookie scoop to measure out the batter if you have one. It helps to make them uniform in size so they bake evenly.
If you're out of the spice mix, use a combination of cinnamon and ground nutmeg. If you have ground ginger, cloves, and allspice, you can make a homemade pumpkin pie spice.
Recipe FAQs
How do you keep cookies from going flat?
There are a few ways to do this, but not all recipes require you do them all. These are just some things to keep in mind.

Chilling the dough ahead of time can help, but this isn't always necessary. My top tip would be to not over mix and use parchment paper or a silicon baking mat to prevent sticking. That way you're not oversaturating the bottom of the pan with excess grease, which will cause the cookies to spread.

Other things to keep in mind are to measure the flour correctly and not overmix it. When you've placed the dough scoops onto the tray, do not flatten them out. Allow them to expand as they bake.
Can I freeze these cookies?
Yes! If you have enough ingredients and the time, make 2 or 3 batches at once. Keep them frozen for up to 3 months!
How long will pumpkin oatmeal cookies stay fresh on the counter?
Pumpkin oatmeal cookies will last for up to 4 days on the counter in an airtight container. When I've got a special reason to make these cookies, I usually make them a day in advance. The longer they sit, the better they taste.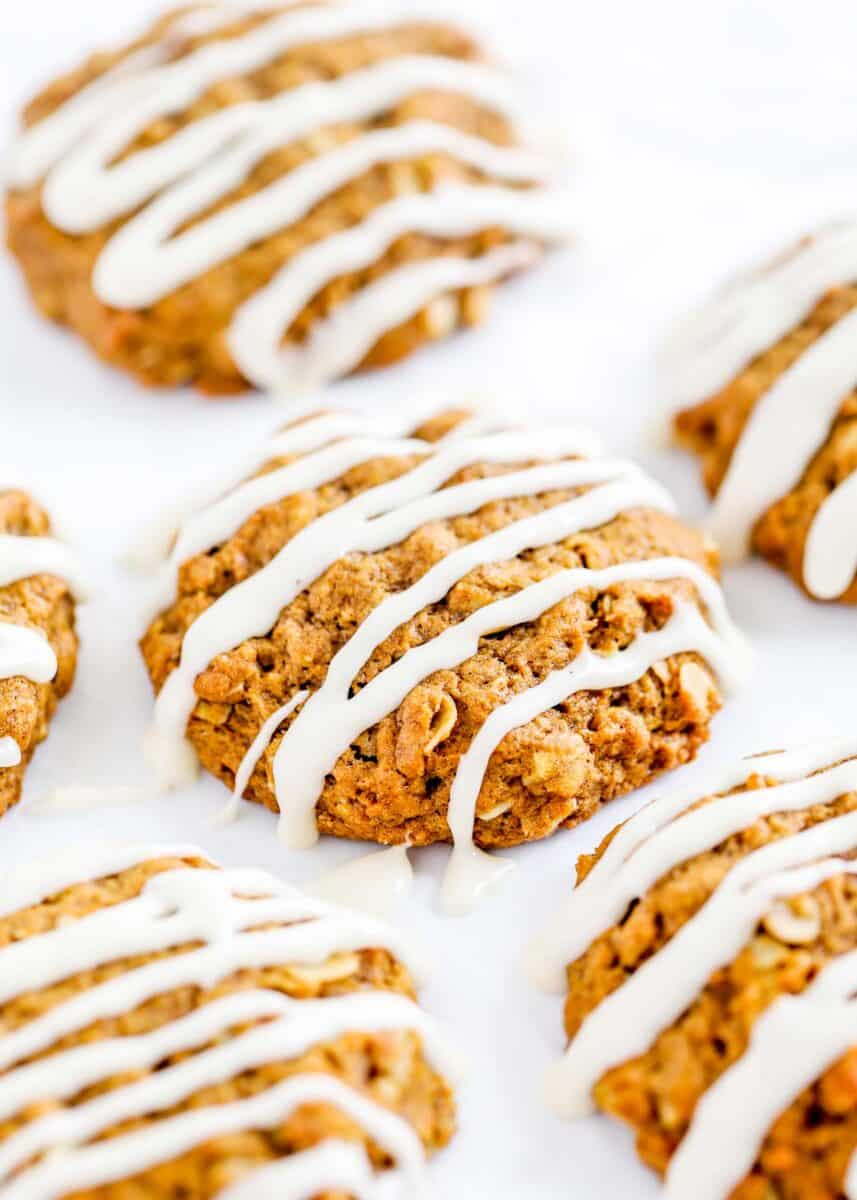 HUNGRY FOR MORE? Subscribe to my newsletter and follow on Facebook, Pinterest and Instagram for all the newest recipes!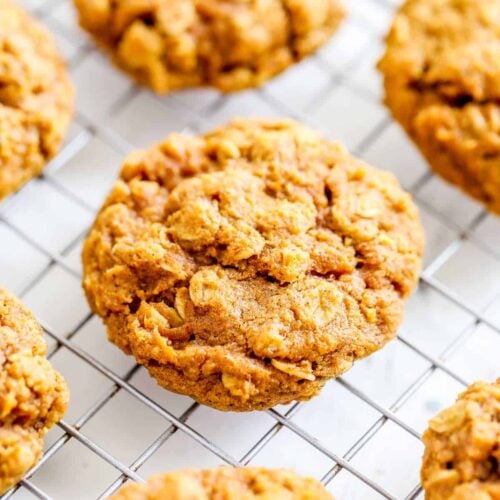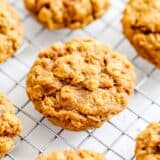 Pumpkin Oatmeal Cookies
In just 25 minutes you could be biting into crispy soft pumpkin oatmeal cookies made with old-fashioned rolled oats, real pumpkin, and pumpkin spice with extra cinnamon. These hearty flavorful cookies are a must-make!
Ingredients
1 cup pumpkin puree , canned
¾ cup (150 grams) granulated sugar
½ cup melted coconut oil , or vegetable oil
1 large egg
1 Tablespoon vanilla extract
1 ¼ cups (160 grams) all-purpose flour
1 cup (100 grams) old fashioned oats
1 Tablespoon baking powder
1 teaspoon baking soda
1 teaspoon ground cinnamon
1 teaspoon pumpkin pie spice , add a little more if you like extra spice
½ teaspoon fine sea salt
Instructions
Preheat the oven to 350°F. Line a baking sheet with parchment paper or parchment paper. Set aside.

In a large bowl, whisk pumpkin, sugar, vegetable oil, vanilla and egg until smooth.

In a separate medium bowl, whisk together flour, oats, baking powder, baking soda, cinnamon, pumpkin pie spice, and salt.

Add flour mixture to pumpkin mixture and mix just until you see a little flour left. Stir just until combined. Do not over mix.

Drop cookies by the spoonful, or medium cookie scoop, about 2 inches apart. Bake 10 to 13 minutes, or until a toothpick inserted in the center comes out clean and the bottoms are lightly browned. Check one and bake 1 to 2 more minutes if the center is not quite done.

Remove from the oven and let cool on baking sheet 5 minutes before transferring to a cooling rack.
---
Notes
Glaze: These cookies also taste amazing with a glaze drizzled over top. My favorites are the maple glaze and cream cheese glaze.
Cookie texture: If you don't want cake like cookies and want a chewier cookie, blot your pumpkin with paper towels before adding to remove any extra moisture. I do not blot mine.
Storage:
Store in a covered container up to 4 days. These cookies taste best cooled and taste even better the next day. The longer they sit the more the flavor comes out. I always make them the day before an event.
Freezer instructions: Allow to cool completely and then place in a freezer container or zip-top bag. Freeze up to 3 months.
Nutrition
Calories: 157kcal | Carbohydrates: 25g | Protein: 3g | Fat: 6g | Saturated Fat: 4g | Polyunsaturated Fat: 0.4g | Monounsaturated Fat: 1g | Trans Fat: 0.001g | Cholesterol: 8mg | Sodium: 99mg | Potassium: 125mg | Fiber: 2g | Sugar: 8g | Vitamin A: 1600IU | Vitamin C: 0.5mg | Calcium: 34mg | Iron: 1mg
Nutrition provided is an estimate. It will vary based on specific ingredients used.
Did you make this recipe? Don't forget to give it a star rating below!