No-Bake Mandarin Orange Pretzel Parfait
This no-bake mandarin orange pretzel parfait is my new favorite dessert for the holidays. They have the perfect combination of sweet and salty with a cheesecake filling in the middle. It doesn't get better than that.
These were inspired by the raspberry pretzel "salad" my mom makes every year for Christmas, which is one of my favorites! I thought it would be fun to try something different and make a version with my Dole mandarin oranges. There's something about oranges, that always get me excited for the holidays and my kids eat those oranges like they are going out of style.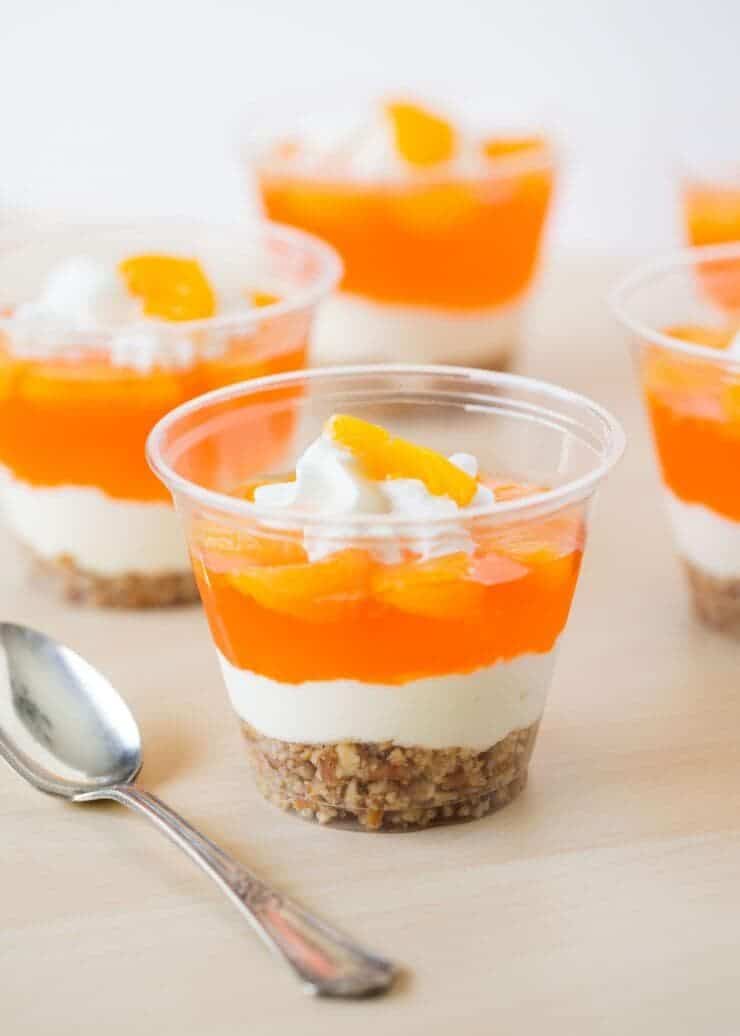 I also thought it would be fun to do these in individual size portions because everything is cuter in little cups and it makes it easier to set out the day of. I loved adding the Dole mandarin oranges on top for a decorative (and delicious) touch. You could even do little mason jars, but less dishes is always a good idea in my book.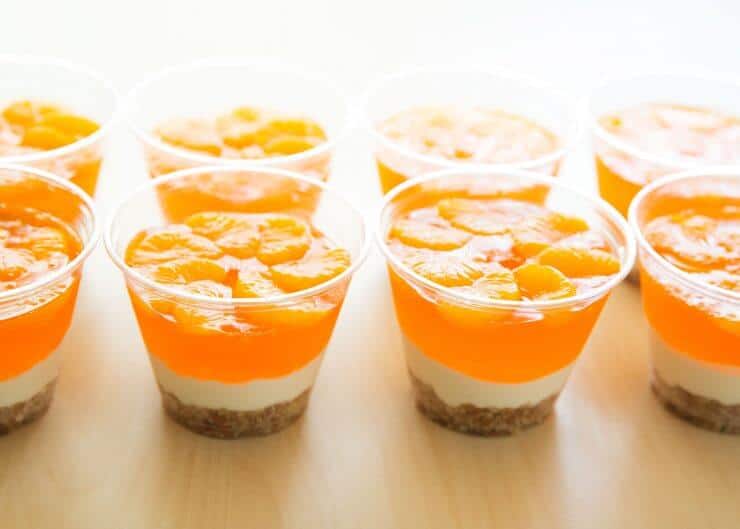 This Mandarin Orange Pretzel Parfait is a great, easy treat!
These mandarin orange pretzel parfait cups will stay fresh in the refrigerator for 2-3 days. YUM!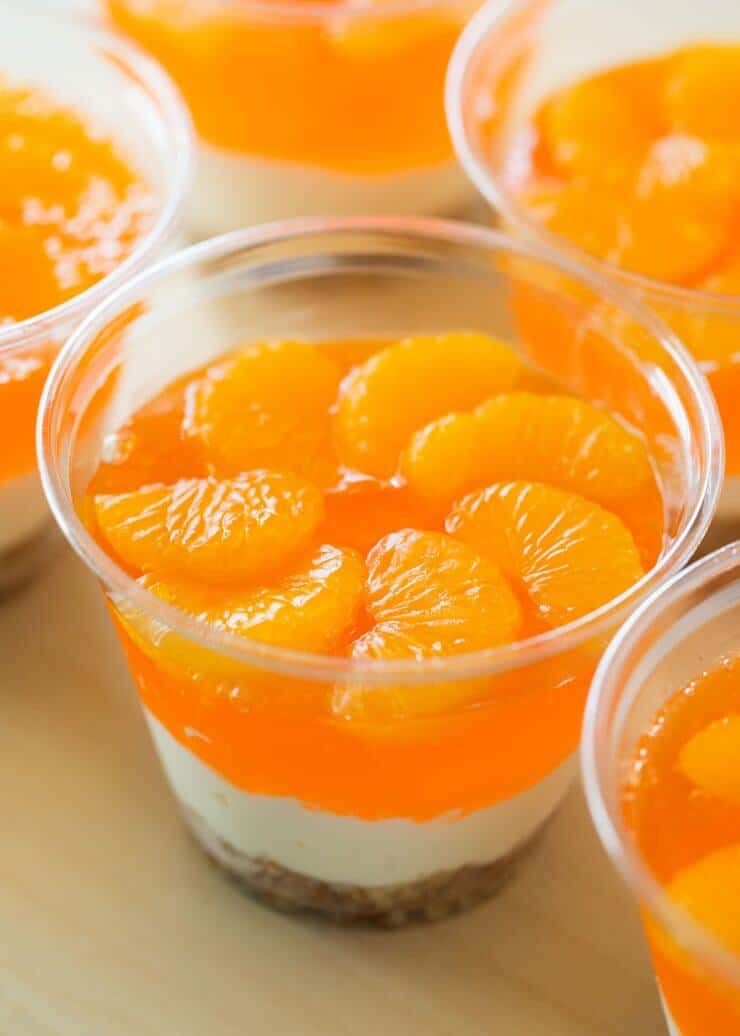 You could leave these cups plain or add whipped cream on top! But who are we kidding… whipped cream is always a good idea!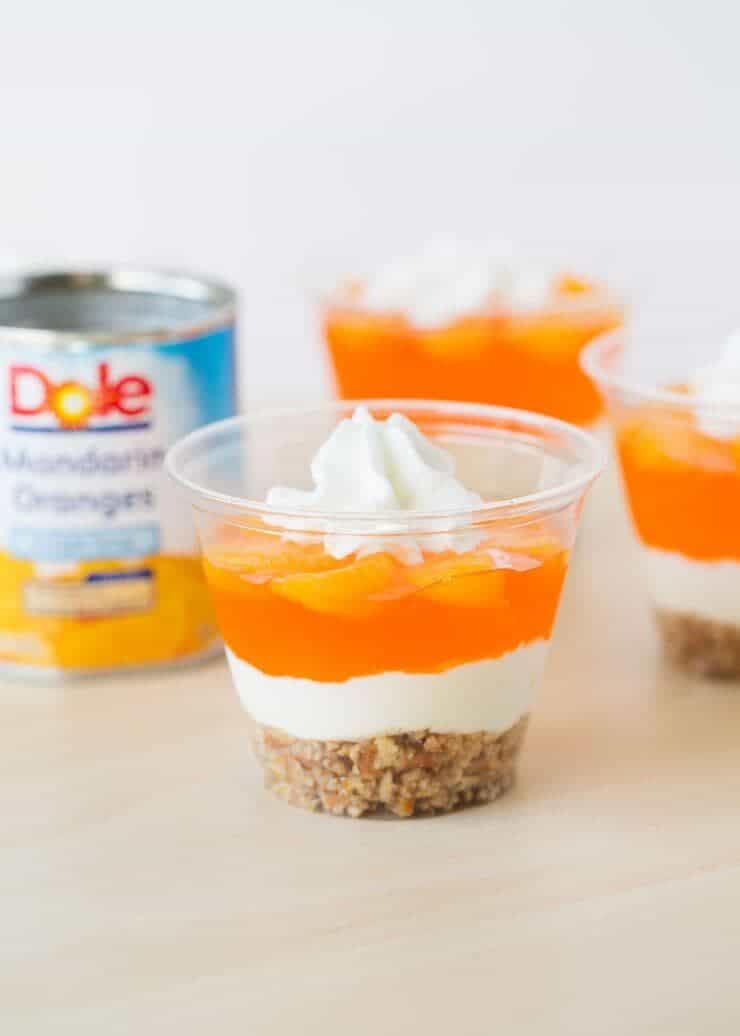 If you're really feeling fancy, you could add an extra orange (because why not) and mint leaf on top.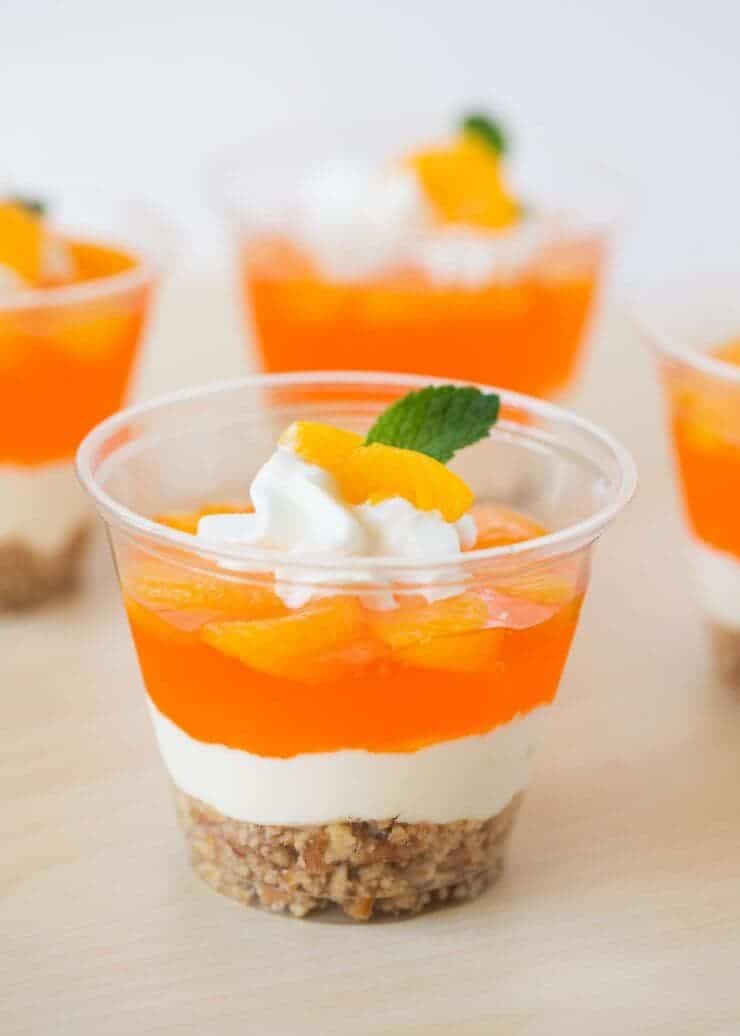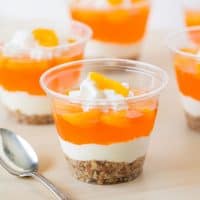 No-Bake Mandarin Orange Pretzel Parfait
Ingredients:
Layer 1:
1 cup crushed pretzels
1/2 cup salted butter, melted
2 Tablespoons sugar
Layer 2:
1 (8-ounce) package cream cheese, softened
1 1/2 cups whipped topping
6 Tablespoons sugar
Layer 3:
1 (6-ounce) package orange flavored gelatin
1 (11-ounce) can Dole Mandarin Oranges
Directions:
Combine the pretzels, butter and sugar for layer 1 in a small bowl. Then press 2 Tablespoons into a small 8-ounce cup or jar.
For the second layer, mix the cream cheese, whipped topping and sugar. Then add about 1/4 cup of the mixture onto the pretzel layer and smooth the layer with the back of a spoon, so it is touching all edges of the cup. Place in the freezer for 20 minutes.
For the third layer, get 3/4 cup boiling hot water. Then place the flavored gelatin into the water and stir for 1 minute, or until it has dissolved. Then add ice to 1/2 cup cold water, until it makes 1 1/2 cups. Stir cold water into the hot water and keep stirring until it starts to thicken. Add more ice if needed. Refrigerate for about 5 minutes. Then pour onto top of the cream layer and top with mandarin oranges. Place back in the refrigerator until it has set.
Enjoy with whipped cream on top if desired.

Mmm… this is seriously my new favorite treat. You've gotta try the mandarin orange version! Enjoy! :)
This post was brought to you by Dole Packaged Foods. Check out their website, Facebook or Pinterest for more recipe inspiration.
So excited to partner with @DoleSunshine on their Escape the Holidaze Pinterest Sweeps! Click here to enter (and vote for No-Bake Mandarin Orange Pretzel Parfaits recipe!). Super easy and grand prize winner gets $3,000
Join in! Leave a comment!
Comments